How to Start an Online Store in 2022 (Step by Step)
Thinking of starting your own online store? Thanks to platforms like WordPress, it's completely possible to get a store up and running in less than a day. But there's a lot more to the process than you might expect.
Besides the technicalities involved in creating a website and learning the tools you'll need to do so, it's also important to consider your business strategy and how to attract customers to your store.
Let's get right into it and learn how to start an online store with WordPress and get customers rolling in.
What You'll Need to Build an Online Store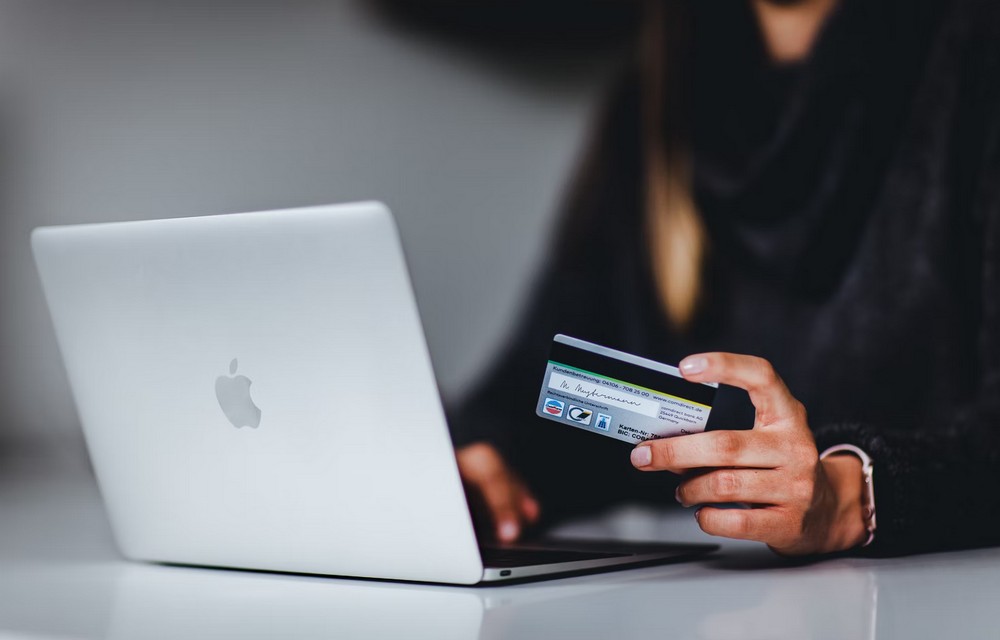 Starting an online store can be as simple a process as purchasing web hosting with WordPress pre-installed, picking a random theme, and setting up your products.
But if you want to succeed, you'll need to put some careful thought into each step from start to finish. From before you've even set up your website to long after you've put on the finishing touches.
Here's exactly what you're going to need and the questions you'll have to answer to create a successful shop:
A business strategy – What type of store are you running? How will you ship products to consumers? What's your target audience? Who are your competitors and what are you bringing to the table? How will you attract customers to your website?
Web hosting – Which web host is best for your website? How do you find fast, quality web hosting? What are the different types of web hosting?
An eCommerce platform – What base tool will you be using to set up your store? For this guide, we'll be using WordPress and WooCommerce.
A theme – Which eCommerce theme is best to customize your store?
Plugins – What WordPress plugins will you need to properly set up your store and add features to it?
That's a lot to consider. We'll go over each of these in detail, starting with developing a strategy.
Develop a Business Strategy
One of the biggest mistakes you can possibly make as a small budding business is to jump into creating a store without a plan.
There are some questions you can answer on your own, and some you'll need to do extensive market research to properly answer.
It all depends on how much time you wish to dedicate. Even a cursory glance at your competitors' websites and marketing tactics can do a world of good in coming up with your own.
Performing Market Research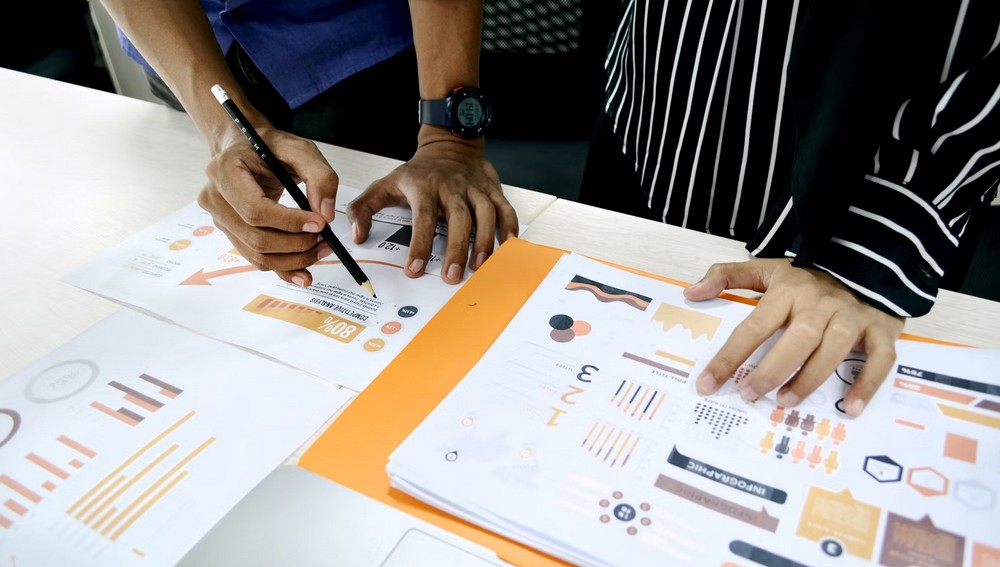 Before you lay any serious groundwork for your business, it's time to do market research.
Don't underestimate the importance of this step. It can take days or weeks of work, but it gives you a massive edge in the market.
This is what you need to do:
Do market research in your target niche to get an accurate idea of the state of the market, areas you need to target, and issues your business could solve. Think With Google has some tools that can help.
Identify your competitors. Use tools that help you find them and let you see how well they're doing, the tactics they're using, and gaps in their strategy that you could fill. Try tools like SEMRush and SimilarWeb.
Find your target audience. Learn what they want and what products would be most marketable to them. Try social listening tools like Falcon.io or run surveys in your niche.
With this knowledge, you can create a business strategy that targets what your audience needs and what your competitors aren't providing. You can also create a brand that is memorable and appeals to them.
Deciding on a Business Model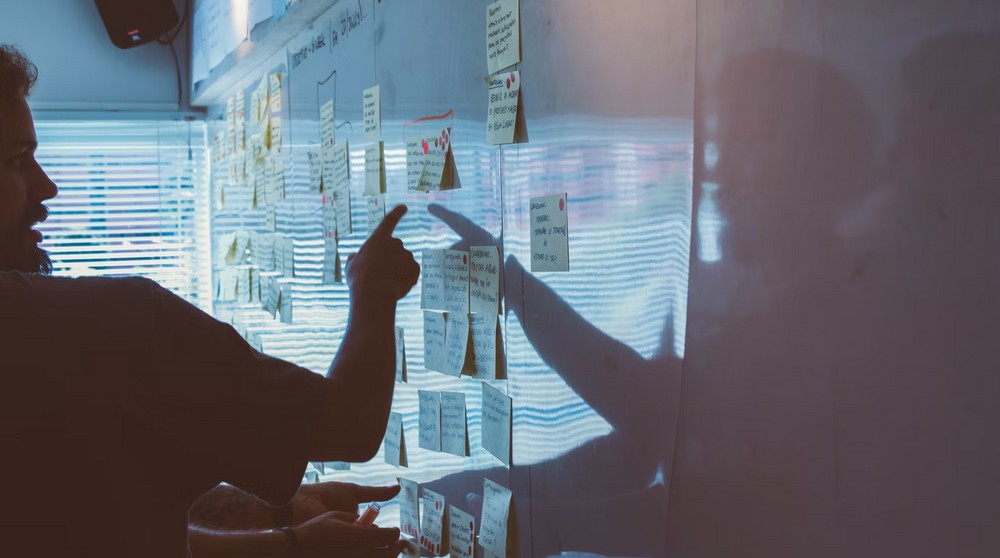 Next you'll need to decide what you're selling, the type of store you'll be running, and how you plan on getting products to customers.
You should pick a business model, which defines how you run your website and whether you're targeting businesses or consumers.
B2C – B2C, or business to consumer, is your typical store selling products and services to the average customer.
B2B – Business to business stores often sell wholesale products or corporate services to other companies.
C2C – Consumer to consumer stores usually involve personal, hand-made goods sold to other consumers like Etsy for example.
C2B – Consumer to business models are less common, but involve consumers selling products to businesses. Think of freelancing work or stock photo sites where you can license photos to companies.
Next, what sort of products or services will you be selling?
Physical products – These products are tangible and must be tracked using inventory management and shipped out to customers.
Digital products – Digital products cut out the need to manage inventory or shipping, as they can usually be delivered directly with downloads.
Services – Selling services is a bit different from selling products, since you're selling your time rather than something tangible.
Subscriptions – Subscriptions are recurring purchases which provide access to services (such as access to a premium blog) or products (such as a monthly delivery of goodies).
Finally, if you're selling physical products, you must decide on the type of fulfillment model you'll be using. This is how you'll deliver items to consumers.
In-house – In-house order fulfillment means that you handle obtaining/manufacturing products, locating suppliers, and managing inventory by yourself. This can be expensive and difficult to do but offers maximum control.
Third-party fulfillment/3PL – Companies often outsource logistics such as inventory management and shipping to an outside company. This can be more feasible if you have enough orders that they're getting difficult to deal with, but not enough money to handle it all yourself.
White labeling – When you purchase wholesale from another company and rebrand their products as your own, this is white labeling. It's cheaper than having to manufacture items yourself, but the quality of products you purchase may be inconsistent.
Dropshipping – In dropshipping, your store essentially handles only order management while another company deals with stock and shipping. This can earn you a lot of money, but you have less control over what you sell and how quickly it reaches customers.
You'll also want to look into selecting a good, sustainable supplier that provides high-quality goods and won't leave you hanging.
How to Pick Good Web Hosting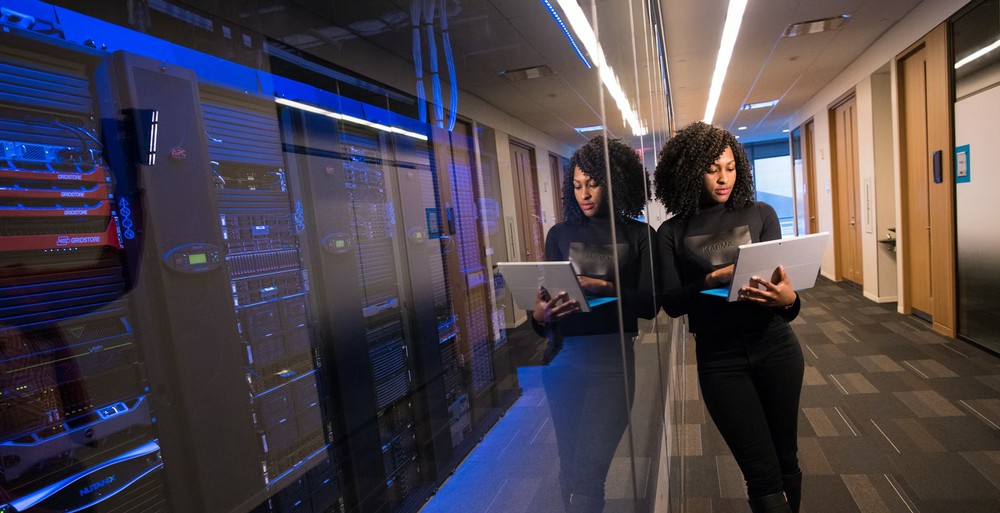 With a plan in place, you can finally begin the process of actually creating your website!
But before you can start designing, you'll need a web host to get your site up and running.
Before jumping in, it's important to understand the different types of hosting available, so you know what to go looking for.
Shared hosting – Multiple websites are all hosted on a single server. This is the most affordable solution but presents several speed and security issues as well as a lack of control over your server settings.
VPS hosting – On a virtual private server, you're granted a virtualized container that separates you from other websites on the same physical server. This is a step up from shared hosting in price but eliminates most of its biggest issues.
Dedicated hosting – With dedicated hosting, you're granted an exclusive, physical server all to yourself. While this gives you maximum control over your server and the most resources, it's very expensive.
Cloud hosting – This is the best of both worlds as far as hosting goes. Cloud servers offer on-demand access to resources spread out across several servers. This makes it easy to upgrade and scale as you need to, and also reduces downtime. It's not always affordable for new businesses though.
There's also managed vs. unmanaged hosting.
With an unmanaged host, you get a blank server with little more than an operating system installed. It's up to you to get WordPress and anything else you need running, so this is best for advanced users.
Managed hosts usually will do more setup and maintenance at the cost of less control and a higher price.
As for which web host to go with out of the hundreds out there, it can be hard to choose. Look for objective reviews and speed tests from third parties, and watch out for hidden fees and prices that spike drastically after the first year.
If you need somewhere to start, check out our web hosting recommendations for a few quality services.
How to Choose a Domain Name
Most web hosts include a free domain name for a year and will direct you through the process when you sign up for web hosting. Otherwise, you may need to purchase one yourself through a domain registrar like Google Domains, Domain.com, or Namecheap.
This step isn't optional so make sure to factor domain fees into your business.
As for choosing a domain, the best tip is to make it as memorable as possible.
Keep it short, don't make it too difficult to spell, and avoid hyphens if you can. And of course, it should be connected to your branding.
How to Install WordPress

WordPress isn't just a blogging platform; it serves as a robust back end for all kinds of websites.
Many new stores successfully use WordPress with the WooCommerce plugin as their back end, and it's very easy to set up.
Since WordPress is so popular, many web hosts will automatically install it for you. Or you can quickly install WordPress by yourself.
All you need to do is download WordPress, upload all its files into your root directory, and visit your website to run the installation script. You might also need to create a database if your web host didn't do it for you, but that's about it.
The Best Business WordPress Theme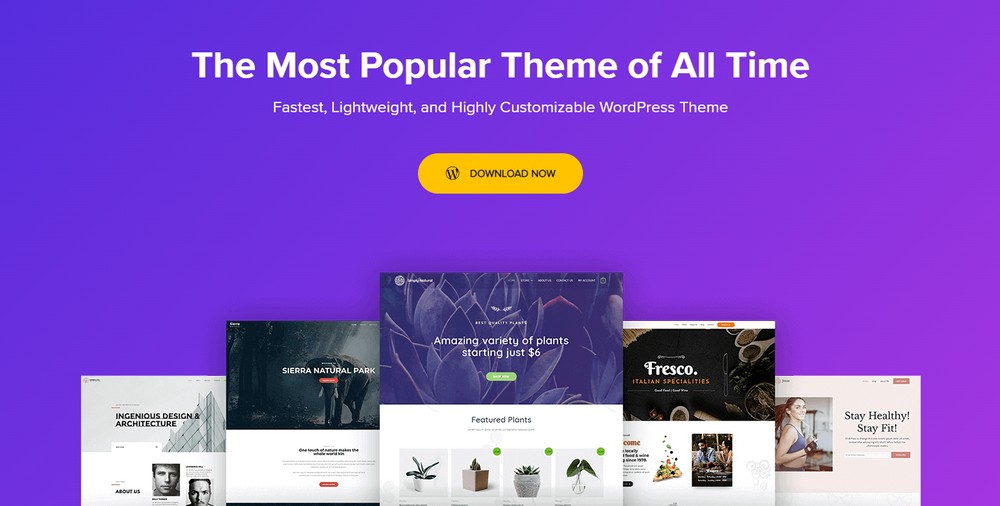 WordPress' core is built around a theme, a foundation that changes how your site looks and acts.
You can get themes designed for any purpose or niche. There are ones made for certain types of businesses, ones that come with tons of features and go well with just about anything.
As there are thousands of them out there, which theme should you choose?
If you want a theme that's versatile and customizable yet lightweight and fast, choose Astra.
This is a theme designed to appeal to everyone, but it's great if you want to get a store up and running fast.
The pre-built websites and Starter Templates provide a solid foundation to work with. Pick your favorite page builder plugin and use the powerful customization tools to make your store your own.
How to Install Astra
Installing Astra is easy, just like any other theme: In your backend dashboard, navigate to Appearance > Themes and click Add New.
Search for "Astra" and click Install when it pops up. Click Activate when it's done installing.

With that, your site's appearance should change.
If you paid for a pro version of Astra, log in to your account and download the zip file from Accounts > Downloads.
You should also grab your license key from Account > Licenses while you're here.
Like before, go to Appearance > Themes and click Add New, but this time click the Upload Theme button at the top and upload the zip.
Then verify your license key through Appearance > Astra Options in the License box.
How to Customize a Theme
WordPress offers several options to customize a theme, and Astra also has its own set of theme options you can change.
The most important of these are on the Appearance > Customize screen.
Here is where you'll find the bulk of your customization options, and can change color palette, page layout, fonts, and more. In Astra, this is also where you'll find the header and footer builders.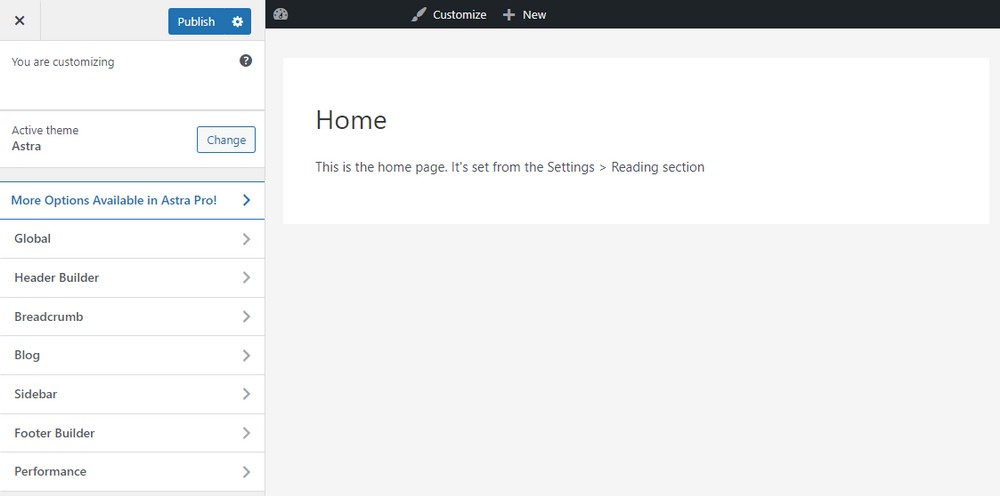 There's also Appearance > Theme File Editor which is where you'll go if you ever want to directly modify HTML, CSS, or PHP.
This is only for advanced users; usually you should add CSS through Appearance > Customize.
Finally, there's Appearance > Astra Options for Astra users.
Here you'll find a few quick links to helpful tools available in the Customizer, plus some free plugins you can download to extend Astra's functionality.
This is also where you can import starter templates. Just click Install Importer Plugin and you'll be redirected to choose your favorite template from the library.
Pick any you like and you get an entire website to customize and make your own.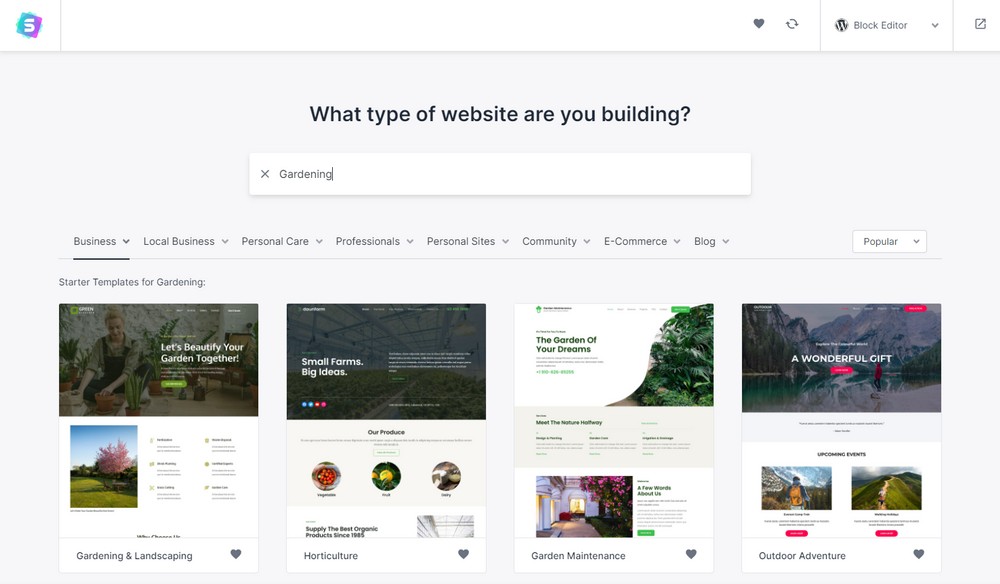 Getting Familiar With WooCommerce
With a theme up and running, WordPress is all ready to go. Now it's time to install the plugin you'll need to set up a store: WooCommerce.
WordPress doesn't come with eCommerce features. Luckily, WooCommerce is a completely free plugin that covers all those bases, whether you're selling physical or digital products. All you need to do is set it up.
How to Install WooCommerce
Just like with themes, you can install new plugins by going to Plugins > Add New.
Search for "WooCommerce" and click Install and Activate.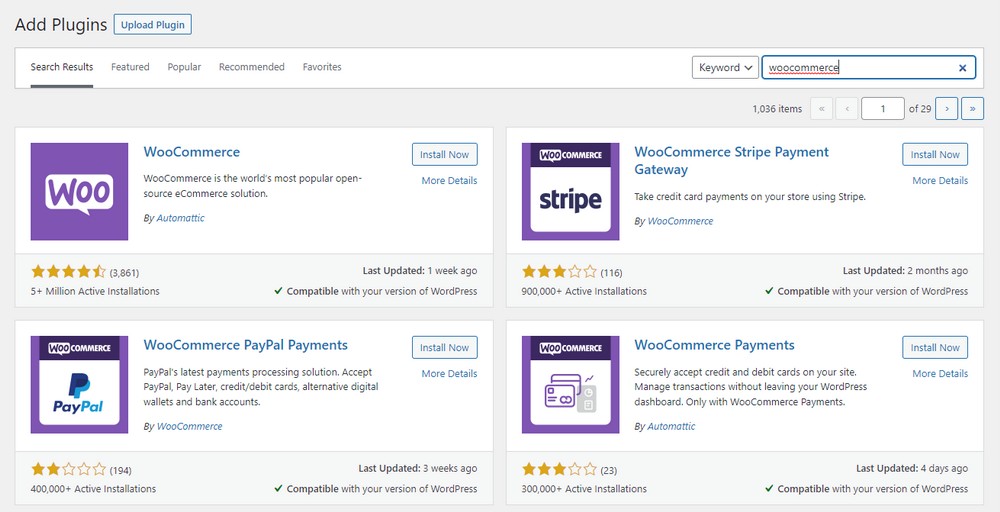 You'll see a new WooCommerce option in your sidebar. Click it to be taken to the setup wizard.
Enter your store details here. When you're done, you'll find any remaining steps you need to do on WooCommerce > Home.
We'll lay out a few of these as well, but make sure this checklist is complete before launch.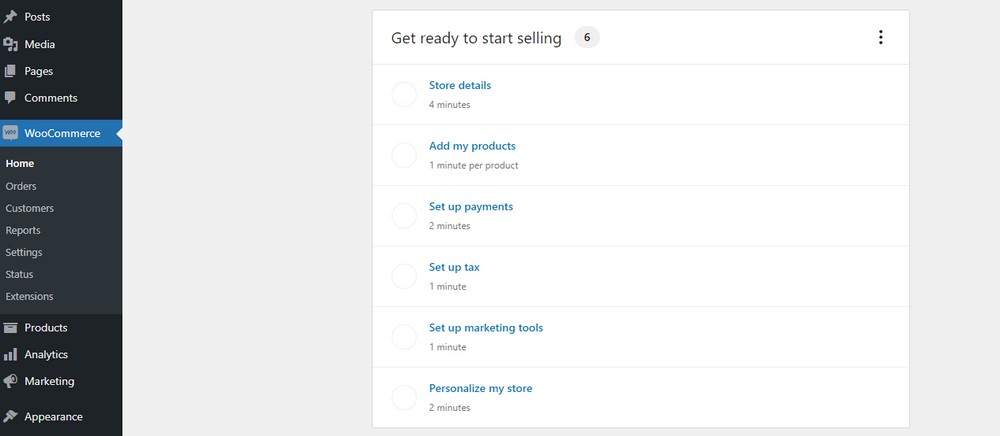 You'll also want to look through WooCommerce > Settings before you launch your store and make sure everything is as you want it.
Besides that, everything you need from managing orders and customers to viewing store analytics can be found in the four new tabs added to your sidebar.
Creating Products, Categories, and More
Much like how WordPress' CMS system is built on creating blog posts and pages, WooCommerce's foundation is in products.
In fact, creating and managing products is very similar to creating a blog post or page.
First, let's make a few products to help you get the hang of things.
In your sidebar, look for Products > Add New.
You'll see a screen that's quite similar to the Classic WordPress editor.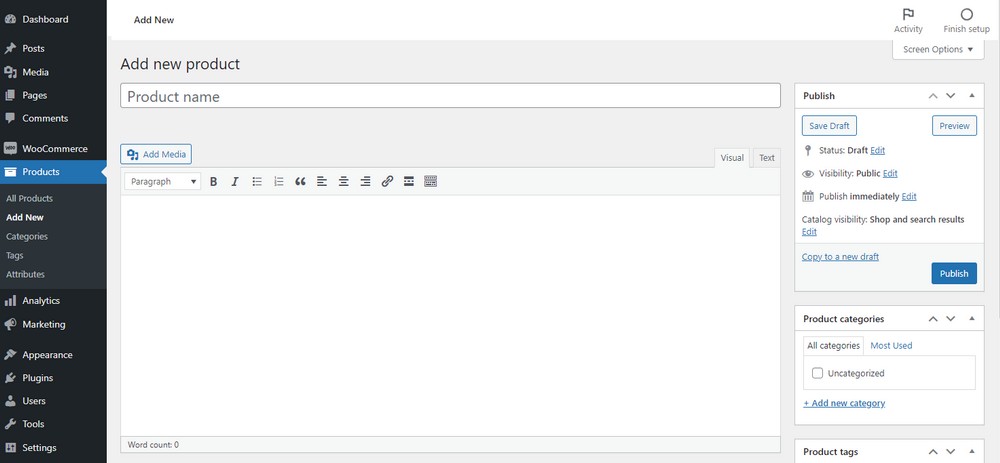 Here you can add some basic info like your product's name, description, and images. There's also the product data box; this is where the real customization comes in.

First, use the dropdown menu at the top to choose the type of product and check whether it's a digital or downloadable item.
In short: Simple products have no special attributes, grouped products allow you to create a bundle from separate simple products, external products are for those sold on other sites, and variable products are for those that come with variations such as color and size.
Pick the one most appropriate, then set the price, sale price and dates, shipping info, and linked products for upsells.
There's also inventory; you can change the stock status and even enable stock management at the product level to track the remaining inventory of your items.
Don't forget about categories, tags, and attributes, all of which can be used by shoppers to sort your products.
Categories offer an overarching way of grouping items; you could have separate categories for clothing, electronics, and so on. Sub-categories can also be created.
Tags are similar to categories but offer no hierarchy; each tag is individual.
Attributes are used with the variable product feature to sell variations such as color and sizing.
All of these can be added from the Products tab (such as Products > Attributes).
They can also be made while creating a new product (such as through the Attributes tab in the product data box).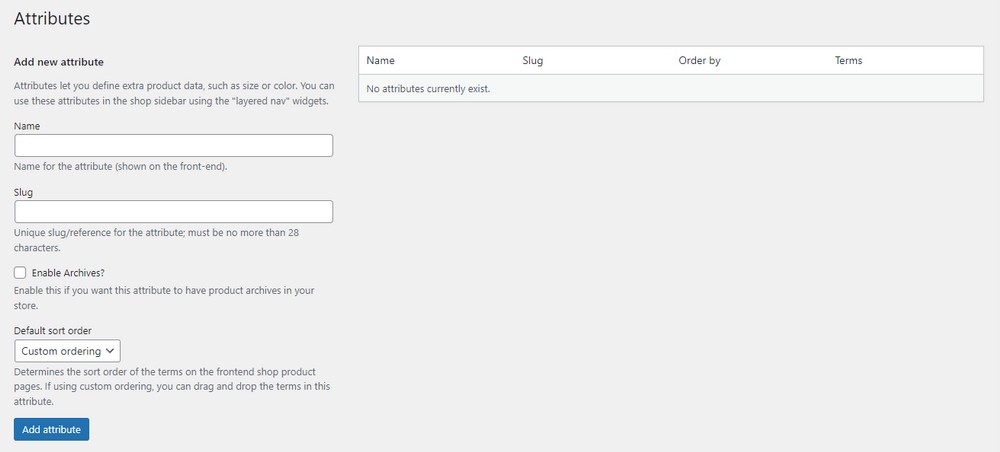 Connect Payment Gateways
You need to get paid for your products, so you'll have to authorize payment gateways whether you're using an online service like Paypal or accepting only credit/debit cards.
WooCommerce's setup checklist helps you through this in the Setup payments and Set up tax steps.
You can also access these settings through WooCommerce > Settings > Payments and WooCommerce > Settings > Tax.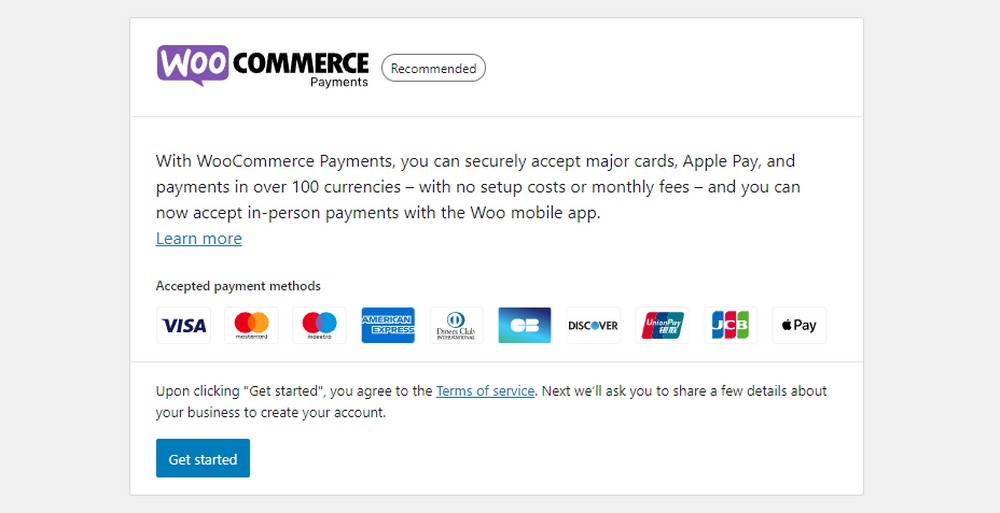 By default, you have three options: Direct bank transfer, check, or cash on delivery.
There are also numerous extensions you can install to accept alternative payments from sources like PayPal and Stripe. Finally, there are WooCommerce Payments which accepts payments from multiple different sources.
Just click on whichever options you like and enter your information so you can get paid.
Taxes are a similar ordeal; you can either install a tax partner extension for automatic calculation or choose to handle the process manually.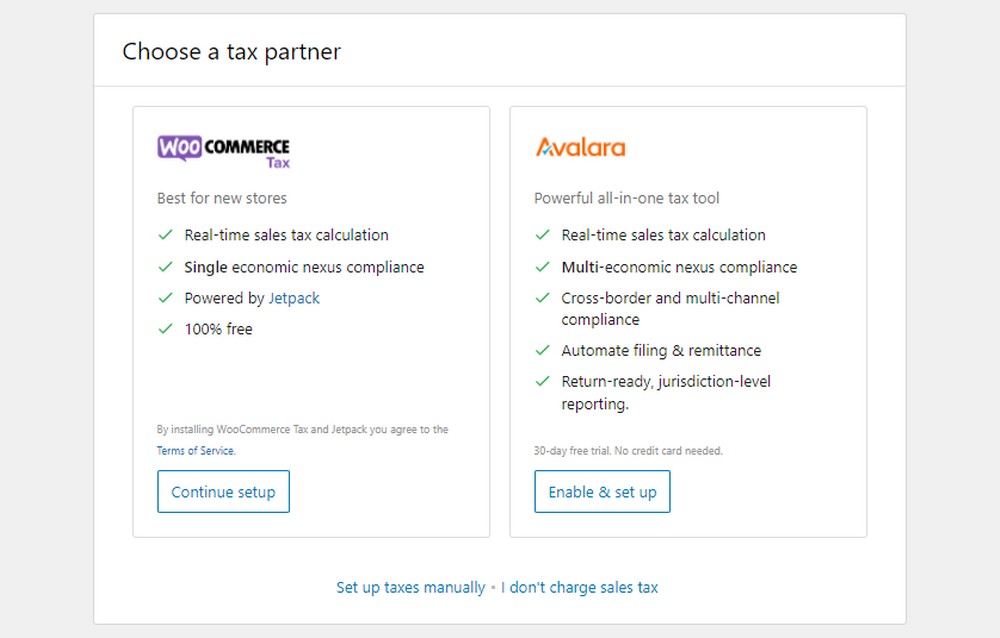 Setup Shipping
Next, follow the Setup shipping option in the setup checklist, or navigate to WooCommerce > Settings > Shipping to do it yourself.
You'll need to create shipping zones; this creates a set of rules to follow depending on where in the world your customers are. You could offer free domestic shipping in your home country or offer local pickup in certain regions.

You can also use shipping classes to provide different rates for different types of products.
Creating Store Pages
There are a few key pages you'll need before your store is ready to launch. While your site is likely to contain many more than these, start with and optimize these examples.
First, your default homepage likely isn't very well-tailored to online shopping unless you installed a retail-focused theme or imported a business template from Astra's starter templates. If you want to change it, here's how.
Just like with any other page, you can make a new homepage through Pages > Add New.
WooCommerce's setup checklist also includes a step that will create a separate homepage for you.
To edit your existing homepage, you can find the Home or Homepage item in Pages > All Pages.
When you're finished, go to Settings > Reading then change your homepage to display a static page you can choose from the dropdown.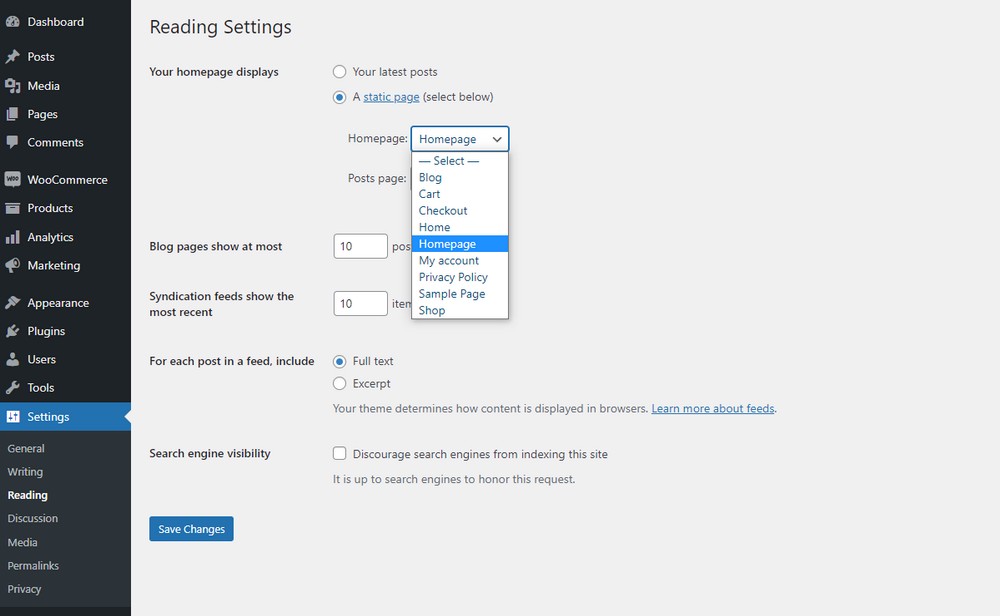 You may also want to customize product and shop pages. WooCommerce adds these automatically to Pages > All Pages.
You'll find the Cart, Checkout, and Shop pages you can modify as you wish.
As for individual product pages, you'll need a plugin or theme that can edit template pages. Astra Pro lets you edit the single product template, while page builder plugins like Elementor contain similar functionality.
Finally, there are important legal and informational pages you'll need to take care of such as the FAQ, terms of service, privacy policy, and return policy.
Depending on where you operate, it may be legally required for you to have these pages. For instance, if you sell to countries governed by the GDPR, you need to have a privacy notice on your site.
WordPress and WooCommerce create a sample privacy policy and returns page you can fill out; the others you can make yourself.
Try a ToS generator like Termly for help, though it's always better to have a lawyer help you write these pages.
Plugins to Help You Build an Online Store
One of the best features about WordPress is the sheer amount of plugins available for it, many of them at no cost. If you can think of a feature you want for your store, chances are, there are five different plugins that can do it.
Check out the WordPress repository as well as the WooCommerce extension store for an infinite array of plugins, and here are a few we recommend as well.
1. CartFlows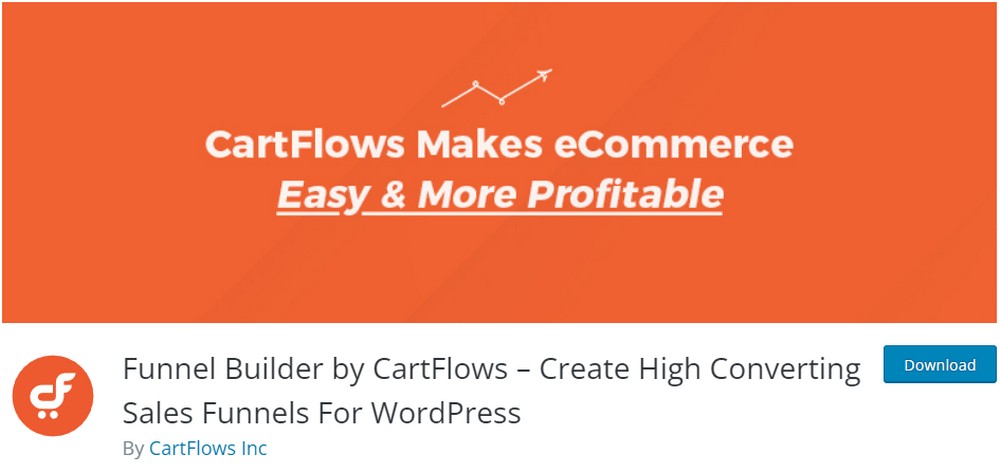 Designing a sales funnel can help you guide customers towards a purchase and keep them coming back for more. CartFlows was made to help you do that more effectively.
With this plugin, you can easily create sales funnels from the very first landing page to the checkout screen. A more elegant checkout screen, a visual funnel builder, and ready-made templates that will do the job for you are all on offer here.
And unlike other sales funnel tools, CartFlows is free, easy to use, and avoids platform lock-in.
2. Elementor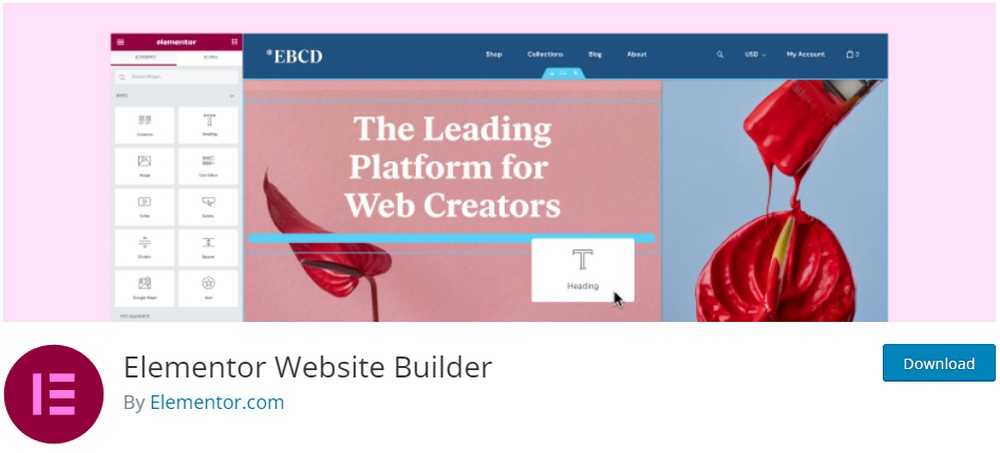 While WordPress is a powerful platform, one of the areas it's somewhat lacking in is customization. And in the competitive world of eCommerce, standing out with elegant store design is very much a virtue.
Many WordPress users turn to page builder plugins like Elementor, which provide finer, pixel-perfect control over website design. Elementor also comes with many customizable widgets, such as the image gallery or Google Maps module.
And if that's not enough, check out Ultimate Elementor for even more widgets and templates to work with.
3. MailPoet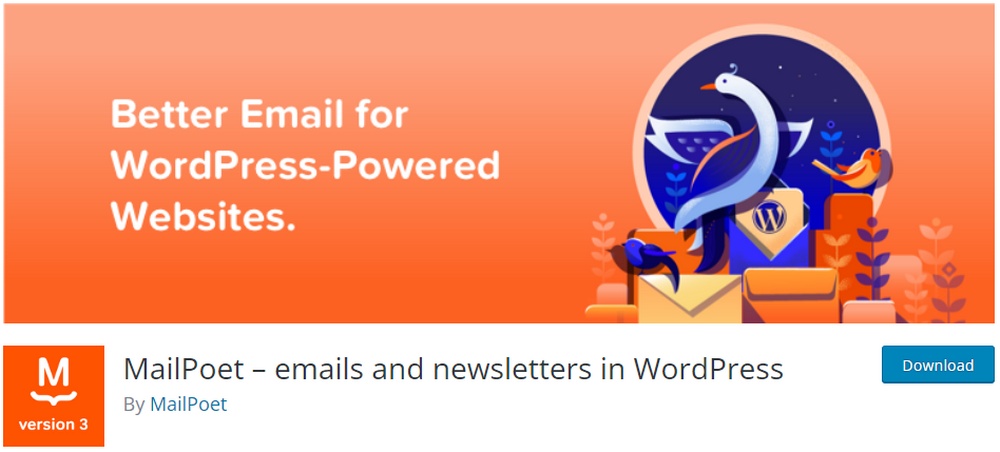 Running a newsletter is one of the easiest and yet most effective ways to promote your store and improve customer retention. While email marketing is an art you should put time and research into, even the simplest newsletter is better than not having one.
Many email marketing plugins rely on third-party services, but MailPoet allows you to handle the entire process within your WordPress dashboard. It's also free for up to a thousand subscribers, so it's great for startups.
4. Yoast SEO + Schema Pro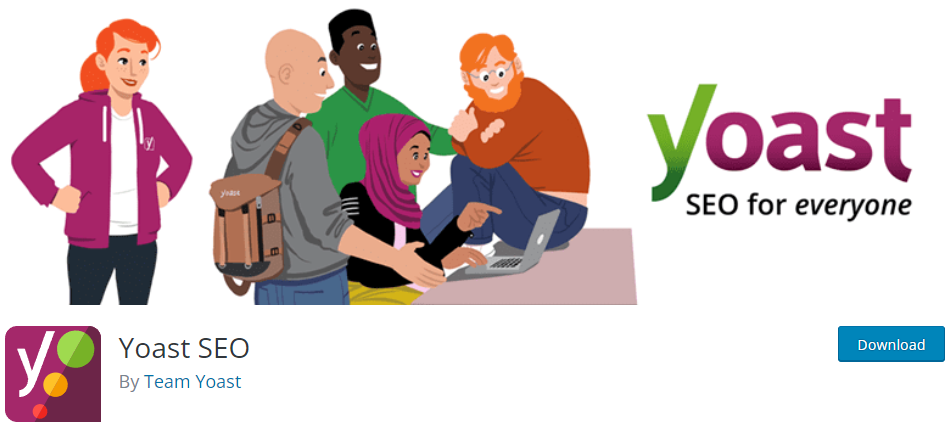 Want your site to rank higher in the search results? You're going to need an SEO plugin.
It enables you to properly set up metadata and guides you in distributing ranking keywords throughout your content.
Yoast also gives you control over other important SEO features, from navigational breadcrumbs to XML sitemaps.
There are also rich snippets to consider. If you've noticed certain websites in Google search results showing up with images, stars, or even mini product boxes, rich snippets are the cause. To get your products showing up like this, you need to use a plugin to configure it.
While Yoast contains some rich snippets functionality, it also pairs well with Schema Pro, which lets you control and automate schema markup on all your pages.
5. MonsterInsights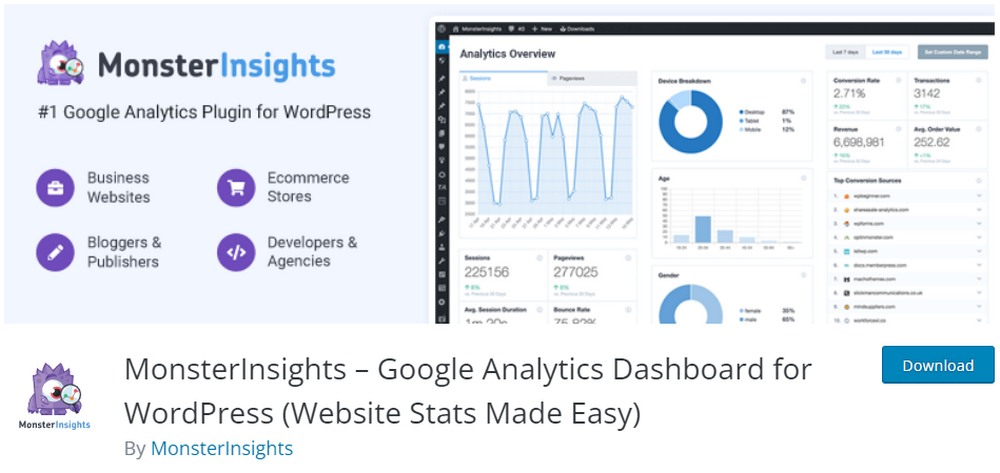 Analytics can provide you with a wealth of data on your customers. What audience are you attracting? Is your marketing campaign driving up traffic? How long do people spend on your site?
Google Analytics can answer these questions, but it also can be a bit difficult to set up on your own. Plus, all its helpful charts and graphs are located on a separate dashboard, which can be inconvenient.
MonsterInsights takes care of this issue, connecting your Google Analytics account to your WordPress dashboard.

Naturally, running an online store, you've likely put in thought as to whether and how you'll be selling your products overseas. As your business expands, worldwide shipping will become a viable prospect.
But it's not enough to simply offer global shipping; if you want to retain people from other countries, you need to speak their language. WPML makes it easy to translate your entire site to any language. It also offers machine translation as an alternative to hiring translators.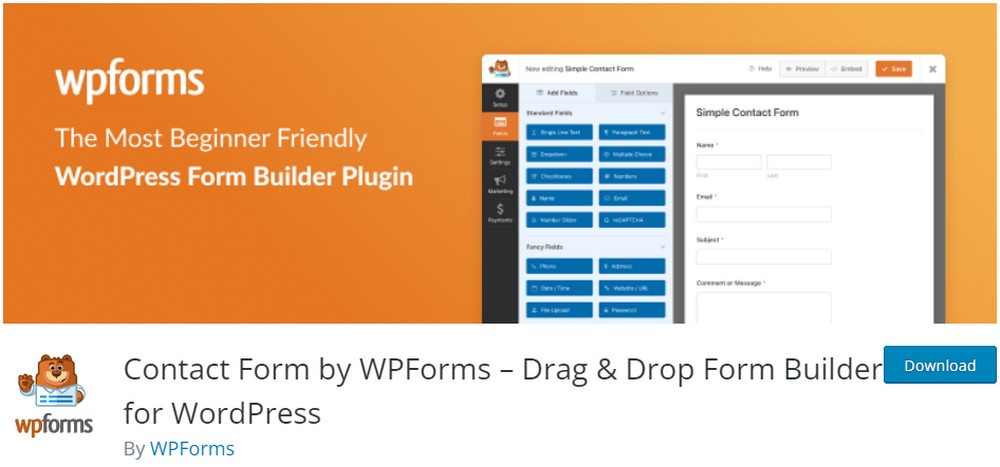 Ecommerce sites are full of forms: contact forms, newsletter signup forms, product review forms, and more. Since WordPress doesn't include a form builder, you'll need something like this for sure.
WPForms' drag and drop form builder is super easy to use, and it comes with templates if you want to streamline the process even more. It also supports a variety of form types, from booking or file upload forms all the way up to surveys and polls.
WooCommerce Cart Abandonment Recovery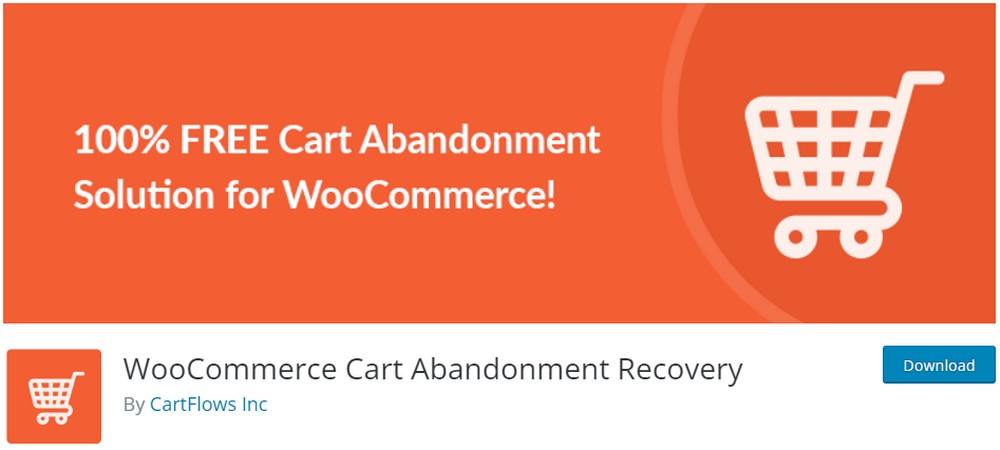 Cart abandonment can be a serious problem for businesses. Even the most streamlined checkout page can still have a high rate of lost sales.
A simple automated email can be enough to get a portion of those customers to come back. Throw in a discount and suddenly those lost customers are returning in droves, giving you a second chance to get them on your newsletter and turn them into recurring buyers.
This is a small, simple plugin that won't affect your speed or bloat your website.
8. Stripe for WooCommerce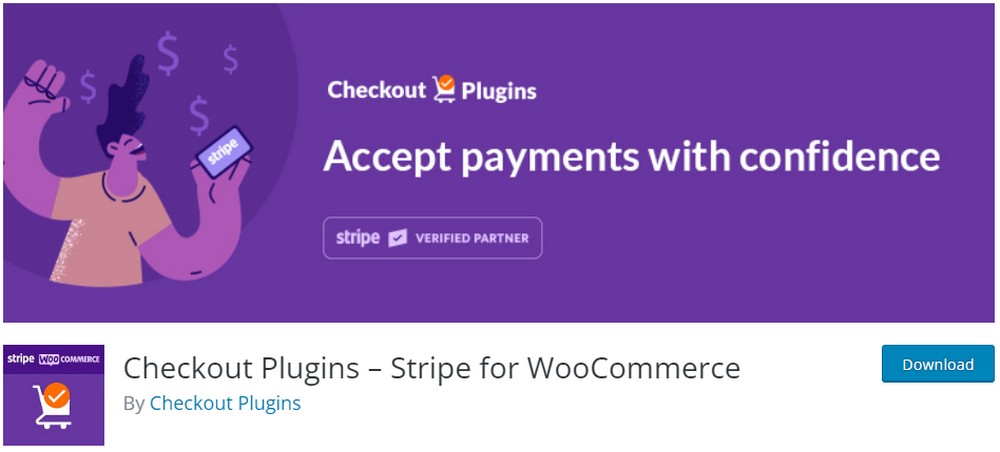 Stripe is one of the easiest methods of collecting credit card payments through your store, but WooCommerce requires an extension to support it.
Stripe for WooCommerce solves this dilemma neatly, offering one-click checkout in all your stores. As Stripe supports both global credit card companies as well as many international local cards, it's very convenient for your customers.
How to Attract Customers to Your Online Store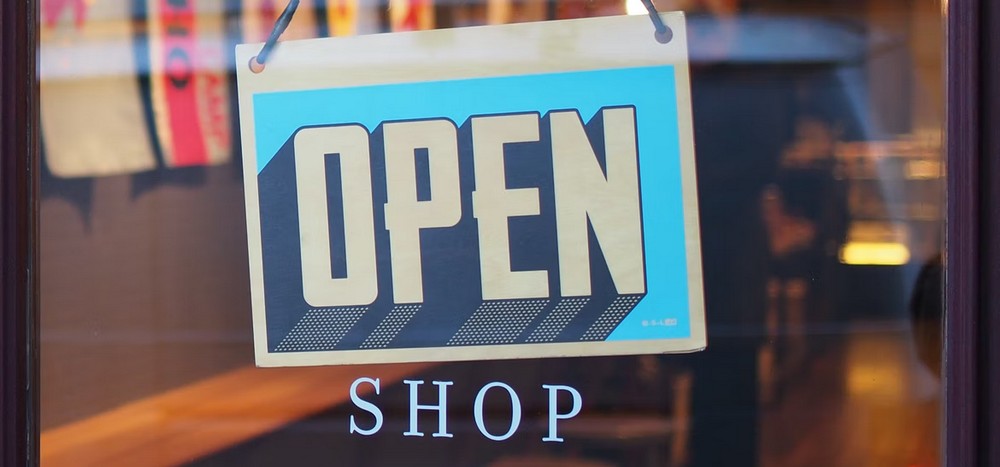 You've designed your own website and created your very own store. It's almost time to launch, but what's next?
There's no better way to set up your new shop for failure than to launch quietly with no fanfare or announcement anywhere. Without putting in active effort to attract customers, your site just isn't going to grow.
There are several marketing tactics to help get your name out there. Here are a few you should consider.
Email Lists
Before you launch your new store, you should have a newsletter in place. This is a great way to increase customer retention and also lure back lost customers who abandoned their shopping carts or weren't ready to make a purchase.
When you have someone's email, you get a direct line to them and a way to encourage them back to your shop. A good email marketing strategy will allow you to capitalize on this and turn those one-off buyers into loyal customers.
Affiliate Marketing and Sponsorships
You've likely seen affiliate marketing and sponsorships in action before. It's an increasingly common way to generate sales, popping up in blogs, stores, and even on video sites like YouTube.
With a sponsorship, a business pays a set amount or offers a service to promote its products. Affiliate marketing more commonly involves a paid link that pays more the more people click it.
By setting up your own affiliate program or using influencer marketing to offer sponsorships to key figures, you can get more eyes on your products and spread the word through figures that are trusted by the community.
Digital Advertising
Advertising is everywhere you go on the internet. While it has declined in recent years due to the increased use of ad blockers (hence the rise of affiliate marketing and sponsorships), it still can be profitable in certain markets.
Digital advertising has also expanded from traditional banner ads. Now you can buy a top spot in Google without having to jump through SEO hoops or use video content to draw extra eyes.
If you want to invest in digital advertising, try a platform like Google Ads.
Social Media Marketing
As a business, it's a smart decision to go to where your customers are, and social media is the internet's favorite hangout. From Instagram and Twitter to YouTube and TikTok, you've likely noticed the sheer amount of corporate accounts on social media.
It's not a new idea, so succeeding on social media can take some work. You need to know how to target your audience in ways they find appealing and how to make your content seem interesting and clickable.
Video content will be your best friend when it comes to attracting likes and shares.
SEO Optimization (Organic Traffic)
When most people think of marketing, they imagine ads on websites or businesses on social media. But search engine optimization is also a very important marketing tactic – some might even say the most important.
Every day, billions of searches run through Google, Bing, and other search websites. While only a fraction of these will exist in your niche, that's still thousands of potential visitors. This is "organic traffic" – traffic that isn't paid for, but comes on its own for, essentially, free.
And the closer your site ranks to #1 on the search engine results pages, the more likely the bulk of that traffic will be directed to you.
Search engine optimization aims to boost your ranking and push you up higher for that reason.
But much of the duty is on you to continue creating fresh content that targets ranking keywords. Ecommerce SEO plugins just help you optimize that content a little more to please the search algorithm.
Summary
Starting up a store is a big undertaking. But thanks to free platforms like WordPress, WooCommerce, and more, anyone can do it.
Getting hosting, acclimating to WordPress/WooCommerce, and picking out themes and plugins will be the bulk of your work here. But good planning will be key to your success, helping you create a business and a marketing plan that appeals to your target audience.
Once you do this, barring a future redesign or shift to a new platform, your job is finished. But research and marketing is an ongoing task that will keep your strategy fresh and more visitors pouring in to purchase your products.
Are there any store startup strategies we didn't cover? Let us know what you think in the comments.