Unleash Your Creativity With One of the Top 10 WordPress Page Builders
In this guide we'll be analyzing the 10 best WordPress page builders to help you create a stunning website without requiring any coding skills.
If you're someone who hates dealing with code and learning CSS is not in your plans, then a drag and drop builder for WordPress is a perfect fit.
A page builder will help you design visually appealing websites at the same time that they add many more features, such as content tabs, countdowns or display conditions.
If you work as a designer or have a design agency you can do more, faster and therefore increase your profit per project.
All this without having to invest extra time and effort.
Want to know which WordPress page builder you should choose?
Keep reading!
Become a digital builder! Design beautiful and functional websites in no time with one of our recommended top 10 #WordPress page builders.
Quick Summary of the Best Page Builders for WordPress
Here's a brief overview of the top WordPress page builders we'll be discussing below:
Why Use a WordPress Page Builder?
A good page builder will quickly become an invaluable tool. It offers a ton of benefits with very few downsides and opens up the world of web design to everyone.
It doesn't matter if you're going to use it for yourself as a website owner or for your clients. Everyone can enjoy any of the multiple benefits of using this type of plugin.
To sum up we'd say the main benefits of page builders are:
Anyone can use them: Page builders will allow you to create stunning websites even if you have no design skills.
Time-savers: You can build custom templates to create content faster. Even written one, as you can set a content structure: Featured image, table of contents, content, call to action and so on.
Money-savers: Besides saving time, which equals money, you won't have to hire a designer to give your website the look and feel it deserves. Built-in capabilities can also save you from having to buy extra plugins.
Good for SEO: Page builders can help you get a neat responsive design, and add features such as clickable elements, timelines or animations to improve engagement.
Money-makers: Eye-catching calls to action, testimonials, reviews, price tables… These elements will improve the conversion rate and hopefully, your profits too.
Are you convinced of their benefits yet?
Page builder plugins are easy to use and don't require any technical knowledge to start using them.
We think they are the best thing to happen in web development for a long time!
Choosing the Best WordPress Drag and Drop Page Builder
When recommending these page builders we have taken into consideration the following features.
Some will be more important to you than others, but this is what you should look for in a tool of this kind:
Ease of use: You'll use page builders constantly to create pages and posts. You need something with a simple and quick-to-use interface.
Affordable price: Especially if your budget is tight or you'll use the plugin in many sites as an agency.
Good value for money: Some plugins may be cheaper than others. If they lack important features they won't be worth it.
Specific features: The more functionality your plugin has the better. Make sure the page builder offers the blocks you need.
Compatibility: With pivotal plugins for your business, such as an SEO plugin or a plugin to create your membership.
Performance: A page builder should never ignore the impact on the loading speed of your website. It's an equally, or more important, factor than appearance.
Great assets: At the end of the day you'll want a beautiful website. You need the blocks that your page builder provides to be attractive or can be modified to be so.
Customer support: A general consideration that you should always keep in mind. You never know when you might run into a problem and need help from the developers.
Let's now take a look at the plugins that meet these recommendations.
Review of The Best WordPress Page Builders
Here are 10 best WordPress page builders and their most notable features.
There's sure to be one here you feel like trying!
1. Elementor
Elementor is a WordPress page builder that has taken WordPress web design by storm. It has the deepest feature set, yet is very easy to use and master.
Elementor is the most fully-featured free page builder. There is also a Pro addon that adds additional features.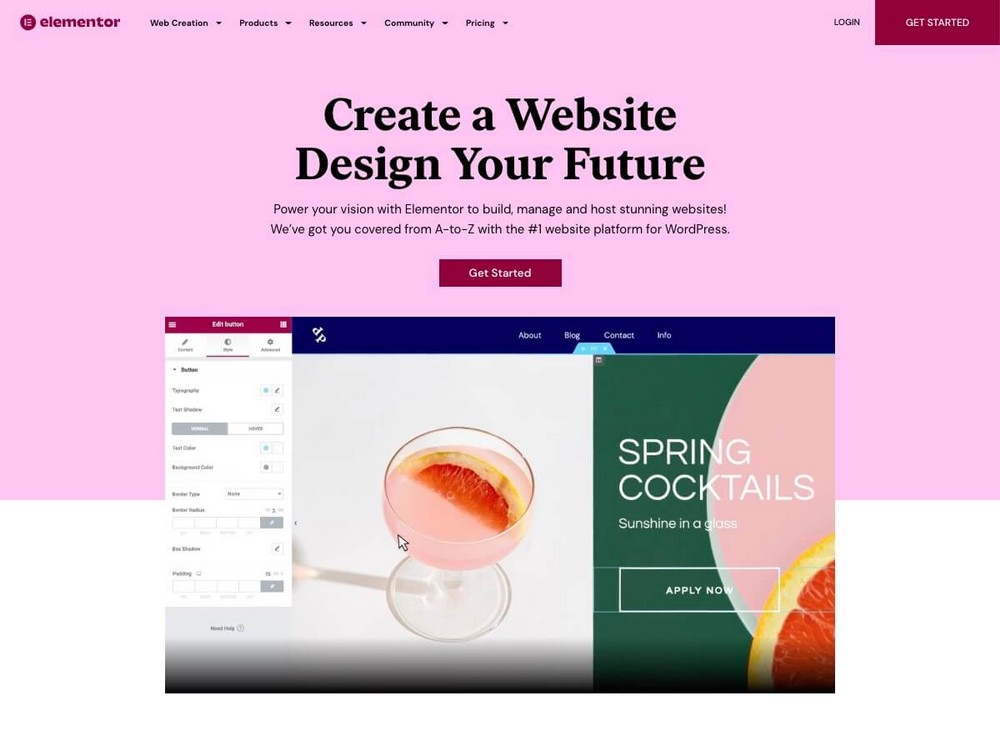 Key Elementor Features:
Live front end page editor.
Website personalisation features.
Template and block library.
Extensive mobile responsive options.
Most powerful popup builder.
PRO: Create custom headers and footers.
PRO: Create post type layouts.
Elementor is the strongest page builder currently available.
The developer consistently releases new features that are in line with current design trends. This means you'll be able to keep your website relevant with minimal effort.
Elementor Pro is incredible value considering all the additional modules and power features it includes.
If we were starting a new website project today, Elementor would be the page builder that we would choose. We consider it a must-have WordPress page builder that is a pleasure to use.
You can get the Pro version starting at $59/year.
2. Beaver Builder
Beaver Builder is a WordPress page builder loved by website developers and DIYers alike.
Its reputation of being developer-friendly, having clean code, and reliable updates have led to it being used on over one million websites.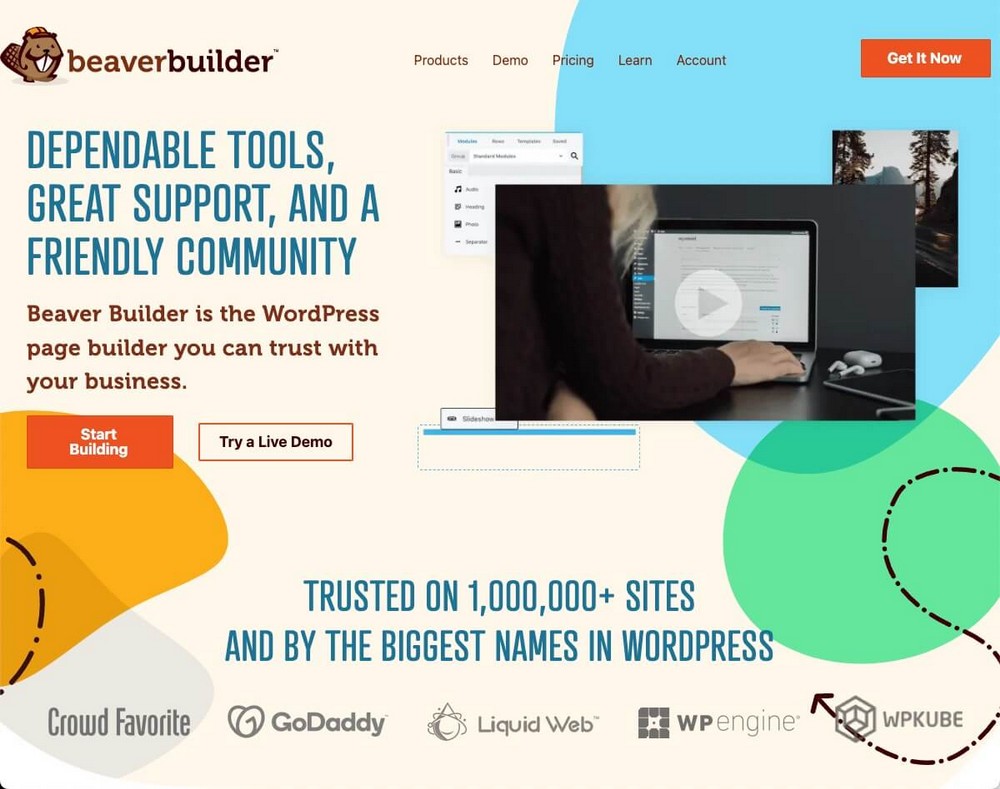 Key Beaver Builder Features:
Fast front end page builder.
Full template and block library.
Modern design features such as gradients and drop shadows.
Whitelable option on higher package.
Beaver Builder is a fantastic page builder.
When you pair it with Beaver Theme, there is no limit as to what you can build for yourself or for your clients.
The price starts at $99 per year.
3. WP Page Builder
WP Page Builder is a free page builder for WordPress developed by Themeum. They are also responsible for Tutor LMS, a plugin well-established on the market.
WP Page Builder was launched in 2018 and quickly gained popularity due to its impressive set of features.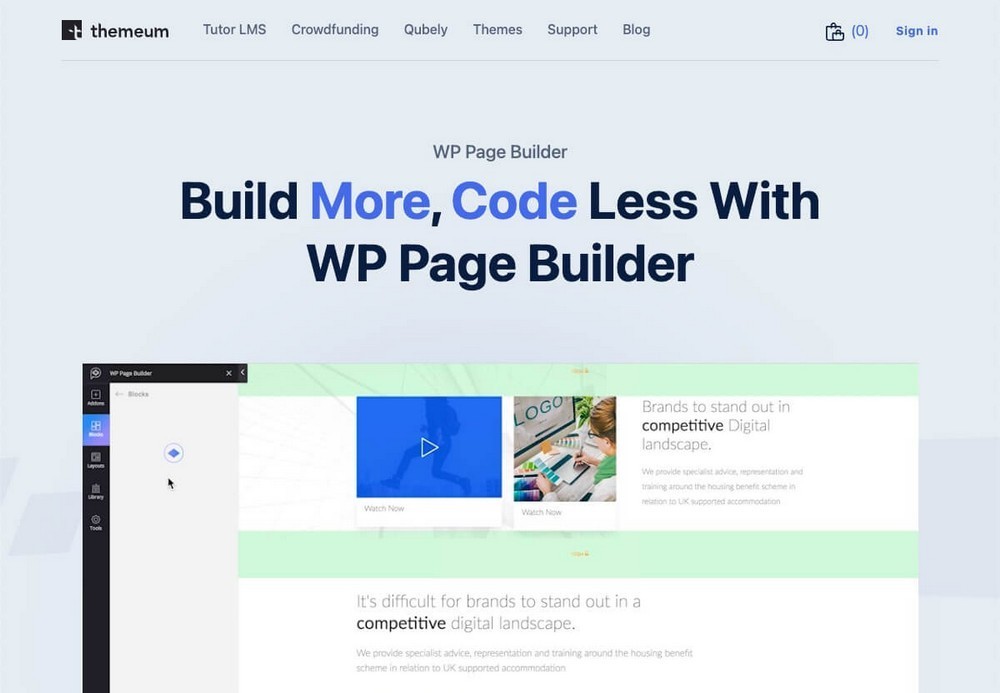 Key WP Page Builder Features
Real-time frontend website building.
60 blocks, 38 addons and 27 layout packs.
Library to store your own design blocks.
Huge collection of ready to use blocks.
Unlimited undo and redo.
Predesigned page templates that you can apply with 1 click.
It has a really simple design, so you'll find it very easy to use, even if you've never used a page builder before.
It has a library of predefined elements and a custom library that you can create yourself. You'll be able to work with this plugin on your websites very effectively within minutes of installing it.
4. Spectra
Spectra is a WordPress plugin developed by Brainstorm Force, the company that created the popular Astra theme and other well-known WordPress plugins.
It has almost no learning curve as it's integrated within the WordPress editor. That makes it ideal for beginners even though it also has advanced features.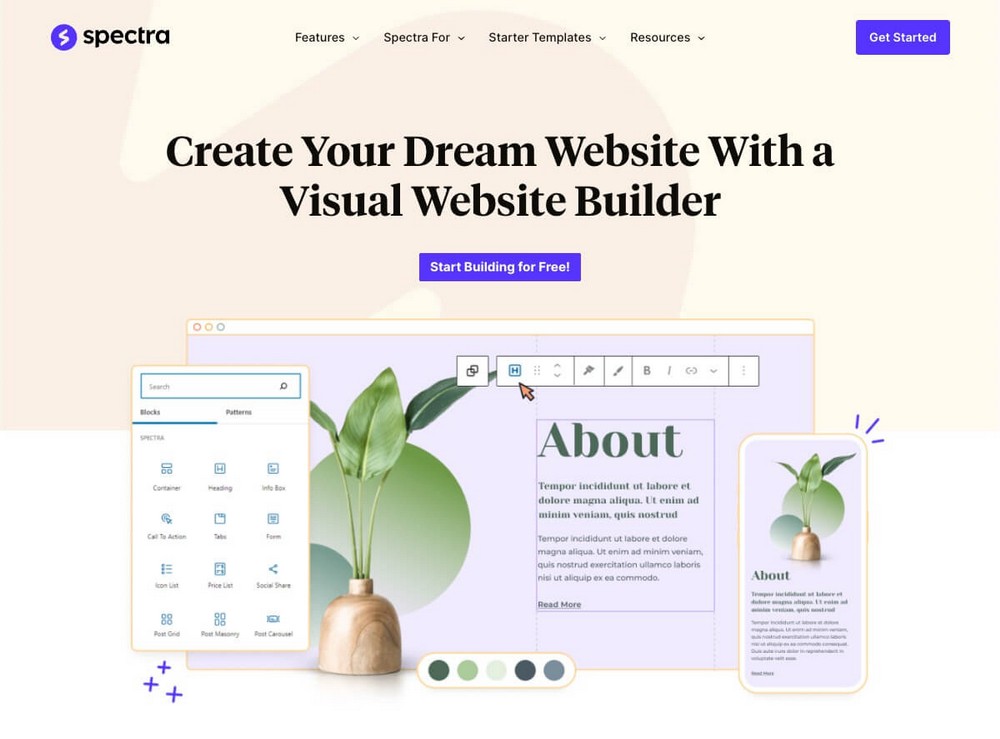 Key Spectra Features
Editor is integrated with the WordPress editor.
28 blocks and 3 extensions available.
300 pre-built block patterns, 60 wireframes and dozens of full website designs.
Copy-paste styles across websites.
Clean code that ensures fast load times
Spectra has full compatibility with the rest of your plugins too.
As you'll work from the WordPress editor, you can add a Spectra block, followed by a newsletter form from your email marketing platform, or whatever you need.
More blocks and features are under development.
5. Oxygen Page Builder
Oxygen Page Builder is a powerful yet very easy-to-use visual web page builder for WordPress.
Like most page builders, it works through a drag and drop interface. One of the most notable differences compared to its competitors is that you can use custom HTML, CSS, PHP or JS to create more advanced user experiences.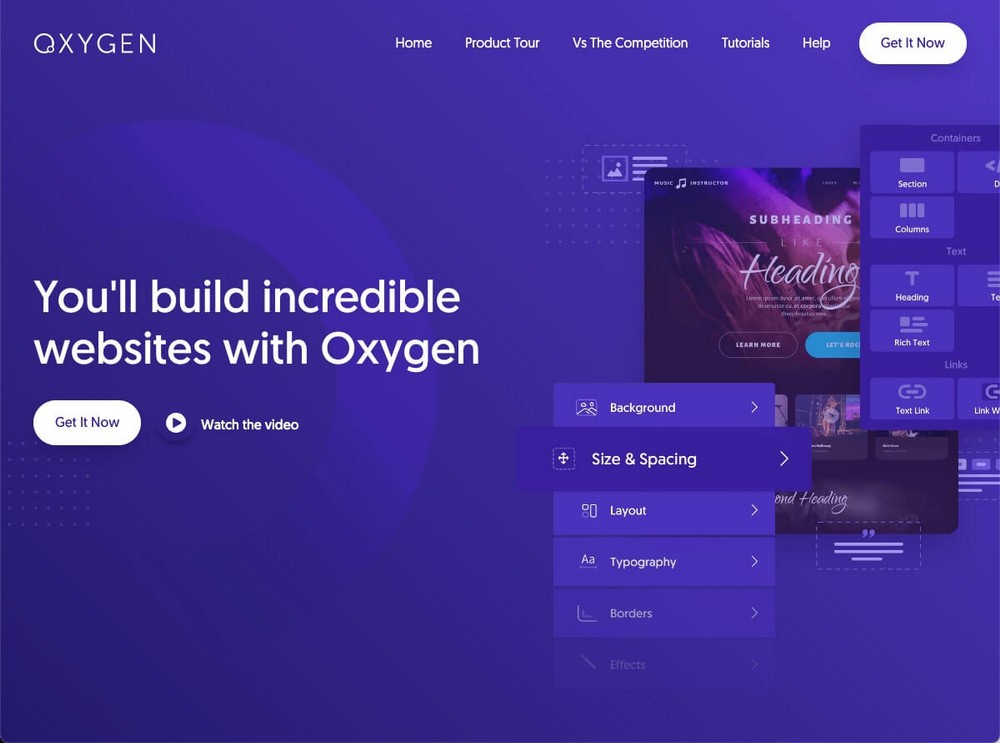 Key Oxygen Page Builder Features
Unlimited installations.
WooCommerce integration with blocks to show product information.
Global colors.
Dynamic data.
Header builder so you can create your custom headers.
Developer friendly: You can also write PHP, CSS and JS.
You don't need to be a developer or designer to use this page builder. It's very easy to use with simple controls and navigation.
But you'll enjoy it more and squeeze its full potential if you have the appropriate knowledge.
Price: Limited one-time $129 lifetime offer.
6. Thrive Architect
Thrive Architect is a WordPress page builder from Thrive Themes.
It's their next-generation page builder that replaced Thrive Content Builder. It's ideal for any website build but really shines for marketers because of its marketing focus.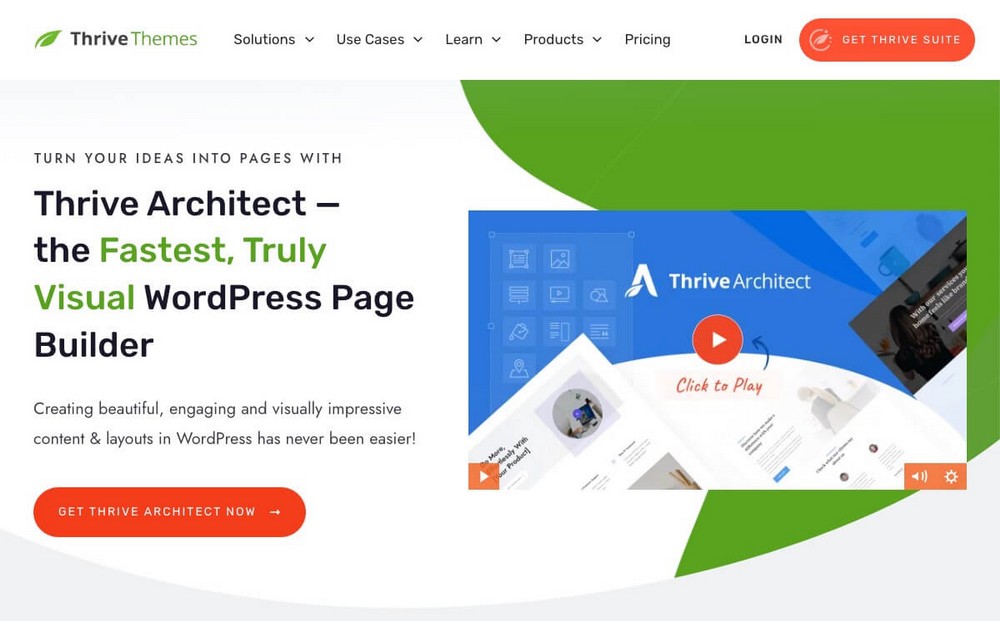 Key Thrive Architect Features:
Over 100 page templates.
Pre-designed section templates.
Global colors for easy customization.
Included popup engine.
Advanced marketing features.
Constant updates and Improvements.
Works with any theme.
Thrive Architect is a very exciting WordPress page builder.
Thrive Architect lacks a theme builder, but it lets you create your custom headers and footers.
Pricing starts at $99/year.
7. SeedProd
SeedProd is a drag and drop WordPress website builder. It's part of the large family of Awesome Motive plugins (WPForms, All In One SEO and Optin Monster), among others.
It provides features to help you create great designs fast without forgetting about marketing as it also offers tools focused on converting visitors into customers.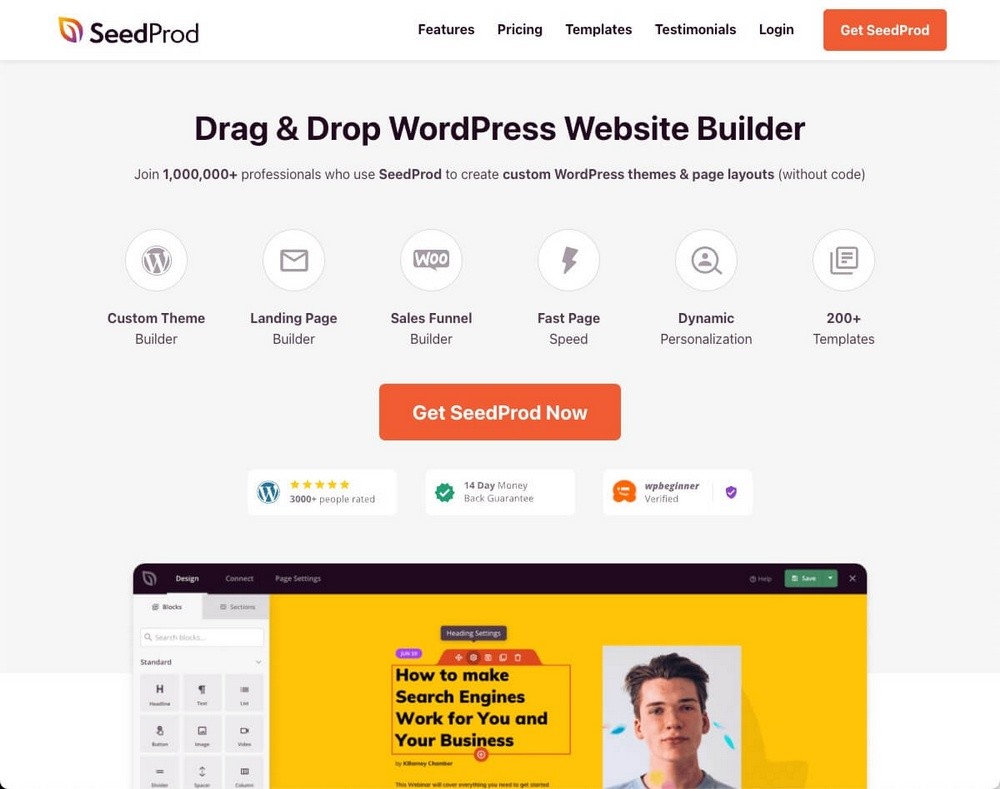 Key SeedProd Features
Custom theme builder.
Landing pages builder.
90+ pro blocks and 200+ templates.
WooCommerce sales funnel builder.
Dynamic data.
Spam protection with reCaptcha.
45+ eye-catching animations.
Built-in coming soon, maintenance and 404 pages.
Despite its advanced features, businesses of all sizes can enjoy SeedProd and create stunning and high-converting landing pages quickly and easily.
The price starts at $79/year.
8. Divi
Divi is one of the original theme and page builder combos for WordPress
It has been around for many years and because of that, it has a huge user base. It boasts many innovative features that are unique to Divi.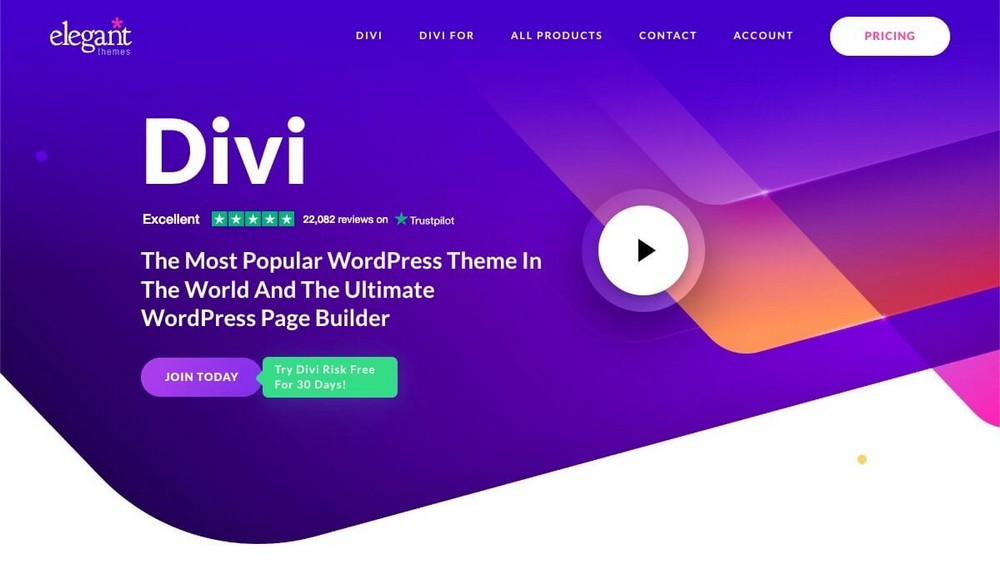 Key Divi Features:
Front end page builder.
Hundreds of templates.
Inline text editing.
Comes bundled with a theme.
Responsive editing.
Global elements.
200+ Website elements.
2,000+ pre-designed website layouts.
WooCommerce modules.
We can see why people buy Divi. It has a lot going for it. That's especially true after the release of Divi 4 which added theme builder functionality.
The pricing and the lifetime option is very attractive.
Also, the Divi team over the last 12 months has become a well-oiled machine, cranking out unbelievable features and enhancements.
If that wasn't enough, they also have pushed out an insane amount of free templates and a template manager. It's a good value all round.
Pricing: $89/year or $249 lifetime.
9. Visual Composer
Visual Composer is a premium website builder for WordPress. It allows you to design content in a creative way, although it's really focused on creating complete websites.
Key Visual Composer Features
Visual Composer hub with 300+ content elements and 200+ templates.
Embed GIFs through Giphy.
Theme builder.
Popup builder.
Tree view mode.
Developers API.
With Visual Composer you can create impressive websites thanks to its theme builder, one of its hundred templates and content blocks without having to write a single line of code.
The price starts at $49/year.
10. Brizy
Brizy is a great WordPress page builder built in React.
It represents a new way of building websites with WordPress which is both innovative and very easy to use.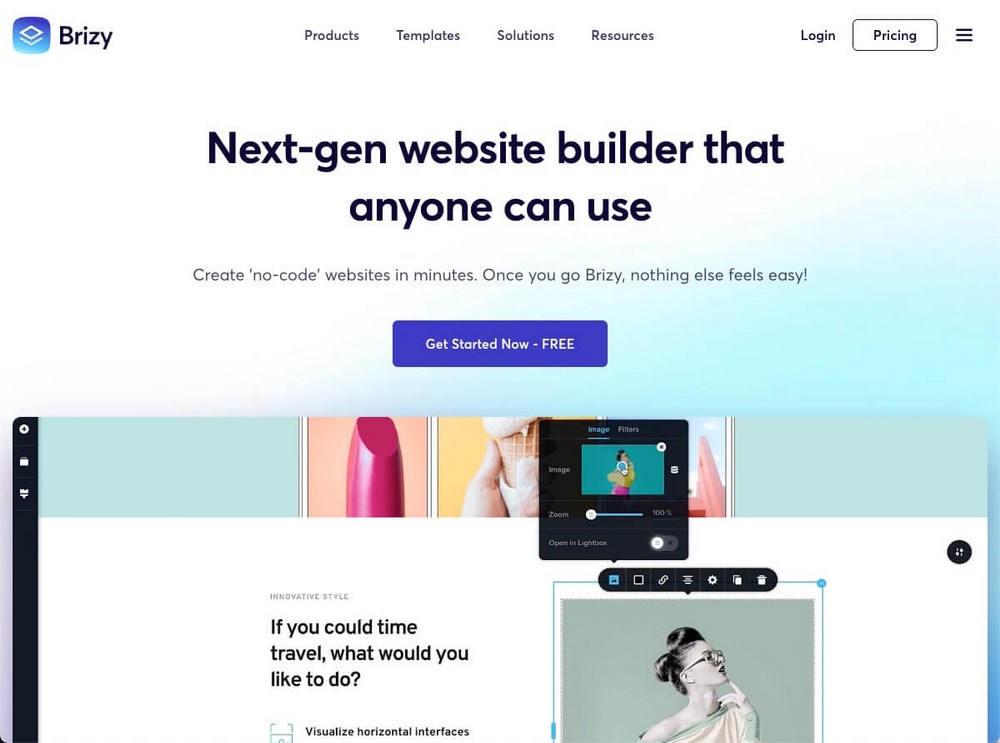 Key Brizy Features:
Easy to use interface.
Global linked colors and fonts.
Inline editor.
WooCommerce integration.
Popup and alert builder.
Professionally designed blocks.
Plenty of useful icons.
Brizy also includes many other interesting functionalities such as a theme builder and membership features, making it a very valuable tool.
Pricing: Free. Pro version starts at $49/year.
WordPress Page Builders FAQ
Which Page Builder Is Best for WordPress 2023?
Due to its features, constant improvement, years of experience and reasonable price, we believe that Elementor is one of the best page builders for WordPress that you might want to try in 2023.
But this could change overnight with the constant updates that these kinds of plugins are getting. A few years ago Spectra didn't even exist. Today it's able to stand up to many of the plugins that have been around much longer.
Do I Need a Page Builder for WordPress?
No, you don't necessarily need a page builder for WordPress. In fact, if you're reading this you may actually have survived without one until now.
However page builders can be incredibly helpful for creating new and standout websites and for adding new eye-catching content to them on a day-to-day basis.
Using a page builder for WordPress is not mandatory, but is highly recommended.
Which Page Builder Will Come by Default With WordPress?
The WordPress block editor is the default builder that comes with the CMS, but it isn't a complete page builder. It offers some specific blocks in its editor that will help you to improve a bit the design of your pages, but in no case this is considered a page builder.
Keep in mind that some hosting providers have partnerships with WordPress-related companies and they could install or propose you install one during the first configuration of the web.
What Is the Easiest Page Builder?
In our opinion Spectra is the easiest page builder to use. It integrates directly into the WordPress editor, so you don't need to learn how to use a different interface. If you invest some time and effort you might end up being more comfortable using any of the alternatives on this list.
But that's a more personal matter that you can only answer by testing.
Final thoughts on WordPress Page Builders
There are a plethora of page builders available on the market.
If your budget is tight or you plan to use these builders to build many sites, the price will certainly be a factor to consider.
You can start using the free version of Elementor and buy the Pro license once you can afford it. Or use other free alternatives such as Spectra.
Another key factor that you should not overlook is usability.
A plugin of this type can have a steep learning curve, and that's normal. But you should assure somehow that your page builder is easy to use for you on a daily basis.
Otherwise you'll constantly avoid it or reduce its use to 3 or 4 basic blocks that you are comfortable with.
The best way to find this out is to try the free version if available or make use of the free trial period that these tools typically offer.
You'll invest a lot of time working with these tools, and migrating content created with one page builder to another will be something likely unsuccessful.
Ultimately, the best page builder for WordPress will depend on your specific needs and preferences.
We can't make that decision for you, but we hope this comparison will help you to find the page builder that works best for you.
If so, tell us in the comments below which page builder you're going to start using!