How to SEO Optimize Your WordPress Website: A Comprehensive Guide To Ranking Higher
Google is the most popular search engine in the world. We trust the search engine to show us the most relevant results, which it does its best to deliver.
But how do you ensure your website shows up on top of Google when others compete for the exact same keywords?
By using Search Engine Optimization (SEO)!
With fierce competition from every website, it's harder than ever to get noticed.
As a result, you need to be constantly on your toes and keep refining your strategy to stay at the top of Google's algorithm.
But what exactly does optimization mean? And how do you go about doing it?
This comprehensive guide has everything you need to know about optimizing your WordPress website for the search engines.
Let's dive straight in!
What Is SEO and Why Is SEO Important?
SEO stands for Search Engine Optimization. It's the process of helping your website rank well in search engines.
This is important for a few key reasons:
Search engines are a vital part of online marketing strategies for many businesses. If you aren't optimizing your site, you're leaving a lot of money on the table
The traffic coming from search engines is very targeted. Users usually know what they are looking for. If your website shows up in search results, you're going to get some potential customers landing on your website
SEO is essential because it helps you rank higher in organic (i.e., non-paid) searches
SEO can also help you build a loyal, engaged audience which can be a great asset long term
Get Your SEO Basics Right
Now that you understand why SEO is so important, it's time to get our basics right.
There are three key aspects to look out for when you SEO optimize your WordPress website.
These are:
Keyword Research
You can't do any sort of SEO without knowing what keywords you'll be targeting.
Research your competition in Google and Bing and find the keywords and phrases you'll target.
Look through your website and find the top keywords that people might use to find your product or service. Write down a list of 20-30 keywords related to them.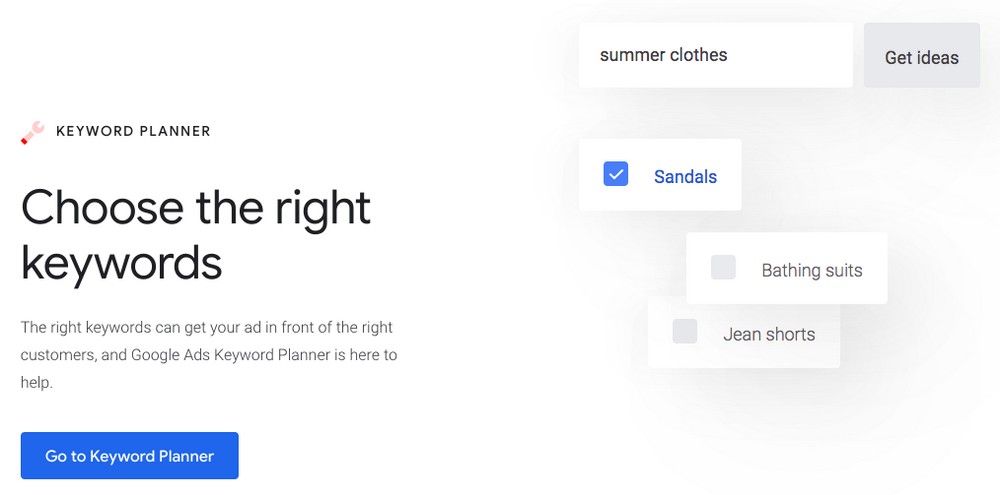 You could also use popular tools, such as SEMRush, Ahrefs, and Google Keyword Planner, to identify potential keywords to target.
On-page Optimization
The first part of SEO is on-page optimization. This means ensuring your website is focused on being the most relevant out there to help rank in search engines.
You'll need to ensure that the meta tags, meta descriptions, header tags, and content are all keyword-rich.
Did you know that there are over 200 on-page SEO ranking factors?
While I don't cover them all here, a few are critical to ensure your website ranks well in search engines.
I'll cover this a lot more in detail under website-level changes.
Off-page Optimization
The second part of SEO is off-page optimization.
As the name suggests, it's what you do outside your website. This primarily has to do with building backlinks. That is, getting a link from a high authority website back to yours.
That apart, here are a few prerequisites to check early on.
Check Your WordPress Website Health
It's always a good idea to check early on how your site is performing.
Things like the hardware and software your website is running on, the hosting plan, and whether you are running your site on dedicated hosting or shared hosting are all critical to your site's health and performance.
Did you know you can check your website's health from your WordPress dashboard?
Head over to Tools > Site Health, and you'll get to know what's working well and what's not.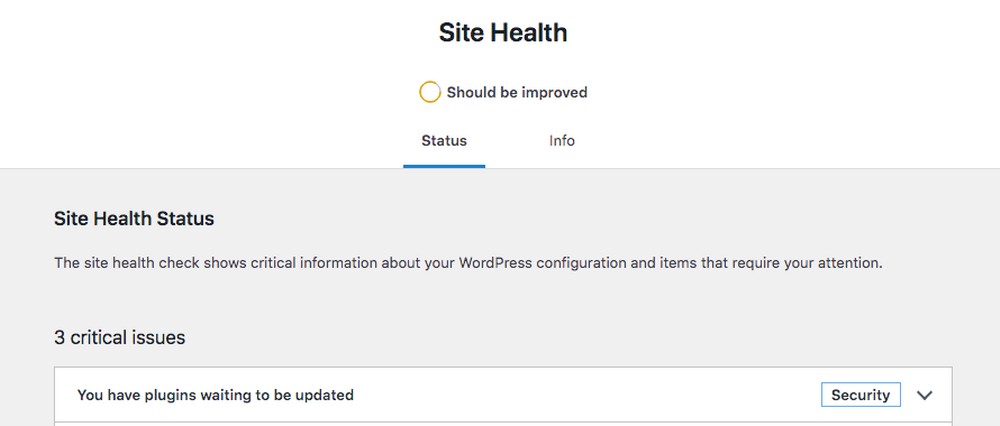 It'll give you a detailed report of what needs immediate attention and what can be improved.
Prefer using a WordPress plugin?
Try the Health Check & Troubleshooting WordPress plugin.
It performs several checks to detect common configuration errors on your WordPress installation. It also runs a check on the plugins and themes.
Choose a Reliable Hosting Solution
Hosting is the first thing that will determine how well your SEO campaign will perform.
You'll need a reliable, high-quality hosting solution to rank high on Google.
When choosing a hosting solution, the most important thing to consider is speed. Your website has to load fast to enhance the user experience.
Look for a hosting provider that makes your websites faster, more secure, and reliable.
Additionally, one of the critical requirements of a reliable hosting solution is that it must have the latest version of WordPress and PHP installed.
Install an SEO-friendly WordPress Theme
Most WordPress themes come with built-in SEO optimization and ready-made page building features.
The WordPress ecosystem has close to 10,000 free themes available currently. So which one do you go with?
I highly recommend Astra.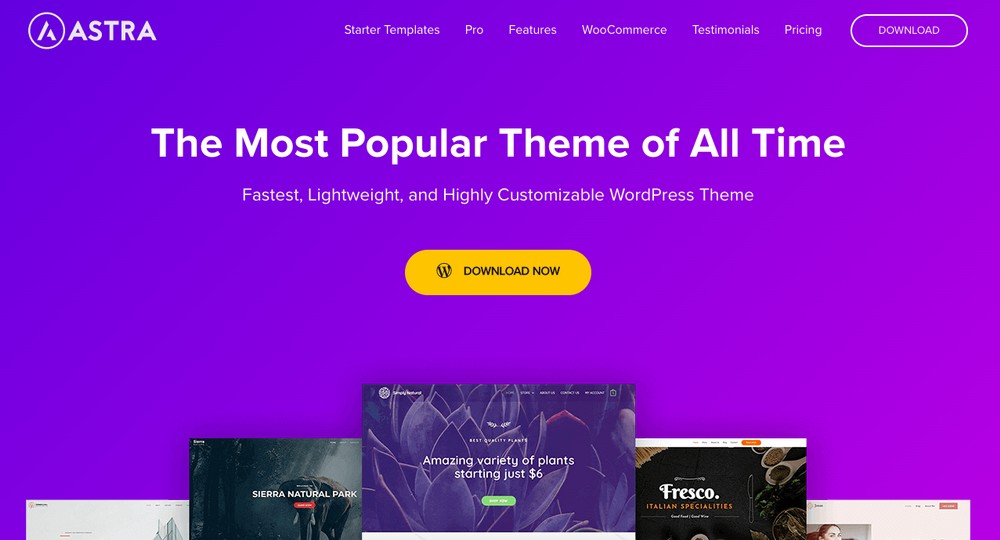 It is the most popular non-default theme in the WordPress repository, with over 1.8 million active installations and 7+ million downloads.
It's a lightweight theme that's super optimized for speed and performance. The SEO-optimized theme ensures that websites built using Astra rank well on search engines.
Ensure You Are Using the Latest Version of PHP
While we have covered this under hosting, it's worth mentioning this again.
It's vital to check your WordPress website runs the latest PHP version. This will ensure you have the fastest, safest database version.
How to Optimize Your WordPress Website for SEO
There's a lot you can do to optimize your WordPress website for SEO. I'd like to categorize these into website-level and page-level changes.
Let's get started with the website-level changes.
Website Level Changes
Website level changes are customizations you make across your entire website.
1. Check Your WordPress Site's Visibility Settings
Did you know that you can discourage search engines from indexing your site? Why would anyone want this, you may ask?
Well, this feature works exceptionally well when you are building your website from scratch.
You wouldn't want users to see a website under construction or for Google to index your web pages at this stage.
While this feature surely helps, it's equally important to ensure that you do not stop search engines from indexing your website when it is complete and good to go.
You control this from your WordPress dashboard.
Navigate to Settings > Reading.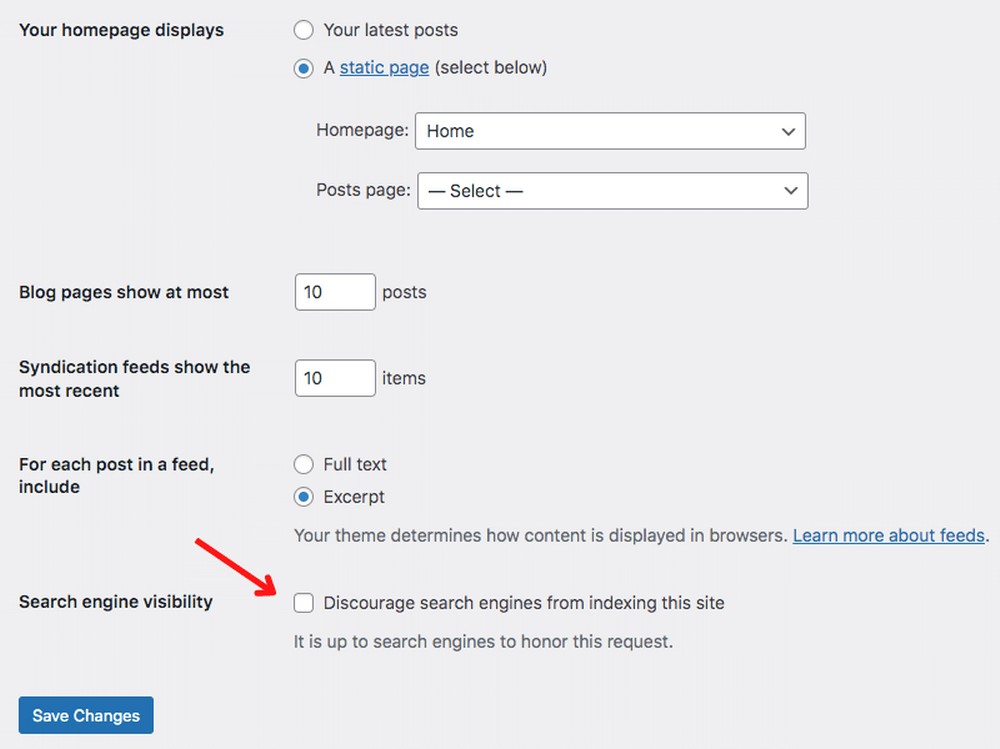 Notice the Discourage search engines from indexing this site option?
Check this option while you're building your website. Then uncheck the box when you're finished and want your site to be indexed by search engines.
2. Check Your WordPress Permalinks
Permalink = URL (link). It's the link to a page or post on your website.
Typically, you get a fair indication of what a page or post contains by viewing the URL.
For instance, this URL – https://www.wpcrafter.com/category/how-to-make-a-website/, indicates the blog post is on how to make a website.
This is not only a user-friendly URL, but it is also a very search engine-friendly URL.
Compare that to a URL such as https://www.wpcrafter.com/p=123.
Or even a URL such as https://www.wpcrafter.com/archives/123.
You'd probably agree it's not very user-friendly.
To ensure you incorporate user-friendly and search engine-friendly URLs, head to Settings > Permalinks from your WordPress dashboard.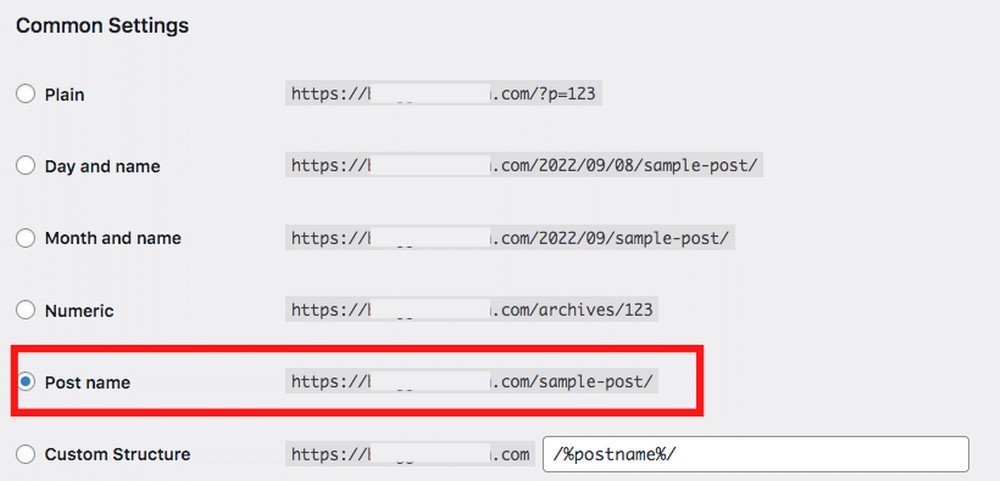 Select Post name and then click Save Changes.
From now, all your URLs will be precisely what Google likes!
3. Install a WordPress SEO Plugin
WordPress plugins enhance the functionality of your website and WordPress SEO plugins are no different.
They come with a host of features that help you optimize your WordPress website.
Most SEO plugins offer a checklist of ranking factors that helps you optimize your website content.
For instance, Yoast SEO is a popular WordPress SEO plugin.
Assuming you have Yoast SEO installed on your website when you create a new post, you'll notice a bunch of ranking factors that you'll need to optimize.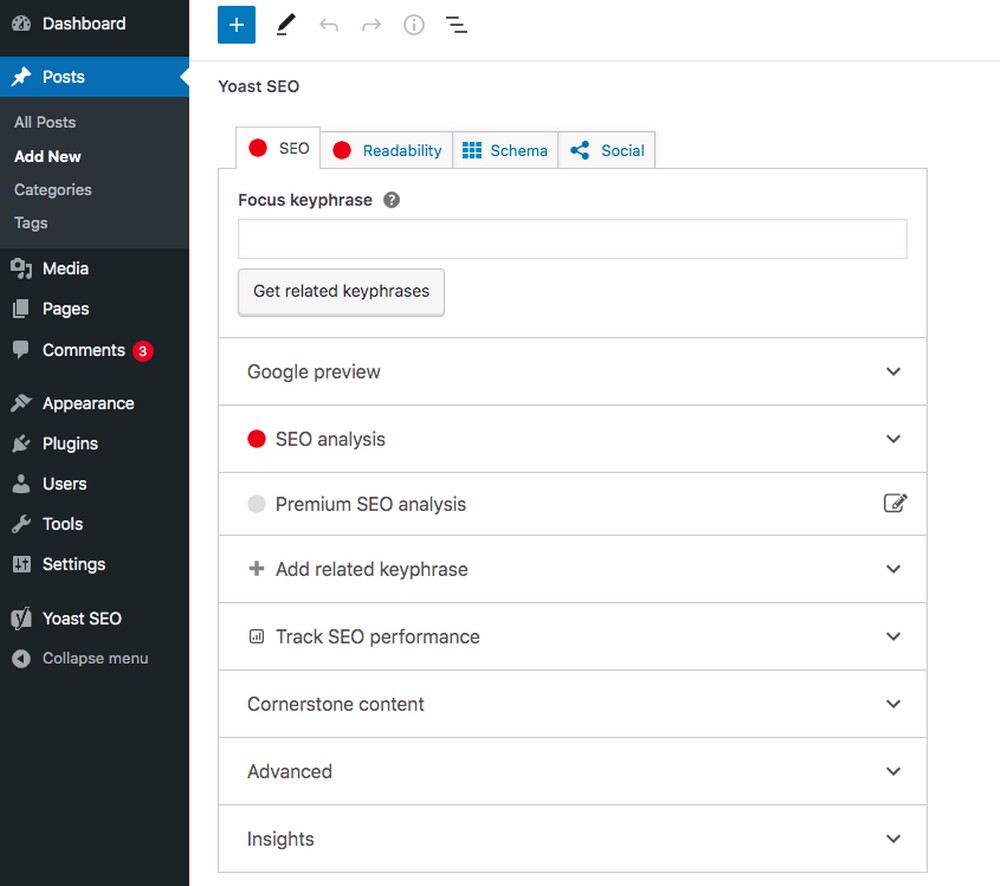 From adding the keyword phrase to crafting the correct title, meta description, image alt texts, keyword density, and more, the plugin helps you with everything.
This acts as a checklist that you need to complete for every post before publishing it.
In addition to just the page-level factors, the plugin helps you add a sitemap, appropriate redirects, and much more.
Other popular SEO plugins to assist you are RankMath and All in One SEO.
4. Connect Your Site to Google Search Console
Did you know that Google offers tools to monitor how a website performs on search engines?
One such tool is Google Search Console.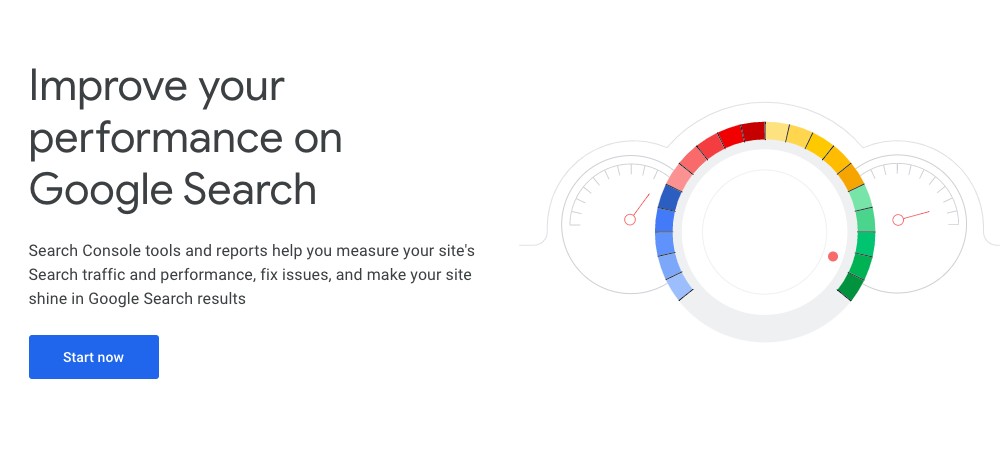 From providing information on the actual search terms users are searching to find your website to how frequently your pages are clicked, Google Search Console provides you with a lot of in-depth information and data.
You can craft your content marketing strategy by knowing what's working and what's not.
Want to tell Google to index your page or post? With Google Search Console, you can also request indexing of a particular page or post.
In addition to providing insightful data, Google Search Console alerts you when something goes wrong with your website.
Adding your WordPress site to Google Search Console is pretty straightforward. You'll need to sign in using your Google (Gmail) account and add your website URL when prompted.
Once your site is added, you'll be provided with some HTML code that you'll need to add to your website. You can easily do this using a WordPress plugin, such as WPCode – Insert Headers and Footers Custom Code.
On successfully adding your site to Google Search Console, you'll start seeing data related to your website.
However, you'll need to give it about 24 hours for all data to be shown.
5. Use XML Sitemaps
Sitemaps are essentially maps for your website that tell search engines how to find the pages on your website, making your website more visible.
Creating an XML sitemap is pretty simple, especially if you've installed an SEO WordPress plugin, such as Yoast SEO. It generates an XML file that you can submit to Google Search Console.
You'll find a link to sitemaps on your Google Search Console dashboard.

Include the file name of your sitemap and click Submit.
And that's how simple it is to add a sitemap for your website.
6. WWW or non-WWW
Primarily, there are two ways to access a website by URL. Either with a 'www' or without.
For instance, you can access the WPCrafter website by either entering www.wpcrafter.com or wpcrafter.com.
While they both are technically the same, Google sees these as two different websites.
Hence you'll need to pick one and stick with it. This means that you'll need to be consistent with your domain name in all your communications, be it your emails, social media platforms, or anywhere else.
It's entirely your preference to either use 'www' or not.
Once you've decided how you'd like to reference your website, head over to Settings > General on your WordPress dashboard.
Enter your URL under WordPress Address (URL) and Site Address (URL).

Click Save Changes once you are done.
7. Optimize Your Site for Speed
Having a fast-loading website is no more a 'can have'; instead, it's a 'must have.' Users demand fast websites, so search engines prioritize them.
Several factors determine the speed of your website. Some of these include your hosting, coding standards, number of WordPress plugins, and the number of server requests.
Using large image sizes can also impact your website speed. The larger the image file size, the more data needs to be downloaded to the browser, resulting in slower page loading.
Hence, it's a good practice to optimize your images.
Optimizing means shrinking the image file size without impacting image quality.
You could use image optimization WordPress plugins, such as Smush and reSmush.it, among others.
Another tip to improve site speed is by installing a cache plugin.
In addition to caching your pages for faster load times, some plugins help you with the following:
Compress image sizes without impacting quality
Minimizes the CSS and Javascript files
Cleans and optimizes your database
Let's put this to the test.
To begin, go ahead and check your website's load time using a tool such as Google PageSpeed Insights or Pingdom.
We installed the Astra theme on a fresh WordPress installation and ran a speed test.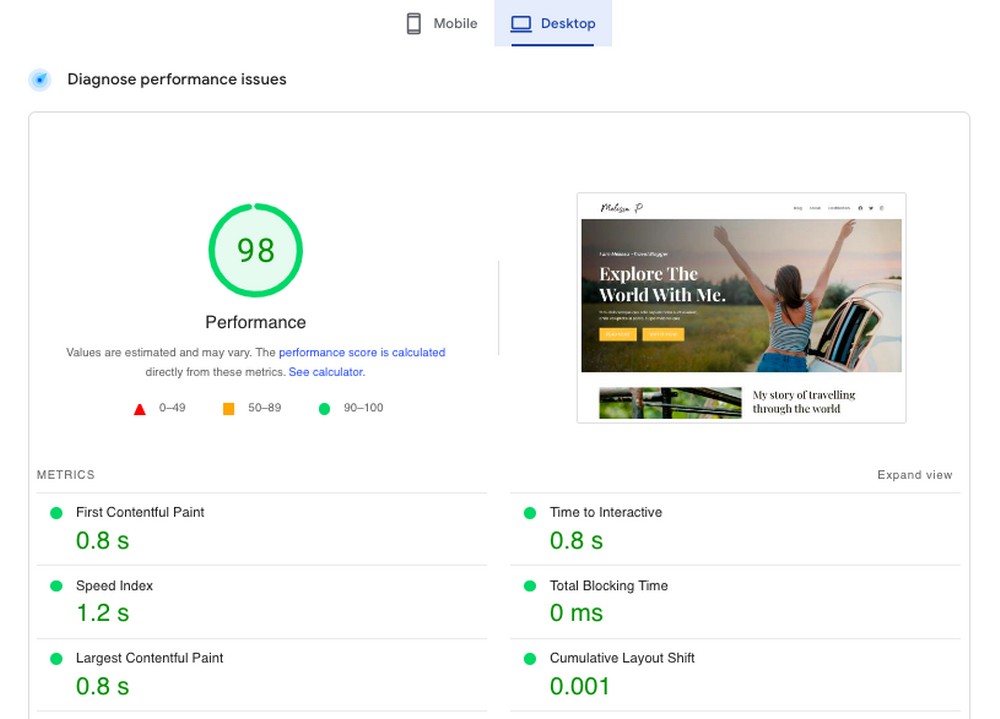 We then installed a popular caching plugin, ​​LiteSpeed Cache, and reran the test.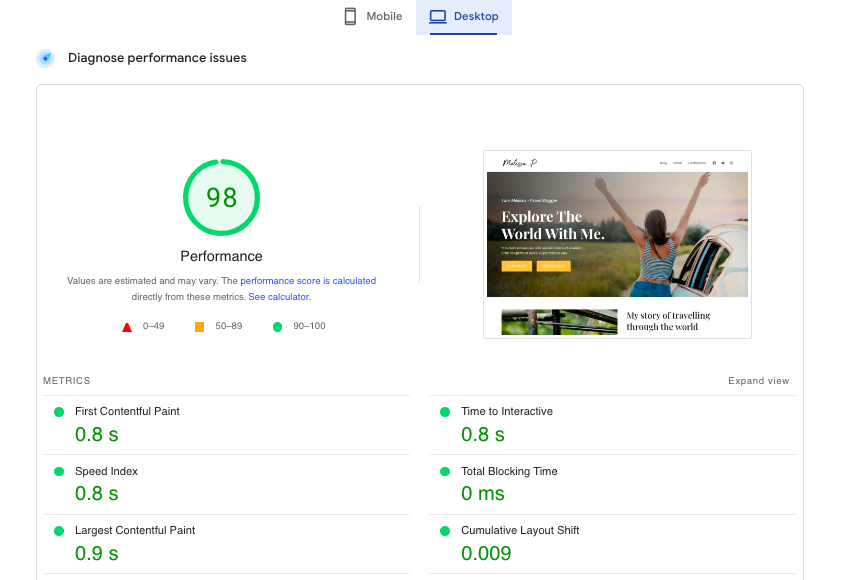 As you can see, the Speed Index has improved from 1.2 seconds to 0.8 seconds.
While that doesn't sound a lot, every millisecond counts!
Some other popular WordPress caching plugins include WP Rocket and W3 Total Cache.
8. Use SSL
Here's another must-have SEO ranking factor as far as search engines are concerned.
Have you noticed the 'HTTPS' that appears in a URL? Or maybe the padlock sign in the address bar of your browser?
For instance, this is how it appears for the WPCrafter site.

By ensuring your site has SSL, search engines feel more confident in showing your website on the search results page.
It makes your website more trustworthy and is especially required when you run an online store that accepts payments online.
SSL encrypts the connection between the server and a user's browser by adding an additional layer of security to your WordPress site.
Today, most hosting providers offer free SSL certificates, which is pretty straightforward to have on your WordPress website.
9. Secure Your WordPress Website
WordPress is the most popular CMS available on the market today. More than 44% of websites globally are powered by WordPress.
Owing to its popularity, it's also the most likely target for hackers and brute force attacks.
With Google blacklisting websites for phishing attacks and malware, you wouldn't want to risk your site getting hacked. Especially after all your work to optimize your WordPress website SEO!
Fortunately, keeping your WordPress website safe is not that difficult.
You can install a WordPress security plugin, such as Wordfence and Sucuri, to protect your website from suspicious attacks.
10. Optimize Comments
Comments are an indication of how well users engage with your website content. The more engaged the user, the more the chances you get backlinks and enhanced traffic.
Which eventually helps improve your website SEO.
However, you'll need to ensure that your comments are from genuine people and not spam. Spammers usually submit comments with bad links that can affect your search rankings.
Like everything else in WordPress, you can combat comment spam using a plugin like Akismet. It's one of the most popular plugins and comes default with every new WordPress installation.
Page Level Changes
Now that we've covered the website-level changes, let's look at some page-level changes required to SEO-optimize your WordPress website.
1. Use Categories and Tags
WordPress allows you to add categories and tags to your blog posts. By doing so, you not only get to manage your content by topic, you also make it easy for your readers to find what they are looking for.
Additionally, by using categories and tags, you help search engines understand your site structure.
So, what's the difference between categories and tags?
Consider categories as the top level of a navigation menu that may or may not have child categories under them.
For instance, you may have several posts related to WordPress, SEO, blogging, content marketing, and more.
The ideal way to group these posts would be to create categories such as WordPress, SEO, blogging, and content marketing and then have your posts under the corresponding categories.
This way, your categories serve as the top level of a navigation menu.
Tags, on the other hand, are specific to a particular post. It's like including keywords that are specific to your post.
For instance, if you're publishing a post on WordPress, you can have tags such as themes, plugins, CMS, and more that could be a part of your content.
By using categories and tags, you make navigating through your website easier for users. Which, in turn, helps search engines too!
2. Use Structured Heading Tags Throughout Your Content
Headings are a great way to structure your content and help describe your page layout to search engines. It enhances the user experience by providing bite-sized information that improves readability.
You have heading tags that range from H1 to H6, and typically, the title of your post is within the H1 tag. There can be only one H1 tag per post.
Consider heading tags similar to a well-formatted listicle or a parent-child element.
For instance, if WordPress is the parent element, your child elements could be WordPress themes, WordPress plugins, WooCommerce, and WordPress page builders, among others.
So, our listicle will be as follows:
WordPress
WordPress themes
WordPress plugins
WooCommerce
WordPress page builders
Let's add a child element under WordPress themes, such as Astra and Kadence. We'll also add Spectra and Elementor under WordPress page builders.
This would make our listicle appear as follows:
WordPress
WordPress themes
WordPress plugins
WooCommerce
WordPress page builders
Let's now see how the heading tags work for the above if we were to create a post.
<H1>WordPress</H1>
<H2>WordPress themes</H2>
<H3>Astra</H3>
<H3>Kadence</H3>
<H2>WordPress plugins</H2>
<H2>WooCommerce</H2>
<H2>WordPress page builders</H2>
<H3>Spectra</H3>
<H3>Elementor</H3>
Simple? I sure think so!
3. Create Your Content Around Keywords
Keyword research is one of the most important steps you can take when optimizing your WordPress website. At least, it is if you want to see significant growth!
When you start any SEO work, keyword research should come first. It's how you plan your site's content and identify which search term you should be optimizing your website's content for.
There are several keyword research tools in the market, such as SEMRush, Ahrefs, Google Keyword Planner, and others.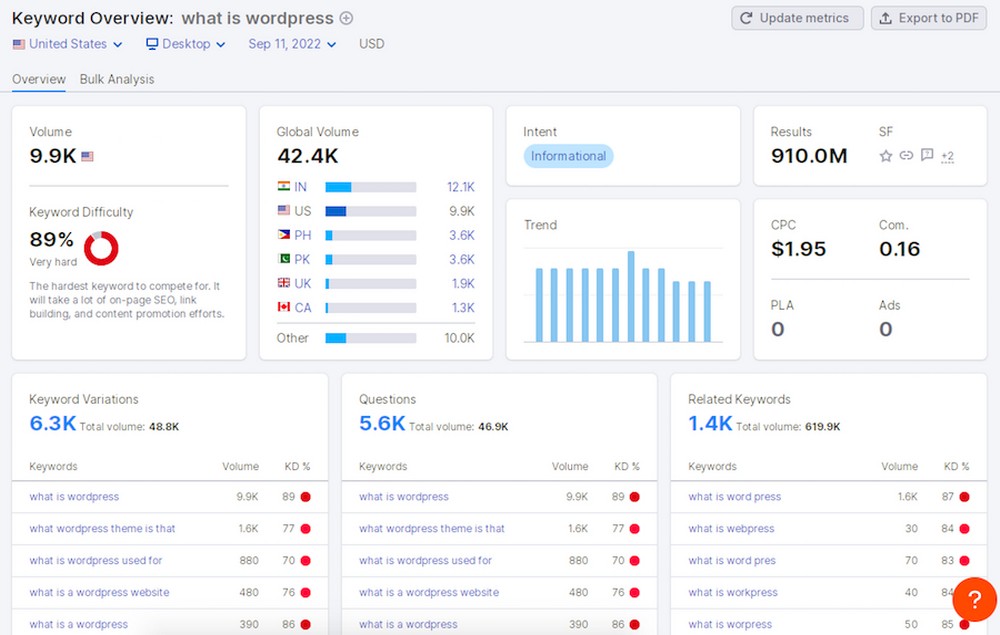 By knowing which keywords you are trying to rank for, you can create your content around the primary keyword and include other related keywords.
E.g., if you were to write an article about WordPress themes, you'd probably want to mention how to install a theme or the features of an ideal WordPress theme.
All of which help optimize your WordPress website.
4. Add Alt Text to Images
When you use images in your content, ensure you add alt text. It helps search engines understand what the images are about.
Alt tags are a principle of web accessibility that aids visually impaired users.
Alt tags must clearly describe the image and can be easily added to any image from the image settings within your WordPress dashboard.
Be as descriptive and straightforward as possible, and use unique alt text for each image.
5. Use Internal Links
Internal links are links to other pages on your blog. These are links to other posts and pages already created inside your WordPress site.
What this does, is help Google bots learn about your internal links by creating a 'link graph' within your content.
The internal links you create are going to be a huge help when it comes to your blog's SEO.
When you create an internal link to a post you've written, you're telling Google your post is relevant and important enough to be worth linking to.
This is why internal links are one of the most essential parts of SEO on a blog.
6. Update Your Posts Frequently
It's one thing to create new content for your blog. It's another thing, and an important one, to be updating your older posts frequently.
Users love to read content that is new, updated, and has all the latest information.
On the flip side, if your content is not updated and contains outdated information, users will bounce off your site immediately.
And high bounce rates are not good signals as far as search engines are concerned.
Not only should you be updating your content, but also change the last updated date. This gives users and search engines the confidence that your content is current and relevant.
You can easily add the last updated information on your pages and posts using a WordPress plugin, such as WP Last Modified Info.
7. Focus on Quality Content, Not Quantity
As you can see, there are numerous things that you can do to improve your blog's SEO and make it more visible to search engines.
However, the critical thing to remember is that none of these ranking factors will work if your content doesn't come first.
Hence, you must ensure that you focus on quality and not quantity when it comes to content creation.
You want to create unique and exciting posts, but you also want to make sure they are focused around specific keywords and phrases.
Create content that is super resourceful and helps your readers. By creating such content, users and search engines see you as an authority on the topic.
Needless to say, it helps boost your ranking on search engines!
8. Use Responsive Design
Responsive design is when your website adapts to the screen size of your user's device.
Did you know that over 50% of website traffic comes from mobile devices? If your website doesn't work well on mobile devices, you are losing out on a lot of traffic.
That apart, search engines give more importance to websites that show well across all devices. Google calls this 'Mobile First Indexing', and is incredibly important for SEO.
The good news is that most WordPress themes today are mobile-friendly. Check before you buy though as you can't be too careful!
9. Noindex Tag Pages and Other Low-value Content
Do you have pages on your server that don't appear on the live website? You know, maybe a page you tried goofing around with or used for testing things out?
It may also contain content that was used for a specific purpose, and now, you do not want to show it to anyone.
Do you want search engines to index such pages on your website and show them on the search engines results page?
In such cases, you can tell search engines not to index those pages or posts.
By adding a Noindex tag to such pages, you are telling search engines to skip this page and not show them on the search results page.
Fortunately, with the various WordPress SEO plugins available, you can quickly get this done.
For instance, if you've installed the RankMath SEO plugin, you have the option to add a Noindex tag to the specific page or post you'd like to hide.
Under the page settings, head over to the RankMath settings and click on Advanced.
Check the No Index option and your page will not be indexed by search engines.
10. Use Schema Markup
Schema markup is a set of instructions that help search engines know more about the data you're providing on your blog.
Why is this important?
While there are several reasons:
It helps Google and other search engines understand what your content is about
It helps Google understand if what you have is relevant to what people are searching for
Increases your chances of appearing in rich snippets, which can have a huge impact on page hits
Want to add schema? While most SEO plugins should help you add schema to your WordPress website, you could consider installing a premium plugin, Schema Pro.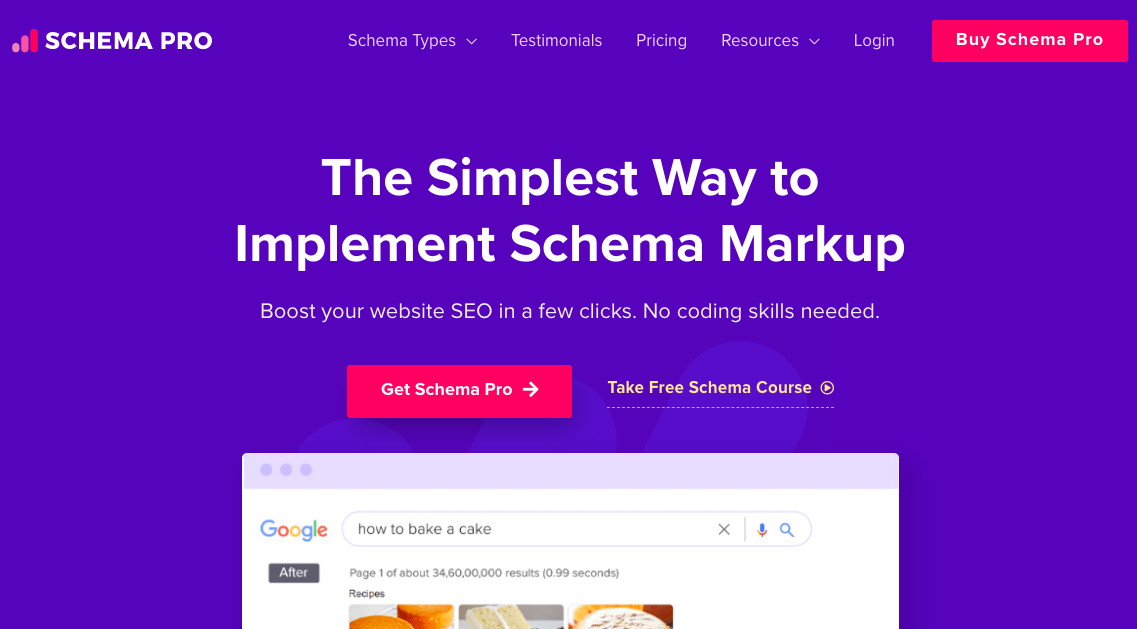 Schema Pro helps improve your website appearance on the search engine results page, leading to higher click-through rates and traffic.
Have You SEO Optimized Your WordPress Website?
SEO is essential for getting your website to be found online. It's a lot of work, but it is well worth the effort, especially for significant gains in organic traffic.
There is no single, quick way to improve your SEO and get your website to the top of Google's search results page. The good news is that, with a little effort, you can make a big difference.
This article covered several tried and tested tips to help you optimize your WordPress website — both on the website and the page.
Now that you know how to optimize your WordPress website, it's time to get to work!
Have you SEO optimized your WordPress website? Have any tips to share? Let me know below!