How to Set Up WooCommerce in WordPress
Selling products online starts with a website. To succeed in your online business, you should stay on top of the latest trends and strategies on how to manage your virtual shop. Setting up a WooCommerce site is the gold standard in eCommerce, and we can't give more weight to it than coming up with a complete guide on how to set up WooCommerce properly.
Before we start, a little trivia. Did you know that by the year 2040, there are about 95% purchase transactions that are going to happen online? So, this is a very great opportunity for you to learn the ropes when you still have the chance. It's a long read, but if you prefer a video guide, then head over to our guide on how to create an eCommerce store.
What is WooCommerce?

WooCommerce is a free WordPress plugin that you need if you want to add an eCommerce functionality to your WordPress website. With a few clicks, you can transform your website into a completely functional online store.
It already has more than 67 million downloads and more than 4 million active installs, making it the most popular and most trusted plugin by countless online stores.
WooCommerce is a perfect choice for you if you're planning to sell physical and digital products, and at the same time manage your inventories, shipping, securing payment and taxes automatically.
What Do You Need to Make a WooCommerce Store?
Making a WooCommerce store is not as hard as you think!
In this section, I will outline everything that you need to get started.
Here are the five things you need to create your eCommerce store.
Web Hosting
While there are many factors to consider when setting up an eCommerce store, one of the most important is choosing the right web hosting.
A web host is a service that allows you to publish your website online. It's sort of a renting space on which you build your website.
Not all hosting providers are created equal, and some are much better equipped to handle the demands of an online store than others.
When it comes to WooCommerce, it is essential to choose a host that is able to provide fast loading times, reliable uptime, and adequate security features.
In addition, it is also important to make sure that the host offers good customer support in case any issues arise.
With so many options out there, it can be tricky to know where to start. I'm here to help. I have created a separate hosting page, to help you out.
Domain Name
A domain name is a unique address that identifies a website on the Internet. It typically takes the form of www.example.com or simply example.com (just like this website, wpcrafter.com). It functions as a sort of virtual license plate for your site.
When you're launching an eCommerce business, your domain name is one of the first things you need to choose.
It's important to choose a domain name that is short, easy to remember, and relevant to your brand.
WordPress CMS
WordPress is a content management system (CMS) that enables you to create a website or blog from scratch, or to improve an existing website.
WordPress is used by millions of people around the world, including many large organizations, such as The Guardian, Forbes, and The New York Times.
One of the main reasons WordPress is so popular is because it can be used for eCommerce.
WordPress is compatible with the WooCommerce plugin, which allows you to turn your WordPress site into an online store.
Payment Gateway
A payment gateway is a critical piece of the eCommerce puzzle. This is how you get paid.
You can install payment gateways like Stripe, Paypal, Authorize.net, Square, or similar into your WordPress website using a simple plugin.
Each of these payment gateways have an official plugin that can integrate with your WooCommerce store.
WordPress Theme
If you're planning to open an eCommerce store, then it's important to choose a WordPress theme that is designed specifically for online shopping.
A theme controls the look and feel of your store. It contains the stylesheets, graphic elements like layouts, colors, fonts and other such elements that beautify your store.
By choosing a theme that is optimized for eCommerce, you can be sure that your store will look professional and be easy for customers to use.
Choose the Right WordPress Theme for WooCommerce
Selecting a WordPress theme can be a daunting task, especially if you're not sure what you're looking for.
There are literally thousands of themes to choose from, and it can be difficult to narrow down your options.
Here's a quick guide to selecting the best theme for your eCommerce store. In general the theme you pick should be:
Responsive
Lightweight
Easy to learn
Should support most page builders
Should have some website templates to make your life easier
Additionally, the WordPress theme should have good reviews and ratings.
Looking at all these features, I recommend the Astra WordPress theme. Not only is it the most popular WordPress theme of all, it has over 5,600 5 star reviews.
The Astra theme is extremely lightweight and requires less than 50KB of server space. It also comes with hundreds of fully designed website templates that perfectly fit websites of any genre.
In fact, the eCommerce website templates are well designed for good branding and great sales.
How to Set Up WooCommerce?
Before anything else, you need to install WordPress on your website and add a theme. I highly recommend using Astra Theme. It's lightweight and fully customizable. We've even published an in-depth Astra review plus a Astra video review that you must check out. Above all, it seamlessly integrates with WooCommerce, making it the perfect theme to house your online store.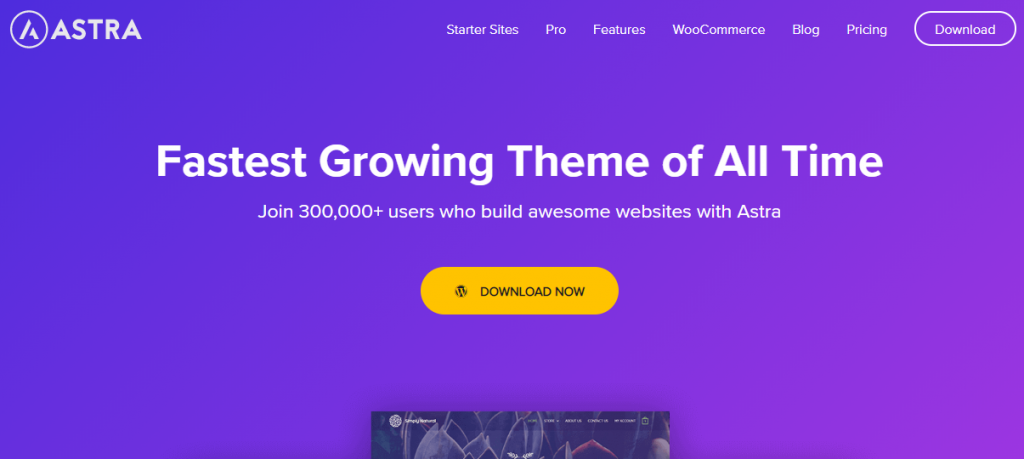 Step 1. Install WooCommerce Plugin
On your WordPress dashboard, go to the Plugins menu, then click on "Add New." Search for WooCommerce and click on the "Install Now" button. Once installed, click on "Activate."

Step 2. Store Setup
Now, it's time to set up your store by answering the form. Once you're done, click on "Let's Go!" button.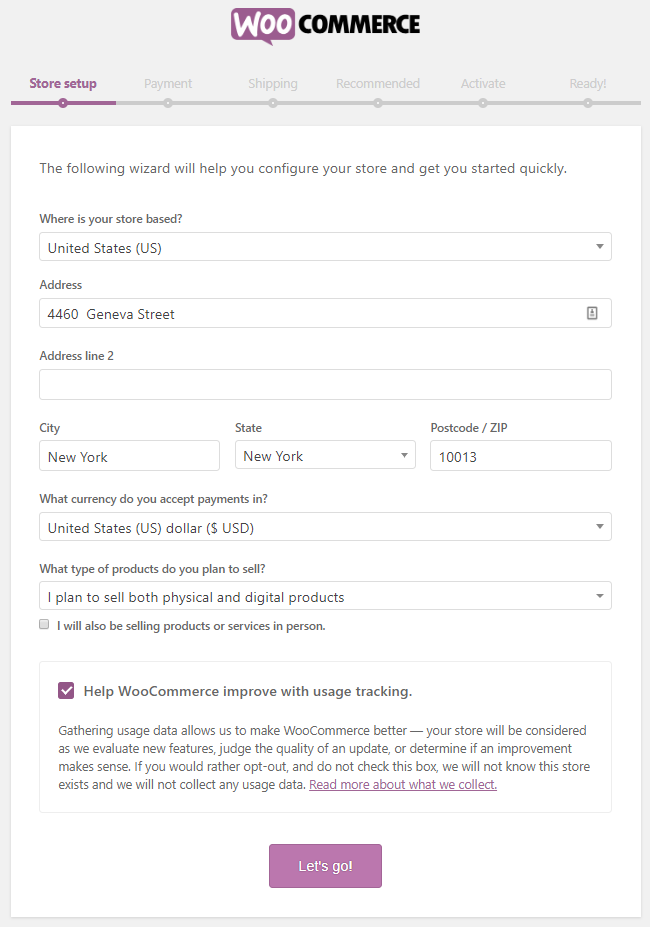 Step 3. Payment Setup
You can now select the payment gateway you're going to use. Click "Continue" once done.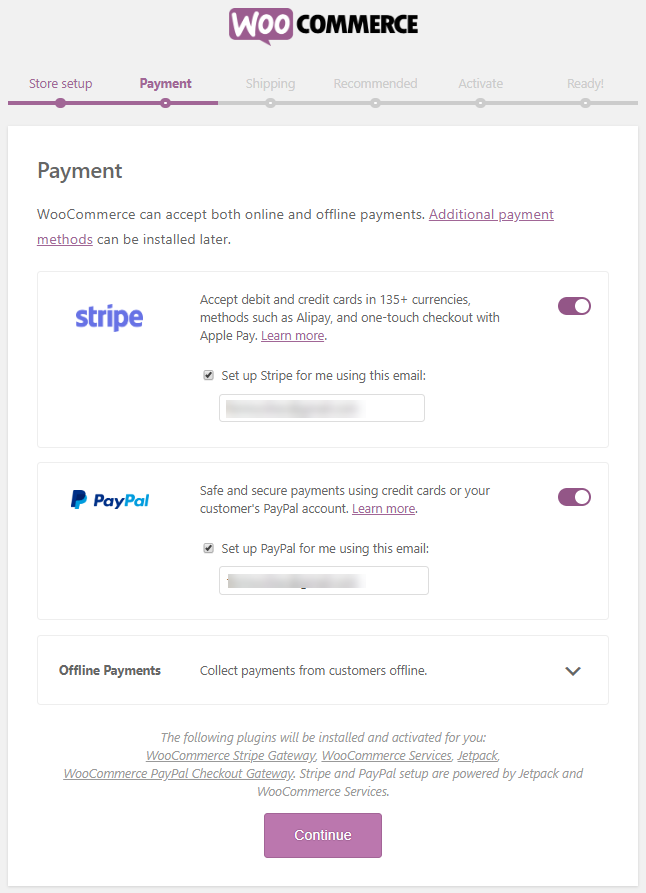 Step 4. Shipping Setup
Now, choose the shipping method for your products. You can either set up a flat rate or free shipping. You also have the option to print your shipping labels at home and select which unit for weight and product dimensions you're going to use.
Once you're done, click "Continue."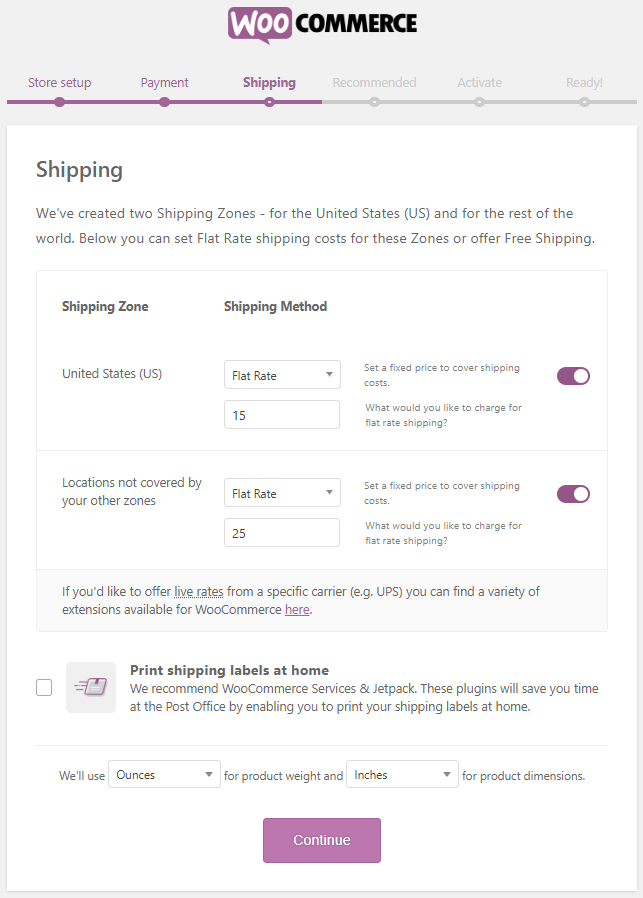 Step 5. Set up other recommended features
Your online store is almost done! On the next tab, you'll see other features supported by WooCommerce to enhance the functionality of your online store. You can tick them all or leave them unchecked. Once you're done, click "Continue."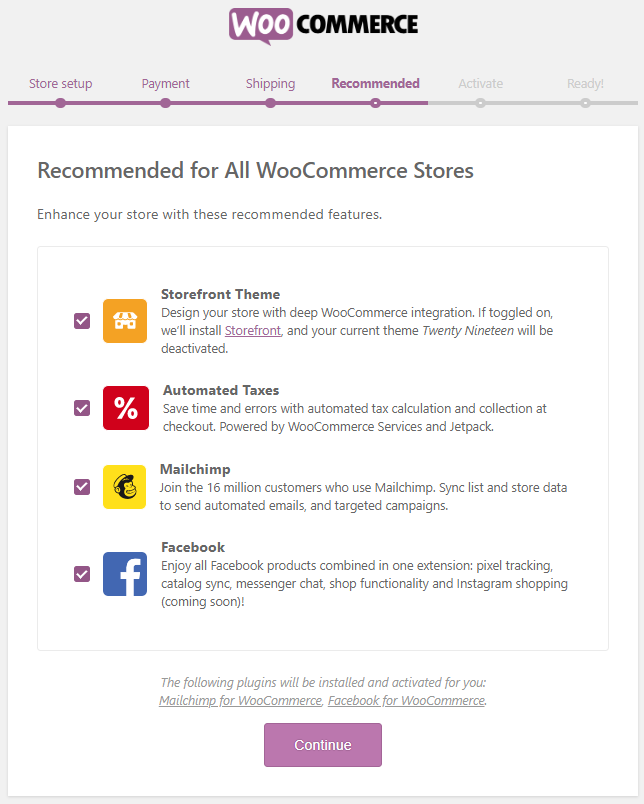 On the next tab, you'll be asked to connect your store to Jetpack, a security plugin. I prefer just to skip this step.
Step 6. Start selling
And, your WooCommerce is completely set up. You can now start creating or importing your products.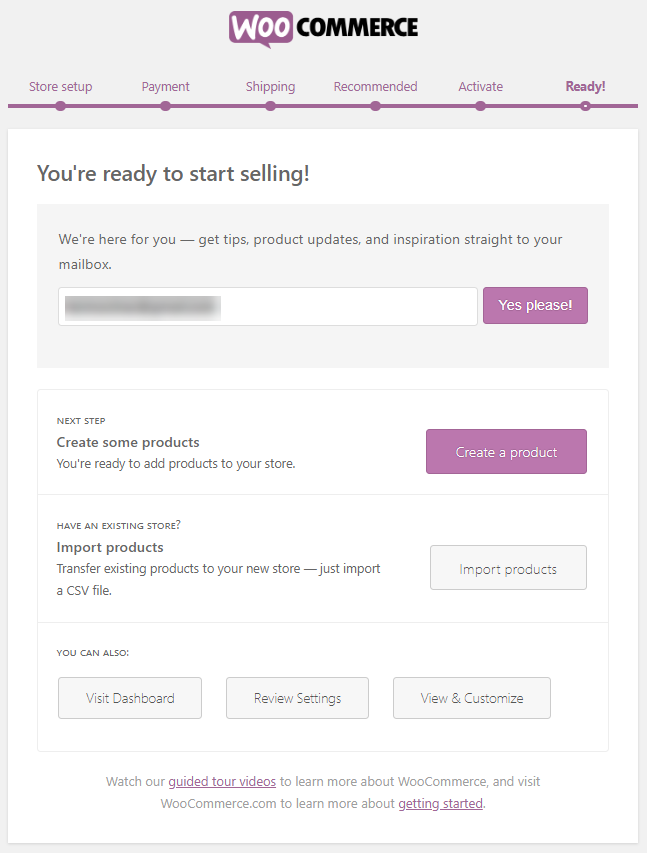 The Essentials of WooCommerce
Shortcodes
If you want to add your products to your posts and pages, you can count on WooCommerce with that. Each of your WooCommerce product has a shortcode that you can insert anywhere on your website.
You can also use WooCommerce shortcodes for adding user account data, tracking orders, editing user accounts, changing passwords, and displaying featured products.
Ease of Use
WooCommerce integrated with WordPress is very easy to use. You see, we've installed WooCommerce in ten minutes or even less, right?
Adding products and managing your store is as well very simple to do.
Flexibility in Design and Functionality
Some platforms are limited in terms of design and functionality. But, with WooCommerce, you can easily customize page layouts and other styles that you want.
You have complete control over the features and functions of your online store. You can also choose from different WooCommerce themes to enhance the way your online store looks like.
Yes, WooCommerce takes care of it all for you.
Functionality Extensions
So, you want to extend the functionality of your online store? Great! WooCommerce gives you that opportunity with numerous available plugins for you.
From keeping your store updated to daily backups of your store to your SEO to Google Analytics, you can do almost everything by installing other plugins and integrate them with WooCommerce.
What are the Pros and Cons of WooCommerce?
Pros
Lots of free and paid themes to choose from
Complete control over your online store
Advanced features and functionalities
Store administrator and customer accounts
Great support on the internet
Cons
Might be a bit tricky, if you're a newbie
It's your responsibility as the owner to maintain your store
Frequent updates
Separate cost for domain and hosting
A bit hard to implement multi-currency
WooCommerce Settings
Adding Coupons
If you want to give your customers discounts by using coupons, you can do that with WooCommerce.
Simply go to the WooCommerce menu from your WordPress dashboard. Then, click on "Coupons." Click the "Add Coupon" button.
You can now add a name for your coupon and in the General tab, you can select which discount type you're going to use, the value of the coupon, free shipping, and the coupon's expiry date.

You can set the minimum, and maximum spend allowed to use the coupon in the Usage restriction tab. You can also set which products and product categories are permitted.
In the Usage limit tab, you can set the times that the coupon is allowed to be used, as well as the limit of items and users for each coupon.
Settings
If you want to add some more customization or changes in your WooCommerce site, you can simply go to the WooCommerce Settings section on your WordPress dashboard.
From there, you can edit your store address, currency options, and general options such as selling and shipping locations and your default customer location.
Best WordPress WooCommerce Plugins
Now, as I've mentioned, you can extend the functionality and features of your WooCommerce store by adding and integrating other plugins. Here are the best plugins that you need to check out for your WooCommerce store. Looking for payment gateway plugins? I just had that covered.
1. CartFlows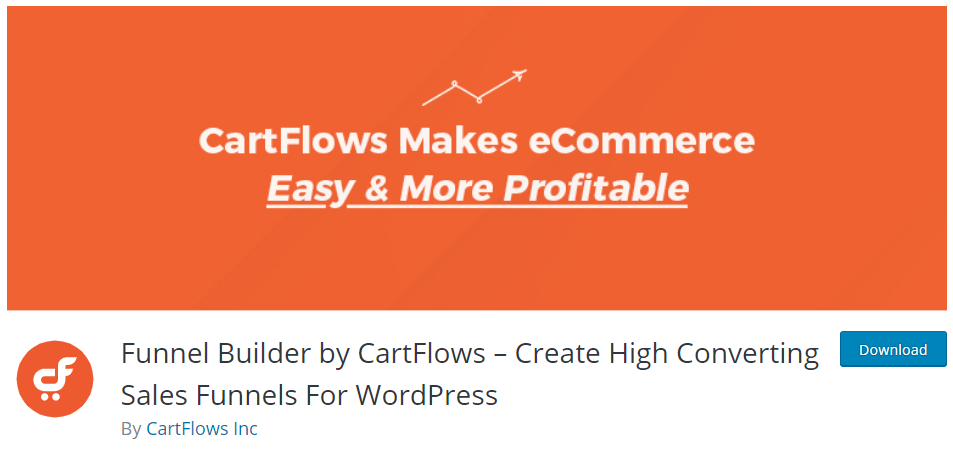 With CartFlows installed on your WooCommerce website, you can easily sell products and services by smoothly creating sales funnels. With its one-click sales funnels, you can create and customize the check out page, thank you page, and more.
Among the key features of CartFlows are:
Ready to import high-converting templates
Compatible with all page builders
High-converting checkout page, replacing the traditional and complicated checkout process
Custom thank you page feature to guide buyers on the next steps
CartFlows is totally free. If you want more checkout style options, templates, checkout field control, order bumps, and more, you can purchase the pro version.
2. WooCommerce Cart Abandonment Plugin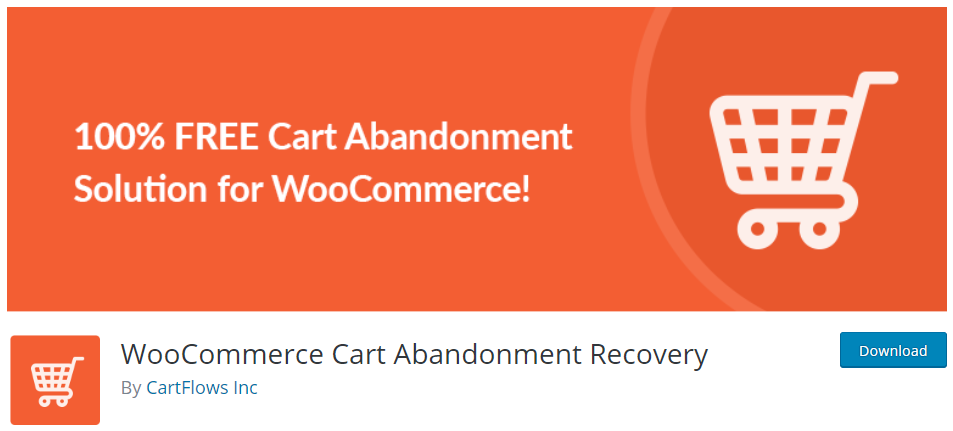 WooCommerce Cart Abandonment Recovery plugin is perfect for capturing the email address of the users who reached the checkout page and then left the page or didn't complete the purchase. You can send email notifications to remind them and send follow-ups.
Recover lost revenue by installing this totally free plugin on your website.
Visit WooCommerce Cart Abandonment Recovery
3. WooCommerce Direct Checkout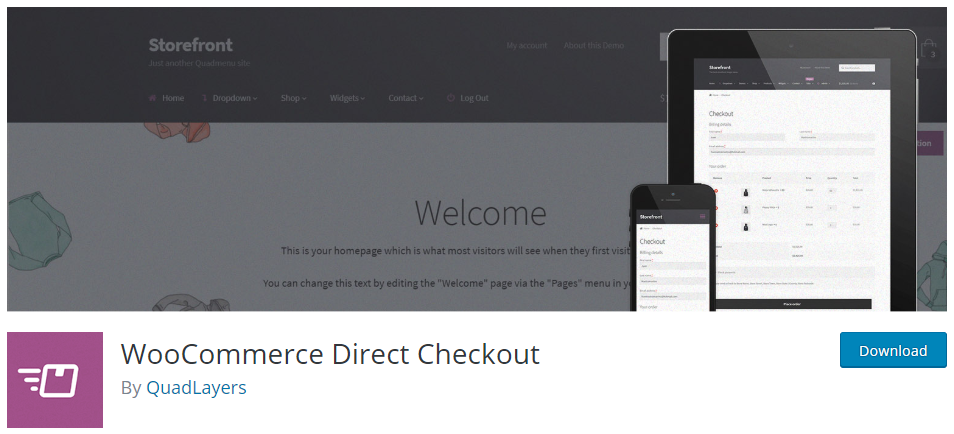 Did you know that if your checkout process is more simplified, the conversion rate is higher? So, WooCommerce Direct Checkout plugin helps you simplify your checkout process by adding the "Add to Cart" button in each product so that your buyers can skip the shopping cart page and get redirected to the checkout page.
This means that your buyers can directly check out from the product page itself. Plus, it helps encourage them to buy more. So cool!
Visit WooCommerce Direct Checkout
4. WooCommerce MailChimp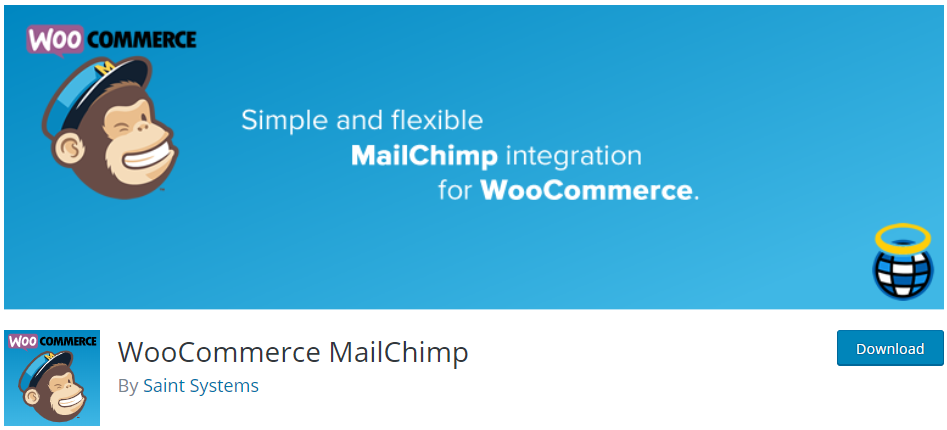 When you're running an online store, retaining your customers is as much important as gaining new ones. So, one of the best ways to make your current customers stay and be reminded that your store exists is to send out emails.
If your email marketing service provider is MailChimp, WooCommerce MailChimp is the key.
WooCommerce Mailchimp plugin helps you to automatically subscribe your customers to your MailChimp list once they have completed their orders. You can also add them to your MailChimp interest groups.
So, with the help of this plugin, you can collect email addresses of your buyers and then send them emails about your latest products and promotions. You can also create forms so that when users fill them out, their information is automatically added to your mailing list.
5. YITH WooCommerce Ajax Product Filter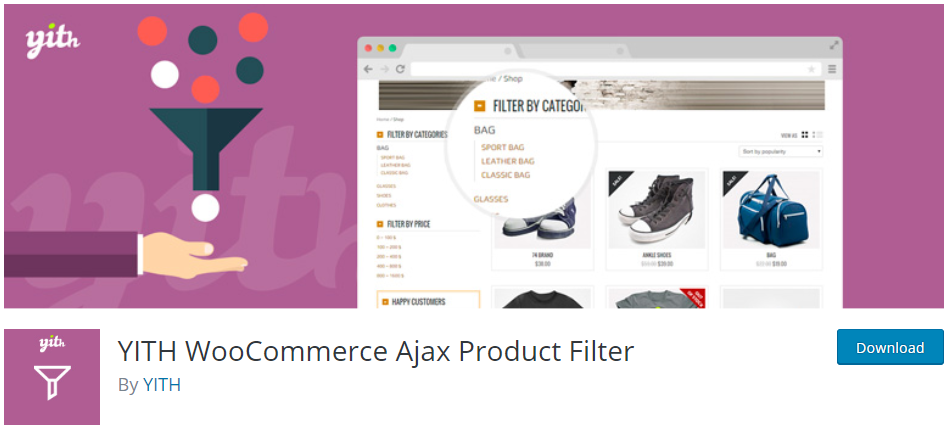 YITH WooCommerce Ajax Product Filter is a powerful WooCommerce plugin that allows you to add filters to your products because you want your buyers to have a more straightforward buying journey, right?
Most customers would prefer to see right away the products that they're looking for, so adding filters will help. You can add list, dropdown, colors, and labels to help your customers find what they need.
Visit YITH WooCommerce Ajax Product Filter
6. WooCommerce Multilingual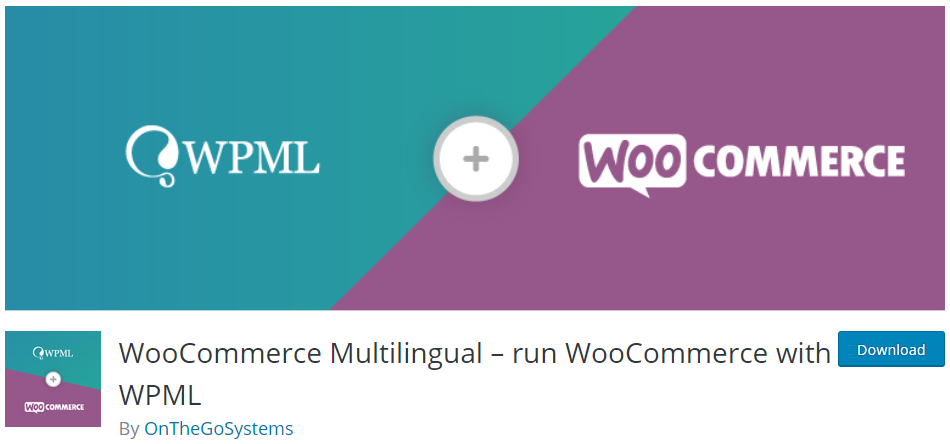 If you're planning to have your online store open for anyone in the world, then you might want to consider adding a multilingual functionality to translate your products and keep the same language across your website based on the language of your customer.
It also allows you to track your inventory without breaking your products into languages and send emails to your clients and admins based on their language.
Visit WooCommerce Multilingual
7. Smart Slider 3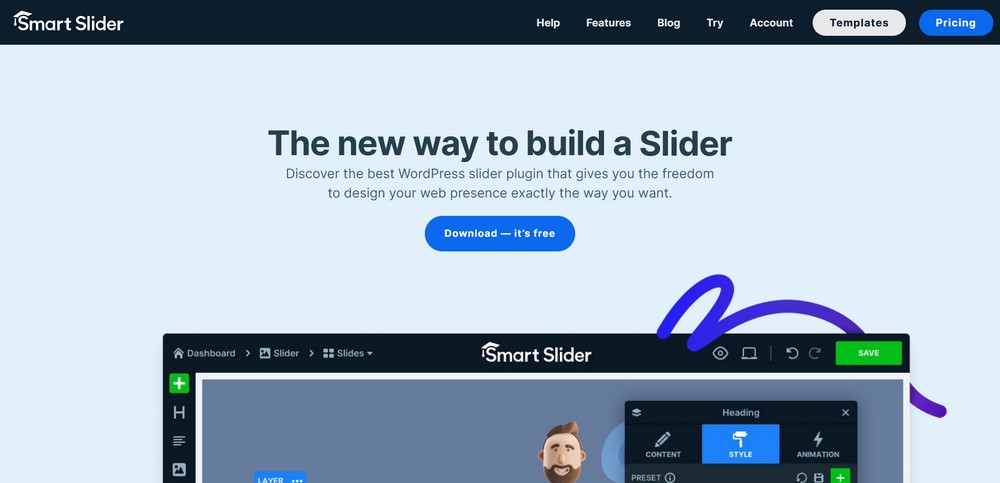 Adding attractive elements such as a slider can help attract more customers. Movement attracts attention and a slider lets you use the same space to highlight several things in sequence, which is a very efficient use of space.
Smart Slider 3 not only takes care of all the technical work for you, but it also provides hundreds of templates to choose from and makes designing your slides fun.
It has more than 800,000 active installs and a 4.9 star rating in WordPress repository. Definitely a people's choice and one of my favorite plugins to add sliders to websites.
Conclusion
Knowing how to set up a WooCommerce store will definitely make your business go a long way. You can not only create a professional-looking online store, but you can also give your customers a very good online shopping experience.
So, if you've been putting your online store business idea on the back burner, now is the time to get your online store running.