How to Host a Website | A Complete Step-by-Step Tutorial
We will guide you in every step of the way to a worry-free website hosting — either for business or a passion project!
A website without a host is like a house without a parcel of land to sit on. Hosting service providers offer the tools and server space required to get your site hosted and reachable over the Internet, ready for visitors! So, let us point you in the right direction on how you can host your website — minus the annoying tech jargons.
First, let's talk a bit about what is web hosting and why is it necessary.
Every website needs a "home" where its content can be accessed anytime and anywhere. And, that "home" is the web host. If you have the right web hosting service provider, your website is fast and can attract more visitors, thus increasing conversions. Who doesn't want their website to be in the right configuration for success?
Let's get started.
1. Decide which type of website you're going to build
You want to make a website but haven't decided which type of website to build. Well, let me help you with that. The type of website you're going to build depends on the purpose of your website.
You can choose from a static, dynamic, eCommerce, or blog website.
Static – A static website is also called a flat or stationary page, meaning it doesn't change for every user who visits the website. If you're looking to have a small business website, a personal site, or a portfolio website, then a static website is what you're going to build.
Dynamic – A dynamic website, on the other hand, changes depending on different conditions such as who visits the website, time, timezone, native language of the country where the visitor is located, and many others. Sites such as Facebook, Amazon, and YouTube are dynamic websites as the content is always changing.
eCommerce – An eCommerce website is simply an online store. It's an online portal where you can sell your products or services, and receive payments over the Internet. Sites such as eBay, Walmart, and GrubHub are examples of eCommerce websites. And, most of these eCommerce websites are dynamic websites, as well.
Blog – A blog can be an informational website or an online journal where the newer content is displayed first and is usually run by an individual writer or a small group of people presenting their content in a more conversational style. WPCrafter is an example of a blog website.
Now that you know the types of website, are you already decided which one to build?
Once you've decided the type of website you're going to build, of course, you also need to decide how to build it. There are a number of platforms where you can build your website, but I strongly recommended working on a WordPress platform.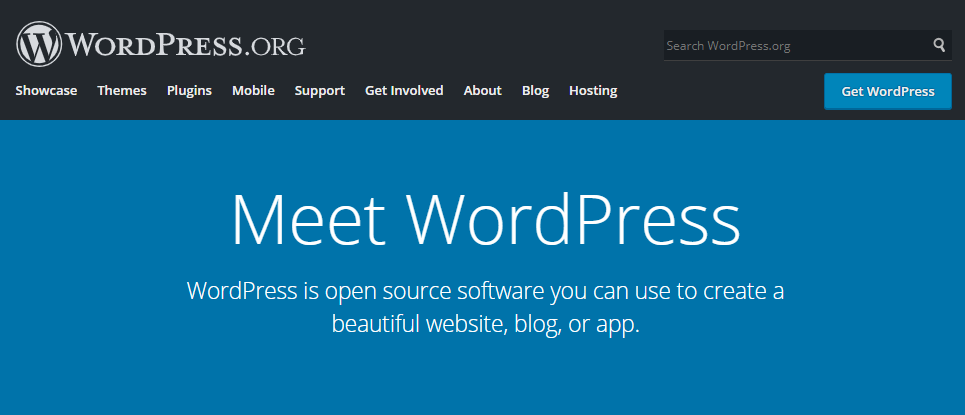 WordPress is the most popular website publishing platform. Did you know that more than 30% of all the websites over the Internet are built on WordPress? Yes, that's how powerful WordPress is, and we have a video tutorial we made on how to make a WordPress site in 10 minutes. Even better, we also have a post on how to make faster and easier sites using the Astra theme.
Whether you're a beginner or a developer, you can easily and quickly build a WordPress website. Most web hosting providers even offer 1-click WordPress installation services.
Plus, you have complete control over your website with the help of its tons of free and premium themes that can make your website instantly professional looking. And, if you want more features and functionalities on your website, you can install powerful WordPress plugins based on their purposes.
2. Choose a web hosting service
As I've mentioned earlier, you need a "home" for your website. Before you build a website and make it visible to your visitors, you need to purchase a web hosting plan. So now, it's time to choose a web hosting service that fits your website needs.
Here are the top 3 things to consider when choosing a web hosting service:
What I can recommend with you that has these things is SiteGround.
SiteGround is a web hosting service provider that's officially recommended by WordPress.org itself primarily due to its 100% uptime reliability, lightning-fast page load times, and quality support for customers. Not on SiteGround? Here's our no-frills guide on how to transfer hosting.
If you're a non-techie, you don't have to worry about setting up your hosting; you can always rely on SiteGround's support representatives.
For a hosting service provider to deliver such an impressive speed and reliable performance, SiteGround is indeed an affordable one. Plus, it takes security seriously as it proactively protects your website from malicious attacks.
3. Choose a web hosting plan
You can get SiteGround's hosting service for a single website for only $3.95 per month. One of the main differences between its hosting plans is the number of websites you can build and the website space. So, if you plan to upgrade your website or create multiple websites, you can get its higher plans.
But, if you're just starting, of course, you would only need the StartUp plan.
4. Choose a domain name
Once you've selected a hosting plan, it's time for you to choose your domain name. It's the address that your visitors can type on their browser's URL bar to get to your website.
You can purchase a domain name with SiteGround along with its hosting plan. Once you selected a hosting plan, it will prompt you to register a new domain, or you can get a domain name from another provider.
Once you've selected a domain name, you can now proceed with filling out the information form and complete the purchase. You can now set up your WordPress website.
5. Install WordPress
After you're done purchasing your hosting plan and registering your domain name, you can now install WordPress. Fortunately, with SiteGround, you can take advantage of its automated WordPress installation.
With its click-and-install option, SiteGround takes care of everything right at the beginning. Once this is done, you can now customize your WordPress website faster and make it look professional.
You can even choose from a gallery of themes provided by SiteGround to help you build a fully-functional website in just a few minutes.
Once WordPress is installed, you can now log in to your WordPress website and start customizing it.
What's next?
So, you're done installing WordPress. You can now start customizing it and creating content such as a Home page, an About page, and a blog page. You can also install some plugins for added features and functionalities such as contact form, SEO, email list, and many others to grow your website traffic and increase conversion.