How to Add an Affiliate Program to Your WordPress Website in 5 Easy Steps
Adding an affiliate program to your WordPress website can be a great way to increase sales.
By adding an affiliate program, your affiliates get paid for sharing your products with their audience.
There are a lot of third-party networks that allow you to list your products and have other people promote them to their followers.
It's a great way to spread the word about what you sell and have someone else do the work. For a share of the profit of course!
While using a third-party network is a great option, you can also have your very own affiliate program hosted on your own website.
In this article, we will show you how to add an affiliate program to your WordPress site in a simple, step-by-step way.
We will also discuss the top WordPress affiliate plugins that you can use to manage your affiliates.
Let's get started!
What Is an Affiliate Program and How Does It Work?
Affiliate programs are a way for businesses to reward people for referring new customers.
Here, affiliates are typically given a unique link (also known as an affiliate link) to track referrals.
When someone clicks on an affiliate link and makes a purchase, the affiliate is then credited with a commission.
You can have an affiliate program in two ways:
Affiliate Networks
Affiliate networks act as intermediaries between merchants (businesses that want to offer an affiliate program) and affiliates (people who wish to promote products).
There are many different affiliate networks out there, but some of the most popular include Commission Junction, Rakuten Marketing, and ShareASale.
Though these companies are lucrative because they have built a substantial database of affiliates, you might have to work hard to get listed.
Plus, some networks charge a commission on every sale or monthly payment to maintain your listing.
Your Own Affiliate Program
The alternative is to host your own affiliate program on your own website.
Here, affiliates need to create a user account on your website and generate their affiliate link. They can promote this link to their audience through newsletters, blogs, or social media.
In exchange for referring sales to your business, they will earn a commission amount specified by you.
This process is much easier than going through third-party affiliate networks because there are no charges associated with it.
You also get complete control over what products or services you want to promote.
Why Affiliate Programs Are Important
Having an affiliate program helps your business outsource its marketing.
Your affiliates are responsible for bringing in the right traffic while you get a sale. This lets you focus on other essential aspects of your business, like operations and customer service.
According to this report by Statista, affiliate marketing spending in the U.S. alone is projected to reach $8 billion in 2022.
It's an excellent way for small businesses to build their customer base through referrals without direct selling.
Affiliate programs can also help you generate more leads.
This usually pays off because customers are more likely to buy from you now that they know you.
What You Need to Run a Successful Affiliate Program
Before we move on to how to set up your affiliate program, let's take a look at what you need to run it:
WordPress Affiliate plugin to set up affiliate functionality on your website
Payment integration for affiliate payouts
Promotional materials that your affiliates can use to promote
Available products and services
An active website where you sell the product or service directly
WordPress Affiliate Program Plugins
Setting up an affiliate program in WordPress is super easy. Whether you sell physical products, digital products, or a membership, you just need to install a plugin.
There are a lot of affiliate program plugins available for WordPress, and here we will discuss five of them.
1. Affiliates Manager Plugin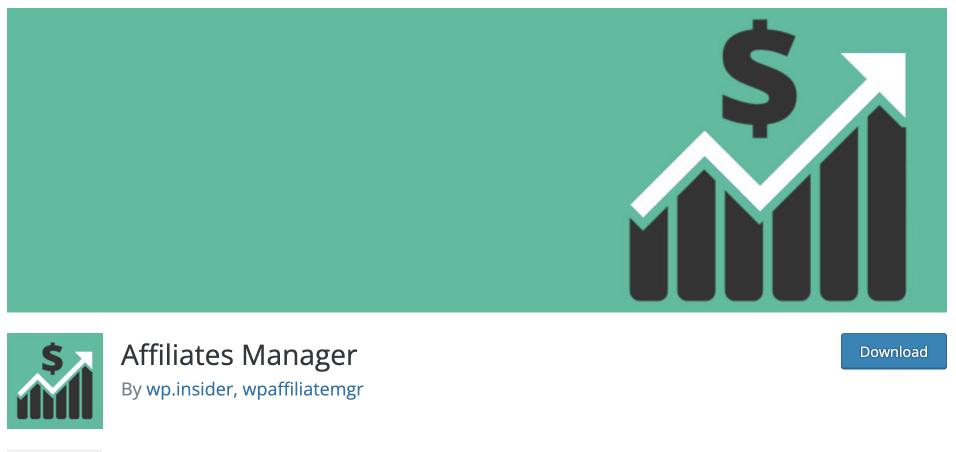 Affiliates Manager is perfect if you don't want to invest upfront. It is a simple yet powerful plugin that lets you recruit and manage affiliates from within your WordPress dashboard.
Affiliates Manager integrates with almost all major platforms to help you set up an affiliate program. It works very well with WooCommerce, Easy Digital Downloads, MemberPress, LifterLMS, and others.
Price of Affiliates Manager
The Affiliates Manager plugin is free to download and use.
2. Ultimate Affiliate Pro WordPress Plugin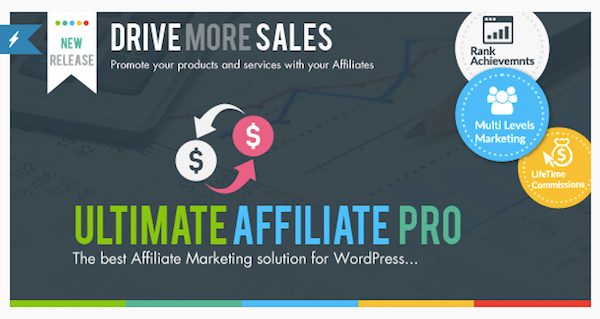 The Ultimate Affiliate Pro is a premium plugin that comes with various options for your WordPress affiliate program. You can have lifetime commissions, recurring commissions, and even arrange bonuses and contests for top affiliates.
You can also set up different payout methods for affiliates as it integrates with both Paypal and Stripe.
Price of Ultimate Affiliate Pro
The Ultimate Affiliate Pro plugin costs $69 with lifetime updates and six months of support.
3. Solid Affiliate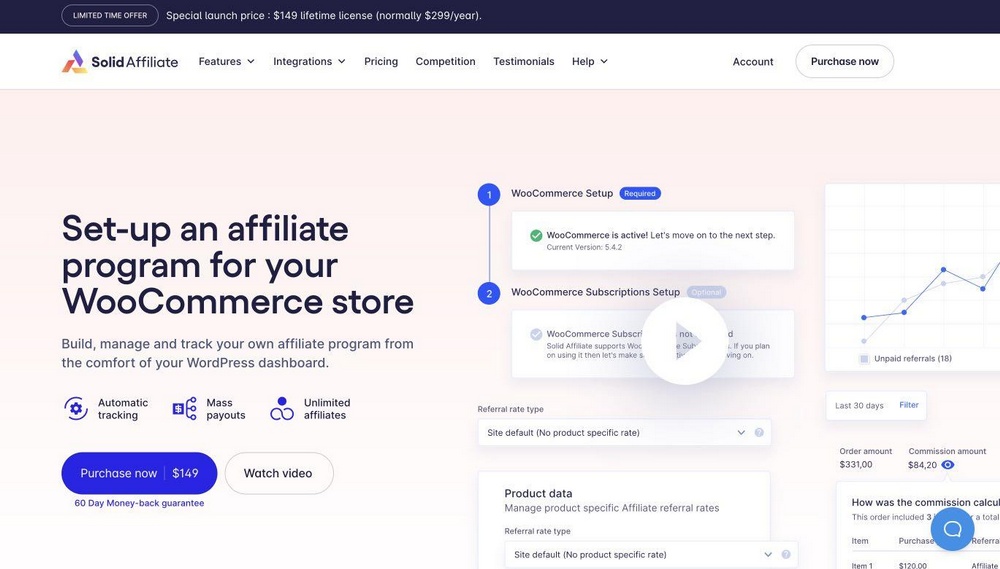 Solid Affiliate beautifully integrates with WooCommerce stores. It is in fact one of the best WooCommerce Affiliate plugins out there.
However, it does not mean that you cannot use the plugin with membership sites or courses. As long as your WordPress website uses WooCommerce as the payment platform, you can use Solid Affiliate.
It has considerably fewer integrations compared to Easy Affiliate or Affiliate WP and integrates only with MailChimp and Paypal.
The good thing is that there are no recurring charges for this plugin.
Price of Solid Affiliate
The Solid Affiliate Plugin costs $149 with lifetime support and updates.
4. Easy Affiliate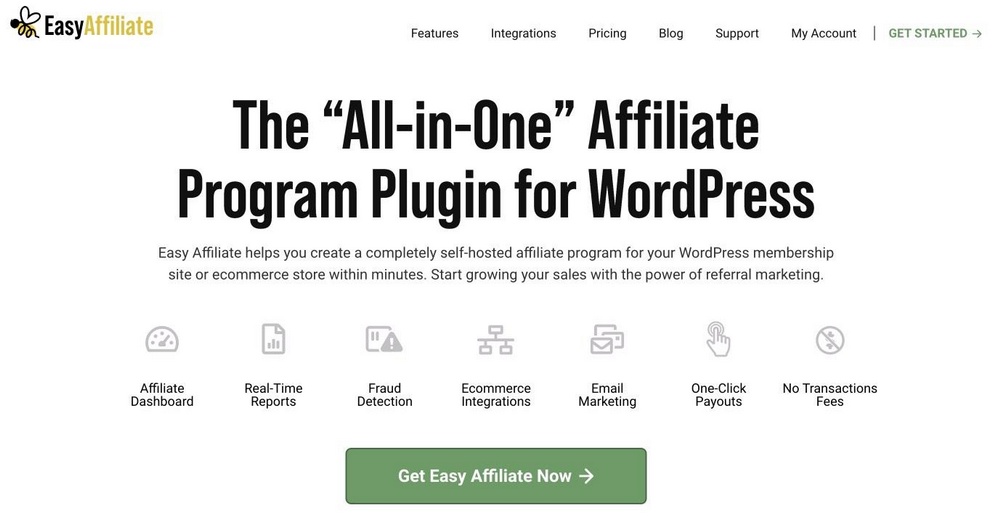 Easy Affiliate is one of the best WordPress affiliate management plugins on the market. It's fully integrated with all major WordPresse Commerce platforms, including WooCommerce, Easy Digital Downloads, and MemberPress.
It includes everything an affiliate management application needs. Its powerful features include an affiliate dashboard, real-time reports, email marketing integrations, one-click payouts, and more.
You get all these features without any transaction fees.
Price of Easy Affiliate
The Easy Affiliate plugin starts from $99.50 per year and goes up to $199.50 per year.
5. AffiliateWP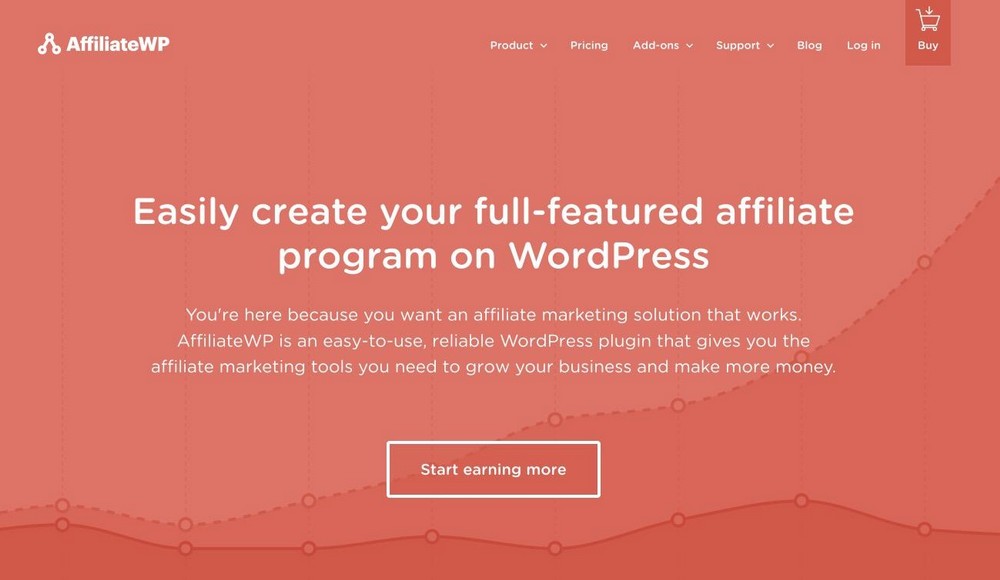 AffiliateWP is an all-in-one WordPress affiliate program plugin. It is beginner-friendly, and you can set it up with just a few clicks.
You can have unlimited affiliates, create unlimited promotional banners, coupon codes and manage your affiliates under one dashboard.
It integrates with major platforms such as WooCommerce, Easy Digital Downloads, MemberPress, and 22 others.
Price of Affiliate WP
The AffiliateWP plugin starts from $149.50 per year and goes up to $299.50 per year.
How to Set Up an Affiliate Program in WordPress
Now that you know the variety of tools available to set up an affiliate program in WordPress, let us go through the steps you need to add an affiliate program.
Step 1: Install the WordPress Affiliate Plugin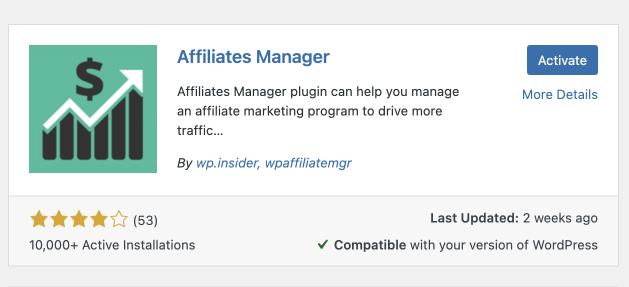 The very first step is to install the WordPress affiliate program plugin. For this tutorial, let's use the Affiliates Manager plugin.
Here are the steps to follow:
Head over to Plugins > Add New
Search for Affiliates Manager Plugin
Install and Activate Affiliates Manager
Step 2: Configure the Plugin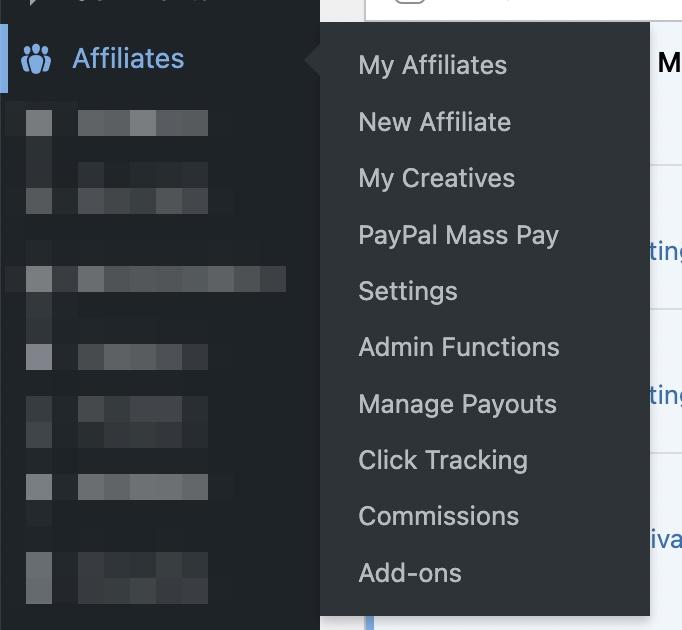 Once installed, you can see a new tab appear in your WordPress panel called Affiliates.
To configure the plugin, go to Affiliates > Settings
Configure General Settings
Once you click on the Settings option, you will land on the General Settings tab.
Set up the following options here.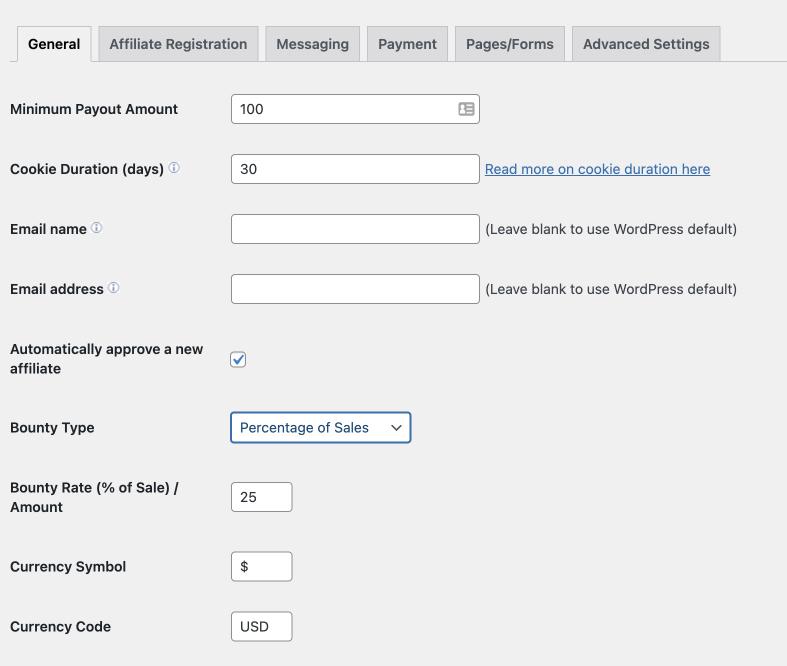 Under general settings, add the minimum payout amount you want to pay your affiliates.
Next, set the cookie duration. A cookie is a piece of code that stays in the browser of the prospect that clicks an affiliate link. It has a certain lifetime. When you set the cookie period at 30 days, the click can be tracked for 30 days.
This basically means that affiliates have exactly 30 days to sell the product, once the link gets clicked by the prospect.
This is important because, for some products, customers may not make the buying decision immediately. They need some time to research and finalize their decision.
If the customer does it within the cookie duration, the affiliate qualifies for commission. This duration is important to track affiliate performance.
Of course, affiliates would love an unlimited duration but it might not favor your analytics very much. You can keep a healthy cookie duration which is comfortable for affiliates.
Next, set the bounty type. The bounty is the affiliate commission. You can have a fixed amount or give them a percentage in sales.
You can also choose to track impressions if you want to measure the performance of your affiliates.
Click on Save settings once you are done.
Configure Affiliate Registration
Once you set up the general settings, click on the Affiliate Registration tab.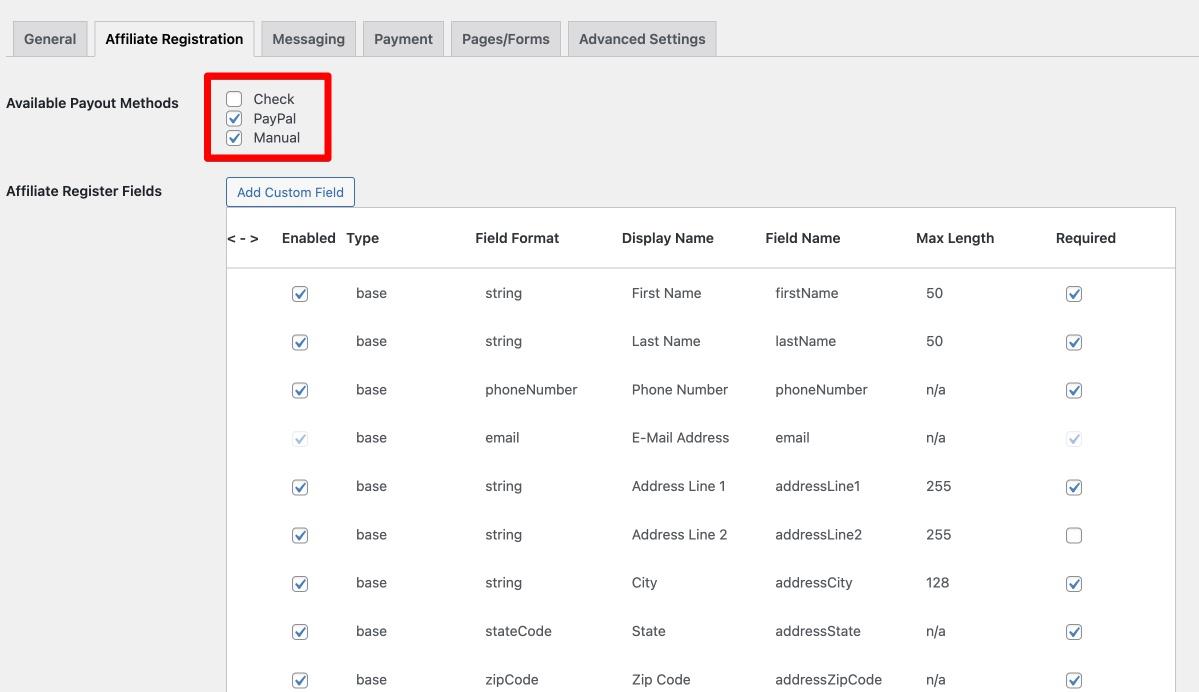 Here you can add any information field you want from your affiliates. You can also configure the affiliates' messages when they get accepted or rejected.
Another essential thing to edit here is the payout method.
You can tick the payout methods you want to use. Here we have selected PayPal and Manual payment methods.
Configure Pages and Forms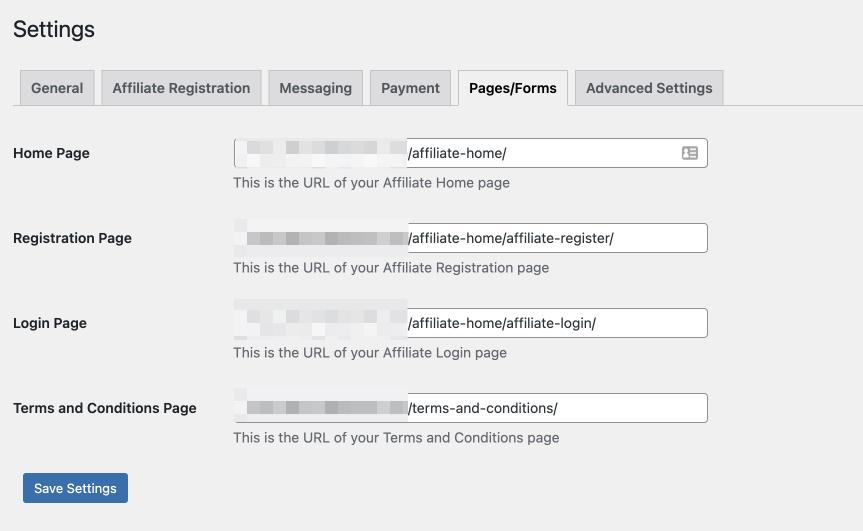 Go to the Pages/Forms tab.
Here you will see the links to pages created for your affiliates. You can have a dedicated home page, affiliate register page and login page.
You can visit these pages and edit them with your page builder.
The Affiliates Manager plugin also adds a Terms and Conditions page by default.
You can edit the terms and conditions page as per your product or service.
Step 3: Set Up Payment Integration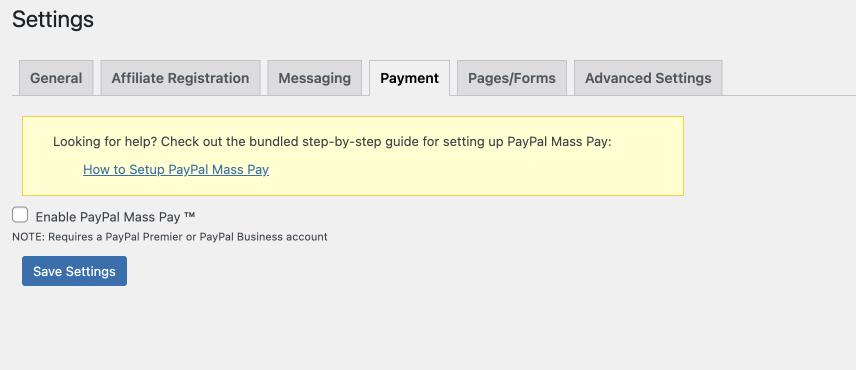 Head over to the Payments tab in the settings to set up payment integration.
Here you need to set up PayPal Mass Pay Here's a step-by-step guide to enable it for your website.
You can also choose to pay your affiliates manually.
Step 4: Create Promotional Materials and Swipes for Affiliates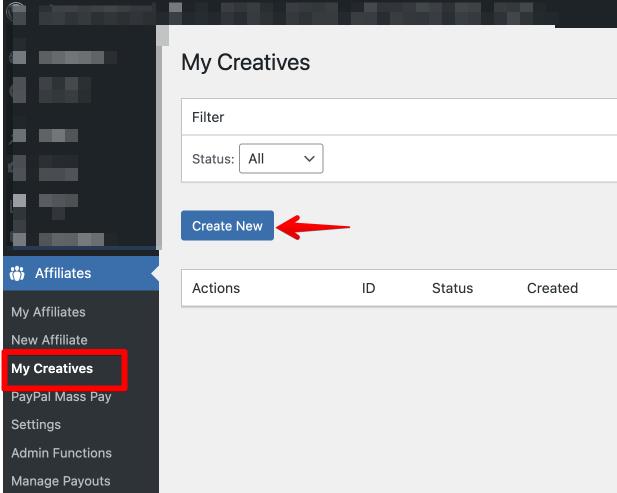 You will need to create some promotional materials for your affiliate program. They can be website banners or social images that your affiliates can use when promoting your product(s).
To set this up, go to Affiliates > Creatives.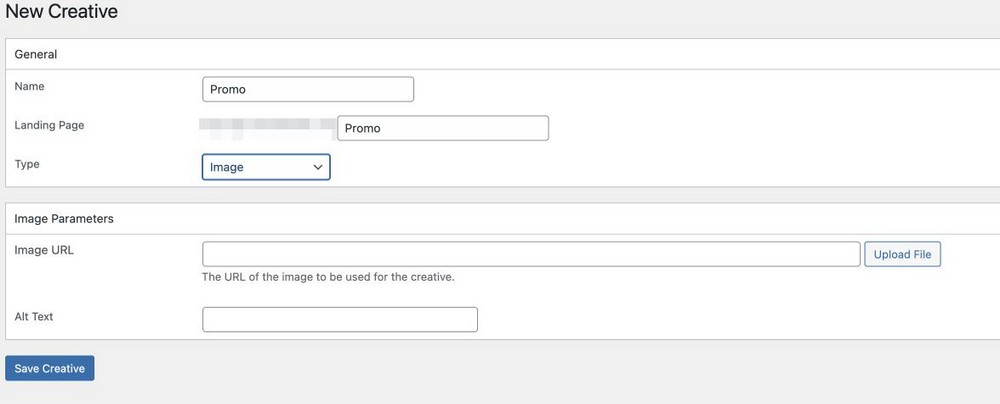 Next, name your promotional material and upload the images to your website.
The Affiliates Manager plugin also creates a page where your affiliates can access these materials.
Your affiliates can get these images as HTML code. This is so that they can easily embed the image on their website.
You can also add email swipe files, social media captions or ads that you think can help your affiliates.
Step 5: Promoting Your Affiliate Program
There are several different strategies you can use to find affiliates and promote your affiliate program.
Here are a few that you can use:
Reach Out to Influencers on Social Media
The first thing you should do is reach out to influencers on social media.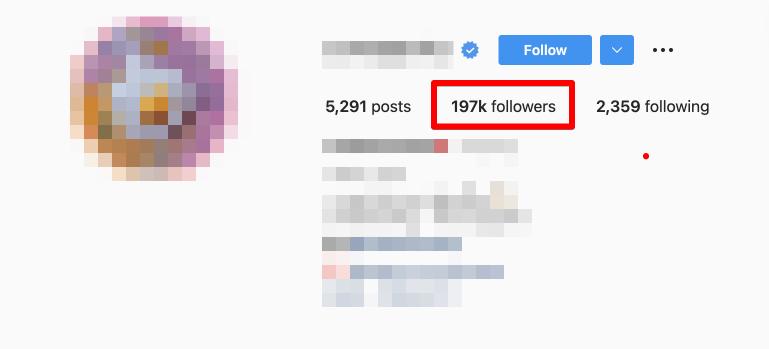 You can target popular channels like YouTube or Instagram or any relevant social network.
Once you find suitable influencers, send them an email explaining how they might benefit from joining your network as well as what the terms of service entail.
Reach Out to Bloggers in Your Space
Another great way to promote your affiliate program is by reaching out to bloggers in your space.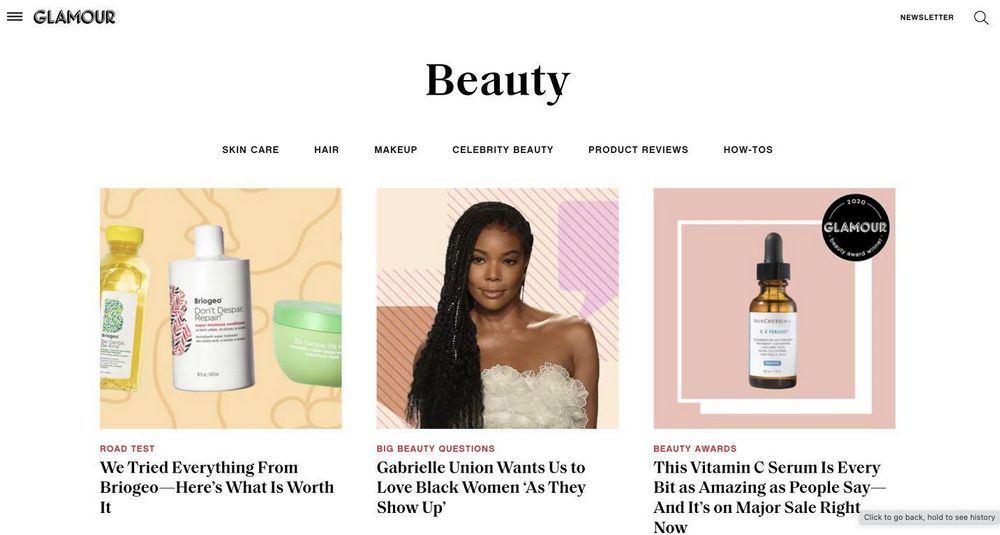 Many bloggers are on the lookout for new and interesting products. You can ask them to try your product and become your affiliate to receive commissions.
Reach Out to Existing Customers
Another good way to promote your affiliate program is by reaching out to existing customers. It makes sense that you would want to give them an incentive for promoting it to their family and friends.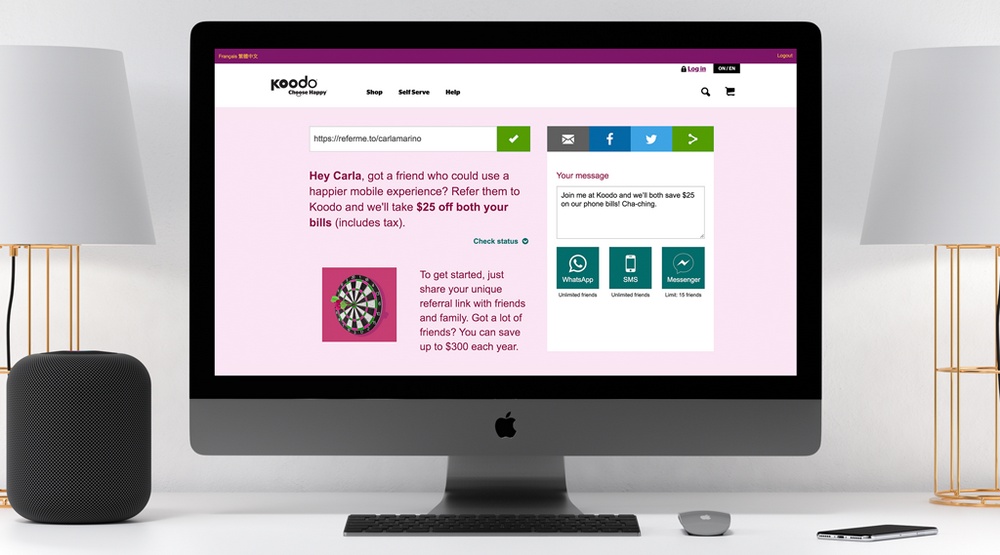 Since they have already purchased your product and liked it, they are more likely to promote your products in exchange for cashback or a discount.
How to Track Affiliate Performance
The free version of the Affiliates Manager plugin does not help you with advanced analytics, but you can get some idea of how your affiliates perform.
Go to Affiliates > My Affiliate to see an overview.
Here, you will see the balance and the earnings of your affiliates.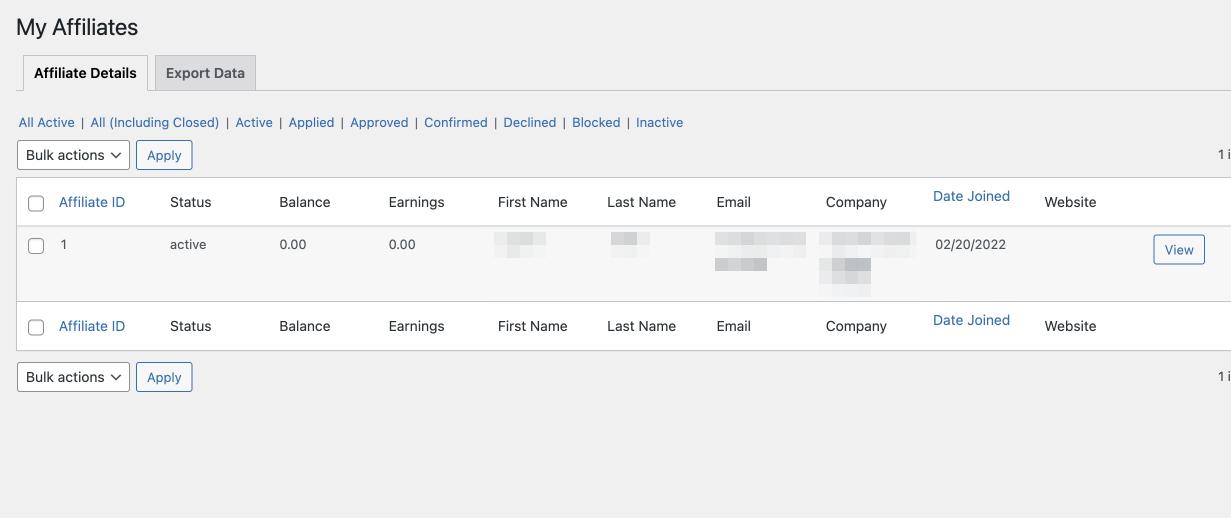 How to Manage Affiliate Payouts
To manage the payouts of your affiliates, go to Affiliates > Manage Payouts.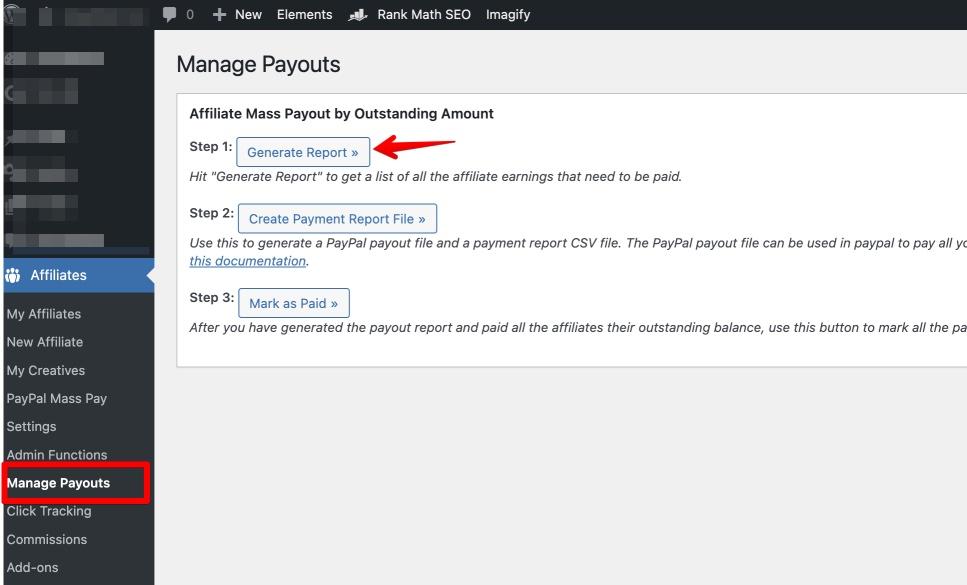 Click on Generate Report to download the affiliate sales report.
You can choose to send payout to your affiliates or send via PayPal manually.
Once done, click "Mark as Paid".
How Much Should You Pay Affiliates?
There are a lot of factors to consider when it comes to choosing the right payment percentage for your affiliate program.
In this section, we will discuss how to decide how much you should pay your affiliates.
Look at Your Business Model
It is important to look at what kind of product or service you are selling.
If you are selling a consumable product that people buy again and again, you can afford to lose money while paying your affiliates. This is because you will be making the money back when the customer returns.
If you are selling a one-off kind of product or service, you can make a decision based on the amount you are spending right now to acquire a customer and the competition in the market.
We will discuss these aspects in the following sections.
Look at Competitors
Check the average affiliate commission rate in your industry. If the amount an affiliate earns from your website is similar or better than your competitors, the affiliates are more likely to promote your product and services.
This comes with the condition that they like your product better than others.
Look at Your Customer Acquisition Cost (CAC)
Find out the average amount you spend acquiring a new customer. This includes all marketing and advertising expenses and salaries for employees.
If you are profitable with your current CAC, you can go as high as your CAC to pay your affiliates.
Look at Life Time Value (LTV) Of the Customer
Next, you have to calculate the average LTV (Life Time Value). The LTV is the total value you receive from a single customer over time.
Suppose your affiliate commission rate plus CAC does not cover your profit margin and marketing expenses
In that case, it is important to make sure that the product or service has a long shelf-life or can be used multiple times by customers.
You also need to make sure that upsells are available for repeat purchases. This way, if you are losing money on one sale, the chances are high that you will gain back in future sales.
Ultimately, deciding how much to pay your affiliates is about finding a fair balance between what you can afford and what the affiliates are worth.
Conclusion
Affiliate programs are a great way of using others to reach out and expand your brand's reputation, especially when you're just starting.
User-generated content has been powerful in winning over other customers' favor. After all, people may not necessarily trust you right when you are starting out, but they trust those close to them and have more knowledge about the subject than them.
In this article, we have discussed how you can add an affiliate program to your WordPress website, how to promote it and how much to pay your affiliates.
If you want to make your online business more efficient, subscribe to our newsletter. We send you regular tips on adding advanced features to your website.