10 Best Email Marketing Services and Software for 2023
You can dispel anything what email marketing naysayers have to say about it. No less than Business.com revealed that "for every $1 spent on email marketing in the United States, the average return is $44." If that's not a remarkable ROI for you, then you have to come up with more creative ways than making emails to communicate and share the news with your customers. There's no denying that it is STILL one of the most effective marketing strategies of all time.
If you want your customers to feel that they're worthy and making sure that they receive informative content, then you may need the best marketing software to help make your business reputable.
How to Choose the Best Email Marketing Service
Let us walk you through the factors that you need to consider in choosing the right email marketing service.
1. Price
Of course, it is the top of the list. Upon realizing that the price is the most crucial matter in consideration, make sure that you subscribe to the plan that is worthy of their service and convenience.
Try evaluating your business stand if the business can sustain on subscribing this marketing service and if it will be beneficial for the business to grow.
There's nothing wrong on investing in this kind of services, but it is vital to research for the right one that will really help you.
2. Ease of Use
Many of the website owners are not too knowledgeable about technical issues. So, in choosing the right marketing service always make sure that it is simple and easy to use. Take a look at these email marketing plugins that can take you to the next level on your eCommerce campaigns.
3. Deliverability
Deliverability means the capability of the marketing service to deliver mails on the scheduled time. It is a priority to choose a service that ensures maximum deliverability rates.
4. A/B Split Testing Tools
A/B testing calculates your customer behavior. It is used to determine which variation performs better for a given conversion goal.
Having this kind of tool is a great way to determine which strategy works and which doesn't work. This could be good together with different levels such as:
A/B Testing mail headline
A/B Testing mail capture copy
A/B Testing mail open rate
5. Analytics and Reporting
Analytics and reporting help you determine the movement of your customers and how effective your email marketing strategy is through open and click rate, and how much the conversion rate is.
6. Automation Tools
Automation tools are not a must-have for all email marketers, but they could be a way to have a passive income to your business.
If you're just starting, you should find an email marketing service that offers segmentation to help you deliver more relevant content to your subscribers.
7. Form Builder
It is convenient if you choose a marketing software that provides a great form builder. Form builder makes your strategy to be more catchy by using sign up forms depending on your offers. We listed the best WP form plugins to let you decide which suits you best.
8. Integration
If your business uses apps like WordPress, Shopify, WooCommerce, and others, make sure that your marketing service software can get along with them. Also, make sure that all the essential tools that you're using won't crash when you use a specific email marketing software.
Top Email Marketing Services
Now, let's go to the best email marketing software to use for your business.
1. ConvertKit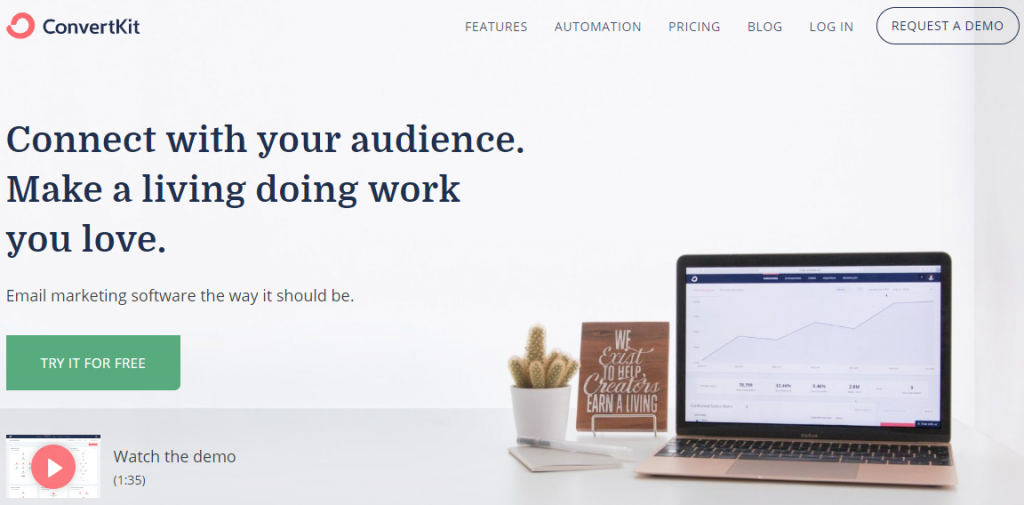 ConvertKit is an email service provider which is helpful, especially for the bloggers, podcasters, and other companies who are building audiences.
ConvertKit also has visual automation feature that will let you create a design in any way you want. With ConvertKit, everything is done inside the automation editor itself. So, clicking on an email step will allow you to edit it inline.
Unlike other email service providers, ConverKit mainly focuses on text-only emails, which is more intimate on communicating with your subscribers.
ConvertKit starts with a 14-day free trial and $29/month.
2. Aweber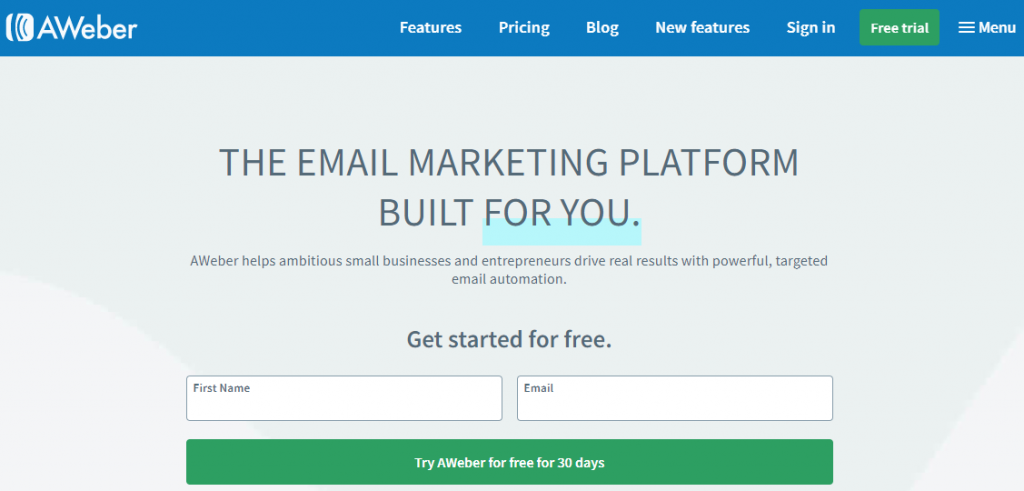 Aweber is one of the most established email marketing service providers. The business was running since the '90s, which makes it a trusted marketing service.
Aweber is the best to be used in sign-up form templates. It is user-friendly especially to non-techie users as it is effortless to use on personalizing your signup forms. Aweber has A/B Testing functionality on the forms that were sent to your recipients, so you can readily check whether your strategy is working or not.
Another well-known feature of Aweber is their Aweber mobile apps which you can send emails conveniently through the use of your mobile phones.
Aweber offers a 30-day trial and can be purchased at $19/month.
3. Constant Contact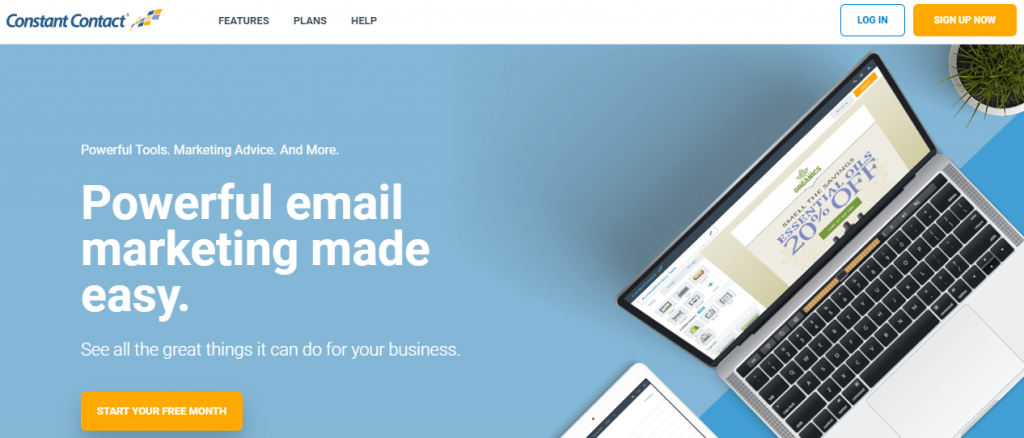 Constant Contact has a lot of upgrades throughout its years on the business. Its email marketing application allows businesses to import customer data from spreadsheets or email clients, such as Gmail and Microsoft Outlook.
Also, one of its latest updates is that you can now connect to Facebook pages to place your ads.
Constant Contact is straightforward to use since it has a drag-and-drop email builder where you can design and personalize your email strategies starting from scratch. It also has this fantastic feature that automatically resends the email to the recipients who haven't seen the first email to make it more noticeable.
Other features of Constant Contact that you can look forward to:
Email Segmentation
Contact Management
Event Marketing Tools
E-Commerce Integrations
Constant Contact offers a 30-day trial, and you can purchase it for $20/month.
4. ActiveCampaign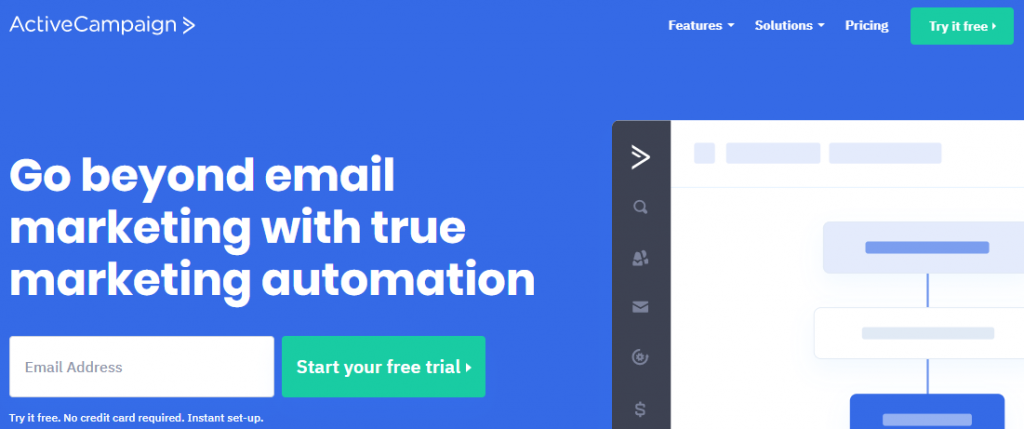 ActiveCampaign allows you to be more creative in your email marketing. It has a drag-and-drop tool which makes it easier to design your desired emails. If you're not too techy, you may also use their pre-made templates and add your own touch. You can transform your simple text emails to videos or graphics to express and communicate more to your contacts.
ActiveCampaign starts at $15/month with a free 30-day trial.
5. MailChimp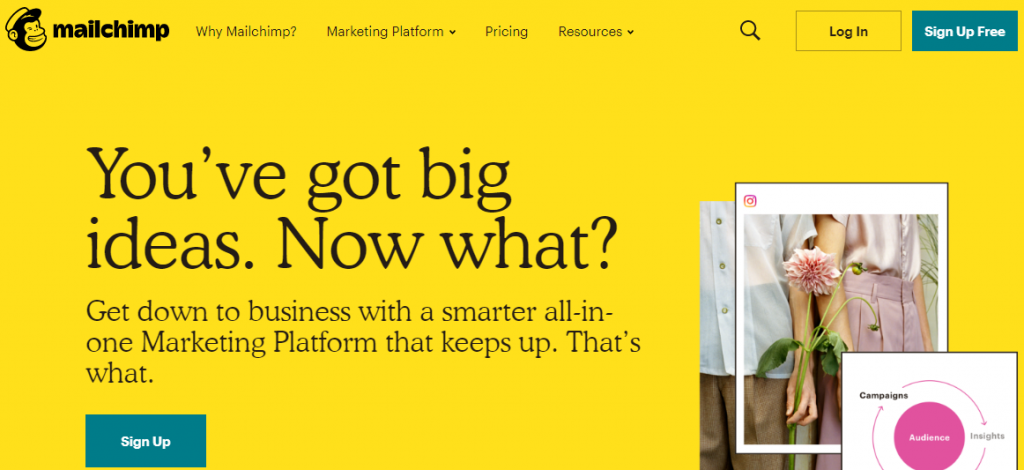 MailChimp's latest update is its automation feature. This allows the user to create and send automated emails when triggered by a subscriber's activity.
MailChimp offers a free premium account, which is a popular choice for business owners with little to no budget. Although it is a free subscription, you can not underestimate its offers as they will surely help with business needs.
You can get MailChimp for free or purchase a starting price of $10/month only.
6. GetResponse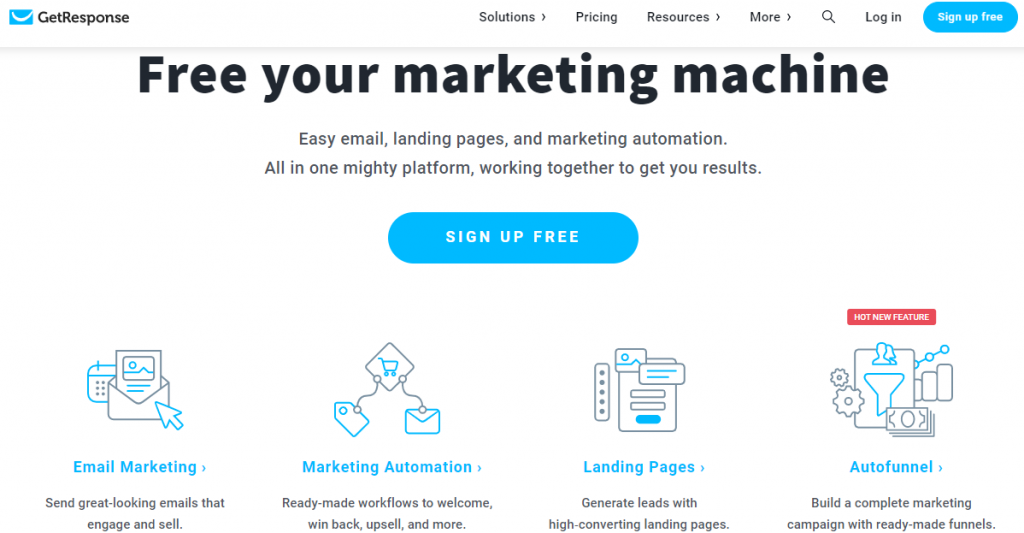 GetResponse is a very productive marketing service provider. Almost all of the features are in this service, not just email marketing, but it also provides landing pages and webinars.
Some of the great features of GetResponse are:
Has drag-and-drop feature
Uses autoresponders
Creates automation workflows
A/B Testing feature for the newsletters and landing pages
GetResponse has a 30-day free trial and starts at $15/month.
7. SendinBlue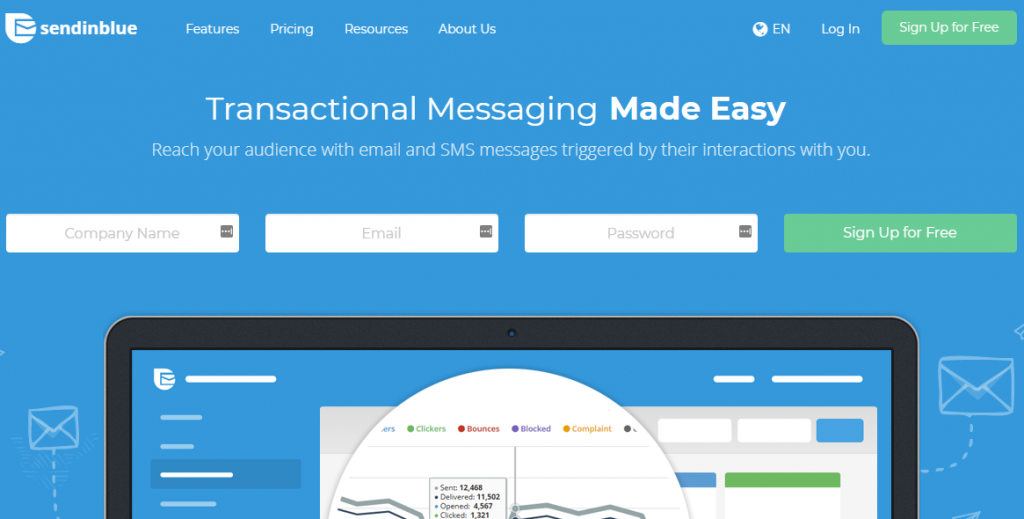 SendinBlue is also popular, especially in the eCommerce industry. It offers three services such as email, SMS, and dedicated IP.
This can be a great fit if you have an online store. It also offers SMS, transactional messages which track the movement of your customer.
For example, a confirmation text will be sent to your customer once they're done purchasing your product.
SendinBlue as email marketing software has a drag-and-drop tool to help its users build their emails at ease. They can also use the pre-made templates that are available. For a no-holds-barred look at SendinBlue, proceed to our recent SendinBlue review.
Pre-made automation is also available at SendinBlue which are ready for customization. The three mentioned offered services of SendinBlue has its own pricing.
You can have SendinBlue from free to $25/month.
8. MailerLite

MailerLite is one of the newest in the industry. Even if they are new, it has this unique feature to send your email marketing to your subscribers.
Its personalized feature lets you hide or display an inevitable part of your email to your specific subscribers. Another thing is that you can add the subscriber's personal information (which they gave voluntarily) so you can approach them in a more personal way.
MailerLite is excellent for bulk emails. It helps you send emails to your growing contact list without hassle.
You can have MailerLite for a free plan or $10/month.
9. Benchmark Email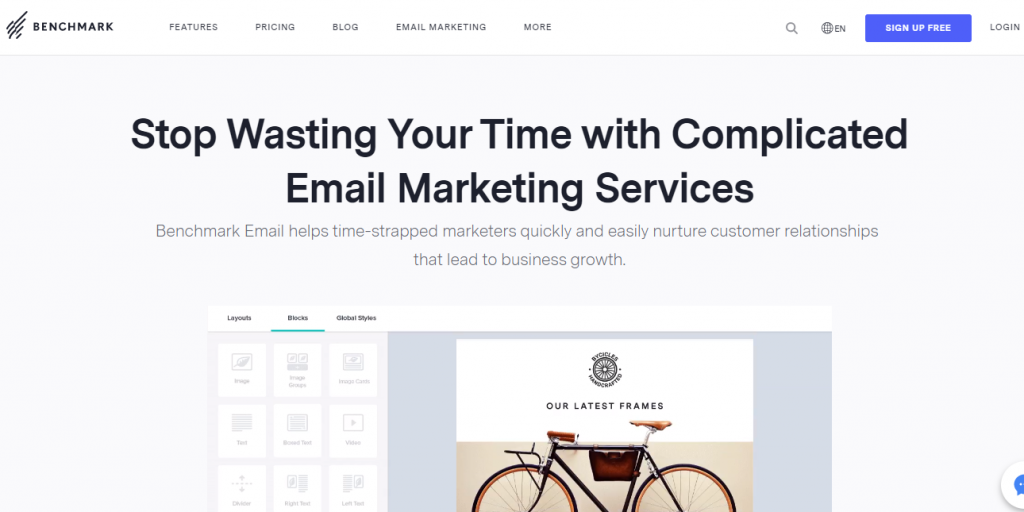 Benchmark Email is great for small and start-up businesses that require creating successful email marketing campaigns.
It lets you create creative and straightforward professional email campaigns with their easy-to-use tools like drag-and-drop email editor to automation tools.
Benchmark Email has very easy to use tools, from its drag-and-drop email editor to its automation tools.
Other features that Benchmark Email offers:
A/B Split Testing
A mobile application that makes it easy to view emails through mobile phones
Integration which they work smoothly with 300 plus other applications
List Builders
You can subscribe to Benchmark Email starting from the free plan to $13.9 per month.
10. Drip

Drip is one of the best email marketing software to the online store owners and recommended, especially if you are a Shopify user.
Drip has this easy to use and pre-made features which only needs a few alterations, and you're ready to go. They also have this Visual Builder, which makes your email campaign a more noticeable one.
Everything that is happening on your Shopify store, once you integrate it to Drip, will automatically send an email marketing to your subscribers promoting your business.
For example, you are offering a product which will be on sale for a certain period, this notification will send directly to your valued contacts promoting your product sale. Want more dibs on Drip? You could move along to our detailed Drip CRM review here.
You can try Drip for 14 days for free and subscribe to them at $49/month.
FAQ's About Email Marketing
1. Do I still need email marketing even if I'm not selling a product?
Definitely! If you're a blogger, creating an email list and sending it to your subscribers that you have a new post or upcoming post will help you.
2. How do I get more subscribers?
Using lead magnets is a great way to earn subscribers. A lead magnet is a free reward or product to your subscribers in exchange for their email addresses. Gathering their email addresses allows you to create an email list which is helpful to earn more subscribers.
3. How often should I send email campaigns?
This depends on the industry that you're in. Sending at least four emails a week is enough for your subscribers to get notified.
Conclusion
Using an email campaign can be a big task but a great strategy to be one of the well-known business in your industry.
Always remember the factors to consider on choosing an email marketing service provider to avoid any bumps and hassles on the future and growth of your business.