SendinBlue Review: Email Marketing Service on a Budget
Most startups do not realize the value of an email marketing service. But at point-blank range, any eCommerce expert will agree that it is a well-oiled machine to connect with prospects and gather leads. It gives you a platform to speak directly to your clients, through their inbox. It doesn't matter if they are potential, present, or even with past customers, the value of email marketing hinges on building relationships, at any time that is convenient for them.
No doubt, email marketing service serves as one of the most effective ways of reaching out to your new customers and existing buyers. Using emails is also the cheapest way of advertising your profile & products.
As a beginner, you want an affordable email marketing service or even free if possible, right?
Have you ever heard of SendinBlue? If not, I'll go over its features, pricing, and support to know if they might help you in creating a unique email marketing strategy in an affordable approach.
What is SendinBlue?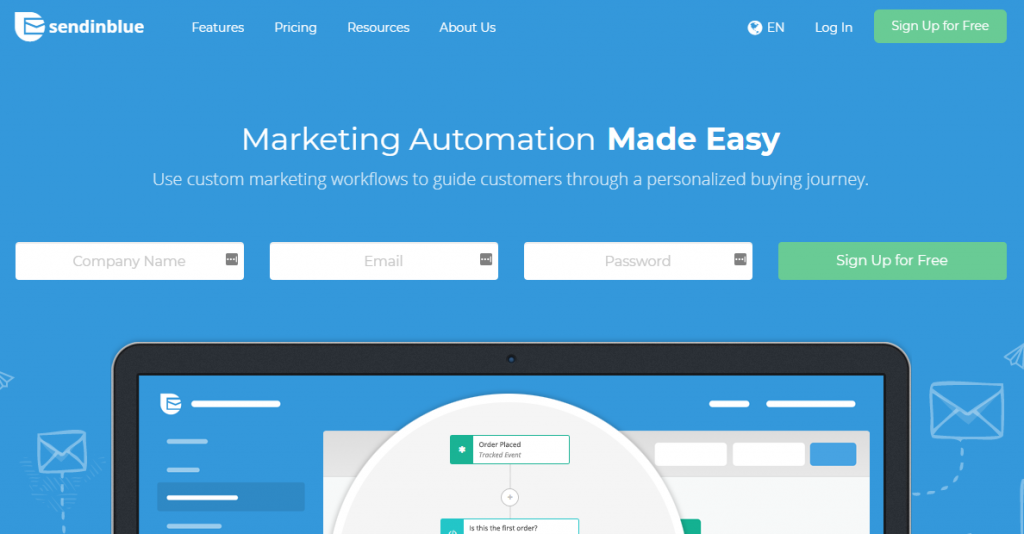 SendinBlue is a popular tool that offers email marketing services. It's specifically built for small & medium scale businesses where it provides useful features for the beginners.
SendinBlue is designed to help entrepreneurs to create a simple yet effective way of communication between the seller and the clients through the use of email.
It offers a free plan, which is perfect for the beginners to focus on their business and save their investments to some more important things to enhance their profile.
SendinBlue also offers  SMS campaigns to deliver the message of the seller to their customers with no expiry date.
SendinBlue Best Features
1. Drag and drop Email Designer
With this tool, you don't have to worry about creating a unique email design. It is a very user-friendly tool where you can create your email campaigns, without worrying about technical complexities.
Using its drag and drop tool, in a few clicks, you can personalize your email campaigns depending on your chosen layout. It also has a rich text editor, and you can use your HTML Codes as your preference.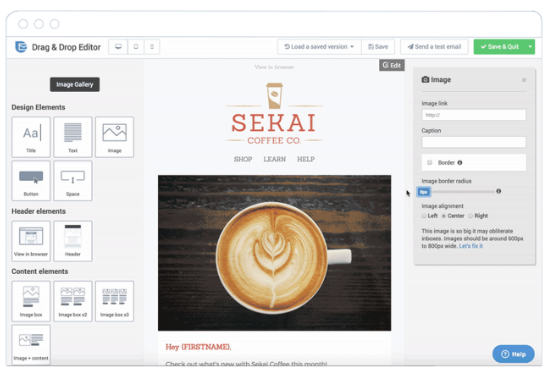 It also lets you choose from its pre-designed email layouts. Using the drag and drop editor, you can rearrange the colors, the texts that you want to include, adding photos, logos with your personal touch.
SendinBlue has a lot of various templates that you can choose from to enhance your email marketing strategy and make it catchy to your target recipients.
2. Marketing Automation
Marketing Automation feature is also available even in a free subscription account. This feature allows you to send updates to your new products, promotions, and purchased items any other series of messages to your customized contact list.
This tool also allows you to track the visitors on your page and target a specific email and directly send it to your page viewers.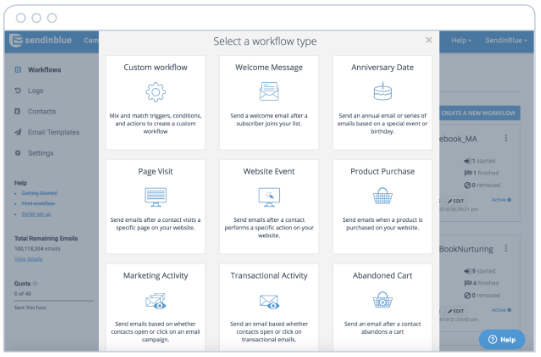 SendinBlue allows you to choose from its existing pre-made marketing automation, or you can create your email strategy depending on your needs. Creating marketing automation is also a user-friendly tool that SendinBlue has to offer. It provides a step by step process to its users to quickly familiarize themselves on building their marketing automation.
Learning and using this marketing automation tools allows you to keep in touch with your customers and keep them updated on your new product and it also benefits the seller on tracking the viewers of their profile and automatically sent an email to them.
3. Transactional Email Features
SendinBlue transactional email feature is very convenient to both the seller and the buyer. It benefits both parties as the seller can automatically set an email marketing service for every purchase of their buyer.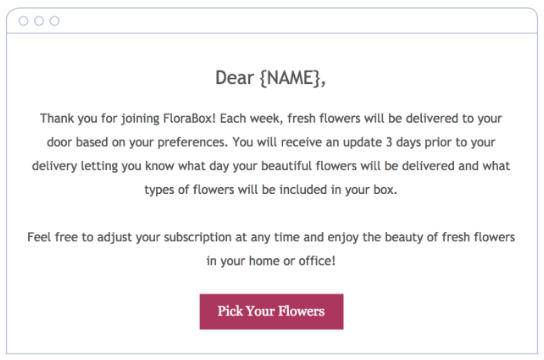 It can also be used on tracking the shipment status where the buyer can send an email confirmation for the order tracking. Convenient for your buyers, too, right? They can track down all their transactions on your online store.
It also has contact management features, A/B testing, contact segmentation, and many more that can also be offered for free!
Pricing
You can avail SendinBlue for free, and you can enjoy and maximize your email marketing strategy with its free features, too. It allows you to save unlimited contacts, but, you can only send a maximum of 300 emails per day, which is not bad for the beginners.
SendinBlue offers 5 Different Plans for you to choose from which ranges from $0/month to $66/month only!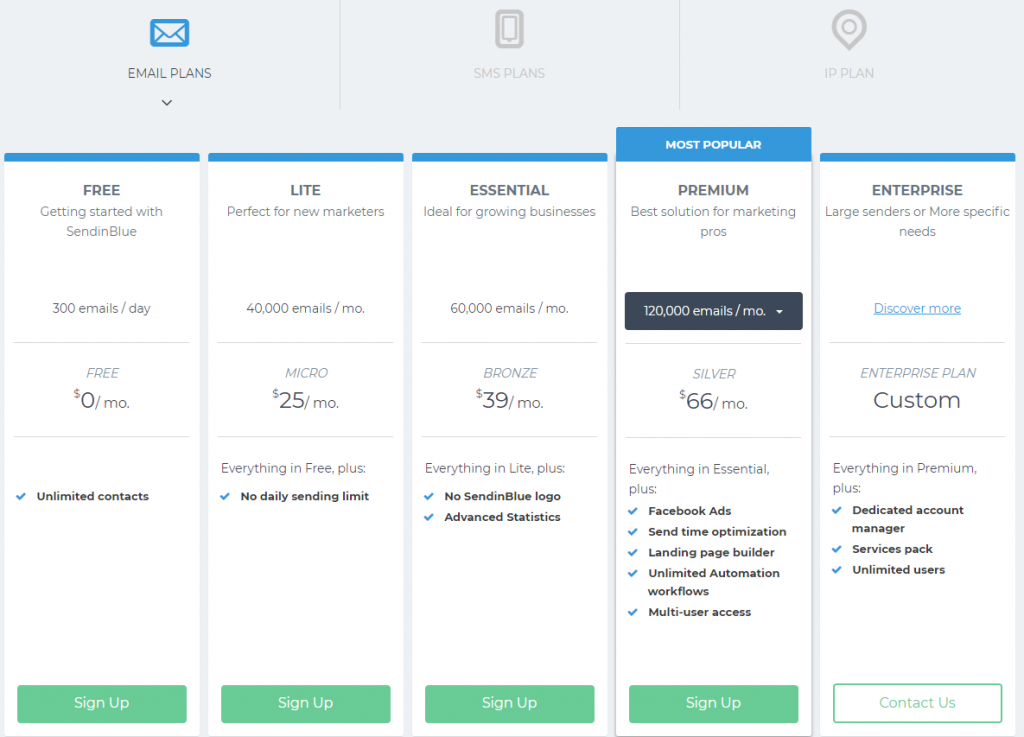 It has free, Lite, Essential, Premium, and Enterprise plans to offer. If you want to send a daily unlimited email, it is available already to its Lite plan which doesn't cost a lot for new business owners.
If you want to have access to dominant features of SendinBlue, you can avail its Premium or Enterprise plan where it has an unlimited automation workflow, landing page builder and send time optimization features.
SendinBlue subscriptions allow you to upgrade immediately depending on your needs and don't lack you on a particular plan. You can downgrade your plan, if you want to, any time.
Support
SendinBlue offers an extended support system for its users. If you avail its Enterprise plan, you can have your support account manager that can assist you in creating unique email advertisement and strategies to catch more customers, campaign metrics, and many more.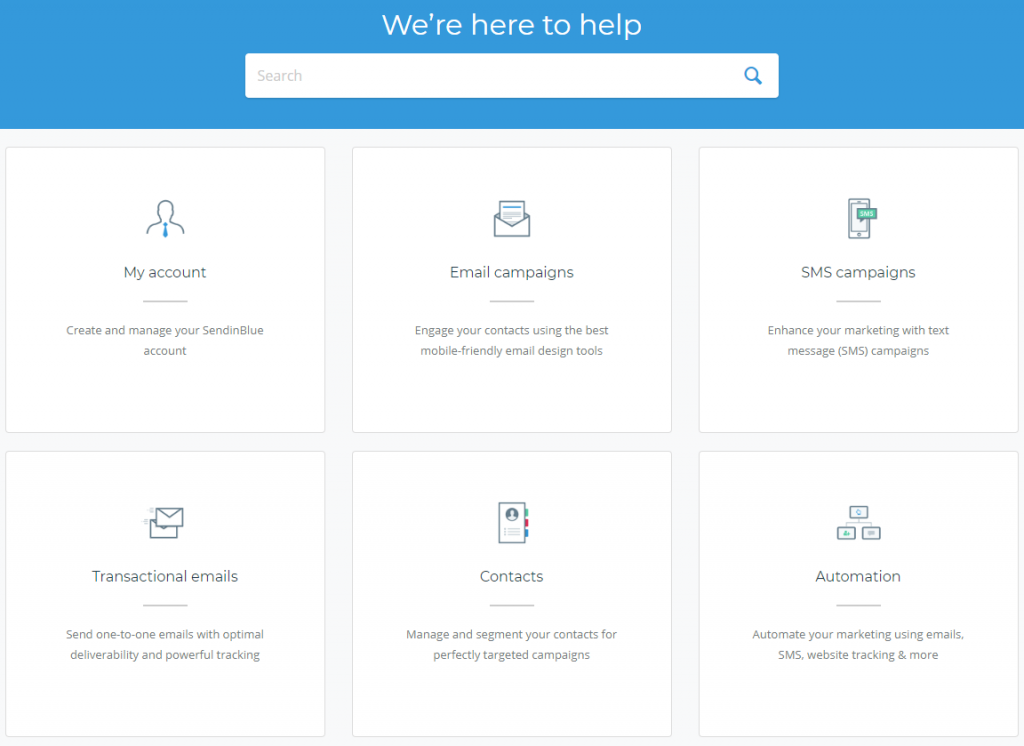 For every account, it offers support with all plans that you avail. For the free ones, you can get 60 days phone and chat support for 60 days as well as with the Lite plan users. Unlimited phone and chat support can be availed with the other three mentioned plans.
It also has web pages where you can visit the tutorials and blogs that might help you in creating your visuals.
OptinMonster + SendinBlue
As a seller, you do want to grow your email list as easy as possible, right? If yes, you might consider trying to use OptinMonster and SendinBlue together.
With the help of OptinMonster, you can create your unique popups. It also offers a lot of popup templates that you can use, depending on your needs.
OptinMonster designed specific templates useful for checkouts, coupons, discounts, holiday promotions, and many more. You can also create your custom-designed popup and have full control over your design.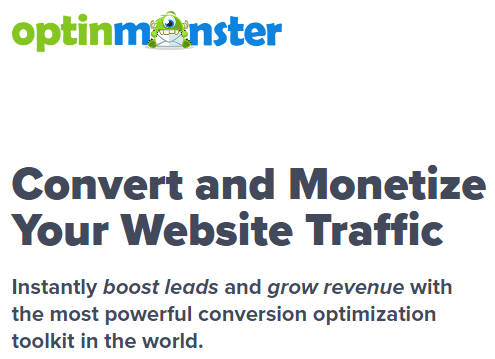 SendinBlue offers a popup form builder where you can also design your popups, though. But with the assistance of OptinMonster, you can enhance your popups and expand your email list.
A great feature of OptinMonster is that it has an exit-intent pop up where your page visitors could come back on your website. Exit-intent popups are great in tracking your site visitors when they were about to leave your site and send them a targeted popup at the exact time.
Conclusion
SendinBlue is an excellent tool for email marketing, especially for small and medium-sized business owners. It offers excellent features for free, and you wouldn't have to worry about overspending on enhancing your campaigns to advertise your business.
SendinBlue allows you to focus on the growth of your business by giving its best features to their users. You can easily upgrade your account to get access to other amazing features whenever your business is ready.