Best Form Plugins for WordPress in 2023
You are a business owner, and you know that the best way for your potential and existing customers is to contact you directly from your website. But, you are confused with so many, probably a thousand or so, contact forms out there. Here are some of the best form plugin recommendations for your WordPress website.
Of course, you don't want your customers to spend so much effort in finding your phone number, email address, or social media account only to ask a question or comment on your service or products, right?
A contact form, no matter how simple it looks, can help you improve your customer engagement, lower bounce rate, and even increase conversions. It helps your visitors to contact you without leaving your website.
You don't have to publish your email address only for them to contact you. Plus, you can reduce receiving spam messages if you don't get your email address published on your website or elsewhere.
Adding a contact form on your website doesn't have to be very confusing. There are a variety of form builder plugins that you can choose from.
However, I want to make it easier for you. Let's take a look at among the best form plugins for your WordPress website.
1. Ninja Forms – The Easy and Powerful Forms Builder

With Ninja Forms, you can easily and quickly build your forms as it is a drag-and-drop form builder. Whether you are a beginner or a developer, you can easily use this tool. If you are a beginner, you can create a form without writing a single code. If you are a developer, you can customize field templates, and add hooks and filters.
It is free. But of course, if you want additional features, you can purchase the pro version.
Now, let's take a look at some of its best features.
With a user interface that's easy to use and understand
An unlimited number of forms can be created
Easy to use fields such as emails, dates, phone numbers, etc.
Easily customizable fields and can be saved as favorites
Exportable and importable forms and favorite fields
Every time a form is submitted, the data is immediately emailed to the administrator or assigned user
With anti-spam options such as Google reCaptcha
If you're on the pro version, you can use its conditional logic functionality. You can also integrate your forms with email marketing providers such as MailChimp, Aweber, iContact, GetResponse, and many others to build a mailing list. You can even collect payments through integrating with payment gateways such as PayPal, Stripe, or Elavon.
You can start it for free or for $99 a year for a single website. As your business grows, you can upgrade to its higher plans at $199 a year for 20 sites or $499 a year for unlimited sites with all the add-ons included.
2. Contact Form by WPForms – Drag & Drop Form Builder for WordPress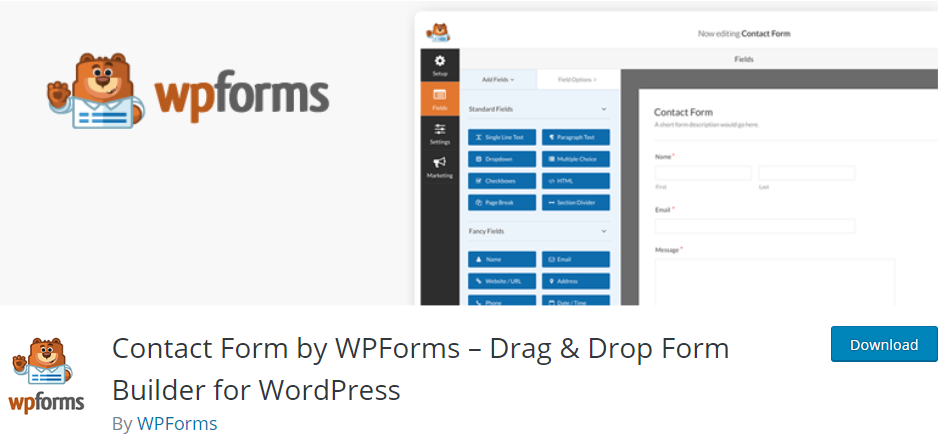 WPForms is probably the most beginner-friendly contact form plugin there is. Anyone can use it even without training.
With WPForms, you can easily and quickly create beautiful forms with its pre-built templates, not just contact forms, but also payment forms, subscriptions forms, and many other types of forms.
What can WPForms do? Well, let's take a look at its best features:
Without any coding skill required, you can create attractive and functional forms with its drag-and-drop form builder
It's 100% mobile responsive
With instant form notifications (when a user submits a form, the administrator is immediately notified)
Supports payment collections, donations, and online orders
Forms can be easily embedded to posts, pages, or any part of your website
With numerous pre-built form templates
Supports smart conditional logic
Easy management of leads
Integrates with email marketing services
With spam protection features such as smart captcha and honeypot
Includes a Thank You page for form confirmation
WPForms plugin has free and pro versions. So, if you need more robust features aside from the basic form fields, spam protection, email notifications, and Thank You page, you can upgrade to its pro version which starts at $39.50 a year.
3. Gravity Forms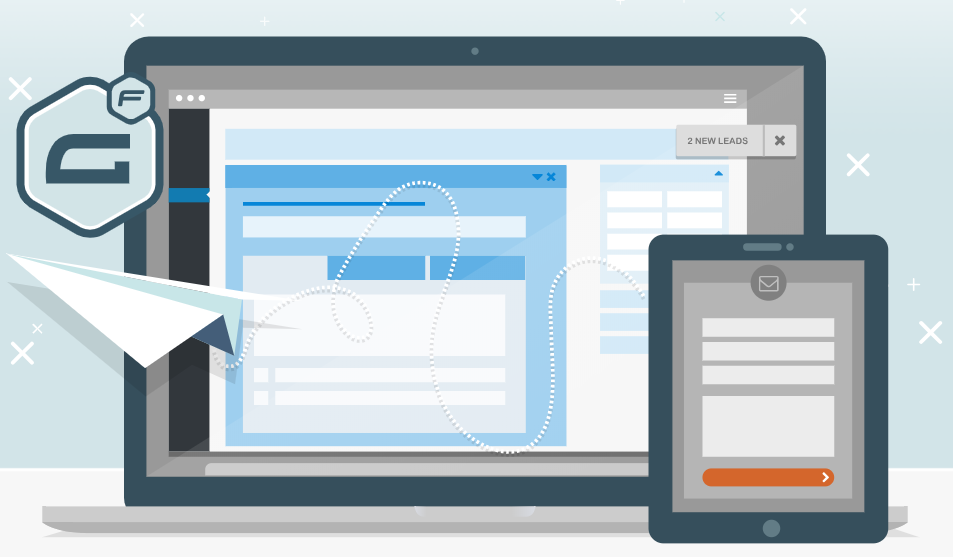 If you want to create more advanced forms for your WordPress website, then I would suggest using Gravity Forms.
Now, this is a premium WordPress form builder plugin with several advanced functionality and features. If you are a developer, then you would love this as it allows you to create complex form related solutions.
Let's see what Gravity Forms have that make it one of the best.
Easy to use visual form editor
More than 30 built-in form fields
Supports conditional logic
Email notifications to administrators once a form is submitted
Users can upload files with its File Upload field
You can save your form and continue building it later
It can perform advanced calculations based on the entered field values
Includes spam protection such as Google ReCaptcha, Akismet, and Really Simple Captcha
It's 100% mobile responsive
You can create surveys, quizzes, and web directory with its add-ons
If you want all these amazing features, you can start with its Basic License for $59 a year. If you have 3 or more websites, then you might want the Pro License for $159 a year or the Elite License for $259 a year.
4. Happy Forms – Contact Form to Manage and respond to conversations with customers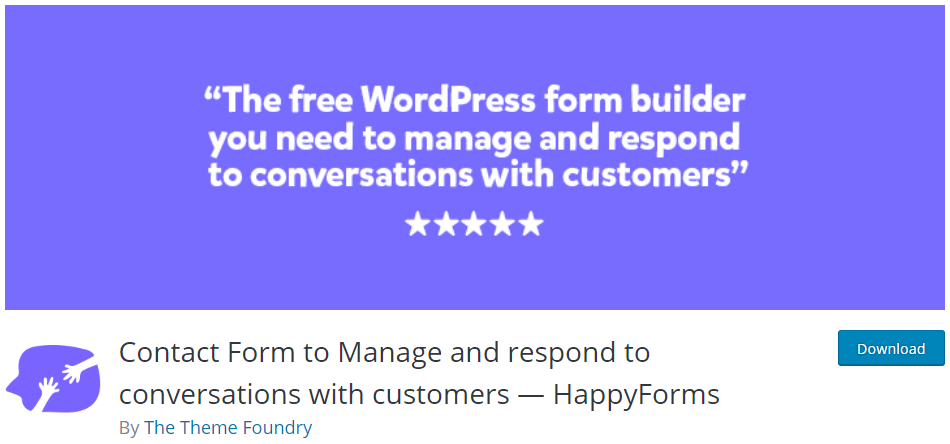 Did you know that HappyForms is 100% free? Yes, it is, and it's probably the reason why it's considered one of the best.
With this drag-and-drop form builder, you can easily create forms such as contact forms, lead generation forms, surveys, feedback, and quotations.
HappyForms is proud to present to you its best features, which include the following:
Appealing forms that encourage conversations
You can save about $300 per year for using the free HappyForms version with more benefits than using premium plans
You can easily manage your customers' messages
Reliable delivery of the message
With live preview form builder
With spam protection features
There are also built-in fields that you can easily add to your forms:
short text
long text
email
website link
checkboxes
radio buttons
tables
dropdowns
phone
date and time
You can, however, upgrade if you want to but still save a ton compared to pro versions of other form plugins. It's only $99 a year for unlimited sites. Can you imagine that? If you're an agency, you can save tons of dollars.
Jotform's WordPress forms plugin is the easiest way to build professional-looking custom forms for your WordPress-powered site.
You can create the form that fits your needs perfectly with its intuitive drag-and-drop builder and powerful form fields without having to type a single line of code.
With Jotform's Embed Form plug-in, you can quickly and easily embed custom forms in your WordPress website and start accepting form submissions instantly.
Here are the best features of Jotform:
Hundreds of powerful form fields, widgets, and integrations.
Conditional logic, multi-step forms, save & continue option and many more.
Electronic signature forms.
Thousands of ready-made form templates.
100+ app integrations that allow you to streamline tasks and improve how you manage your site.
30+ trusted payment gateways including Square, PayPal, and Stripe to seamlessly process payments and donations directly through your website.
Offline forms that allow you to collect data offline from Jotform's free mobile app.
Automated emails and notifications.
Jotform offers a free plan with all the features included! There is only a document number limit in this plan. There are three different paid plans starting at 39$/month.
6. Caldera Forms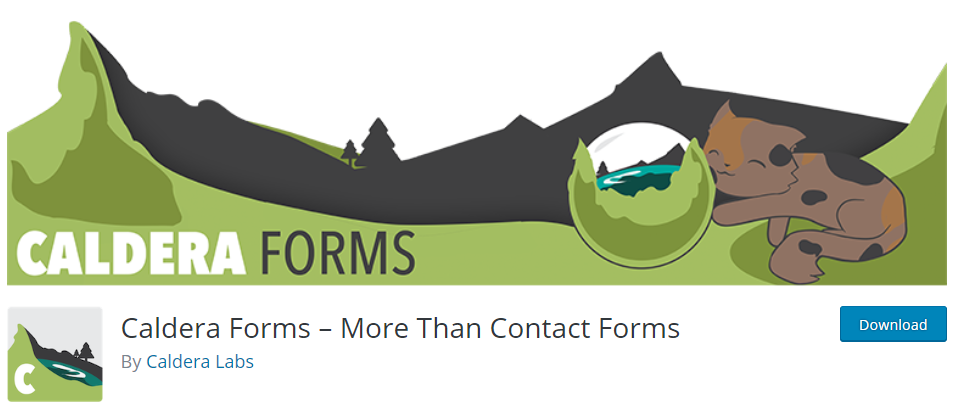 Caldera Forms is free and user-friendly. You can easily create a mobile responsive form with its drag-and-drop functionality.
Among its top features include:
Intuitive user interface
Simple and quick drag-and-drop builder
With a variety of field types such as dropdown, radio buttons, calculation, and file upload
Supports conditional logic
An unlimited number of forms can be created
Anti-spam functionality
Mobile responsive
If you choose to upgrade to pro, you'll get a priority support and around 27 add-ons such as integration with payment gateways, integration with email service providers to build a mailing list, and integration with Google Analytics. You can also make your emails on brand with its HTML layout builder.
Caldera Form pro version starts at $14.99 per month.
7. FormCraft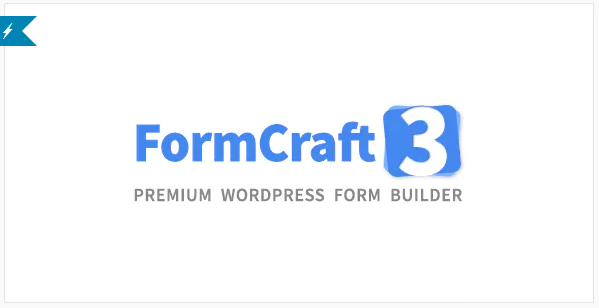 Let me tell you straight away, FormCraft is not free. You're going to pay $36 for a regular license with free future updates and six months support if you want to build a form using this plugin.
But, what will make you want to buy this plugin is their specialty with the design. Most forms are very generic and not that appealing, right? With FormCraft, you'll get a variety of templates based on the form type that you want to build. You'll also get other bonus templates and add-ons.
So, if you are not that good with designing, you don't have to force yourself to create the best-looking forms because FormCraft already has it. You can, however, customize your forms with its drag-and-drop interface even without coding skill.
Its code is also optimized to make your forms fast and scalable. It is mobile responsive as well, and you can embed it to any page or post on your website. Or, you can use a trigger to display a popup form.
If your forms need calculations and conditional logic, FormCraft's got your back. You can even integrate it with your payment gateways and analytics software.
8. Contact Form 7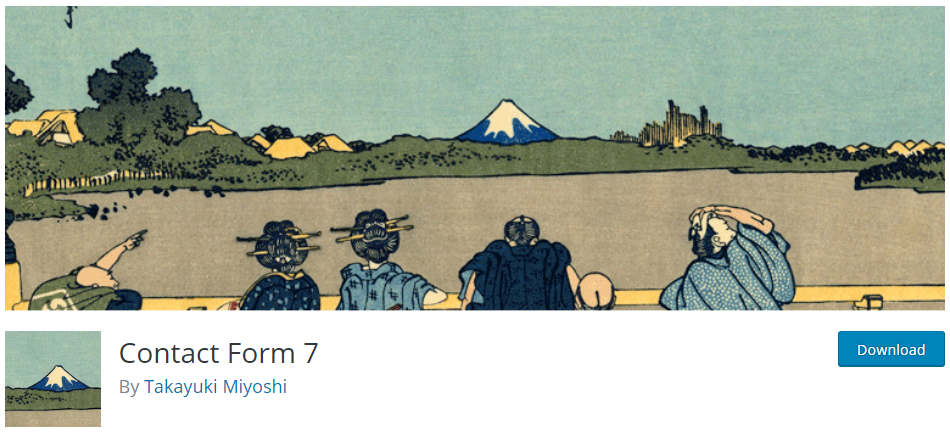 Contact Form 7 is the oldest and most downloaded form plugin. It's completely free. And even when it's free, you'll still get amazing customer support. You can even access their FAQ page, documentation, and support forum.
Among its best features are:
reCaptcha
Akismet
Constant Contact
Radio buttons, dropdown menus, checkboxes
Quizzes
File upload fields
You can add third-party add-ons for Contact Form 7 such as Flamingo for saving the submitted information in your database and Bogo for multi-lingual support.
9. Quform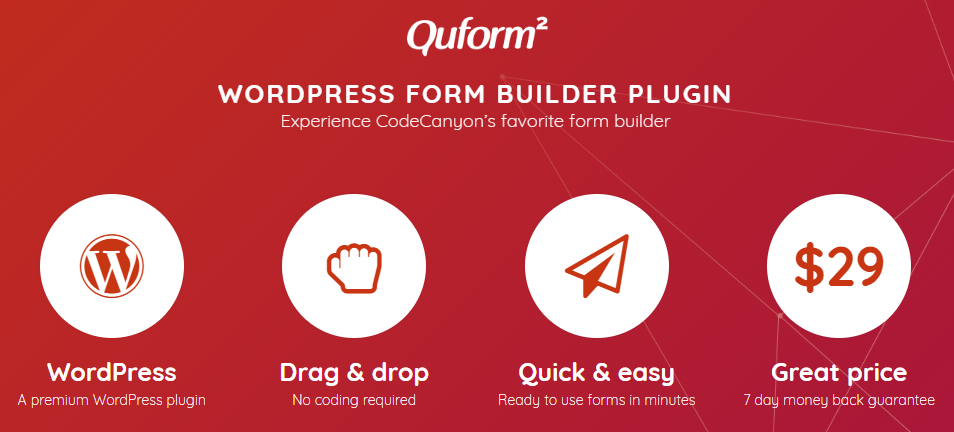 Quform is a premium WordPress plugin that's priced at $29 regular license with six months of support and future updates.
Who is Quform for? If your forms require customization and you are not techie enough to touch the codes, then you can use Quform as it allows you to easily and quickly build forms within your control.
It has drag-and-drop functionality and includes 11 themes to choose from.
Among its latest features include:
Multi-page forms
Duplicate element
Movable submit button element
Add attachments and conditional logic to notifications
Column layouts for complex forms
Export to .xls, .xlsx, .csv, .html, or .ods files
10. Formidable Forms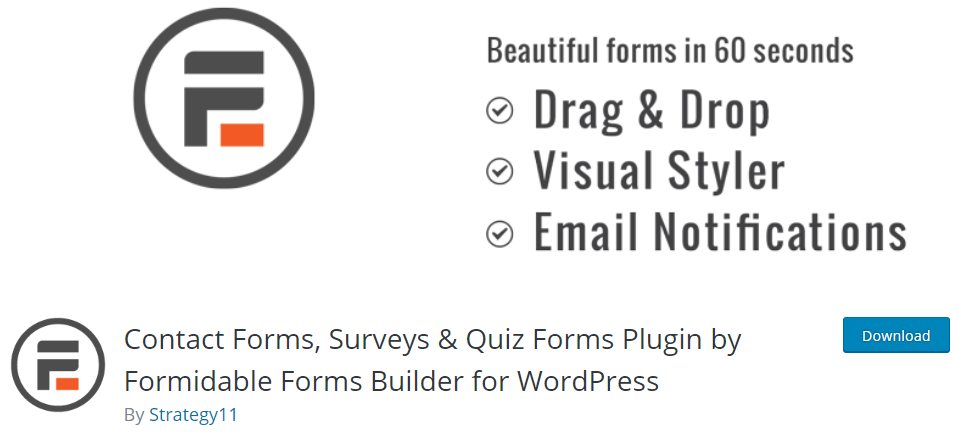 If you need a form plugin that offers more advanced features, then you can go for Formidable Forms. It's the most advanced WordPress form plugin with a focus on more complex forms.
Formidable Forms can help you if you want to go beyond creating simple contact forms. Building does not need to be complex, though, because of its drag-and-drop interface.
It allows you to create form-focused solutions such as event calendars, job board listings, rating systems, management systems, and many more.
You can also create forms that require calculations such as in car payments, mortgage, and quotations.
Aside from integration with email service providers and payment gateways, it also integrates with WooCommerce.
It's free to use, but customization options are limited. So, if you were to use this, I recommend you to purchase the pro version that starts with $49 per year.
Conclusion
Website forms allow your customers to contact you directly from your website without taking much time to find a way how to contact you. In this way, you can have higher conversions, higher customer engagements, and a lower bounce rate.
Before deciding what form plugin to use, I suggest that you analyze first your needs for the form creation. Are you looking to build a simple contact form or a more complex form that is multi-page? Does it require conditional logic? Does it require calculations?
Do you want a simple drag-and-drop functionality for creating your forms? Do you have a budget for a form plugin?
I'm sure you can find what's best for you from one of the best form plugins I've mentioned above.