Making a lasting impression, establishing a good image, and sustaining a positive influence on others are the ultimate goals of branding. Anything can be a brand. It can be a company, a product, even an individual. So, a personal brand is simply how you promote yourself to attract a target audience. Take heed on these tips of how to create a compelling personal brand website.
When you've got a powerful brand, you make a memorable impact on your customers, and it makes your business unique against your competitors. The product or service that you offer is clear, making you appear as the better choice. Your audience trusts you well enough to purchase from you.
What is an online brand?
An online brand consists of your logo, slogan, style, and colors that you want to show on your website and other presences which include your social media handles.

Think of YouTube. I'm sure you already know what service it offers even without going into the actual platform.
That's how powerful this brand is. A good branding makes your website more distinguishable and engaging. And that is very important in growing your audience and increasing conversion.
But of course, branding is not enough for your business success. You also need to make an effort in creating valuable content for your audience. This is the winning combo you need for the success of your personal brand website.
You should consider your personal brand website as your home in the Internet world. This is where you create content and where your audience goes. You can even add social proof on your site to establish trust online.
But wait. You already have a LinkedIn page, a Facebook page, and an Instagram page. Do you really need a website as well?
Of course, you do.
Your social media accounts are not yours forever. It's like you're just renting a space for your content. Unlike when you have your personal brand website, it is your own and you have control over it.
What can you do with your personal brand website?
Have control over your content
Stand out from your competitors
Reach your audience globally, not just those inside the social media channels you're posting your content to
Network with other like-minded people
Five tips in creating an effective personal brand website
1. You should have a logo that's unique and that reflects your brand.
Your logo is the most prominent branding element. It should be unique that it can be easily recognized in a crowd of competitors. Designing a logo takes time and creativity to make it more compelling.
You are not a designer you might say. Well, if this is the case, you might consider hiring a designer to design a unique logo for you so that it doesn't look like it was not well thought of. And yes, you will need to invest money for your logo.
If you're just starting out, you might try creating your own logo with the help of some logo creator apps or software. But I don't really recommend it.
Whether you DIY or hire a designer, here are some points to remember:
Your logo should complement your website content, and look and feel.
Your audience should be able to read or understand it easily.
Its colors should be on brand.
You might create different variations of your logo so you can select what best reflects your brand. You might also start thinking about what your tagline could be.
2. Decide a color palette for your website.
Think about YouTube again. It's more of red and black, right? You'll know that it's YouTube because its colors across the website is consistent. This consistency is part of branding.
For your personal brand website, make sure that colors are consistent. You can choose a single color or multiple hues and add them to the elements of your website such as:
call to action (CTA) buttons
navigation bars
footers
dividers
featured images
Make sure that the colors you choose complement each other. You can use a color wheel in choosing the right color for you. I would suggest choosing between one and three primary colors.
Can you now imagine what your website looks like?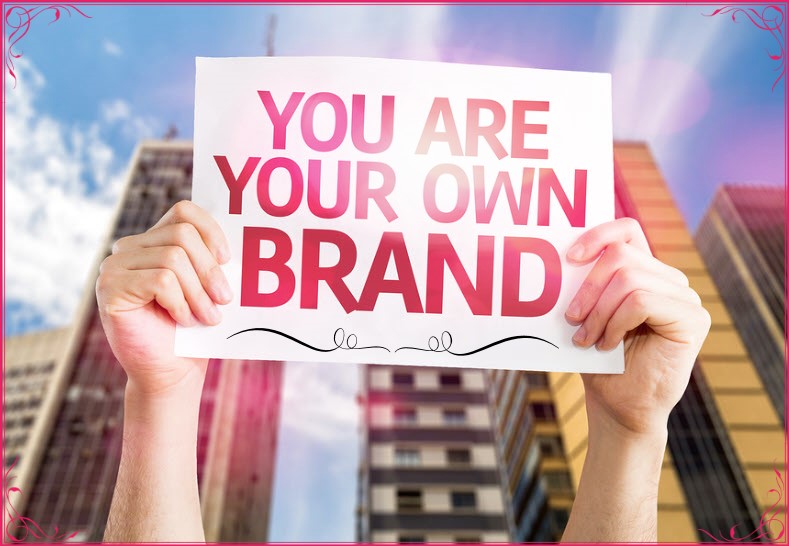 3. Consistency is the key.
You need to keep consistent branding throughout your website. The look and feel of each element should be uniform across your website. If you need help in building your site, we have published several guides that might give you a push: Why WordPress is the Best Site Builder, How to Host Your Website, and a definitive guide on WordPress Page Builders.
Of course, you don't like placing a different logo on the other page of your website, right? It will surely confuse your visitors. You also don't want a very different font for each page of your website. It's not very enticing for sure.
Similarly, you don't want to confuse your visitors with different styles and colors of your CTAs.
Be consistent so that your audience can easily remember and recognize your brand's core elements.
4. Add social icons to your website.
You need a social media presence because it helps grow your audience. With that in mind, make sure that the branding of your social media accounts is also consistent with that of your website. Use the same logo, style, colors, and tagline.
Adding social icons to your website allows your visitors to share your content in their own social media profiles, thus, increasing audience reach.
You might want to try Social Icons Widgetby WPZOOM.
5. Add an "About" section on your website.
All, if not, most of your readers will surely head on to your About page first before any other pages on your website aside from the Home page. Your audience needs to know what is your website all about.
Make sure that it's worth a glance.
You don't need to overthink and complicate your About page. You can do a brief introduction of yourself, what you do and service you offer, and probably a photo of you. You just really need to give information that's enough to feed your audience and recognize you and your business.
Conclusion
If you want to be recognized as a personal brand, then you need to take your branding seriously. Think about what makes you unique and then translate it into colors and unique logo, tagline, and image for your website.
Don't procrastinate and proceed in creating your personal brand website with the tips that we've shown you.