Seal of Trust: Adding Social Proof to Your WordPress Website
If you are a business owner, your website's social standing is very crucial in growing your traffic and increasing your revenues. One way of raising brand awareness is to add social proof to your website. With our tips, you are on the road to improve your influencer marketing and boosting your brand.
Now, there are several methods of adding social proof to your website. It can either be through coding, adding plugins, or a quality WordPress theme. Establishing social proof raises the bar of trust in your products and/or services.
Of course, everybody wants their potential customers to hit that 'Purchase' button. That's only possible if you have gained that level of trust that moves them to make that buying decision.
What is Social Proof?
Before we go through the different types of social proof that you can add to your website, let's first talk about what social proof is and why it is important to be added on your website.
Social proof is a social and psychological experience where people make decisions based on other's opinions or actions. So, for example, if your potential customers see something pops up on your website saying that someone has purchased your product, then there's a really good chance that he will buy as well.
Having social proof on your website, you can:
increase your clients' trust, thus increasing sales
build your brand credibility
leverage third parties such as industry leaders and customers to help increase conversions
Five Ways to Add Social Proof on Your WordPress Website
There are different types of social proof that you can add on your website. Let's talk about them one by one.
1. Popups
Do you ever notice popup notifications from other websites saying that some people have already purchased their products? You might think like "wow, this must be a good product" and you find yourself hitting that 'Buy' button.


Good thing some plugins help you easily add social proof on your WordPress website. We have a list of popup plugins for gathering leads. Incidentally, these are two of the most useful plugins for establishing social proof: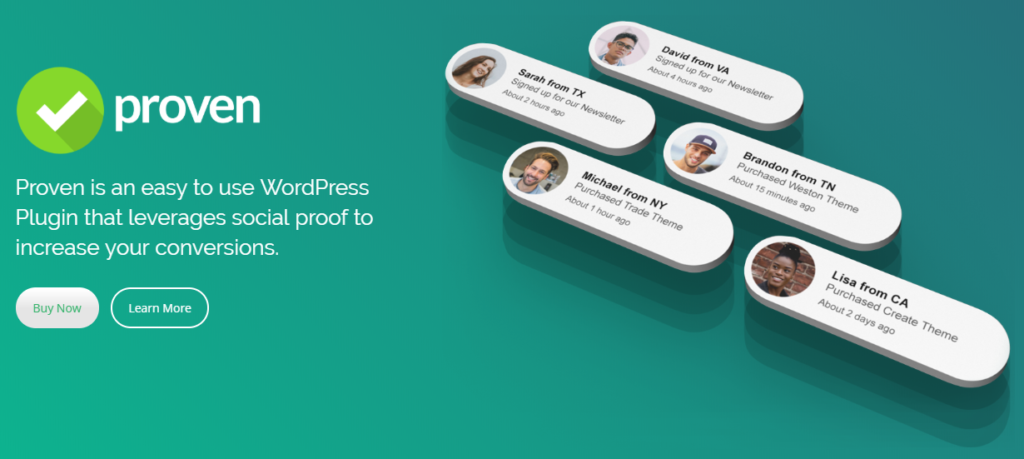 Proven is a social proof WordPress plugin that allows you to display recent purchases of your products and services, as well as current subscribers to your mailing list.
Among its best features include:
seamless integration to WooCommerce, MailChimp, and Easy Digital Downloads
easy and simple setup
easy customization to match with your website's branding
control visibility so you can decide who can see the popup (could be a new visitor, logged in users, visitors to specific pages, or another scenario)
manual creation of sales notifications
detailed documentation to guide you with your setup
Price starts at $39 for a single website, $59 for five sites, and $99 for an unlimited number of websites.
Move ahead and download the plugin from Theme Trust, then install and activate on your WordPress website.
You can now create a notification under the Proven menu on your WordPress dashboard. You also have the option to add manual entries, customize the appearance of the popup, and configure the behavior of your notifications.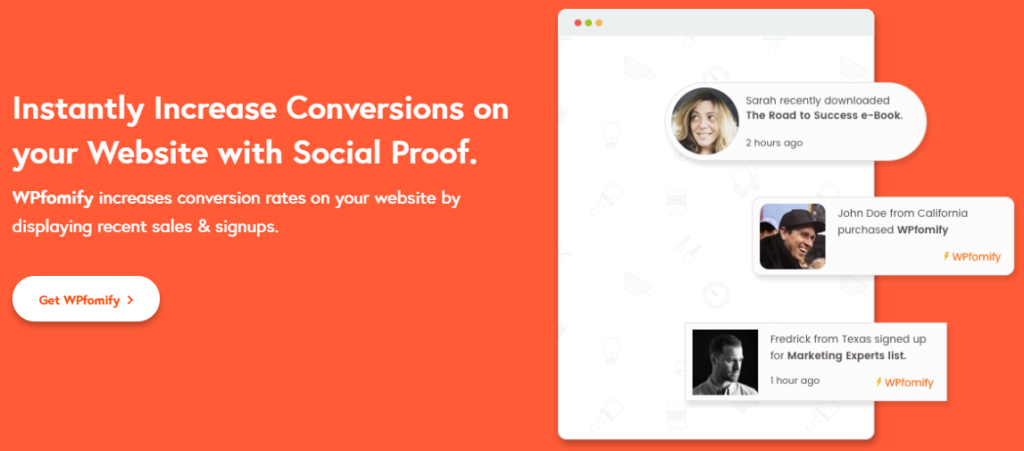 You can use WPFomify to display users' activities on your WordPress website. These include but not limited to, showing up new subscriptions, signups, reviews, purchases, and donations.
Among the best features of WPFomify are:
linking the notifications to that particular product being reviewed so that the visitor reads the full review of the product
integrates with other popular WordPress plugins and email marketing providers such as Drip, Active Campaign, Convertkit, and Aweber
easy customization of design to match with the branding of your website
display of real-time user activity
an array of time-limited offers to create urgency
integrates with Google Analytics
You can get WPFomify for $69 per year for a single website, $199 per year for unlimited websites; and if you want a lifetime license, you can get it for $279.
2. Customer Testimonials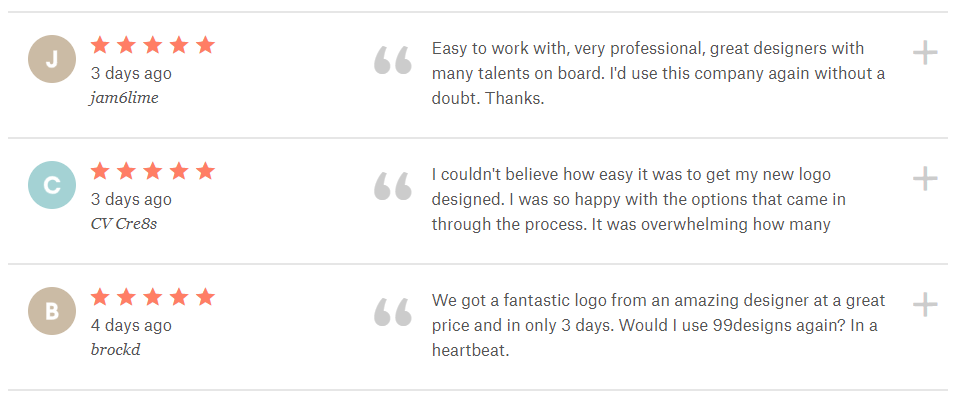 Another way to increase your social proof is to add customer testimonials on your website. Testimonials are the most effective (about 89% effectiveness) among the standard content marketing methods.
So, if you've got your list of customers who purchased your products and services, you might want to ask for their feedback about it.
Few tips for creating a great testimonials section or page:
Use high-quality photos and videos.
Make it easy for your customers to submit their testimonials.
Use testimonials across your site.
Display real customer faces and business logos.
Try out different formats, such as social media posts that can be used as testimonials.
3. Customer Success Stories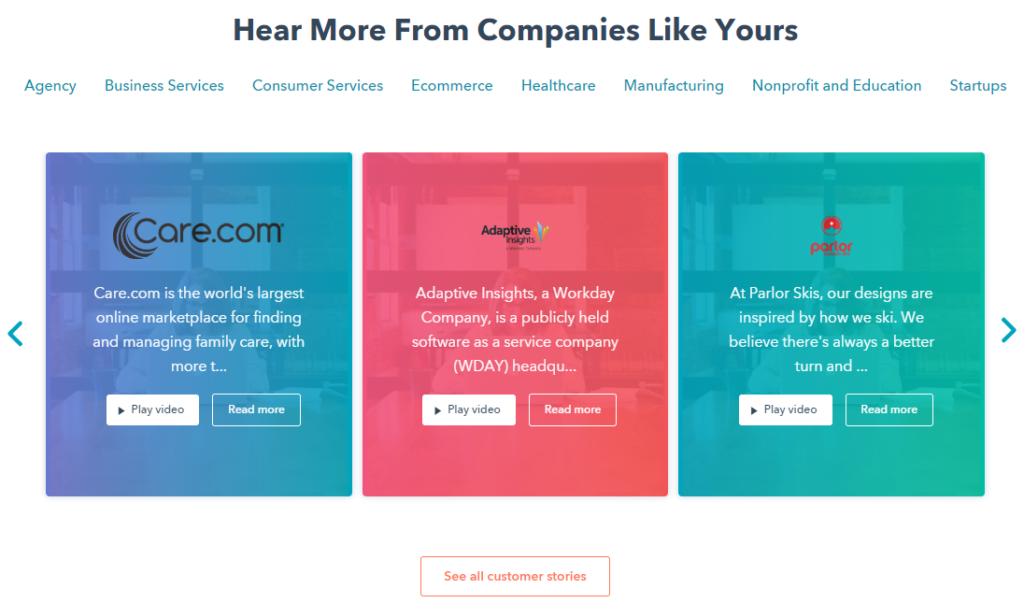 Highlighting customer success stories in the form of case studies or interviews provide clarity to your potential customers about how your product and service can be very beneficial to them. It drives your potential customers to seek for the same positive result for themselves.
Now, you might want to create individual posts or pages for each success story so that your readers can focus on it and will more likely be convinced of buying.
It's also noteworthy to link the success story to the specific product it is talking about.
4. Key Numbers

You can boast about the number of your social media shares, subscribers, users, buyers, or downloads. Knowing that you have these huge numbers increase customers' trust in you.
Use any relevant statistics to increase your credibility.
You can use social share counter WordPress plugins such as Social Counter for WordPress and Cresta Social Share Counter to display the number of your social shares. You can also use numbers in your popups or lead forms to entice your readers to subscribe to your mailing list.
5. Endorsements and Associations

Endorsements and associations are those industry leaders and organizations that can endorse your product and service.
If you feature big names on your website, they impart with you their credibility and popularity. Consequently, you need to make sure that you've worked with them to reflect some positive returns for your business.
You can put their endorsements and faces as testimonials, and you can mention their names across your website (on your home page, landing page, blog posts, or newsletters).
Conclusion
To be honest, many factors contribute to the success of your website. Adding social proof is just one. But, it is crucial to add social proof on your website to make sure that your readers and potential clients gain more positive insights about the product and service that you offer.
Social proofs steer your potential clients towards their buying decision. Showcasing that seal of trust and credibility will attract people to buy. Who doesn't want to boost sales? Adding that social proof on your website is a surefire way of nudging your customers to move forward with the purchase.