6 Best WordPress Popup Plugins For List Building (Or Anything Else)
Maximize gathering leads by capturing prospects while you can. You can strategically reap the list building benefits by using these popup builders.
Popups became infamous when web advertising was in its infancy. Its bad reputation still lingers to this day, but you still can take advantage of using popups without getting frowned upon by your web audience. Get the best out of popups to grow your email list, promote your offers, and a lot more.
In case you've not dealt with one, a pop up is a small box that suddenly appears on the page depending on what you clicked. It is a bit annoying to some users, but if it is done right, it could be a good advertisement strategy for your product or gather the contact details of prospects who are not yet ready to buy what you offer. You can learn more about expanding your email list using WordPress plugins here.
To make effective advertisements through popups, you'll be needing the right WordPress popup plugins.
I've listed down 6 WordPress popup plugins, free and paid, to help you decide which one is right for your website.
1. Thrive Leads
Thrive Leads is a lead generation plugin for WordPress where it has all opt-in form types that you can automatically display on your website.
It is a list building solution that's created by a team of people who are obsessed with conversion optimization as this plugin mainly focuses on conversions.
It also provides features like A/B Testing Engine and actionable reporting & insights where you can have an overview of the most valuable metrics. This plugin wants to offer their users the accurate conversion rates that will make their opt-ins better.
Design Interface
Have you tried the Thrive Architect page builder?
If so, using Thrive Leads will be easier for you as they have a lot of similarities. Thrive leads offers pre-made popup design templates that you may choose or you can build your own design.
Targeting and Triggering Rules
For triggers, you can use:
On page load
After some time
Scroll depth, either as a percentage or when a visitor reaches a particular element
On click
Exit intent
For targeting rules, you can use the following options:
Types of content (such as frontpage, all pages, blog index, and others)
Posts or pages
Categories
Post Types
You can also target devices and whether or not a user is logged in to WordPress.
Pricing
You can get it for $67 for a single license. But if you want, you can also purchase a Thrive membership for $19 per month, which includes all the plugins and themes that Thrive has.
2. Elementor Popup Builder (Elementor Pro)
Elementor is one of the most popular page builders for WordPress. If you're using Elementor Pro, which is a premium version, you can use the Elementor Popup Builder for building and managing your popups.
If you want full control over your popup design, then go for Elementor. You can easily customize your pop up window, set your own targeting rules, and will let you connect your popups through site links and contact forms.
But, unlike other plugins with A/B testing functionality and built-in conversion tracking, Elementor doesn't have them. The Popup Builder is still new in the market so that they might develop these features in the next versions.
Design Interface
Elementor Popup Builder offers a wide variety of design templates that you may want to use to build a quick and beautiful popup.
It also offers a transparent background or canvass to let you design your own and customize your popups where you have the full control over the layout and styling options.
Since you can use all the regular Elementor and Elementor Pro widgets, you can use the Form widget to add both regular forms and opt-in email forms.
You can connect these forms to many popular email marketing service providers and Zapier webhooks.
You can also use other widgets such as CTAs, countdown timers, login forms, and social share buttons.
Targeting and Triggering Rules
Once you finished creating your own popup, your next step would be choosing your targeting and triggering options.
You can target specific content, wordings, and categories, as well as user login status, user roles, devices, and referrers.
For trigger rules, you can choose from time on page, on scroll, on click, idle time, and before exiting the page.
Pricing
You can have access to Elementor Popup Builder when you purchase Elementor Pro that starts at $49 for a single license. If you want to use it for unlimited websites, it's $199 per year.
3. Convert Pro
Convert Pro is another popular list building tool with a lightweight drag-and-drop popup builder for you to design your own popup.
It offers built-in A/B testing functionality so you can optimize your popups. It also has dashboard analytics and the ability to connect your popups to a wide array of popular email marketing services.
Design Interface
Convert Pro is not as flexible as Elementor Popup Builder or Thrive Leads, but it still provides you enough control over your popups.
You can choose to customize one of its pre-made templates or build your own design using its drag-and-drop functionality.
Targeting and Triggering Rules
Convert Pro has more targeting and trigger options compared to other WordPress popup plugins. One plugin I can think of that has almost the same features would be OptinMonster, which I will discuss in a while.
Convert Pro gives you several options to display your popups:
Time on page
Exit intent
Scroll
Inactivity
Cookie
Ad Block Usage
News vs returning visitors
Referrer
Schedule
Clicking
You can also create different rule sets with the combination of these rules.
You can use the following options in targeting your popups:
Specific content (such as specific page, post type, categories, author, etc.)
Geolocation
Cookie
Device
Logged in status
Click
Pricing
You can use Convert Pro for $99 per year or $399 for lifetime access.
4. WP Subscribe Pro
If you want a much straightforward popup plugin for your WordPress website, then I'd recommend WP Subscribe Pro.
It is not as flexible as the other plugins though, and it has no drag-and-drop functionality. But, you can still customize your popups with its pre-built templates using the back-end interface to change text and colors.
Its trigger and targeting features are not as detailed as the other plugins, but it has most of the important ones. Plus, it also allows you to integrate your popups with most popular email marketing services.
Design Interface
WP Subscribe Pro is not as flexible as the other plugins, but you can customize existing templates based on your own preferences.
Using the back-end interface, you can edit text and colors of your chosen template. But don't expect to get full control over the design.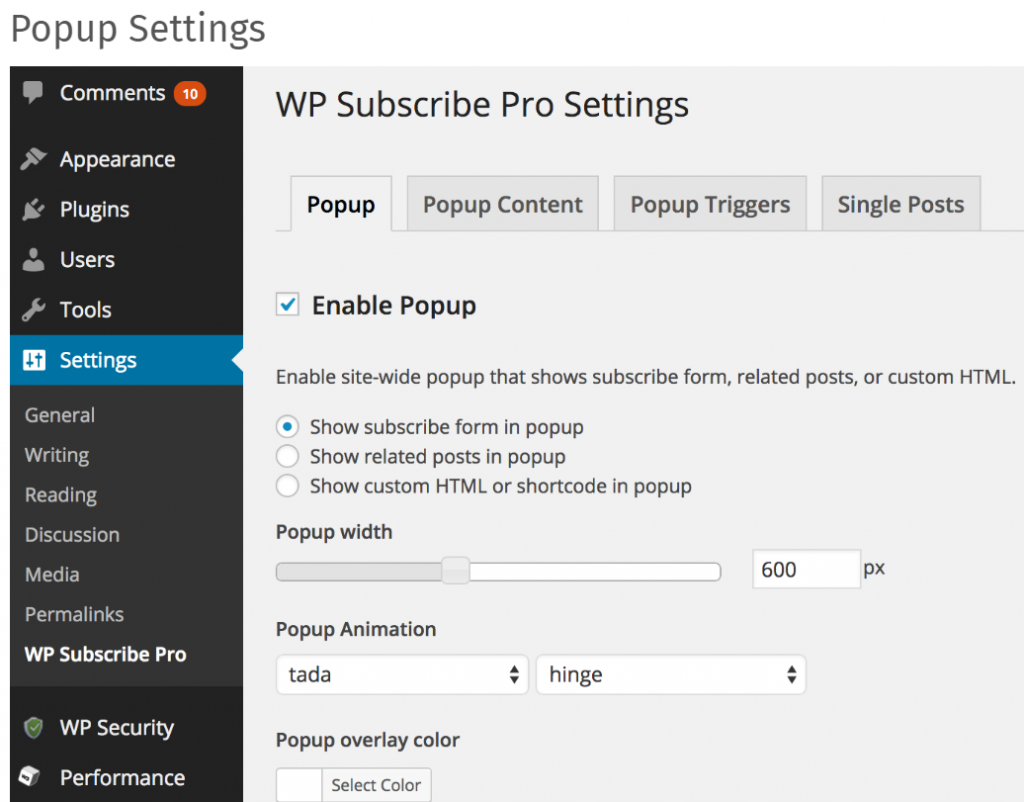 Targeting and Triggering Rules
The targeting rules at WP Subscribe only focuses on the specific WordPress content like specific lines, front page, and archive pages.
Trigger rules on your pop up using this WP Subscribe Pro is a bit wider. You can set rules immediately, delay on time, scrolls and exit of the intent.
Pricing
You can get WP Subscribe Pro for $19 single license with one year support and 30-day money back guarantee.
5. OptinMonster
OptinMonster is not entirely a WordPress popup plugin because it's a software as a service (SaaS), meaning it's a standalone software that supports online platforms. But, with a dedicated WordPress plugin, you can easily integrate OptinMonster with WordPress. For example, you could combine it with SendinBlue.
When it comes to targeting and triggering rules, OptinMonster has one of the more detailed features. Plus, its latest version has a drag-and-drop functionality which lets you customize your popups.
It also includes dashboard analytics and A/B testing functionality.
Design Interface
OptinMonster is a flexible software in creating your pop up. It allows you to design your own popup or you may use one of its pre-built templates and enhance it using the drag-and-drop builder.
It also offers widgets that you can use to make your popups look more appealing.
Targeting and Triggering Rules
OptinMonster, similar to ConvertPro, has more targeting and triggering rules compared with other WordPress plugins.
On triggering rules, you can choose from:
Time on page
Time on site
Exit intent
Scroll
Inactivity
Click
Date/time
Targeting options include:
Specific pages/URL paths
Device
Geolocation
Cookie
Referrer
New vs. returning visitors
Ad blocker usage
I think one thing that OptinMonster doesn't have is easy target rules for WordPress specific content. There is no option to target specific post categories and user logged in status.
Well, you can do this by targeting URL paths or cookies. And if you are a non-techie, you might find this confusing because it's not as simple as other WordPress specific solutions or plugins.
Pricing
The OptinMonster plan starts at $108 per year. If you need access to more advanced features, you can purchase a higher plan.
6. Popup Maker
So, are you waiting for me to add a free WordPress popup plugin on the list?
Well, here you go — Popup Maker. It's a free plugin that lets you create popups for your WordPress website. You can purchase a premium plan, though, which offers a variety of pop up templates, opt-ins and many more.
Popup Maker is a good choice, especially for technical users. So, if you're a non-techie, it may not be the best choice for you. But if you have basic knowledge with HTML/CSS, then you can survive with Popup Maker.
Design Interface
Popup Maker design interface is somewhat similar to the classic WordPress editor.
Although it is not as flexible compared to the other plugins, you can still use their existing offers to make your popups noticeable. It offers many features such as slideout popups, banner bars, floating sticky popups, notification popups, opt-in form popups and many more.
Targeting and Triggering Rules
If you install the free version of this plugin, you can set your triggering rules by click and time. You can trigger a popup on click of a menu item, sidebars, buttons, images and any other content of your website.
It also has Auto Open Triggers which allows you to configure a time delay; then the popup will display based on your preference.
When it comes to targeting, Popup Maker allows you to set a condition to target precisely who will and will not see your popups, as well as target any WordPress content such as posts, pages, categories, tags, post types, and more.
If you want to enhance your popups, you can get the premium extensions for Popup Maker such as exit-intent popups, advanced theme builder, MailChimp integration, advanced targeting conditions, and age verification modals.
Pricing
Popup Maker plugin is completely free. But, if you want additional features, you can purchase its premium extensions individually or by the bundle for $192.
Conclusion
After presenting the popup solutions, can you now pinpoint the best WordPress popup plugin for you?
From the looks of it, Thrive Leads does everything pretty well, from its drag-and-drop functionality to solid targeting and triggering rules, to A/B testing functionality, to affordable pricing.
When it comes to flexibility in customizing your popups, Elementor Pro clearly gets the trophy.
If you want a more detailed targeting and triggering rules, then you can go with either Convert Pro or OptinMonster.
If you want a plugin that's easy to use, then choose WP Subscribe Pro. Or, if you want a free one, then go for Popup Maker.
Move forward with the choice that suits your utmost list building and web marketing needs.