Is it your time to venture into an eCommerce business? If so, have you already decided on which eCommerce platform you want to use and which one is suitable for the features and functions you have in mind?
BigCommerce and WooCommerce are two big players when it comes to eCommerce platforms. We encourage you to form an opinion on which one to use by listing down the comparison of the two, from their features, to pricing, to support, to ease of use and more.
General Overview: BigCommerce vs. WooCommerce
Big Commerce
Let's start with BigCommerce.
It is a fully hosted eCommerce platform which has a great deal, especially to the new business owners because you can get everything you need as a starter.
In starting a new website, you need to have hosting (where your website lives on the internet), design, content, payments, cart, marketing features, support, and more. In BigCommerce, they cover it all in one package price.
But, one factor that you need to consider before signing up with BigCommerce is that once you sign up with them and start to create your eCommerce website, you'll be 'held hostage' because there are no options to move your site with any other hosting providers.
Another thing is that your data is shared with other BigCommerce stores.
BigCommerce offers an option to integrate its platform through WordPress, though. With this kind of setup, you can manage your content on the front-end with WordPress and the backend will be with BigCommerce
WooCommerce
WooCommerce is a popular free eCommerce plugin for WordPress and powers 30% of all online stores. So, if you want to use WooCommerce, then your website should be on WordPress.org. If you already have a WordPress blog or website, then it's easy to build an eCommerce store with the WooCommerce plugin. You can jump right away and advance to our complete WooCommerce site set up guide.
What does this mean?
WooCommerce and WordPress combined means you have full control and ownership on your website. You can choose any web hosting provider that you like, unlike BigCommerce where you're tied down.
WooCommerce also offers a lot of built-in features to help manage your online store. These include payment processing, inventory management, shipping, coupon, and many more. Cool, isn't it?
Features
Now, let's check out the features that BigCommerce and WooCommerce got.
BigCommerce
BigCommerce offers a lot of features. You can design an attractive and intuitive eCommerce store in less than half of the time it usually takes in creating a website.
You can choose from a wide variety of themes, free and paid, to help you get started. Don't worry about not getting a theme suited for your niche because they have plenty available from different industries, such as fashion, food and beverage, arts and crafts, pets, automotive and industrial, toys and games, and a lot more.
Even if you are a non-techie, you can still customize your store, making it easier for your users to shop on your store, with its easy to use storefront editor, as well as conditional logic, language files, flexible modular code base, and search functionality.
BigCommerce also has built-in conversion optimization tools to help you quickly increase your revenue. Its abandoned cart server helps reduce cart abandonment. Its PayPal One Touch helps increase checkout.
You can also use a 1-page checkout to increase conversion, add product reviews to increase consumers' trust, and add built-in coupons and discounts to give incentives to your buyers.
Some additional features include eCommerce analytics, search engine optimization, seamless integration with other favorite apps, shipping, and fulfilling orders, accepting payments, and many more.
Not bad, right?
WooCommerce
WooCommerce also offers a wide array of features to help you build a useful WordPress online store. You can customize your store as long as you want since it is open source and is built on WordPress.
You can choose from one of its WooCommerce themes and easily integrate it with WordPress. You can even choose from more than 55,000 free and paid WordPress plugins that suit your eCommerce needs.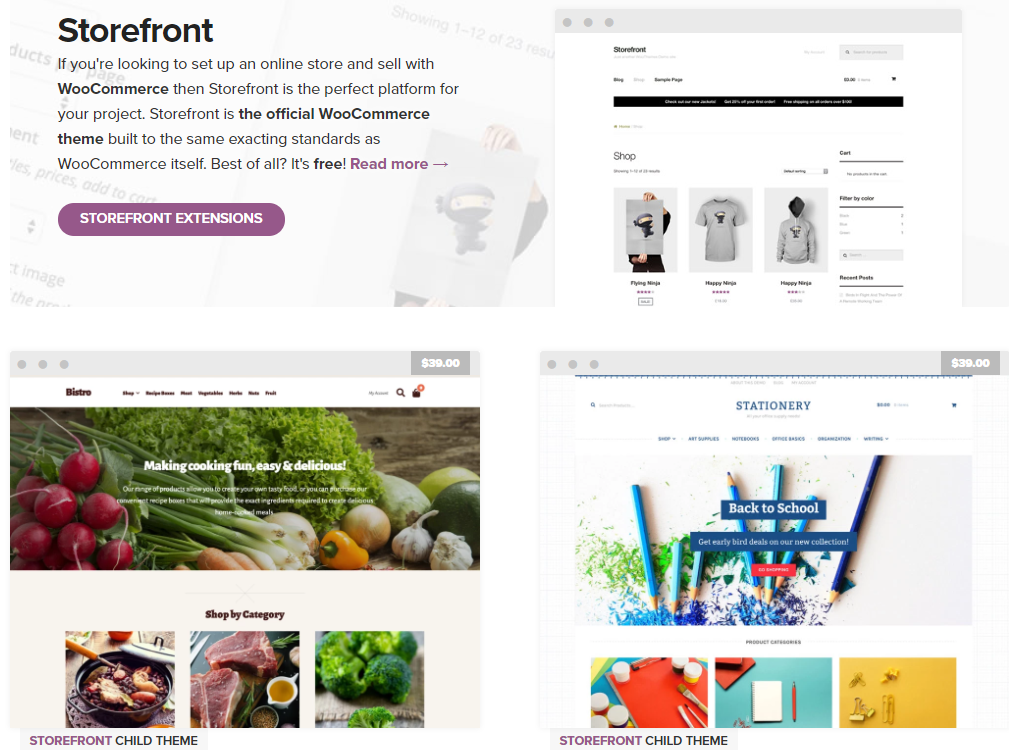 With WooCommerce, you can avail of different extensions to help improve your eCommerce store, from payments, shipping, marketing, all the way to store management, and many more. You can also widen customer choices on colors and sizes through the variations in WooCommerce.
Here are some of the most popular WooCommerce extensions that you can utilize for your online store:
WooCommerce Subscriptions – for recurring payments and automatic charging to customers
WooCommerce Bookings – for booking appointments, reservations, or renting product or equipment from your website
Product Add-Ons – for add-on offers such as gift wrapping or adding a special note on your product
WooCommerce Membership – for giving members access to specific content or product for free or a particular price
Shipment Tracking – for shipment tracking of your customers' orders
Another great thing about WooCommerce is that you can manage your online store with its mobile app through its payment gateways. Some more awesome features include built-in payment processing such as PayPal and Stripe, language and currency customization, product rating and reviews, and reporting. In case you're interested, we also have a video tutorial on how to send your buyers directly to checkout in WooCommerce.
With all the things mentioned, which one do you think comes on top?
No doubt, it's WooCommerce.
Ease of Use
BigCommerce
BigCommerce is one of the easiest platforms to use when it comes to your online store. The on-boarding process is easy to understand, and there are a lot of built-in features, so you don't have to worry about plug-ins.
BigCommerce also helps you to create your website at a minimal time. If you're a non-techie, don't worry because BigCommerce got it all for you.
WooCommerce
WooCommerce has a lot to offer when it comes to themes and plugins. But, it will take more time on putting all your data on WordPress. There's a bit of a learning curve with it.
You have to be more hands-on in managing your website, including updates and making sure your website is secure. Luckily, WooCommerce offers several plugins, like security plugins, for instance, that will help you automate the process.
If you're already used to using WordPress, creating an online store will be like a walk in the park.
This is why, when it comes to ease of use, BigCommerce comes up on top.
Scalability
BigCommerce
If you're a startup or a small business, BigCommerce is an excellent choice for you. And if you're planning to scale up, BigCommerce offers unlimited products, file storage, and bandwidth.
BigCommerce also offers 99.9% uptime and faster load page times. With this being set up on your store, you'll get better conversions and more positive customer experience.
The thing here is that as you scale up, it gets more and more expensive as you are automatically upgraded to a higher plan when you reached a certain annual online sales figure.
WooCommerce
With WooCommerce, you can scale your business the way you want it since it is an open source platform. You can post unlimited products, images, and galleries, and manage unlimited transactions. But you also need to upgrade your WooCommerce hosting plan as your eCommerce store grows.
Unlike BigCommerce, you are the one to maintain your website's updates, backups, and security. But this means that you have the choice which plugins to use for your business.
If you don't like dealing with the technical stuff on your website, you have the option to hire a developer to do this for you.
So, in terms of scalability, WooCommerce is on the lead.
Pricing
BigCommerce
BigCommerce offers four different pricing plans, such as Standard, Plus, Pro, and Enterprise, which range from $29.95 per month up to $249.95 per month and higher, depending on the customers online sales.
They include no transaction fees, unlimited products, file storage, and bandwidth, and unlimited staff accounts. The processing fee for debit and credit cards starts at 2.9% + $0.30 per transaction for all BigCommerce plans.
If your online sales are less than $400K, then your plan is Pro, which is $249.95 per month. But, as your business grows, say additional $200K, you'll need to pay an additional $150 per month.
If you want abandoned cart saver and customer segmentation features, choose a higher plan.
WooCommerce
WooCommerce is a free eCommerce WordPress plugin. You can simply download it and install on your WordPress website.
But of course, to get your online store up and running, you need a domain name, a hosting package, and an SSL Certificate. Get the list of best cheap web hosting services.
WooCommerce extensions can be a bit pricey, but you can buy them only when you need them. You can also look for free or cheap WordPress plugins for WooCommerce.
Obviously, you can get the most out of your budget with WooCommerce.
Support
BigCommerce
BigCommerce delivers excellent support to its users. All of its plans come with 24/7 live agent support. Any time of the day you face any issues on your website, you'll surely get assistance immediately.
They also have a Help Center, which includes tons of helpful tips, tricks, and guidelines for the users.
Once you sign up for their Enterprise Plan, you'll be able to have access to fast routing support, become a priority with your queries, access to strategic account management, and API Support.
WooCommerce
WooCommerce provides materials and tutorials that cover the issues and general queries of their users. They also encourage forums where the users can interact with each other and get advice from one another.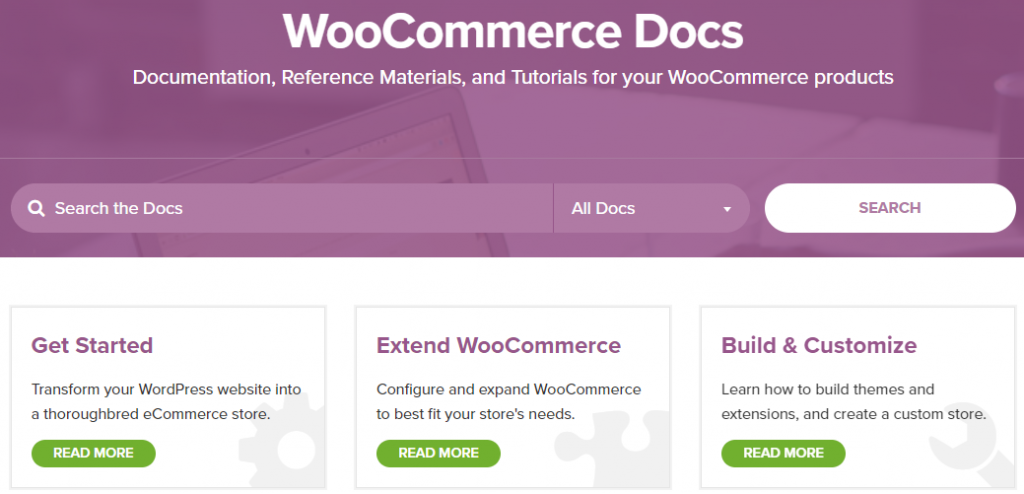 WooCommerce only offers live chat and ticketing system. They don't have support over the phone, email, or social media. If you have server issues, you can contact your WooCommerce hosting provider.
This makes BigCommerce a winner when it comes to customer support.
So, which one should you choose? BigCommerce or WooCommerce?
BigCommerce and WooCommerce are actually a great choice depending on your preferences.
If you want to build an online store quickly without thinking about the technical aspects of your page, then sign up with BigCommerce.
With BigCommerce, you don't have to worry more, and it could save up your time on building your online store. Once you've signed up, you don't have to spend much time on building your website. BigCommerce has it all for you.
The thing here is that you'll have to pay more as your business grows. Plus, you don't have complete control and ownership on your website.
But, if you want to take full control of your website and if you want a more budget-friendly setup, then choose WooCommerce.
As mentioned, it runs through WordPress, making your control and customization endless. You can play with your creativity as much as you want. The cost is more affordable, especially to budding entrepreneurs.
The only disadvantage of this is that you have to manage your software alone and you have to spend more time creating your page. But of course, everything you need to learn with this can be searchable online.
So, what are you waiting for? Build that online store and start earning.