Intercom is a live chat software used to communicate with your website visitors through instant messaging. It can be a tool to promote your products and turn your visitors into customers. Sadly, it is missing several advanced features to make it a top choice as a live chat solution.
So, let's explore the best alternatives to Intercom that you can use to interact in real-time with your customers. These messaging platforms are lifesavers, if you own a dropshipping website or establishing an eCommerce store using WooCommerce.
1. LiveChat
LiveChat, Inc. is one of the oldest, yet the best Intercom alternative. You can integrate this LiveChat with WordPress and also matches many other web builders like Shopify, Weebly, Wix, and many others.
It has more than 40 languages, which makes this software successful globally. You can easily access this LiveChat through your mobile, laptop, phone, and other devices which can help you communicate anytime with your customers. The LiveChat interface is also great to add on your website. It is why using LiveChat is one of the great alternatives to intercoms.
The LiveChat, Inc. offers a 30-day trial and costs only $16 monthly when billed annually.
2. Olark
Olark is a kind of live chat software that helps you communicate with your customers with regard to sales and support. It integrates with CRM software, eCommerce solutions, and other tools to transfer the data from the live chat software to your website.
Olark gives you the chance to customize the design of your live chat box. It provides the feeling to your potential customers that the chat support wants to have friendly communication with them.
It has these features where you can sort out the most important messages from the site visitor and respond to it immediately.
You can have Olark for only $15/month if billed annually, and they also offer a 2-week trial to test their software.
3. Slack
Slack is a bit different from the two mentioned live chat software. It is a web and app-based software that can be used to communicate with your team members and your customers.
One of the great features of this software is that you can create a group chat and add your team members to respond accordingly to the customer message.
Slack offers a free-plan but with very limited features. You can subscribe to their premium for only $6.67 per month.
4. Zendesk Chat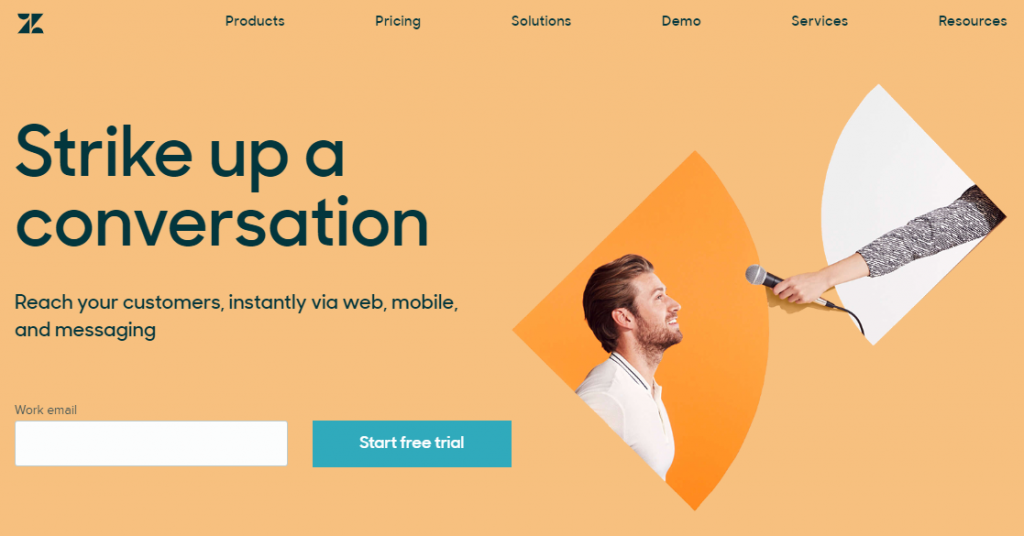 Zendesk is also one of the most well-known live chat software that can be an alternative to Intercom. It has a targeted and behavior-based chat option to connect with your visitors on your landing pages.
It has a real-time dashboard to show the active chats, incoming chats, messages that are on queue and other activities on the software. Zendesk has a lot more features to offer than Intercom.
Zendesk has two levels you can subscribe on the Enterprise level during the free trial or the Lite version. Although the features of Zendesk are very limited to these plans, subscribing to its premium plan costs only $14 per agent/month.
5. SnapEngage
SnapEngage is a live chat software that helps you easily communicate with your visitors for sales or support. It integrates to social media like Facebook Messenger, SMS to Chat, Twitter Chat, and WeChat.
With SnapEngage, you can also customize your chat box that matches the theme of your website. It features analytics, safety, and security of user information, and is HIPAA (Health Insurance Portability and Accountability Act) compliant for healthcare-related businesses.
SnapEngage has different kinds of plans where they all offer a free trial to test the software. You can have your SnapEngage from $16 per user/month when billed annually.
6. FreshChat
FreshChat is a live chat service that helps you to communicate with your site visitors to become a customer. This software allows you to use pop-up messages whenever your site visitor will exit your page as triggers. Also, FreshChat enables you to send behavior-based messages to your users depending on which landing page they're visiting.
FreshChat can easily integrate with Facebook Messenger, Shopify, WordPress, and other online applications.
Paid plans start at $15/month when billed annually. It also has free versions but with very limited features.
7. Chaport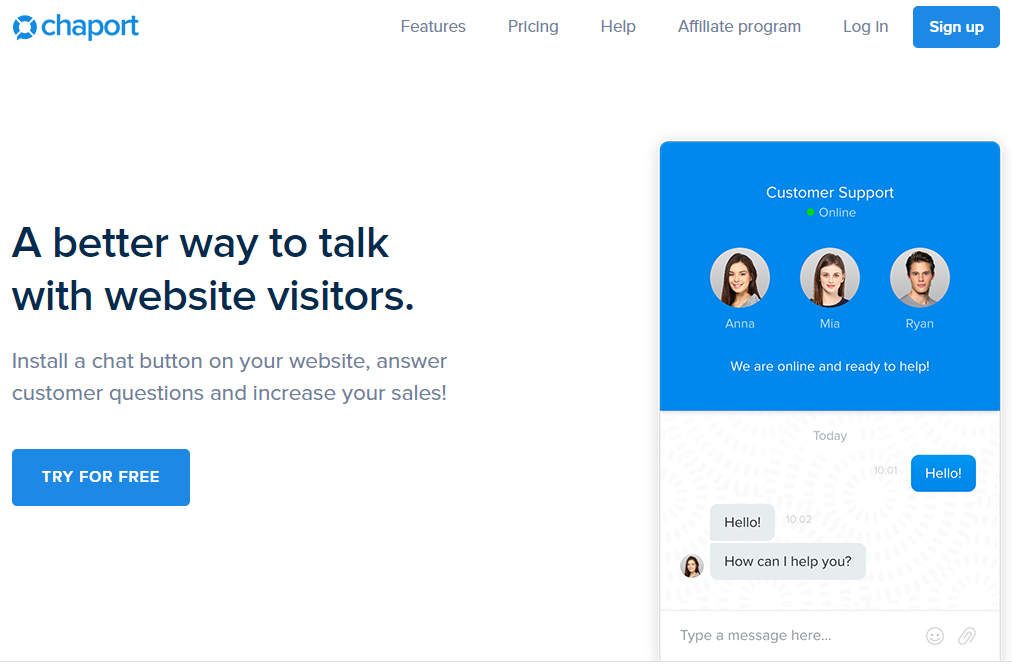 Chaport is live chat plugin for WordPress websites. It includes registered operators, unlimited chat capacity, reporting, analytics, chat history, and email notifications.
If you subscribe with its premium plans, you'll get the enhanced features that are very useful to support your site visitors. But, on its free optio, you can have up to five team members online to act as chat support your site. Not bad for a free plan, right?
Chaport offers multilingual chat widgets and can easily integrate into many support apps that can be used as a live chat and can be accessed to all your devices.
The basic plan of Chaport starts at $9.80 monthly if billed annually.
8. Comm100 Live Chat
Comm100 Live Chat is one of the best alternatives to Intercom as they are renowned in providing chat services on website. One of the features of this live chat is that it automatically sends personalized messages to your site visitors based on their activities during their visit on your website.
It also creates pre-programmed messages to greet the website visitors for them to feel more valued. It comes with pre-chat surveys, eCommerce and CRM integrations, intelligent tracking, custom messages, and more.
Comm100 Live Chat costs $29 per agent/month.
9. Drift
Drift is a live chat software that fits perfectly for small businesses. With Drift Bot, it ensures to send replies immediately to the queries and messages of your site visitors and make them be a customer to your website.
Drift can efficiently operate to mobile devices and can easily set up to your website. Some great features of Drift are meetings scheduler, visitor intelligence, account-based marketing, automated help center, and more.
Drift offers a free plan but with the most basic features. You can upgrade your plan starting from $50/month if billed annually.
10. Pure Chat
If you have a high traffic website, then Pure Chat is the great live chat software for you. It can connect with your site and displays a chat widget for users to connect with you.
With Pure Chat, you can use a pre-chat form to users so they can fill in their personal information, and you can connect with them once you're online.
Pure Chat offers a free plan that also offers a great feature like, unlimited chats, engagement hub, chat transcripts, custom widgets, supports up to 3 operators, apps for mobile devices, and more.
With all these free features, Pure Chat is a great alternative to Intercom.
But, if you want to upgrade your plan, the premium plan of Pure Chat can be purchased starting from $39/month if paid annually.
11. Smartsupp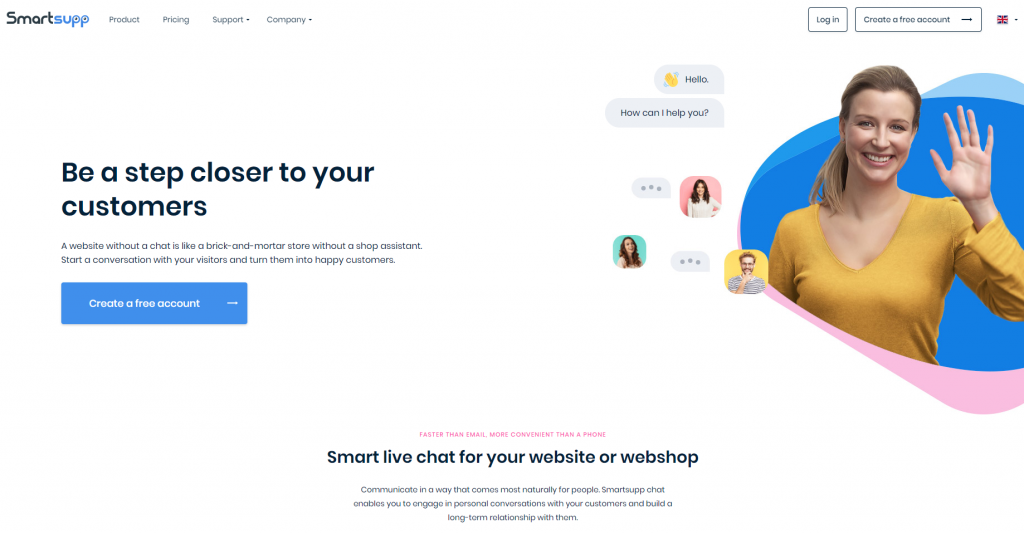 Smartsupp is a live chat software that can easily integrate with WordPress and other popular apps like WooCommerce, Magento, and many others. It also integrates with Google Analytics that sends reports from the chat and can create custom reports for the live chats.
Smartsupp offers a free plan where you can customize your chat box and can archive the history of the chat support up to 14 days. Smartsupp free plan is accessible for anyone. However, the free plan does not have all the best features.
You can subscribe to its premium plans for only $8 per agent per month.
Conclusion
While Intercom is an excellent tool for communicating with your customers regarding sales and support, it lacks the more advanced features that you might need for your business. So, it's essential not to be locked up using Intercom while there are other alternatives that you can examine. If live chat is not yet for you, you can opt for passive interaction by choosing from our list the best email marketing software and services.
As always, our advice is due diligence before using these customer messaging platforms. There's always no harm in undertaking research to come up with a decision of what works best for you and your business.