The Best SEO Tools of 2023
It is easy to get lost in the convoluted world of SEO, especially when you are a beginner — you have no idea where to start, and no roadmap tells you the direction of where to go. There are multitudes of SEO tools available — so many that it's easier to lose your way than to be led to the right path.
Fact is you need these SEO tools. Higher sales, building authority, and a few more possibilities are at stake as to why you want to focus on your SEO strategy. Lucky for you, we will walk you through the best SEO tools in the market and what made them the best.
What is SEO, and how does it work?
Search Engine Optimization (SEO) is one of the more prominent aspects of digital marketing as it mainly involves improving the ranking of your website on a search engine.
The higher your keywords rank in Google, the higher the chances of your website is getting clicked by the potential readers or visitors. If your website is the first link on the Google search result page, then you're more likely to get the 30% of the visitor clicks.
When a user searches for a particular keyword within your niche, you want your website to be on top of the page result.
Creating highly informational and valuable content that help Internet users and making your website mobile-friendly, as well as backlinking or receiving links to your website from websites with the highest audience, can positively improve your SEO.
Here are the best SEO tools that you should use:
First, there are three main SEO tools that everyone uses.
All these three are qualified as one of the best SEO tools with their rank tracking, link analysis, and keyword research features.
Once you selected from one of these, I recommend you to choose a free tool such as Google Analytics and Google Search Console.
SEMrush – Best SEO Tool for Beginners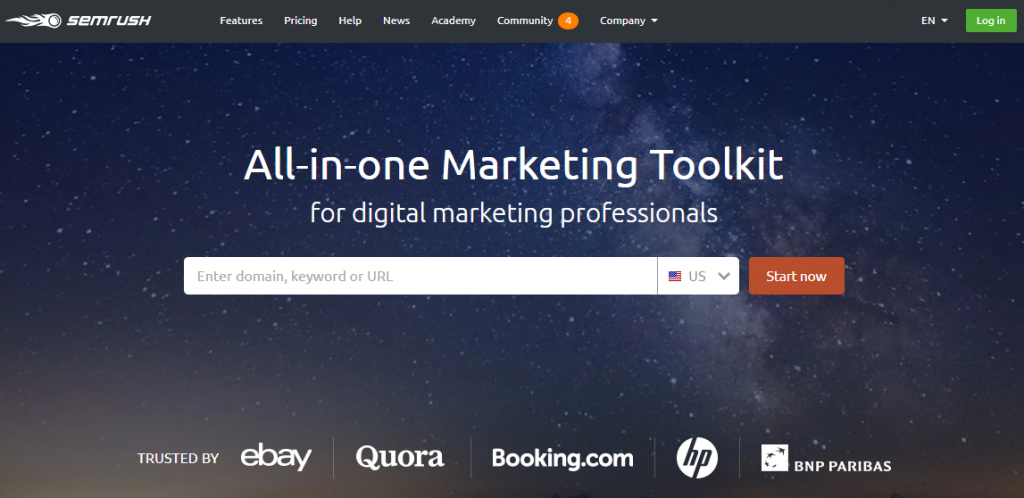 If you're just starting with SEO, I recommend that you use SEMrush. It's the easiest to use compared to Moz and Ahrefs.
Plus, it has been the fan favorite of the SEO community. Even SEO experts are amazed by its incredible features.
With SEMrush, you have easy access to reports about your rankings and any changes on it, plus recommendations to rank better. It has link analysis, competitive analysis, and keyword research. The free alternative for keyword research is Ubersuggest.
This means you have everything that you need without overwhelming yourself.
SEMrush starts at $99.95 per month.
Ahrefs – Best SEO Tool for Advanced Users

Ahrefs is one of the most recommended SEO tools by experts. It's the second largest website crawler after Google.
Its feature, called Site Audit, is one of the best SEO Analysis tools in the market. It tells you which part of your website that needs update and improvement. This helps you to get higher search engine ranking.
Check out more information about website audit at Contentsnare.
For an SEO expert, it's a relief. If you're a beginner, you might end up scratching your head in confusion. But, if you know exactly what you want and are determined to learn and get it, Ahrefs is a perfect SEO tool for you.
If you're planning to do a lot of link building, Ahrefs' link analysis feature is a good one compared to the other SEO tools. So, getting through the learning curve is worth it.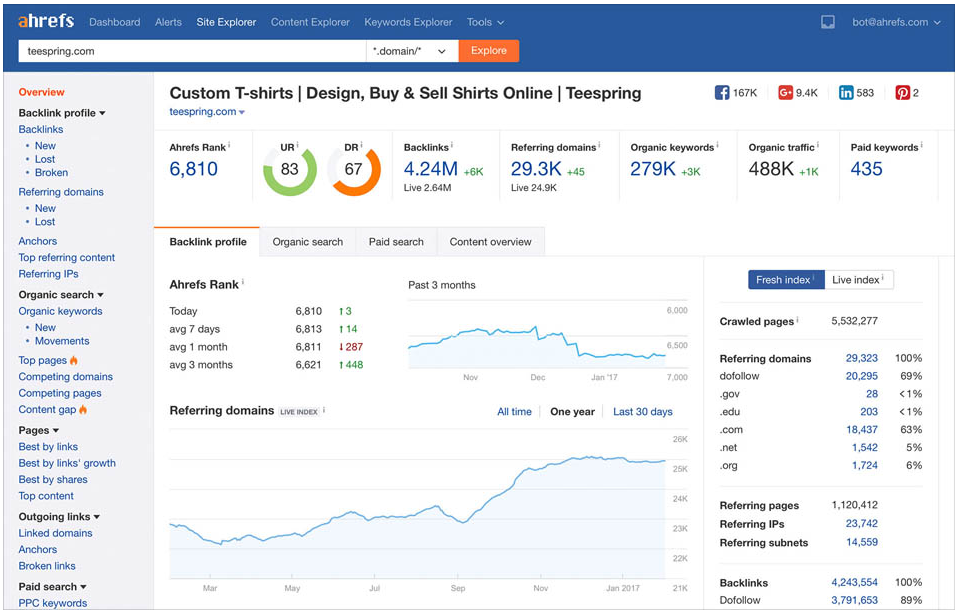 If you want a sneak peek of your competitor's backlinks, you can do so with Ahrefs. And, if you want to know the most linked to content within your niche, Ahrefs has that feature.
You can get a trial version of Ahrefs for $7 for seven days. Its regular plan starts at $99 per month.
Yoast SEO – Best WordPress SEO Plugin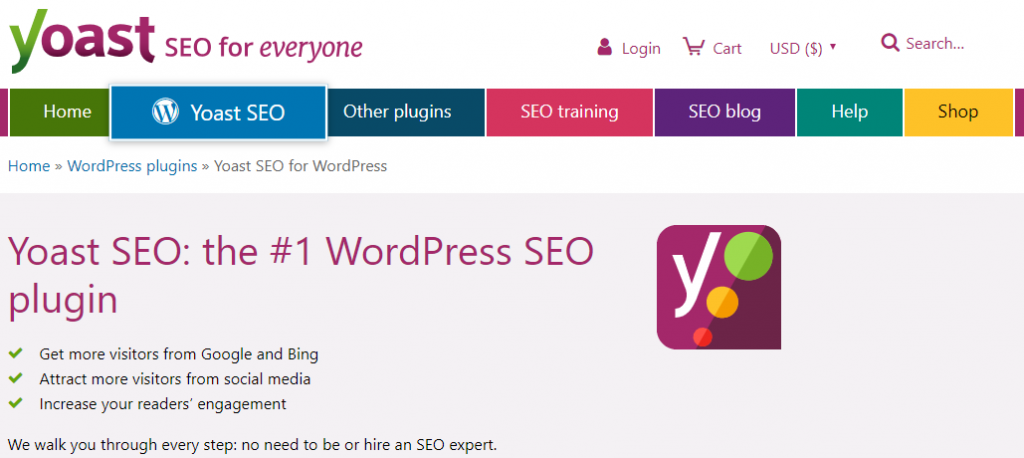 If you have a WordPress website, then Yoast is the number one WordPress SEO plugin in terms of usage. There might be a thousand SEO plugins, but I find that Yoast is very easy to use. Some great alternatives are SEOPress and RankMath.
It automates a lot of SEO tasks, as well as optimize your title, description, URL, meta tags, content, and much more. It also has the most advanced XML sitemap functionalities.
Yoast is free, and even the free version is already enough. But of course, if you want more features such as multiple keyword optimization, and social channel previews, you can upgrade to a premium plan that starts at $89.
Screaming Frog SEO Spider – Best SEO Crawling Tool

If you have a large website with thousands of URLs, you can never go through the website manually. Crawling and auditing large sites can be a real struggle, especially when you don't have a dedicated crawling tool to do these tasks.
Ahrefs, Moz, and SEMrush are pretty basic auditing tools for this kind of stuff. So, you need a site crawler like the Screaming Frog SEO Spider.
What is it, and how does it work? It's a website crawler that that crawls your website's URLs and reviews key elements and analyze technical and onsite SEO. You will also discover some errors you may have done when building the site.
You can get the free version to find broken links, errors, and redirects, analyze page titles and metadata, generate XML sitemaps, and find duplicate pages. But if you want more features such as Google Analytics integration, Search Console integration, and link metrics integration, then go for the paid version at £149.00 per year.
The trick here is to sign up and pay for a few months while cleaning up your site, then cancel your subscription when you're done.
But, if you're doing multiple audits every month, then go for a long-term subscription.
Visit Screaming Frog SEO Spider
Pitchbox – Best Outreach Tool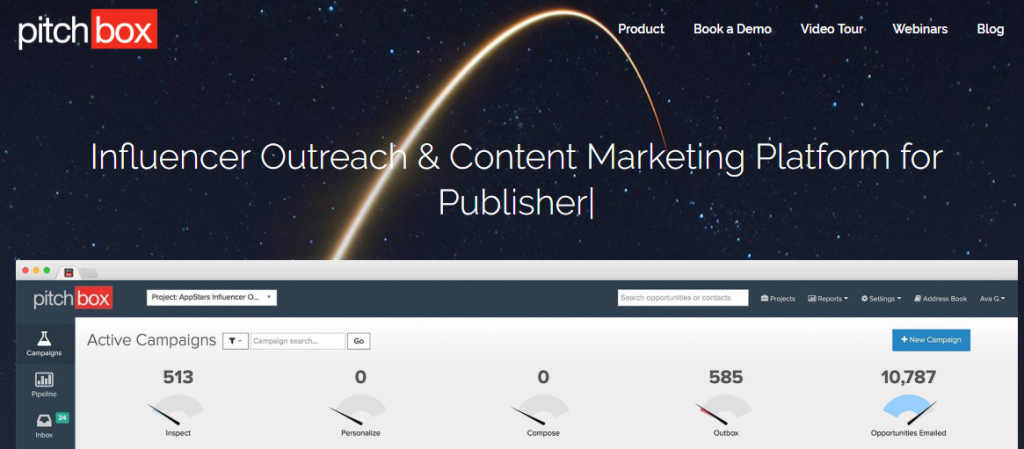 If you're planning to do outreach for link building, I just like to warn you that it can be very tedious to do outreach projects using only Gmail and Google Sheet.
Keeping track of your contacts, coordinating with them, and updating templates can be very time-consuming.
It's not if you have a powerful tool to automate the outreach for you. Pitchbox finds contacts for you and keeps track of them. Plus, it automates email follow-ups for you.
Google's Free Tools
Don't underestimate the power of Google's free tools such as Google Analytics and Google Search Console. They are both world class.
I consider Google Analytics as the overall best website analytics tool. Google Analytics is a free tool to use for analyzing your business data.
Most people use Google Analytics only for checking their website's total traffic. But there's more to that. With Google Analytics, you'll know the exact sources of the traffic and which pages on your website bring you traffic.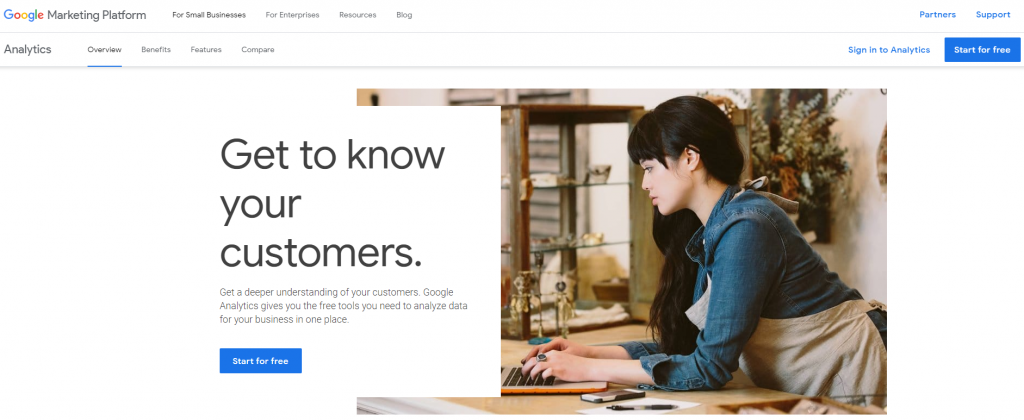 Once you've installed your Google Analytics, configure your Google Search Console too. It's another free tool to use for getting the real keyword data from Google. You can also get other information such as the errors on your website, impression and click-through data, and indexed pages.

Google Search Console helps you to understand the behavior of your website's visitors so that you can optimize your website for better ranking on search result pages. Plus, the mobile usability report highlights the URLs that have usability issues when browsed in mobile.
Remember, don't work on your website without installing both the Google Analytics and Search Console tools.
Your Decision Process
So, let me guide you through making your decision on your SEO journey. First, choose one among the SEO tools – SEMrush, Ahrefs, or Moz. Then, install an SEO plugin for your WordPress website.
If your website is huge, install an advanced SEO crawling tool. If you're link building, add an outreach tool.
Last but not least, don't forget the free tools: Google Analytics and Google Search Console.