Affiliate Marketing 101 – WordPress Themes & Plugins to Propel Your Success
When looking to make a profit on affiliate marketing, you are expected to promote products or services by earning commissions. The business model is simple: when they get a sale from your affiliate link; you get a commission. That's why it's almost indispensable to build your website with all the best affiliate marketing tools to attract more customers.
BUT, why affiliate marketing? Well, there are many benefits that you can get when you start an affiliate marketing business. On the outset, you don't need to create your own products and content. It's simply recommending someone else's product on your existing content. And, you can be a member of as many affiliate programs as you'd like.
If you're planning out or just getting started with an affiliate marketing business. Here are some tips:
Decide who your target audience is. Be clear about your target market and their needs for you to be able to promote the right products and services for them.
Carefully choose which affiliate programs to join in. Review their terms and conditions. And, research about what other members are saying about these programs.
Install tools on your website that are focused on affiliate marketing.
Create highly-engaging content.
What Are The Best Themes for Affiliate Marketing?
Now, talking about the right tools, here are the best themes that are designed and developed with the affiliate marketing business in mind. Before you move forward, we also have a less extensive version of the best affiliate marketing WP Plugins here.
1. Astra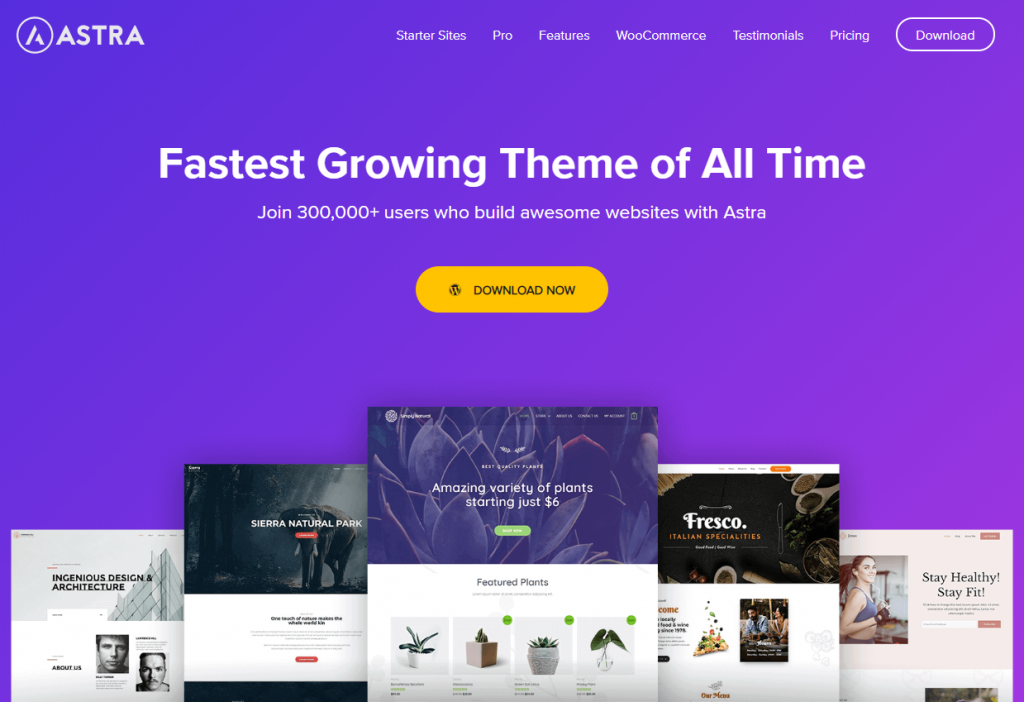 When you hear the word Astra, think of it as the fast, lightweight, and very customizable WordPress theme. And, indeed it is. We have nothing but good words to say: our honest Astra Theme Review.
It is designed based on a modular approach where the system is subdivided into smaller parts or modules that it allows you to only activate features that you think will be beneficial for your website.
Also, it's compatible with page builders including Elementor, Beaver Builder, Brizy, Gutenberg, and a lot more. You can even quickly build a site using the Astra Starter Sites.
Astra theme is free, but you might want to upgrade to its pro version if you need some more enhancements on your website. Its pricing starts at $59. You can install it with as many sites as you want.
2. Genesis Framework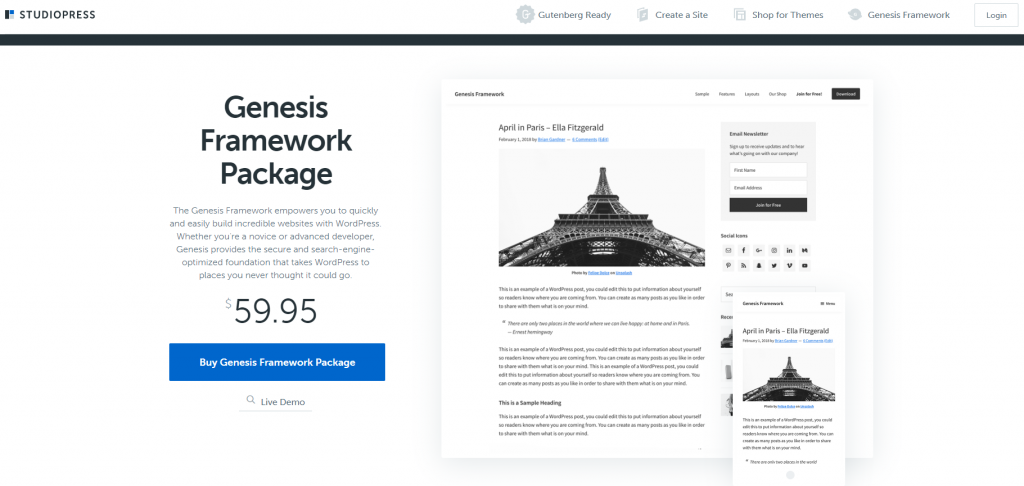 Genesis Framework was developed by StudioPress, a software company created and managed by CopyBlogger Media. It is a premium quality theme framework that works well with WordPress.
It is also one of the most popular WordPress themes, but it is mostly working as a framework. In layman's term, it is another theme that needs a child theme. One of the main reasons that Genesis needs a smaller theme is usually for flexible customization such as making changes to the menu area, background, font style, color, etc.
Genesis Framework is very easy to use. It is reliable when it comes to performance since it is a lightweight theme. It also offers built-in SEO Tools. Genesis is so lightweight that you don't have to install additional SEO plugins.
When it comes to security and support, you can also expect the best with Genesis. When you become a lifetime member, you'll also get lifetime updates of their software and security.
Genesis is a one-time payment that starts at $60 for the framework and around $20 to $45 for each child theme where you can you for a lifetime.
3. KUPON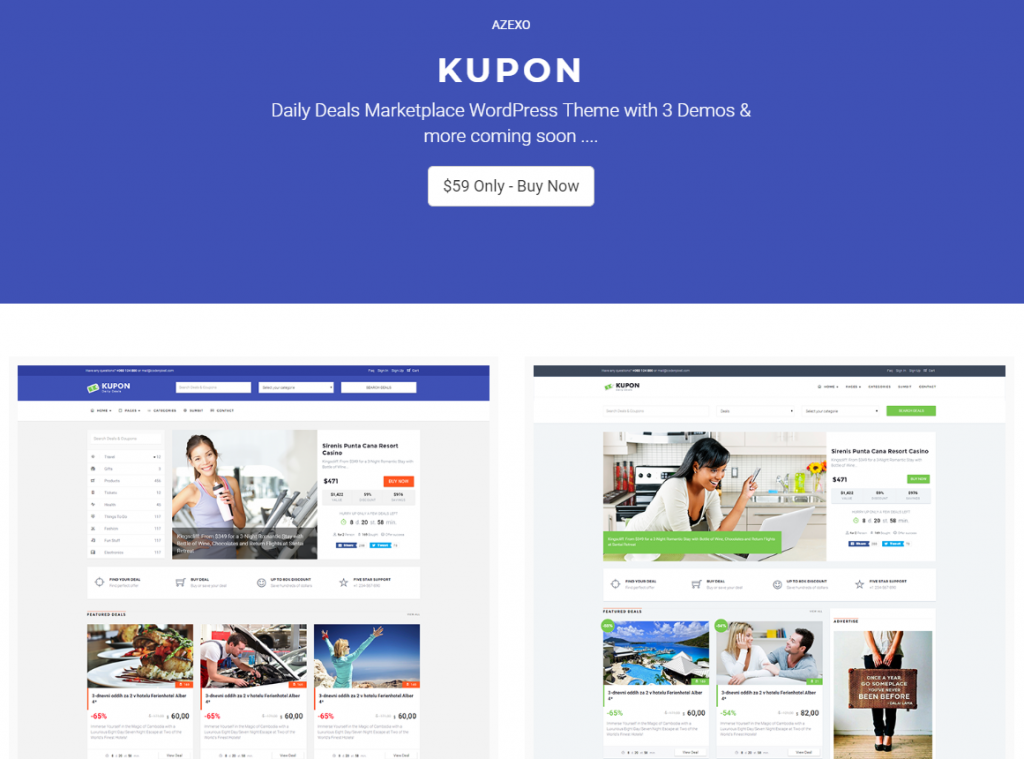 Kupon is a WordPress theme that's best for daily deals and coupons. It is a perfect theme provider for most affiliate marketers and eCommerce owners. Kupon has a very user-friendly interface since it is using a drag-and-drop builder where you can create a good template without coding.
With Kupon, you won't need any paid plugin for creating a coupon site, a daily deals marketplace, or a group buying shop.
It doesn't need a child theme as compared to Genesis. Plus, you can easily integrate this with other themes like WooCommerce and it is now offering Facebook live chat marketing automation.
You can purchase the theme for only $39, which includes developer support for 6 months. This price looks very reasonable, especially for beginners given the features available in this theme.
4. Simpli Pro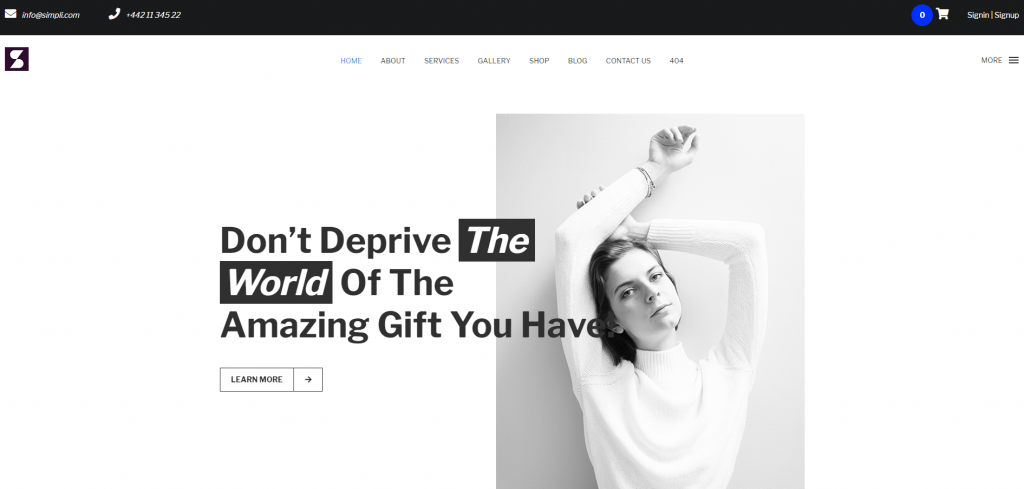 Simpli Pro WP Theme is dedicated especially for female entrepreneurs. It is integrated with King Composer drag and drop builder and WP FluentForm form builder plugin which enable you to take full control over their website without coding even a single line.
This theme can be used by every female entrepreneur, online marketer, life mentor, health coach or blogger since it is a very responsive eCommerce WordPress theme with a complete package.
Aside from its great theme designs, Simpli Pro continuously expands its functionality and try their best to offer convenient usage for its users. This theme is also glitch-free since it was tested through different devices before it was published to ensure its performance.
You can get Simpli Pro for $49 for a single license and $79 for an unlimited license.
5. Themify Ultra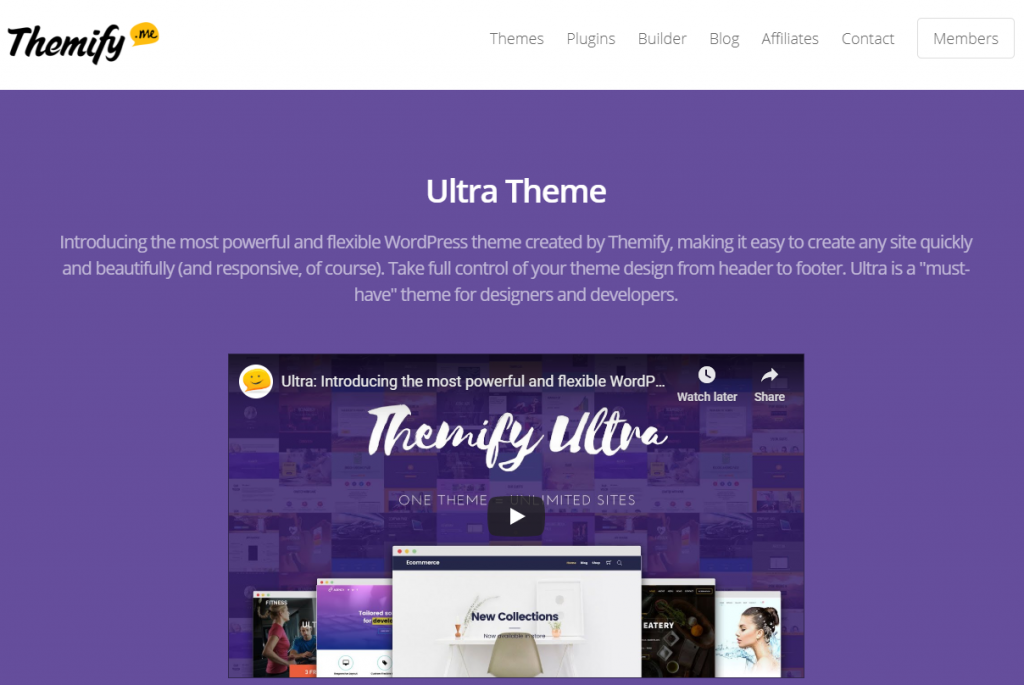 Themify is one of the most efficient and flexible WordPress Themes which comes with lots of design skins and built-in demo sites to choose from. It is very easy to use and customizable from the header to the footer since it is using a drag-and-drop builder.
Themify skins are not only used for the site's designs but it can be helpful to set up a real sample site with just a few clicks. You are also able to import the demo setup that includes the theme settings, content, menus, widgets, etc.
With Themify, you can also grab cool features like parallax scrolling, animations, counters, slider, Google maps, and many more.
Themify Ultra Theme costs for $59 in Standard pricing plan which also includes all 12 Builder addons.
6. Total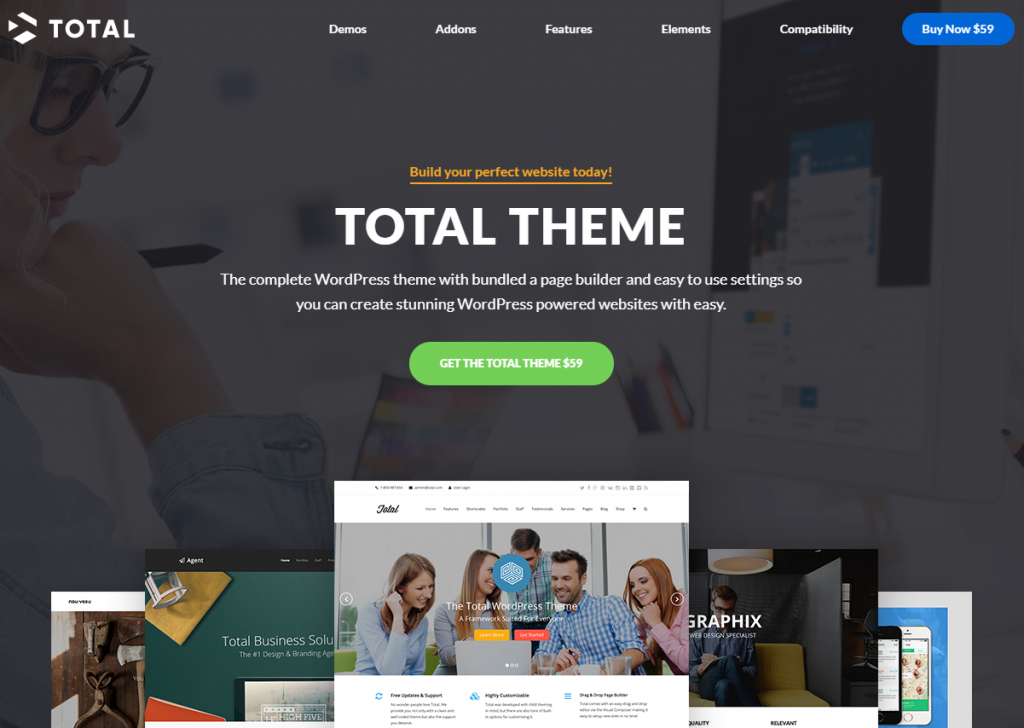 Total Theme is a multi-purpose theme since you can create any type of website, such as blogs, business sites, online portfolio, and eCommerce stores. It is one of the most popular themes in WordPress, mostly because of its versatility and packages with tools and demo websites.
There are a lot of features that we should love with Total. It is fully customizable and has a user-friendly interface. It also has 41+ demos to assist and 80+ choices of page builder blocks. If you want to get started with an online business, with Total you can easily integrate WooCommerce with your website to start your online selling.
Total Theme costs starting $59 which includes six months of support and lifetime access to theme updates.
7. MagPlus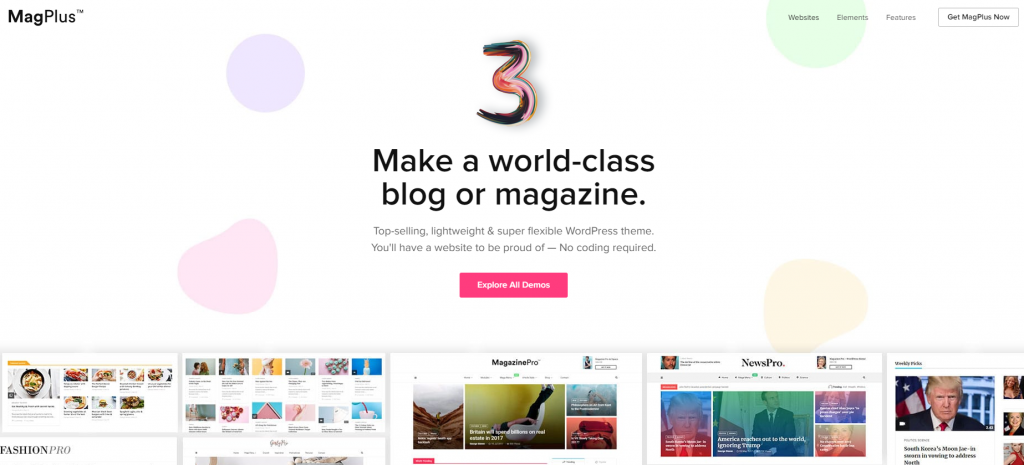 MagPlus WP Theme was developed by "Theme Bubble" which is very keen on every single detail to make sure that their users build a great website. MagPlus is a modern, dynamic, and GDPR compliant magazine WordPress theme that can create any type of websites.
There is also nothing to worry about its performance since it has an in-built custom cache mechanism which helps accelerate your site's speed by almost 2.4 times. It also offers 40+ inbuilt custom templates, 25+ custom-designed article layouts, customizable and unique designs of headers and easy navigation of sliders, and 20+ exclusively built custom widgets all for the benefit of their users.
MagPlus costs $59 with free 6 months of support.
8. Marketing Pro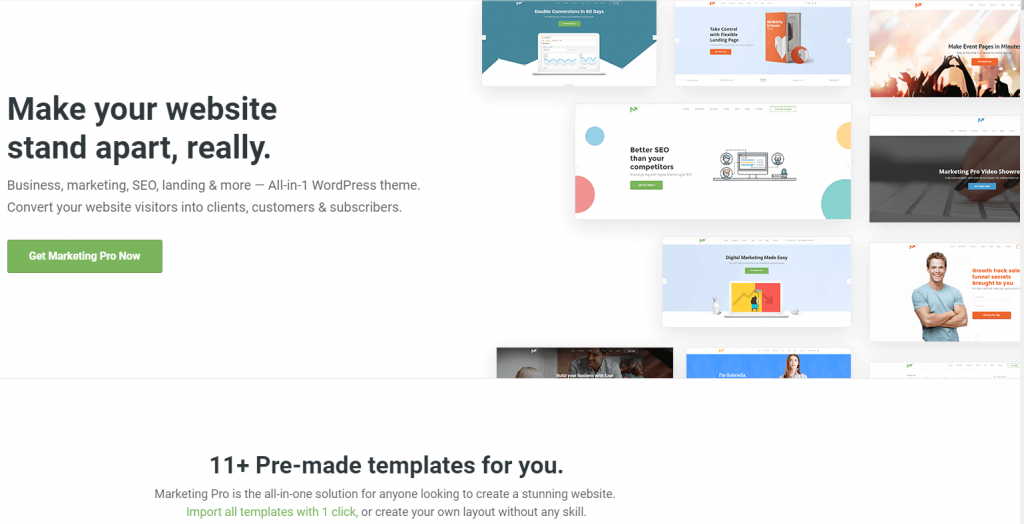 Marketing Pro was developed by a third-party developer called Restored 316 Designs and is supported by StudioPress. It is one of the specific themes that are available to the market which focuses on an online selling business.
This theme uses HTML5 to keep updated with the modern features and help the developers to keep up on the modern development of websites. It can fit 9 different widgets all at one homepage.
It uses the Visual Composer page builder to easily build a website. It also has the Slider Revolution plugin and supports WPML (WordPress Multilingual) and Google font styles.
If you are an affiliate marketer who's interested in building different niche websites, you can get Marketing Pro for $59.
9. SteadyIncome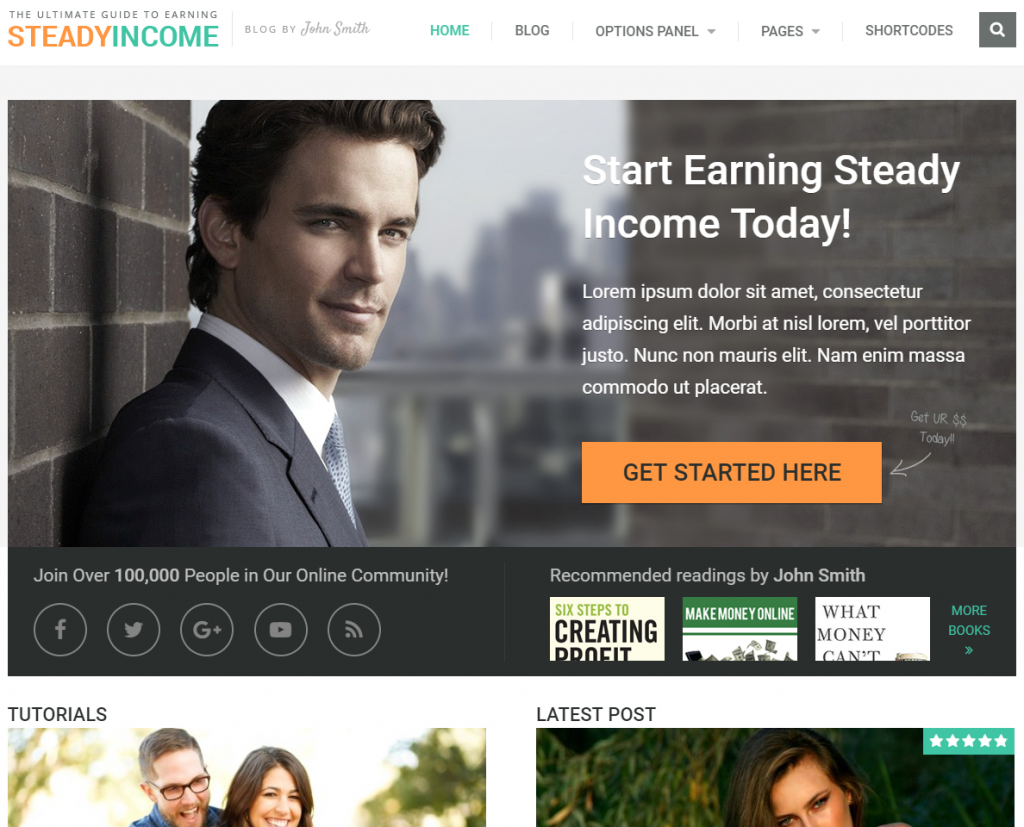 SteadyIncome is built especially for affiliate marketers as the features in here can definitely help you with earning money online through affiliate marketing. Also, you can rely on the theme's fast performance which increases conversion and improves your website's ranking in the search engines.
It's 100% responsive and packed with powerful features such as ad optimization, subscription tools, prominent social media icons, and featured product section. Also, through its granular settings system, you can design the homepage layout based on your preference or needs of your business.
You can purchase SteadyIncome Theme for only $59.
10. Smart Passive Income Pro (Genesis Child Theme)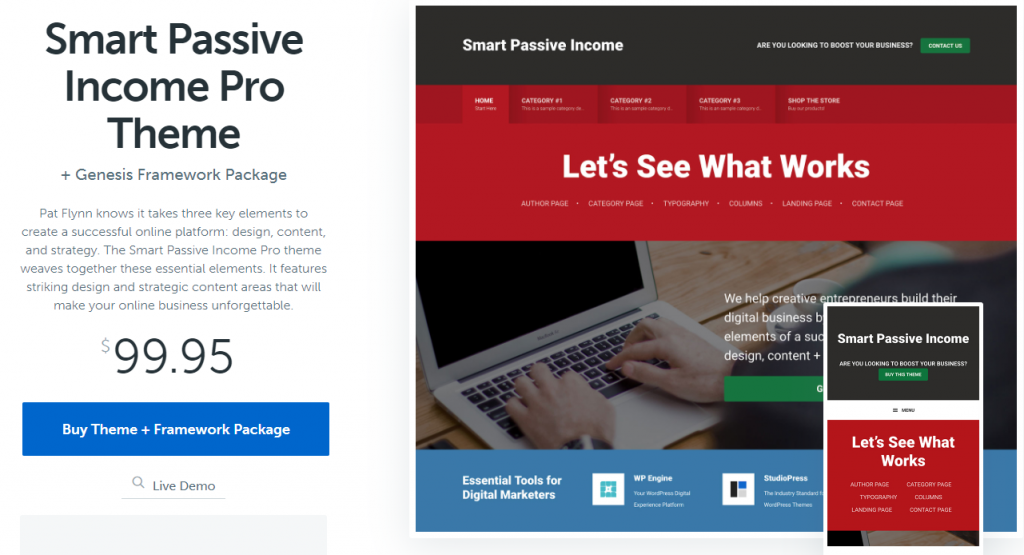 Smart Passive Income Pro Theme was derived from Pat Flynn's three key elements of a successful online business: design, content, and strategy. It is a Genesis child theme that helps you build an effective affiliate marketing website.
The theme is very customizable with just a few mouse clicks. You can tweak the settings, background colors, images, and content. If you're planning to set up an online store, it is pre-styled for WooCommerce so you don't have to worry much about building it. It is also mobile responsive and optimized for every browser.
You can get your website up and running with the Smart Passive Income Pro Theme along with the Genesis Framework for $99.95.
Visit Smart Passive Income Pro
What Are The Best Plugins and Other Tools for Affiliate Marketing?
So, you've made a choice which theme to use for your website. Now, which plugins should you get to win this revenue commission game?
1. Thrive Architect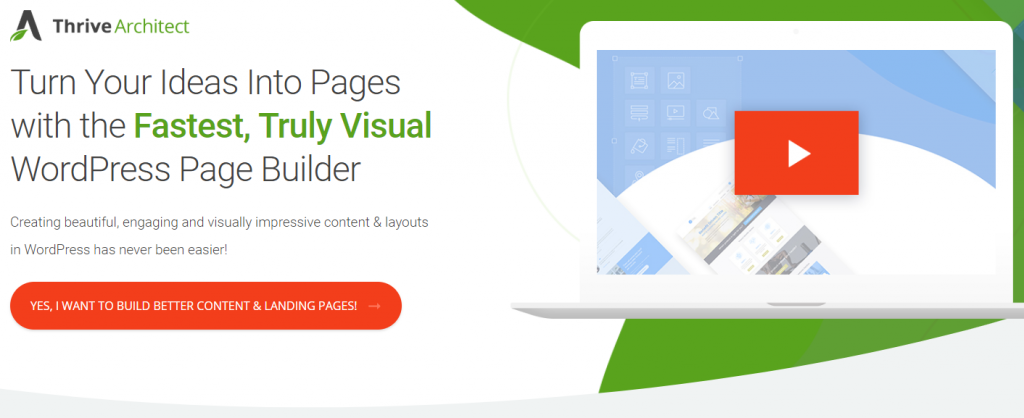 When it comes to page builder, Thrive Architect is the better option for affiliate marketers. It is marketing-focused and has a great selection of elements such as tables, star ratings, and support for inline editing.
It also has a comprehensive library of templates. You can even save and reuse each section for other content on your website.
In a nutshell, since Thrive Architect is focused on conversion, it can really help you accelerate in the affiliate marketing game.
You can get it Thrive Architect for $67 for a single license or $97 for 5 licenses.
2. AzonPress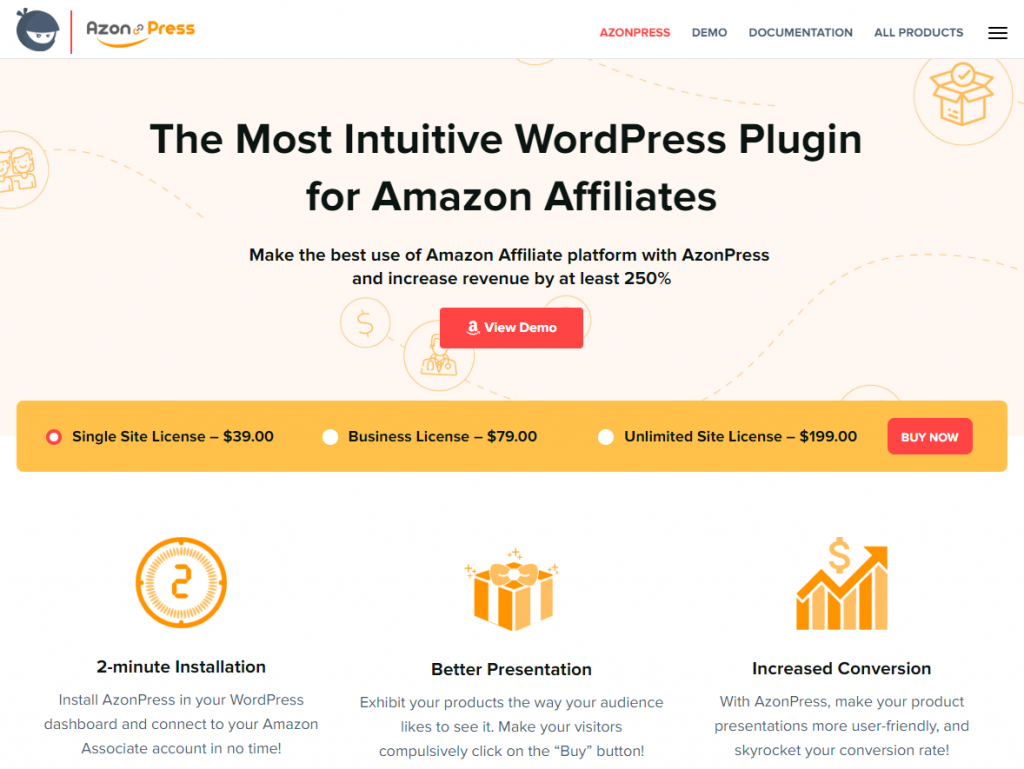 If you're an Amazon associate or planning to be one, then AzonPress is your best buddy. With its user-friendly interface, it manages your affiliate business smoothly and efficiently.
With AzonPress, you'll get automatic product updates, responsive product tables, automated comparison tables, accurate tracking of affiliates, customizable layouts, geo-targeting, and more.
You can get Azonpress for $39 for a single website, $79 for 20 websites, and $199for unlimited websites.
3. Pretty Links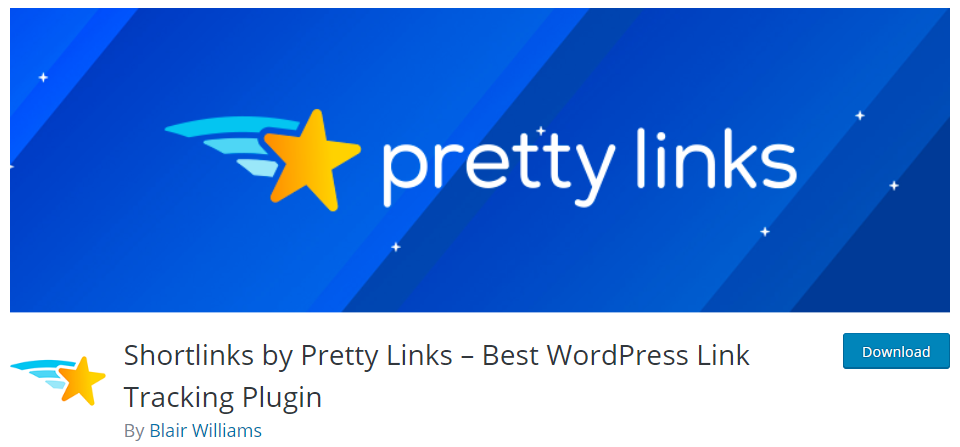 If you're a blog site owner and want to earn affiliate commissions, you can simply add affiliate links to your content. And, to make your links look clean, you might want to shorten them. That's when Pretty Links plugin comes in the picture.
Unlike other link shorteners such as tinyurl.com and bit.ly, Pretty Links shorten links using your own domain name. Plus, it tracks each click on your URL and whether it came from the browser, OS, and host.
Pretty Links is free, but it also has a pro version where you can have access to more tools and redirection types. It's normally priced at $118 per year, but often on promotion for $59 per year for a single WordPress website.
4. Wecantrack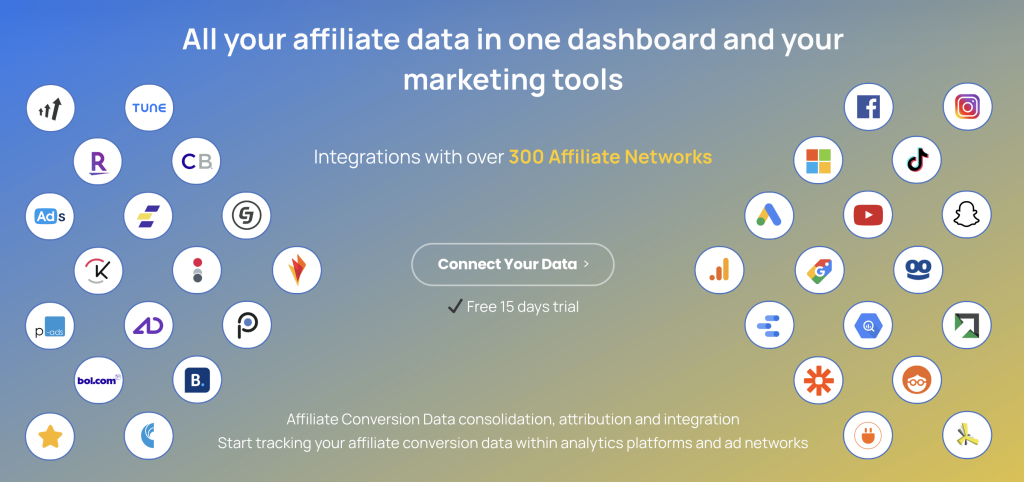 Wecantrack is a versatile affiliate tracking software that helps teams get a clear overview of all their conversions with integration of over 300+ platforms. It collects quick conversion data from various affiliate networks with access to APIs, postbacks, scrapes, Google Sheet files and manual CSV imports.
With this affiliate dashboard, managers can allocate the marketing budget more efficiently by making the most of the existing data, turning it into useful insights. 
Among the many platforms supported, you will find Google Analytics, Facebook Ads, Data Studio, Google Ads, Microsoft Ads, Tiktok Ads Integration and so much more.
The pricing of wecantrack is tailored to your needs; you only get charged for what you use and you have the flexibility to scale up and down. To make sure you can access its full potential, it also has a free version and free trial available.
Wecantrack offers flexibility in terms of pricing, as users only need to pay for what they use. When needs change, the pricing can be scaled up or down accordingly. With wecantrack, users can have peace of mind knowing that their pricing will be fair and that they maintain control of their own destiny.
The starting price for the platform is €59.00 per month, and a free trial and free version are available.
5. Grammarly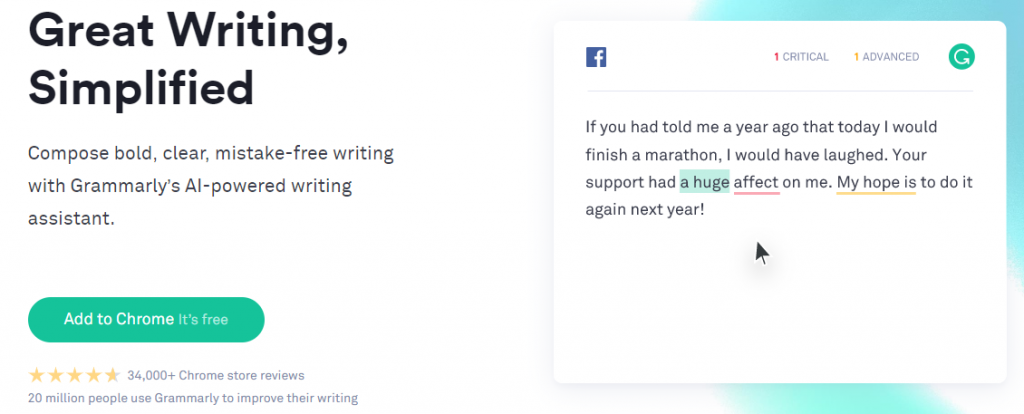 If you publish content regularly, then Grammarly is a very helpful tool to check your spelling and grammar. If there is a typo or grammatical mistake, Grammarly notifies you of it and makes suggestions of what is the correct spelling or grammar. You can simply click on the correction and it automatically replaces the mistake.
It's a free Chrome browser extension and works well with almost anywhere, be it in WordPress, emails, messengers, social media, and project apps.
6. Google Analytics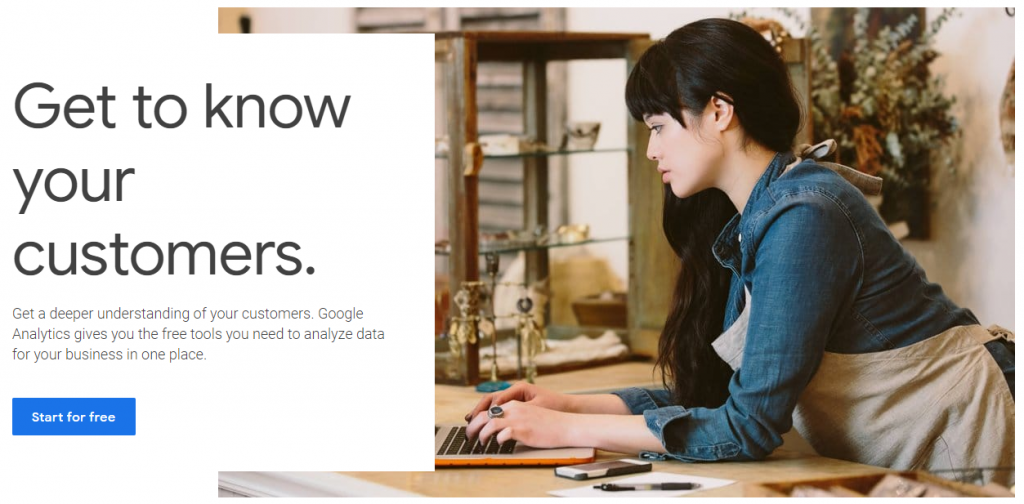 Google Analytics is the most comprehensive tool for measuring ROI and understanding your customers. If you're serious with affiliate marketing, you need to know how many visitors are coming to your website and which products are they looking into.
With Google Analytics, you can track your links and conversions, analyze consumer behavior, and perform split testing. The detailed analysis provided by Google Analytics would help you plan out and implement different strategies to help your affiliate marketing business a success.
7. SEMrush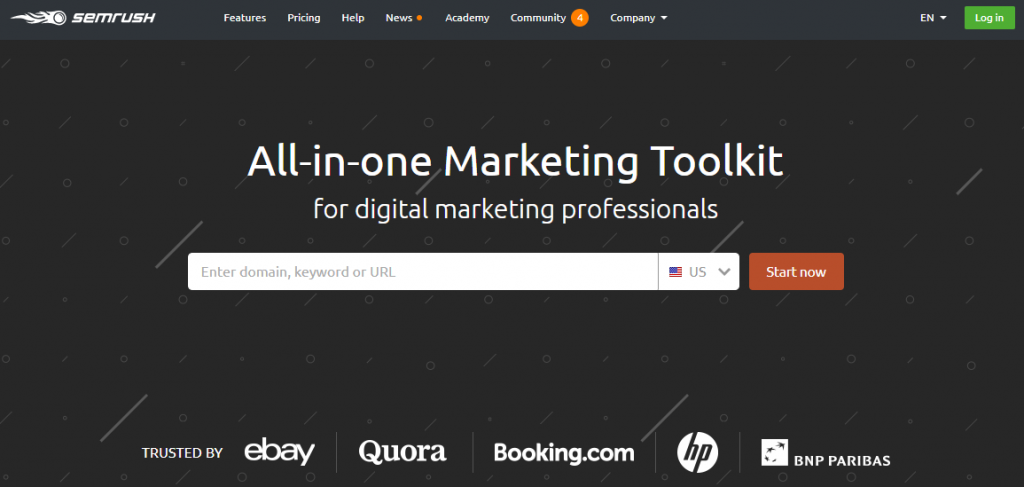 For visitors to be able to visit your website, it needs to be visible, right? And, with the right keywords and SEO strategies placed on your website, you're likely to have more conversions. So, you need a tool like SEMrush which allows you to perform keyword searches, competitor analysis, content analysis, site audit, and fix SEO errors.
Even large-scale businesses such as PayPal, Forbes, and Philips use SEMrush to manage their web visibility. Its database has more than 120 million keywords and 46 million domains, making it a trusted all-in-one marketing toolkit.
You can try SEMrush for free. But, if you wish to upgrade to its Pro version, you can get it for $99.95 per month and can go up to more than $399.95 per month, depending on your business needs.
8. Ahrefs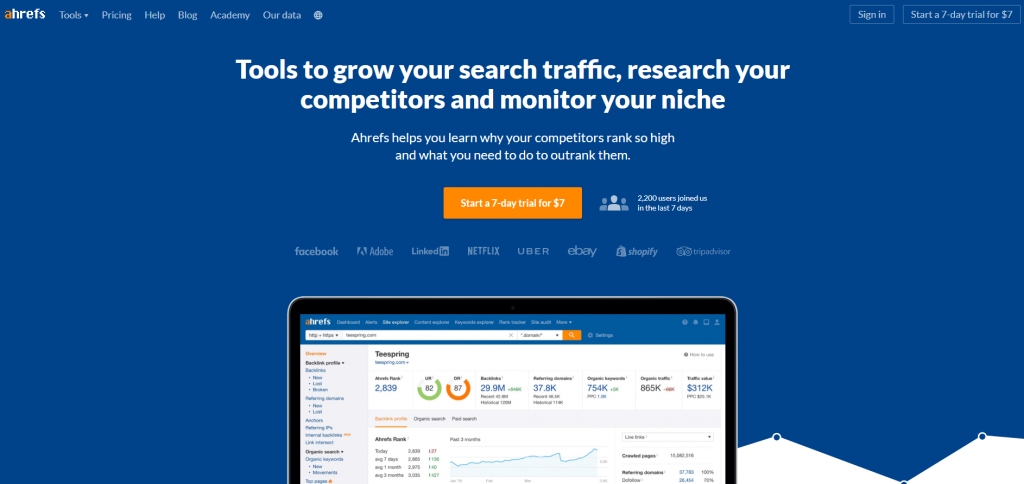 Ahrefs is another tool that you don't want to miss for growing your search traffic, monitoring your niche, and analyzing your competitors' strategies. This tool helps you to understand your competitors and suggests ways how to have a higher ranking than them.
With Ahrefs, you can find the exact keywords that your competitors are ranking and the amount of traffic directed from these keywords. You can also see which pages are visited the most. You'll also find backlinks and other helpful SEO metrics for you to be able to analyze your competitors and compare them to yours.
In this way, you'll be able to strategize your marketing. Ahrefs helps you to have an SEO-friendly website in the quickest and most efficient way possible, making you increase website visits and conversion.
You can try it for $7 for 7 days and then start at a monthly subscription of $99.
9. Yoast SEO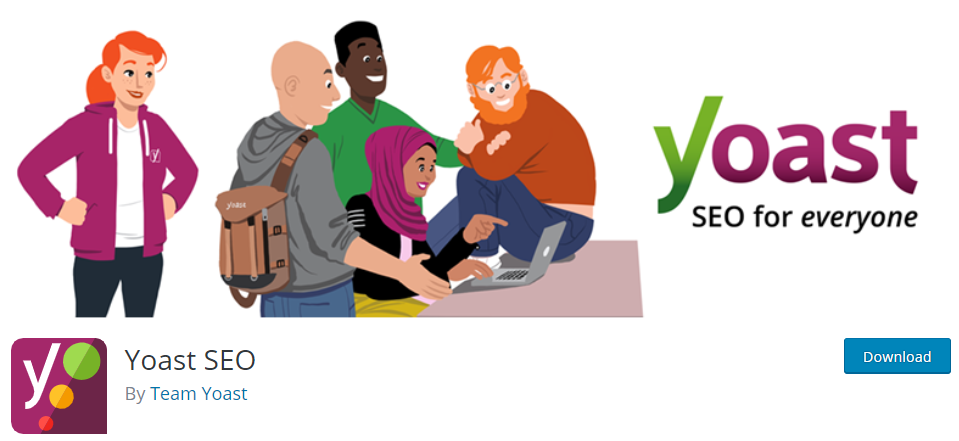 With more than 5 million active installations, Yoast SEO is the go-to tool of most WordPress users, including affiliate marketers, when it comes to search engine optimization. It has a large toolset that aims to help your website to be on page one or even number one in the search page results.
Yoast SEO has the most advanced functionality for XML Sitemaps, and content and SEO analysis for writing SEO-friendly content. You can even have full control over your site's breadcrumbs by simply adding a small piece of code. You can template title and meta descriptions for consistency and branding.
Yoast SEO is a free plugin, but if you want to take advantage of other advanced features and functionalities, get a premium version starting at $89 for a single site.
10. Editorial Calendar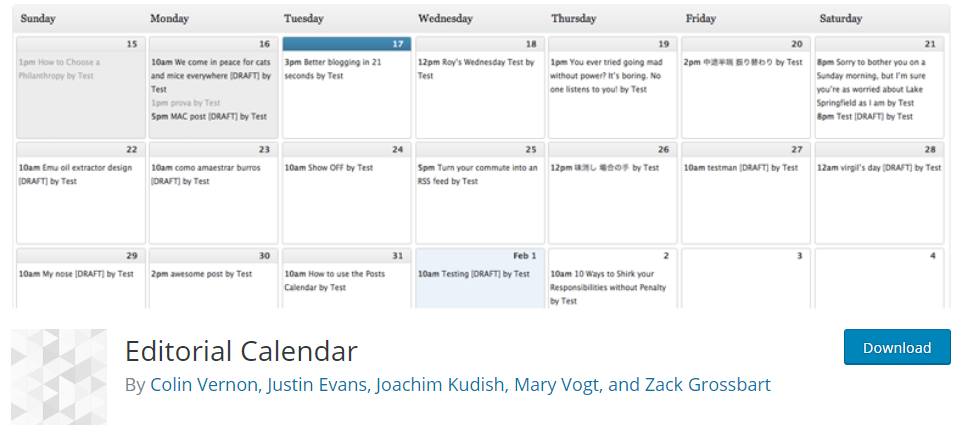 Depending on your chosen niche and how often you create content, you can use Editorial Calendar plugin for scheduling posts that will be in time for a specific event relevant to your target market.
With Editorial Calendar, you can view all posts and when they are scheduled to be posted, drag and drop them to change dates, quick-edit title, content and time, manage posts written by multiple authors, as well as manage drafts using the new drafts drawer.
Bear in mind that all of this plugin's features can only be accessed by an administrator and editor. If you have contributors to your website, they can only save posts in draft mode and move their own posts. Subscribers can only see the calendar and not make changes in it.
11. MailChimp

Email marketing is one of the most effective ways to get more customers for your affiliate marketing business. And, MailChimp is one of the most powerful tools that you would need for sending emails to reach your target audience, promote your products, and convert them into sales.
Not only can you connect with your audience via email, but MailChimp also helps you create the right messaging and publish it through landing pages, social media, postcards, digital ads, and signup forms.
You can create newsletters with a touch of your branding, schedule campaigns, track open rates, manage profiles of your subscribers, perform analytics, and generate reports for a better understanding of your subscribers' behavior. You can even perform split testing and mailing list segmentation.
MailChimp is free for a maximum number of 2,000 contacts, 10,000 monthly sends, and 2,000 daily sends. It's ideal if you're just starting to grow your audience. You can upgrade, however, to its paid plan starting at $9.99 per month.
Conclusion
Beyond any doubt, affiliate marketing is indeed a highly profitable online business. Its success, however, still depends on different aspects, such as your strategy in infiltrating your target market and effectiveness in using the affiliate marketing tools.
If you learn to leverage the themes and tools I've mentioned above, you'll be able to start and grow your own affiliate marketing empire. Making mistakes is a learning experience but armed with the best themes and tools that experts use, you're on your way up with flying colors!