23 Best WooCommerce Plugins to Boost Sales in 2023
Are you searching for the best WooCommerce plugins to boost your eCommerce sales?
Building a website isn't that difficult. The real work begins when you launch. Getting the word out, attracting customers, and growing your business.
There's a lot involved in running an online store. Much of it demands time and effort but there are plugins that can help.
That's what this article is all about.
We're going to provide a quick overview of WooCommerce and how it helps in building online stores.
Then, we'll outline a series of superb WooCommerce plugins and provide our opinion on which are the best to boost sales.
Let's begin!
Building Online Stores Using WooCommerce
WooCommerce helps you go beyond the confines of traditional eCommerce solutions by turning your imagination into reality.
WooCommerce is built on WordPress, the platform powering over 40% of the web.
The plugin offers powerful features to sell anything from physical products and digital downloads to subscriptions, content, and even appointments.
Easy Setup Process
One key benefit of WooCommerce is how easy it is to set up. It installs like any other WordPress plugin and comes with an innovative setup wizard that walks you through the entire process of adding payments, setting taxes and shipping.
Flexible and Secure Payment Options
WooCommerce comes with payment options that support credit cards, bank transfers, checks, and cash on delivery.
If you use the right plugins, WooCommerce can also accept international payment methods such as PayPal, Square, WooCommerce Payments, Amazon Pay, Apple Pay, and Google Pay.
Simple Management
The WooCommerce dashboard is similar to the WordPress interface, and it makes it easy for store managers to update products and fulfill orders.
With automated tax calculations and live shipping rates from leading carriers, you can save time while maintaining total control.
The Power To Sell Anything
With this platform, you can sell anything. Your customers can choose from endless variations, subscription options, and single or bundled items.
Enhances Your eCommerce Website
WooCommerce has hundreds of free and paid plugins that improve your eCommerce website.
It offers comprehensive services such as store enhancements, marketing integrations, point of sale, and many other extensions.
Now let's learn about WooCommerce plugins and how they boost sales.
What Is a WooCommerce Plugin?
A WooCommerce plugin is software designed to enhance existing features or add new ones.
WooCommerce comes with many features built-in, but it cannot cover every conceivable use case or offer every possible feature.
That's where plugins come in.
There are literally thousands of plugins covering everything from selling digital products and downloads to managing drop shipping or international deliveries.
If you need a feature, there's very likely to be a plugin for it!
Best WooCommerce Plugins for Boosting Sales
eCommerce is expected to account for 15.5% of retail sales worldwide in the next three years.
But, businesses still face many challenges such as retention of customers, cart abandonment, growth and competition.
MarketingSignals states that 90% of eCommerce businesses collapse after 120 days.
So, when it comes to boosting your sales, WooCommerce plugins can genuinely help!
Here are 23 of the best WooCommerce plugins that can help boost sales.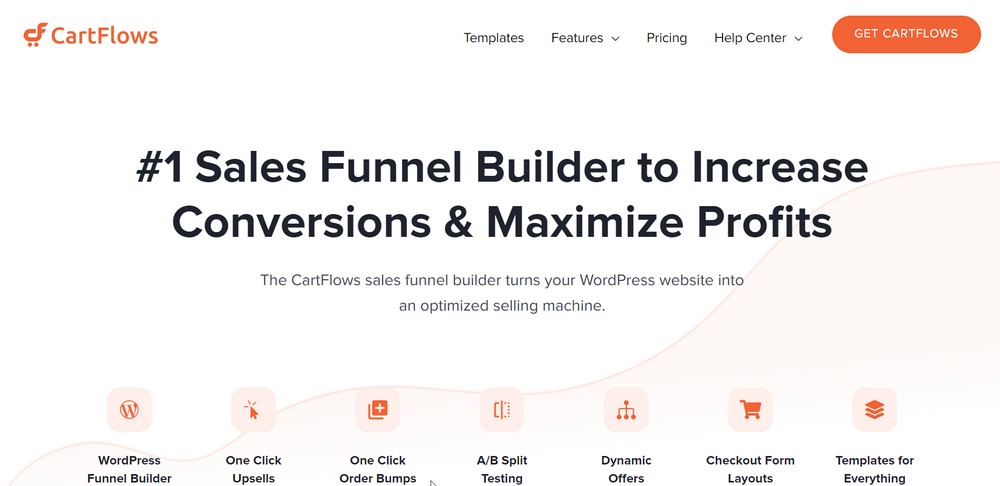 CartFlows is a sales funnel builder for WordPress. The plugin allows you to build sales funnels quickly and easily.
CartFlows offers professionally designed templates and A/B split testing. There are tons of features to optimize the sales process on your website.
The plugin is updated consistently to improve it and add more features. If you want to sell stuff online using WordPress and WooCommerce, CartFlows can be the ultimate solution for building a checkout process that works!
Pros of CartFlows:
Hundreds of expert-designed funnel templates for you to import with a single click.
Intuitive interface so you can build high-converting funnels effortlessly
Works with multiple payment gateways
Perfectly compatible with other WooCommerce plugins
Helps with marketing automation by integrating with major marketing tools
Cons of CartFlows:
There are a lot of features to learn
CartFlows Pricing
Available for free with limited features. Pro version starts at $239 per year.
Our review article on CartFlows goes into a lot more detail if you're interested!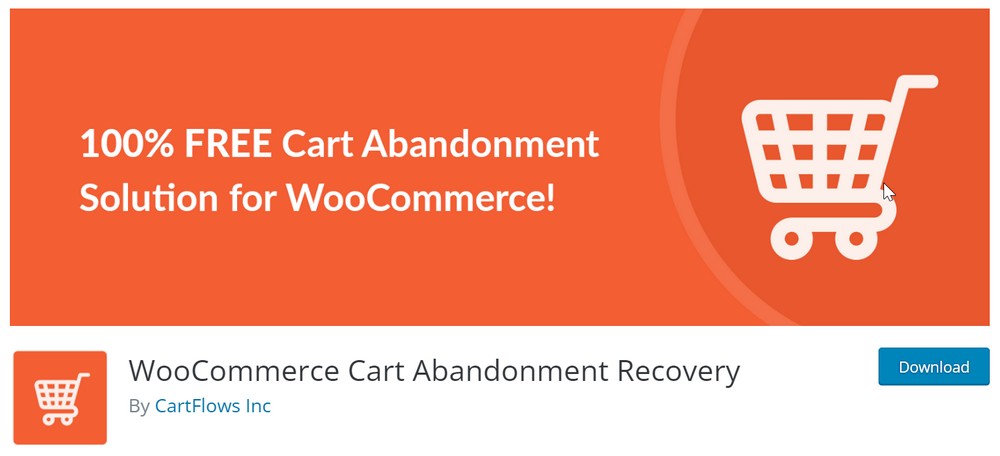 Almost 80% of carts are abandoned, which is a huge loss of revenue. There are a multitude of reasons for cart abandonment. Therefore, we need a solution.
WooCommerce Cart Abandonment Recovery tracks and can capture the email address of users on the checkout page.
If the purchase is not made within 15 minutes, it sends an automated series of follow-up emails that you can customize to match your needs.
The email series can include reminders to complete a purchase or ask for feedback or a coupon discount to encourage purchase.
The plugin offers a unique checkout link to each user to direct them to the exact place they left off.
The plugin offers conversion-ready tested email templates to save time and effort. But, you also have the power to create your own for full control over your marketing efforts.
WooCommerce Cart Abandonment Recovery Pros:
Integrates with marketing automation tools like ActiveCampaign and Campaign Monitor so you can completely automate your cart recovery
Auto-generates limited-time unique discount coupons to encourage users to make the purchase
Get started with recovering carts in minutes with a straightforward setup
Built-in GDPR compliance
In-depth reporting on performance and number of recovered carts
WooCommerce Cart Abandonment Recovery Cons:
The plugin has no disadvantages
WooCommerce Cart Abandonment Recovery Pricing
This is an entirely free plugin.
3. Stripe for WooCommerce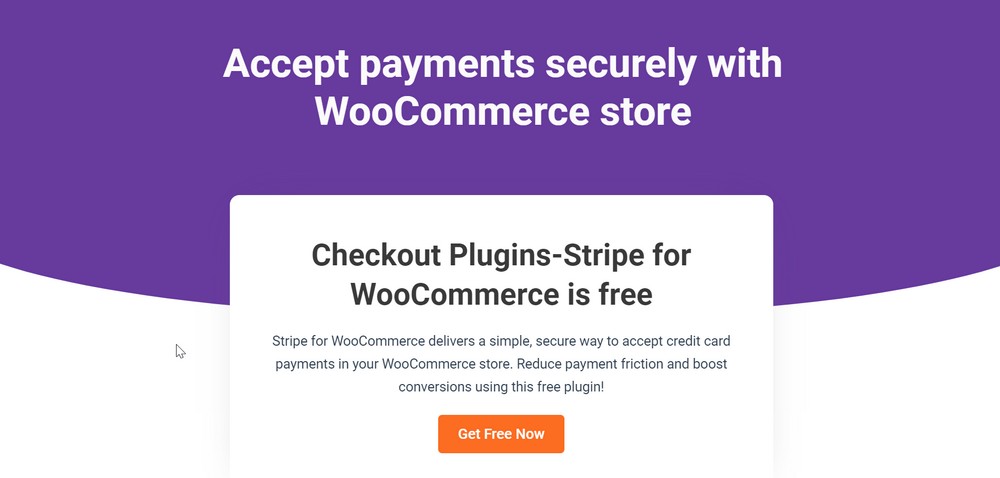 Stripe for WooCommerce is a WooCommerce payment gateway plugin that enables your website to accept credit card payments with Stripe.
Offering multiple payment options for customers is a proven way to boost sales, and this plugin helps with that.
Stripe for WooCommerce allows you to accept payments from several card brands, global networks like Visa and MasterCard, and local networks like Cartes Bandcaires in France or Interac in Canada. It also supports American Express, Union Pay, and others.
Stripe for WooCommerce has a beautiful appearance and layout to match your existing website design.
Stripe for WooCommerce Pros:
Stripe for WooCommerce offers one-click checkout
The plugin offers flexibility to style the pay buttons to match your brand
It offers tons of variations for each element
Stripe for WooCommerce offers flexibility to use it without touching a single line of code
The plugin supports WooCommerce subscriptions
Stripe for WooCommerce Cons:
Local payment options and local currency support are limited
Stripe for WooCommerce Pricing
Stripe for WooCommerce is completely free to use, although transaction fees may apply.
4. Booster for WooCommerce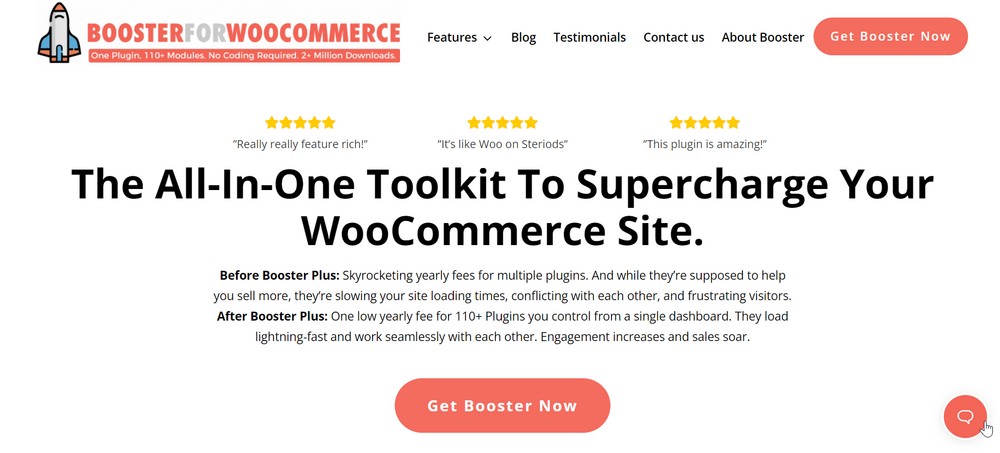 Booster for WooCommerce is the only WooCommerce bundle plugin you'll ever need.
The plugin powers your website with lots of addons and features. Your WooCommerce website can function exceptionally well when you add a booster to it.
100,000+ websites have used it to expand the possibilities of their online store.
You can increase sales with the multitude of features with this all-in-one WooCommerce plugin. If managing multiple WooCommerce plugins is hectic, then this is the best solution you've got.
With hundreds of modules, you can add customized functionality to your website. One can save tons of money and time by installing one plugin that does all of your jobs.
Booster for WooCommerce Pros:
The plugin streamlines WooCommerce orders
You can add additional custom input fields on all the products or per product
Booster for WooCommerce attracts international customers to your site by displaying their currency with automatic exchange rates
The plugin allows you to set up WooCommerce payment gateways
Lots of other useful eCommerce tools
Booster for WooCommerce Cons:
The plugin has many components that can be confusing
Booster for WooCommerce Pricing
The plugin has a free version available on the WordPress repository. The price for premium ranges from $9.99-to $29.99 per month depending on your selected plan.
5. CTX Feed – WooCommerce Product Feed Manager Plugin
CTX Feed is a WooCommerce product feed manager plugin that helps you generate and manage product feeds for any marketing or affiliate channel. It features 130+ readymade templates, smart and advanced filters, dynamic attributes, and attribute mapping. 
The free version of CTX Feed provides you with most of the features that you need to create a feed for your desired marketplace, while the Pro version offers even more customization options.
CTX Feed – WooCommerce Product Feed Plugin Pros:
Create unlimited product feeds for any marketing or affiliate channel
Choose from 130+ readymade templates or create your own custom feed
Apply smart and advanced filters to your product data
Map product attributes to the required format for your target channel
Automatically update your product feed with the latest data
CTX Feed – Woocommerce Product Feed Plugin Cons:
The price of premium may put off smaller stores
CTX Feed – Woocommerce Product Feed Plugin Pricing:
The core plugin is available for free. CTX Feed Pro is $119 per year for a single site, $199 for five sites and $229 for ten sites.
6. Ninja Tables
Ninja Tables is currently one of the best data table plugins for WordPress, with 80K+ happy users. This plugin organizes WooCommerce product details in smart, filterable, and dynamic product tables that you can customize however you want!
If you're finding it hard to make your WooCommerce store stand out, say hello to Ninja Tables. Its rich features will help you create beautiful, interactive, and mobile-friendly product tables in no time without coding!
Pros of Ninja Tables:
Multiple customization options
Custom filter, sort, and pagination
Auto-sync with Google Sheets
Import data from many external sources like CSV, JSON, or other table plugins
Multiple pre-built customizable templates
Cons of Ninja Tables:
Ninja Tables Pricing
Ninja Tables is available in free and Pro versions. The Pro version price starts from $79 (Get Special Discount!) and has both annual and lifetime plans.
7. WooCommerce Boost Sales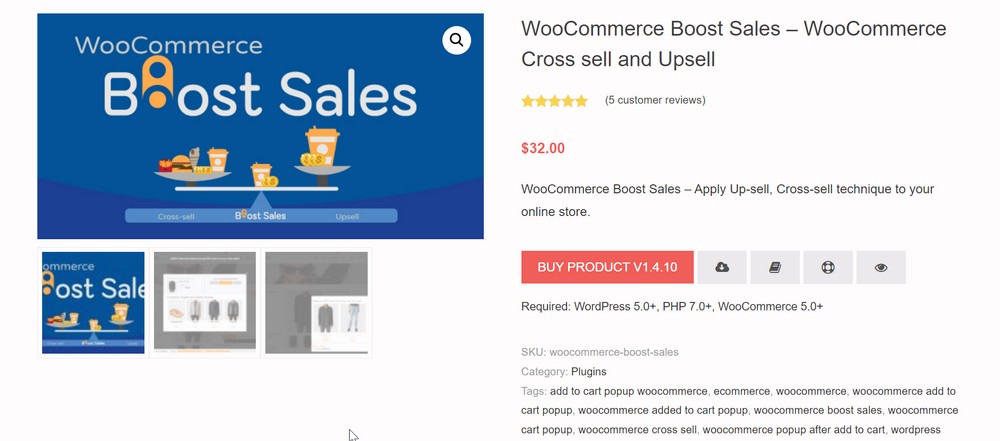 WooCommerce Boost Sales is a responsive plugin designed to apply a straightforward and effective sales and marketing strategy – WooCommerce cross-sells and upsells.
The plugin functions by suggesting or recommending products, stimulating customer purchases, and assisting shop owners in increasing sales.
It encourages customers to purchase high-end products, upgrades, or additional items to make more rewarding sales by offering discounts and deals.
Customers are exposed to the opportunity to purchase additional products for a little extra revenue.
The plugin functions as a pop-up when customers click on the add to cart button, suggesting customers buy up-sell products. It also displays cross-sell pop-ups on the single product page, cart page, and checkout page.
WooCommerce Boost Sales Pros:
The plugin works perfectly on mobile devices
It has a friendly interface and is easy to use
There are various sources to select from to display on the page
WooCommerce Boost Sales offers easy customization of the text, image, icons, and content
It is a simple to use plugin
WooCommerce Boost Sales Cons:
Using a whole additional plugin for recommending and suggesting products can be costly
WooCommerce Boost Sales Pricing
WooCommerce Boost Sales offers both free and premium versions. The premium version has extended features and starts from $32 per year.
8. RafflePress

RafflePress is the best WooCommerce plugin for giveaways. Everyone loves a freebie and this plugin helps you to implement giveaways to encourage customers to sign up, purchase or engage with your store.
The plugin allows you to create successful giveaway campaigns with a simple drag and drop builder. There are different pre-built templates available to get started.
The plugin has a modern and straightforward interface that allows you to create attention-grabbing content in minutes. In addition, the plugin has successful tracking and retargeting features so you can monitor giveaways and encourage engagement.
RafflePress comes with fraud protection, effective landing pages and simple social media integration.
RafflePress Pros:
RafflePress allows you to create different entry options for all major social networks
It uses the simple drag and drop builder to create giveaways and contests
The plugin integrates marketing and CRM integration
You can keep success track of the contents/giveaways and retarget
The plugin is 100% mobile-friendly
RafflePress Cons:
The plugin allows a limited number of email integrations
RafflePress Pricing
RafflePress has a free version and the premium version ranges from $79-$999 per year, depending on your plan.
9. Advanced Coupons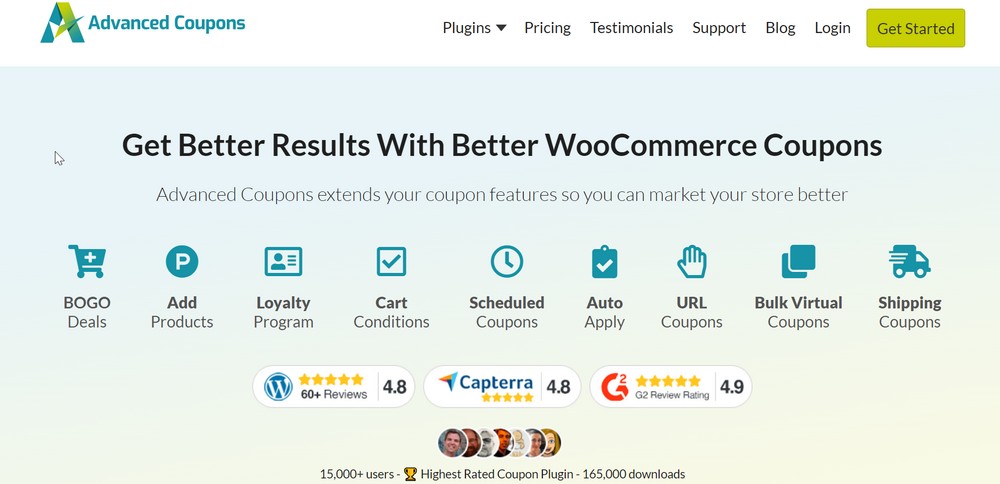 Advanced Coupons extends the coupon features of your website, allowing you to market your store better.
The plugin offers BOGO deals, add products, loyalty programs, cart conditions, scheduled coupons, auto apply, URL coupons, bulk coupons, shipping coupons and more.
It is one of the highest-rated coupon plugins with 15,000+ users.
Using these coupons, you can attract customers to your website to make more purchases and boost sales.
Advanced Coupons is easy to use and allows you to create a coupon with a drag and drop builder selecting from the pre-built templates.
Advanced Coupons Pros:
The plugin has an easy setup process
Advanced Coupons help you send emails immediately to the customers from the list
Customers get the flexibility to redeem their coupon during the checkout to store credit
It offers professionally designed fit card templates in-app
The plugin offers to apply the coupons with ease through URL
Advanced Coupons Cons:
The plugin shows an error when running in multisite
Advanced Coupons Pricing
The plugin has free and premium versions. The premium plan ranges from $119-$299 per year.
Smart Coupons for WooCommerce is a well-rounded coupon plugin for WooCommerce. The plugin can help you create an effective coupon strategy using different types of coupons such as BOGO, giveaways, gift cards, festive discounts, and others.
You can create thousands of coupons and add all of them to your store. The plugin lets you set up advanced rules and restrictions for your WooCommerce coupons and set up different combinations of coupon conditions to create various discount strategies for your store.
Here's what Smart Coupons for WooCommerce can do for your business:
Use the power of discounts to help drive sales
Use tried and tested methods such as scarcity and time for engagement
Create effective coupon campaigns
Offer store credits to customers
Set up gift coupons for WooCommerce
Set up advanced coupon conditions
The Smart coupons for WooCommerce plugin can be a great addition to your store. It can help create and manage coupon campaigns for your store. Try the free plugin and see if it works. If you need advanced features, you can always upgrade to the premium version.
11. WooCommerce Customizer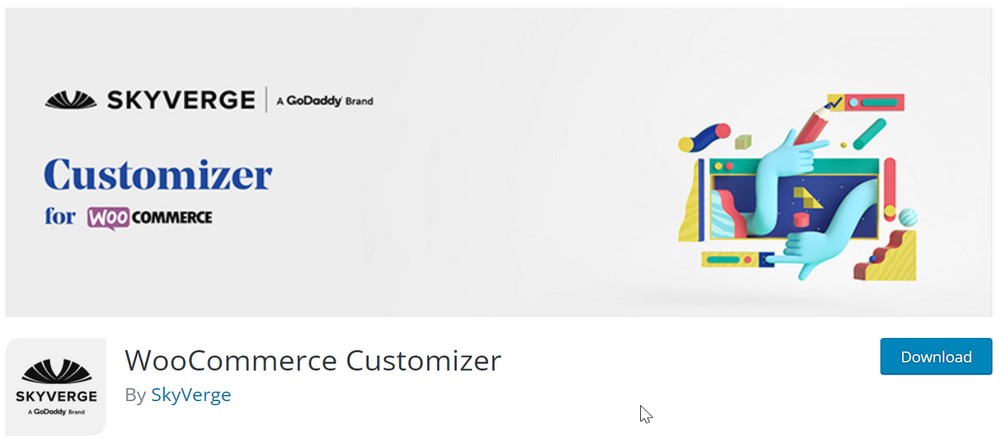 WooCommerce Customizer is a simple and easy to use plugin that provides a settings page where you can add customizations to your WooCommerce website.
Usually, WooCommerce includes tons of filters to let you customize button text, labels, and more. But you have to write PHP code to use them. This plugin is built to make the customization process easy by removing the need for code.
You don't need to write the advanced PHP code to bring changes to the WooCommerce appearance. You can add your customizations and save them.
Further, you can modify any templates to attract visitors to your product page and encourage them to make the purchase.
WooCommerce Customizer Pros:
The plugin allows you to customize the Add to Cart button test for different product types
You can simply edit and customize any text from any of the pages
WooCommerce Customizer provides flexibility to add different fonts and designs to each product page
It is a responsive plugin that functions well on all devices
Users with no coding experience can enhance the appearance and layout of the site with ease
WooCommerce Customizer Cons:
The plugin doesn't support being network-activated on multiple sites
WooCommerce Customizer Pricing
The plugin is free and you to download from the WordPress repository.
12. Discount Rules for WooCommerce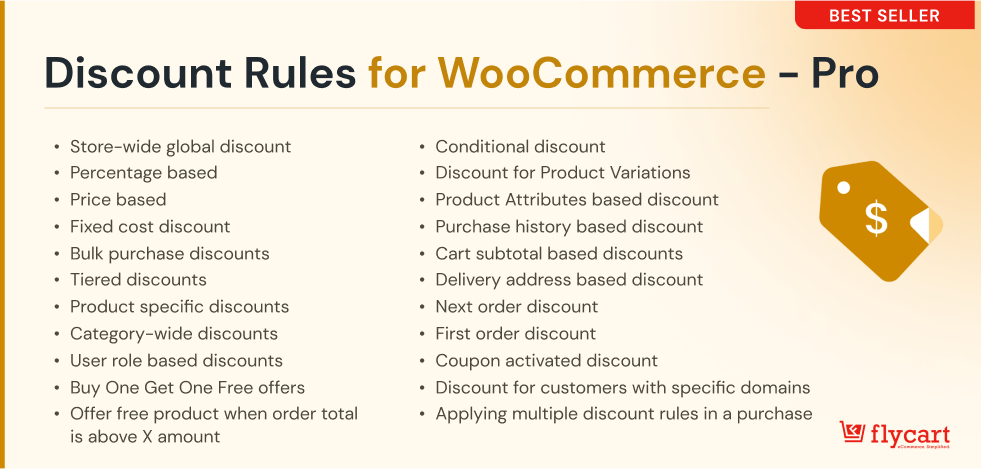 Discount Rules for WooCommerce is a popular discount sales plugin that helps you create unlimited dynamic pricing and discount rules for your online store.
The plugin helps you offer simple to complex discounts like percentage discounts, category discounts, first order discounts, next order discounts, store-wide discounts, bulk discounts, BOGO deals and other types of deals.
With a simple, easy-to-use layout, you can easily create discounts based on additional conditions like subtotal, purchase history, specific user role and more.
This plugin has options to offer multiple discounts to customers with a single coupon code and provides all the tools you could need to incentivize purchase.
Pros:
Option to display promotional messages based on quantity
Multiple setting positions to display discount tables and discount bars.
Discounts can be automatically applied to the cart.
Validity duration for the rules can be set
Alert messages can be sent to users when the discount is applied.
Discount Rules for WooCommerce Pricing
Discount Rules for WooCommerce has both free and advanced versions. The advanced version starts from $59/ year with 1 year of support, updates, and access to extra downloads
13. YITH WooCommerce Quick View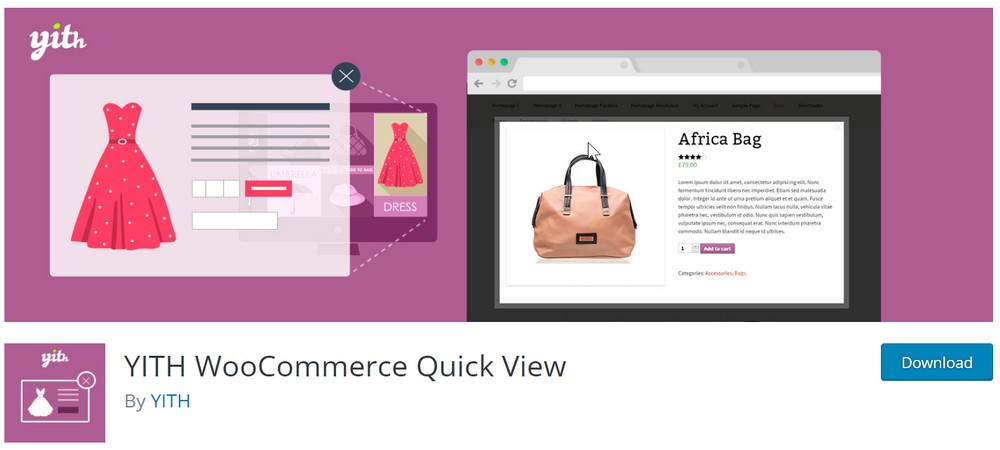 YITH WooCommerce Quick View allows visitors to immediately look at products without opening the product page.
The plugin showcases a short description of a product with all the essential features and qualities.
You can add a button in a product loop to open a modal window with the product summary using AJAX through the plugin and customize accordingly.
The plugin has easy customization, allowing you to present your products visually and make them the perfect pick for visitors.
YITH WooCommerce Quick View Pros:
The plugin enables lightbox and product navigation in the quick view window
It offers two different navigation styles (slide or rotate)
YITH Quick View offers various effects to make the quick view appealing to the user
It also adds a sharing button for the product on various social networks
It is a simple to use plugin that offers documentation and support
YITH WooCommerce Quick View Cons:
The plugin can have issues loading preview images on the site at times
It can not respond at times
YITH WooCommerce Quick View Pricing
The plugin has a free version with limited features available on the WordPress repository. The premium version is available for € 59.99/ year.
Other Plugins To Boost Your eCommerce Sales
Not all plugins are about direct sales. Sometimes, adding important features that make life easier for shoppers can also indirectly improve sales.
That's what this section is all about.
We share some valuable WooCommerce plugins that can indirectly boost sales.
14. Convert Pro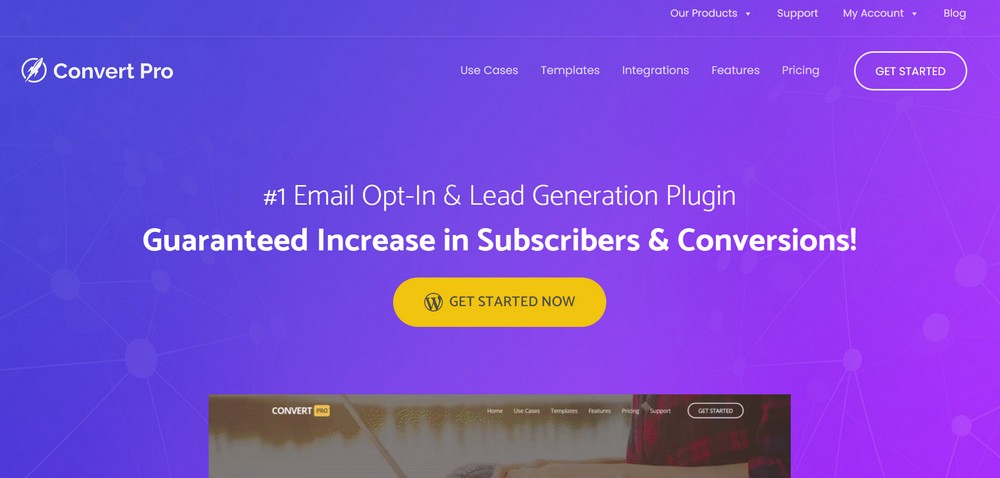 Convert Pro is the #1 email opt-in and lead generation plugin for your WooCommerce store.
You can create a high converting opt-in form in minutes with a modern design with the included drag and drop editor. The plugin works on mobile devices too.
Convert Pro is highly optimized for speed and structured for the highest performance, positively affecting conversion.
With an efficient and easy editor, you can create popups or opt-in forms that convert your visitors into leads, subscribers, and customers.
It has behavioral triggers that allow you to target visitors with the right message at the right time to boost the conversion rate.
Convert Pro comes with a vast library of conversion-oriented, professionally designed templates.
Convert Pro Pros:
Create highly responsive and opt-in forms with a simple drag and drop editor
It is a fast and lightweight plugin that ensures it works fine on all devices
Convert Pro comes with the integration of email marketing
The plugin includes advanced triggers, filters, and cookies
The plugin offers various testing options that you can try out before sending to your leads
Convert Pro Cons:
Convert Pro Pricing
Convert Pro costs $99 per year.
15. Schema Pro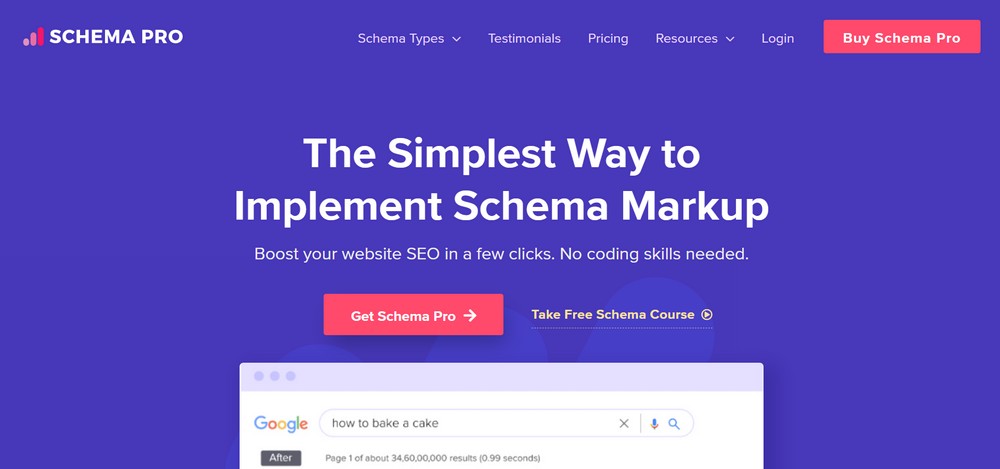 Schema Pro is one of the simplest ways you can implement schema markup. The plugin boosts your WooCommerce website SEO in a few clicks by displaying your products on the pages of search engines attracting visitors and growing organic traffic.
The plugin fulfills all of Google's rules and requirements with highly optimized, clean code, using JSON-LD technology and optimizing your WooCommerce website.
It is a simple and easy-to-use plugin. Schema Pro lets you select from 20+ options. You can configure schema markup once and implement it elsewhere on your website in no time.
Schema markup gets easy with Schema Pro as the plugin gets you started in 3 simple steps. The plugin offers all major schema types, so you need to select the one you wish to implement from the drop-down menu and select the post/page to implement it and map the content.
Schema Pro Pros:
Easy setup process. You can set the schema with three simple steps
The plugin offers 20+ schema types to select from
Schema Pro has a simple-to-use dashboard
The plugin requires no coding knowledge
It offers the ability and freedom to add the right tag for the right information that introduces your products the best
Schema Pro Cons:
The plugin has no free version
Schema Pro Pricing
The plugin costs $79 per year.
16. SEOPress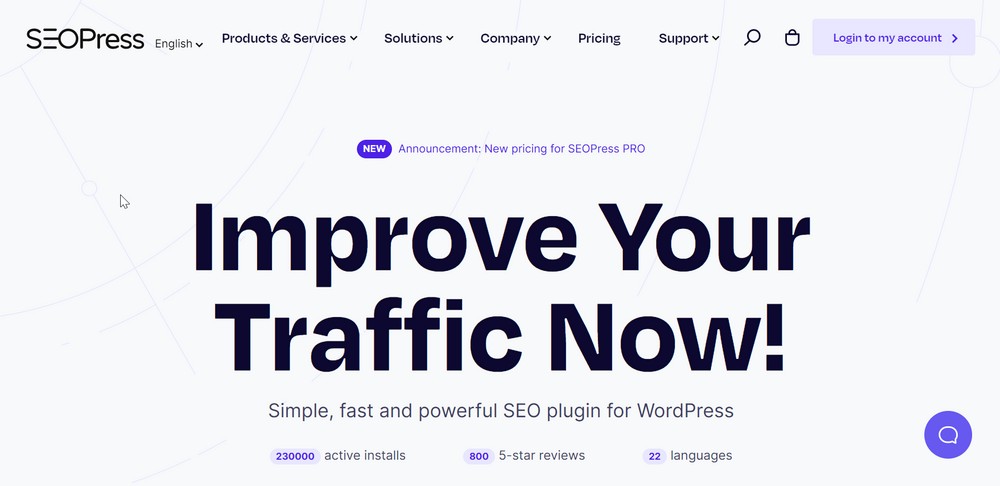 SEOPress is a highly responsive SEO plugin for WooCommerce.
The plugin has helped 230,000+ websites improve in their SEO performance. It integrates all the features you need, such as search appearance, social media optimization, XML and HTML sitemaps and Google Analytics.
The plugin offers an intuitive installation wizard, making it easy for you to use it without requiring technical knowledge.
SEOPress offers a clean and modern user interface and a beautiful SEO dashboard with a notification center.
If you use social media to help boost sales, these free Hootsuite alternatives let you monitor your networks for less!
SEOPress Pros:
SEOPress is very easy to use. Even if you've never used any SEO plugins before, it offers a wizard and documentation to help you throughout
SEOPress offers the flexibility to import SEO settings from other plugins easily
Additional eCommerce SEO options to enhance your online store
You can use the plugin in unlimited sites (both free and paid version)
Even the premium version of this plugin is cheaper than compared to other SEO plugins like Yoast SEO, All in One SEO, and Rankmath
SEOPress Cons:
The content analysis feature could be improved
SEOPress Pricing
The plugin is free to get started. You can then get the premium version for $39 per year.
17. WP Rocket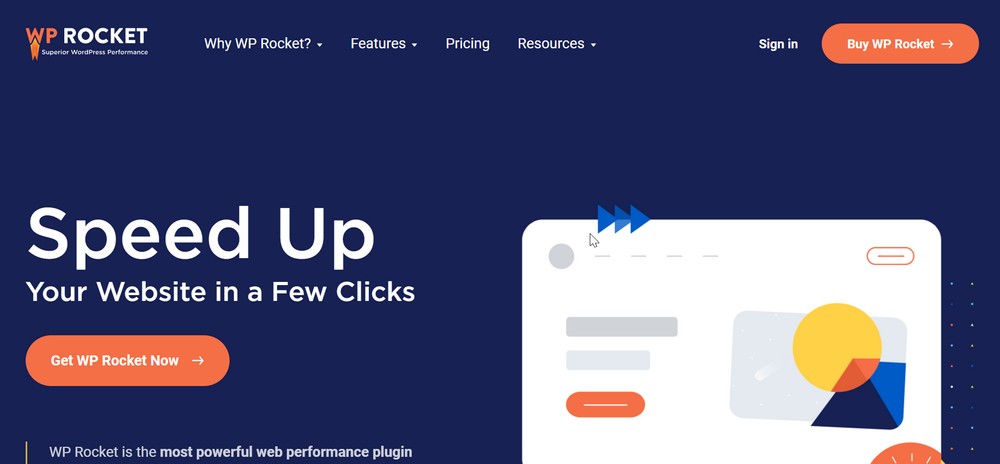 WP Rocket is a highly responsive WordPress plugin designed to speed up your website.
It reduces your load time and boosts Google Page Speed and other core web vital scores. You require no coding knowledge to get started with the plugin. WP Rocket is an all-in-one web performance plugin.
WordPress experts recommend this plugin as the best caching plugin to achieve incredible speed results for the site.
The plugin boosts website performance like never before. It is up-to-date with the latest web performance requirements.
WP Rocket Pros:
Makes your site faster and loads quickly
File optimization tools reduce the size of your site files
Lazy load option that improves efficiency of page loading
Content Delivery Network for faster performance
Enhances your WooCommerce site to function better with high responsiveness
WP Rocket Cons:
WP Rocket Pricing
WP Rocket offers three different plans. You can get started with the plugin for $49 per year.
18. Fluent Forms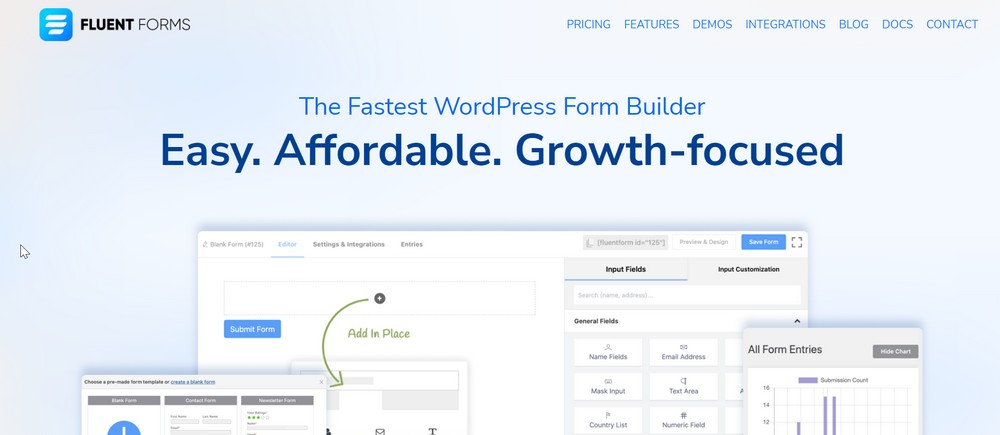 Fluent Forms is a growth-focused beginner-friendly plugin that allows you to create beautiful forms without needing to code.
You can start creating forms for your WooCommerce website with a simple drag and drop builder and dozens of premade templates. This form plugin also offers a way to start conversations with your customer through interactive web forms.
Fluent Forms showcases brilliance in design and fully responsive functions on mobile devices. You require no extra effort to make your website's forms work on small screens.
The plugin offers intelligent conditional logic, collecting payments and donations and sending automatic notifications.
The plugin offers a lot, whether you want to sell products, collect information, or integrate marketing.
Fluent Forms Pros:
Even the accessible version of the plugin offers a handful of features
It helps you create beautiful forms that attract customers
It is a beginner-friendly plugin
The plugin offers unlimited forms and pre-made templates and addons
Fluent Form is a simple to use plugin
Fluent Forms Cons:
The plugin doesn't offer coupon code implementation
Fluent Forms Pricing
The plugin has both free and premium versions costing from $59 per year.
19. Gravity Forms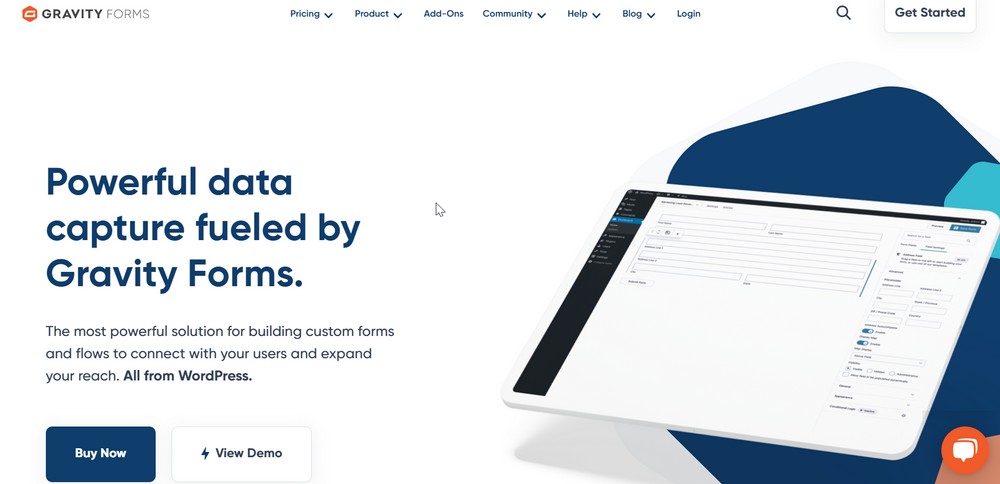 Gravity Forms is one of the most powerful solutions for building custom forms and flows for your WooCommerce website.
You can create custom web forms to capture leads, collect payments, automate your workflow, and build your business online.
Gravity Forms offers a visual form editor to quickly design and build intuitive forms. Simply select the fields, configure your options and embed the forms on the site.
The plugin looks after the wide variations from registrations to subscriptions to product sales. It also offers tools to manage transactions.
The plugin is packed with many time-saving tools, allowing you to build a beautiful form with unique features.
Gravity Forms Pros:
Gravity Forms has CAPTCHA that protects your website against bots
Offers multipage and conditional logic
Provides unlimited data storage to create as many forms and store data
Gravity Forms allows the use of Google Sheet and Google Forms
It integrates Zapier – an automation tool that connects your apps and services
Gravity Forms Cons:
The plugin has no free version
The steps to creating and navigating forms can be complicated for beginners
Gravity Forms Pricing
The plugin costs from $59 per year.
20. PushEngage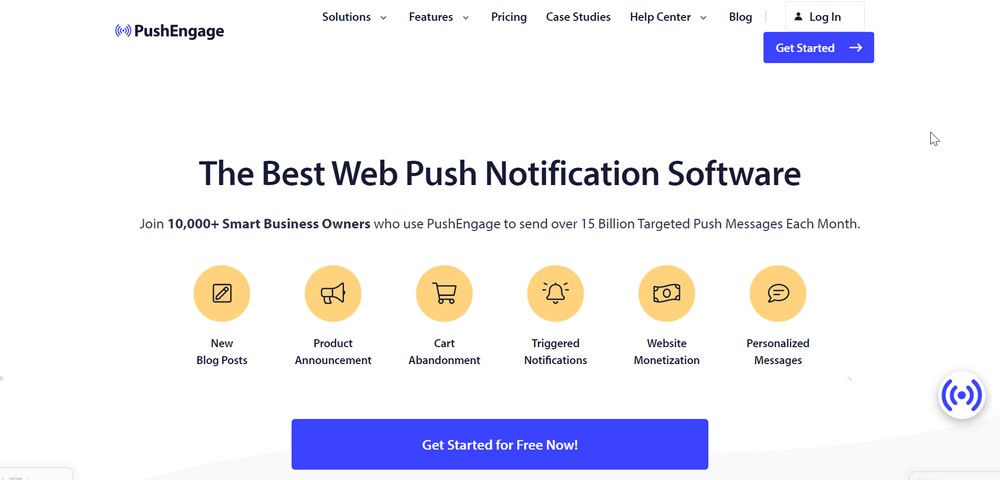 PushEngage is the best web push notification software for WooCommerce business owners. More than 10,000+ users have used the plugin to send over 15 billion targeted push notifications.
Push notifications can be used for product announcements, during cart abandonment, or as a personal message to the visitors and lead on the site.
This is an easy yet powerful tool that provides a user-friendly notification service.
The plugin allows you to detect the visitor's behavior to send automated push notifications to the right person at the right time. You can recover lost sales and quickly boost revenue with these triggered abandoned cart push notifications.
PushEngage allows you to experiment with any element and unlock the full potential of push notifications to help grow your business.
PushEngage Pros:
It is a responsive plugin that works fine with any page builder
You will always have customer support available, which is helpful
It is an easy-to-use plugin
PushEngage increases the number of subscribers on your site by sending notifications
The plugin's features are integrated and developed for the success of eCommerce websites
PushEngage Cons:
Repeated use of a notification can cause errors
PushEngage Pricing
PushEngage offers both free and premium versions. The price for the premium version starts from $9 per month.
21. OptinMonster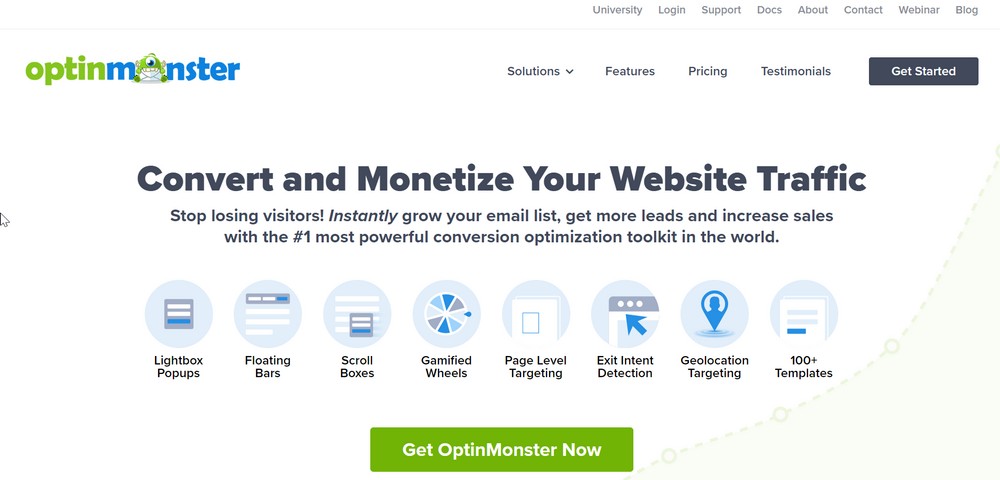 OptinMonster is the #1 most influential conversion optimization toolkit for WooCommerce websites.
OptinMonster offers services such as Lightbox popups, floating bars, scroll boxes, gamified wheels, page level targeting, exit intent detection and geolocation targeting.
1.2 million websites use OptinMonster to turn their traffic into subscribers, leads, and sales.
The plugin helps you create a visually attractive offer on the site that attracts visitors. You can choose a pre-built template for maximum conversion and customize it with an easy drag-and-drop editor.
It has a powerful targeting and segmentation engine that lets you show your perfect offer to the right people at the exact time, hopefully skyrocketing conversions.
OptinMonster Pros:
The plugin is simple and easy to use
OptinMonster offers tons of customization options
Its innovative technology allows you to add personalized messages to your customers in targeted popups
It is a responsive plugin that functions smoothly on all devices
OptinMonster simplifies page creation by offering pre-designed templates
OptinMonster Cons:
Some necessary features are available only with the premium version
OptinMonster Pricing
The plugin has a free as well as a premium version that costs from $9 per month.
22. TranslatePress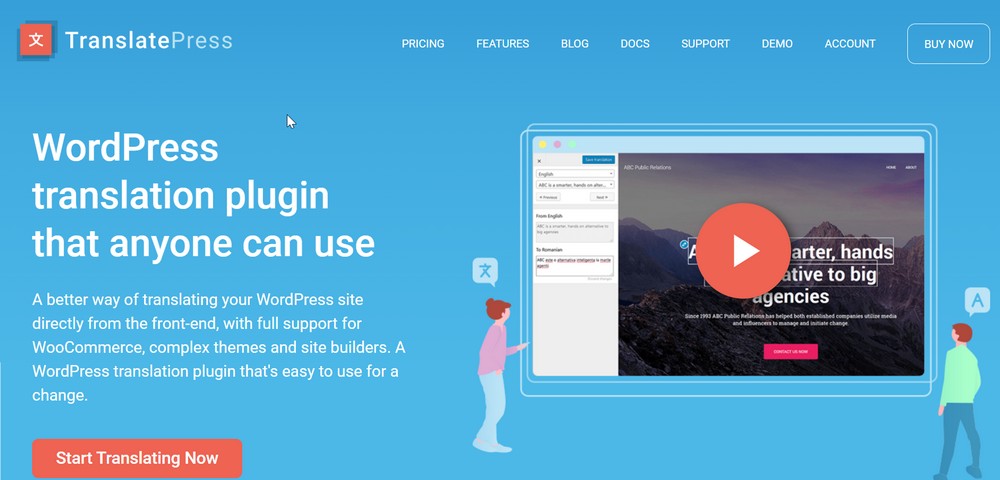 TranslatePress is a WooCommerce translation plugin that helps you translate your website into any preferred language. Doing so will help you target your local as well as international customers.
The plugin provides a better way to translate your WordPress website directly from the front end with full support for complex themes and site builders.
Over 200,000+ websites use the TranslatePress plugin. It offers 220+ languages and 50+ support articles to guide you throughout.
The plugin is straightforward to get started with no extra addons to install. It is compatible with almost every WooCommerce theme and plugin.
TranslatePress Pros:
Even the free version of the plugin offers tons of languages to get started with
You can create your custom languages using code
The plugin can translate almost anything from the content of themes, plugins, menus, and page builders to URLs
It is a very simple and easy-to-use plugin
TranslatePress offers translating of the content right in the front end
TranslatePress Cons:
The setup can be more complicated than other plugins
TranslatePress Pricing
TranslatePress has a free as well as a premium version that costs €79 per year.
23. SendinBlue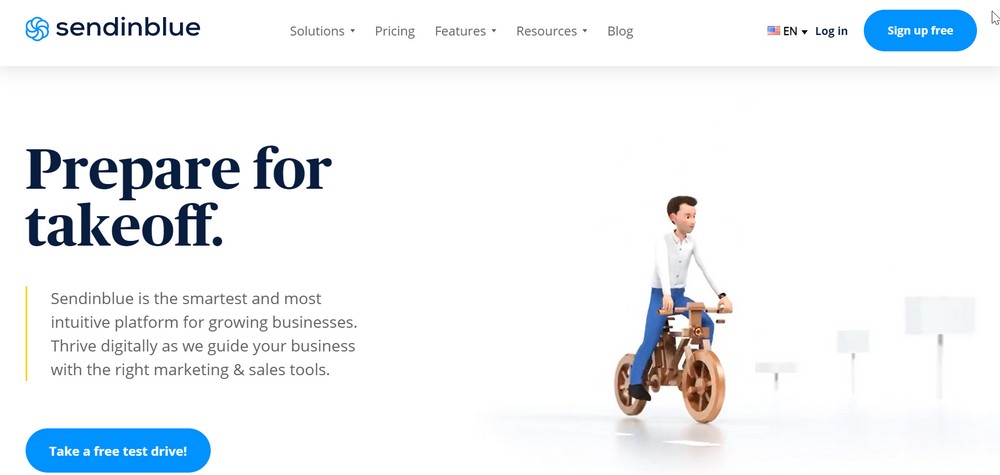 SendinBlue is the smartest, most intuitive platform for growing your eCommerce business. The plugin helps boost your WooCommerce website with the right marketing and sales tools.
The plugin offers email marketing, SMS marketing, chat, and inbox services guiding your visitors throughout the website. These forms of work add life to your customer journey. It builds stronger relationships by keeping track of all your customer details in one place.
SendinBlue allows you to create landing pages, Signup forms, Facebook ads, and more to gain more visitors to your WooCommerce website.
You can keep your growing audience engaged by sending the right messages at the right time and the right place, boosting sales.
SendinBlue Pros:
The plugin offers very clear instructions on the use of the service
It offers a complete and easy template management system
SendinBlue performs marketing automation and helps you deliver
The plugin allows you to import your HTML design or select from the pre-made templates
It offers pre-scheduled campaigns with advanced and real-time reporting
SendinBlue Cons:
The plugin sometimes deletes verified customers and blocks them from receiving further emails
The premium version is a bit costly
SendinBlue Pricing
The plugin offers free and premium features. The premium version of the plugin costs from $25 per month.
Wrapping Up
We've now come to the end of our article on the best WooCommerce plugins to boost sales.
Boosting sales helps you to increase the revenue of your business as well as build a reliable website for customers to shop from.
If you already have the store, it makes perfect sense to earn more from what you have than build more stores, right?
The plugins mentioned in the list are developed with the objective to help WooCommerce businesses make more from what they have. To use simple tools and techniques to make more profit without expending too much time or effort.
We think every plugin in this list delivers on that!
What plugins do you use to boost sales? Do you use any of these? Have any others to suggest?