Top 12 Reasons for Abandoned Carts and How to Fix Them
Do you know what the number one reason for cart abandonment is? It's not because people are forgetful. It's because they encounter a problem during the checkout.
Statista surveyed eCommerce stores across different industries and found that almost 80% of all shopping carts are abandoned. That's a lot of lost revenue!
So if you aren't taking steps to fix issues with your checkout processes, you're leaving a lot of money on the table.
In this article, we'll discuss the top 12 reasons for cart abandonment in the eCommerce industry so you can take immediate action to fix them.
Once you begin fixing them, you should notice the conversion rates rise, and your revenue improvements one step at a time!
Before we begin, here's a quick introduction to what cart abandonment is.
What Is Cart Abandonment?
Cart abandonment is the term used when a customer adds items to their online shopping cart but does not complete the checkout and leaves without buying anything.
Most often, this is due to a broken checkout process in some way or other.
Recovering abandoned carts is quite a hassle. You have to get the emails of the users, send emails to remind the users to encourage them to come back, and make it easy for them to jump straight to the cart with a click of a button.
This is time-consuming and best automated.
As such, there are many businesses across the world that only work on solving cart abandonment issues for eCommerce stores by writing emails or crafting discounts and offers to bring users back.
We created a free plugin called CartFlows Cart Abandonment Recovery to automate the majority of the cart recovery process.
It offers built-in cart recovery email templates so you don't have to start from scratch. It also generates unique discount coupons to encourage buyers to complete purchases, creates unique cart links so they can come back to where they left off with a single click, and much more!
Try CartFlows to find out how many abandoned carts you can easily recover!
How Cart Abandonment Affects eCommerce Websites
Cart abandonment is a major revenue loss for eCommerce businesses. According to Statista, the global average cart abandonment rate is about 80% as of March 2021.
This number varies from industry to industry but it's an indicator of how prevalent this problem is.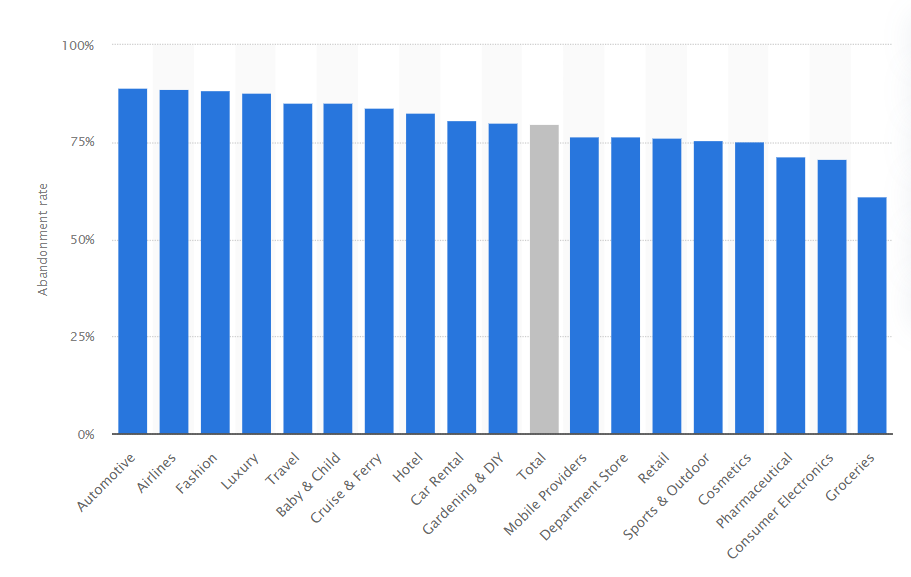 According to the Baymard Institute, it's also estimated that almost $260 billion worth of merchandise will be abandoned in carts this year.
The top 10 reasons for cart abandonment account for more than two-thirds of all cases.
As an eCommerce store owner, if you can manage to fix at least a few of the major reasons, you are much better off than before!
We'll share more cart abandonment statistics later to help you identify which ones to prioritize.
But first, here are the following are the top reasons for cart abandonment in order of priority according to the impact on abandonment:
Unexpected costs (taxes, shipping, and other fees)
Required account creation
Slow delivery speeds
Long and confusing checkout
Not trustworthy enough for completing payment
Couldn't see total costs upfront
Website crashed
Bad return policy
Not enough payment options
Card declined
Missing discounts or coupon codes
Too many upsell, order bumps, or offers
There are many ways to address these issues and improve your online sales.
For example, you could simplify the checkout process, improve product images, offer free shipping, or provide more payment options.
Let's explore each of these reasons in more detail so you can get a better understanding of what is causing customers to abandon their carts.
We'll also offer effective methods to fix these issues.
12 Reasons Why Users Abandon Carts and How to Fix Them
Cart abandonment, as we mentioned earlier, occurs due to many reasons. But the following reasons account for a majority of lost revenue.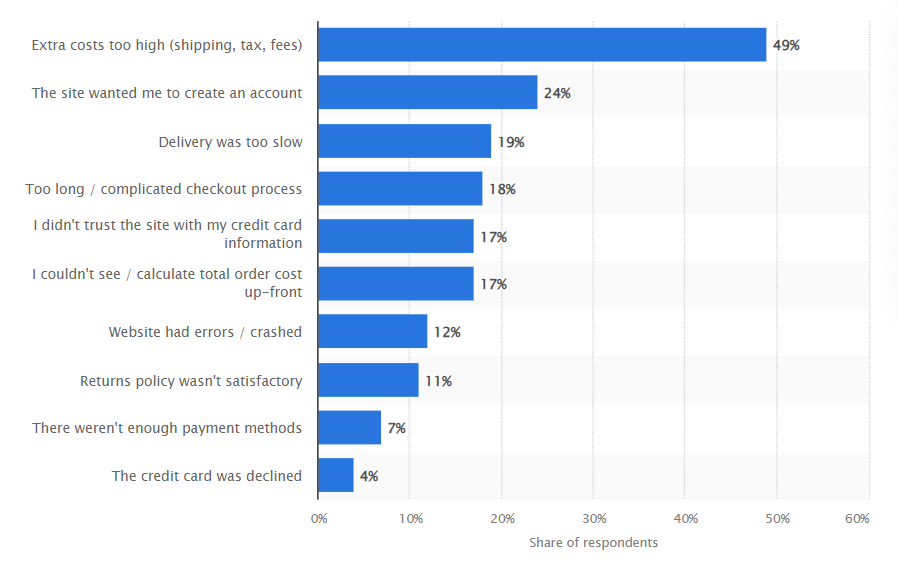 Let's understand these reasons in detail along with simple steps to fix them.
1. Unexpected High Costs (Taxes, Shipping, and Other Fees)
The #1 reason for cart abandonment is unexpected costs.
This can be anything from additional taxes and shipping fees to any hidden costs that the customer was not aware of before reaching the checkout page.
Statista's survey data shown above reveals that almost half of all online shoppers abandon their carts due to unexpected, high costs.
How to Fix It:
Display shipping costs upfront – This includes taxes, shipping, and any other hidden fees. You can also show the total cost of the order before the customer completes the checkout.
Offer free shipping – Users will abandon carts if they don't see "Free shipping" because Amazon has gotten us used to free 1-day shipping now. So add the cost of shipping within your product price and round it off. Not only does free shipping increase your chances of recovering abandoned carts, but it can also help boost overall sales.
Offer an incentive to complete checkout – You could also consider offering a discount for the next order after the user completes the checkout like many websites do. Alternatively, go all the way around, and right before the customer is about to pay, add a message saying "You just saved 20% on this order!". And then display the amount they saved compared to the MRP.
Let's take a look at a very common tactic that flight booking websites use:

The small tag
Here's how DoorDash offers a 50% discount to customers on their future orders after completing their checkout: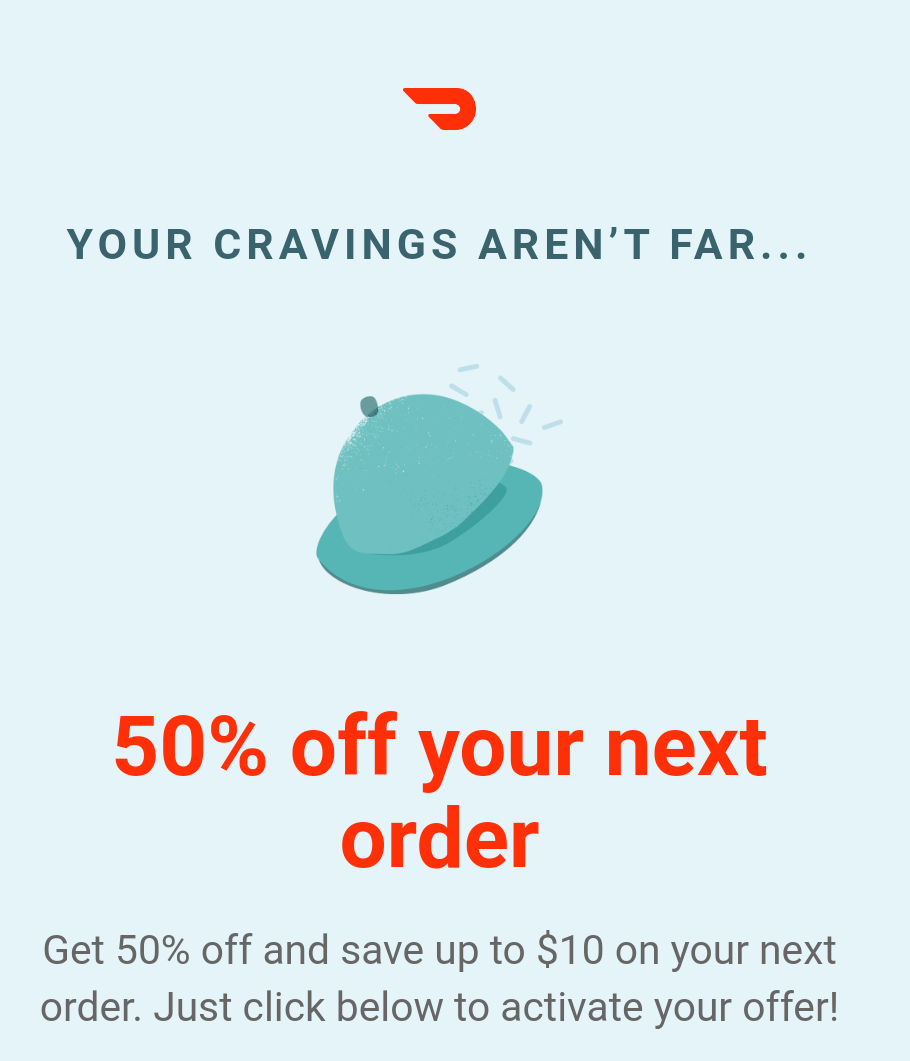 2. Required Account Creation or Lack of Guest Checkout
When customers are required to create an account to make a purchase, it can lead to cart abandonment.
Users already have hundreds of different logins and passwords they have to remember. Most of us are not interested in adding one more to our list.
According to the Baymard Institute as well as Statista's survey, over 24% of users abandon their cart if it forces the users to create an account.
How to Fix It:
Allow guest checkout – Allowing customers to make purchases without having to create an account will help reduce the number of abandoned carts, and improve your conversion rates.
Make account creation quick and easy – This means asking for only the essential information, such as name and email address. You can also ask for this information later in the checkout process.
Offer discounts to registered members – Display a message on the checkout page that the user can receive an additional discount on registration This will encourage more people to create accounts and increase your overall sales.
Demonstrate the value of having an account – Make sure that your customers are aware of the benefits of creating an account, such as being able to track their orders and view past purchases. You could also highlight added benefits like faster checkout in the future, easier payments, member support, and even updates about upcoming discounts and offers!
One-click checkout – This is an easy way to encourage customers to buy. It allows users to proceed to payment without creating an account.
3. Slow Delivery
Amazon has spoiled us with their 1-day delivery! Their massive operations that scale across every part of the world make it possible for them to quickly deliver products to their customers.
But the same cannot be said for smaller-scale stores.
Even if you have the inventory, you need to get the packaging ready, call in your delivery partner for a pickup, and wait for the delivery to complete.
This can be messy when you are handling your store's operations alone, or with a small team.
How to Fix It:
Partner with a reliable shipping company – You need a delivery partner that will keep a schedule to deliver your packages, no matter how much volume you provide to them. While higher volumes give you leverage to negotiate, find a partner that is happy to work with you even if you don't have such high volumes at the moment.
Offer paid express delivery – It costs more to deliver faster than normal. If you cannot afford a faster delivery while maintaining healthy profits, it makes sense to ask users to pay for it. Users are okay with having the choice and knowing that they consciously chose to go for the slower free shipping option.
Ensure that you maintain an acceptable delivery schedule – It would be hard to scale a store if your orders take 7-10 or more days to deliver. Find a balance between maintaining profits while offering decently fast delivery speeds.
4. Confusing or Lengthy Checkout Process
Long checkout processes are time-consuming. They take away the excitement of the purchase and put the users off.
While checkouts for physical products need more details upfront, you can split them into easy chunks that buyers can complete quickly without even noticing.
Here's how Elementor splits its checkout process to make it easy!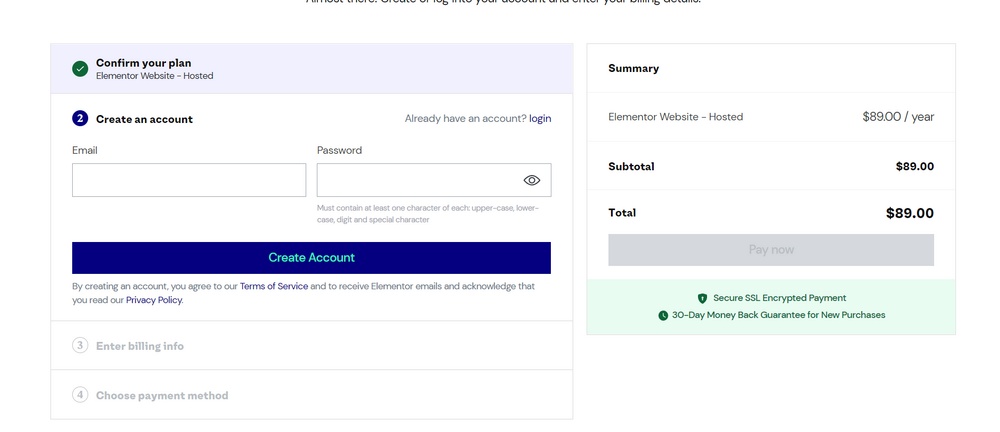 How to Fix It:
Instant Account Validation – Implement ways to instantly check if the entered email is already registered on your website. If it is, give your users the option to sign in and complete the checkout with the details they've already provided.
Google address autocomplete – Google offers the Maps API that allows you to suggest addresses as it does on the Google Maps app or website. As your buyers enter their addresses, the form can suggest relevant addresses and once the user selects an option, the remaining fields will be filled automatically!
Remove unnecessary fields – The default WooCommerce checkout page offers a lot of unnecessary fields that you may not need. You can remove these fields or replace them with better ones.
Guess what? We just launched a feature called Modern Checkout. It offers all these features mentioned above and many more to help you make your checkout faster, more intuitive, and distraction-free! And this feature is available for Free and Pro users.
5. Website Doesn't Build up Trust for Users to Complete Payment
A lack of trust is another common reason for cart abandonment. Over 17% of all cart abandonment cases are due to your website not being trustworthy.
While trust is very subjective, you can follow some of these best practices to get started on the right path before working on the optimization.
How to Fix It:
Add trust badges to your website – These badges can include security seals, customer reviews, and accreditation logos. Showcase all the security measures you take to ensure data integrity and security.

Below is an example of trust symbols on a checkout page. Displaying the different payment gateway logos reinforces the fact that the payment is SSL secured and also backed by a money-back guarantee and ensures your users know of everything they need before completing the payment.


Provide information about your company – This includes providing accurate contact information, shipping policies, and return policies.
Add better quality product images – Images show if you care about your store or not. Good product images can not only attract customers but also build trust since you care to perfect these details which most store owners skip.
6. Couldn't See Total Costs Upfront
One of the reasons for cart abandonment is not being able to see the total costs upfront.
Apart from the shipping costs which are the main reasons for abandonment, seeing costs added to the product unnecessarily can deter customers from completing the checkout.
This is the reason behind an estimated 17% of all cart abandonment cases.
This happens because of price anchoring. When you show a certain price on your shop page, customers associate the value of your products to that price and also value your other offerings accordingly.

If you suddenly add taxes and raise the checkout price of your product, it does not match with the perceived value of your products.

While price anchoring, if used well, can help you get a significant boost in sales, it can also go against you if used incorrectly.
How to Fix It:
Display costs upfront – The best way to fix it is to factor your shipping costs and taxes into your product prices. When your users are anchored to a set price, they are likely to accept it as is. If you then offer a discount on top of this price, you create a no-brainer offer!
Offer a delivery estimate – Showcase the cost of delivery and offer to reduce it saying it's free for purchases above a certain price, or for creating an account. This helps the user know that they have received a great deal!
7. Website Crashed During Checkout
Another common reason for cart abandonment is website crashes during checkout. This can be very frustrating for customers and often results in them leaving your website.
It's estimated that this accounts for over 11% of all cart abandonment cases.
How to Fix It:
Get good hosting – For WordPress websites, make sure you are on a good quality dedicated hosting that can scale up if your traffic spikes. This is only necessary if you know your store generates traffic and is likely to make more money from the sale than you'd pay to such a dedicated hosting provider.
Also read: Best WordPress Hosting Providers
Test website on different devices – Before you go live with any sales or offers that are bound to attract traffic, test out your website on different devices. Make sure that every part of your website going from the home page > Shop > Add to cart > checkout > signup > payment is functioning well on every device. Mobile responsive themes like Astra make it easy to build websites that work perfectly well on all devices.
Provide clear messaging – Break the suspense. Tell the users exactly what went wrong if you can identify the fault. Users appreciate this and might give the checkout process one more try instead of abandoning it on the first attempt.
8. Bad Return Policies
Another reason for cart abandonment is bad return policies. This means that customers are not able to return their products or they have to pay high shipping fees.
It's estimated that this accounts for over 11% of all cart abandonment cases.
Here's an example of a good refund policy that's displayed right on the checkout page of Astra: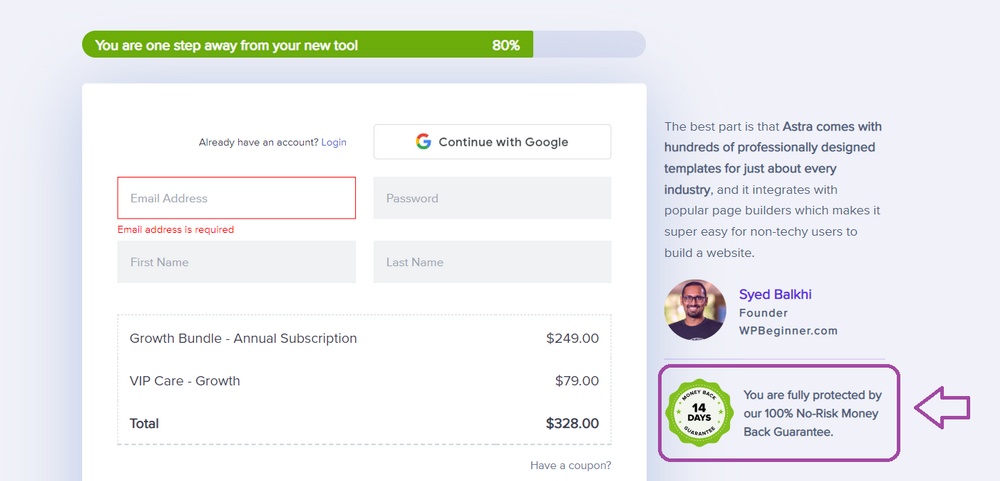 How to Fix It:
Develop a clear and concise return policy – This should include the time frame for returns, which products can be returned, and the amount of money that will be refunded.
Cover the return shipping – Customers do not want to pay for the shipping if the product is faulty. If you wish to operate in the EU and UK regions, the law does not allow you to charge shipping to return the products. might reduce returns by asking your customers to pay for return shipping, but will also get fewer repeat customers.
Offer timely refunds – Most stores keep users waiting and require follow-ups before a refund is completed. Craft a process such that your customers never need to ask you once they've already requested a refund.
Instantly refund to wallet – You could also process an instant refund to a wallet that you created for your store by asking the user first. If you fall under the EU and UK regions, you need to process the refunds back to the method of payment. Wallet refunds are considered credit notes. So do check for the laws of the region you operate in.
Returns policies are also covered by many countries' consumer protection legislation. Make sure to comply with your local region's laws to avoid any potential trouble.
9. Not Enough Payment Options
When it comes to payment options, shoppers want convenience. If your eCommerce store only offers a few payment methods, you're likely to see a high rate of cart abandonment.
Offering a range of payment options – including debit and credit cards, PayPal, and Amazon Payments – will make it easy for customers to check out quickly and without any hassle.
It's estimated that this accounts for over 7% of all cart abandonment cases.
How to Fix It:
Integrate more payment gateways – This should include a variety of debit and credit cards, as well as PayPal and Amazon Payments. Also, multiple payment gateways operate using a certain currency. So you need to check which ones offer the currency of the regions you operate in. To make things simple, just look up the most popular payment options in your country or state.
Express Checkout – With so many payment apps that now integrate on mobile devices and browsers, you can make the checkout process as simple as a single click.
Express checkout automatically detects if the user has apps like Google Pay, Apple Pay, Browser Pay (saved card details in their browser), and many others and displays the checkout button for that specific app. This lets the user complete the checkout with a single click (if they have all the details saved in the app) and the details are pushed to the store by these apps.
CartFlows offers Express Checkout built into its latest update. So if you haven't tried it yet, give it a shot!
10. Card Declined
When a customer's credit card is declined, it can be an embarrassing and frustrating experience.
This may not seem like a big deal. Yet, when a buyer is prepared to complete a purchase, a card being declined can deter them from completing checkout.
In some cases, customers may not have another payment option available, which could lead to them abandoning their cart.
How to Fix It:
Integrate with a secure and reliable payment system – This will ensure that customers' card details are safe and protected.
Inform users of the error – This will help customers understand what went wrong and how they can fix it.
11. Missing Discounts or Coupon Codes
A study by Barilliance found that 8% of all cart abandonment was due to the customer not being able to find a discount or coupon code.
If you're running an eCommerce store, make sure your discounts and coupon codes are easy to find.
You can also promote them on social media and in your email marketing campaigns. This will help to reduce the number of cart abandonments caused by this reason.
How to Fix It:
Display your discounts and coupon codes on your website – Many websites now have a page where they display their latest coupons along with the ones that have expired previously.
Here, take look at how Astra displays coupons right on its websites for all products: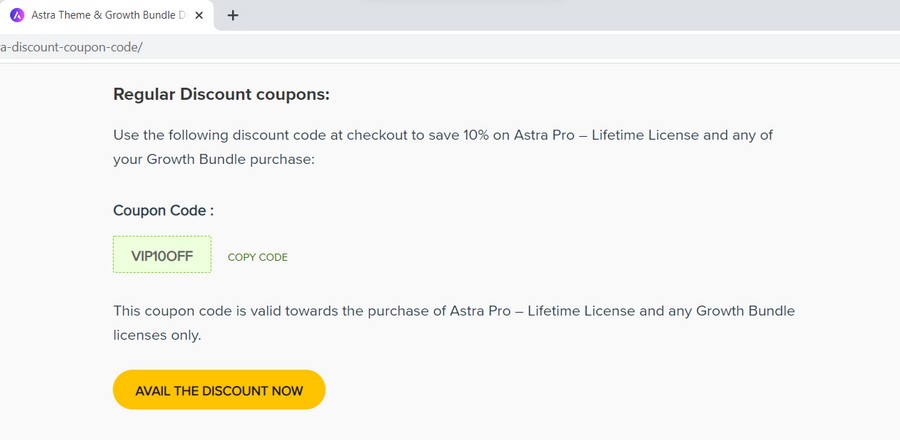 Promote discounts and coupons – Announce new coupons or discounts on your social media and email marketing campaigns. This will help to increase awareness of them and encourage more people to use them.
12. Too Many Upsell, Order Bumps, or Offers
When a customer is browsing through your online store, they may be presented with too many offers and add-ons that can cause them to abandon their cart.
Those offers could be in the form of upsells, order bumps, or promotional offers. When customers feel like they're being pressured into making a purchase, they're more likely to leave.
To avoid this, make sure that your offers are presented in a way that is transparent and doesn't seem too pushy.
Only include the relevant information and be sure to let customers know what they're getting into before asking them to add an item to their cart.
How to Fix It:
Create easy-to-understand offers – This will help customers make an informed decision about whether or not they want to add an item to their cart. Only include relevant information about your offers to avoid overwhelming customers and causing them to abandon their cart.

Reduce the number of add-ons – While you can add an unlimited number of order bumps, upsells, and downsells with checkout plugins like CartFlows, you must limit how many you add. If an offer distracts your users from completing the payment, ensure that it is removed so the initial sale is captured.
6 Tips to Improve Checkout Completion Rate
Now that you have a better understanding of the reasons for cart abandonment, let's go over the different ways you can improve your checkout completion and conversion rate for your website.
1. Grab Users With Scarcity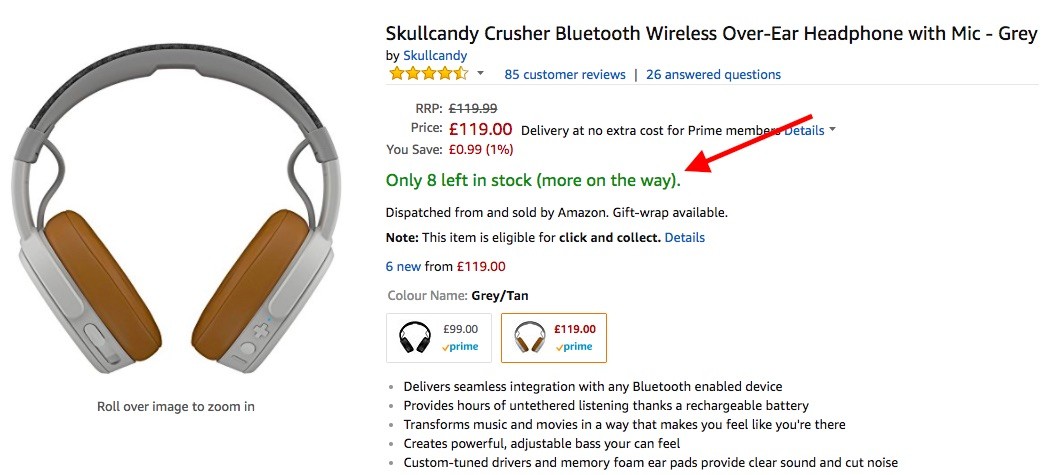 Adding a sense of urgency can help motivate users to complete their purchases. Use timers or discounts that are only available for a limited time to create a sense of scarcity and encourage users to take action sooner rather than later.
2. Use Exit-Intent Popups

Exit-intent popups are designed to appear when the user tries to leave your website. This gives you one final opportunity to persuade them to stay and complete their purchase. A lot of plugins on WordPress allow you to create exit-intent popups easily. But make sure that you experiment with a few different types of popups that are more subtle to avoid coming off as too pushy.
3. Display Checkout Progress on the Screen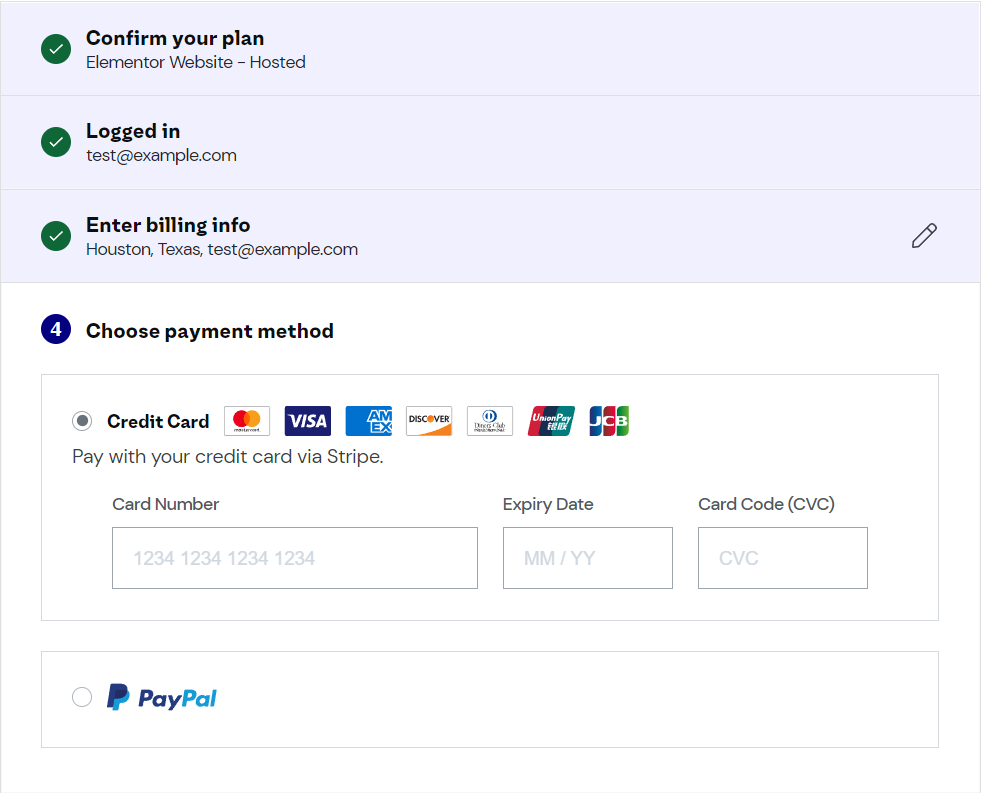 Showing the user their progress through the checkout process can help keep them focused on completing their purchase.
This also helps to alleviate any concerns they may have about whether or not their order went through successfully.
4. Use Demographic Data to Automatically Fill In the Information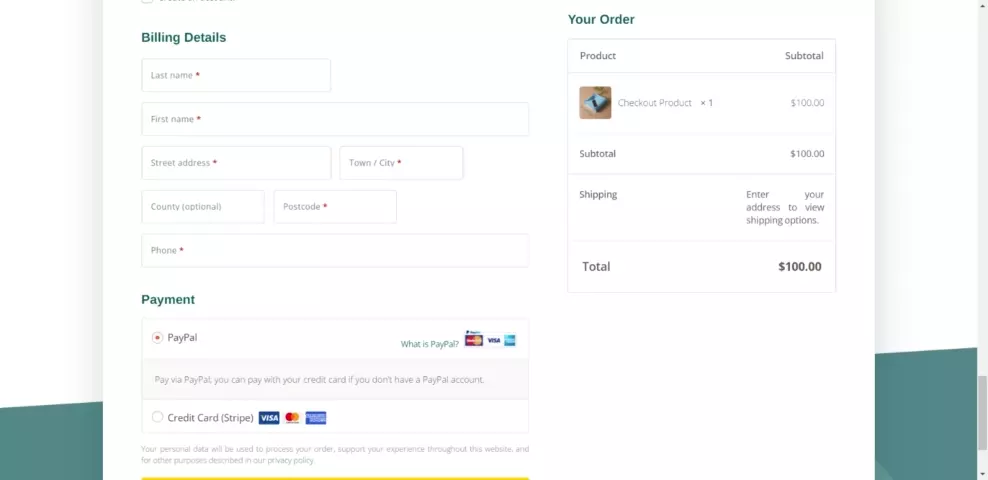 If you have demographic data for your customers (location, age, gender, and so on), you can use it to automatically fill in form fields during the checkout process.
This will save users time and make the process more streamlined.
5. Retarget Users Across Different Social Media Platforms
If a user abandons their purchase, don't give up on them!
Retarget them across different social media platforms in an attempt to recapture their attention. You may be surprised at how effective this can be.
Retargeting is a type of advertising that allows you to display ads to customers who have already visited your website. With retargeting, you can show these customers ads that are specifically made for them based on the pages they viewed on your site. This can be a very effective way to increase conversions and drive more revenue for your business.
This increases user retention when they see your brand often, and also helps you stay on top of their mind for the products and services you offer.
6. Design a Mobile-Friendly Site
More and more people are shopping on their mobile devices, so it's important to have a site that is optimized for mobile browsing. If your checkout process is difficult to navigate or takes too long to complete, users will be more likely to abandon their purchase.
Astra has a great article on mobile-friendly editing for WordPress. Go ahead to understand how it works and how you can implement the same on your website.
To verify if your website is mobile compatible, use the Google Mobile-Friendly Test!
Conclusion
Abandoned carts mean lost money. The more you can recover them the less you'll lose.
By following the tips above, you can improve your checkout completion rate and see a boost in conversion rates for your eCommerce website.
Start fixing issues in order of priority to create maximum impact on your conversion rates in the shortest time possible.
Then move further down the list fixing less important reasons that are still significant in terms of cart abandons.
Since every website is different, this should not be considered as an exhaustive list but instead, a starting point in your journey to reducing cart abandonment and improving conversion. So experiment with different techniques to find what works best for you!
Do you have any suggestions that work to reduce cart abandonment? Tried any of these and seen improvements? Tell us about your experiences!