CartFlows Overview
If you've been selling stuff online using WordPress and WooCommerce, then you'll agree when I say this: the checkout process with WooCommerce sucks.
There's no way to customize how the checkout page looks like and no way to offer complementary products. Without an optimized sales funnel, your business is losing money every day.
That's what I and my partner set out to solve. With my good friend Sujay Pawar, the creator of Astra theme, we wanted to create the best sales funnel plugin for WordPress, but what CartFlows evolved to right now is much more than that. It's by far the best sales funnel software period, and I'm not saying this just because I created it.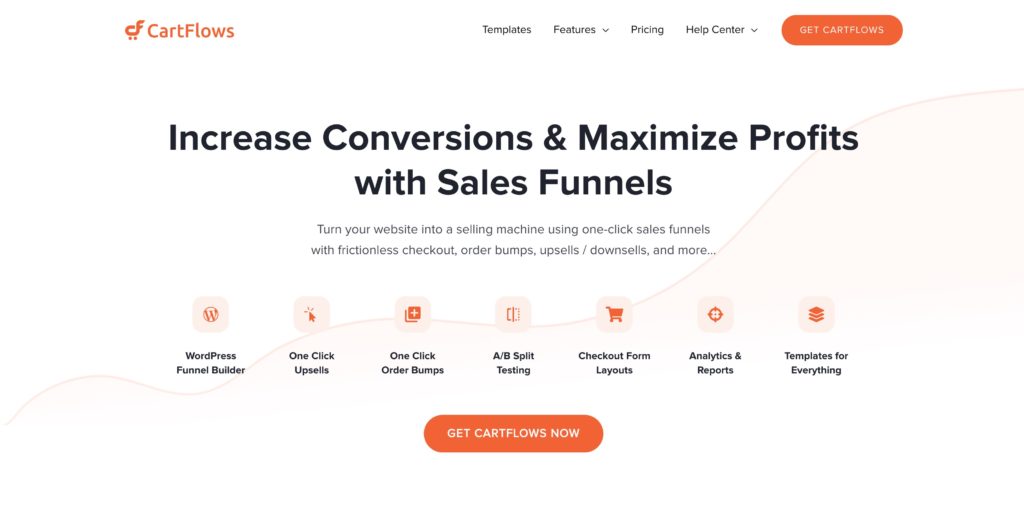 CartFlows offers a lot of amazing features that will help anyone with any skill level create any kind of funnels in a matter of minutes.
It's now being used in 10,000+ websites, and users love it because it's so easy to use and it makes the checkout process way better – ultimately making website owners more money, which really is the end goal here.
In this review, we're going to cover:
CartFlows: How It Differs from ClickFunnels
ClickFunnels is an awesome funnel-building software made by Russell Brandon and his team. And while I have massive respect for what they have created, there are a few things about ClickFunnels that I don't particularly like.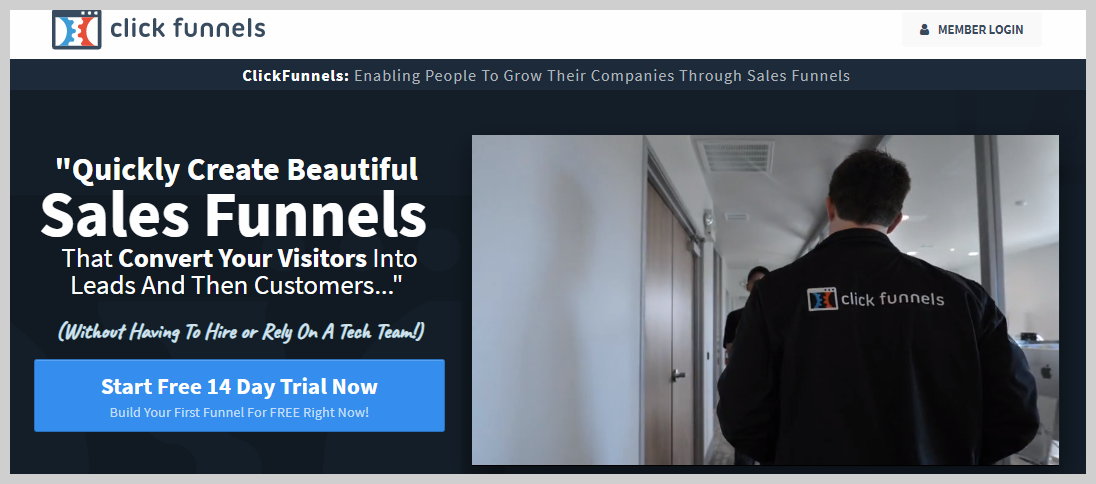 For one, the pages you create with ClickFunnels aren't hosted on your own domain, so you're kind of like renting property here. You don't own anything. Your content and data are locked in ClickFunnels, which is going to be a huge pain if in the future you decide to switch to a different page builder. Since you technically don't own anything, there's always the risk of losing your funnel that you've worked so hard for, and you won't be able to do anything about it.
Second is, the page builder of ClickFunnels is horrible. It's clunky, hard to use, and extremely limited.
Hosting your content on a different domain other than yours is always risky and is bound to hurt your marketing efforts in the long run. This is primarily why CartFlows is designed to work inside WordPress. It's made so that you can host your funnel on your domain, and you can build it from scratch right inside WordPress.
CartFlows: How It Differs from ThriveArchitect
Some of you may be wondering, "Well, ThriveArchitect also lets you host your funnel on your own domain. So what's the difference?"
Comparing ThriveArchitect and CartFlows is a lot like comparing bread and rice: both can do something about your hunger but in completely different ways.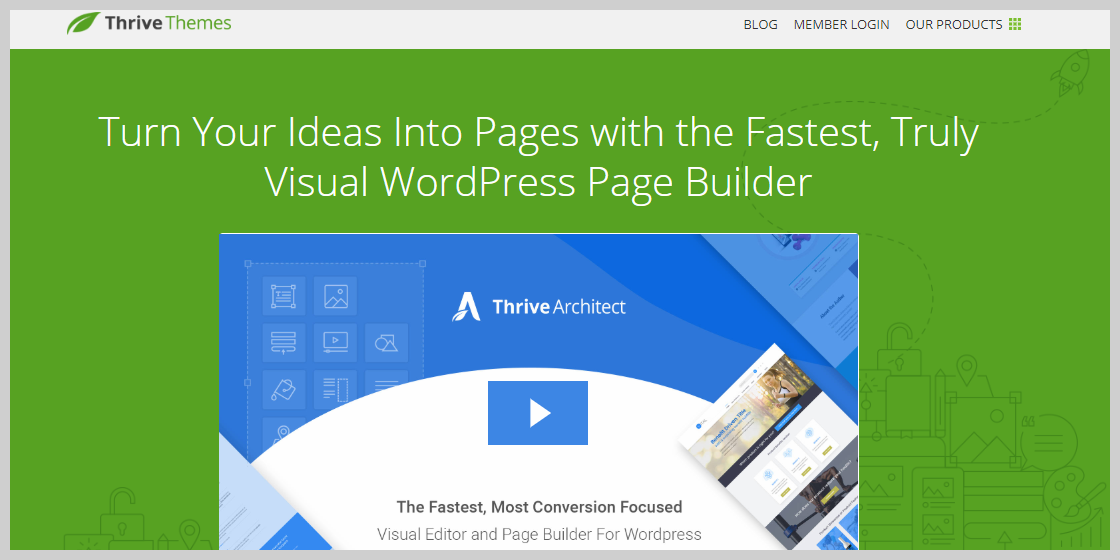 With ThriveArchitect, you're going to build your funnel outside WordPress. So you're going to have to use different software and learn a whole new interface and way of doing things.
CartFlows, on the other hand, lets you build your funnel right inside WordPress. You don't need a separate piece of software. This has a number of benefits, some of which are as follows:
You don't have to spend time learning new software. You're going to use WordPress which you probably can use even as you sleep.
You can use other plugins on top of CartFlows, letting you easily build your website up.
CartFlows sits on top of WooCommerce, so anything that works for WooCommerce should work for CartFlows.
You can use your existing page builder and not some new clunky page builder.
These benefits can save you so much time and trouble down the road. Now let's see how to start using CartFlows and what CartFlows has to offer in terms of features and functionalities.
Different Kinds of Funnels You Can Create with CartFlows
There are so many different types of funnels that you can create with CartFlows. You're not limited to a simple sales funnel with a checkout page, but you can also create the following funnels:
Free product/service/consultation/quote funnel
Webinar list funnel
Lead magnet funnel
Membership funnel
2-Step tripwire funnel
Live demo funnel
Purchase cancellation funnel
Client application funnel
Product launch funnel
This is not an exhaustive list in any way. It's just to give you an idea of the possibilities that CartFlows offers. For some of these funnels, you might have to use third-party plugins. The ability to use any well-coded WordPress plugin even increases the range of things you can do with CartFlows.
Things to Do Before Using CartFlows
I'm going to show you how CartFlows works in a while, but there are a few things you need to do before using CartFlows.
First is, you need to have WooCommerce installed. Now, if your store is new and WooCommerce is not yet installed, CartFlows will do that for you in its setup wizard. Let's take a look at CartFlow's intuitive setup wizard that makes setting up as easy as four clicks: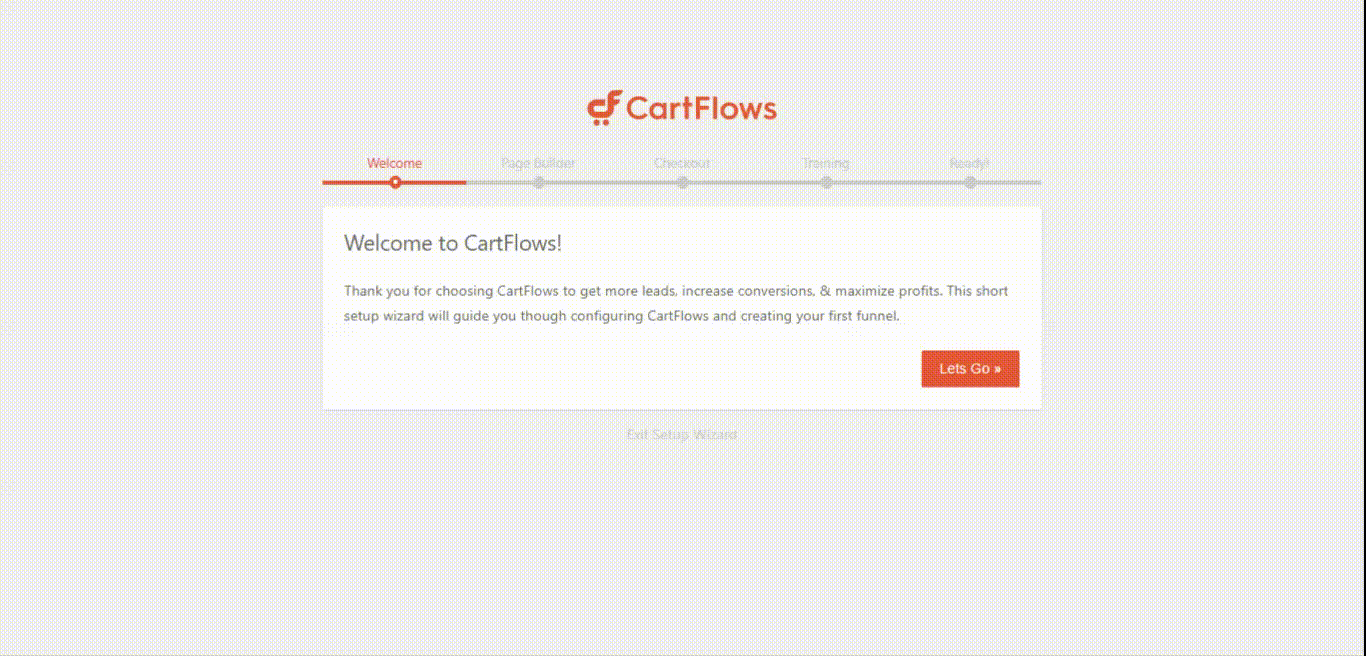 If it's your first time to use WooCommerce, there are a couple of things you need to do first.
First, you need to add a product. Don't get me wrong. You can create funnels with CartFlows even if you don't have a product yet, but for a checkout page to work properly, you need to link it to a product.
To add a product, just go to Products on the left-hand panel of your WordPress dashboard and click Add New.
Give your product a name, set the regular price, add a short description, and a product image. These are the basic information you need to provide, but you can give more details like a sale price that you can schedule, the SKU, stock status, dimensions, and more.
Once everything's done, hit Publish, and you now have your first product.
CartFlows: Key Features
CartFlows has a lot of tricks up its sleeves, with features that are powerful enough to let you create advanced funnels. Be it sales funnels or email list building funnels, you can create it with CartFlows. This section lists its unique features with notes if they are available in the free or pro version.
Ready to Use Templates (Free and Pro)
CartFlows provides 4 free templates and 6 premium templates to help you create your first flow/funnel as soon as possible. These templates work for most page builders including Elementor, Beaver Builder, Divi Builder, Thrive Architect, and Gutenberg as well.
And yes, these templates will work even for the free versions, so if you're not currently using a premium version of a page builder, there should be no problem.
Here's how easy it is to create a flow with CartFlows' templates: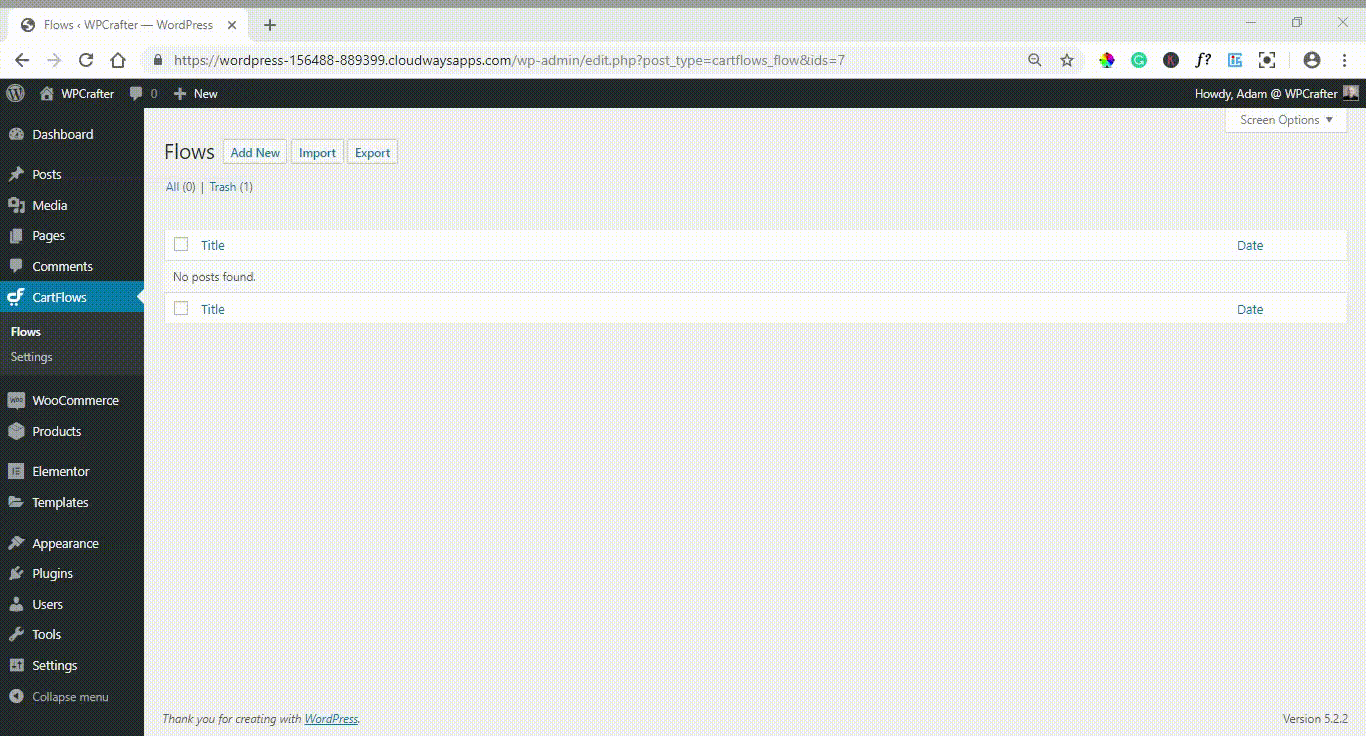 Once the templates are imported, you can easily drag and drop to rearrange them. You can also delete or duplicate a step.
One thing you have to do is link a product with your checkout page. To do this, click Edit, scroll down, and under Checkout Layout, you should see this:

Click Search for a product, type the name of your product, and select it.
With the Pro version, there are additional options here like applying a coupon, and enabling product variations, and enabling product quantity options.
Once you're okay with what you have, click Update.
Works with WordPress Page Builders (Free and Pro)
Each template can be edited with most page builders, so if you're already using one, you can go ahead and edit each page of your funnel with your page builder.
For example, for the checkout page, you can add a product image, edit texts, and play around with the layout with a page builder.
Here's an example of editing a CartFlow checkout page template with Elementor: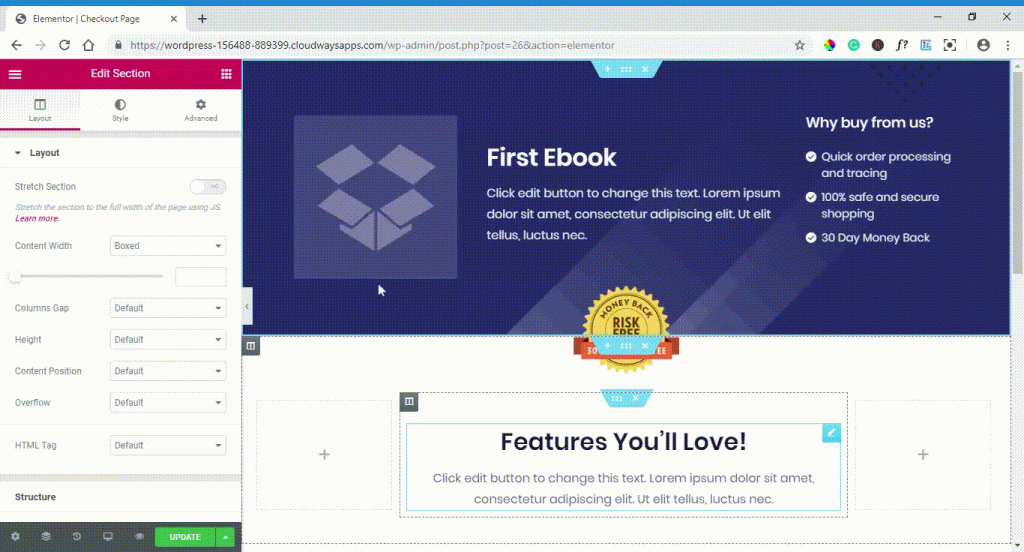 Checkout Custom Fields (Pro Only)
More often than not, store owners want to be able to add additional checkout form fields like the option to subscribe to their newsletter, age, gender, and more.
CartFlows Pro lets you do this in just a few clicks. In the checkout page editor, scroll down and click Checkout Fields. Check the box beside Enable Custom Field Editor, and you should see additional options to edit the Billing and Shipping Checkout Fields.
With these options, you can rearrange the position of each field, change the label, change the width, and require any field of your choice. You can also add a custom field in just a few clicks.
Here's an example of how you can edit and rearrange fields and add a custom field: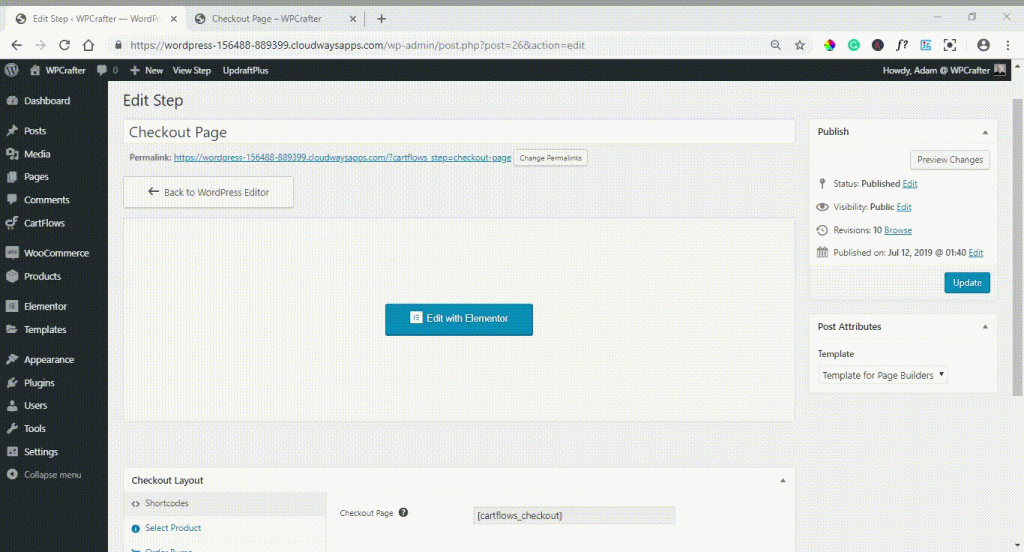 Global Checkout (Free and Pro)
There's also an option to replace the traditional WooCommerce checkout page with a checkout page that you made with CartFlows. So every time someone buys your products, they will be directed to your custom-made CartFlows checkout page instead of the usual WooCommerce checkout page.
To do this, you just have to create a new flow with CartFlows. The first step in this flow should be your checkout page but DON'T assign a product to it. This should be left blank. Give it a name that you would recognize, "Global Checkout Page" for example. In this example, I named it the "Global Checkout Page".

You can then add upsells, downsells, order bumps, etc. in the next steps.
Once you're done with your flow, go to CartFlow settings and click on the Global Checkout dropdown option. Select the checkout flow that you just created and click Save Changes.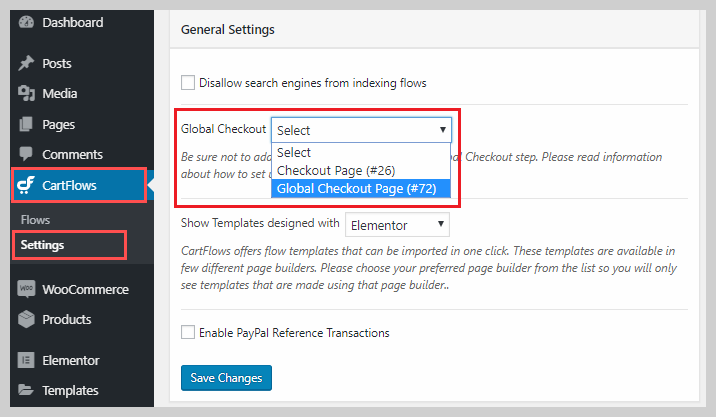 NOTE: Before this works, you should have your WooCommerce checkout page assigned. Check out this tutorial on how to assign WooCommerce pages.
Once that's done, whenever someone tries to check out, they will see the custom checkout page that you created with CartFlows.
Easy-to-Add Order Bumps (Pro Only)
Another cool premium feature is the ability to add order bumps to your checkout pages. With an order bump, you'll be able to offer related products on a discounted price, such as training programs, related courses, extended warranties, etc. This will ultimately increase the total purchase value of a customer.
Here's how to add an order bump: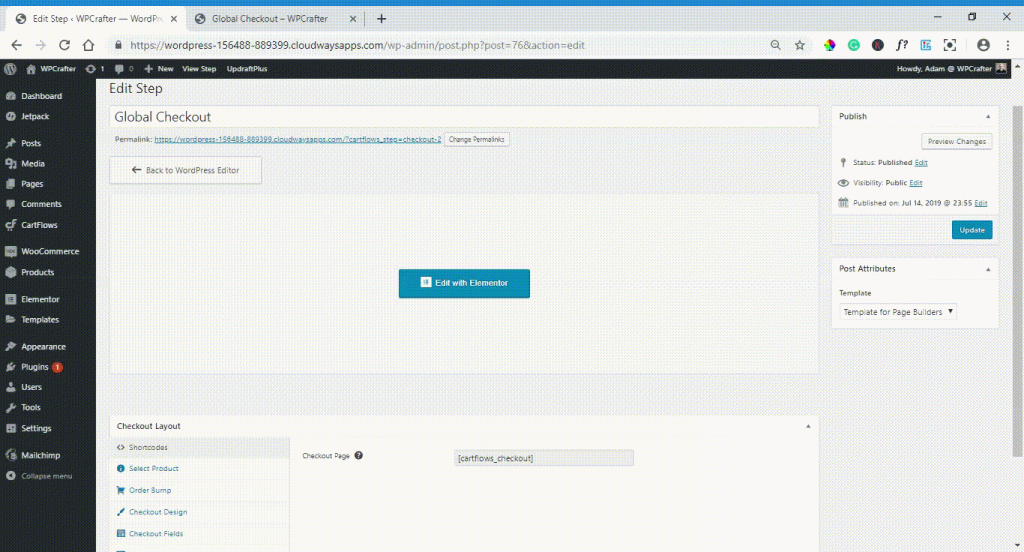 The order bump feature will let you choose from a number of options. You can add your bump before checkout, after the billing details, after order, or after checkout. You can add an image, change the texts, and change the background, border, and text color to match your brand.
It's also a great idea to add an order bump to a checkout page of a free product. For example, you can give away a free e-book as a lead magnet but possibly earn through an order bump.
One-click Upsells/Downsells (Pro Only)
Upsells and downsells are also another way to increase a customer's transaction value and are usually used for selling the following:
One-time offers
Mastermind courses
Higher pricing for software
Large quantities of products
Tripwire offers
CartFlows comes with templates for upsells and downsell pages, and you can also create or import your own.
To add an upsell or downsell page, edit the flow and click Add New Step. You will then see templates for upsell and downsell pages. To create your own page, just click Create Your Own.
Here's an example of using an upsell Elementor template: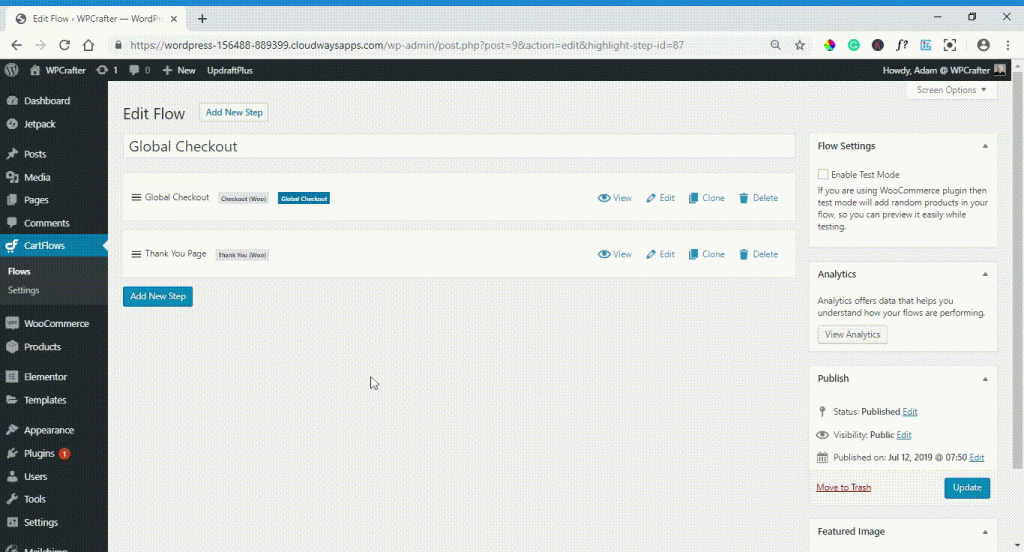 CartFlows supports PayPal and Stripe for one-click upsells.
Cart Abandonment (Free and Pro)
Cart abandonment is an extremely common occurrence, with online stores reporting a cart abandonment rate ranging from 60% to 80%. Abandoned carts are basically lost money, and you have to do everything you can to recover them.
CartFlows offers one solution by integrating with your CRM to trigger an email whenever someone provides their email address but doesn't complete the checkout.
Custom Script Support (Free and Pro)
You can also add any custom script that you'll be using to power your sales funnel, such as a live chat shortcode, custom pixels, bots, and more.
To do so, edit a step/page and scroll down the page. You'll see an option called Custom Script. Click that and paste your code on the box.

CartFlows Pro Pricing
CartFlows Pro currently has one package which has an annual fee of $299 inclusive of all free and paid features, plugin updates, tech support, and an online user community.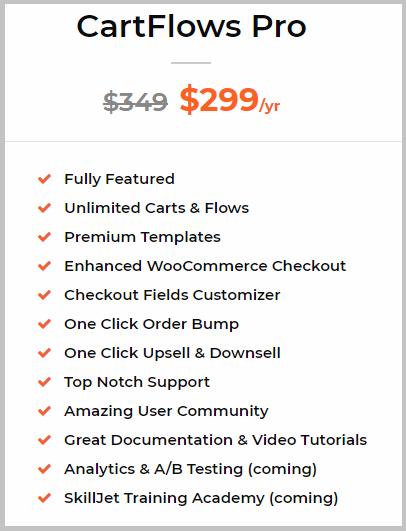 CartFlows Free Vs. Pro: Which Version Should You Get?
The free version of CartFlows offers enough features to help you create a simple sales funnel with a checkout page and thank you page. If that's all you're looking to create right now, the free version should suffice.
But if you want to create advanced funnels complete with order bumps, upsells, and downsells, buying the premium version is best. If you're an established online store or business and you want to maximize your profit, these features are indispensable.
CartFlows: Customer Support
We strive to provide stellar support to make all of our users' experience nothing short of awesome. We try to respond to queries within a day, and we go above and beyond by writing custom scripts unique to the needs of the user.
But you don't have to take our word for it. There's a lot of folks commending our support here so you can check that out if you're interested.
CartFlows: What I Like About It
CartFlows is easy to learn and lets you create amazing looking flows in minutes.
It's built to work right inside WordPress so you won't have to learn new software.
It works with major page builders so you can easily start using templates or create your own.
The customer support is responsive and truly helpful.
Perfectly works with WooCommerce. Whatever works for WooCommerce works for CartFlows.
Our team behind CartFlows is agile and is constantly working to add more features and functionalities.
CartFlows: What I Don't Like About It
Some areas need updated styling, but the developers are currently working on it.
CartFlows: Final Thoughts
It's hard to think of any other funnel building software that's as easy to use and effective as CartFlows. Being built to work right inside WordPress, it gives users full control over their data and content and makes it easier to build the funnel using the familiar WordPress interface.
In the coming months, we are going to roll out more amazing features such as A/B testing, countdown timers, and more that will take users' experience to a new level. CartFlows is a convenient, powerful, yet easy-to-use funnel building WordPress plugin that anyone with any kind of business and skill level can use to maximize their profit and boost their income.
Frequently Asked Questions
As you ask questions down in the comments, I will try to answer them here in the FAQ section.
Does CartFlows work with Thrive Architect
Yes CartFlows works with Thrive Architect and they also have some template you can download and use with Thrive Architect
Does CartFlows have a lifetime deal?
CartFlows have a private lifetime offer available for a limited time only. Click Here
Optionally you can do a split pay for it. Click Here