WP Rocket Review 2023: Is It Really the Best WordPress Caching Plugin?
Caching is an extremely important aspect of website optimization that can quickly break your website if you're not being careful. There are tons of free and paid WordPress caching plugins out there, but you have to choose one with great support and features for your needs.
WP Rocket is considered by many as the best WordPress cache plugin because of its user-friendliness and extra features, but is it really the best WordPress caching plugin? Find out in this review.
Here's a breakdown of what we're going to cover:
WP Rocket Overview
WP Rocket: Pricing and Licensing Scheme
WP Rocket: Features and Settings
WP Rocket: What I Like About It
WP Rocket: What I Don't Like About It
WP Rocket Review: Final Thoughts
Summary:

Few WordPress caching plugins can beat WP Rocket in terms of performance, ease of use, support and regular updates, and extra features. The only downside is it's more expensive than its counterparts, but for the features and perks you get, it's a pretty good deal.
WP Rocket Overview
WP Rocket is a beginner-friendly WordPress caching and performance optimization plugin that promises to "make WordPress load fast in a few clicks". Currently being used by 700K+ websites, it boosts your website loading time by:
Creating page caches
Compressing HTML, JavaScript, and CSS files
Image lazyload
And more optimization features
Since you can set it up in a few clicks without the need for complicated settings, it's a great tool for non-techy beginners to have faster websites.
---
WP Rocket: Pricing and Licensing Scheme
WP Rocket has three pricing plans:

As seen here, the license for all packages lasts for one year. As long as your license is active, you'll have access to support and plugin updates. Once the license is nearing expiration, you'll receive an email prompting you to renew your license at a discount.
WP Rocket will continue running even when the license expires, but support and plugin updates will no longer be available.
They also have a 14-day money back guarantee.
---
WP Rocket: Features and Settings
WP Rocket offers useful features that make it easy to optimize any kind of websites.
1. Quick Setup
A big problem with other WordPress caching plugins is the complexity of setting up and configuration even for advanced users. That's what WP Rocket creators wanted to solve by creating a caching plugin that takes only a few minutes to set up.
How to Install and Activate WP Rocket
Once you bought it, you'll get a download link where you should be able to download the .zip plugin file. Download the zip file and upload it to WordPress by clicking "Add New" under Plugins, then clicking "Upload Plugin".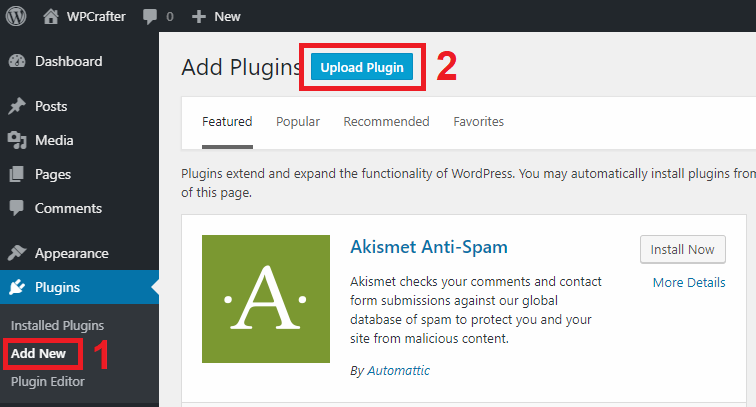 Once you click that, you'll see a button saying "Choose File". Click that, look for the .zip plugin file, select it, and click "Install Now".

The installation process will take a few seconds. Once that's done, you should see a button saying "Activate Plugin". Click that button to activate WP Rocket.

Once you activate WP Rocket, page caching automatically starts. But you can do a lot more with this plugin.
Once the plugin has been activated, you'll be taken to a list of all your installed plugins. Once there, you need to look for WP Rocket and click "Settings" under it: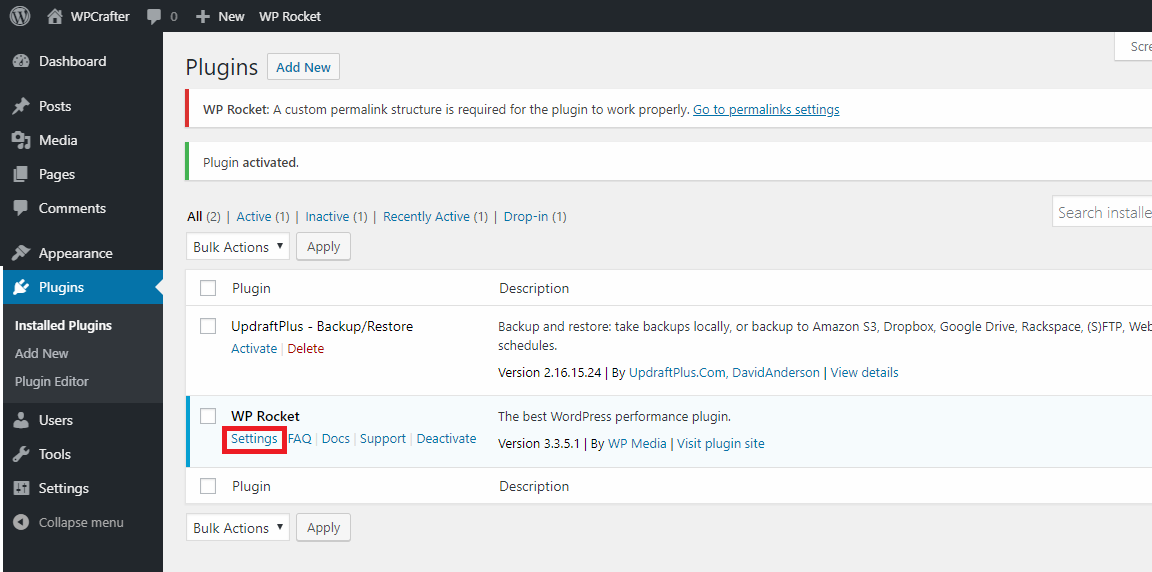 You can also go here by clicking "Settings" in the left-side panel of WordPress and clicking "WP Rocket". Then you will see WP Rocket's settings area: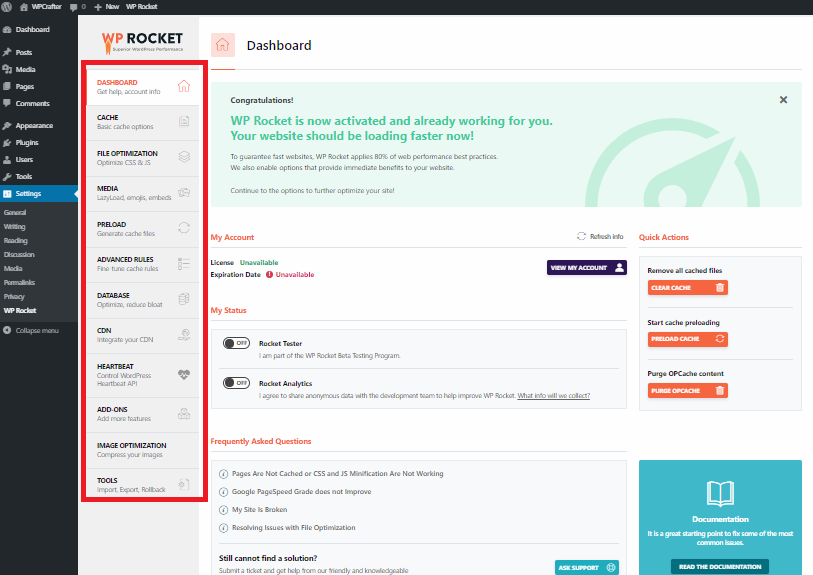 On the left-side panel, you will see all options to configure caching, file optimization, media loading, cache preloading, database optimization, CDN, image optimization, and more.
2. Page Caching
Page caching is WP Rocket's most basic feature. A site cache stores selected page contents once a user visits a page for the first time. When the user revisits that same page, the site cache recalls the stored content and loads it much quicker than the first visit.
To configure caching settings with WP Rocket, just go to "Settings" in the left-side panel of WordPress, click "WP Rocket", and then you will see WP Rocket's settings area.
Click "Cache" and you'll be able to modify mobile caching, user caching, and cache lifespan settings.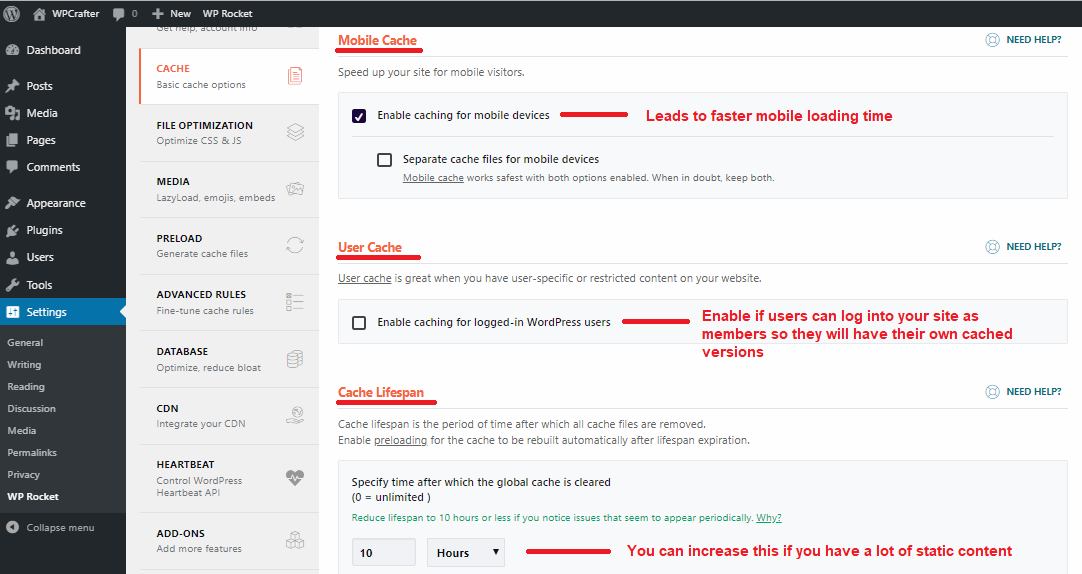 You can also set advanced caching rules such as the exclusion of pages, purging URLs, and more. These settings can be found in the "Advanced Rules":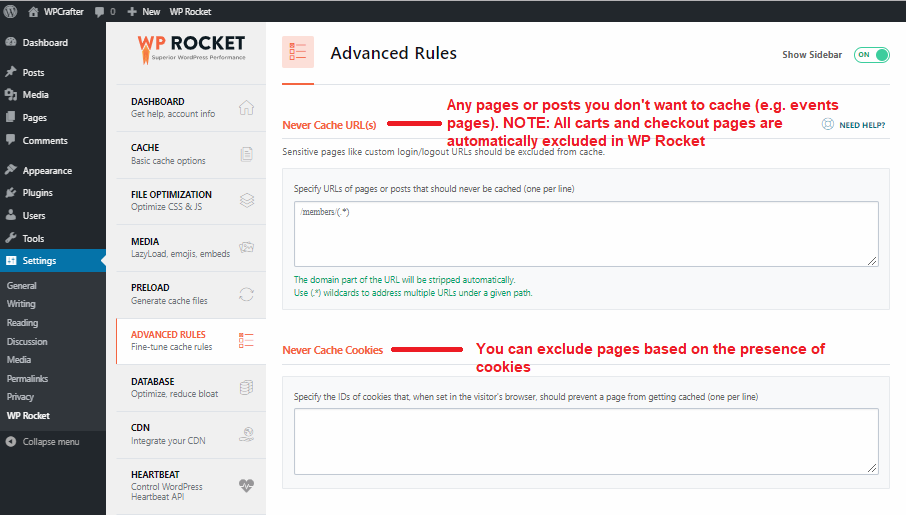 3. Browser Caching
With browser caching, a webpage's static files are stored in the browser (e.g. Google Chrome). Once the visitor revisits this page, the static files do not need to be loaded again, leading to faster loading time.
4. Minification
WP Rocket also reduces the weight of your CSS, JavaScript, and HTML files through minification. This leads to faster loading time.
5. Database Optimization
Unlike many other caching plugins, WP Rocket also lets you clean up your database to remove bloat and reduce its size. You can set up a regular database cleaning schedule or manually do it.
To configure database optimization settings, just go to the WP Rocket Settings area and click "Database".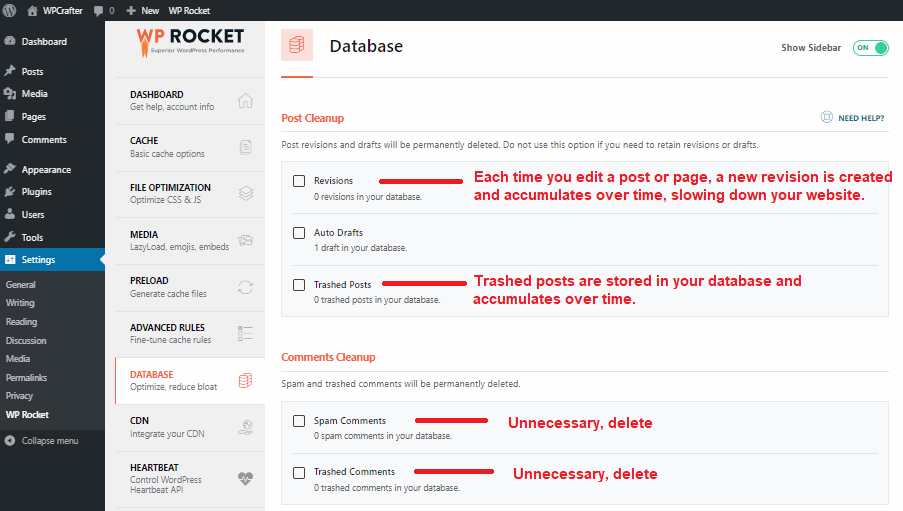 Here, you will be able to delete revisions, auto drafts, trashed posts, spam and trashed comments, and more by ticking their boxes.
At the bottom, you'll see the option "Schedule Automatic Cleanup" which will let you schedule daily, weekly, or monthly database clean-ups. But be careful to back up your database as the clean-up cannot be reversed.
Once you've set the settings, click "Optimize".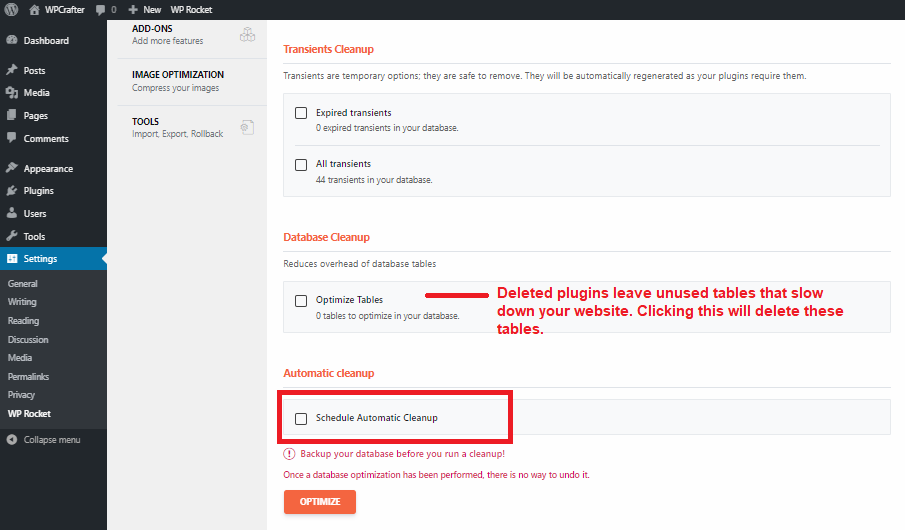 6. Lazyload
The more images your page has, the longer it takes to load. A simple solution here is the Lazyload feature which loads images only as visitors scroll down the page as opposed to loading every image at once.
You can enable or disable lazyload for images, iframes, and videos in the "Media" section. You can also enable/disable emojis and embeds.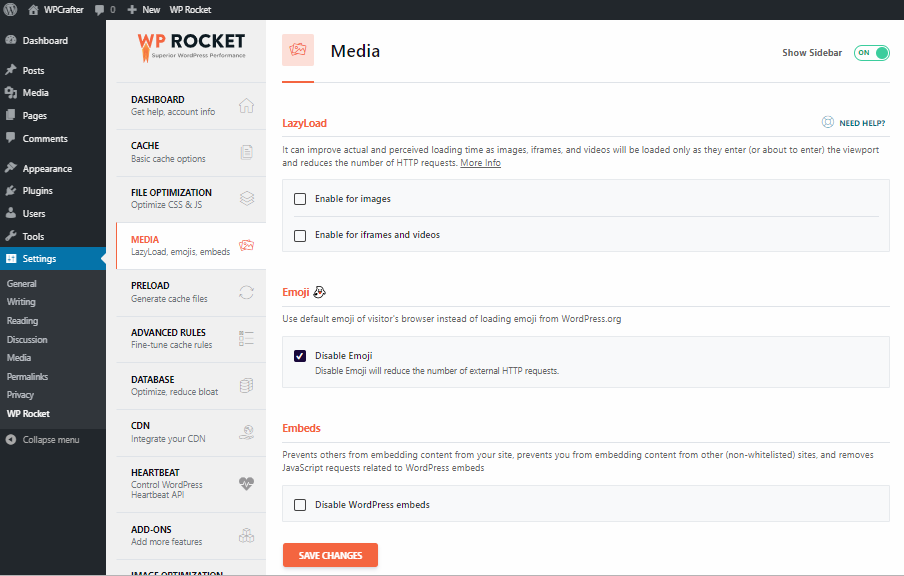 7. E-commerce Friendly
Many caching plugins are not compatible with e-commerce plugins like Woocommerce, causing all sorts of problems for the visitors.
Since these plugins cache all pages including the cart, checkout, and account data pages, visitors won't be able to see their updated carts and other details. This will have serious repercussions on your business if left unchecked.
WP Rocket is fully compatible with e-commerce plugins like Woocomerce, Easy Digital Download, iThemes Exchange, Jigoshop, and WP-Shop. All Woocommerce pages are automatically detected and not cached.
8. Multilingual Compatibility
WP Rocket is also compatible with translation plugins like qTranslate, Polylang, and WPML.
Other features:
Image optimization
GZIP Compression
Sitemap preloading
Cache preloading
Google Fonts optimization
Deferred JS loading
DNS Prefetching
Mobile Detection
Developer friendly
Compatible with Google Analytics, Facebook Pixel, Varnish, Cloudflare, and Sucuri
---
WP Rocket: What I Like About It
What I like most about WP Rocket is it does its job. It speeds up web loading times as personally experienced and experienced by other users. One of their users saw a drop in page loading time from 2.10 to 1.36 seconds or 54% faster.
Its extra features such as Lazyload, image optimization, and database optimization also make it a lot easier to keep websites fast and light.
I also always look for proper documentation in plugins like features, tips, how-to's, and even tutorials just in case I might need a little help. In WP Rocket's case, the documentation found here is comprehensive and helpful enough to guide anyone on how to start using it, how to solve common issues, and the different things you can do with it.
Also, WP Rocket is not one of those plugins that were released and forgotten by its developers. Because it's a paid plugin, real people constantly update it about 2-3 times a month to get rid of bugs and enhance its performance. This also makes sure that it's always compatible with the recent WordPress version.
---
WP Rocket: What I Don't Like About It
The only way you can contact them is by creating a ticket or filling up their contact form. As user expectations are constantly increasing, I think it's high time to include a phone number or live chat app on their website to make the whole process faster.
Also, earlier in 2018, WP Rocket changed their entire user interface to enhance their brand experience. While some users liked this, I personally didn't as it was a little disorienting.
WP Rocket also doesn't offer a free trial or a free version which could've been helpful for people who want to get a feel for how it works and if it's a good fit.
Aside from these minor things, WP Rocket ticks all the box for me, and I'd recommend it to anyone looking for an easy solution to a slow website.
---
WP Rocket Review: Final Thoughts
If you're looking for a sure and quick solution to keep your website fast and optimized, WP Rocket is the best thing you can get for your money.
Although they don't offer a free trial or free version, you can be assured that it really is one of the simplest and most effective WordPress caching plugins out there. It also has nice add-on features that make website optimization a lot easier.
If you're on the fence about spending money on a plugin you still aren't sure about, you can take advantage of their 14-day money back guarantee.
All in all, considering their features and user support, I'd highly recommend WP Rocket to anyone looking for a reliable WordPress caching plugin.