OceanWP WordPress Theme – Will it Sink or Swim in our In-Depth Review?
A fast-loading WordPress theme, which supports third-party plugins and drag-and-drop builders, is bound to rise to the occasion. From the get-go, it sounds like the OceanWP might be a front runner in the race to being the best multipurpose, all-around WP theme.
OceanWP offers a lot of noteworthy out-of-the-box functionalities, and your website will be transformed in just one click. You can add up some more free and premium plugins to enhance it further, according to your every whim.
The free version of this theme is actually being used by more than 300,000 websites and with an almost perfect five-star rating on WordPress.org. You can only imagine how superior OceanWP could get, in terms of versatility and functionality.
Now, we need to dig deeper into OceanWP and we'll let you decide if it's the perfect fit for your website.
The Multipurpose WordPress Theme
OceanWP is a modern WordPress theme. It is responsive, and it supports multiple languages.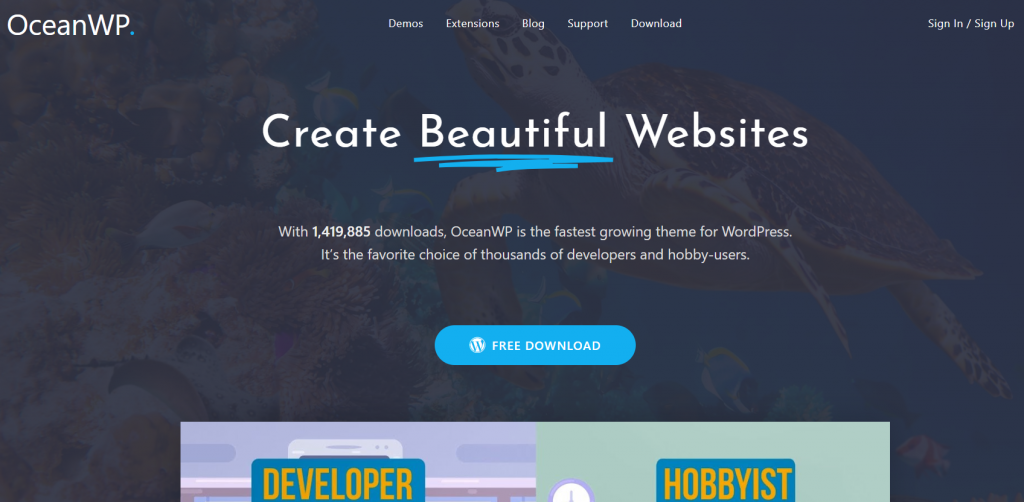 If you're planning to build an online store, OceanWP can seamlessly integrate with WooCommerce. You can add different features such as a shopping cart popup, shopping cart floating bar, and a quick view mode to allow your buyers to view a product without leaving the page. To know more on how to properly install WooCommerce from scratch, here's our latest WooCommerce website building tutorial.
One of the most common problems for non-designers is finding it difficult to change a WordPress theme beyond its initial design. Changing colors and fonts are pretty simple, but WordPress themes don't usually make it simple to change the overall structure.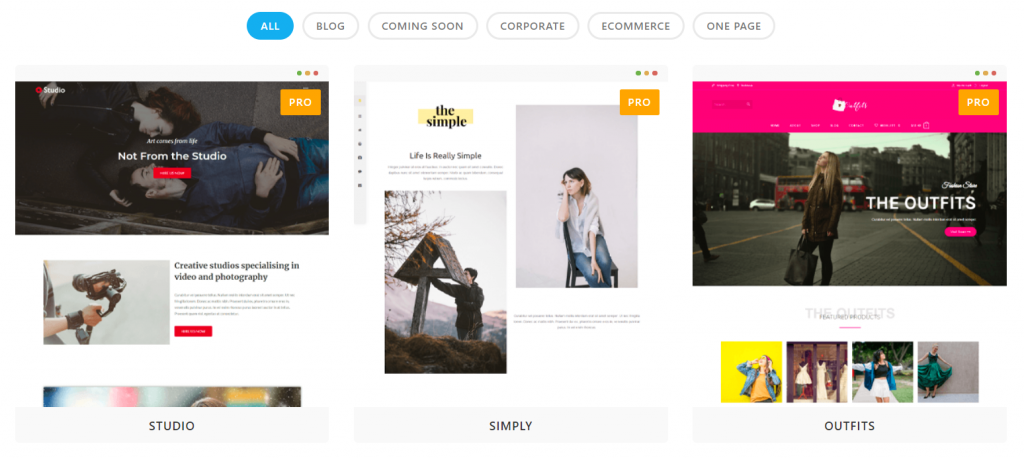 But with OceanWP Theme, this isn't an issue. It allows the content creator to choose from many professional WordPress designs which can be imported on the website using the theme demo system.
I am telling you, the quality of the theme demo is superb. While all designs can be used for a variety of website types, most have been designed for a specific purpose, such as an eCommerce store or a corporate website.
There are lots of plugin extensions available for OceanWP that offers more styling options, additional widgets for page builders, new custom post types, and more.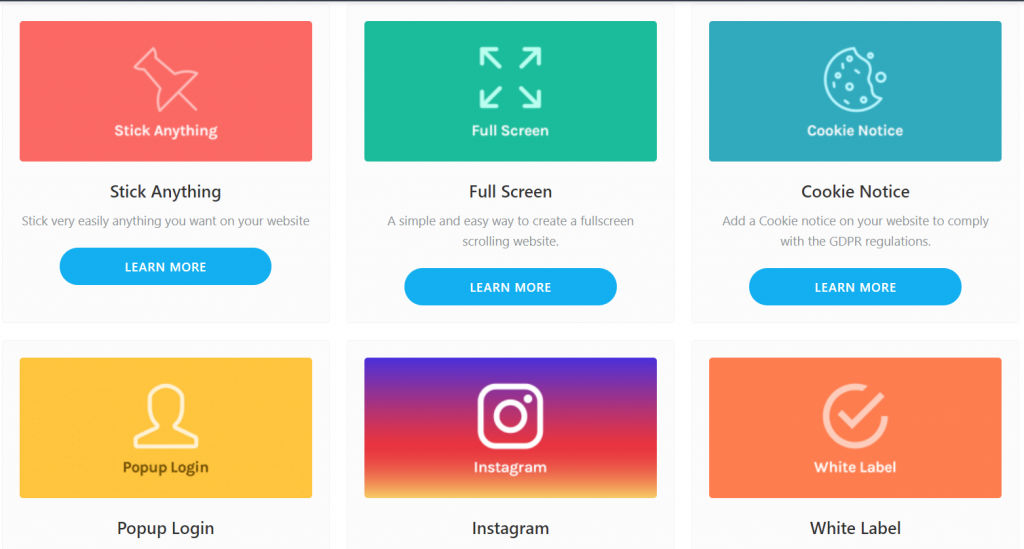 On older WordPress theme, you may find the stylish pages you've created using a drag-and-drop page builder, such as Divi, are being squashed into a small canvas area in the middle of the page. But in OceanWP, you can define whether sidebars, headers, and footers are displayed. You can also control other relevant page settings, such as the logo and margins.
You can modify each page accordingly and ensure the website structure and content are in harmony with this level of control.
Installation and Recommended Plugins
OceanWP can be downloaded from WordPress.org or directly from the themes page in the appearance section of WordPress. Once you have activated OceanWP, there will be a message that recommends you to install three plugins: Elementor, Ocean Extra, and WPForms.
I would say that Ocean Extra is a required plugin because the vital theme functionality, such as OceanWP control panel won't be displayed without this plugin.
Simply click on 'Begin Installing Plugins' link. Select all the recommended plugins and select Install on the Bulk Actions dropdown list. Click on the "Apply" button.

Once completed, you can now return to the dashboard.
Setting Up Your Website
On your dashboard, you'll see the OceanWP message with the blue button to "Run the Setup Wizard."

Click on it, and you'll be redirected to the Setup Wizard's Welcome Page. Click on the "Get Started" button.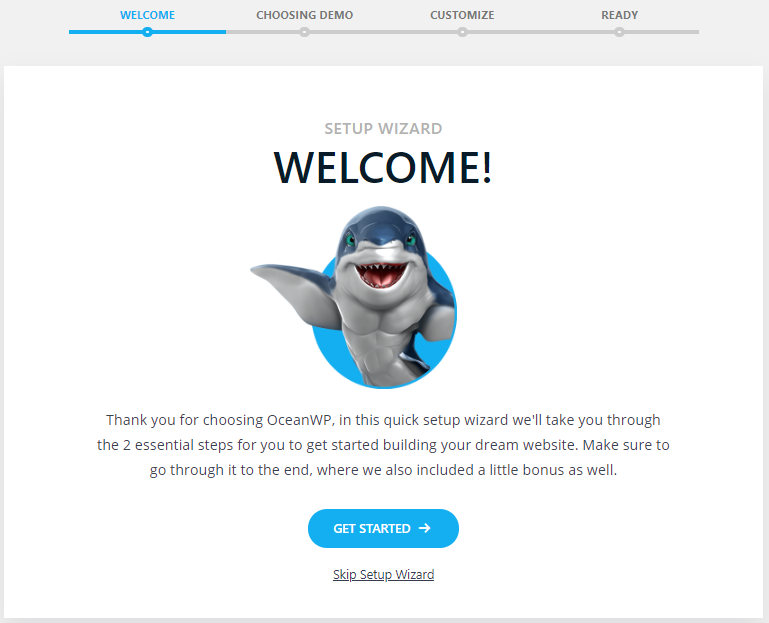 On the next page, you can choose a website design. There is a free demo that can be previewed and then installed. But if you prefer not to, you can skip this step.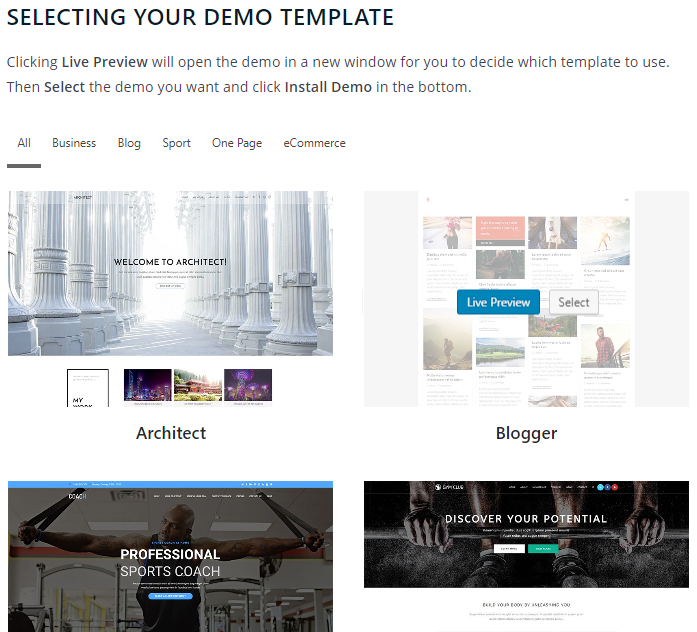 If you're a newbie, importing demo websites is very helpful to you as it allows you to import a fully-developed design to your site. All you really need to do is alter the content to match your brand and truly make the demo your own.
But, it's not required to install the demo content. You can style and build your very own website with WordPress, OceanWP, and Elementor alone. Importing a demo simply reduces the process of having to come up with and visualize the layout, including some placeholder content.
Customizing Your Website
After activating Ocean Extra, the theme panel menu for OceanWP will be displayed in your admin menu. It's called the Theme Panel.
You can enable and disable sections from the WordPress theme customizer on the main Theme Panel page. I bet you'll keep all sections enabled.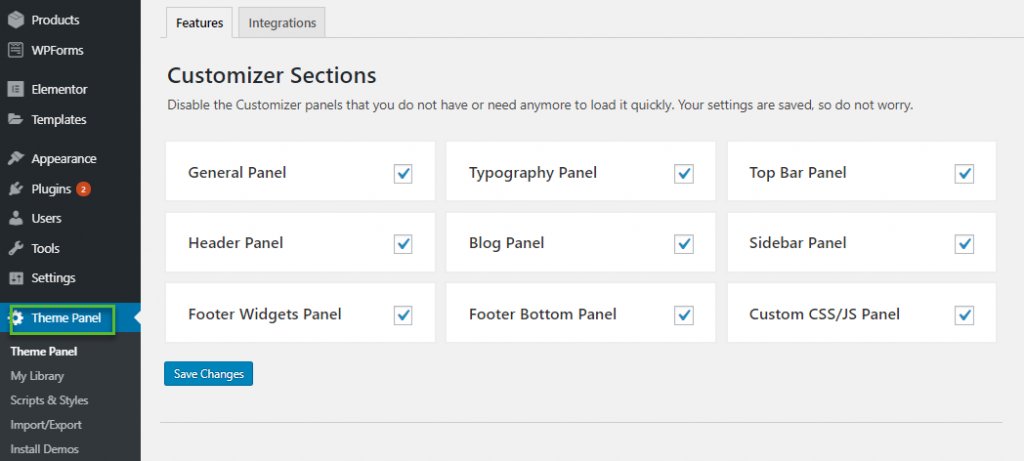 You will also find underneath links to essential settings in the customizer, such as uploading your logo and modifying your header.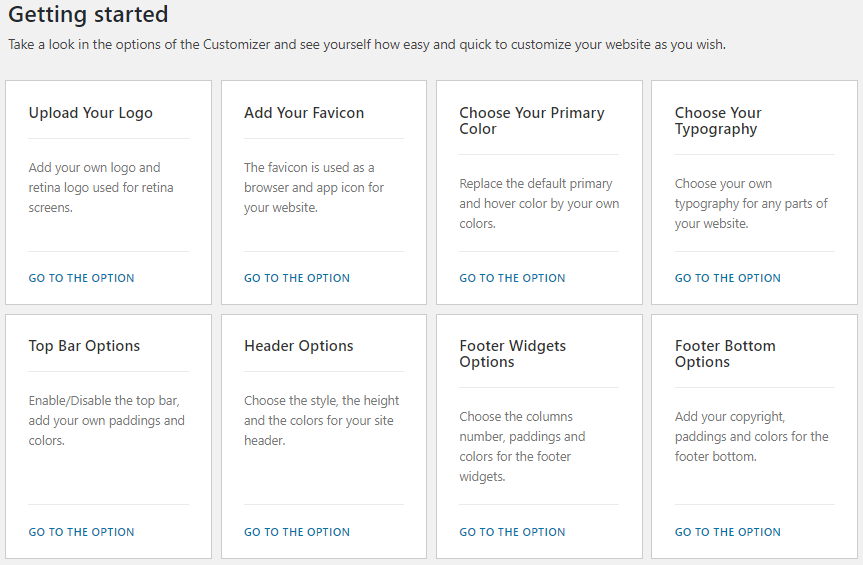 The setup wizard can also be rerun from this page. Integrations with third-party services can be found in the integrations tab. You will only see integration options for MailChimp if no plugin extensions are activated.

OceanWP has its own templating system. By using a shortcode, you can create new templates using the WordPress visual editor and reuse them at any time, which is can save you time if you are frequently adding the same content to posts and pages.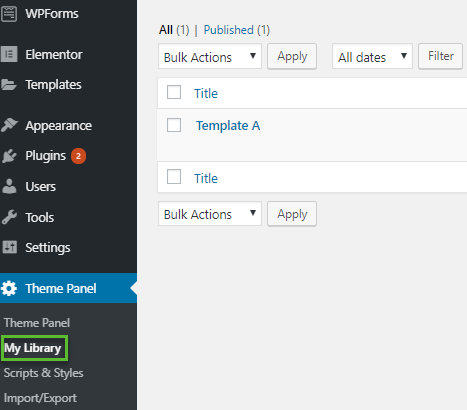 You can also enable and disable dozens of Javascript and CSS elements in the scripts and styles page. By disabling the features you don't use, you will reduce the overall size of your pages, which, in turn, speeds up your page loading times.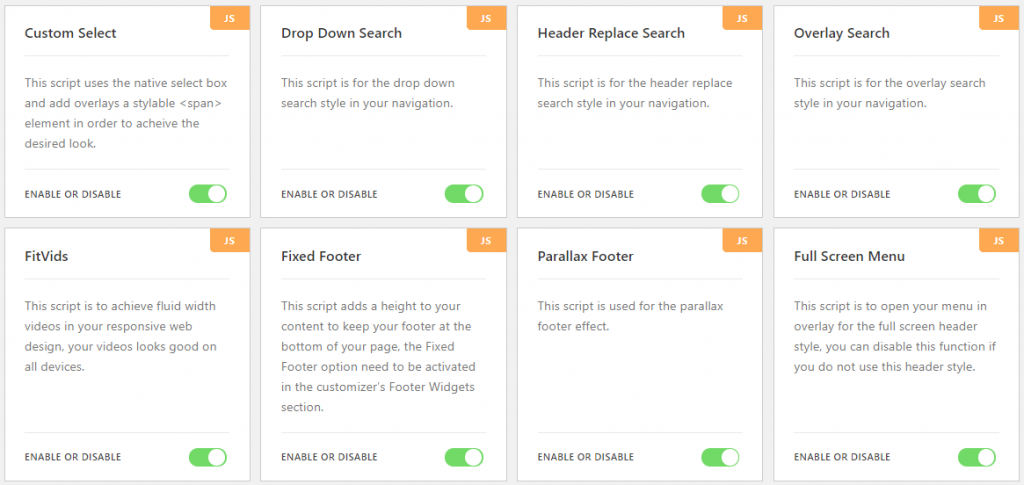 All the theme settings can be exported in a .dat file. This is useful if you want to back up your preferred settings or need to transfer OceanWP from a test environment to a live website.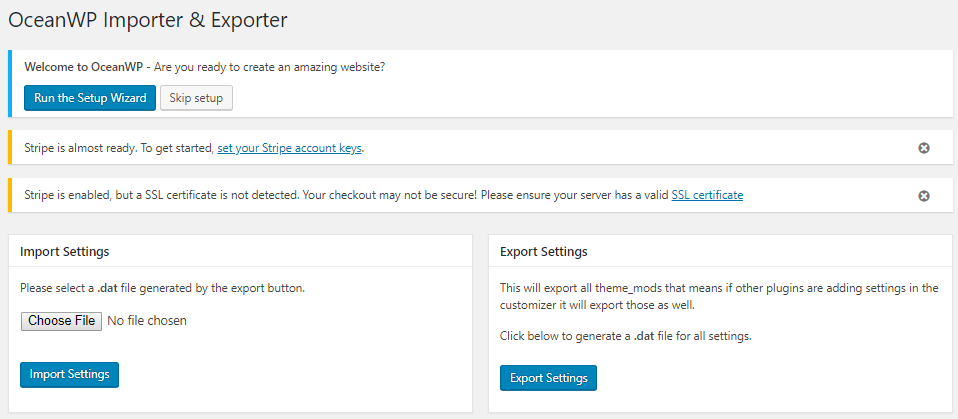 The styling options and website settings that are configured through the setup wizard, which can be modified through the WordPress theme customizer.
Before, users had to install the Demo Import Extension plugin to import the demo into their website. But now, this functionality has been transferred into Ocean Extra on the Install Demo page.
The process is similar: You'll see a list of Free demos that are available to install. There's a preview available for each demo and clicking on design will show you what plugins are required for it.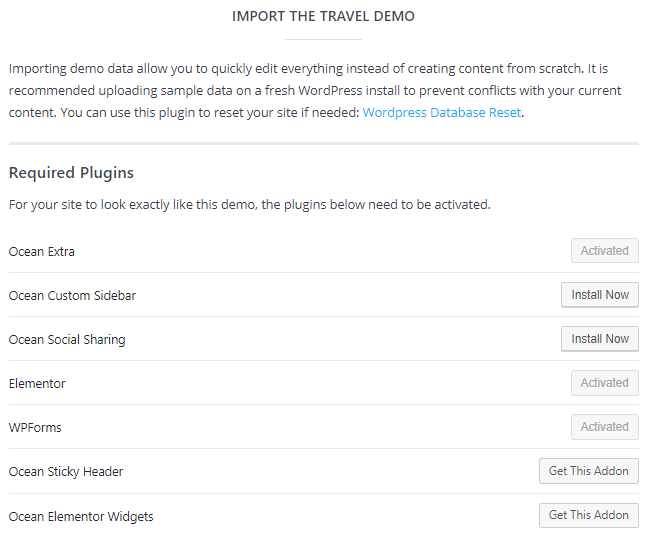 The quality of the designs is undeniably gorgeous. Both free and premium were created to a high standard. It's one of the best features of OceanWP because it allows you to transform your website into something extraordinary.
The last page in the theme panel is a promotion for OceanWP premium extensions.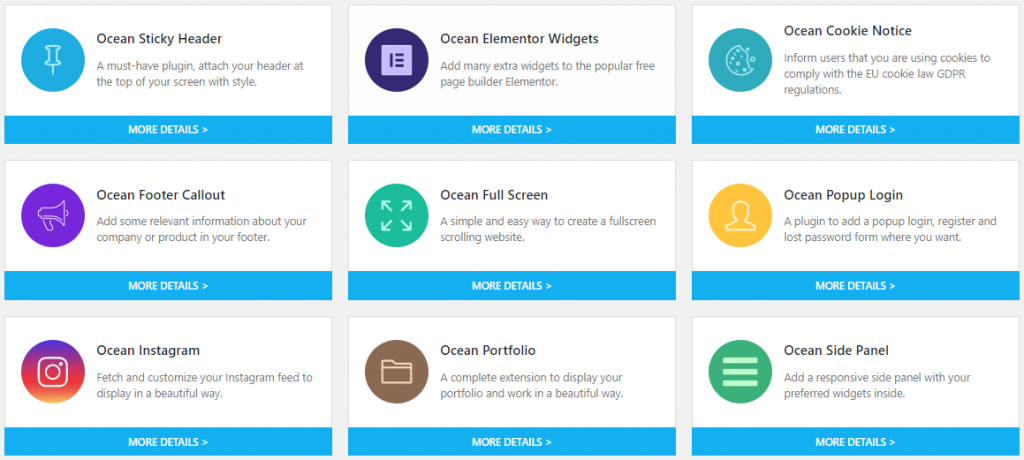 An OceanWP settings area can be found under the WordPress visual editor for all posts, pages, and custom post types. Any settings that are defined here are specific to the page in question and won't be applied to other pages on your website.

You can add shortcodes before and after key parts of your pages. You can also change the logo and the navigation menu that is currently used.
If you are branding a specific area in your website, then these settings are what you should tweak to get your desired look and feel.
You can also completely change the titles, sub-headings, and the styling of the titles. On the other hand, you can disable it altogether. Also, customizing breadcrumbs and your footer is possible using the visual editor.
There are unique post format options that are available for audio, video, links, quotes, and more.
What makes OceanWP very powerful is being able to customize each page on your website to your liking, making the possibilities limitless.
Using the Theme Customizer
Most settings and styling options can be found in the WordPress theme customizer. Real-time previews for desktops, tablets, and smartphones are available as you make any changes on your website.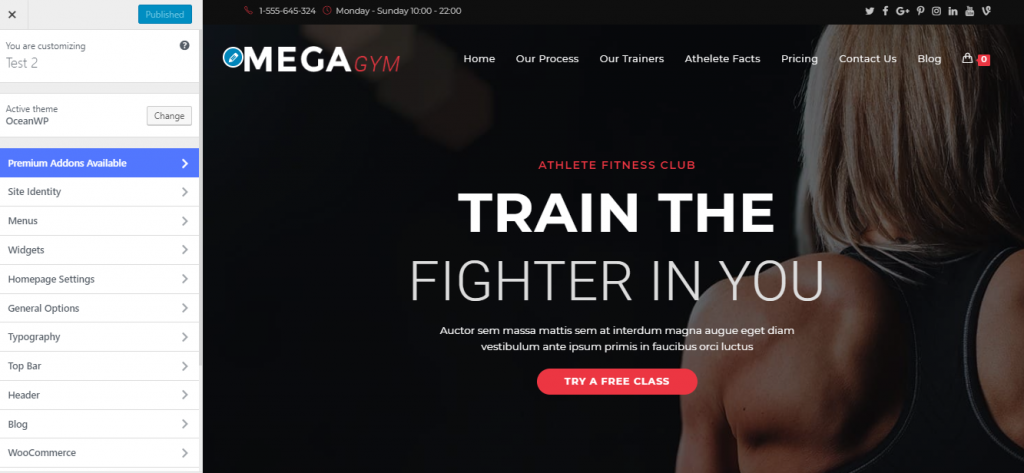 You can find many vital site settings in the General Settings section. From there, you can control the styling of your website design and the layout style for main areas of your site and its paging.
Most theme demos have several header styles which stand out for me aside from being able to modify the typography of every element on your website. Colors, padding, margins, and more can be edited very easily. Also, to make your website stand out, you can upload large images and video banners.
You can also enable and disable the footer on the footer section, making it displayed on tablets or smartphones. Also, with the use of shortcodes, you can create your own copyright message.
It's clear that more theme developers are embracing the WordPress theme customizer, instead of using a traditional options page that's powered by an options panel.
The theme customizer isn't always the quickest way of making website changes, but it's a small price to pay for being able to see modifications as you make them.
Core Extensions
If you want to extend the core functionality of OceanWP theme, you can use plugin extensions. There are 8 free and 13 premium extensions that you can use.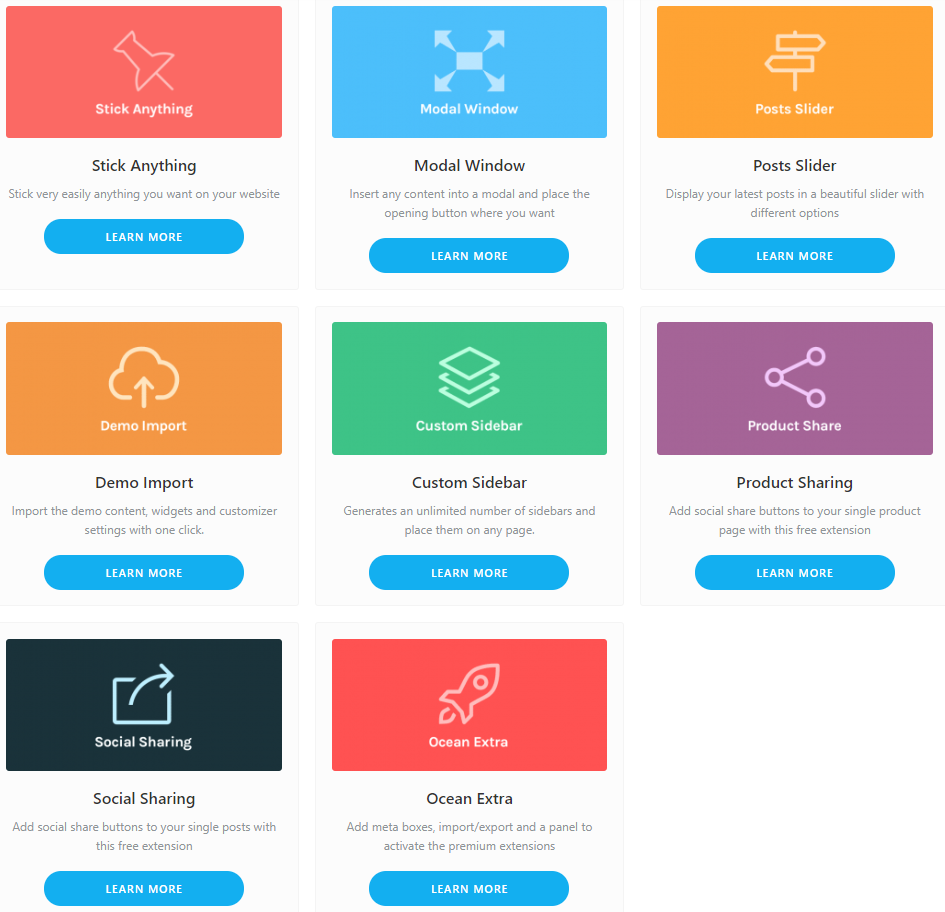 The free extensions include:
Stick Anything – you can stick any element that you want on your website
Modal Window – you can add any content into a modal window and insert an opening button anywhere
Posts Slider – you can display your blog posts in a slider
Demo Import – you can import demo content with just one click
Custom Sidebar – you can create sidebars and insert them anywhere on your website
Product Sharing – you can add social share buttons to each product
Social Sharing – you can add social share buttons to your individual posts
Ocean Extra – useful for importing demos, having the theme panel, and adding scripts and styles
Premium Extensions
There are 13 premium extensions that you can use with OceanWP. You can purchase it in bundles together with the free extensions. For a single site, you can get them for only $39.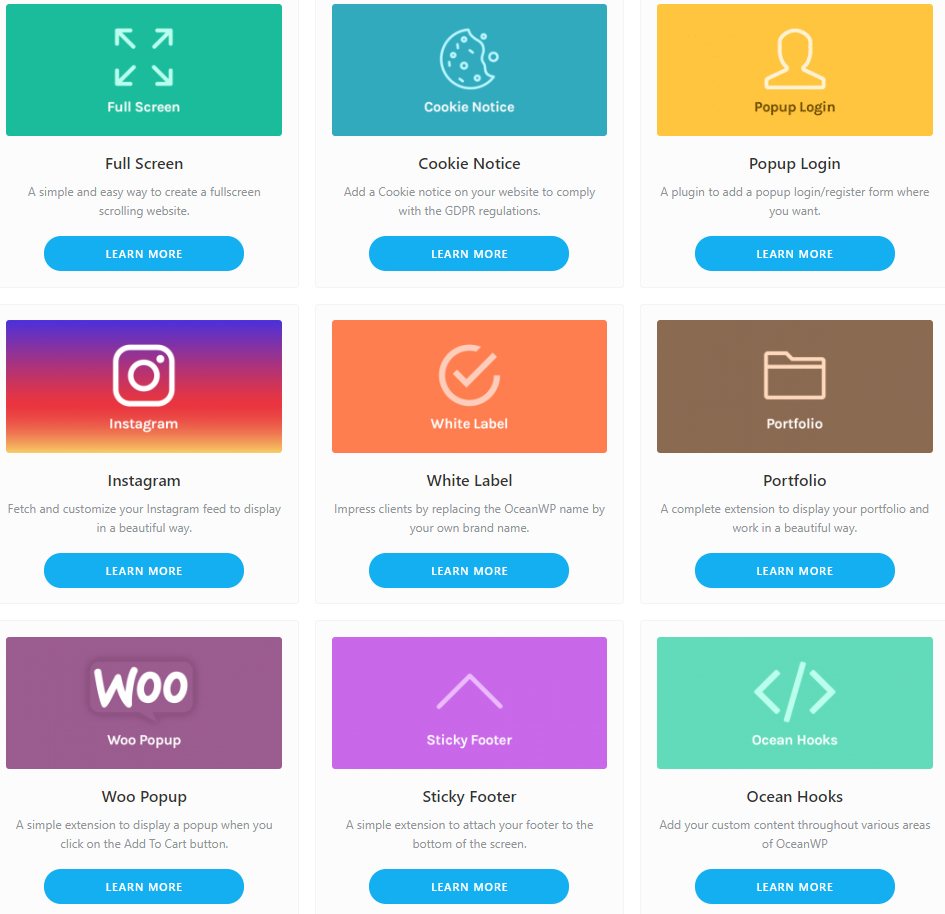 Premium extensions include:
Full Screen – Fullscreen scrolling website
Cookie Notice – To inform your website visitors that you are using cookies for GDPR compliance
Popup Login – Insert a popup login/register form on any page of your website
Instagram – Display your Instagram feed
White Label – Replace the OceanWP name by your own brand name
Portfolio – Add your portfolio
Woo Popup – Display a popup when visitors click on the Add To Cart button
Sticky Footer – Attach a footer to the bottom of the screen
Ocean Hooks – Add custom content
Elementor Widgets – More widgets to Elementor
Side Panel – Responsive side panel with widgets inside
Sticky Header – Stick your header at the top of your page
Footer Callout – Insert preferred details about your company in the footer
Conclusion
You will appreciate what OceanWP has to offer, if you are one of those of who are looking for a free yet high-quality WordPress theme. OceanWP has so much to offer with regards to design and styling options.
If you are a newbie, you will definitely appreciate how much OceanWP helps when making changes because you can see these modifications in real-time. If that's not enough, you might want to consider scrolling at our detailed review of the Astra theme.
The additional settings displayed under the WordPress visual editor can be used to uniquely customize your pages, which opens limitless possibilities on how you customize your website.
You can enable or disable page elements, such as your header, footer, and sidebars, at the click of a button. The theme demo system is undoubtedly one of the best features of OceanWP because it gives users access to a catalog of high-quality designs.
It is somehow disappointing because for every single free demo to work correctly, it requires additional plugins that you may not want to use on your website.
You should check out the extensive documentation area too. Because it features video tutorials and written guides of each OceanWP feature, including details on how each plugin extension works.