The Best Way To Add Google Services To WordPress – Google Site Kit
OMG, Google made the most essential plugin for all WordPress websites to connect analytics, search console, tag manager, and more — rolled into one!
Oops, Google is now in the WordPress plugin business!
It makes perfect sense with WordPress powering a 3rd of all websites. I am just surprised that it took them so long to do this.
Google Site Kit is the brand new official Google plugin for WordPress. It helps you connect Google services such as Google Analytics and Search Console to your WordPress website and pulls the data on the right side on your admin dashboard.
With Google Site Kit, you won't need any other Google Analytics plugins such as Monster Insights and Analytify.
It also has AdSense PageSpeed Insights integrated with it so you can monitor your site's performance. The best thing about this plugin? It's totally free.
Pretty exciting, huh?
I added it already on my website. And, I'm going to show you how to add it on your website, too.
Installing Google Site Kit On Your WordPress Website
Go to https://sitekit.withgoogle.com/ and click on Get developer beta button.
Scroll down and click on the "download right here" link.
Now, on your WordPress dashboard, go to Plugins menu and click Add New. Click on 'Upload Plugin' and select the Google Site Kit plugin file you have downloaded. Click on 'Install Now' then 'Activate'.
If you see the 'Congratulations' message, click on the 'Start Setup' button.

Click on the developers.google.com/web/sitekit link.
You'll be redirected to a new window with the information about your website. Click on the 'Get Oauth Credentials' button.
A popup showing the "Terms of Service" agreement will display. Tick 'Yes 'and click 'Next.' Note that if you have a popup blocker, temporarily disable it.
Click on the Copy button and Click 'Done.'
Go back to your WordPress dashboard and paste the code in the Client Configuration text area. Click 'Proceed.'
The next step is to authenticate your Google account. Click on 'Sign In With Google' button.
Select your account.
Click on 'Allow' on the popup messages.
You'll be redirected to your WordPress dashboard. Verify your website and click 'Continue.'
And, congratulations! You're done. Now, 'Go To Dashboard.'
You'll see that you're connected to Search Console and you can connect with the other three Google Services such as AdSense, Analytics, and PageSpeed Insights.
Connecting Google Analytics
To connect to Google Analytics, simply click on its corresponding Connect Service link.
Click on 'Proceed.'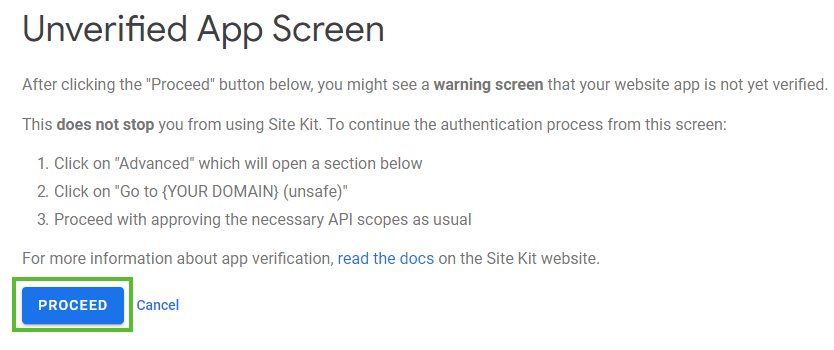 Select your account. And then, click on the Advanced link. Click Go to [your domain] link.
Click 'Allow' on each popup message until you get redirected to the dashboard. If you don't have Google Analytics account yet, you can click on Create An Account. If you have an existing account, just click on the Re-fetch My Account link.
If you click on 'Create An Account,' you'll see the Google Analytics area where you have to fill out all the necessary fields.
Once done, click on the Get Tracking ID. Tick on the checkboxes to agree with the terms and click on the I Accept button.
You can now copy the tracking code into the <HEAD> of every web page that you want to track.
Or, you can go back to your WordPress dashboard and reconnect your account. Then, connect Analytics. You'll have to repeat the previous steps.
Once you get to the Analytics section, click on 'Configure Analytics' button.
You're now connected to Google Analytics.
Connecting PageSpeed Insights
Now, click on the 'Connect Service' link under the PageSpeed Insights. This lets you know the performance of your website.
Click on the link to generate the API Key.
Click on the Get API Key button.
Click on the copy button and click 'Done.'
Go back to your WordPress dashboard, paste the code, and click 'Proceed.'
And, that's it! If you go to Site Kit's Settings, you'll see the Google Services connected to your website.

Conclusion
Google Site Kit is indeed revolutionary. Imagine, you don't have to install third-party plugins to track analytics. It's very convenient because you can have all Google Services in just one dashboard.
Hopefully, when the beta is complete, it'll be available in the WordPress repository. So, watch this space for updates.