How to Easily Start a Blog and Monetize It in 2022
Blogging is far more than a hobby. It's an excellent way to sustainably reach potential customers for your business.
But starting a blog can be confusing, especially for beginners. There are so many choices to make and it can be difficult to switch once you've selected your CMS or hosting provider.
So let's make this super-easy, shall we?
This guide will walk you through everything you need to get started with your first blog.
Without any further ado, let's get right into it!
What Is Blogging?
Blogging is a way to share your thoughts, expertise, and knowledge through your website. While you can blog privately, which will be equal to journaling, most blogs are made to be public.
Businesses create a blog to attract new users through search and social media.
Blogging also builds the authority of business within the domain they operate in.
For example, if you are a WordPress theme creator, writing tutorials on WordPress and helping users within the WordPress community through your blogs will help you be known as an authority in the niche.
The next time someone wants information on any of the topics you write about, they know you'll have an answer.
Is Blogging Worth It in 2022?
With 7 million new blog posts being published every day, does it make sense to add one more blog? It's a valid question for those who've never started a blog before – is blogging worth it anymore?
The answer to this question depends on why you want to start a blog and how much effort you're willing to put into it.
Blogging requires commitment just like any other hobby or activity.
If you're looking for a get-rich-quick scheme, blogging would not be the best choice.
But, if you're willing to put in the time and effort to build a blog that operates as a business, you're taking the right steps towards success.
Though there are millions of blog posts out there, there's always something new to blog about.
Even if you just consider the WordPress niche, there are hundreds of new themes, plugins, and updates being rolled out regularly.
So, interested readers will keep coming back to those blogs that have the most relevant and updated content.
Also, the modest learning involved in blogging makes it all worth it.
If you choose a niche that you enjoy working in, you will be reading and exploring a lot of topics of your interest and then writing about them too!
Before You Get Started With Blogging
There are hundreds of choices available to bloggers but over 43% of all the websites in the world are built using WordPress.
This also includes websites that are not blogs. If you consider websites that are using some kind of a content management system, WordPress holds a strong 65% share! And over 20% of the websites in the world use shared hosting!
Talking of hosting…
Domain and Hosting
While you can start a blog for completely free using a service like WordPress.com, we'd highly recommend you start out with a domain name you own.
This not only helps you keep all the ownership of your content, but also helps you gain authority as your domain starts being shown in different search results for relevant queries.
Now is a good time to quickly explain the differences between WordPress.com and WordPress.org.
WordPress.com is a free, hosted blogging platform where you use someone else's system to create your blog. It's great for experimenting or as a hobby, but not for business or more serious use.
For that, you need the WordPress.org version. Software provided for free and hosted on your own web hosting service.
People often get confused between WordPress.com and WordPress.org, which is why we have a detailed article on the subject.
We will be talking about WordPress.org throughout this article.
Good web hosting helps you ensure that your blog does not slow down as you receive more traffic.
For beginners, we recommend going with a shared hosting service.
Shared hosts can handle a decent amount of traffic for your domains and are cheap. As you start getting traffic in 5-6 digits per month, you can upgrade to managed WordPress hosting to help better cope with your popularity.
WordPress Setup
We'll go with WordPress in this tutorial as it's one of the easiest content management systems to set up.
Though WordPress offers lots of features for customizations and editing, you won't need to worry about that when starting out.
A Good WordPress Theme
And finally, we'll need a good theme. In this tutorial, we'll be working with Astra which is the most popular WordPress theme.
It's designed to be simple yet highly customizable for those who need flexibility.
You can go with Astra or browse through the WordPress themes section which we'll go over later, and pick one that you like best!
5 Easy Steps to Start Your WordPress Blog
Let's get started with setting up your blog. Once you get a hang of this process, it will take no longer than 15 minutes to set up a blog from scratch the next time.
As you get used to running blogs and learn how to get more traffic, you could even have multiple domains for blogging!
So without any further ado, let's get your first blog set up!
Step 1: Picking Your Niche
This is the only step that requires research and time. Picking a niche is of utmost importance for the success of your blog.
If you don't already know your niche, you can use the Ikigai method.
It's the merger of what you're good at, what you love doing, and what the world needs and is willing to pay for.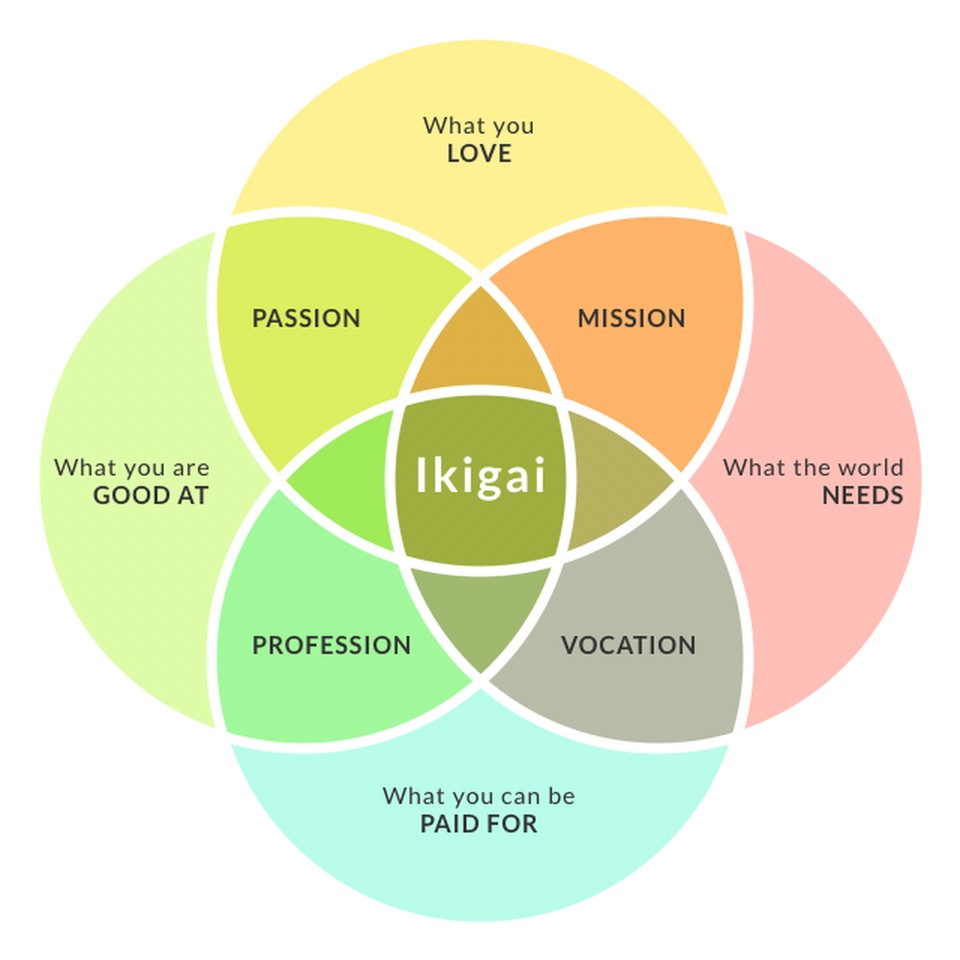 Here are a few steps to identify a niche:
List all the topics that you regularly read about on the internet or discuss with your friends.
Then, look up all of these topics one by one on Reddit and Google to understand the community strength. For example, if I enjoy reading about SaaS businesses, I can search for individual SaaS categories to find the ones with the strongest following.
Since a majority of users only read without subscribing or signing up, you can assume the total community to be at least 5x of the follower count, if not more.
Also, look up communities on Reddit. With over 52 million monthly active users, Reddit has all the communities you can think of. In fact, it's a goldmine of communities and niches to explore.
Shortlist niches with the largest following and move on to our final step of filtering.
Here, we're going to look at Google trends to identify if the topic is trending up or not. This ensures that you do not waste time on subjects that people have stopped talking about. We use tools like SEMRush to get estimates on search volumes and ad spends for each topic.
Follow the above steps and filter out topics until you find the ones that you enjoy the most!
Remember, blogging requires a lot of patience and regular writing. If you start writing on a topic that is profitable but you aren't interested in it, your motivation will fizzle out after a few posts.
Find your balance, and then we can move to step #2.
Step 2: Purchase a Domain and Set Up Hosting
Your domain name is your brand. Your hosting is where all the files for your blog are stored.
There are many domain name providers and hosting services available. As a beginner, you can start with shared hosting from SiteGround.
It offers great value for money and we've personally used it for our blogs when starting out.
For the domain, try NameCheap or NameSilo. Both companies offer very low-cost domains and keep the same prices on renewal.
Most other companies offer a heavy discount on the first year of registration to lure you in. The renewal costs are usually much higher, so watch out for that.
Ready with your domain?
Now we need to point the domain to the hosting. You need the domain's name servers to match the ones offered by your hosting provider.
Go to the DNS settings of your domain name after logging into the website where you purchased your domain.
Then, replace the default name servers with the ones offered by your hosting.
For SiteGround, the nameservers are :
Here's how you can change your nameservers in NameCheap.
Follow these steps and wait for a few hours (sometimes up to 24 hours) until the DNS settings are updated.
After this, if you visit your domain and see a SiteGround page asking you to set up the domain, congratulations, you've successfully completed step #2!
Step 3: Install WordPress
We'll go with WordPress because that's the easiest content management system for beginners.
There are many new CMS out there that you can explore once you have a good understanding of how CMS platforms work and can efficiently navigate through them.
Most shared hosts offer a one-click install for WordPress.
Here's how you can install WordPress on SiteGround: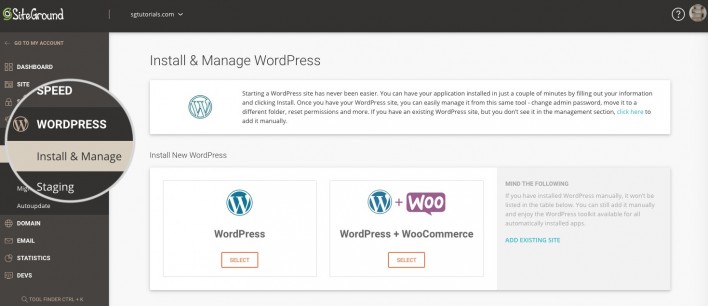 Click Select under WordPress.
Choose your domain and set the language. You can keep the installation path as default to the Main folder if you want WordPress to get installed on your domain. Alternatively, you can install it to a specific folder on your domain.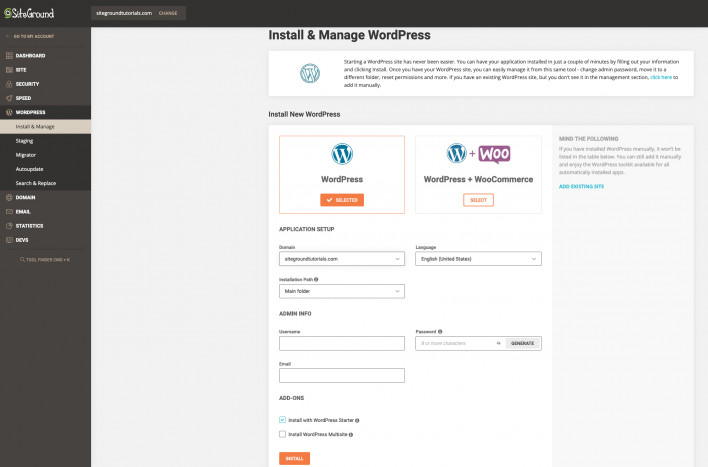 Create an admin username and password, and enter the email account you want to associate with this setup.
Now, log in to your blog by going to yourdomain.com/wp-admin.
Replace yourdomain.com with the domain where you've installed WordPress and sign in with the username and password you just created. You'll be presented with the default WordPress dashboard!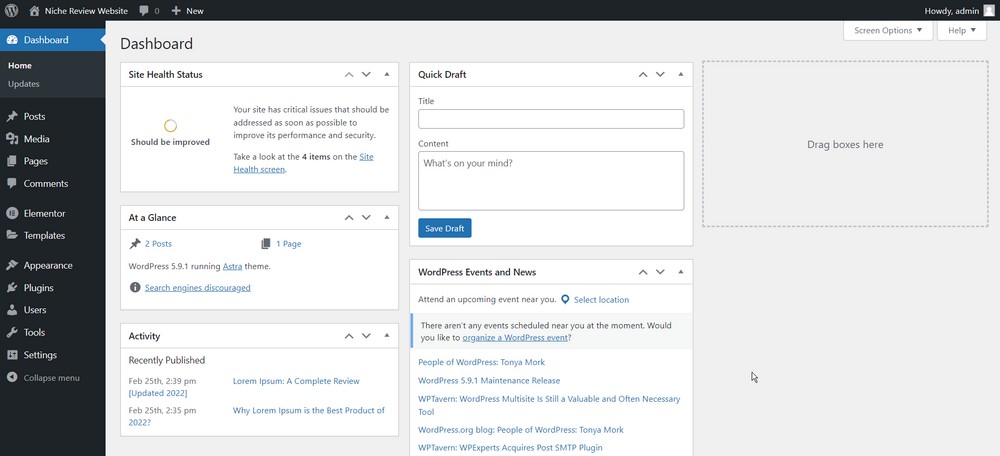 Your hosting may have also installed some additional plugins that work best with the hosting like Litespeed cache, Jetpack, and any other hosting-specific plugins.
You can choose to keep or remove these plugins from your WordPress setup by going to Plugins > Installed.
Explore all the other settings available within the dashboard too so you get a feel for WordPress.
Once you're done, you can move to the next step – customizing your blog!
Step 4: Customizing Your Blog
This step is not mandatory to get your first blog published but we'd highly recommend spending time designing your blog to look appealing to your audience.
This will be an ongoing process and you will always have some new opportunities to design or redesign your website as things progress.
We are using Astra as it's the most popular WordPress theme of all time. It is well known for its flexibility and customization options.
Follow the steps below to install Astra: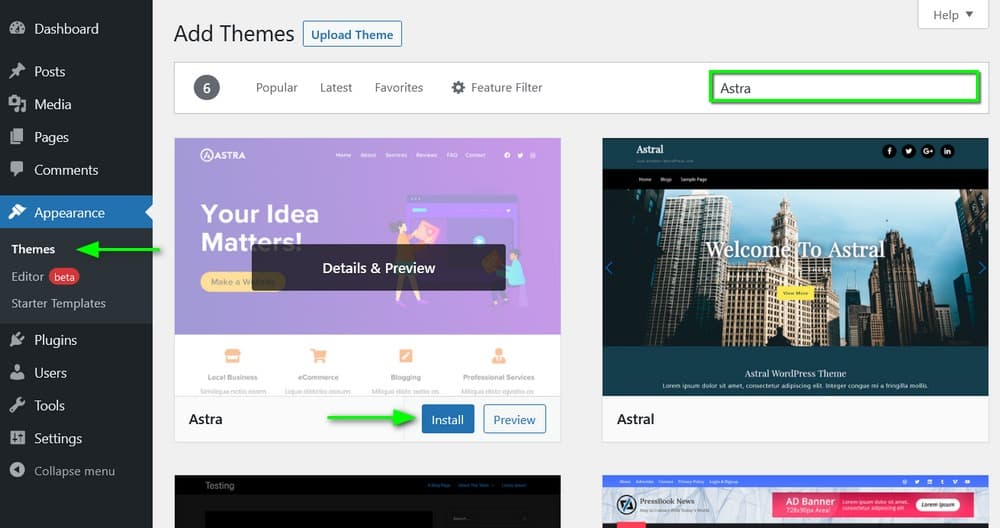 Login to your WordPress dashboard.
Go to Appearance > Themes.
Click the Add New on the Themes page.
Search for Astra or find it under the Popular tab.
Install Astra and click Activate.
You can begin customizing Astra by clicking Customize under the Appearance section.
Astra offers many different options to customize your website.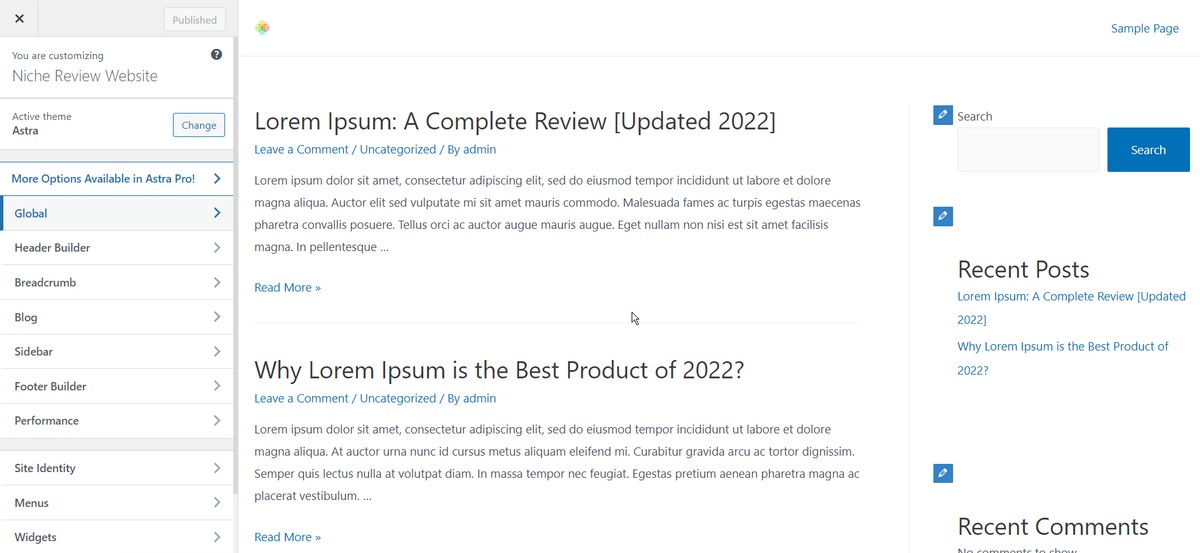 Begin with the Global section and set up your typography and site colors. Then move further to customize other elements of your website.
Spend as much or as little time as you like customizing the look and feel of your blog.
Step 5: Publishing a Post
Onto the last part, writing and publishing a post.
Log in to your WordPress dashboard and click Posts to view all posts.
Click the Add New button at the top to create a new post.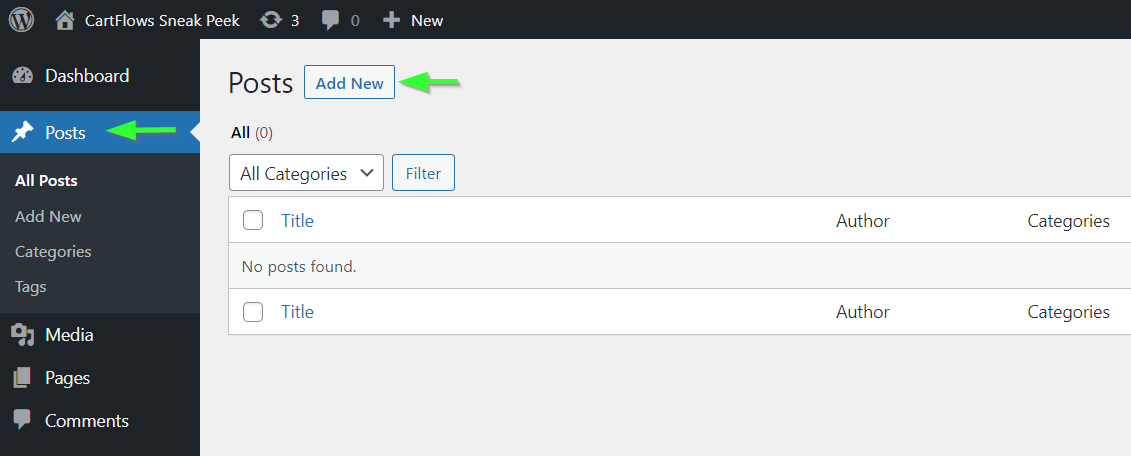 You'll be presented with the WordPress block editor.
To start off, enter the title of your post.

Hit enter and begin writing.
That's a Paragraph block right where you began typing. It's the default block when you don't manually choose one.
To add a different type of block, click the plus icon and search from the different options available.
There are many plugins like Ultimate Addons for Gutenberg which allow you to expand the selection of blocks within this menu.
Once done, hit the Publish button and your blog will go live.
Congratulations, you just published your first blog!
Now it's time for you to play around with WordPress and understand where everything is.
Once you have spent some time hands-on with this CMS, you'd be ready to get started on your blogging journey!
3 Easy Ways to Monetize a WordPress Blog
You don't just want to blog and let that be, do you?
Blogging is a great way to generate revenue if you bring in good traffic. While there are many ways bloggers earn revenue from their content, 3 of these monetization methods stand out.
So let's look at the 3 easy ways to monetize your blog in 2022.
1. Display Ads

Display ads are the easiest way to earn money. You can join one of the many ad networks and have them place ads automatically in areas you specify on your blog.
Some of the most popular ad networks are Adsense, Chitika, Bidvertiser, Infolinks, Kontera, and Media.net ads.
Place the ads on your blog posts and pages, and drive traffic to them. As you get more and more traffic, you'll notice your income rise.
Ads are completely passive and you can simply earn money for the impressions that you receive on that page. But, ads are not as profitable as other methods out there.
2. Affiliate Marketing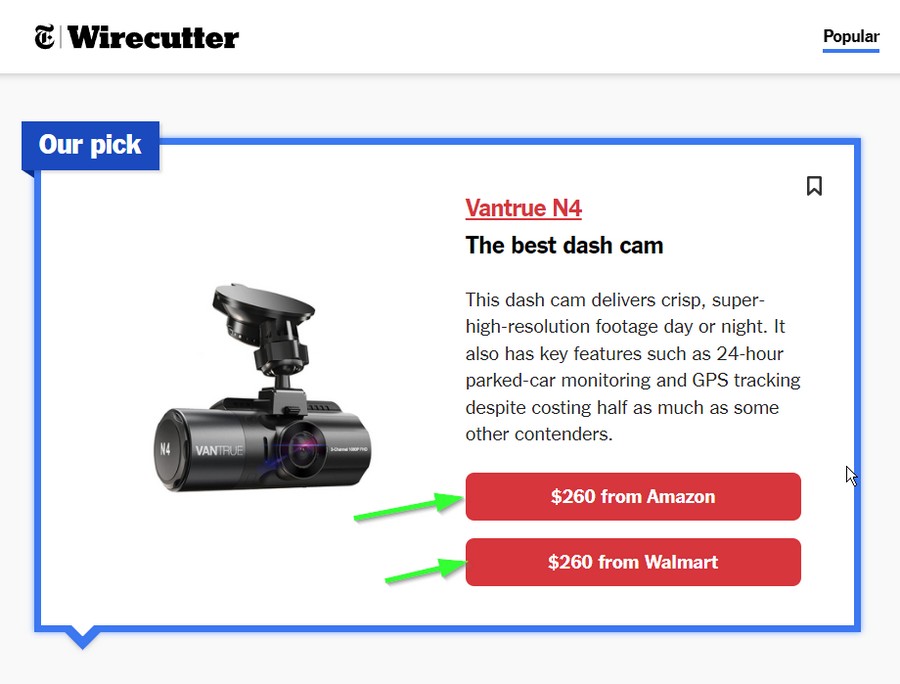 Affiliate marketing is the second easiest way to monetize a blog. All you need to do is find a good affiliate product, then promote it on your blog.
This does require more work than placing ads as you need to make a sale to make any money. But when done right, affiliate marketing can be a very profitable venture.
Think of affiliate marketing as a salesperson's job. The more sales you make, the more commissions you'll earn!
3. Selling Digital Products
Selling digital goods is much harder, but also one of the most profitable. You can sell your products on your own website, or you can use sites like Gumroad to handle the payments and product delivery for you.
A good digital product can earn you a lot of money even with little traffic.
Here's a tutorial on how to sell digital products on your website. But you need to focus on your conversions and learn about funnel creation and optimize your pages to sell more.
Other Monetization Methods
There are many other ways to monetize your website and you can even get creative to go beyond them when you're ready.
Here are a few other ways to earn money from your blog:
Accept sponsored posts
Get paid to review products on your website
Create a paid community
Build a newsletter and offer added value to paying subscribers
Try out as many or as few methods as you prefer and experiment with monetization until you find the perfect fit.
Promoting Your Blog Content for Visibility
So, you've written an amazing post that has taken hours to perfect – now what?
You need to promote it!
Promotion will help you gain traffic and attract new readers. The trick is finding the right balance between content promotion and self-promotion. While both are important, you should always make sure your content takes center stage.
The ultimate goal is to get the most eyes on your content as possible.
Here are some tips on promoting your content:
Promote on Social Media
The first place you should promote your posts is on your social media channels. These are free and easy ways to get the word out about your content!
The only downside is that there's a lot of competition on social media so you need to work extra hard to get noticed.
Promote Your Posts Through Email Marketing
Email marketing might seem old school, but it continues to be a powerful way to reach new readers!
Even with the success of social media, email marketing is still highly effective.
The beauty of email marketing is that you can get really creative and show off your personality.
When writing an email to promote your blog posts, you'll want to write in a friendly tone and share information that readers will find useful.
Promote Using Share Buttons
There are several useful sharing button plugins designed to help you promote your blog content.
Some of the most popular sharing button plugins for WordPress include Social Snap, Novashare, and Easy Social Share Buttons. All these services allow you to add call-to-action links back to your blog posts.
You can use these plugins to add share buttons on every post and page of your website and encourage your readers to share your post if they connect with it.
Repurpose Content for Other Platforms
You want to be everywhere! The more exposure you get, the better. Don't forget about your website and blog in all of this though – they should always come first.
When you have a solid foundation in place, it's time to start promoting your content through other channels!
TIP: When sharing posts on different platforms, be sure to hashtag related topics and keywords. This will help increase traffic and find your target audience!
Ways to Jumpstart Your Blog Marketing
Search engines are the primary way your blog will get views. You have to ensure that your content has depth and is completely free-flowing. Long gone are the days when you would add 100 keywords on your page and get ranked #1.
Google is much smarter now and you can notice the difference in how it ranks results.
Since search engines are going to be a primary way for you to get traffic in the long term, it makes sense to spend time writing really good content.
Social media is a secondary source for most users. When you're just starting out, social media can help you get the much-needed initial traction with some effort.
Start by joining relevant communities. Then respond to queries when you have a good answer. Include a link to your blog in your signature or manually in that answer..
Remember, do not spam your link as that can easily hamper your reputation when you're trying to build a brand.
YouTube is another great way to get a boost in your traffic along with social media.
Repurposing your existing content into a presentation-style video may not get you a lot of views, but it will put your brand out there.
You can go one step further and create really high-quality videos by repurposing your content if your goal is to build a memorable brand.
But this is time-consuming and if you're doing it all alone, it may take many hours to get a video out.
Blogging FAQs
Let's now answer some of the most common questions related to blogging.
How do I start a blog? What are the first steps?
This article covers all the steps you need to get your first blog ready to go! Here's a quick summary of the first steps:
Find a niche that is a mix of your passion plus something that people want to know more about.
Buy a domain name that relates to the niche. Also, buy hosting.
Connect your domain to the hosting and set up SSL.
Install WordPress using the simple one-click installer available on your hosting control panel.
Customize your website to suit the branding.
Create your first post.
That's all you need to do to get your first blog up and running!
How many posts should I publish per month?
How many posts you should publish per month depends on how much time you want to dedicate to blogging and whether or not you can handle it with your daily activities. A good posting frequency is anywhere between 3-4 posts per week.
If you want to build a blog that will generate revenue then you need to see it as your business and post every day. A study conducted by Hubspot revealed that for improved organic traffic, your post frequency must be anywhere between 3-4 posts per week. This means you'd be posting at least once every other day.
What is the best blogging platform?
WordPress is the best blogging platform at present. You can choose to go with other CMS like Blogger, Squarespace, Wix, Ghost, or something else if WordPress doesn't fit your liking. Squarespace and Wix are the most user-friendly ones but lack customization and optimizations.
I have not received any traffic after two weeks of blogging, why does this happen?
If you have not received any traffic after launching your blog, there could be many reasons, including the theory of the Google sandbox effect. With a new blog, you should not expect a lot of traffic for at least 6 months.
Make sure you keep track of which blogs have already started ranking, which ones aren't performing at all, and which ones are ranking but aren't on page #1 yet.
Based on your observations, you should create more content related to the blogs that are already ranking, reduce working on the topics that aren't performing well, and spend time optimizing blogs that are not on page #1 yet. This will slowly show its results.
What should I write about?
You should write about what you know or what you love. There are two main types of blog posts: tutorials and reviews, but you can also publish listicles, informational posts, and news articles among others. However, don't forget that you need to choose a topic and create an editorial calendar, this way you will know what to publish every day/week/month.
What is the best time to publish a post?
If you're looking to improve your blog's shareability, then posting early in the morning before people start work, or after they finish work is a great way to do so. But for SEO purposes, the timing does not make much of a difference. Google will crawl your blog posts as it comes across them and slowly starts indexing them taking its own time.
How do I know if my blog has been successful?
You will know if your blog is successful once it delivers on the goals you set for it. For example, if you want to monetize your blog, achieving a certain monthly revenue is a clear indicator that your blog has been successful.
Is blogging a good business idea?
Blogging can be a good business idea if you have the time to put into it. When it comes to making money, you must set goals from the very beginning and work hard towards them. Remember that it will not be easy, and in most cases, it will take a long time to achieve them.
Is blogging worth it?
Blogging can definitely be worth it! You must have a precise strategy, invest a lot of time and be passionate about your blog if you want to succeed. In addition, start slowly and build trust slowly before growing quickly.
There are many types of blogs and each one has its own community, but the majority of them are very active on social networks.
Conclusion
Starting a blog is fairly easy. Making it successful is more challenging!
Find a niche, get a domain and hosting, install WordPress, and you're ready to publish your first post.
But blogging is about a lot more than that. If you want your blog to turn into a real business in the future, you have to work on it as a business.
This includes spending time optimizing the visitor experience and promoting it on a daily basis.
As your blog starts picking up, your efforts from the past begin compounding and you need to spend much less time as you progress.
And that's where you can see the fruit of your hard work!
So go ahead and try your hand at blogging. You'll start to see a pattern in what works and what doesn't and soon find your unique way to success in blogging!