Best MailChimp Alternatives – Hit the Email Marketing Home Run in 2021
MailChimp has transformed to become a key player in the email marketing industry. Although we don't question its stature as the most popular email marketing service in the industry, most people reveal that it's not the right fit for their business. Establishing the need for alternatives, we're showing you the seven best options that might fill in Mailchimp's shoes.
If you are a newbie or in startup mode in your business, then for sure, you're thinking about using MailChimp as your email marketing solution. A lot of business owners planted their roots with MailChimp as a primary tool in their online marketing arsenal.
Why? Because it's almost effortless to use. Plus, there's a lot of necessary features that you can use even from its free version. You can send 12,000 emails per month for free to a maximum of 2,000 subscribers. Fair enough, especially if you're just getting your feet wet in this business.
But of course, as your business grows, you'll have more needs that should be met. It means that if you want more advanced features, you can go from a free version to a premium one. In which case, MailChimp might come up like armed robbery compared to other email marketing platforms.
MailChimp's premium version starts at $10 per month and can go up to $199 per month.

There are some alternatives that can provide the same features but on a much more affordable price. But what are the key features that you need to keep in mind as you decide to go for a MailChimp alternative?
Easy integration your lead generation tools
Detailed reporting or analytics
A/B testing
Auto-responders
Event triggered email
Mailing list management
Subscribe/unsubscribe
Template management
Image library
Drip campaigns
WYSIWYG email editor
Let's now have a look at the top 5 best alternatives for MailChimp.
1. Drip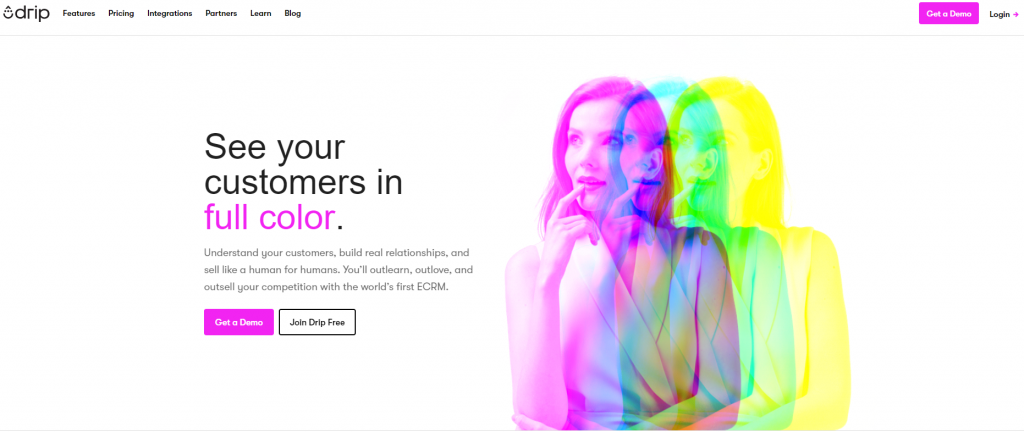 If you are into eCommerce, then you should definitely check out Drip. It's an eCommerce customer relationship management platform that helps you get closer to your customers through connecting data to intelligent automations on all your media channels.
What are the top features of Drip?
It easily integrates with any marketing tool for any marketing campaign.
With Drip's marketing automation, you can go beyond basic email.
It uses an advanced tracking code for a full insight of your leads and customer journey.
You can personalize your campaigns to make sure that they fit each of your customers.
You can export its detailed analytics and report, and make the best decisions out of them.
It has built-in A/B testing functionality for testing your subject line, "From" name, and delivery timing.
Drip is free for 14 days. You can start with its Basic Plan for $49 per month for up to 2,500 subscribers. You can upgrade to Pro Plan for $122 per month for up to 5,000 subscribers or Enterprise Plan at a price that varies according to your list size.
2. ConvertKit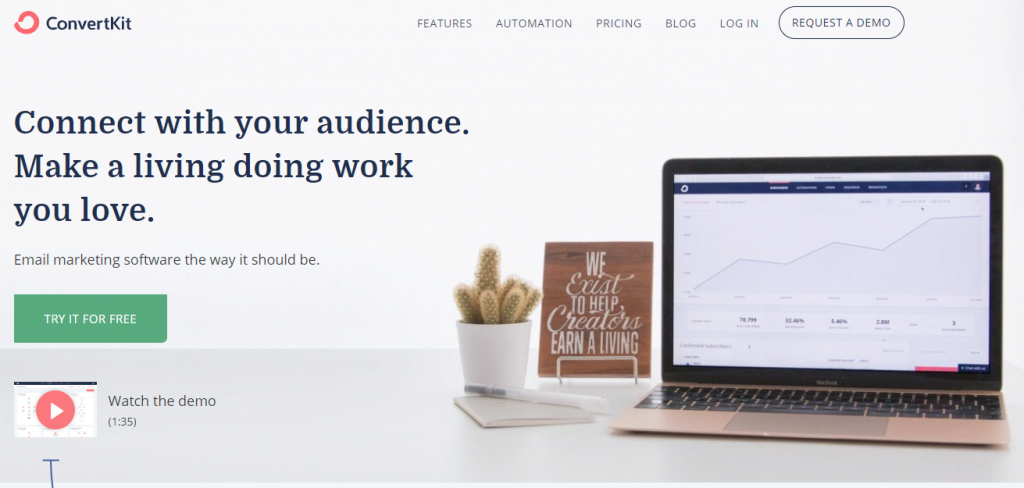 If you're focusing on creating blog and content, then ConvertKit is one of the email marketing tools that you need to look after. Although it's one of the newer tools, it has gained popularity since the promotion of some of the influential marketers such as Pat Flynn.
Let's see what are the best features that ConvertKit can do for you.
You can build and customize attractive forms that are easy to embed on your pages to grow your email list.
You can keep track of your subscriber and conversion growth with its reporting functionality.
You can set up workflows and sequences to automate your emails, thus increase conversions.
You can easily manage your subscriber list with its tagging and segmenting functionality.
It easily integrates with different tools for eCommerce, landing pages, membership systems, and many more.
One thing that I think it needs to have is its A/B testing functionality because it's one of the most important parts of any successful online business. So, if you're running large campaigns and you're dependent on split testing, you might want to leave ConvertKit out as an option.
3. Constant Contact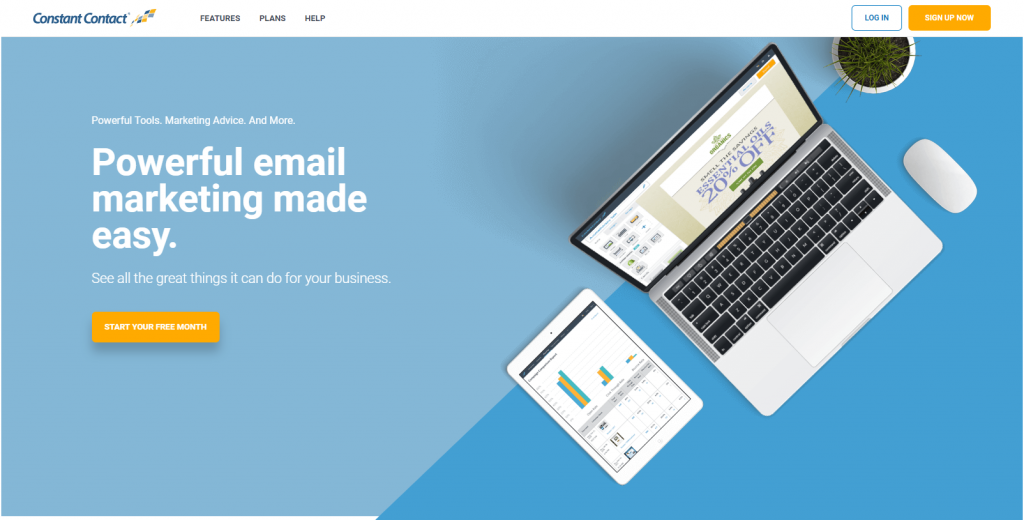 Constant Contact is one of the most popular alternatives for MailChimp. With its easy to use drag-and-drop editor, you can customize email templates and build professional and mobile responsive emails. It's great for any type of business, big or small.
Aside from its drag-and-drop functionality, what are the other key features of Constant Contact that make it to the top best MailChimp alternatives?
With its email marketing automation, you can increase the engagement of your audience, as well build strong relationships with your customers.
It has email marketing designed for eCommerce to help you turn your leads into customers and grow your online store.
You can easily manage your contact list through different ways such as uploading from Excel, Outlook, or any software where your contacts are stored, adding new contacts with its email list-building tools.
You can track your email marketing campaigns with its real-time tracking tools.
It also recently introduced its A/B testing functionality.
One thing that Constant Contact needs improvement based on reviews from some customers is its email templates. Though they are not difficult to edit, you're a bit limited to what you can update.
You can start using Constant Contact for free for a month or you can choose its plan that starts at $20 per month.
4. SendinBlue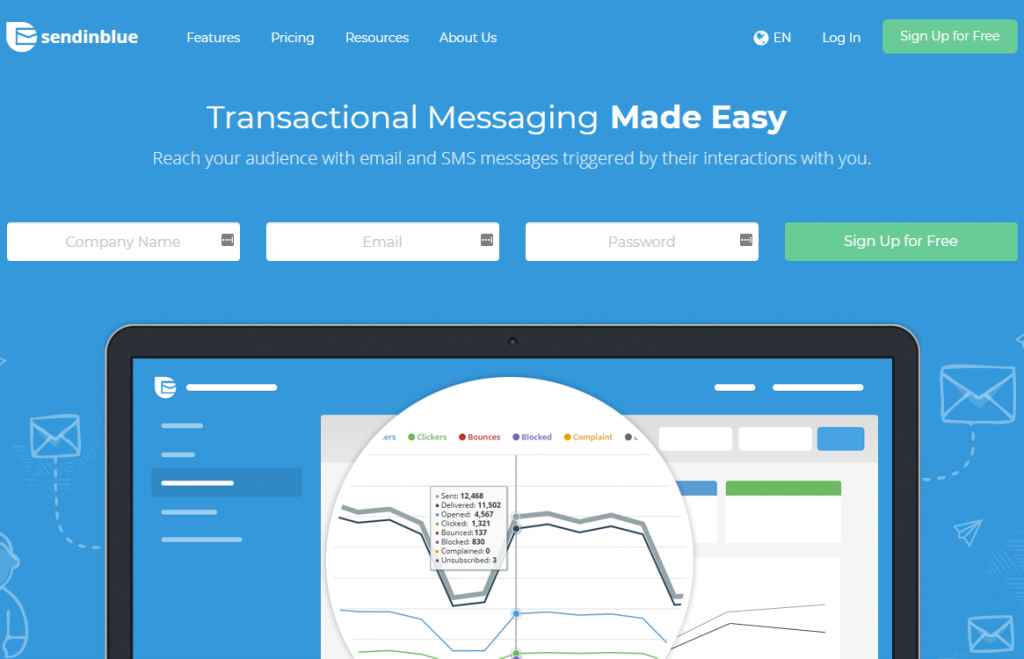 If you're a small business looking for an all-in-one email solution, then try SendinBlue. It offers free solution that allows you to have unlimited contacts and send 300 emails per day. Check out our in-depth SendinBlue review.
One of the best things about SendinBlue is that you are charged based on the number of emails and SMS that you've sent.
Let's take a look at the best features of SendinBlue.
Even if you don't have coding skills, you can easily create well-designed and professional looking newsletters through its drag-and-drop editor. You can also choose from its free gallery of responsive templates.
You can use different custom forms, contact fields, and segmentation strategies to build and target your prospective customers.
You can reach your customers via email or SMS with its marketing automation system.
You can schedule your campaign at the best time defined by its machine learning-powered algorithm.
You can monitor open rates, click-through rates, and deliverability with its real-time monitoring tool.
It also has A/B testing functionality.
SendinBlue is another MailChimp alternative that is very affordable and very useful for a small business. You can get it for a minimum of $25 per month. Again, SendinBlue charges you based on the number of emails you've sent as compared to MailChimp which charges based on the list size.
5. AWeber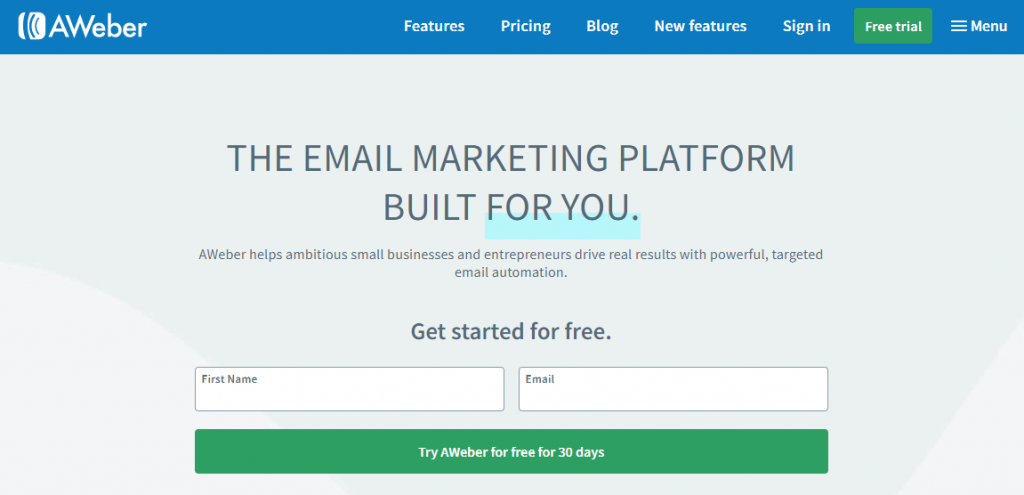 If you belong to a small or medium-sized business and are looking for a tool that can help you build your brand, business, and audience, then get a 30-day free trial of AWeber and see for yourself.
AWeber is one of the well-known email marketing service providers, with more than 115,000 customers. It's one of the easier to use autoresponders and easy to understand reports and analytics.
AWeber does more than just successfully delivering your emails in your main inbox. So, what are some of the best features of AWeber?
AWeber prides itself with its dedicated support team via email, phone, or live chat.
You can choose from more than 700 mobile responsive email templates and you can customize them with its drag-and-drop editor.
You can automate your marketing campaigns with its drag-and-drop campaign editor. You can also create personalized emails with its tagging and segmenting functionalities.
You can perform email split testing.
You can track your email campaigns.
You can easily manage your subscribers with its subscriber management and segmenting tools.
One thing that I don't like about AWeber is that it doesn't have responsive email design preview. If you want to check what it looks like in a mobile device, you actually have to send a test e-mail. Unlike other platforms, they normally have a preview mode.
Again, you can use its free 30-day trial offer and if you think it's the tool that fits your needs, then you can purchase the tool for a minimum of $19 per month.
Conclusion
Have you found the perfect email marketing tool for you in our list? These are the best options we've got. You can even delve more into this subject by jumping into our list of 10 Best Email Marketing Software and Plugins. It's time to try them all out and see which MailChimp alternative you are comfortable using, given the prices and features.