Managing Multiple WordPress Sites in One Dashboard
Owning multiple WordPress sites will be a hurdle to maintain in the long run. How do you efficiently manage all of them? In case you're looking for ways of how to monitor and keep all your WP sites up-to-date, here's a lowdown on tools to save you a lot of time in maintaining all your websites from a single dashboard.
Managing multiple WordPress websites from one dashboard will mainly help make your life easier. You can:
Easily update the WordPress version on all your websites
Effortlessly install and monitor plugins and themes across your websites
Create backups of all your sites
Manage comments, users, and other WP options in one place
An efficient solution for maintaining multiple WordPress websites is to have everything in an all-in-one dashboard. You can update, post, or edit all your WP sites, without the hassle of logging in separately for each one. So, if you have this maintenance dilemma, you must know the tools to help you manage WordPress websites and grow your business. Or you might pick up a few gems looking at WordPress troubleshooting guides for common issues you might encounter in the future.
Let's now go over the top tools for managing multiple WordPress websites from a single dashboard.
1. InfiniteWP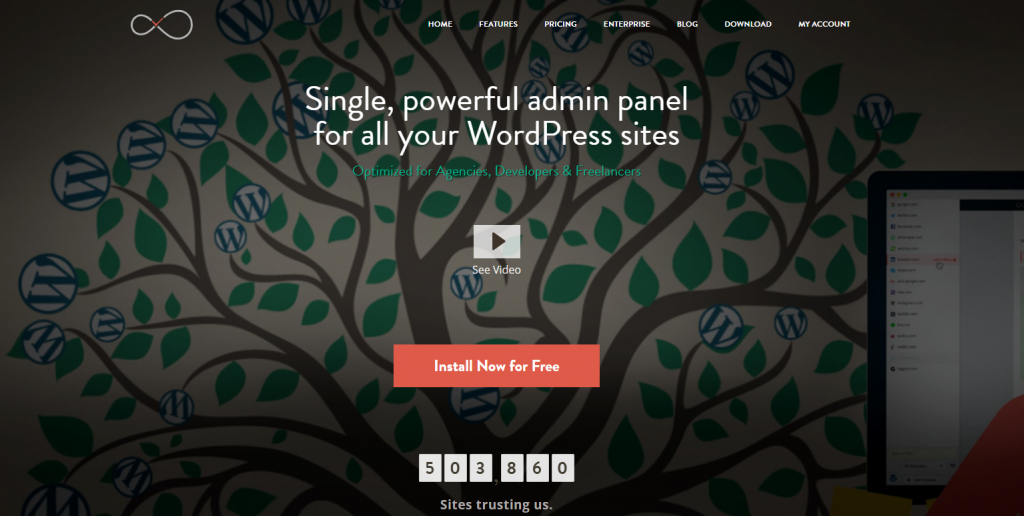 InfiniteWP is a WordPress management tool that's created for agencies, developers, and freelancers. And, if you are a business owner that manages multiple websites, you can use this tool for free.
What can you get from a free version of InfiniteWP?
1-click admin access
1-click updates wherein you can update your plugins and themes for all your WordPress sites in just a single click
backup your websites in just one click
Take note that it's free for unlimited WordPress websites.
But, if you opt for a premium version of InfiniteWP, that's when you can fully utilize its wonderful features.
Let's take a look at some of the best features of this tool when in a premium version.
protect your websites from malware and hackers
install, migrate, and deploy on the staging environment
monitor your websites' uptime
Google Analytics
do client reporting
WordFence security
use your own agency's logo for the InfiniteWP plugin instead of its logo
manage users, comments, pages, and posts
upload any file to multiple WordPress websites at once
InfiniteWP works like a plugin, but it's more of a central dashboard. So, you're going to install InfiniteWP plugin to whatever site that you want to manage and this website will be added to your InfiniteWP's admin panel.
Premium version starts at $147 per year up to $447 per year.
2. iThemes Sync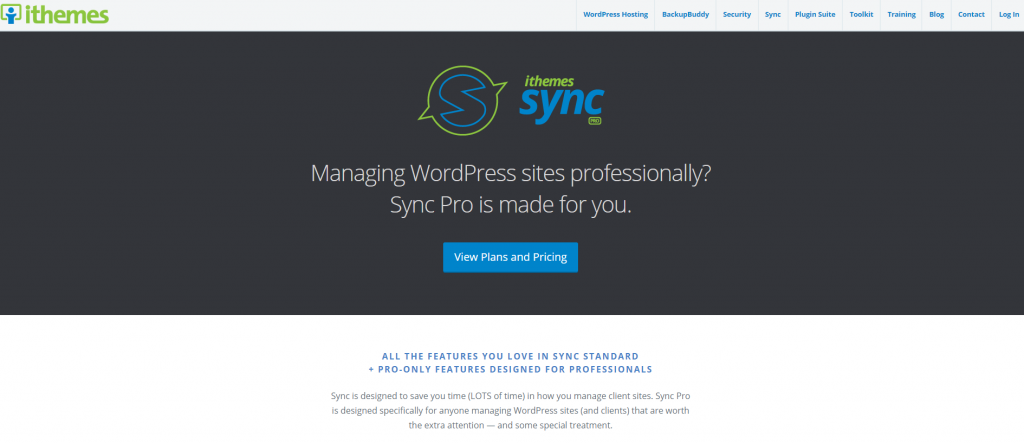 With the free version of iThemes Sync, you can manage 10 WordPress websites. But, of course, you'll get its best benefits when you purchase its pro version.
Let's take a look at the best features of iThemes Sync Pro.
1-click WordPress updates
WordPress uptime monitoring
Google Analytics and SEO checker
WordPress themes and plugins management
backup and security
clients' dashboard customization
client reporting
two-factor authentication
IP address whitelisting
daily email notifications
How does this work? Just install the plugin to the website that you're going to maintain. Log in to the iThemes Sync dashboard and you'll see all websites where you've installed the plugin to.
You can purchase iThemes Sync Pro's plan starting at $130 per year for ten sites, $300 per year for 25 sites, $550 per year for 50 sites, and $1000 per year for 100 sites.
3. Jetpack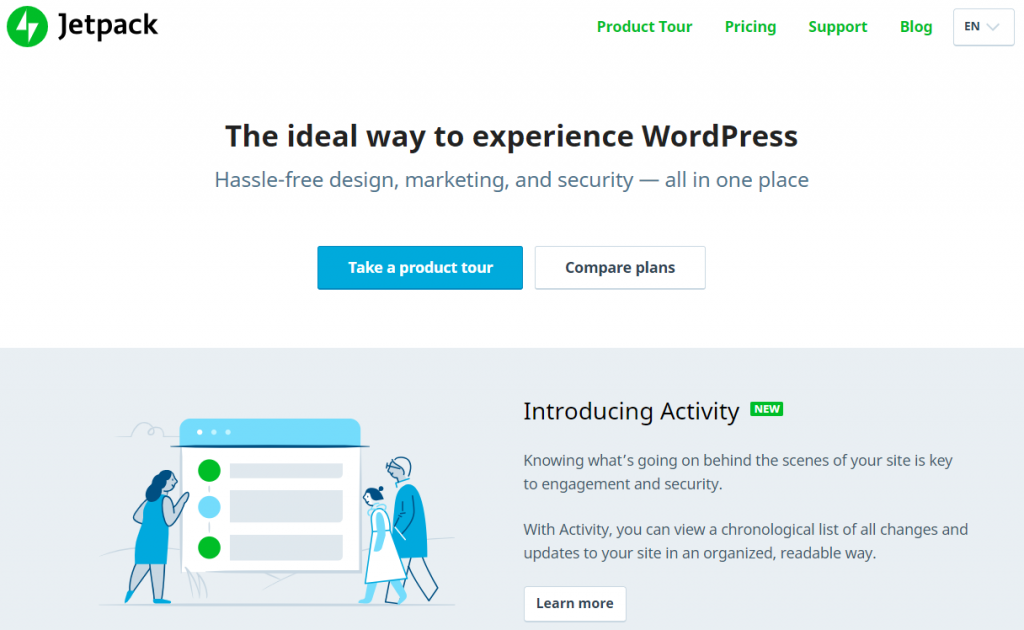 Jetpack is a free plugin that enables you to manage WordPress plugins and update all your websites. It also allows you to monitor uptime and protect your sites from basic brute force attack.
If you plan to use this plugin, take note that you need to have a WordPress.com account.
What can Jetpack do for your websites?
monitors the activity of your websites with its change and update logs
customizes your pages, posts, sidebars, and widgets without any coding
schedules social media promotion
monitors and prevents brute force attacks, malware, and spam
It's pro version starts at $39 per year.
4. MainWP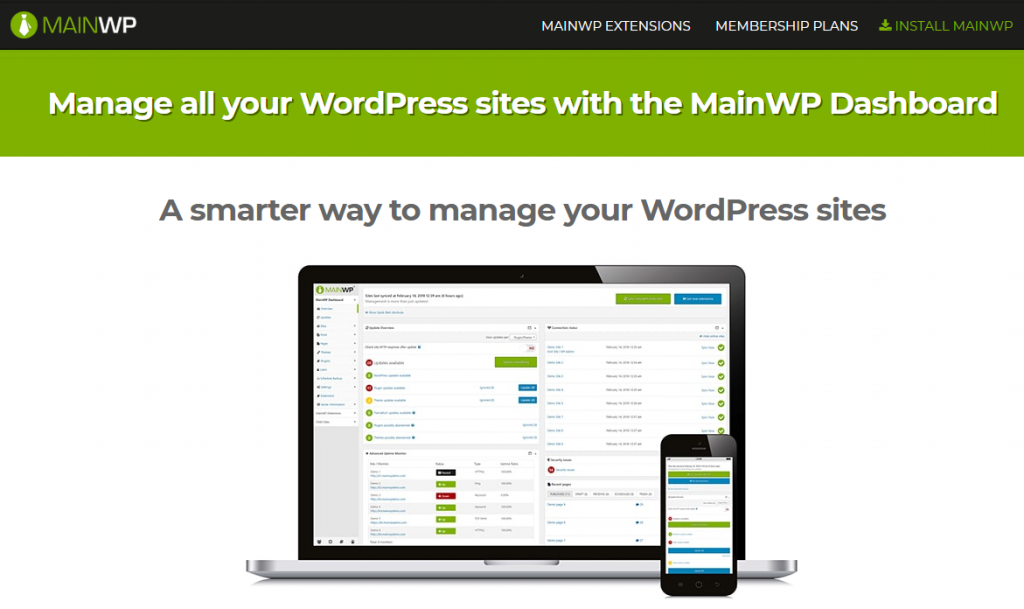 Another free tool is MainWP. The thing here is you need to create a new WordPress site and then install the MainWP dashboard plugin. Before you go any further, you might want to jump to our MainWP video tutorial right now to get an in-depth look.
That's when you can install the MainWP child plugin to all the WordPress websites that you wish to maintain and then connect all these websites into your MainWP dashboard.
What can you get from MainWP?
unlimited WordPress sites to connect to your MainWP dashboard
1-click admin access
centralized management of all your websites
backup
management of themes and plugins
content management
uptime monitoring
security scans and vulnerability checks by Sucuri
If you sign up as a MainWP member, you'll have access to all its extensions, support, and updates. Price starts at $29.99 per month, $199.99 per year, and $399 one time for a lifetime membership.
5. ManageWP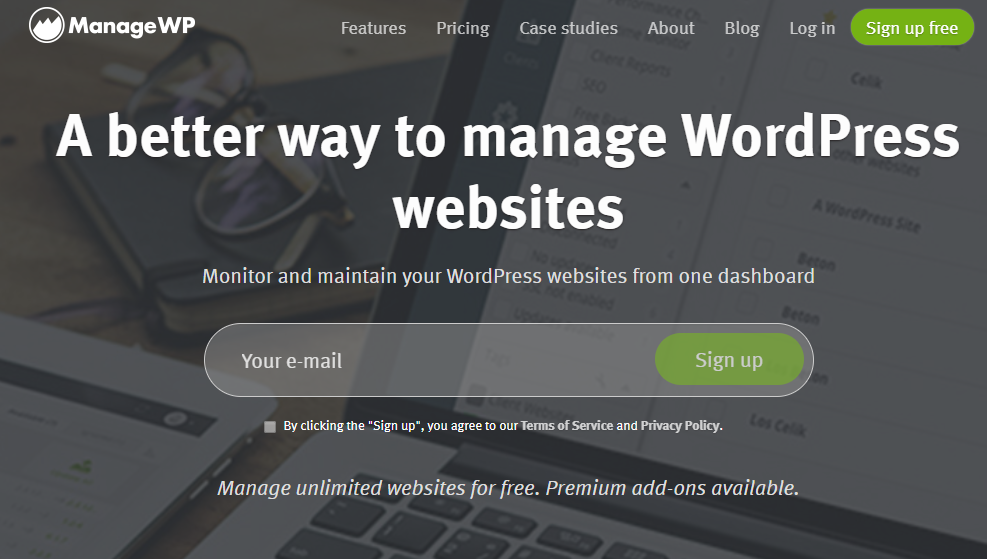 ManageWP is free for managing unlimited websites. You can monitor and maintain your sites from a single dashboard.
Once you've added your websites to the ManageWP dashboard which is hosted on its website, everything will be accessible in one place with just one click. With the free version, you can add an unlimited number of sites to manage, access all your websites with just one click, and provide access to your clients or other team members. You might also find it useful to know your options in WP site speed optimization.
You can update the themes and plugins of all your websites at once. Safe Updates provide backup and rollback in case you need to restore the older version of your sites.
Let's take a look at other best features of ManageWP.
free monthly backups
saves backups to an external destination
clones website in a staging environment
migrates website to another host
uptime monitoring
security scan and vulnerability check by Sucuri
client reporting
Google Analytics
performance check
two-factor authentication
template builder
These features may be free or premium add-ons, which start at $1 per website or $25 for 25 websites.
Conclusion
Have you found the best candidate for the best WordPress multisite management tool? Well, you should evaluate your needs first before landing on a final decision. If you only have a few websites to manage, why not try for a cheaper solution?
But, if your business is an agency, then a more solid and advanced tool would be the plausible choice. We suggest that you initially try out the free version, and then once you decide that it's the right fit to grow your business, then you can upgrade to a premium version.