How to Build an Amazon Affiliate Store in WordPress (The EASY Way)
Want to try eCommerce without the upfront investment? Then this article is for you!
We'll show how you can create an Amazon affiliate store in WordPress.
We'll walk you through listing different products on your website, and show you how to earn commission for every sale you make.
All without having to buy a single product or stock a single item!
Sounds interesting?
What Is an Amazon Affiliate Store and How Does It Work?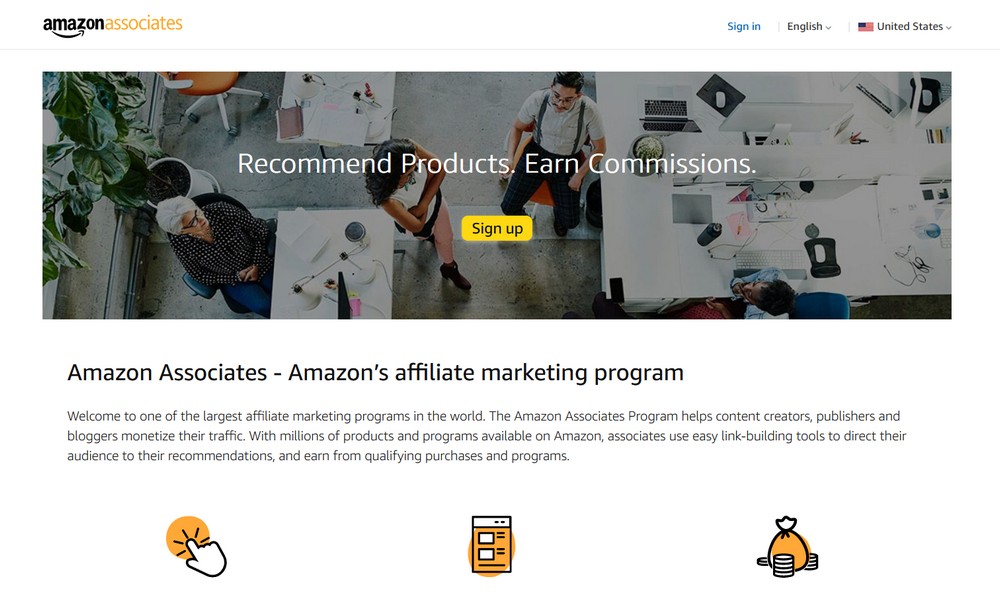 An Amazon affiliate store is a great way to start earning commission without having to invest in any inventory or shipping!
Amazon takes care of all that for you.
You can find products on Amazon to promote, create a website or blog post about them, and include your affiliate links.
When someone clicks through your link and buys the product, you earn a commission.
Creating an Amazon affiliate store is a great way to start an online business with little investment.
You can also use your Amazon affiliate site to promote products from other sellers, giving you, even more, earning potential.
Here's how an Amazon affiliate store works:
You find a niche of products that you enjoy or has a high demand
Create a WooCommerce store and add the products you selected from Amazon.
Add your affiliate links instead of the Buy Now button
Finally, begin promoting your website like you would a regular store
Since the products are held by Amazon sellers and the shipping is fulfilled by Amazon, your store becomes a way of helping these products reach even more customers.
You get rewarded a commission in return for helping Amazon and the seller makes the sale.
The commission that you get depends on the type of product. You can find the affiliate commission rates on this page.
What Are the Benefits of Creating an Amazon Affiliate Store?
Starting an affiliate store is great for beginners. It's a low-risk model for trying out an online business.
If it works, awesome! You scale it up further and even turn it into an independent store.
If not, you lose a little time and money you spent setting up the store.
Why Not Start a Regular Online Store Instead?
Starting an online store requires an investment of time and money. Though it's far less than what's required for physical stores, it's still an expense.
With a regular online store, you need to:
Find manufacturers to source products and manage production costs
Ensure multiple sources of your products
Maintain a small inventory to start, which often requires purchasing at a higher price than bulk pricing
Find shipping companies or couriers to ensure fast delivery
Setup the online store on a good hosting provider, test out designs, implement sales funnels, checkout pages, and other product pages
Market your store and wait for sales to start rolling in
Fulfill the orders by hand, one at a time
Once you have run a few affiliate websites or stores, you can start your own regular goods store if you want to.
By this time, you understand your market better, have some experience, and can find products that best serve your customers.
This doesn't mean you cannot start a full-fledged online store as a beginner.
But rather brings a question – Would you be more comfortable experimenting and learning the ropes with little money at stake? Or would you be okay risking more by setting up a regular online store?
How Is an Amazon Affiliate Store Better for Beginners?
When it comes to affiliate marketing, the main benefit is that you don't need inventory. Think of affiliate marketing as commission-based sales. The more you sell, the more you make.
But that's just one benefit of having an Amazon affiliate store.
Amazon is the biggest eCommerce operator in the world. It has hundreds of thousands of sellers and millions of products. So you will rarely have issues with an in-demand product going out of stock.
You also do not need to worry about shipping, as Amazon handles everything for you.
Through your affiliate website, you recommend the product and send buyers over to Amazon to complete the purchase.
And that's it. Your job is done!
What Do You Need to Build an Affiliate Store Using WordPress?
Enough with the talking, let's jump right into building the Amazon affiliate store using WordPress.
Here are the things you need to have before you begin setting up your store:
1. Amazon Affiliate Account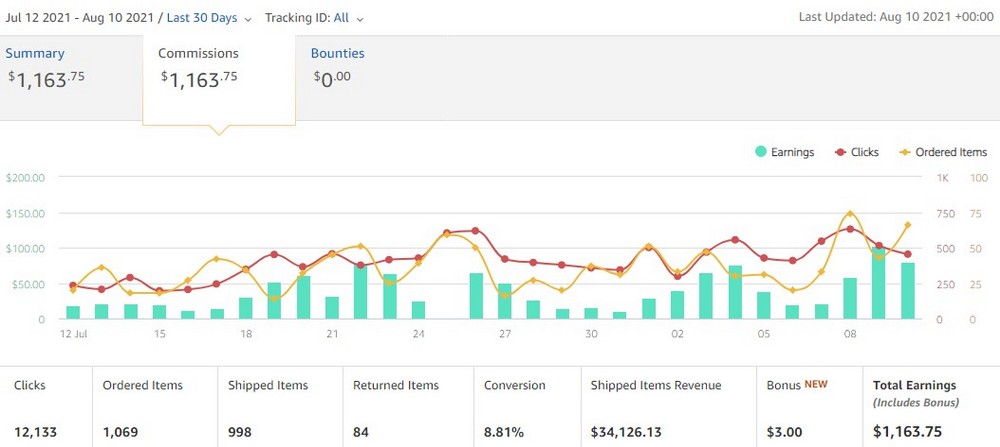 This is the first thing you need when creating an Amazon affiliate store.
Amazon calls its affiliate account Amazon Associates, so don't be confused when you see the different terminology.
Your Amazon affiliate account will help you generate all the necessary links for the products you promote and help you keep track of what gets sold and what doesn't.
Along with that, it reports your sale figures, the commissions earned, the conversion rates, and if you've received any bonus amount for any of the products sold through your links.
2. Domain, Hosting, and SSL
Next, you need a domain name and a good hosting provider that also offers an SSL certificate.
These are inexpensive to start with and the hosting may need to be scaled up as you receive more traffic.
You also need to ensure that your hosting offers an SSL certificate. With the launch of LetsEncrypt certificates, most hosting providers now offer free SSL.
Even if they don't you can set up the same with CloudFlare's auto-renewing shared certificate.
3. WordPress and WooCommerce
The two most essential parts of setting up our Amazon affiliate store are WordPress and WooCommerce.
If you have never set up a WooCommerce website before, we recommend you to read this article on how to set up a WooCommerce website.
We'll briefly go over the steps here too.
How to Easily Create an Amazon Affiliate Store
The best part of starting an Amazon affiliate store is that the majority of the revenue you generate is profit.
Aside from domain, hosting and anything you spend on marketing and promotion, everything else is pure profit.
Running an affiliate store is very inexpensive. Unless you run ads that could eat into those profits, an organically marketed affiliate store can be run for less than $5/month in the beginning.
Let's see the steps to create an Amazon affiliate store using WordPress and WooCommerce.
1. Set up Amazon Affiliate Account, Domain, and Hosting
Let's begin with setting up the Amazon Associates account first.
Go to this website and click the signup button (1).
Note: To become an affiliate for a different country's Amazon affiliate program, you need to sign up on each country's individual website.
Change the country from the top right corner (2) as shown in the screenshot.

Once you've signed up for the program, set up the affiliate IDs for your store.
These IDs help you track the source of the sale and get paid, so make sure you name them well so you can accurately track them.
Next, purchase a domain from NameCheap or any other domain name provider.
Finally, purchase the StartUp plan from SiteGround.
While you can choose any hosting you like, we recommend SiteGround for their speed and reliability.
If you buy your domain name and hosting from separate companies, you'll need to update the DNS records.
Here's an article from the NameCheap knowledgebase that discusses how you can update your name servers.
If you've signed up for SiteGround, you can set up your name servers to point to:
ns1.siteground.net
ns2.siteground.net
Alternatively, if you want to manage your DNS records manually, you can create an A record and point it to your shared host's IP address.
Here's where you can find your IP address on SiteGround.
Nameserver changes can take up to 24 hours to propagate and your website may not be visible on the internet until then.
However, we'd recommend you check within a few hours as most name server changes won't take that long.
Once your domain is correctly pointing to the name servers, it will display a SiteGround page asking you to log in and build your website.
You can also purchase your domain and hosting at the same time, which makes life a little easier as there is no changing of nameservers.
2. Install SSL, WordPress and WooCommerce
All set? Let's now get an SSL certificate for your domain.
SSL certificates are important.
Websites without an SSL certificate are no longer considered trustworthy and major browsers like Google Chrome will display a warning stating that the SSL certificate is invalid.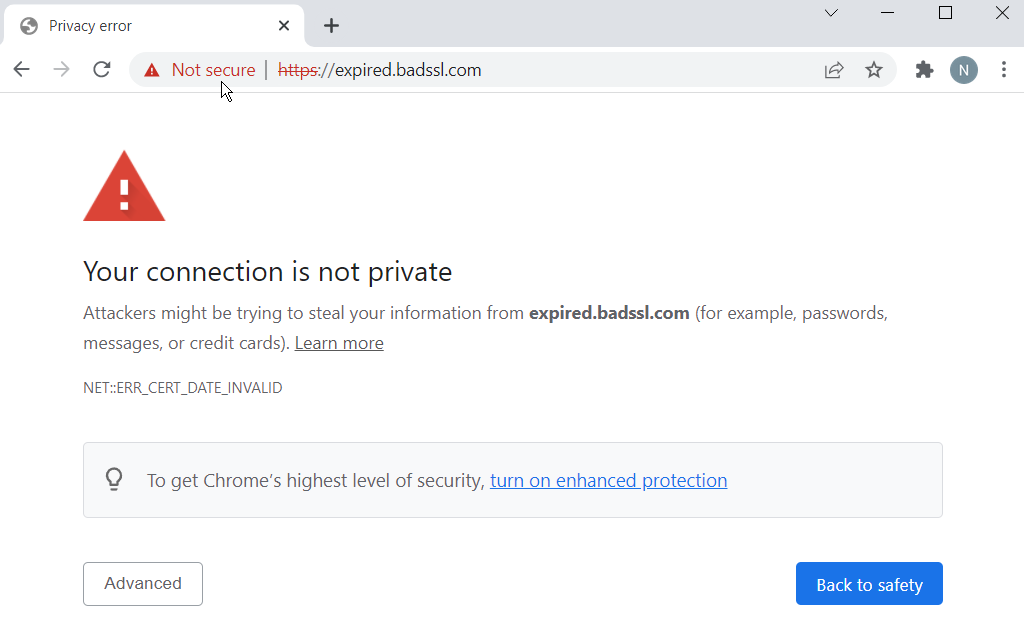 Most hosting companies offer free SSL certificates via LetsEncrypt.
On SiteGround, you can install the Let's Encrypt SSL certificate by going to your Site Tools > Security > SSL Manager.
Once you have a domain, hosting, and SSL, we now need to set up our WordPress and WooCommerce installation.
Shared hosting companies usually have a one-click install set up to make things easy for beginners.
Simply search for WordPress from the search bar in your hosting dashboard and you'll find a relevant section.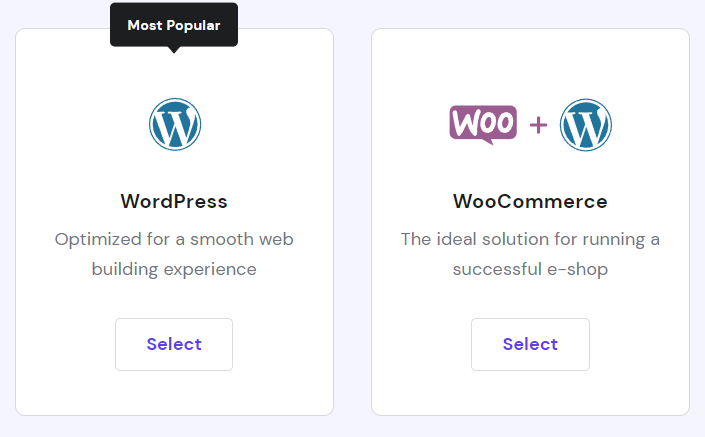 On SiteGround, they have a WordPress + WooCommerce set up by default to make it even more effortless.
Go to Site Tools > WordPress > Install & Manage > WordPress + WooCommerce > Select.
After that choose the domain on which you want to install the online store.
Enter the Installation Path or use Browse to select the desired folder. Then choose the default language, enter the Admin Info and click Install.
In a few minutes, your online store will be ready to be customized!
The customization part may take a while to get right, but it becomes much easier with a flexible theme like Astra.
Pair that with a page builder like Elementor and you can design your website quickly and without having to know any code!
3. Add Affiliate Products in WooCommerce
So far, you have created a fully operational online store with a great domain name and functioning SSL.
You also have an Amazon Associates account ready to track anything you sell.
Now onto the final part.
Visit your website and you'll see the default WordPress homepage.
Now is a good time to install the Astra theme.
You can install any other WooCommerce theme that suits your needs but Astra is very easy to use, fully compatible with WooCommerce, and includes a wide range of attractive Starter Templates.
To install Astra:
Click on Appearance > Themes.
Click on Add New.
Type "Astra" in the search bar.
Hit Enter to search.
Click on Install under the Astra theme that appears in the search results.
Click on Activate.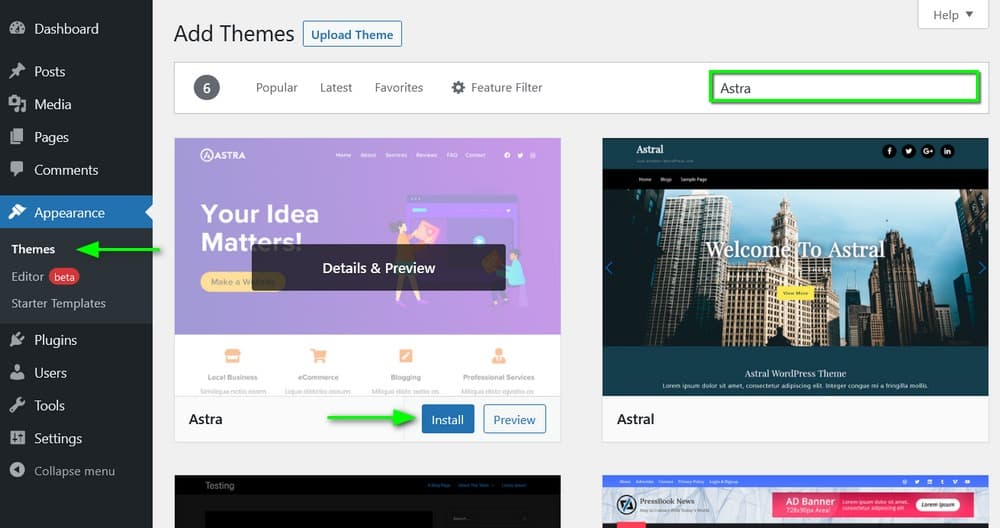 With a new theme and WooCommerce installed, let's now start adding products.
Go to Products > Add New in the WordPress dashboard.
Enter the product title and the description in the relevant section.
Add images and make sure the page is as interesting and as compelling as possible as this is where you'll sell your products!

Finally, we have one setting to change.
Scroll below the Description section and switch the Product Data dropdown from Simple Product to External Affiliate Product as shown in the screenshot below: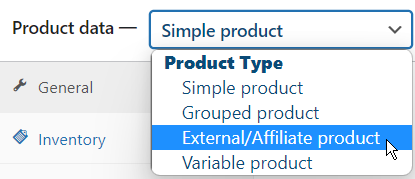 Once switched, you'll see the new input boxes available for entering your affiliate link and the buy now button text as shown below:

Hit the Publish button and you're done!
You have added your first affiliate product on your Amazon affiliate store!
You can now design your store and display the most relevant or popular products on your homepage.
Bring in as much traffic as you like through ads or by optimizing your pages for SEO and see the sales pour in!
BONUS: How to Boost Conversions for Your Amazon Affiliate Store on WooCommerce
How can you make sure that you're converting maximum traffic into buying customers?
Let's look at some ideas on how to use WooCommerce to boost conversions on your Amazon affiliate store.
The process of conversion comes down to how well your funnel is optimized.
A funnel, or sales funnel, is a tool used to focus on moving your prospects closer and closer to a purchasing decision.
A funnel is typically designed with a series of steps that leads potential customers from familiar strangers into buyers along a path that ends with their purchase of your product or service.
So after you bring in organic or paid traffic to your store which forms the top of your sales funnels, these users become aware of your website.
Some of them might move down your sales funnel and begin browsing your products. You ask for their email and name using a lead magnet.
This will ensure that you can keep in touch with these customers and reconnect to them when required.
Finally, a number of these users who are browsing would reach Amazon through one of your affiliate links and make the purchase.
You can introduce efficiency to this by using a dedicated funnel landing page and directing your traffic to that page.
All you need is a landing page that talks about one product and one offer.
Any more, and you're adding to decision fatigue. You can use page builders like Elementor for this but they do not have the complete functionality that you need to optimize your funnels well.
CartFlows is a sales funnel builder designed for WooCommerce websites. It offers hundreds of pre-made templates for building funnels for different types of products.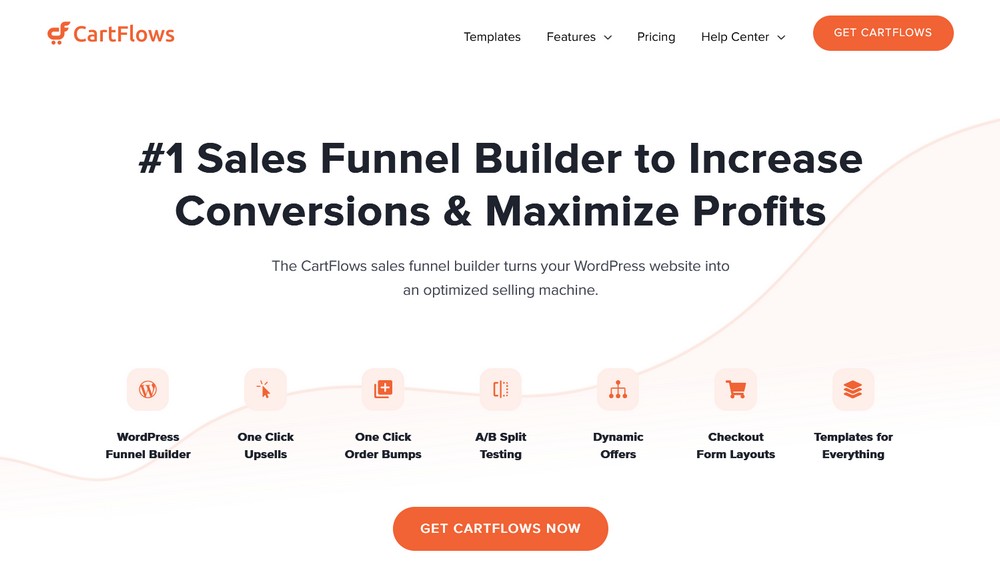 You can even track how many customers visited the landing page at each step of the funnel and your conversions at every step.
A free addon CartFlows Abandoned Cart Recovery helps you automatically recover any abandoned carts on autopilot.
With the help of premade emails and an auto-scheduler, the plugin immediately starts sending out a scheduled email sequence. That sequence can include unique cart links for customers to easily come back to the cart page, to help recover as many carts as possible.
Along with designing a great funnel and optimizing it for better conversions, there are a few other things that you should consider:
1. Adding Product Reviews
For an Amazon affiliate store, this part becomes quite easy. Amazon already has all the reviews you need. Grab the relevant reviews and add them to the product pages so users can read through them right on your website.
2. More Information on a Product Page
There are many opinions and ideas about how much information you need to provide on a product page for it to be effective.
Some say that people like seeing pictures of models wearing clothes, others think that every single piece of information on a page should add value.
In the end, it's up to you to decide what works for your Amazon affiliate store. I know that when browsing online stores, I like knowing all about a product before making a purchase.
3. Use a Theme That's Easy To Navigate
Pick a theme that's easy on the eyes, and it will be easier for your customers to navigate through your store. A combination of Astra + Elementor works great here.
4. Organize Your Products Using Categories and Tags
If you have many products, don't leave them all over the place. It may be confusing for customers, so organize them by categories and tags.
This way, if someone is browsing for a specific type of product, they can quickly find what you have to offer without having to spend too much time trying to find it.
5. Make Use of the Amazon API
This one is related to Amazon itself. Integrate their API in your Amazon affiliate store as much as you can.
The Amazon API allows you to get product name, price, vendor, and other useful information.
Since Amazon products are updated very frequently, it will become difficult for you to stay updated with products that go out of stock or are completely removed from the store.
With a little tech help, you can combine Amazon API with your Amazon affiliate store and keep all your blogs updated with any changes.
This way, there won't be any bugs on the page when people click on a product and go to Amazon.
While this won't directly affect conversions, you will make sure that your visitors have a great experience in your store.
Amazon Affiliate Store vs Regular Online Store
Sites like Amazon, eBay, and Flipkart have shown that people are eager to buy products over the internet with just a few clicks.
Since consumers are buying more online than ever, competition between online stores is growing rapidly.
I have performed many experiments with online stores. I have even created one myself, but after seeing the success of my Amazon affiliate store I started to wonder if it would constantly outperform retailing in the inventory space model.
Here's my comparison between the two models:
Advantages of an Amazon Affiliate Store:
The biggest advantage of an Amazon affiliate store is that you don't have to worry about shipping.
You also don't have to worry about warehousing or storing items.
Another huge advantage of the affiliate model is that customers are familiar with purchasing products on Amazon. They will trust your store more than a brand new online retail website.
Amazon has a wide variety of payment options and takes all major credit cards, which is extremely convenient for customers.
Advantages of an Online Store (Inventory Model):
A big advantage of an online retail store is that you can offer customer service and guaranteed shipping times since it's your own business.
You also have control over the branding, look, and feel of your online retail store. What I like about running an online store (in comparison to an affiliate store) is that you can control every single aspect of it.
Disadvantages of an Amazon Affiliate Store:
You don't have the ability to offer customer service because in the end, all your queries will need to be answered by Amazon.
The commission rates and product prices are decided by Amazon and you're at their mercy for revenue generation.
Amazon, already being an established store, ranks for almost all the keywords you'd want to rank for. So you'll have to be creative when it comes to figuring out ways to generate traffic.
Disadvantages of an Online Store (Inventory Model):
You have to pay for storage space for your items. You also have to worry about losing money if your items don't sell.
If you invest in buying inventory and it doesn't sell, you're stuck with the products, which means that you will be forced to discount the products or leave them in storage.
Holding inventory gives you complete control over your profit margins and the product costs, it is an expensive attempt compared to an Amazon affiliate store though.
Conclusion
If you were to start an online business today, my recommendation is to go with the Amazon affiliate model.
It's easier to rank in search engines and it's much more hands-off than running your own online store (unless of course, you like that kind of thing).
The biggest reason I recommend getting started with an Amazon affiliate store is because of the price. You will be able to start selling products for free!
This means that you can test your online business idea without spending much money upfront, which makes it way cheaper to fail.
Now if you have a little bit more experience and are looking to expand your business, I recommend starting an online retail store with inventory.
You will be able to control every aspect of your business and there is nothing more rewarding than running your own, successful eCommerce website!
Which model do you prefer? Why? Let us know in the comments!