MailerLite: Overview
MailerLite is a web-based email marketing tool that's trusted by more than 600,000 users around the world. Started in 2010, this email marketing software aims to help freelancers and small-to-medium-sized businesses enjoy email marketing perks at an affordable cost.
Among MailerLite's main strengths are its ease of use, beautiful email and newsletter designs, and excellent customer support. Despite its simplicity, MailerLite boasts lots of nifty features and integrations.
Common Issue with Email Marketing Software
With so many email marketing tools today offering almost the same set of standard features, choosing a good one would depend on your budget. There are premium tools which offer a more robust set of features but expect them to come at a high price. On the other hand, some tools are free or cheaper, but the features they offer are pretty basic.
MailerLite is one of those few email marketing tools that have a nice blend of features and affordability.
Key Features of MailerLite
MailerLite's key features can be categorized into the following:
Creating campaigns
Managing subscribers
Building forms
Automation
Integrations
These features are accessible within the dashboard's menu, with some available on the welcome page. In the next sections, we'll be going over into the details of these features.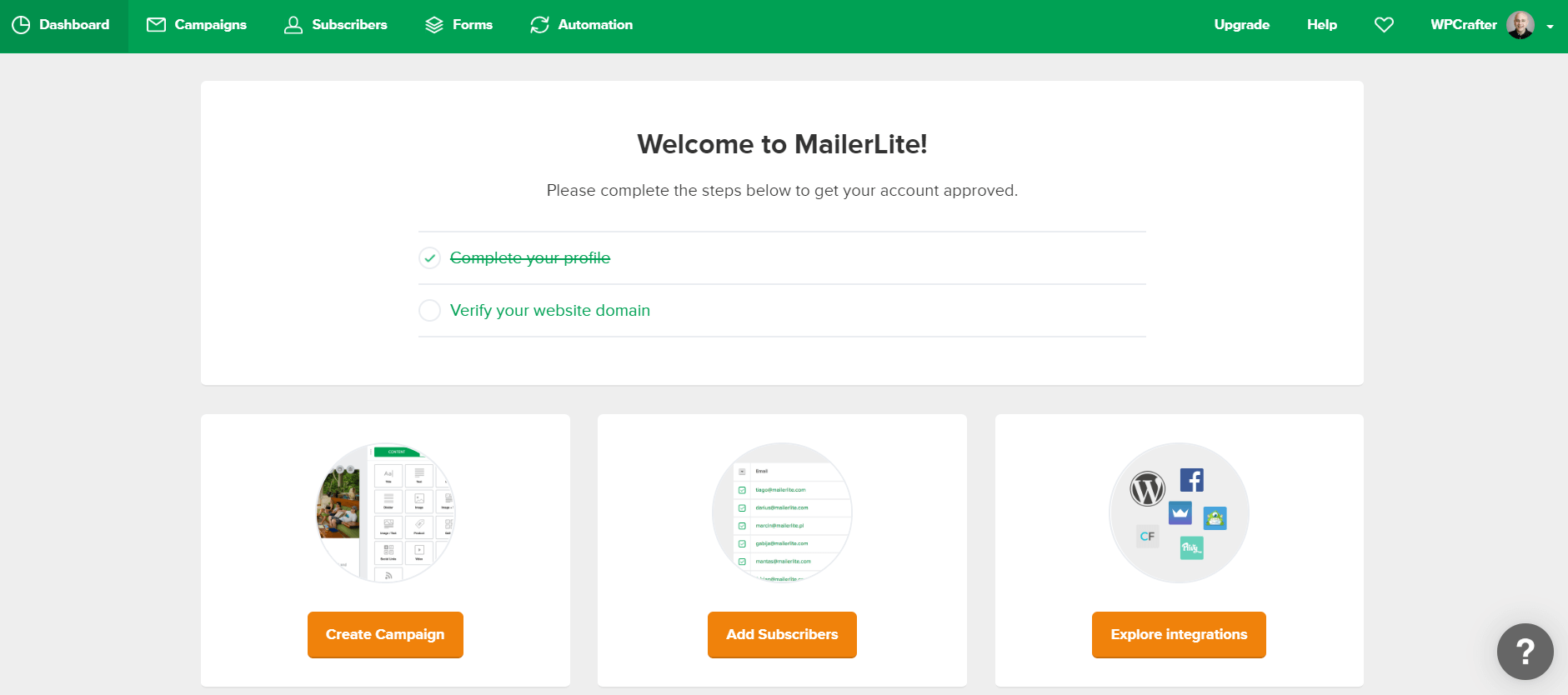 1. Campaigns
MailerLite will let you make beautiful and high-converting email campaigns for your new blog post, webinar, or other events. You can start one campaign by going to "Campaigns" in the dashboard's menu, then click "Create Campaign." This "Campaigns" feature can also be accessed on the welcome page.

You'll be given four campaign types to choose from:
Regular: The classic email campaign.
A/B split: Split-test two different email formats. With this feature, you can determine the best campaign set-up that will convert higher than the others.
Auto-resend: Helps resend previous campaigns to subscribers who didn't open or click your emails. The subject and the content of the to-be-resent email can be personalized to motivate subscribers to remain connected with you.
RSS campaign: A recurring campaign for automatic sending of RSS push emails whenever you published a new post.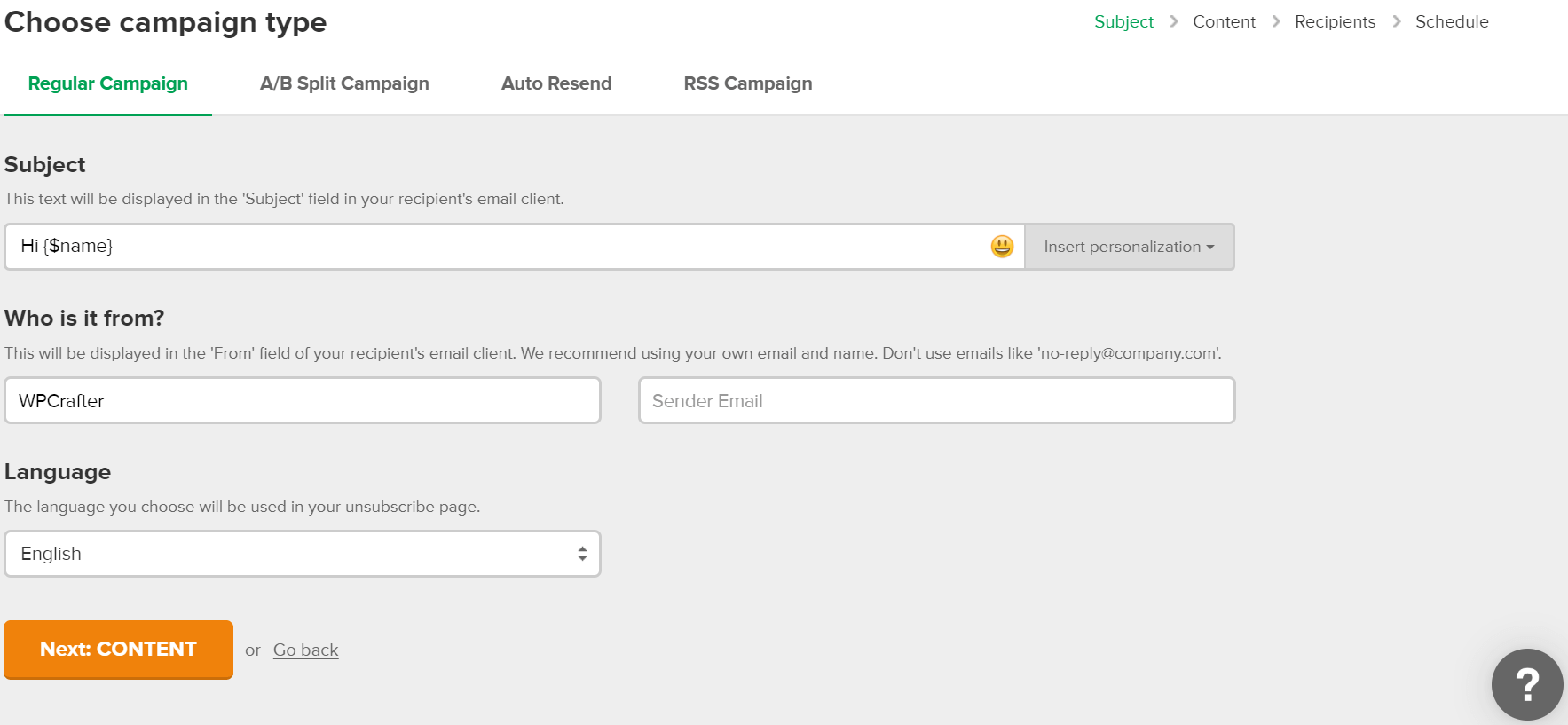 Creating a regular campaign
Let's go over the process of making a regular campaign. After choosing a regular campaign, you'll be asked if you want to start from scratch or not. If you like a fresh start, you'll be asked for your preferred editor: new or classic drag-and-drop, rich text, or custom HTML.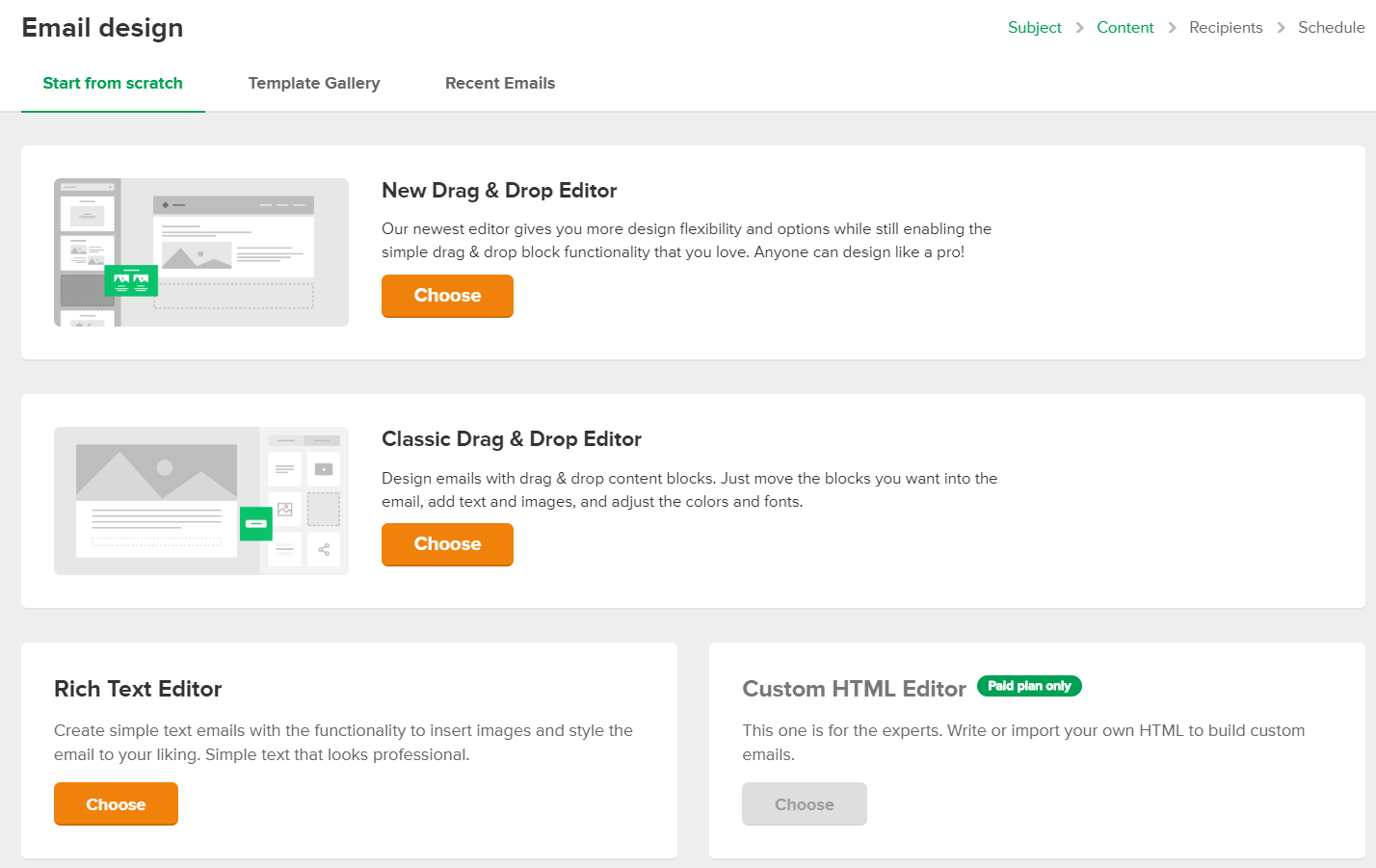 I tried the classic drag-and-drop editor, and I find it to be smooth. The set of content blocks on the sidebar covers most of the things you will need, like videos, images, signature, RSS items, buttons, and social links. The editor also tracks changes so that correcting mistakes will be a breeze. There's also a gallery that will allow you to pick images without leaving the editor. Another unique feature is that you can add Facebook posts directly to your email.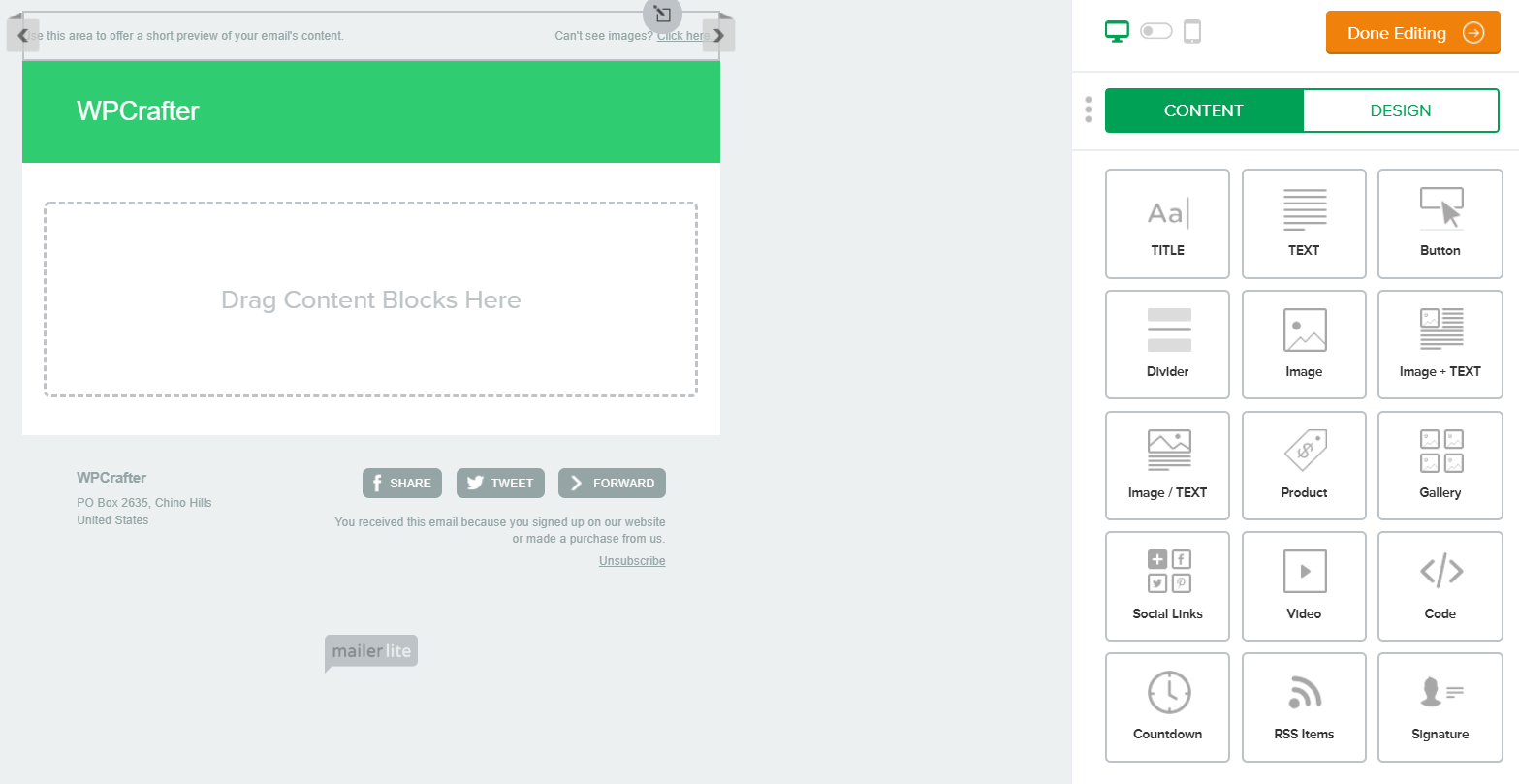 The main draw of the drag-and-drop editor is that you won't be needing HTML or any coding knowledge to be able to use it. However, if you want to work with HTML, you can simply switch to the custom HTML editor.
If starting from scratch is not something you want, you can choose a template or reuse one of your curated emails. Unfortunately, templates are only available for paid subscribers.
Once you're done designing your email with an editor or a template, click "Done Editing," and pick a group or segment of subscribers. (Note that group is different from a segment, which we'll tackle in the next section of "Subscriber management.")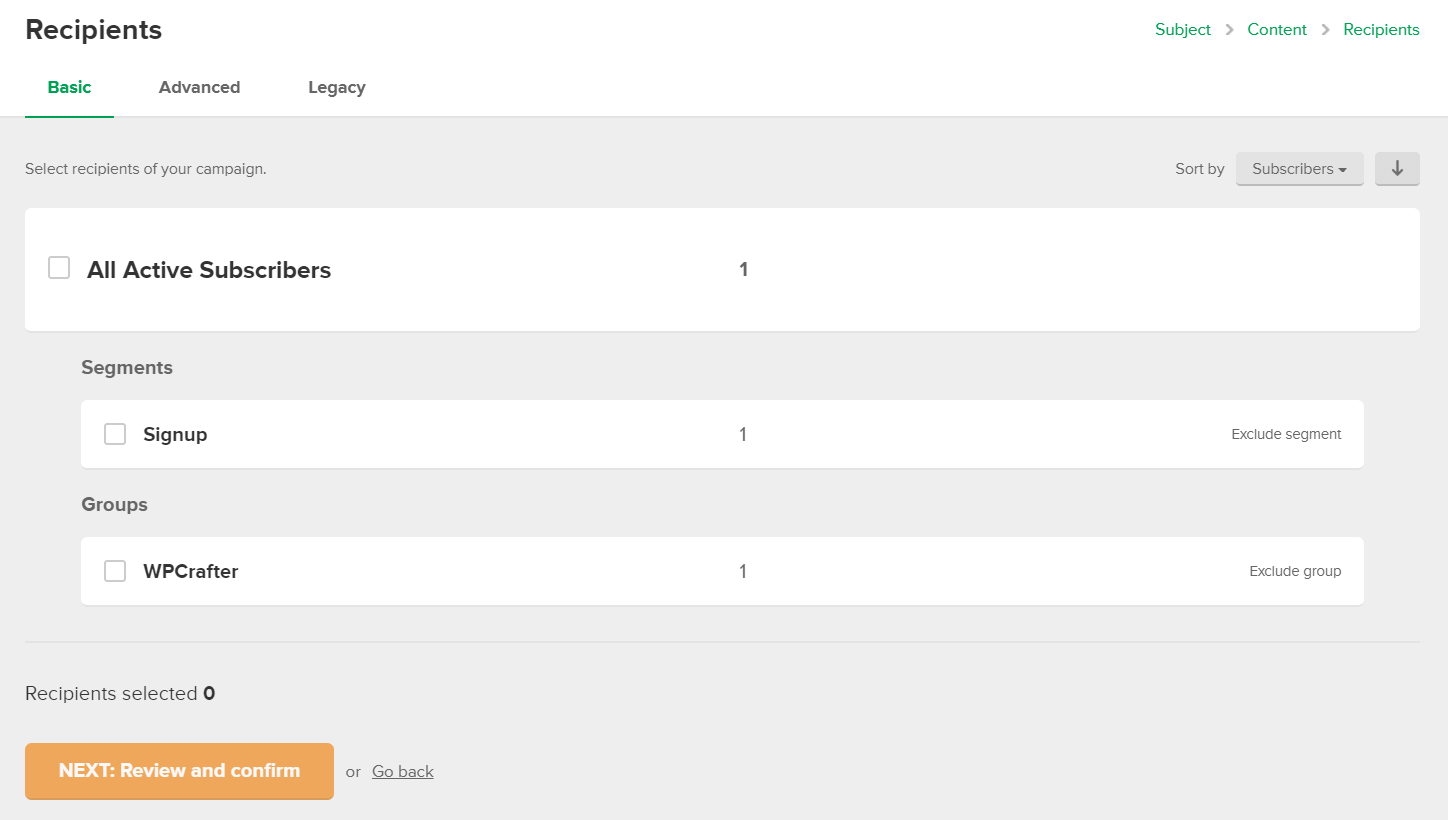 You'll then be asked to review and confirm your campaign. The final step is scheduling your campaign.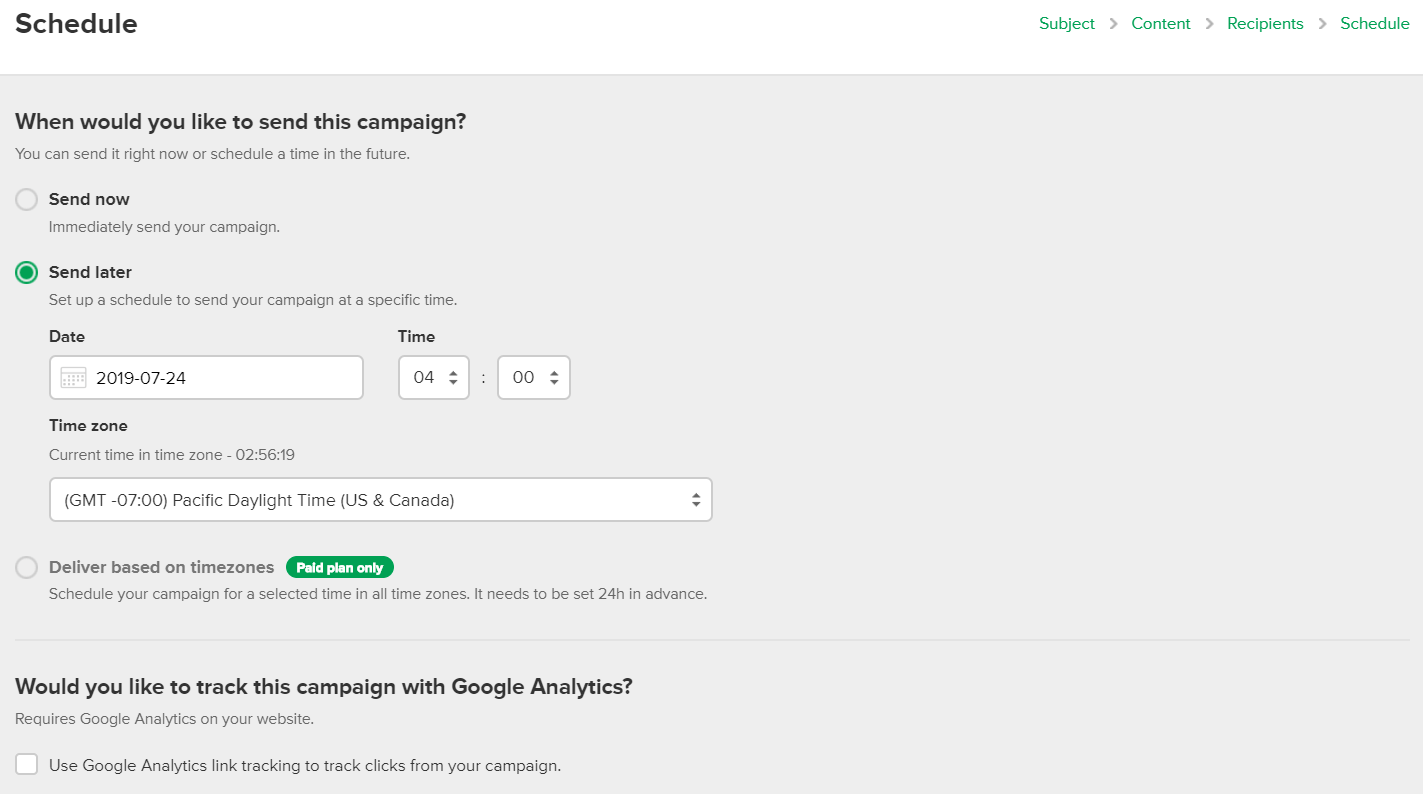 The remaining three campaign types—A/B split, auto-resend, and RSS—follow the regular campaign's steps, with some additional options.
2. Subscriber management
Segments and Groups
Sending one generic email to all your subscribers is a no-no in email marketing. If you aim to increase your open, click, and conversion rates, it's a necessity to personalize your campaigns. That's why you must categorize your subscribers into diverse personas as much as possible.
Most email marketing tools do this through "tags," but MailerLite uses "segments" and "groups." If you think segments and groups are similar concepts, be aware that MailerLite treats these two differently. And this makes MailerLite's approach quite confusing.
If you click "Subscribers," you'll see two separate tabs for "Segments" and "Groups."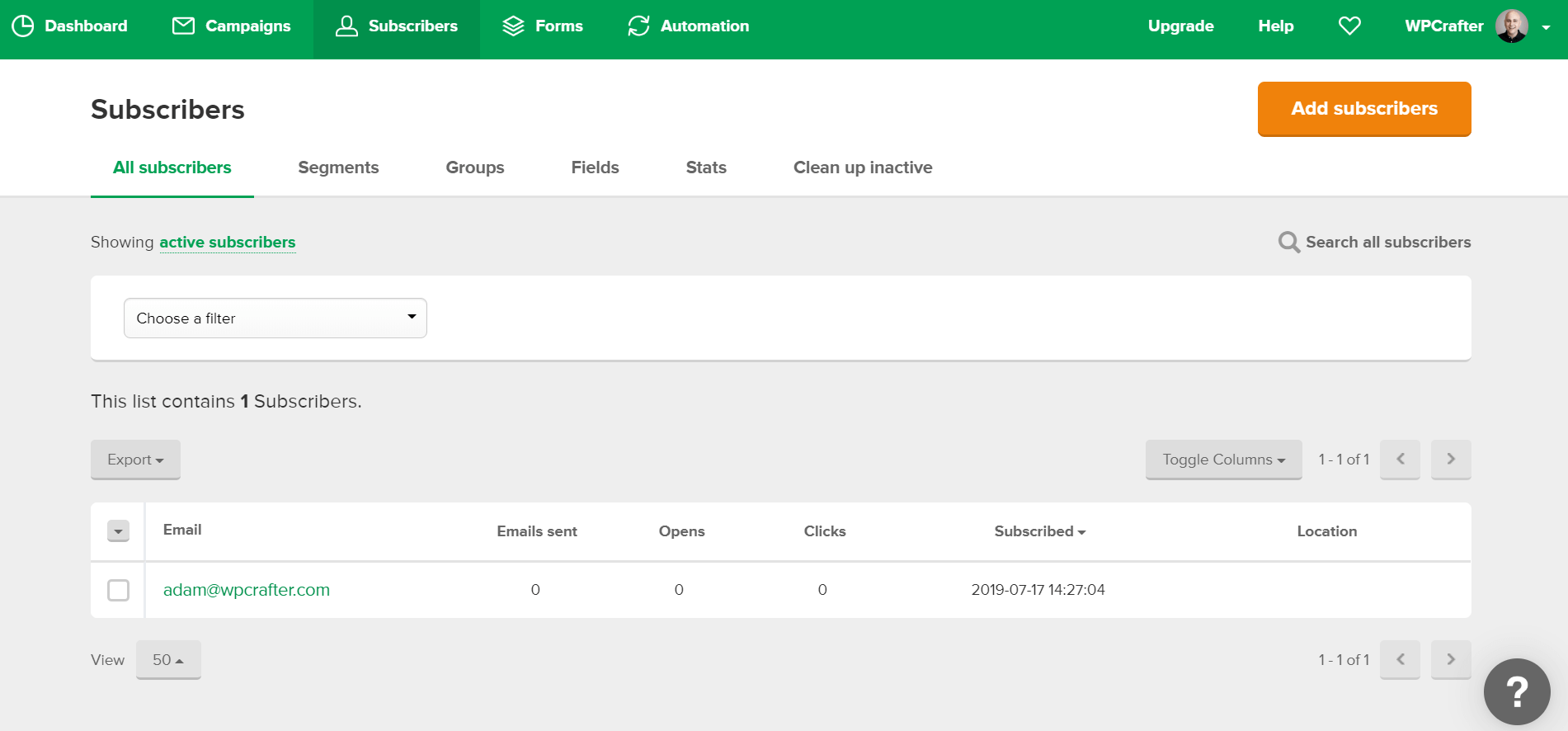 Let's discuss segments. Segments are based on a variety of rules. Subscribers will be included in one segment if they meet the rules that you have defined for that segment. You can combine rules or set an alternative rule. Setting up a rule will look like this: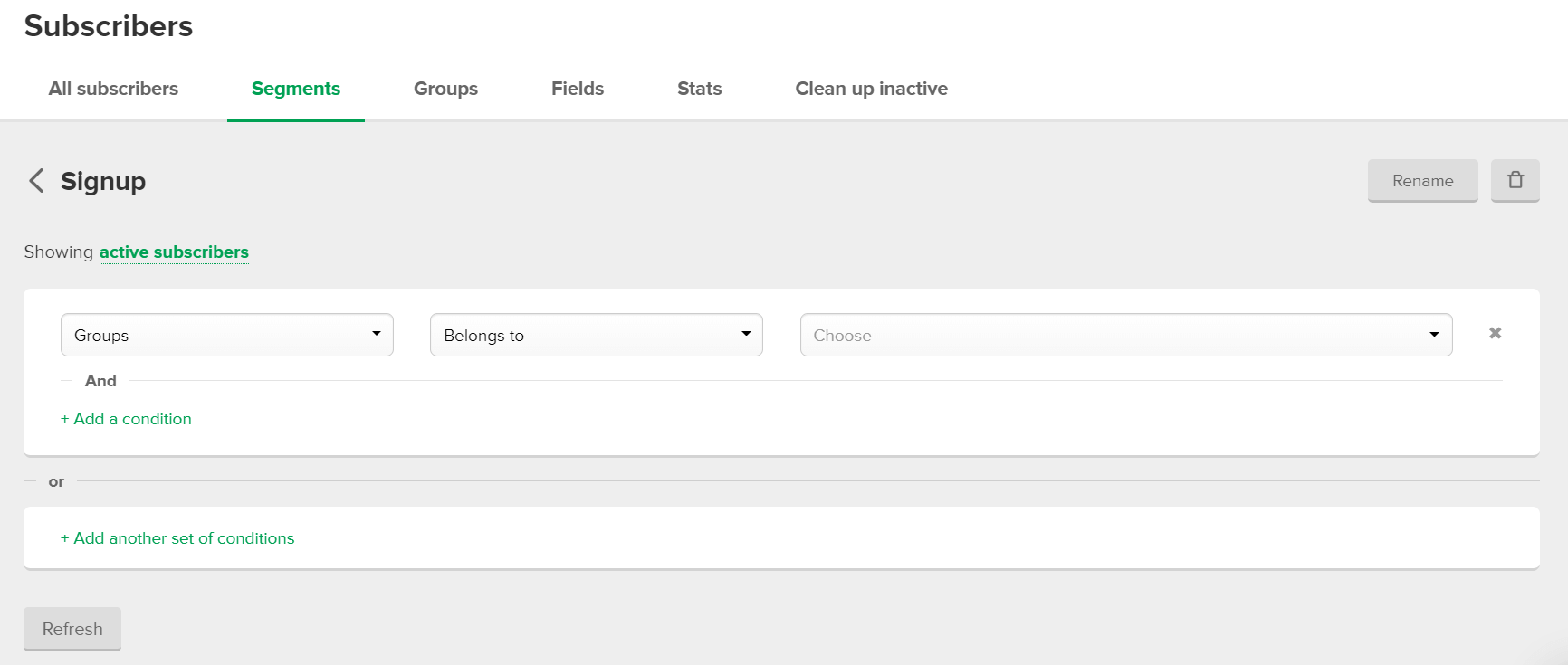 Groups, on the other hand, is what we can equate to "tags" of other email marketing tools. You can update your groups manually or with an automation rule. (Check the "Automation" section below to know more about automation.)

Thanks to MailerLite's Help, there's an additional guide to help you differentiate segments and groups. While the segments and groups can be confusing to use, these two options provide a new way for you to categorize your subscribers further and make more personalized campaigns. If you are still overwhelmed, you can opt not to use segments or groups as these two are purely optional.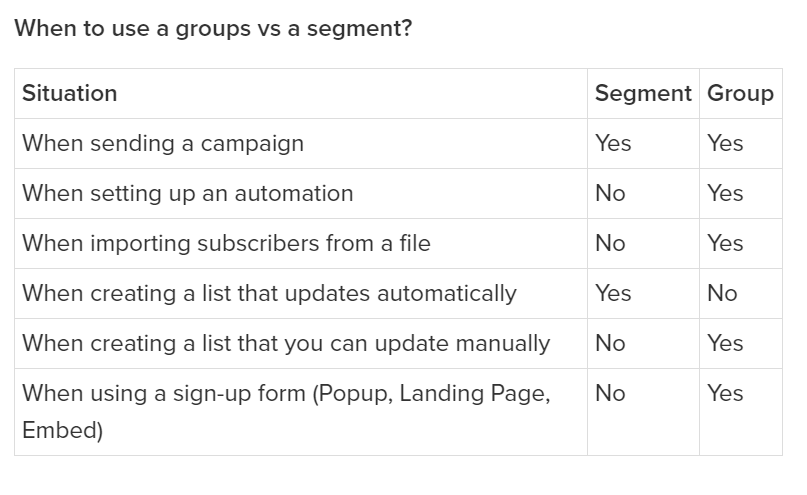 Fields, Stats, and Clean Up Inactive
These three are the remaining tabs under "Subscribers." In "Fields," MailerLite already listed its own fields here, like email, name, last name, company, and country. You can also create custom fields in this section either by uploading a CSV file of your subscribers' list or by manually adding new fields. Fields are handy when building forms.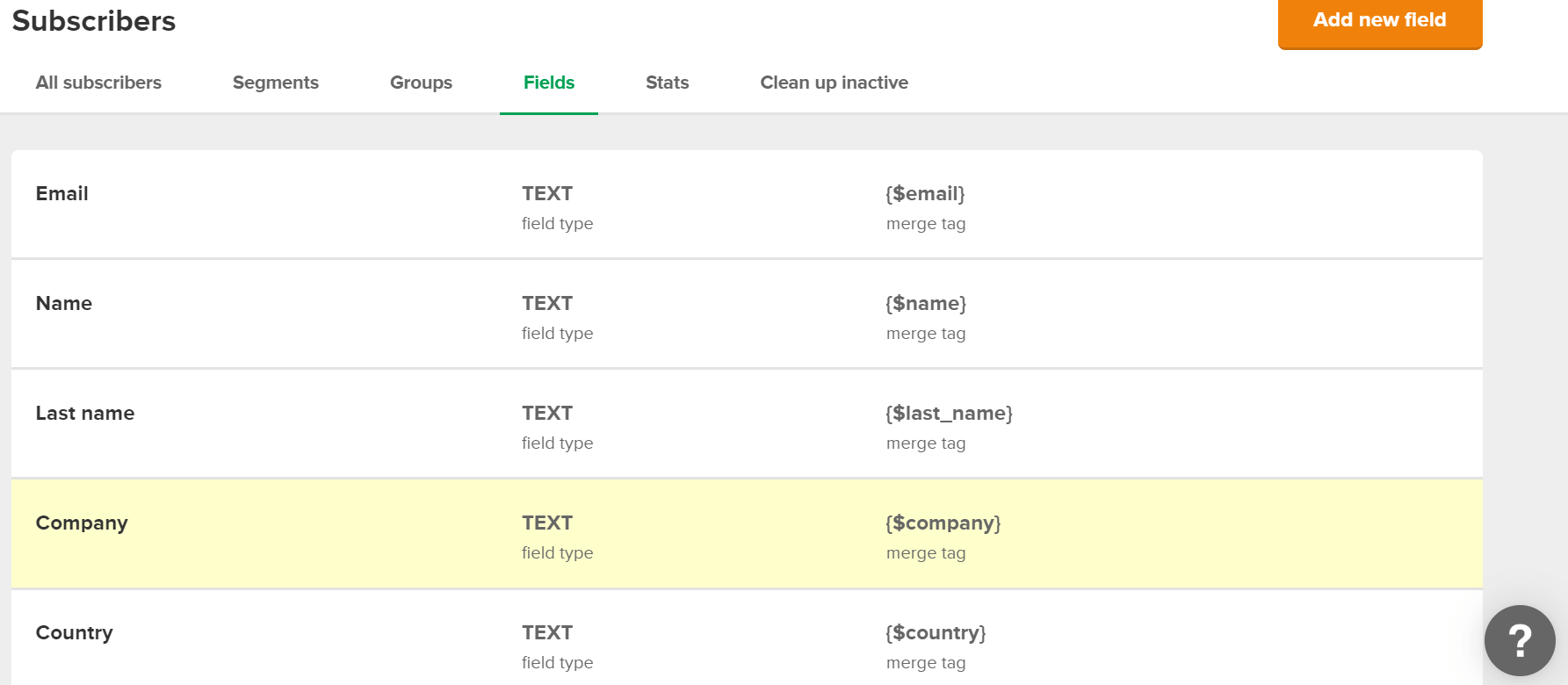 "Stats" provides different statistics, including average open, click, subscribe, and unsubscribe rates.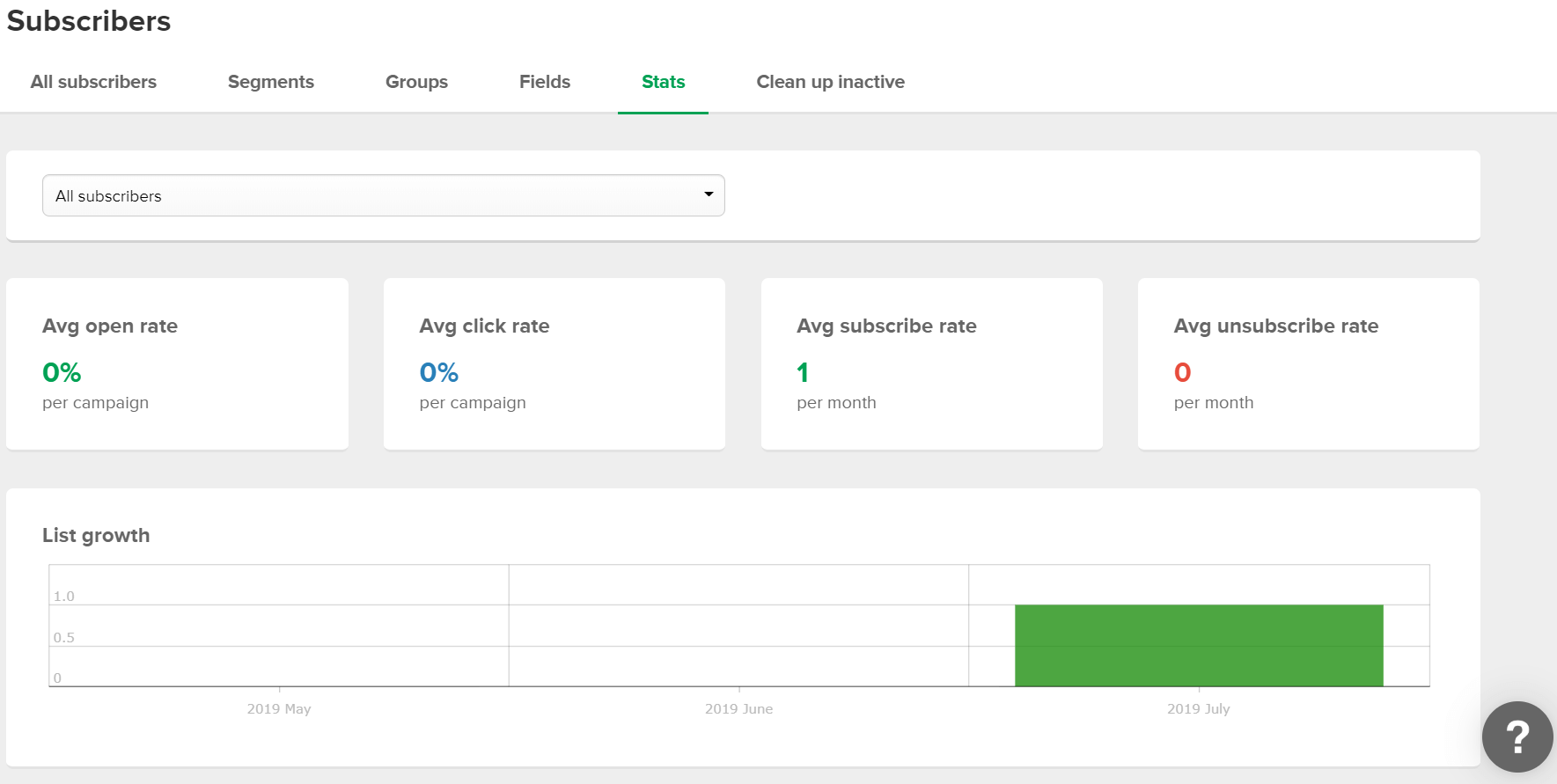 Lastly, the "Clean Up Inactive" tab lets you remove inactive members that have been in your list for more than six months but haven't opened any of your emails.

3. Forms
MailerLite's form builders will let you build embedded forms, popups, and landing pages.
Embedded Forms
Creating a new form, naming the form, and selecting a subscriber group — these are the first steps in building an embedded form. MailerLite will bring you to a page where you can edit the appearance of both the subscribe form and the success message with the "Design" tab. As you can see from the images below, embedded forms are basic, and there are no available templates for customization.


You can then place the embed code on your website so that the form will appear on selected pages. You can also configure the form's functions with the "Settings" tab.

Popups
Steps for creating, naming, and selecting a subscriber group for new popups are similar to that of embedded forms. However, unlike embedded forms, popups have templates to choose from.

MailerLite will bring you to another page where you can change the design of both the popup form and the success message.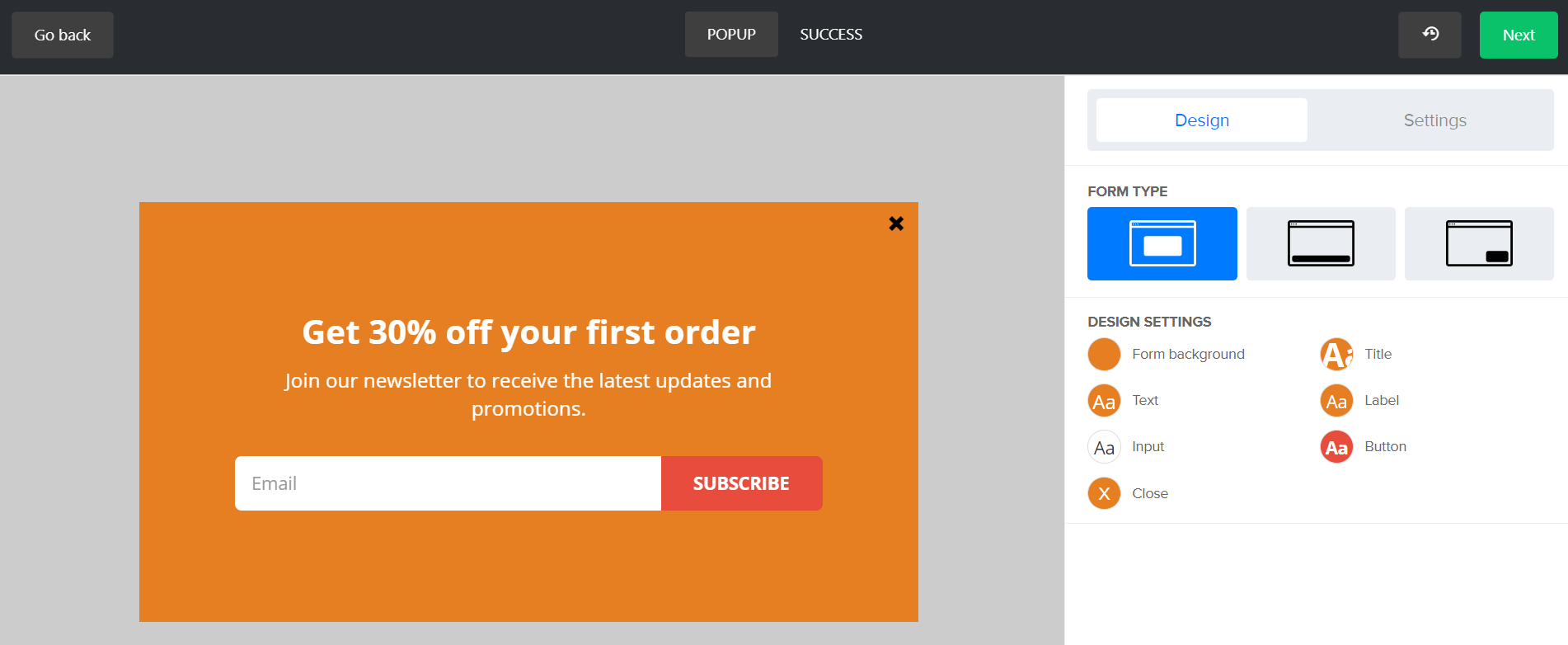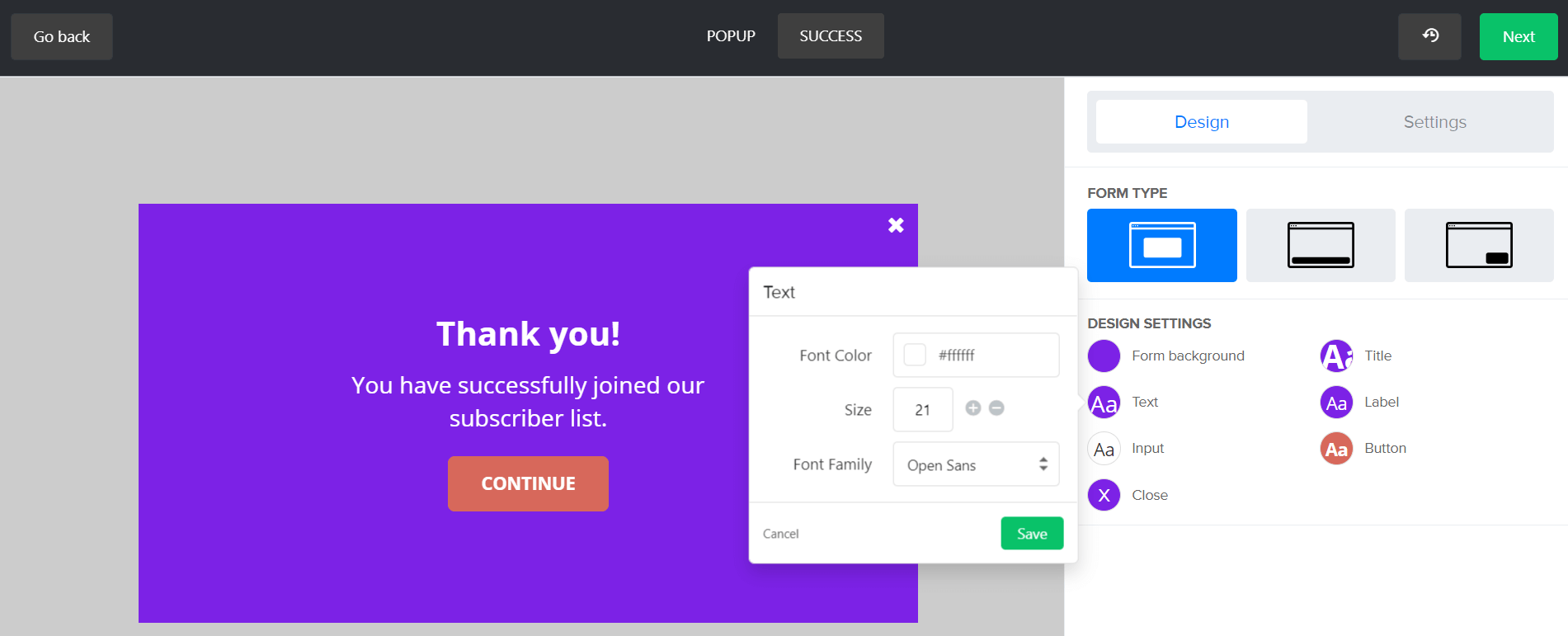 That's not all. MailerLite provides extra options to control the popup's behavior through the "Settings" tab.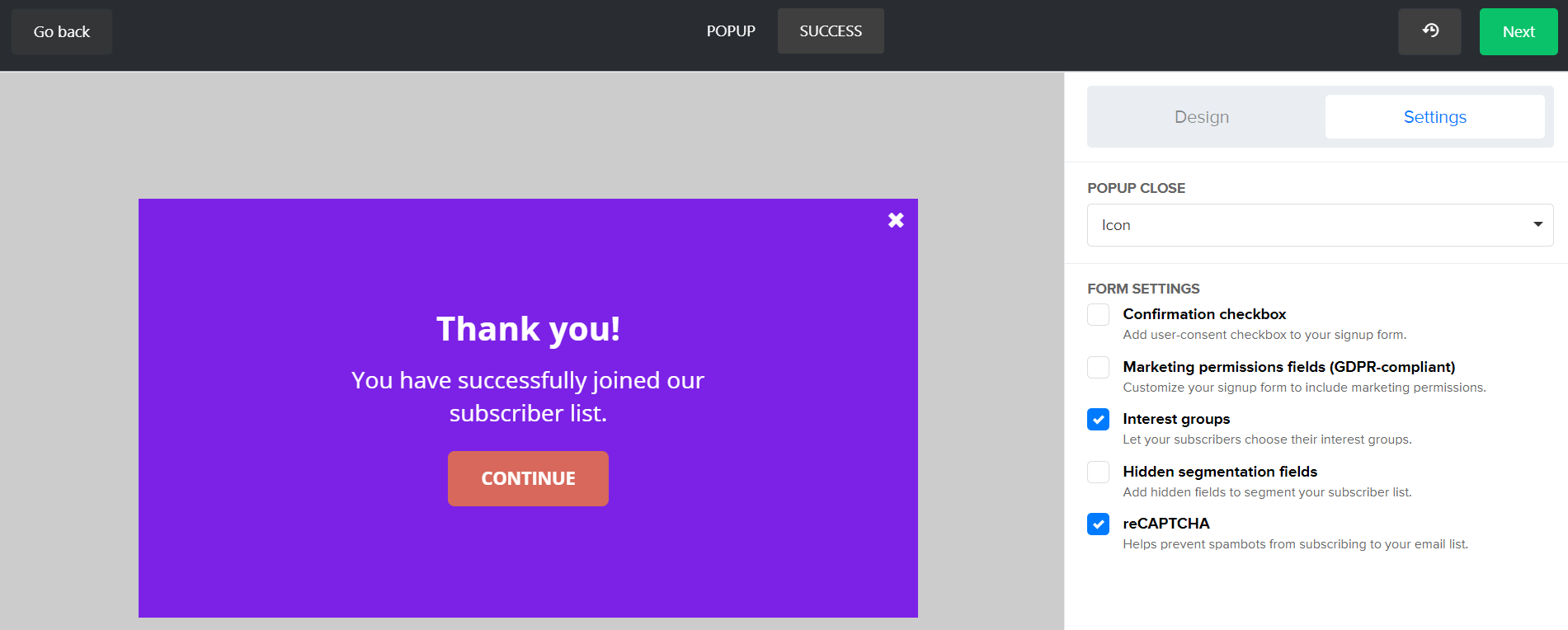 Landing Page
If you're not yet impressed with the embedded forms and popups builder, then perhaps the landing page editor—a unique feature of MailerLite—can make you a believer.
After you created a new landing page, gave it a name, and picked a subscriber group, you'll be asked to choose a template. Current choices include: e-book, e-course, invite, prelaunch, webinar, "coming soon," lead generation, and product. While the current selections are few, these should be enough to get you started on building a landing page.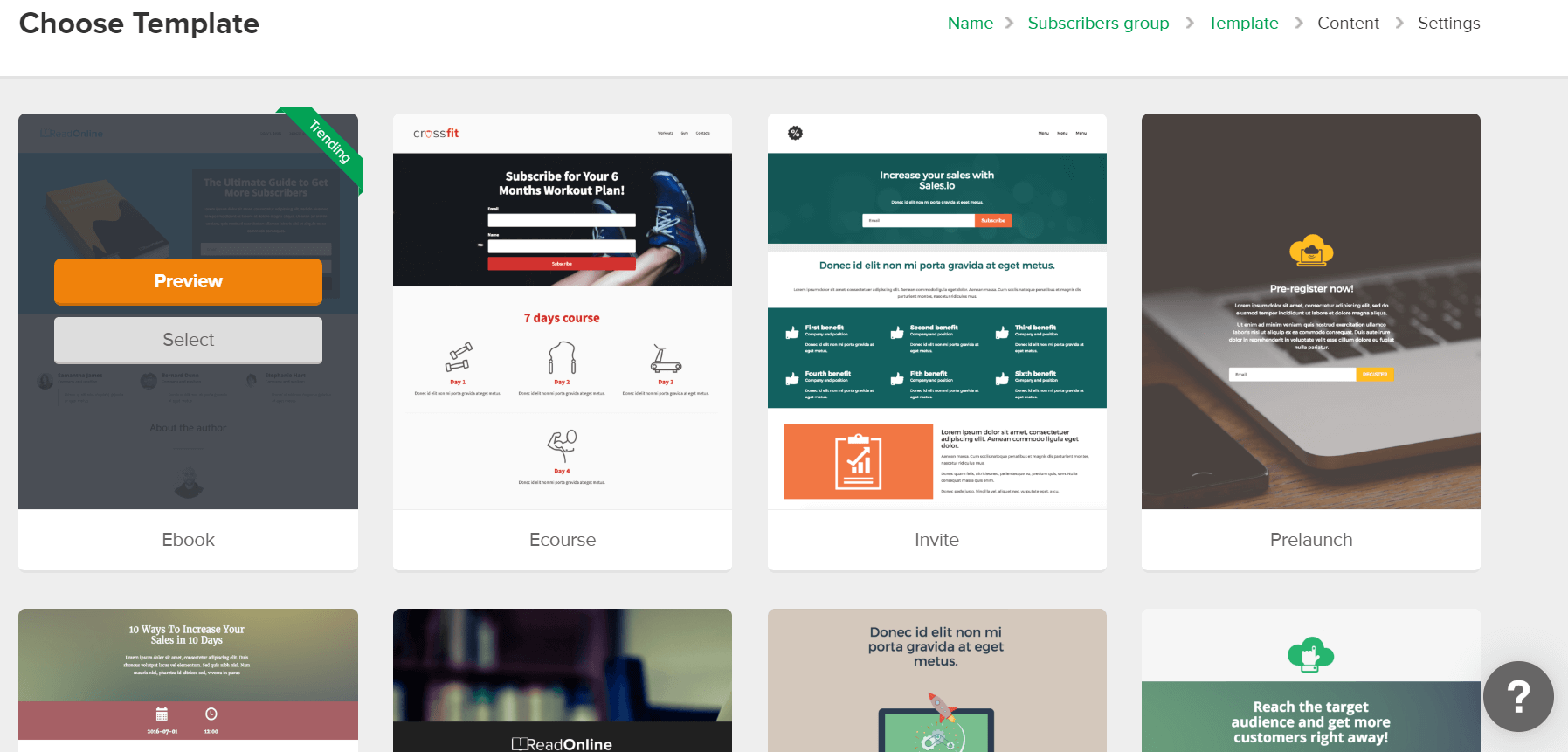 I tried the webinar template. MailerLite's editor offered 17 building blocks plus extra styling options for building and modifying both my landing page and the success message.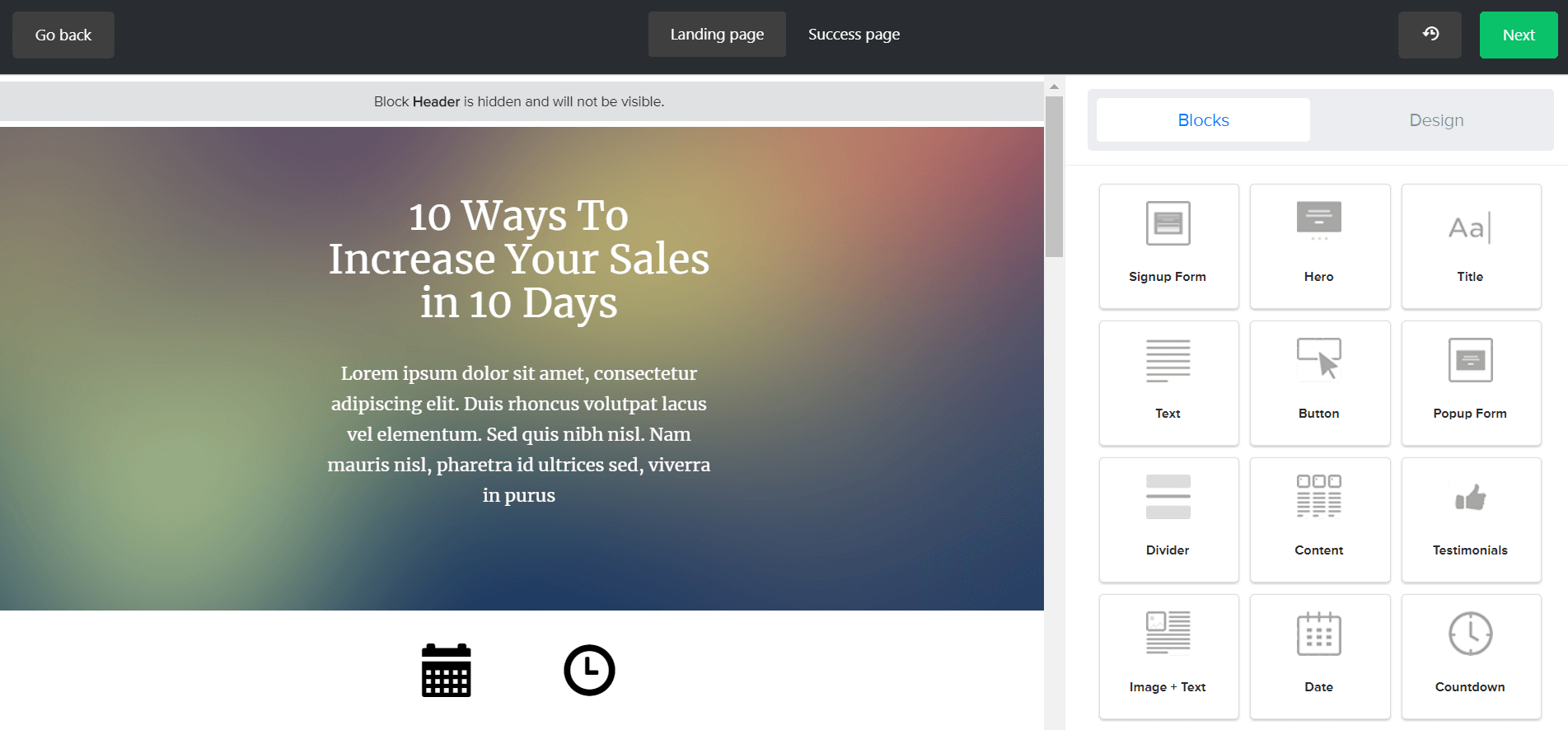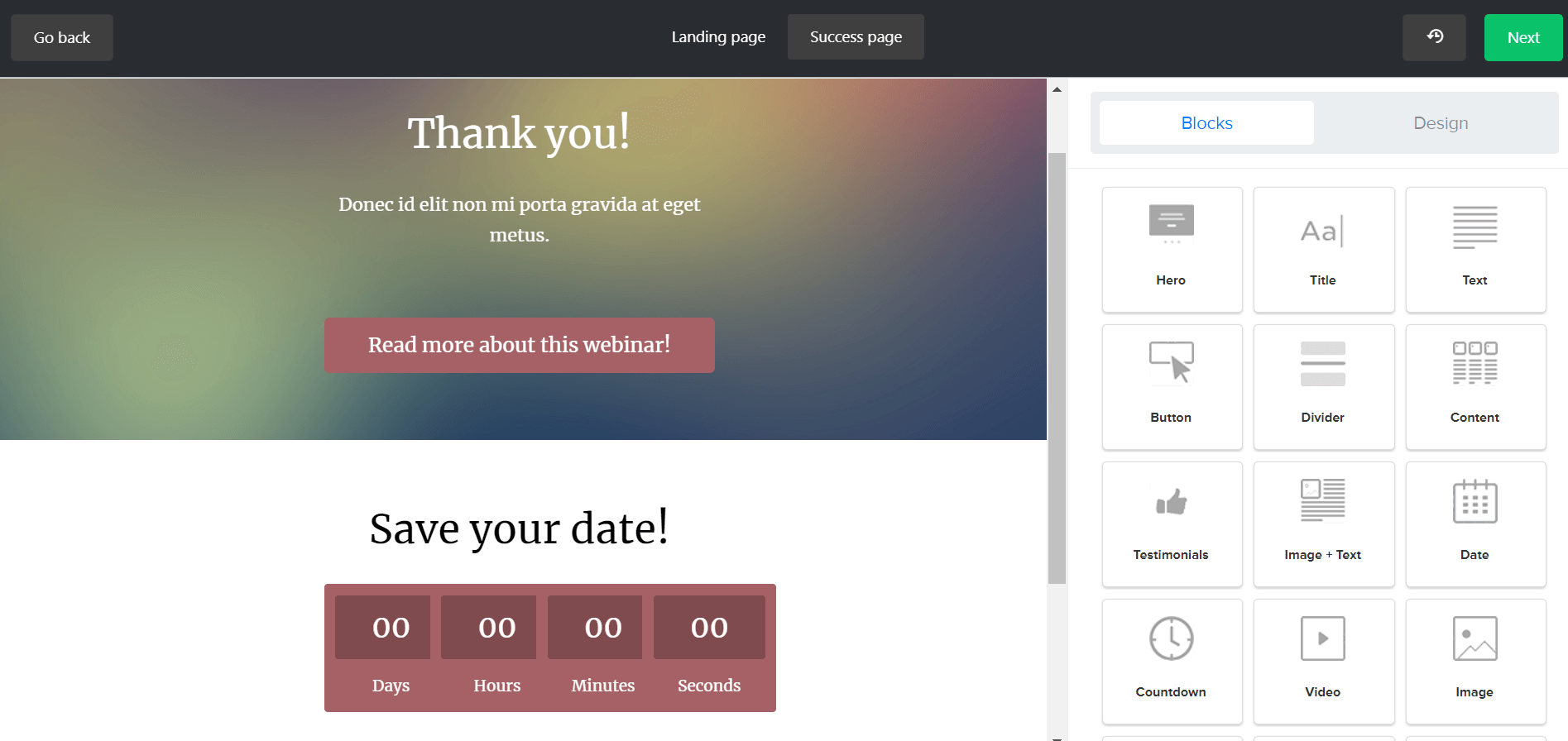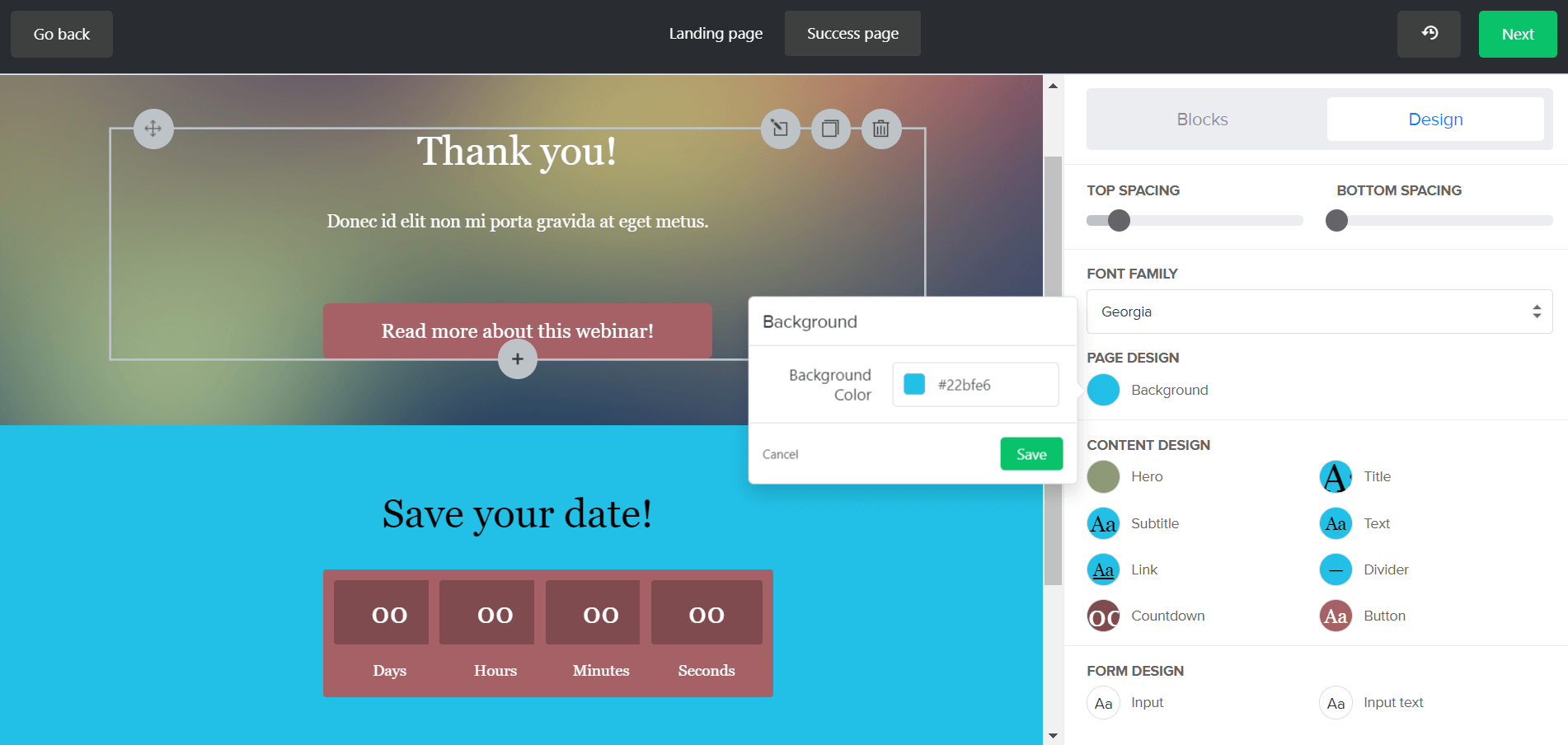 Moreover, there's the next section where you can optimize your new landing page for SEO purposes.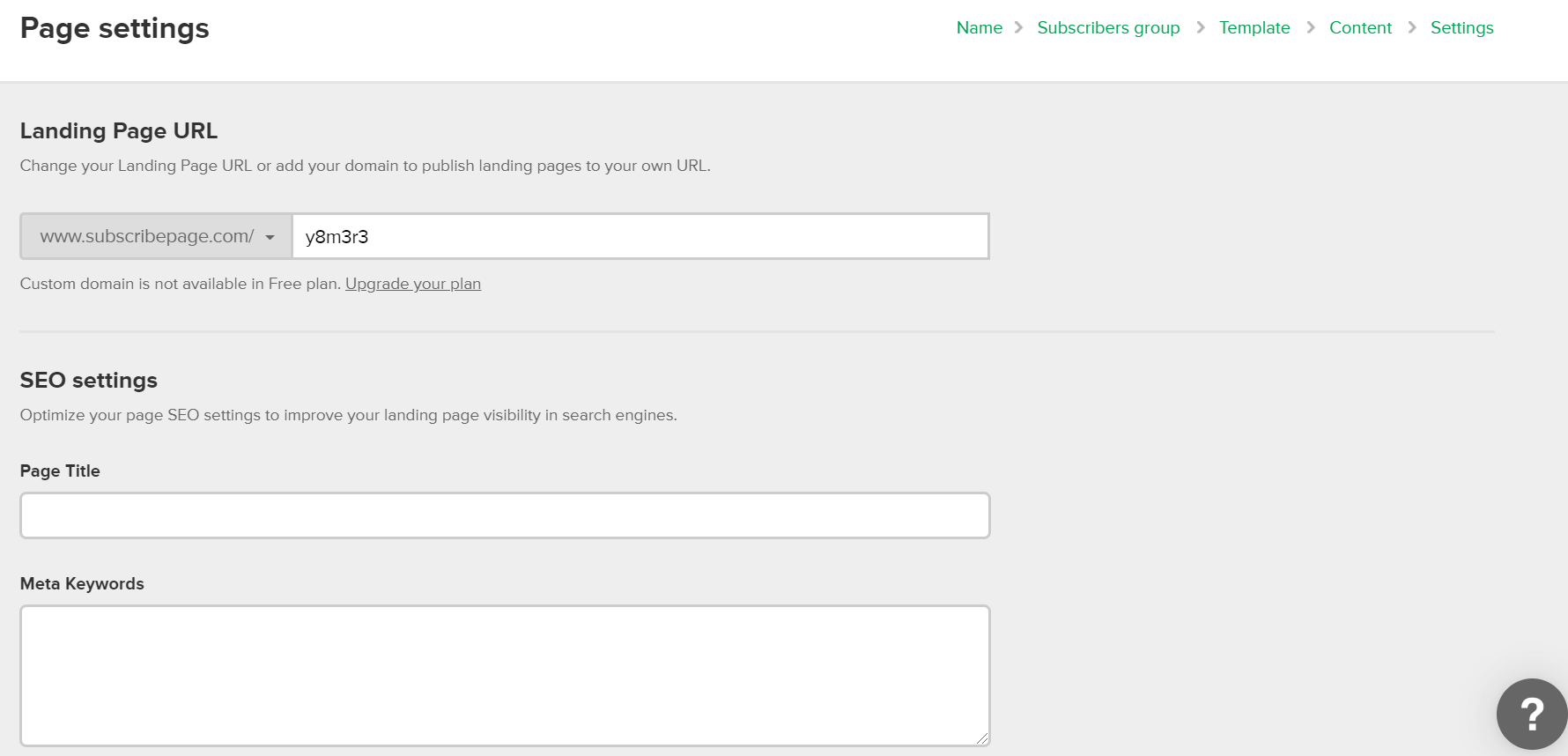 It's impressive that MailerLite offers a way to build these three forms—embedded forms, popups, and landing page—even for its free version. You can even match the colors and other styling elements to match these forms to your branding. While other email service providers do offer form-building functions, you may have to pay to make your forms.
4. Automation
Email automation is one of MailerLite's useful features and is used to create workflows based on campaign actions. Some examples of actions are: subscribers opening and clicking links, subscribers joining a list, subscribers updating one or several contact fields, or subscribers upgrading from freemium to a paid plan. MailerLite's automation is neat, simple, and easy to navigate. Such descriptions can't be said for the automation of other email marketing software.
To create a new automation, create a workflow first, then set up a workflow trigger. After setting a trigger, you can add steps, like sending an email or adding a delay, condition, or action. For instance, you can create yes/no branches at different points to send separate emails whenever subscribers meet or don't meet specific criteria. You can also use automation to set up autoresponders or update your groups.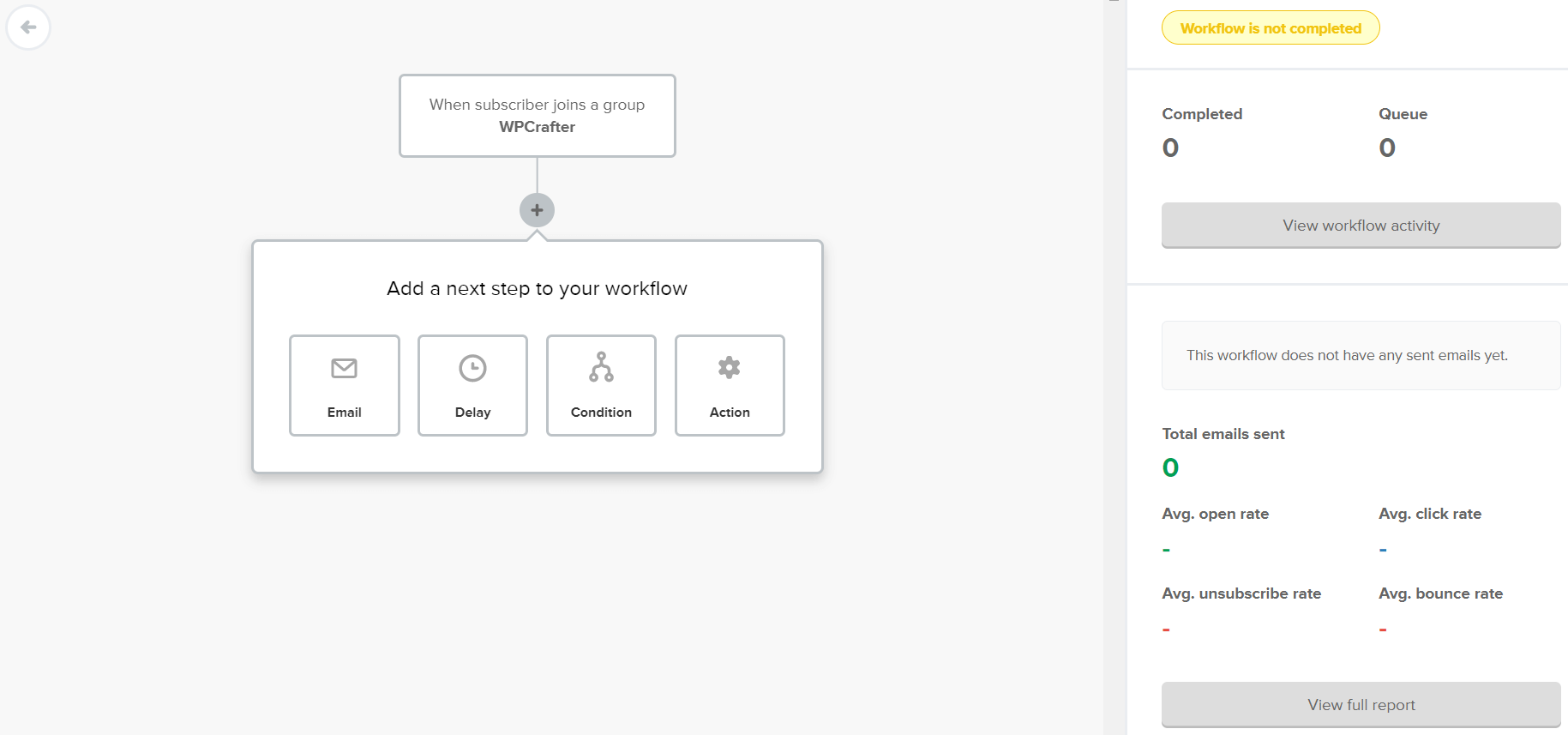 While MailerLite has multiple automation for countless possibilities, it's still not as feature-rich as ActiveCampaign and other more sophisticated email marketing platforms. It lacks advanced conditional elements, and it won't let you track subscribers' interaction with your website's pages.
5. Integration
MailerLite has quite a number of available integrations. The list is long and includes Shopify, WooCommerce, PayPal, Stripe, Magento, WordPress, Facebook, Zapier, Zendesk, ClickFunnels, Slack, Trello, Basecamp 3, Google Docs, Google Sheets, and Google Forms.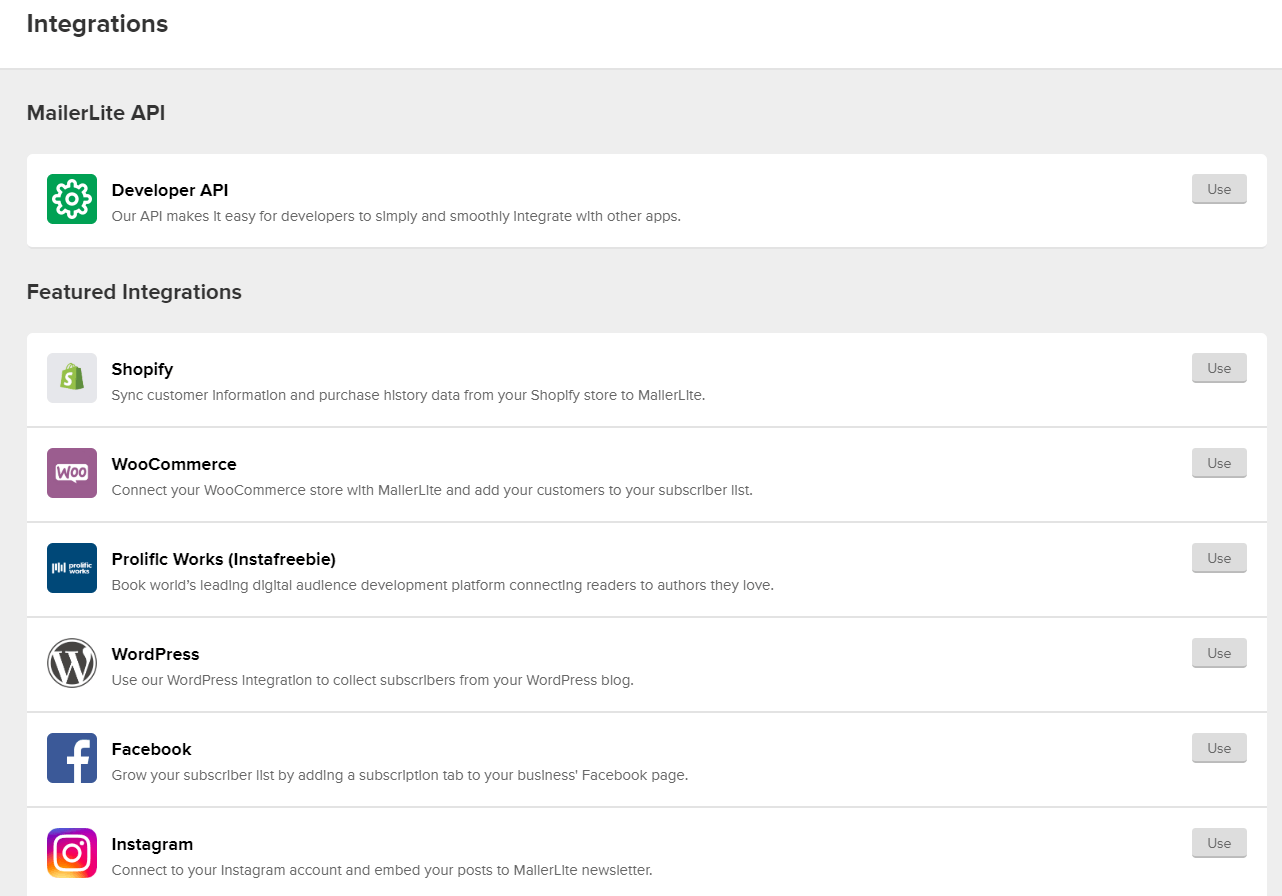 Moreover, it's easy to integrate MailerLite with WordPress sites through the WordPress plug-in. MailerLite also allows access to the developer API, something that helps its integration with other apps.
6. Other features
Here are other features of MailerLite:
Reports and analysis: MailerLite has basic reporting function, but there's no dedicated section for this. There's "Stats" under "Subscribers," and there are also the reports inside campaigns. MailerLite has limited e-commerce tracking, which applies to WooCommerce and Shopify. It doesn't have social tracking, but it does have click-mapping.
Bounce management: After one hard bounce or five soft bounces, MailerLite automatically moves subscribers to a bounce folder where you can manage them. Bounced emails happen when the subscriber's inbox is full or when an email address is invalid.
Unlimited image library: MailerLite also impose no limit to image size.
MailerLite Pricing
MailerLite is an affordable email service provider. It's great for startups, small and midsize businesses, and individuals who don't have too much money to spend. There are five pricing models, including a freemium version. However, if you intend to use MailerLite for business use, I suggest that you go with the $10/month plan so you can enjoy all features and be allowed to send unlimited emails.
Here are the pricing plans:
$0/month (free): up to 1,000 subscribers; up to 12,000 emails per month; with limited features.
$10/month ($84/year): up to 1,000 subscribers; unlimited emails per month; access to all features.
$15/month ($126/year): 1,001 to 2,500 subscribers; unlimited emails per month; access to all features.
$30/month ($252/year): 2,5001 to 5,000 subscribers; unlimited emails per month; access to all features.
$50/month ($420/year): 5,001 to 10,000 subscribers; unlimited emails per month; access to all features.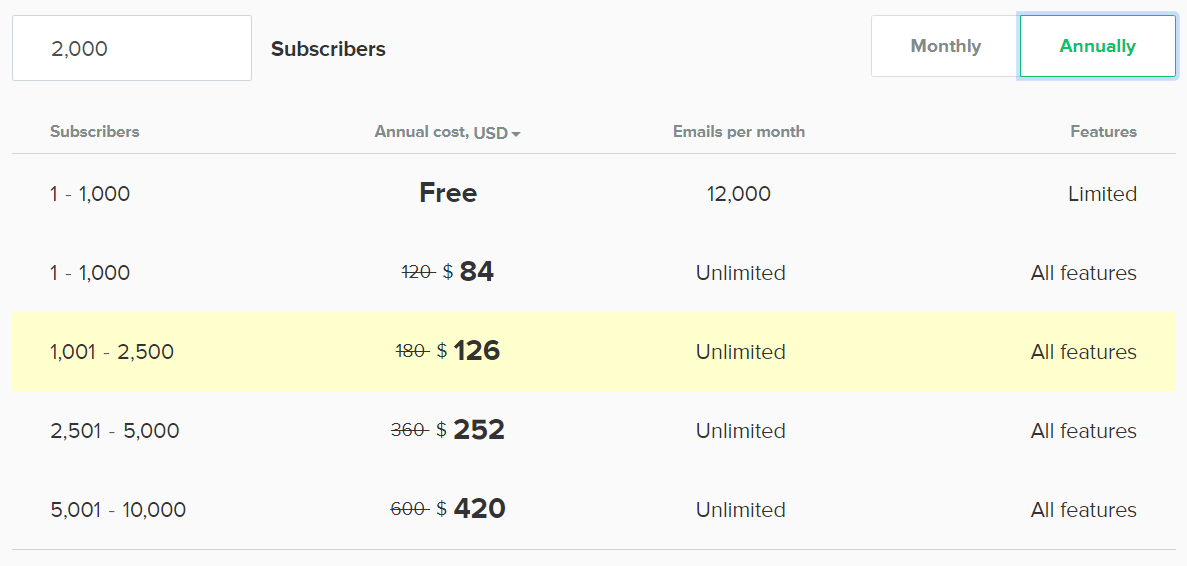 If you're curious about the differences in features between the free and paid plans, check this image: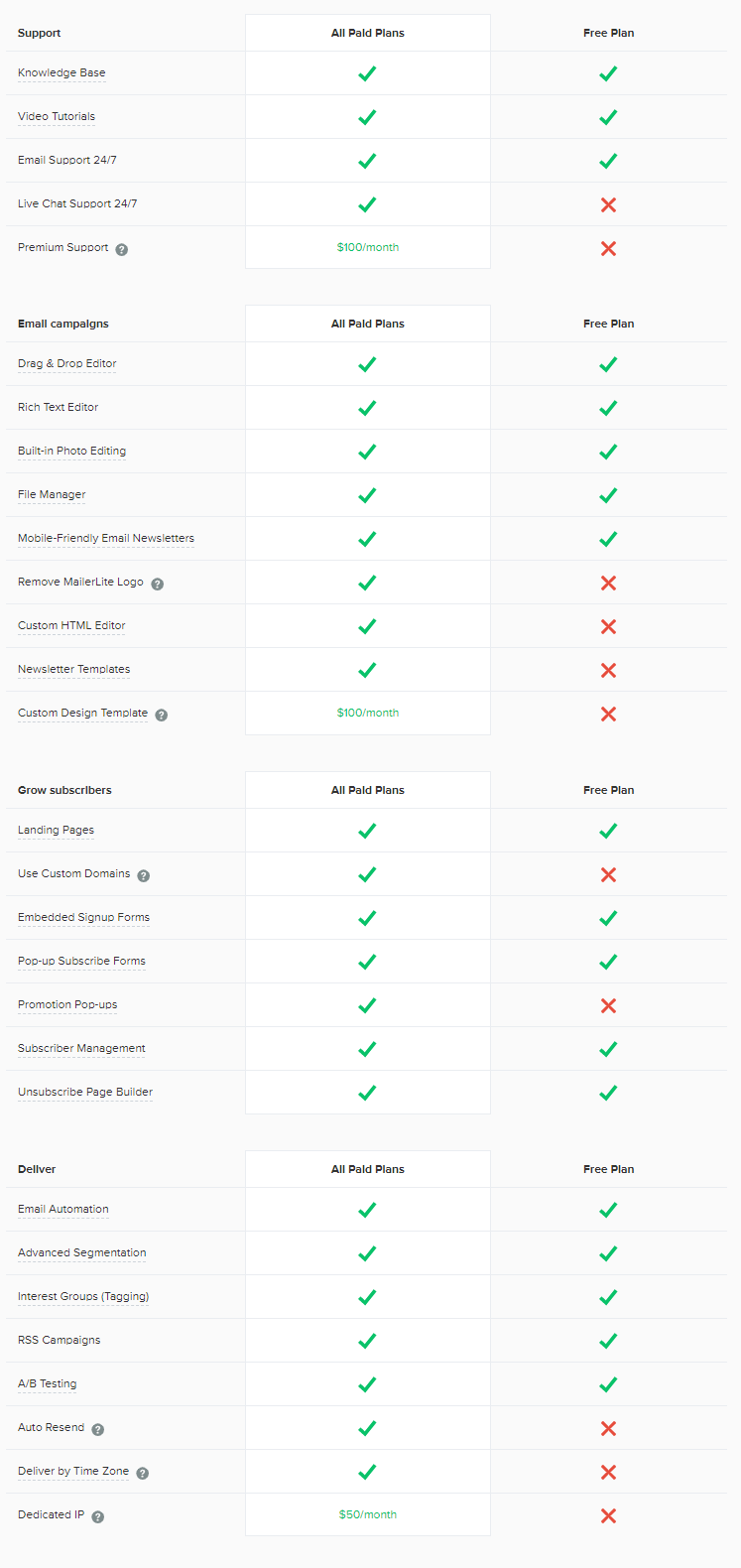 Refunds
Subscribers can only get a refund if MailerLite terminates the services without cause. Other situations will be under the discretion of MailerLite.
MailerLite: What I Liked About It
First and foremost, MailerLite is beginner-friendly and easy to use. I certainly liked the dashboard, the drag-and-drop builder, the generous number of content blocks, the forms builders, seamless integrations, and the simple yet sufficiently powerful automation.
The customer support (comprised of email and 24/7 live chat) is great and responsive. The team can speak 12 languages, including English, French, Spanish, German, Russian, and Dutch. MailerLite also has a comprehensive knowledgebase.
However, the main thing that gravitated me to MailerLite is the free plan. While this plan may not have all the bells and whistles of the paid plans, their free option already includes pretty powerful automation and most of the key features of MailerLite. Add the fact that the first 1,000 email subscribers are free. This free plan is simply perfect for anyone who wants to get a taste of how an email marketing tool works.
MailerLite: What I Don't Like About It
While MailerLite has useful automation functions, it still lacks certain triggers. The difference between segments and groups is confusing. The available templates, payment options, and personalization tools are limited.
The most frustrating part about MailerLite is the strict approval process. While the approval process may just take one day, if your account is not approved, MailerLite will not provide any explanation for the disapproval. While this is maybe MailerLite's effort to curb spamming and keep deliverability of email campaigns at a high rate, the process is still annoying.
MailerLite Review: Final Thoughts
MailerLite is an easy-to-use email marketing software, with enough features that should suit small and medium-sized businesses, bloggers, and freelance marketers that operate with a modest budget. Novice and intermediate users with minimal HTML or coding knowledge will like the drag-and-drop builder and other simple aspects of MailerLite's interface.
MailerLite is at par (if not better) than MailChimp, with MailerLite's paid plans also being more affordable. The free plan doesn't have all the features, but with 1,000 free subscribers and 12,000 monthly emails, it's still a good deal. MailerLite packs plenty of automation for simple triggers, but don't expect it to perform advanced automation seen in ActiveCampaign and other more sophisticated tools.
MailerLite offers substantial list management that will come handy in crafting more personalized campaigns. However, making segments and groups can be confusing for starters, especially if you're used to "tagging" of other email marketing tools. Furthermore, MailerLite's approval process for new accounts is more rigorous than that of other providers.
So, is MailerLite for you? If you got a limited budget but needs a tool that does more than send email campaigns, then MailerLite would fit the bill.