11 Powerful WordPress Membership Plugins To Grow Your Recurring Income in 2023
Using WordPress and a membership plugin instead of a third-party cloud platform like Teachable is a great combination for creating membership websites.
Managing your online business and generating recurring revenue that way has many advantages:
Profit: Membership plugins don't have commissions for each sale and tend to be more cost-effective.
Customization: Use your favorite WordPress theme or add custom CSS for more personalized modifications.
Integrations: A WordPress membership plugin can integrate with virtually any other tool.
Control: Manage the user experience, membership levels, the benefits you offer and more.
Freedom: You won't have to work under the rules of a third-party platform.
If you plan on offering membership website creation services, an ad hoc solution will be greatly valued by your potential customers.
Which again will mean more potential revenue for you.
Let's continue making good decisions by picking the best WordPress membership plugin for your needs.
Find out the top 11 membership site creation plugins for #WordPress to grow your recurring income!
Features of Great Membership Plugins
What are the key features of a membership plugin?
Ease of use: Memberships are not a set-and-forget business and you'll be working on them constantly. You need something that is easy to use on a daily basis.
Growth potential: Memberships are long-term projects. You need the confidence that your plugin won't abandon you along the way, and will consistently add new features.
Integrations: Professional membership websites need to integrate with email marketing software, page builders, CRMs and more. Think about whether any tool is indispensable for your business (now or in the future).
Note: At the very least you'll need an integration with Zapier or SureTriggers, as they will let you connect tools that don't have native integration.
Payment gateways: Stripe and PayPal are enough in the vast majority of situations. Do you need another payment method for your target market? e.g. manual payments via wire transfer?
Advanced marketing features: Selling access to memberships is a key part of the business. The more tools you have available, the better: Coupons, installment payments, trials, order bumps and upsells can all be very effective.
Licensing: Do you need to use the plugin on dozens or unlimited sites because you run an agency? Or is one site for your single project enough?
Costs: If you're not an agency, the costs will vary by only a few hundred dollars per year. But if your budget is tight you'll have to take this factor into account.
Multi-language support: Is the plugin available in your language or can you translate it? Your members will feel more comfortable using their native language.
LMS capabilities: If your private content is focused on teaching, you might want quizzes, certificates, courses, modules and lesson management or progress tracking.
There are extra characteristics that you could take into account, such as access to detailed reports or more direct and faster customer support with the developers (e.g. chat instead of a ticket system).
Maybe these features are important to you.
That is why we recommend you create a small checklist of all the things that are necessary for you.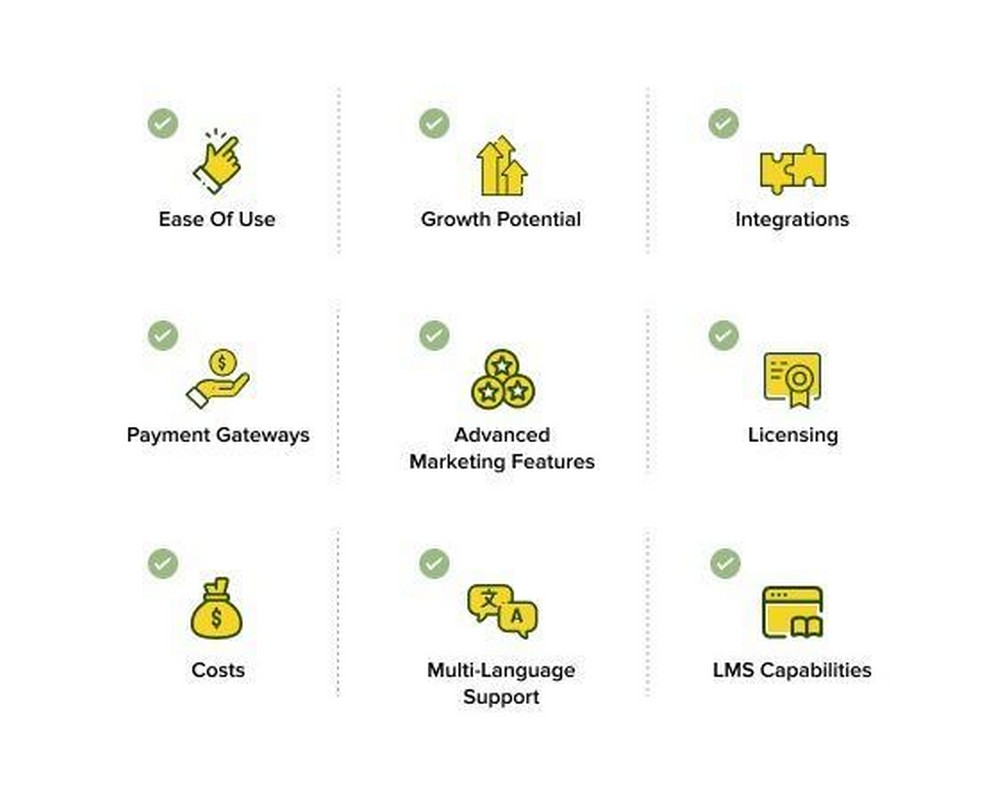 It will be much easier to make a decision when you know exactly what you need.
11 Membership Plugins You Can Use to Grow Recurring Income
There are dozens of alternatives for creating WordPress membership sites.
Instead of dumping a huge list of names and links we've decided to make an exclusive list with only the top-notch solutions so you can analyze them in more detail.
1. SureMembers
SureMembers is a WordPress membership plugin that simplifies the process of protecting specific parts of your website.
The first version was released in mid-2022.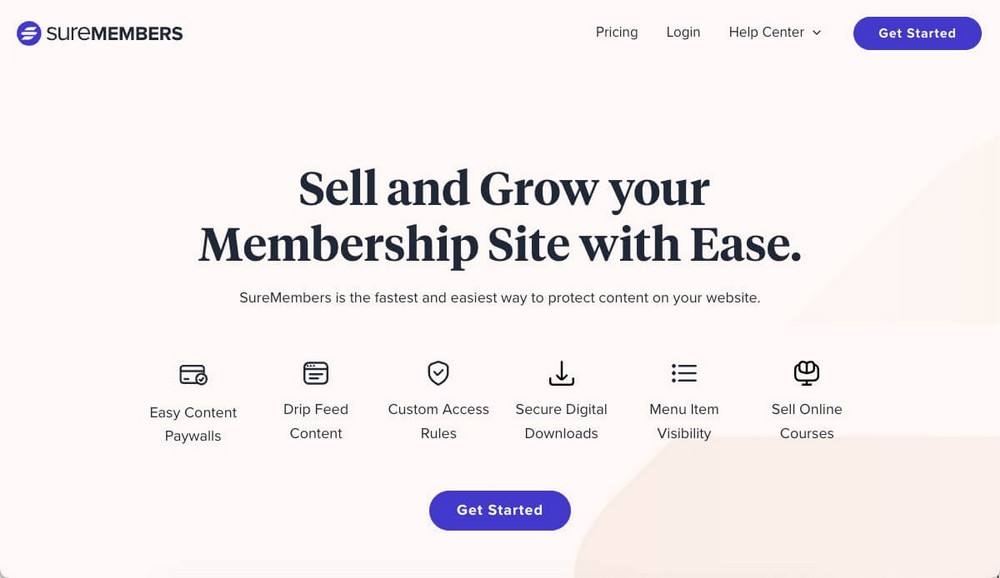 The plugin was co-founded by Adam, creator of WPCrafter.
Adam has a great technical background in analyzing and using other membership plugins and other WordPress tools for his reviews and business requirements.
He really understands the needs of WordPress users and business owners.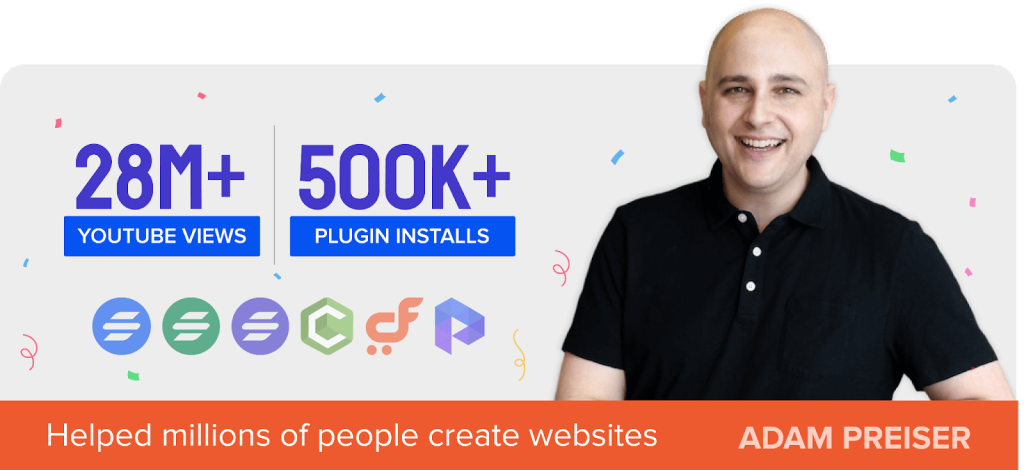 SureMembers is part of the SureCrafted suite, which includes:
SureCart: A fast and easy-to-use WordPress eCommerce plugin.
SureTriggers: An automation tool to connect your sites, plugins, and third-party applications.
SureWriter: An AI writing assistant to help you create content much faster.
All these products are a perfect fit with each other, which means huge growth potential.
SureMembers Key Features
One of SureMembers' most interesting features is its ability to protect digital downloads.
Adding digital products to your private area is something that will increase its value.
All you have to do is add these products in the downloads section when creating your membership level.
This will spare you from having to buy and use additional plugins such as Easy Digital Downloads.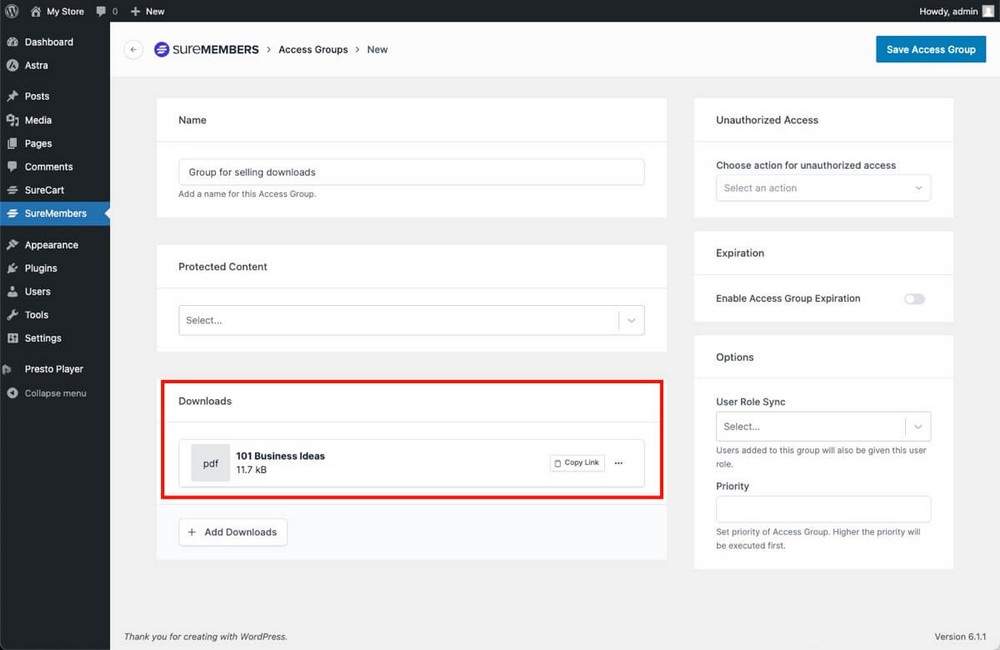 SureMembers allows you to control the protected content with a great level of detail:
Powerful locking rules: Protect custom post types, items by category or tag, or specific taxonomies.
Drip content: Unlock content over time on a schedule you set.
Add expiration dates: Remove users from a group after a specific period of time, or on a specific date.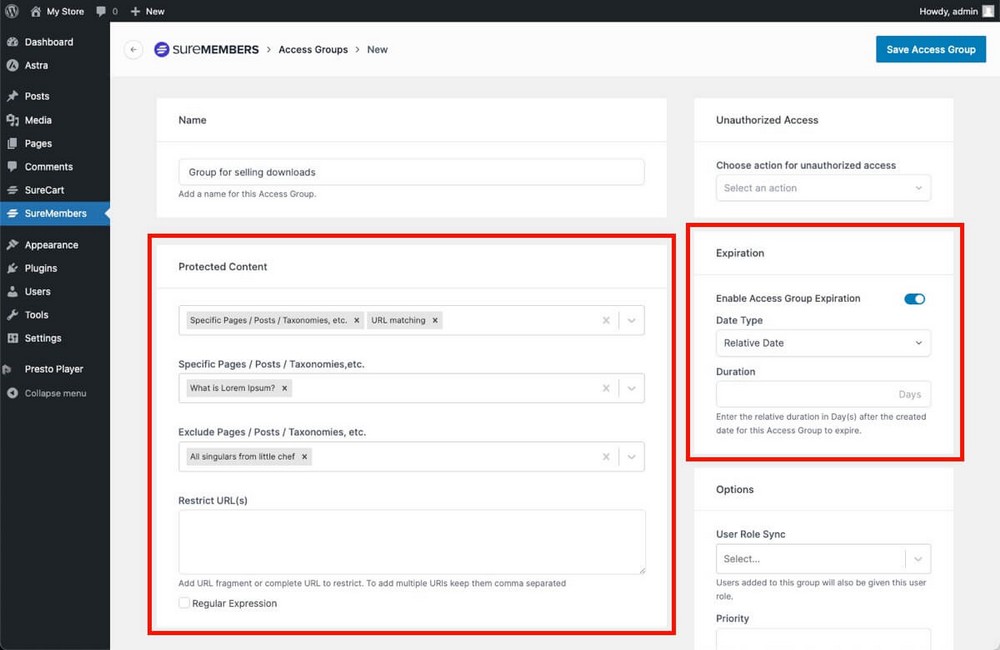 If you already use an advanced plugin that uses WordPress user roles, SureMembers has a feature to change these roles.
i.e. The members of a SureMembers access group would automatically have the WordPress user role that you define there.
This functionality is a bit more advanced, but very useful if you want to add a forum to WordPress.
You could for example allow non-members to read all the content but only members of a certain level with a different role could create new topics or reply to them.
Many plugins use roles to give users more privileges than just access to certain content, and with this feature you'll be able to control and monetize that.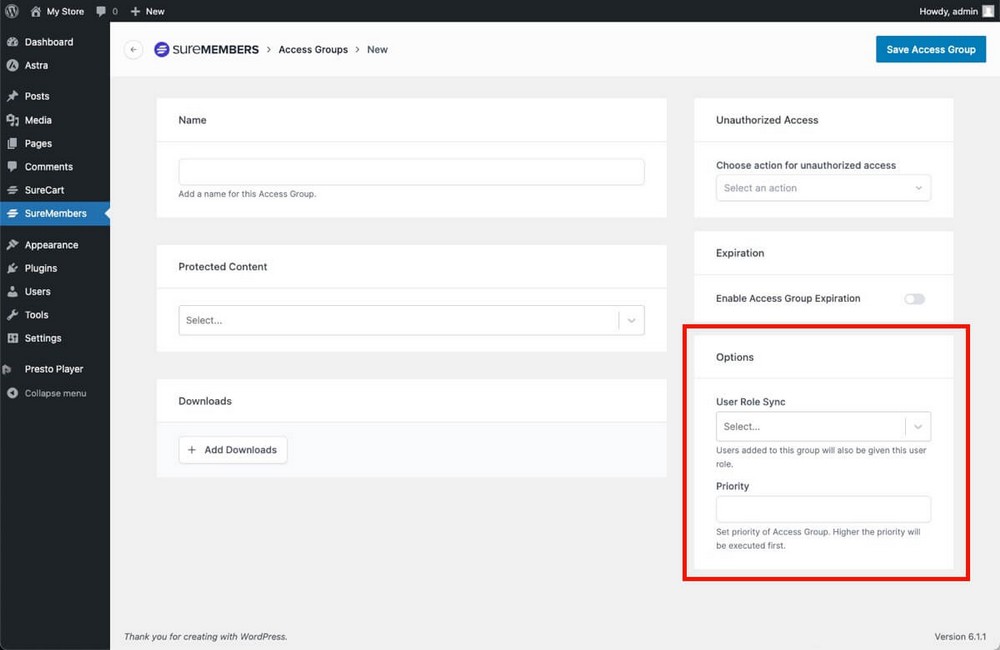 Watch the following video to understand this better.
SureMembers Pros
Ease of use modern user interface: Other plugins make you visit different settings to create your membership levels and set up access. SureMembers brings everything together in one place.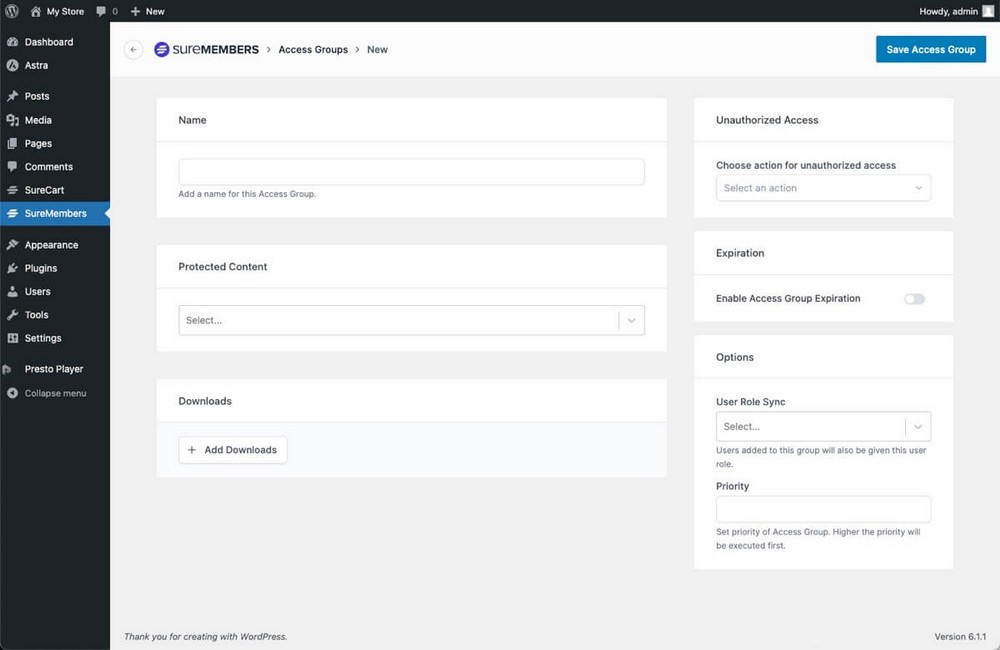 Selling flexibility: SureMembers can be integrated with WooCommerce or with the free SureCart plugin.
The latter will allow you to use advanced sales techniques such as installment payments, cart abandonment reminders or paid trials.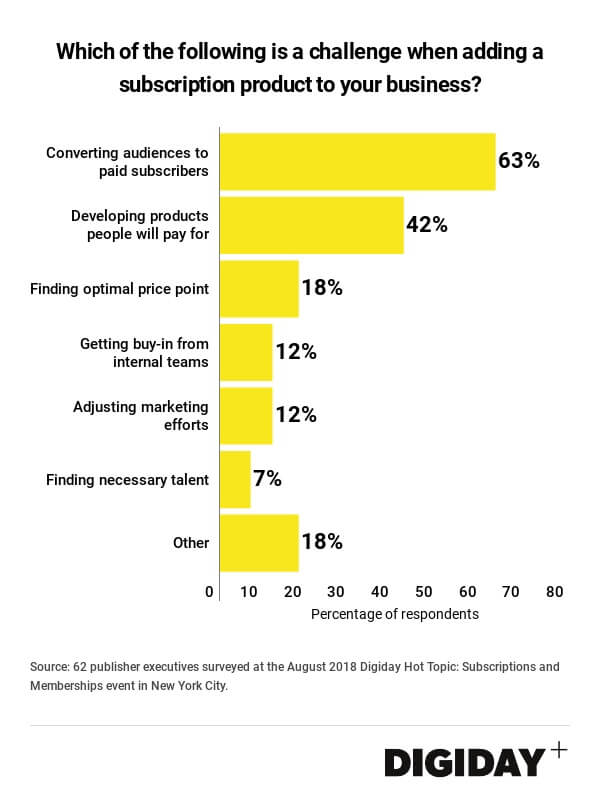 According to Digiday, one of the biggest challenges that businesses face when trying to add a subscription model to their business is converting their audience to paid subscribers.
SureMembers can help with that.
It has integrations with the most popular plugins:

SureMember Cons
Your members will have to use the WordPress login page. Although you have a login stylizer tool to adapt it to your brand image.
It's not an all-in-one tool. You'll need to use SureCart to handle sales and an LMS plugin to add quizzes or certificates.
SureMember Pricing
SureMembers provides a simple and affordable pricing structure.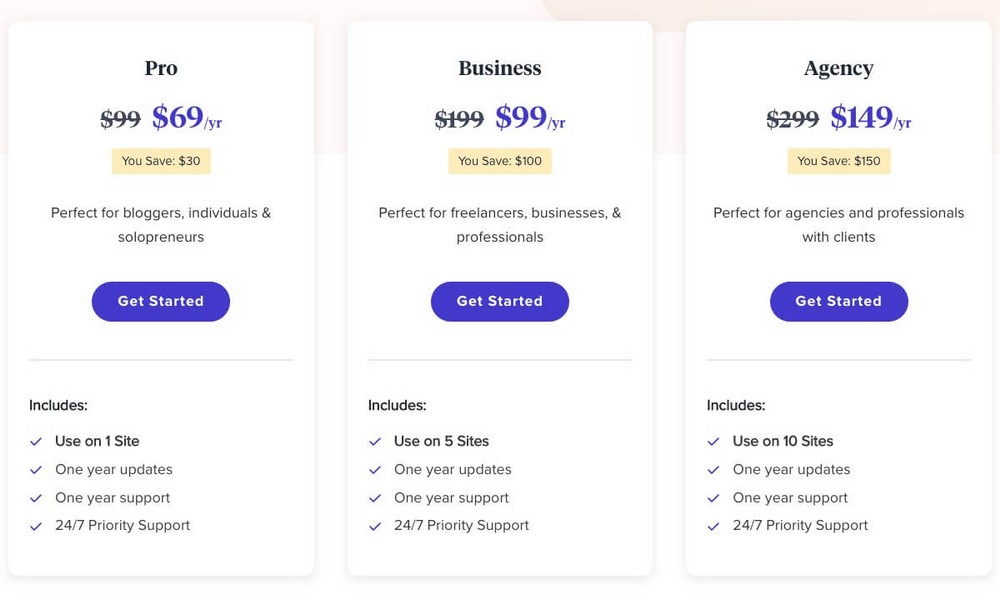 Affordable because you can start using it for just $69.
Simple because you're not forced to upgrade your plan to unlock features.

Everything is available on all levels.
The different levels unlock site licenses. Useful if you run an agency or several projects.
2. MemberPress
MemberPress is an all-in-one WordPress membership plugin developed by CaseProof.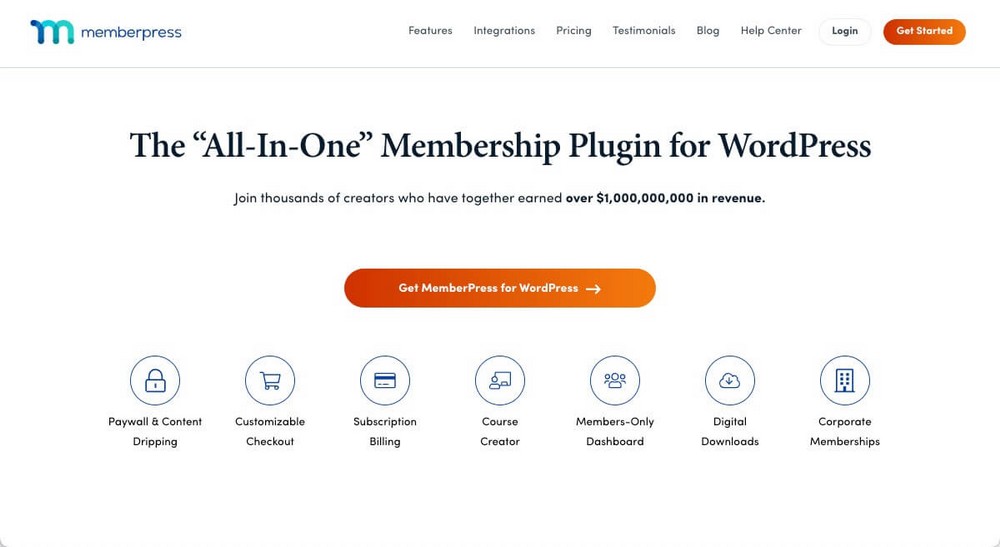 CaseProof is a veteran WordPress developer and has been developing professional plugins since 2004.
Pretty Links for link cloaking and redirection.
Easy Affiliate to create and manage affiliate programs.
MemberPress Key Features
The most outstanding features of MemberPress rely on addons.
For instance, it includes an addon called "MemberPress courses" to turn your membership into a complete learning management system.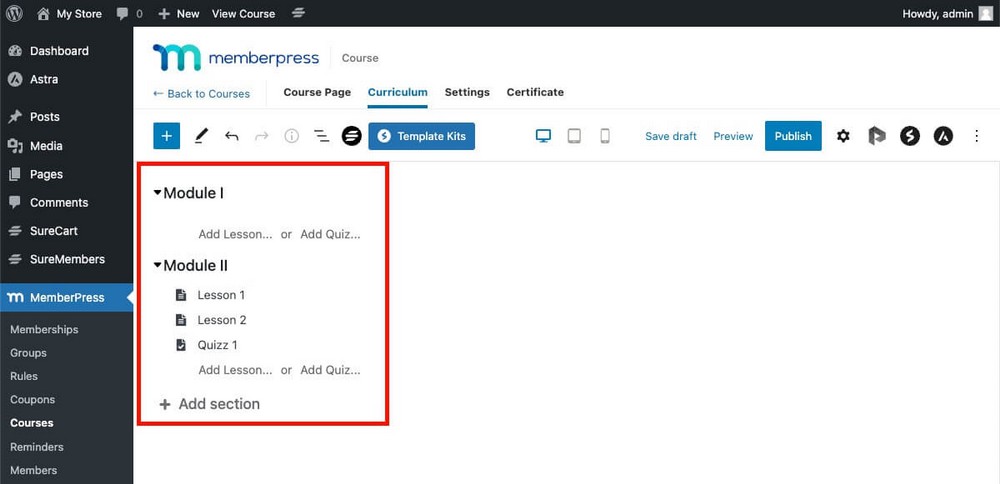 The corporate accounts addon will allow you to sell memberships that cover an entire group of sub-members with just one payment.
It's ideal for selling access to companies, families or any other type of collective organization.
Unfortunately this addon is only available in the most expensive MemberPress plan.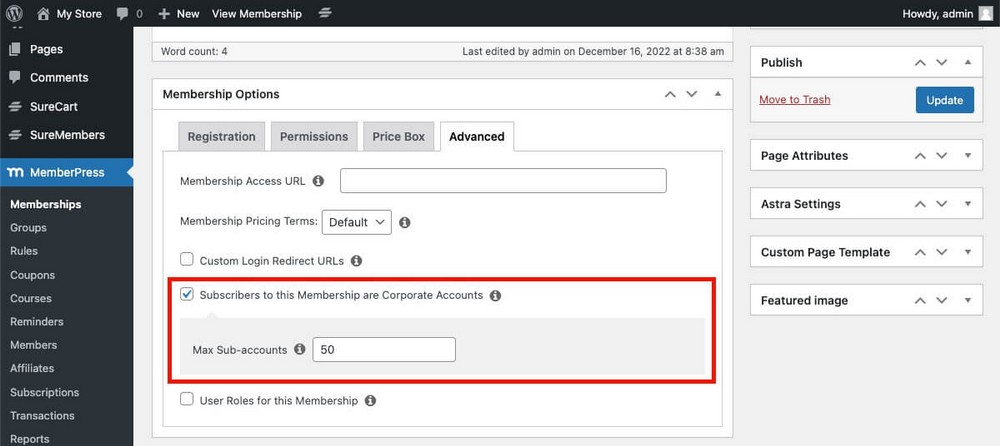 The gifting addon allows users to buy access to a membership to give it as a gift to someone else.
Thanks to this you'll be able to perform more targeted marketing actions to increase your revenue.
MemberPress Pros
All-in-one solution: Almost everything you may need for memberships will be available natively or through an addon (with the exception of an affiliate system).
Solid plugin: It has a great track record, the development is assured and there is a lot of information and tutorials about it.
Many integrations are available.
MemberPress Cons
It lacks tools to help you sell more. It doesn't have order bump or upsell capabilities.
It has a steep learning curve. There are many options available and they are all scattered in different sections and menus.
Not all addons are included in every plan, and they cannot be purchased independently.
MemberPress Pricing
MemberPress has slightly more complex pricing plans than SureMembers.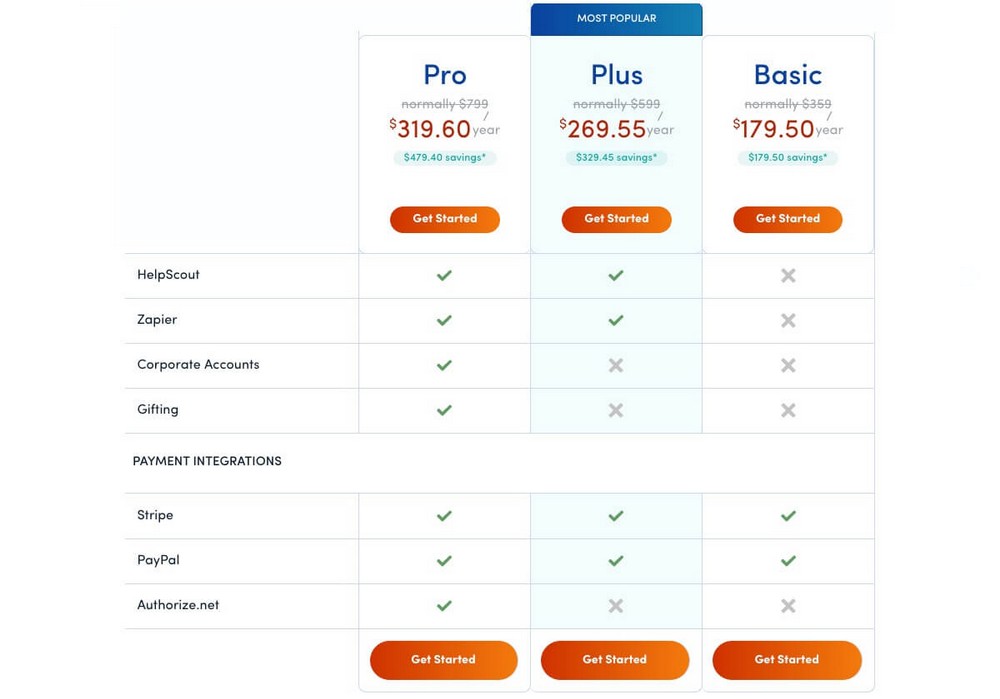 They continuously change the original price. It's hard to guess the starting price point.

At the time of this review the cheapest plan ($359/year) is discounted to $179.50/year.

Features vary depending on the chosen plan.

This complicates choosing a suitable plan and you may be forced to buy a more expensive plan for a single feature.
3. ProfilePress
ProfilePress is an easy-to-use WordPress membership plugin for creating paid membership sites and selling digital products. It also lets you create amazing user profiles, member directories, custom login, and user registration forms.
ProfilePress Key Features
ProfilePress core feature is to create paid membership and community websites. It allows you to create different membership plans for charging one-time and recurring payments.
You can also attach digital products such as ebooks, software, PDFs, videos, music, and stock photos.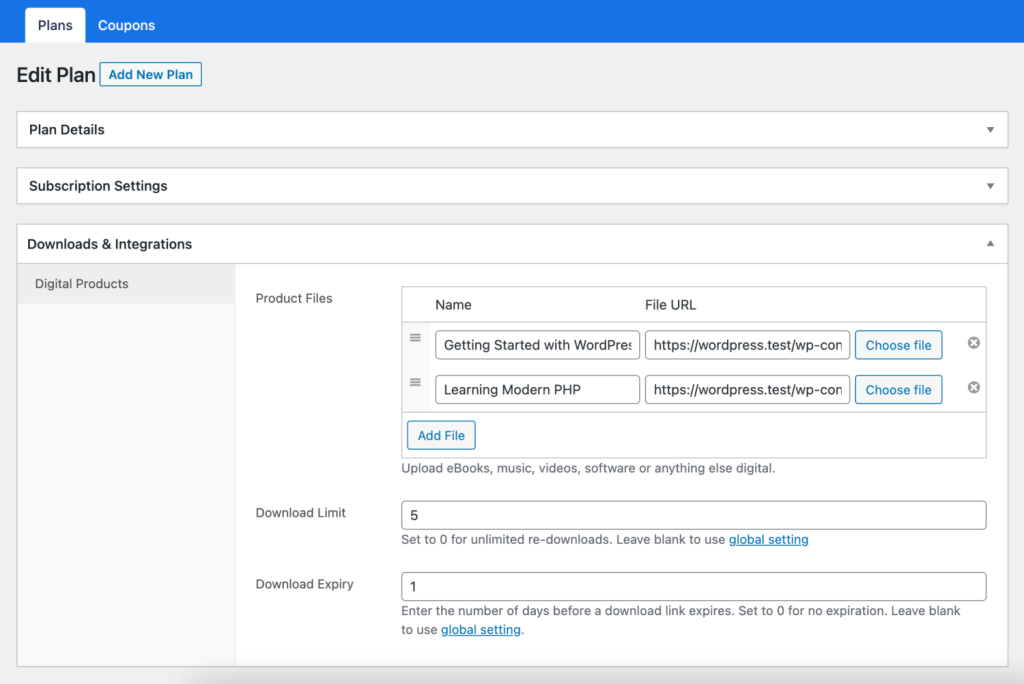 ProfilePress also includes an optimized checkout page to collect payments from different payment gateways, including Stripe, PayPal, Razorpay, Mollie, and Paystack. In addition, the checkout page lets users select the membership plan or product to purchase.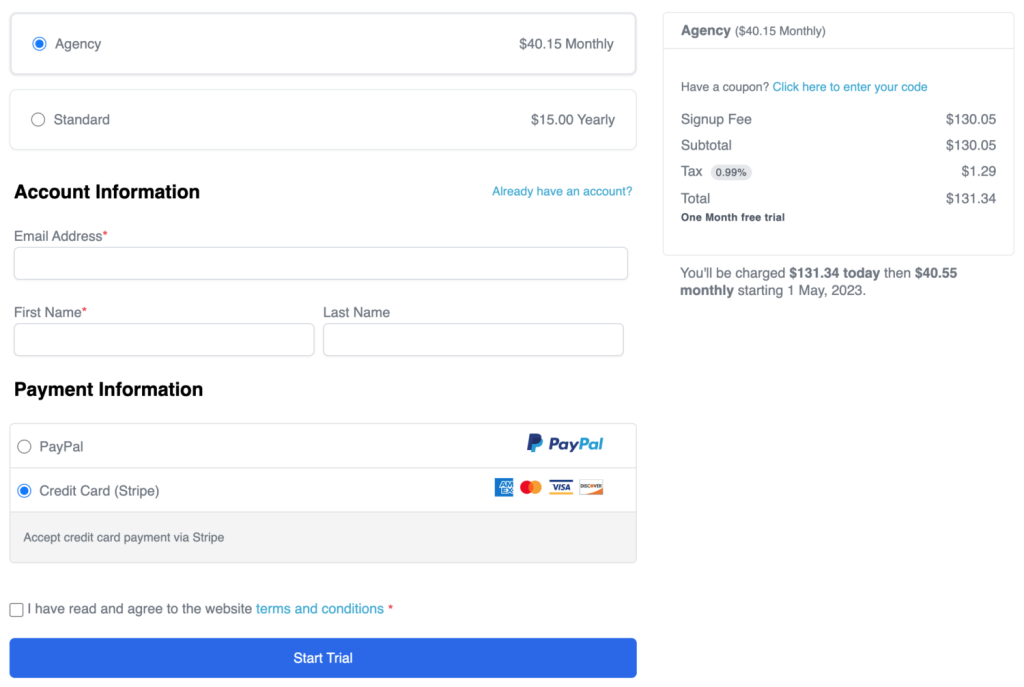 Want to add beautiful user profiles to your site? Profiles that can be fully customized to your site's specific requirements? What about creating searchable and filterable member directories with avatars and user info, allowing users to find each other?
ProfilePress has you covered.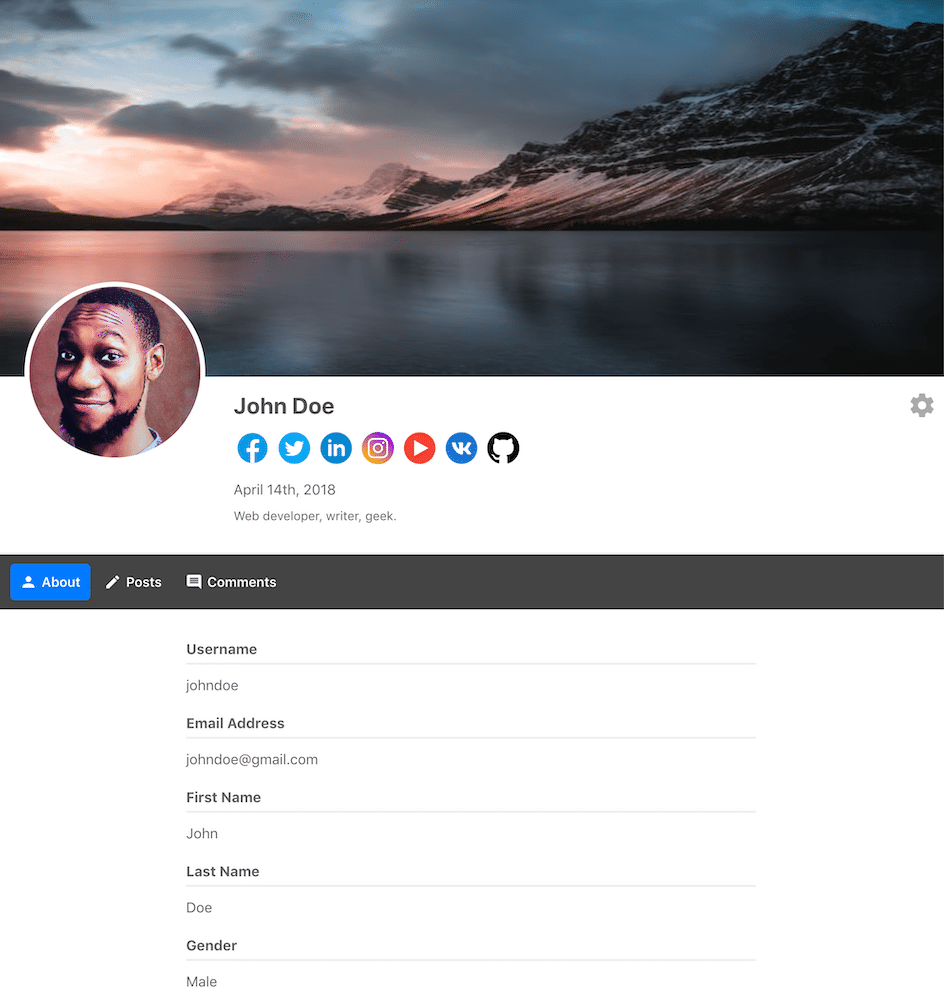 ProfilePress includes a powerful content restriction feature that can protect access to pages, child pages, posts, custom post types, categories, tags, and custom taxonomies.
It also includes a metered paywall addon that allows visitors, guests, or non-members to view a limited number of protected content before they are required to purchase a paid membership plan.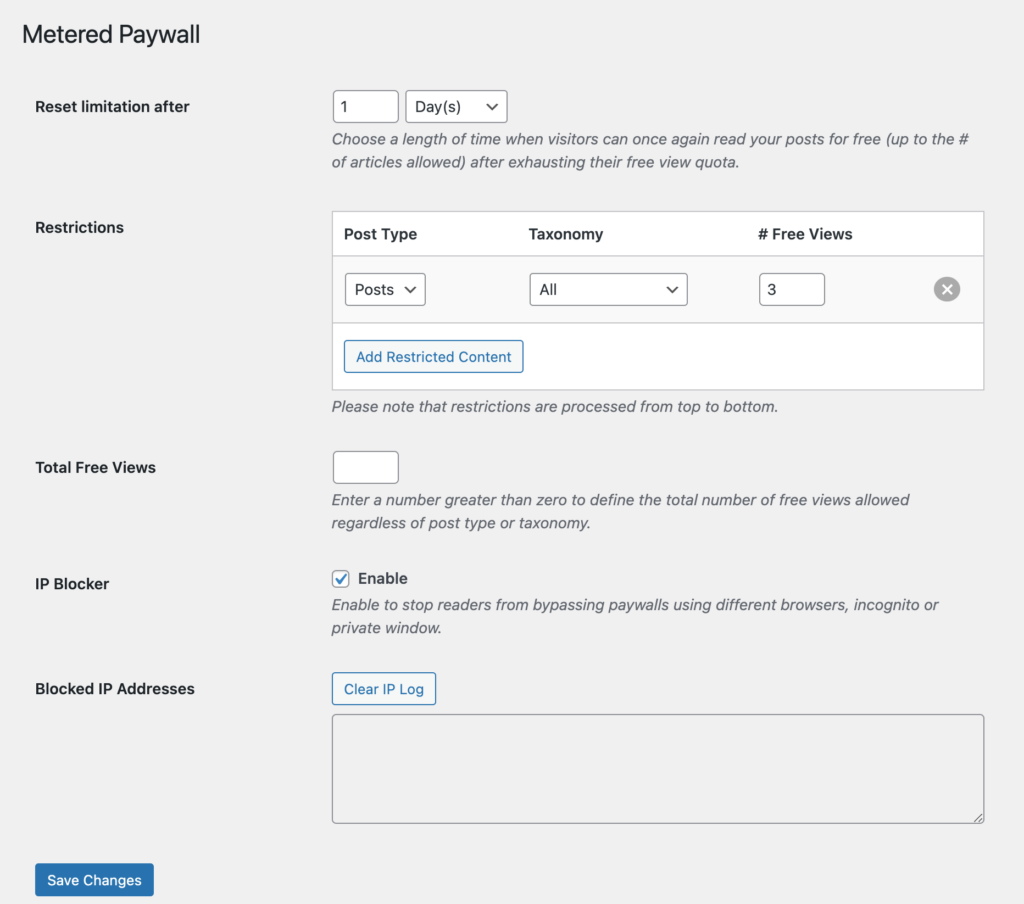 ProfilePress Pros
Freemium model: The free version of ProfilePress includes the basic features you need to create a paid membership site and sell digital products.
Addon approach: To extend your membership site features to include social login, passwordless login, user moderation, email confirmation, LearnDash, and WooCommerce integrations, there are addons for them.
Extensive knowledge base and video tutorials: There's a plethora of documentation and videos for everything.
The member directory and user profile features are available for free.
ProfilePress Cons
It doesn't offer integrations with many payment gateways
You need to activate additional addons to get all the features the plugin promotes
It can take time to understand and set up all the available options
ProfilePress Pricing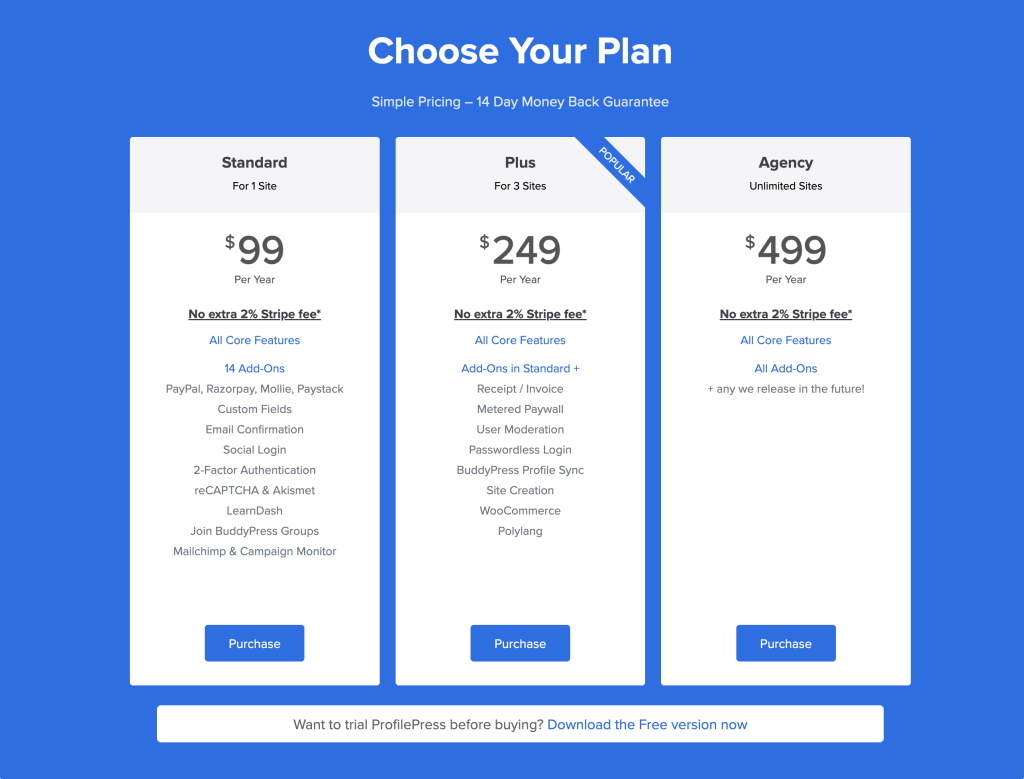 ProfilePress offers one free and three paid plans.
The paid plans:
Start at $99/year.
Addons are available depending on your plans.
The free plan charges an additional 2% processing fee for payments made via Stripe.
4. Paid Memberships Pro
With over a decade on the market, Paid Memberships Pro from Stranger Studios is another great plugin. It allows WordPress users to manage all their membership needs in one place.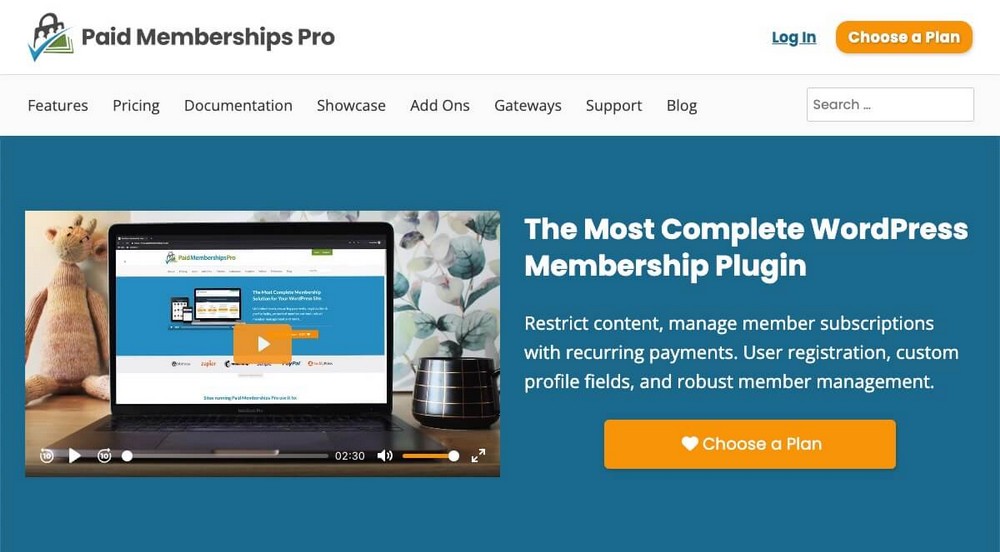 It's not as well known as the previous options, but the long presence of this plugin in the market means that you don't have to worry about its sustainability or reliability.
Paid Memberships Pro Key Features
Paid Memberships Pro also hides its best features behind addons.
For instance, it has an addon called limit post views. It lets you define the number of times protected content can be viewed by a non-member before having to purchase a plan.
Most membership plugins offer all-or-nothing protection: Either the user can access the protected content or not.
This is a great improvement in terms of content protection.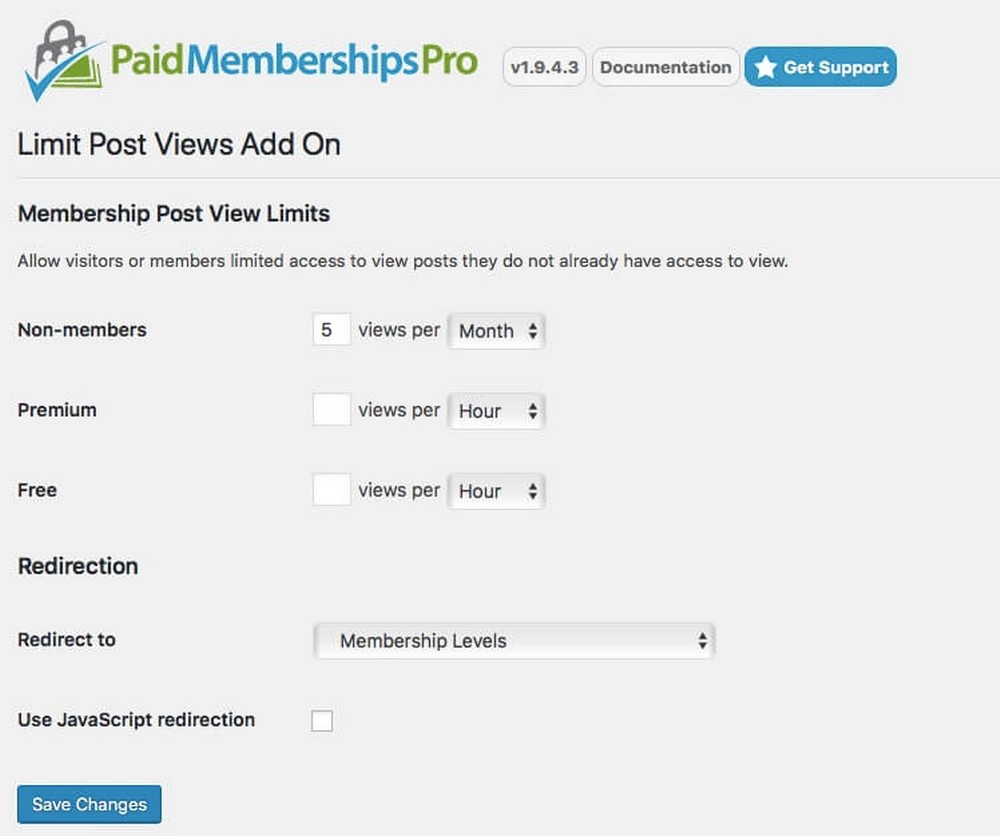 You'll also find an addon to create public or private searchable directories, as well as customizable member profile pages.
This is ideal for creating memberships where the community is a big part of the added value.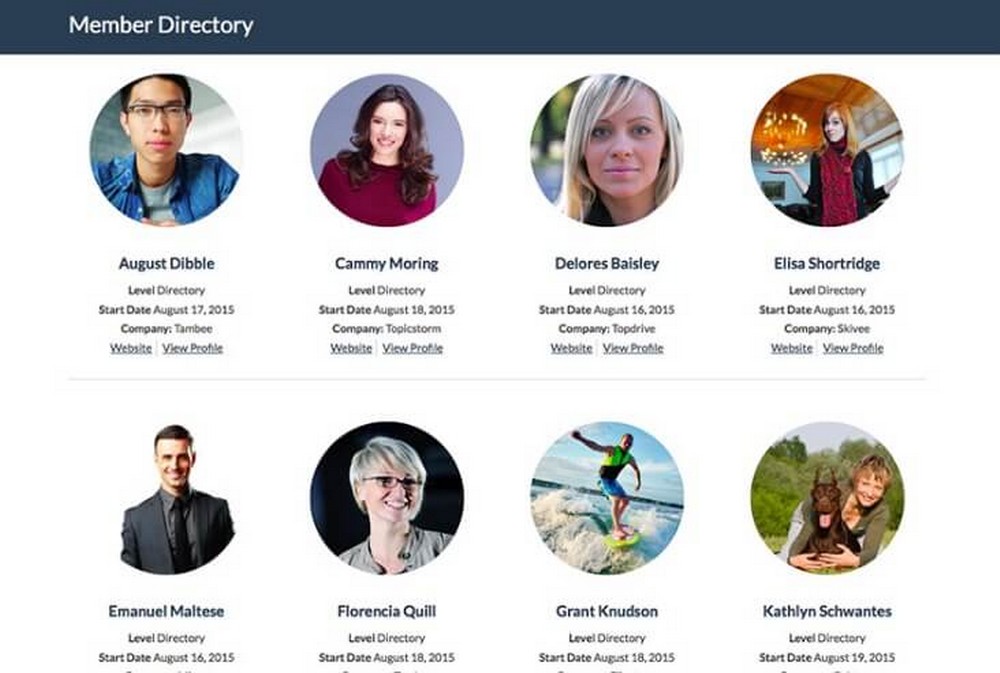 Directory example image from Paid Memberships Pro
If you plan to take your membership site sales to the next level, a good affiliate program is pivotal to your strategy.
Paid Memberships Pro has an addon that allows you to create affiliate accounts to expand your reach and earn extra income.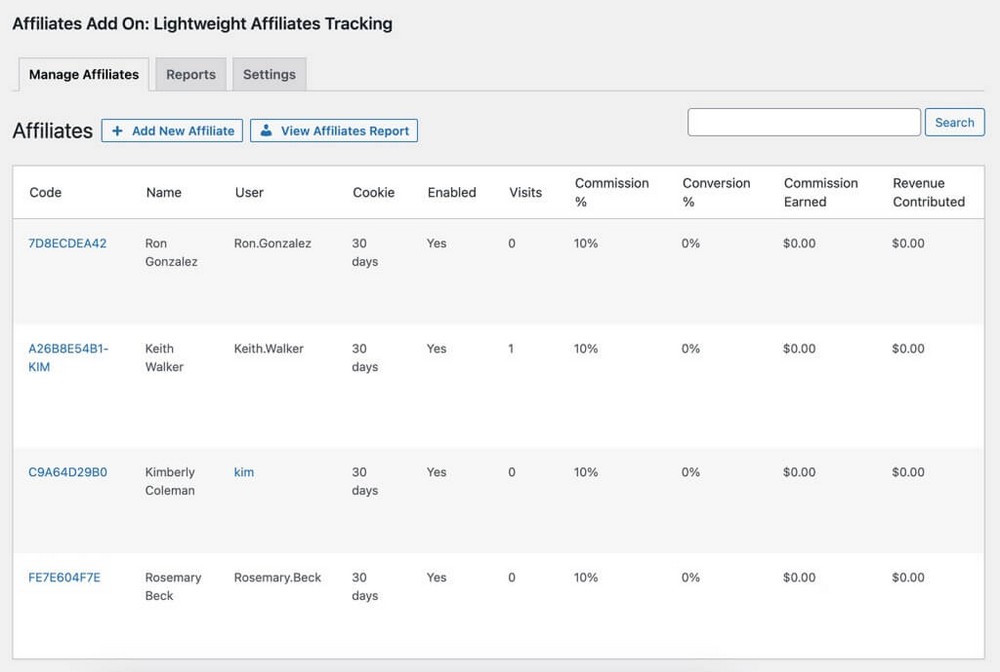 Affiliate program example image from Paid Memberships Pro
Paid Memberships Pro Pros
Freemium model: The free version of Paid Memberships Pro doesn't provide the advanced features you just saw. But if budget is an issue, you can start using the basic features at no cost.
Modular approach. There are more than 80 free and paid addons available so you can install only what you need, making the plugin more efficient.
Specific memberships theme: You can use this plugin with Memberlite, a theme developed by Stranger Studios to create great membership websites quickly.
Paid Memberships Pro Cons
You can't buy addons individually. The one you need may be on the most expensive plan.
Cumbersome to set up and maintain. You'll have to study dozens of plugins, install, configure and update them constantly so that everything works as you want.
Buying more site licenses for test sites, other projects or your clients' sites is quite expensive.
Read a more detailed comparison between MemberPress, Paid Memberships Pro and SureMembers to better understand the differences.
Paid Memberships Pro Pricing
Paid Memberships Pro offers a free plan and 3 additional paid plans, which start at $247/year.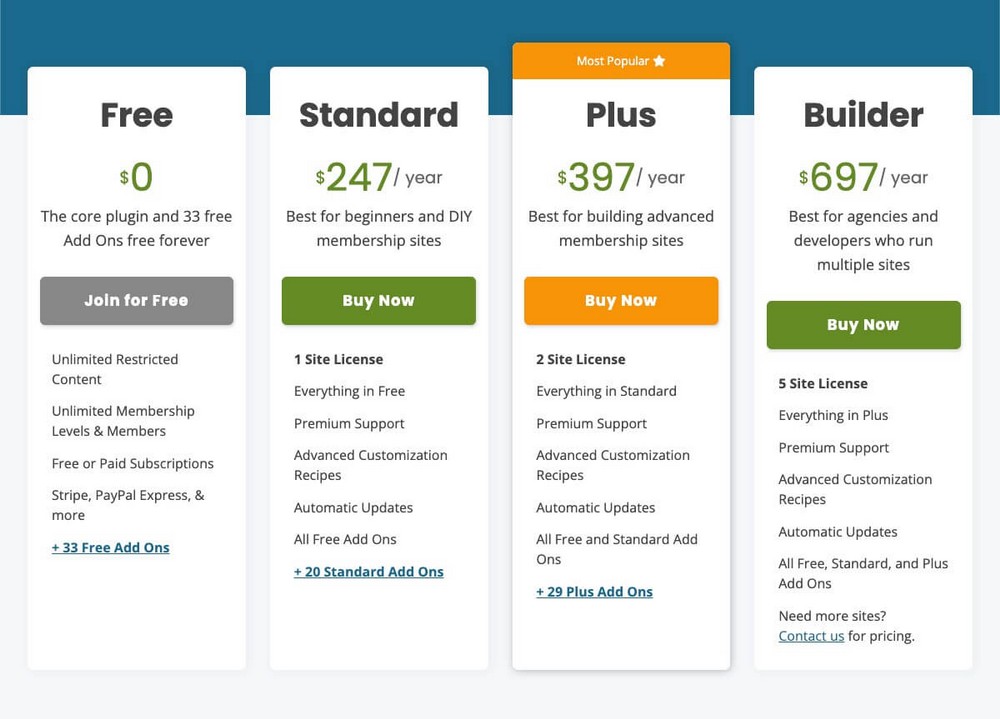 The downside lies in the fact that different levels unlock different addons, making it difficult to choose a plan.
Needing a particular addon or an extra site license almost doubles the price.
5. WishList Member
WishList Member was launched in 2008, and since then, it has been downloaded and activated on more than 100,000 sites.
It's another all-in-one solution, allowing you to have maximum control over all areas of your membership.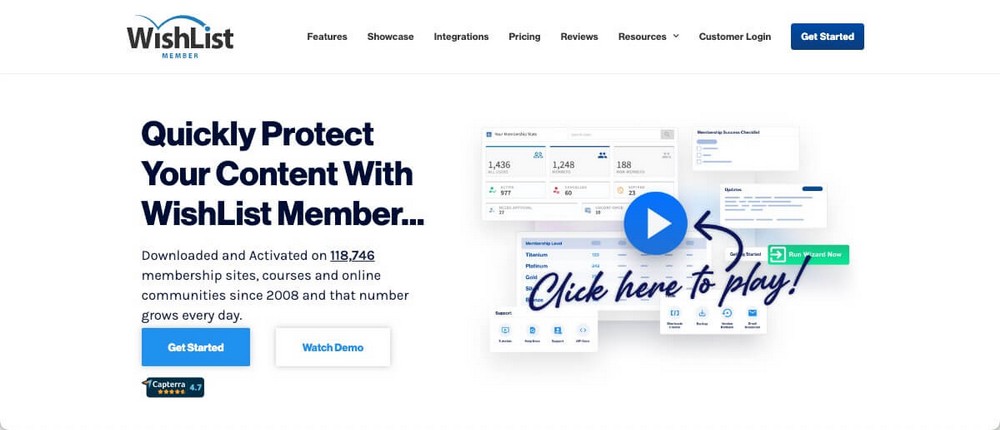 WishList Member Key Features
With WishList Member you can create automations within WordPress so that certain actions are triggered when a user signs up for a particular membership level or cancels it.
One of these actions could be creating a personalized and private page for that specific user. This will save you time and effort and improve the user experience.

Content archiving is another great feature that will keep subscribers active.
Archiving content means that you can make certain private content only available to users who were members during its release.
This way you'll avoid customers who subscribe for short periods of time to consume as much content as they can at once.

When we say WIshList Member is an all-in-one solution we really mean it.
The email broadcasting tool will allow you to send emails to engage with your members or notify them of new publications without having to use a third-party platform.

Email Broadcasting feature example from WishList Member
WishList Member Pros
The company has a public roadmap detailing future improvements. You can collaborate by adding your own ideas, or better plan your strategies knowing the new upcoming features.
Integration with 50+ payment gateways, email providers and other services, including Zapier.
Extensive knowledge base and video tutorials. You'll also find tooltips throughout the plugin interface so you know what every setting is for.
WishList Member Cons
The back-end design is dated and slow. You'll even see an old animation while some page settings load.
Non-intuitive. Despite the documentation, tutorials and tooltips, the interface is not very user-friendly.
WishList Member Pricing
The WishList Member plan structure also offers variable sites and features, although these only vary between the Starter and Pro plan (the Agency plan only increases the sites).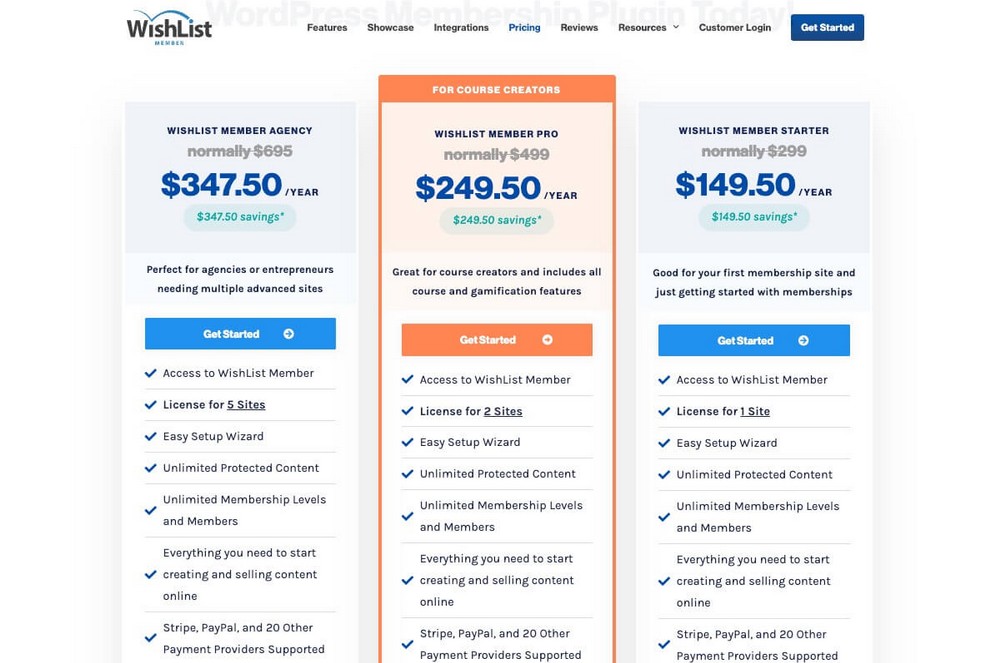 In addition to an extra website, the Pro plan offers course and gamification features. You should really only consider upgrading to this level if you are a course creator.
Its most affordable license starts at $299 or $149.50 per year if you get it on sale, which may or may not be available by the time you read this.
6. Restrict Content Pro
Restrict Content Pro was originally launched in 2010 by Pippin Williamson.
This personal name may not ring a bell.
But if we tell you that he is the person behind the development of AffiliateWP and Easy Digital Downloads you'll immediately understand why we recommend checking out this plugin.
Pippin did such a good job with Restrict Content Pro that the plugin was acquired in 2020 by iThemes, developers of one of the best WordPress security plugins.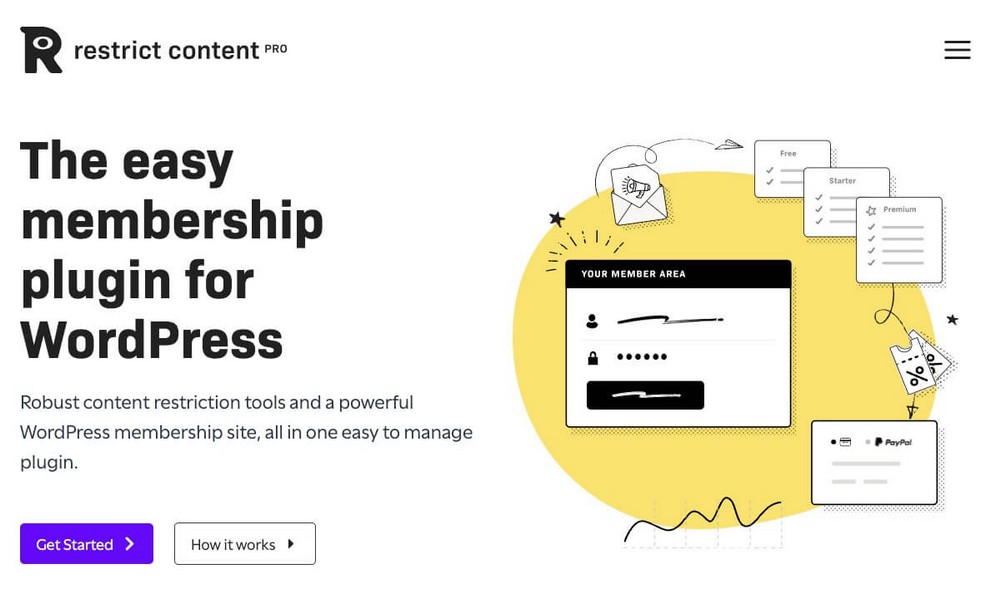 Restrict Content Pro Key Features
One problem you may face when monetizing your membership website is multiple people using the same user account.
Restrict Content Pro has a feature that prevents password sharing by limiting the use of simultaneous connections for each member.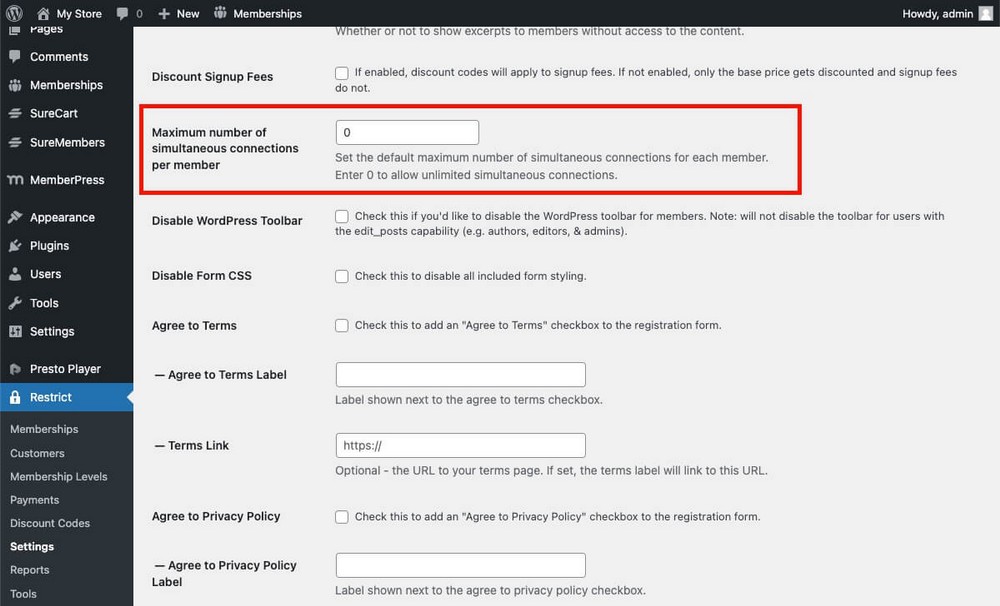 In the pro version of Restrict Content Pro you'll also find multiple addons that will allow you to use some of the features that were unique to other plugins in this list:
View limit: To let non-members view a limited amount of restricted content. This addon includes a remaining count bar.
Group accounts: So you can sell multi-member group memberships.
Restrict past content: So members can only view restricted content if it was published on or after their join date.
One of the most interesting addons is for site creation.
You can include access to custom websites built using WordPress multisite in your membership levels.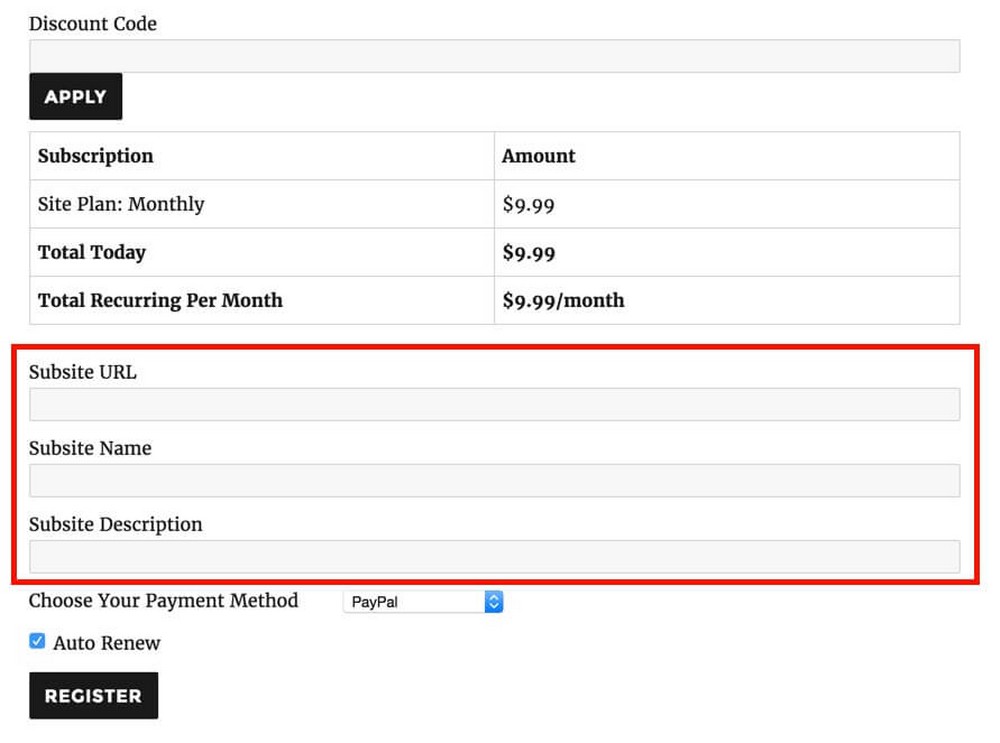 Restrict Content Pro Pros
Unlimited sites license plan: If you plan to create membership sites for clients, the unlimited site license will make you forget about constantly having to add more seats.
You're not forced to upgrade to a more expensive plan just to unlock a particular addon.
It doesn't have the best UI, but overall the plugin is easy to use.
Restrict Content Pro Cons
The checkout looks outdated and doesn't include advanced selling features beyond discount coupons.
It doesn't offer many payment options for joining memberships such as installment payments or donations.
Restrict Content Pro Pricing
Restrict Content Pro offers one free and 3 paid plans.
The paid plans:
Start at $99/year.
All 34 pro addons are included in all plans.
The only difference is the number of licenses available, including a level with unlimited licenses, which will be ideal for agencies.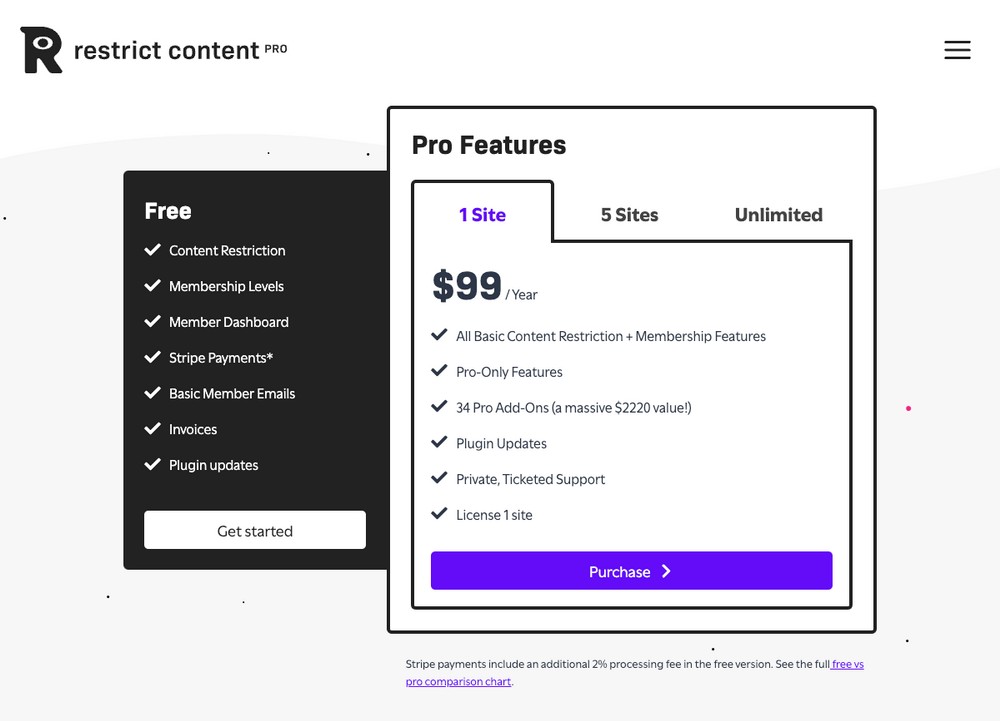 The free plan has a catch though: It includes an additional 2% processing fee for payments made via Stripe.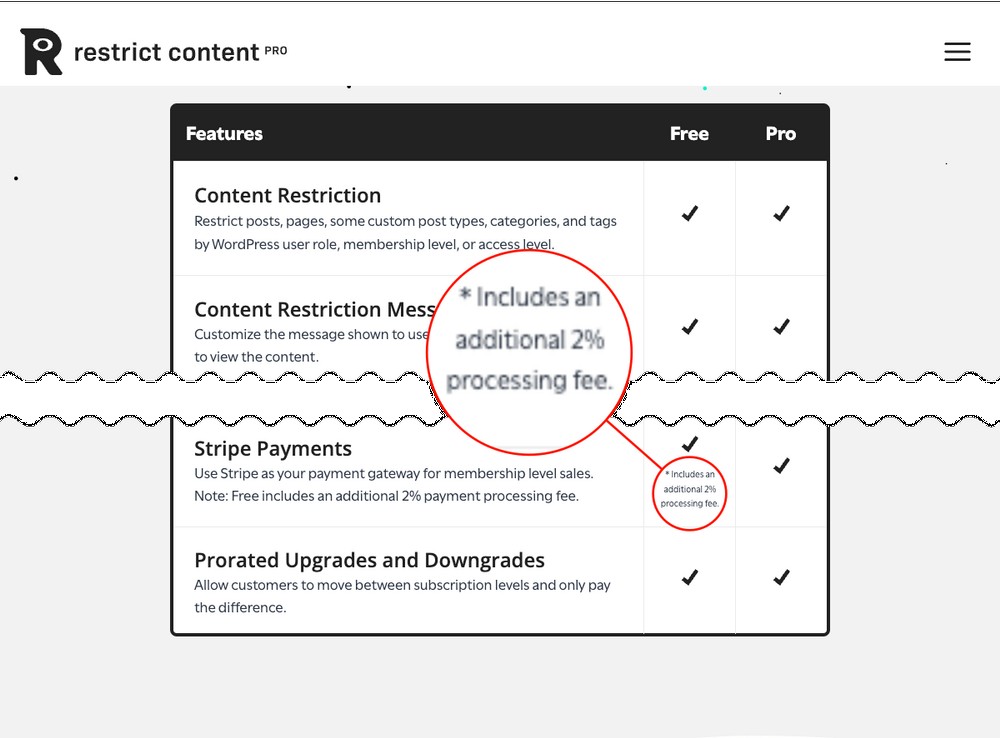 That's why we recommend you only use this plan for testing the plugin.
7. LearnDash
LearnDash is a WordPress plugin that originally worked only as an LMS.
It was useful for organizing your content into modules and lessons and offered extra LMS features such as certificates of completion.
Over time the plugin has evolved and is now an all-in-one tool that includes an eCommerce solution to sell the courses you create with it.
We'll be analyzing the LearnDash WordPress plugin, since the company also developed a cloud solution with a similar name.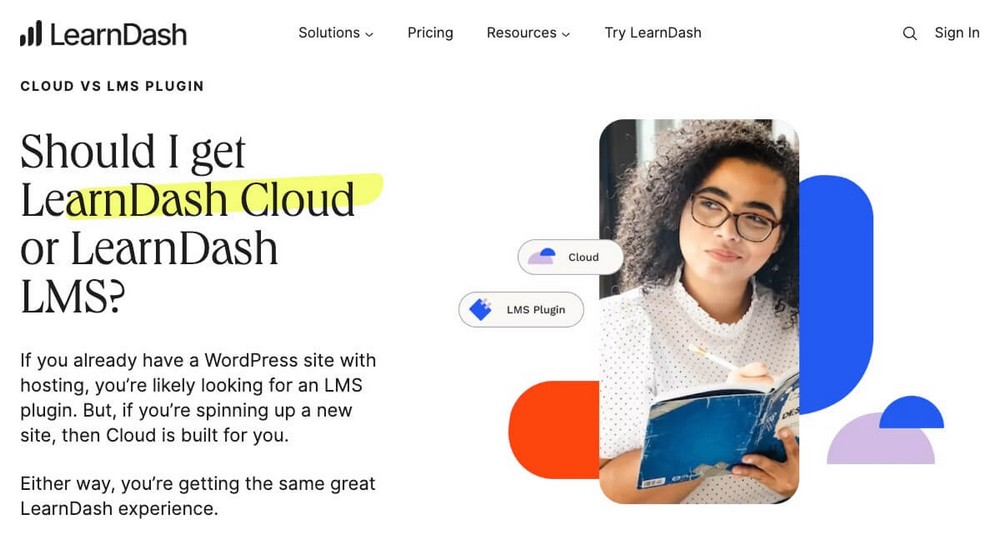 LearnDash Key Features
As you can imagine, LearnDash's most notable features come from its origin as an LMS.
Creating your courses will be very easy thanks to its drag and drop tool.
You can add modules and lessons with a couple of clicks and quickly rearrange them to define the learning order you prefer.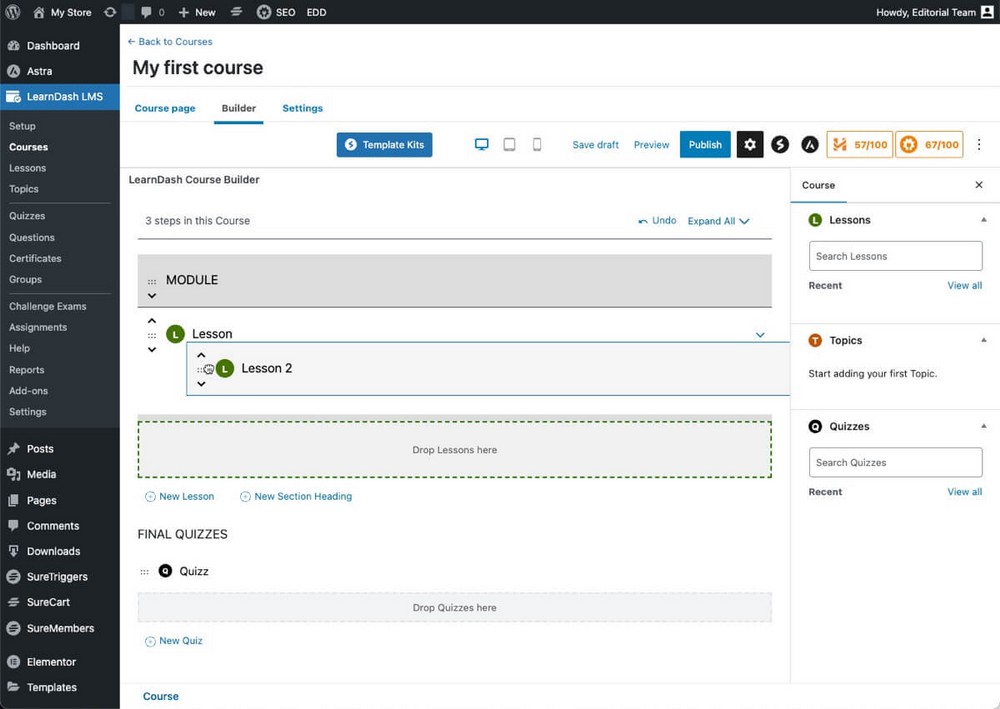 If you plan to create many courses with a similar structure you'll work faster by using the course cloning tool.
It duplicates all the content with a couple of clicks so that you only have to tweak it rather than create it from scratch.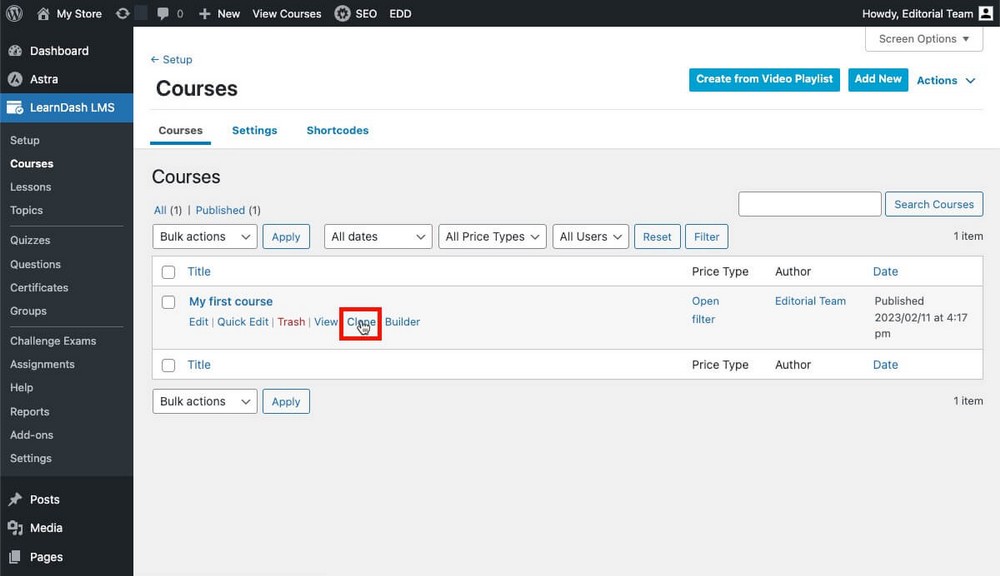 Want to work even faster?
Add a playlist from YouTube, Vimeo or Wistia and LearnDash will create the course structure automatically for you using its course creation wizard.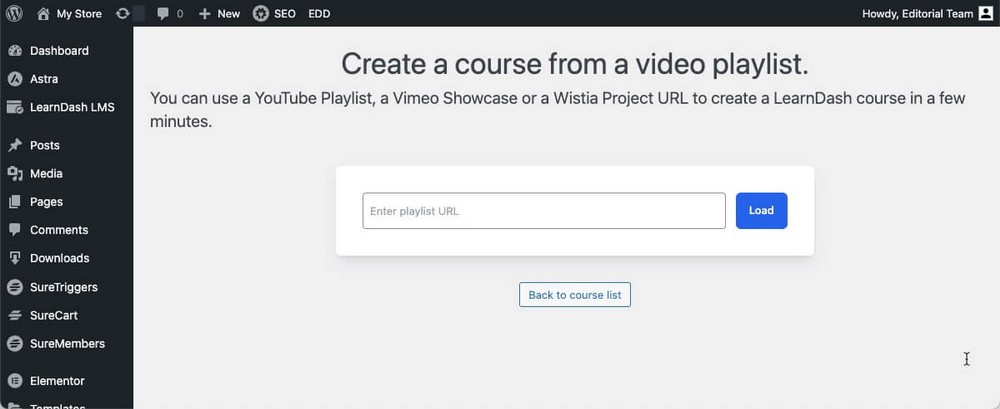 LearnDash Pros
Many tools to speed up your work when creating content.
All-in-one solution. No need for an extra LMS plugin.
Extensive marketplace of addons (free and paid) to further increase the functionality of the main plugin.
LearnDash Cons
The fact that they promote the cloud version so much makes you wonder about the future of the plugin.
You need to install many additional addons to get all the features the plugin promotes.
You can only protect courses and not WordPress pages and posts.
LearnDash Pricing
LearnDash only offers a paid version.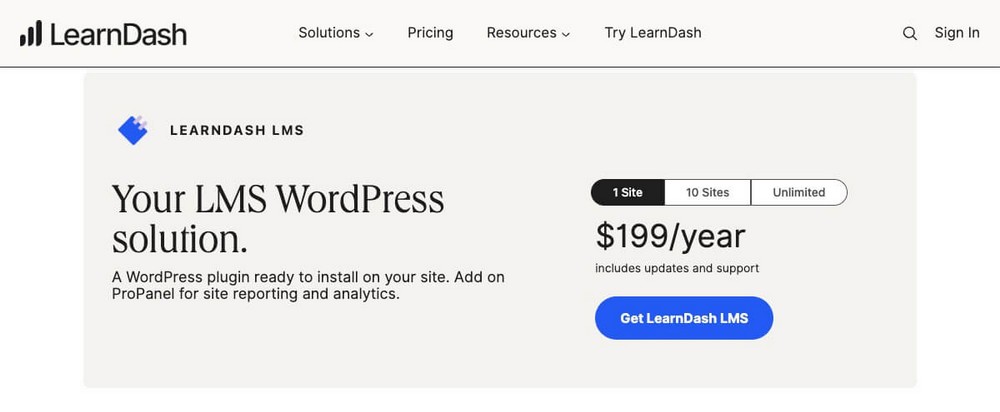 It's a bit pricey if you're starting out since a license for a single site will cost you $199/year.
If you run an agency they have an unlimited licenses plan, but it's not very affordable either, as the price goes up to $799/year.
8. WP Courseware
WP Courseware is another WordPress plugin born as an LMS that has grown into a powerful membership plugin.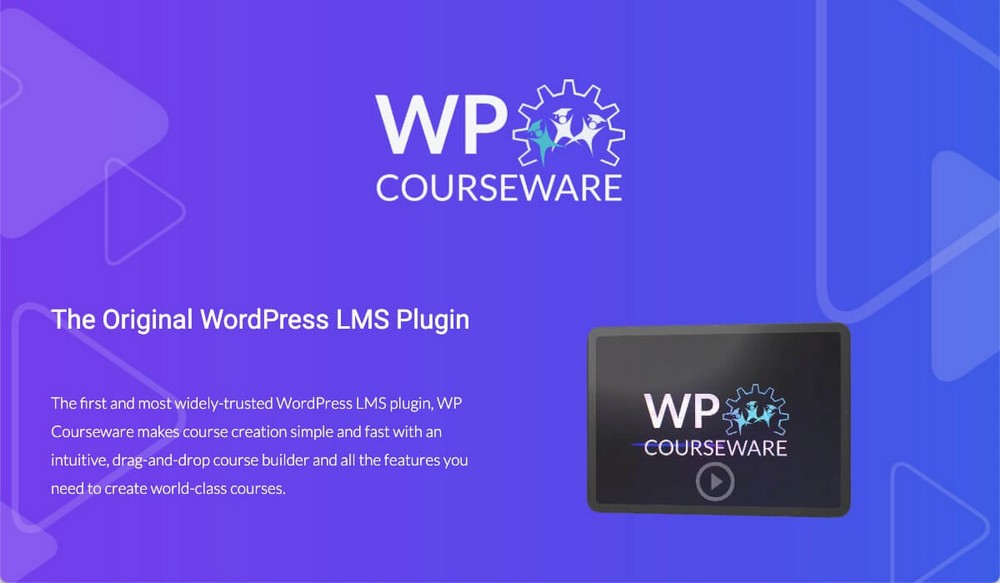 It was released in 2012, and since then they have added almost 300 features along with 170+ updates.
It's developed by the company Flyplugins, which also maintains and distributes S3Media Maestro, a solution similar to Presto Player.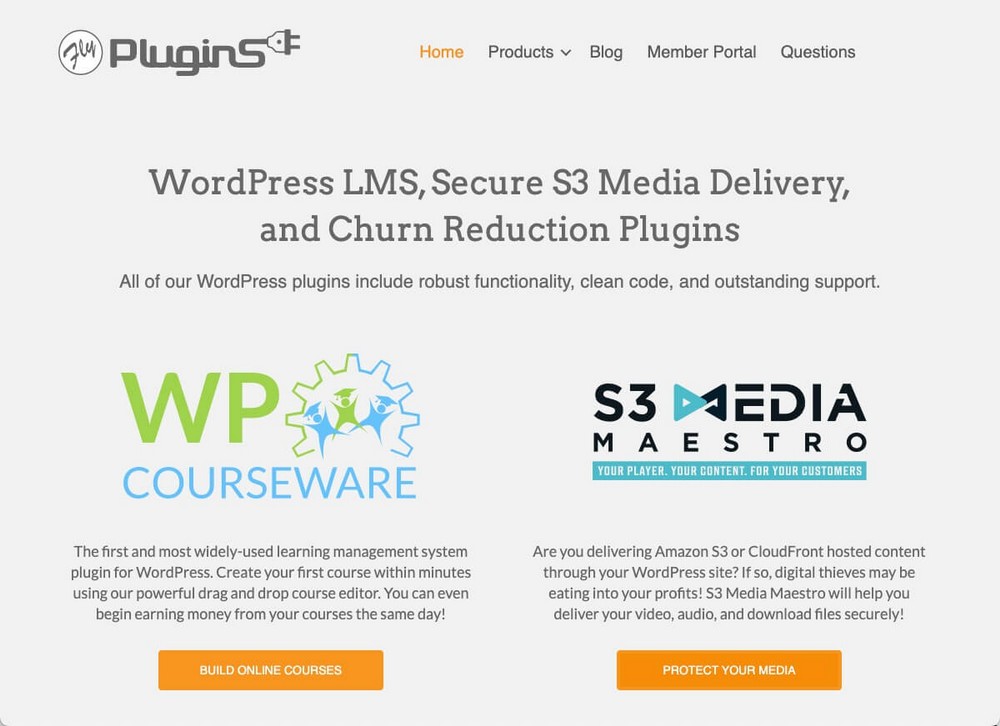 WP Courseware Key Features
One of the features that make WP Courseware stand out is its ability to bulk manage students.
This lets you enroll them all in the same course or reset their progress.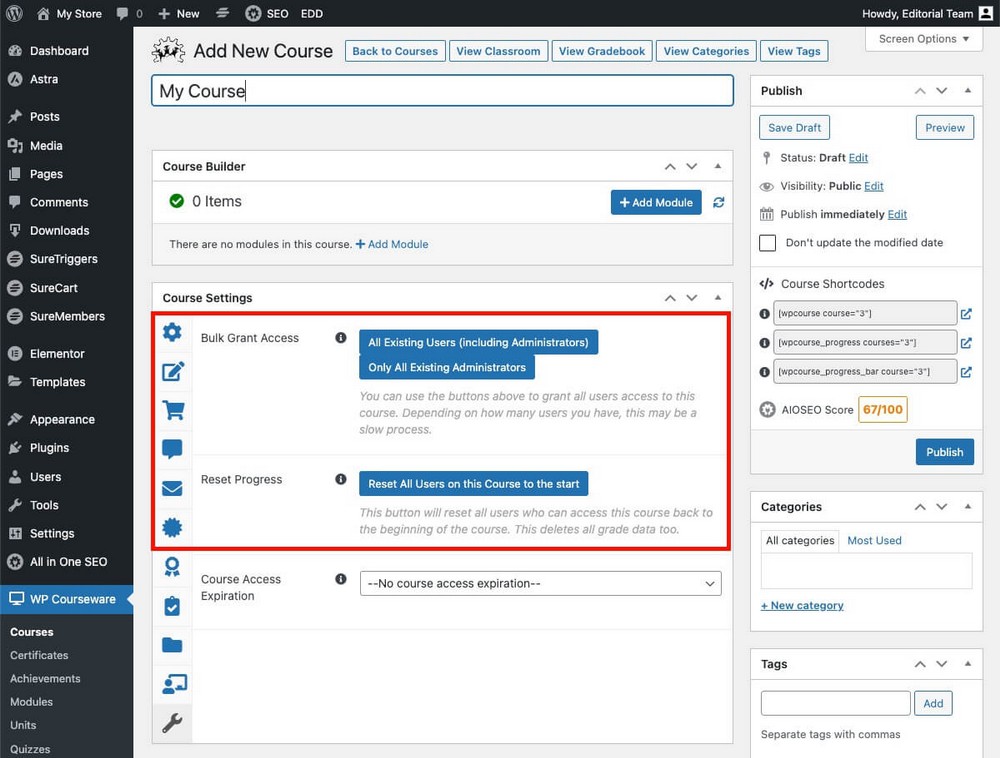 When creating new lessons with this plugin you'll find two very interesting features:
Lesson drip: This allows you to schedule the release of a specific lesson.
Teaser: This allows you to show a paid lesson as a free one.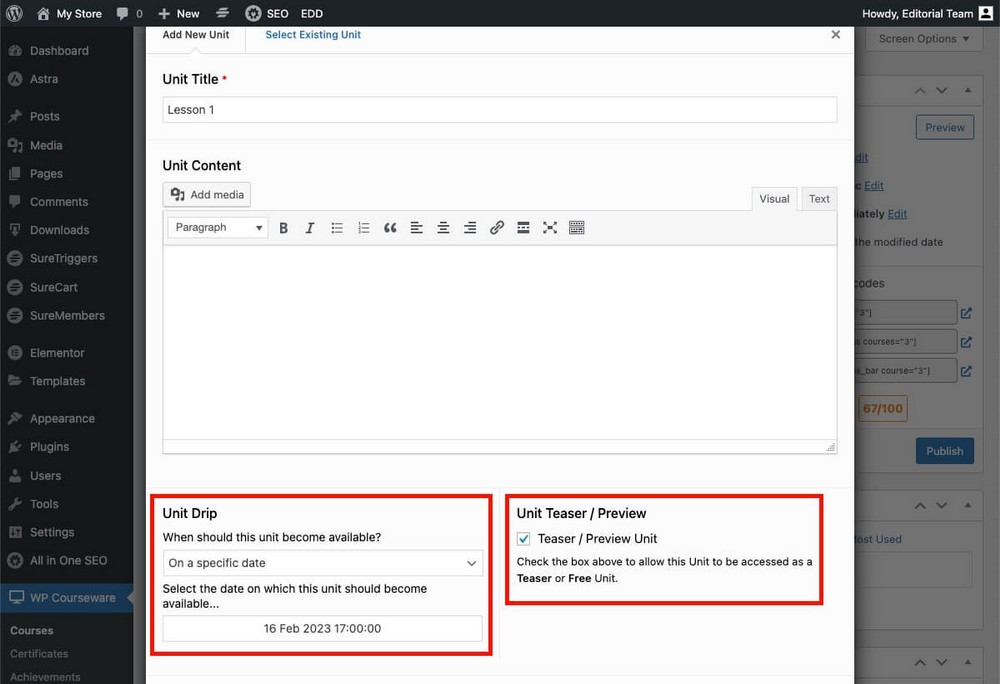 WP Courseware also allows you to enable on a per-course basis a functionality that allows your students to take personal notes while following the course.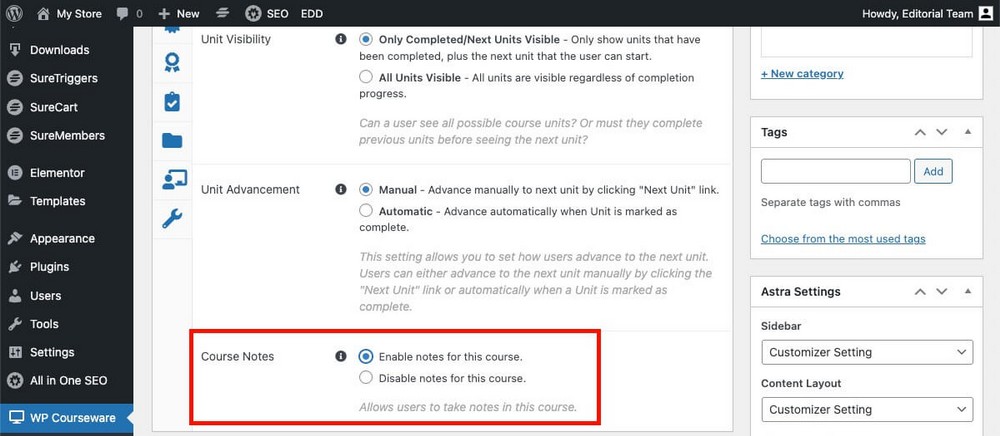 WP Courseware Pros
The quiz tool included by default is very powerful. Including the option to upload files, timers, or retake limits.
You can export courses as XML files to move them between sites. Perfect for importing course templates into customer websites.
It engages students by sending auto emails when a course, module or unit is completed, as well as other similar emails (if you want!)
WP Courseware Cons
The checkout and shopping experience is quite poor.
The interface is functional but looks really dated compared to other solutions.
You can only protect units/lessons but not WordPress pages and posts.
WP Courseware Pricing
All the functionalities of the plugin are available in its three licenses.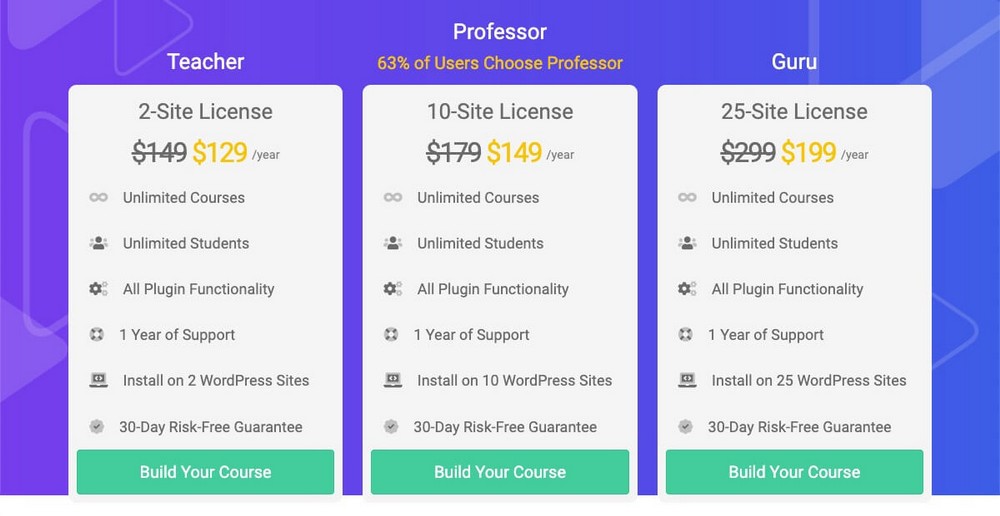 The only difference is the number of sites available.
Starting from:
1 site for $149/year.
Up to 25 sites for $299/year.
9. Thrive Apprentice
Thrive Apprentice is a WordPress plugin for course creation and online membership management.
It's part of the Thrive Suite, a collection of plugins developed by Thrive Themes focused on creating websites that convert better.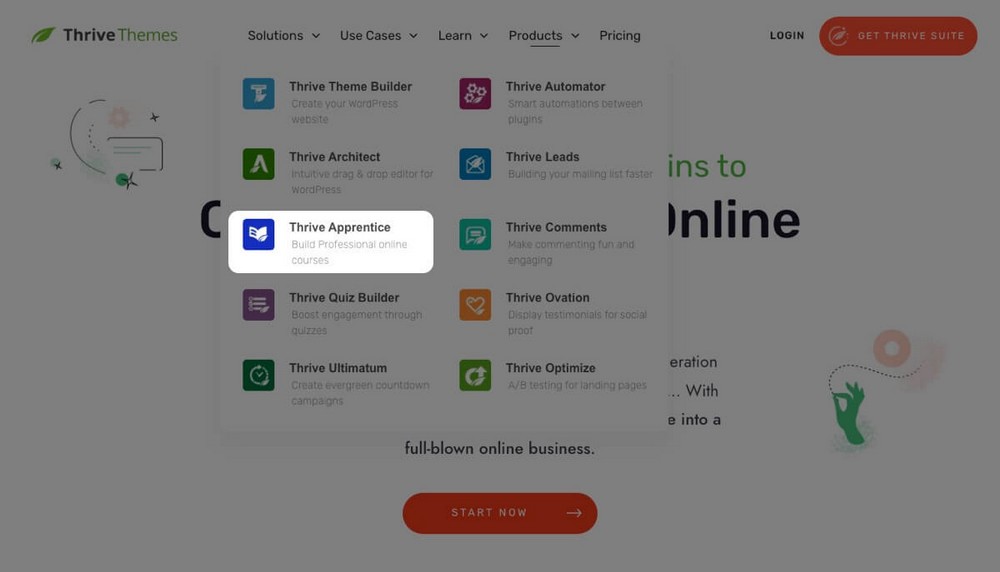 Thrive Apprentice Key Features
As with the previous plugins, Thrive Apprentice was born as an LMS.
In this case this solution is not limited to locking access to its custom post type (i.e. courses and lessons), but is able to lock other types of content as well.
This turns it into a solution that satisfies two needs at the same time.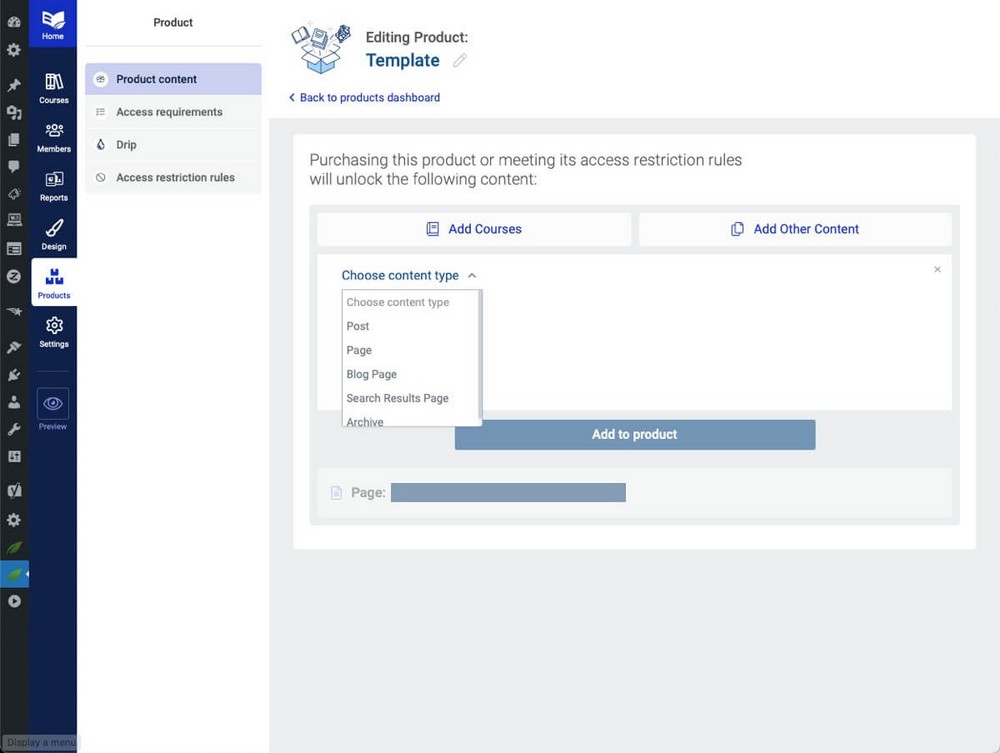 If you want to use this plugin for creating course-based training memberships, its detailed reports will provide you with a lot of relevant information.
You can see for example who are your top members, the progress and drop-off rate or how many lessons students are marking as complete.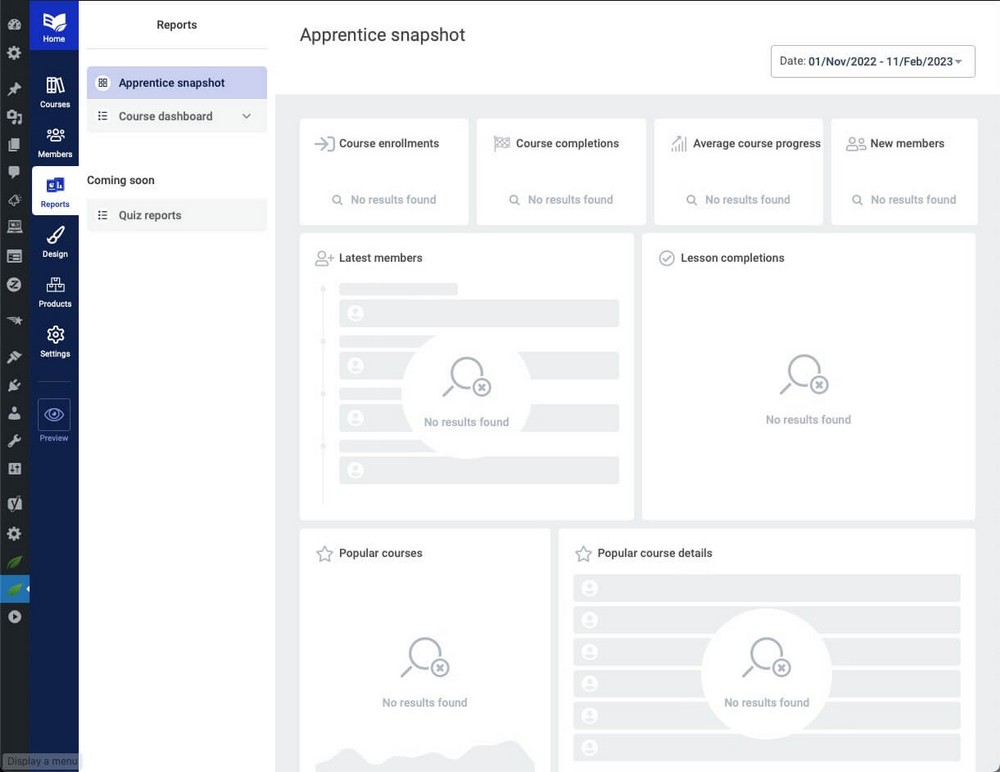 Thrive Apprentice offers very advanced content drip features.
In addition to the typical unlocking of content after X days after starting a subscription, you'll also be able to unlock content:
After the result of a quiz.
At evergreen intervals (e.g. each Monday).
Through an event triggered by a third-party app.

Note: For this you'll need to use the additional plugin Thrive Automator, which works similarly to SureTriggers.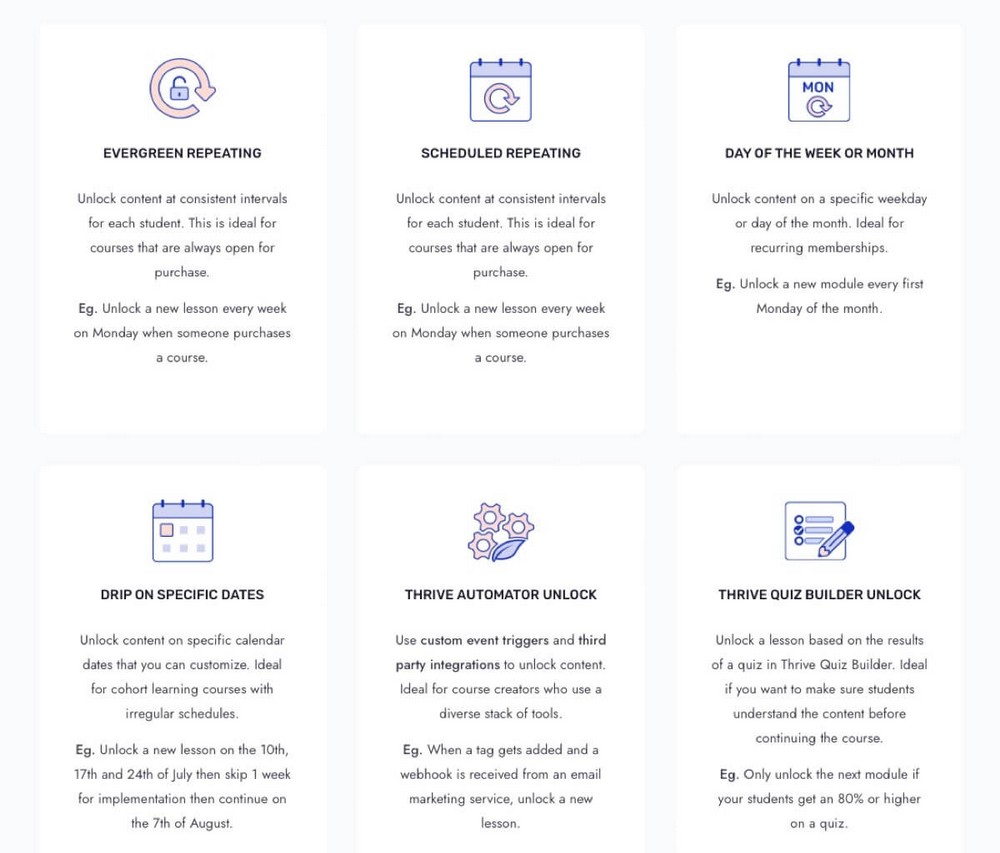 Thrive Apprentice Pros
Very neat interface: Both in the frontend and in the backend.
Customizable design templates that increase the perceived value of your site.
All-in-one solution: You can lock any type of content besides courses and lessons.
Thrive Apprentice Cons
The plugin is quite heavy and it's made up of many inodes.
The interface is proprietary. It's difficult to understand as it's totally different from WordPress.
Thrive Apprentice Pricing
You can purchase Thrive Apprentice as a standalone plugin.
It's also included within the Thrive Suite membership, which gives you access to several other plugins.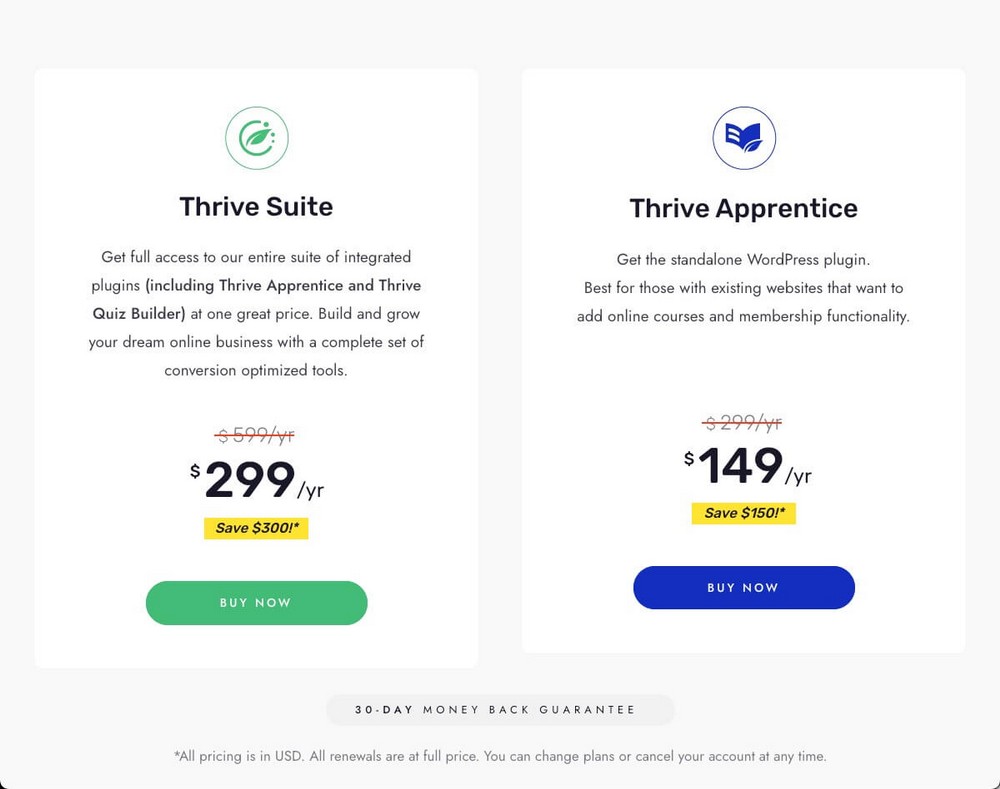 The cost of the standalone plugin is $299/year ($149 with a discount) for a single site.
There is no discount if you want more licenses, so this is quite an expensive solution for agencies.
10. Ultimate Member
Ultimate Member is a relatively young WordPress membership plugin, having been in business for less than 10 years at the time of writing this guide.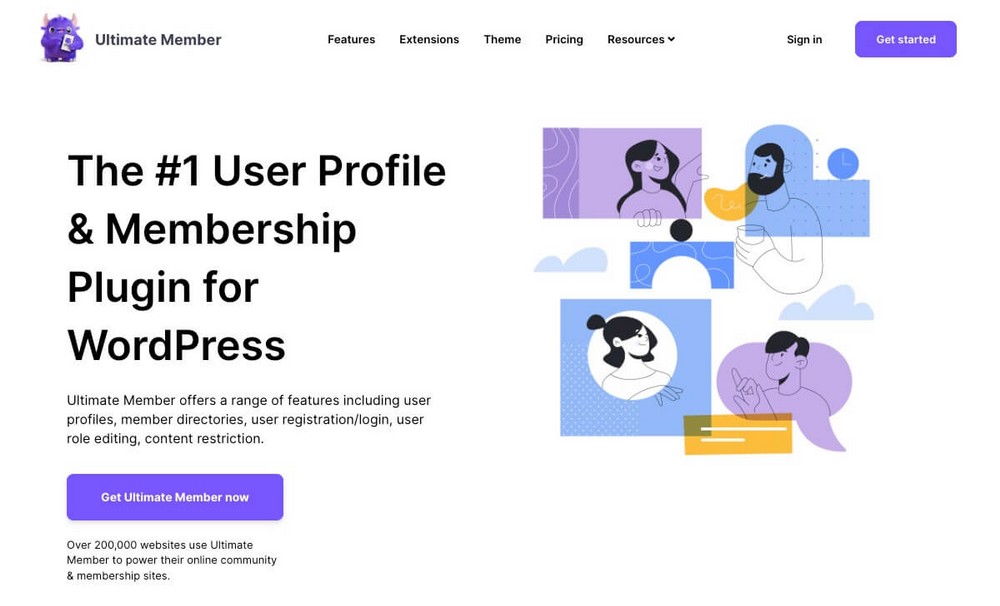 Nevertheless, it offers some interesting features and a free version. This might be the solution you're looking for.
Ultimate Member Key Features
Ultimate Member moves away from school-like memberships focused on online courses. Instead, it focuses on a very important aspect of memberships: Their members.
With this plugin you'll be able to create beautiful member directories where users can find each other: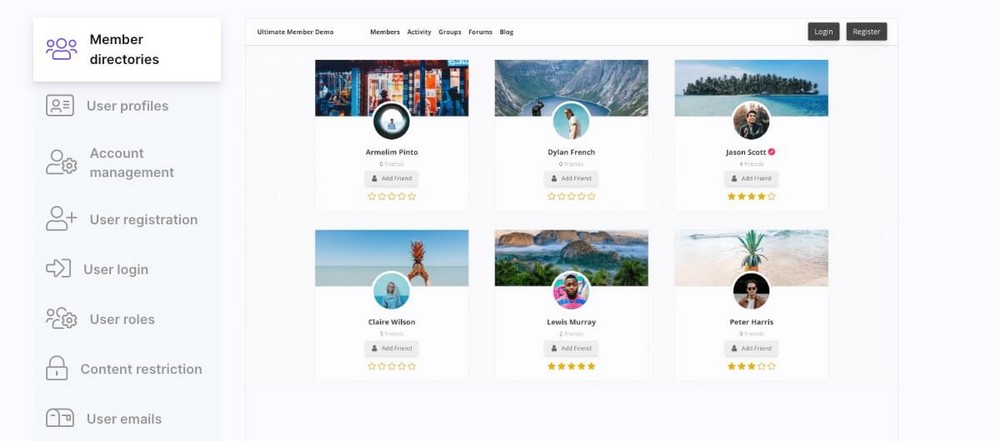 These directories will collect and display member profiles.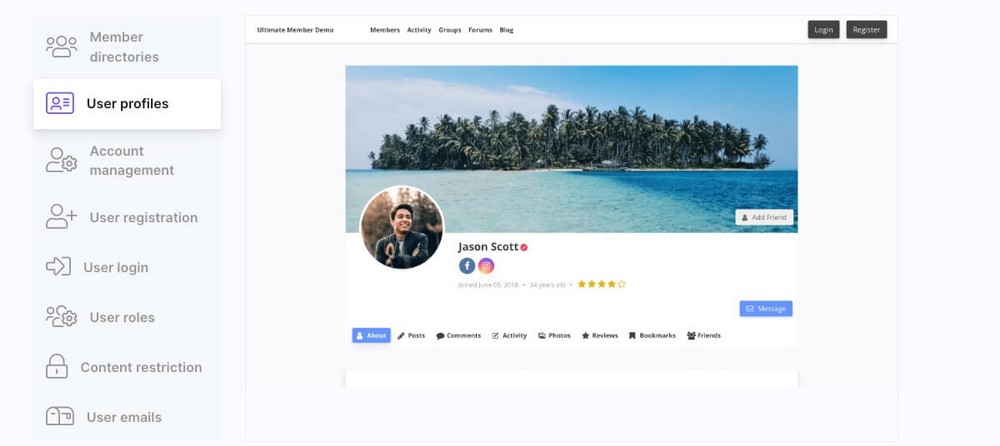 Of course not everything is about members.
The plugin also provides a tool to easily define who has access to the content you publish.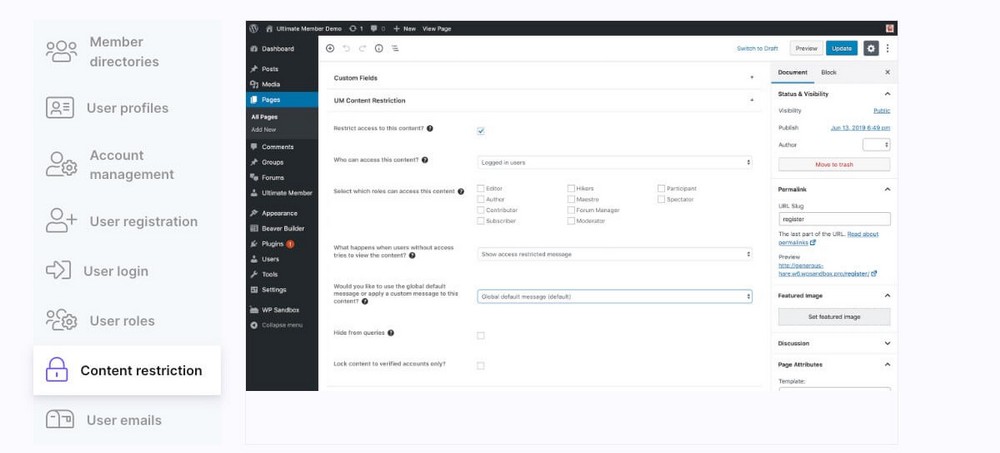 Ultimate Member Pros
The members directory and user profile features are available for free.
You can buy premium extensions individually.
It can be easily integrated with two other plugins from the company: ForumWP and JobBoardWP, to create forums and job boards.
Ultimate Member Cons
There is no built-in payment functionality.
It doesn't allow blocking or hiding areas of content, only complete pages and articles.
Ultimate Member Pricing
Ultimate Member uses a freemium model.
The free plugin allows you to create member profiles, directories and lock content.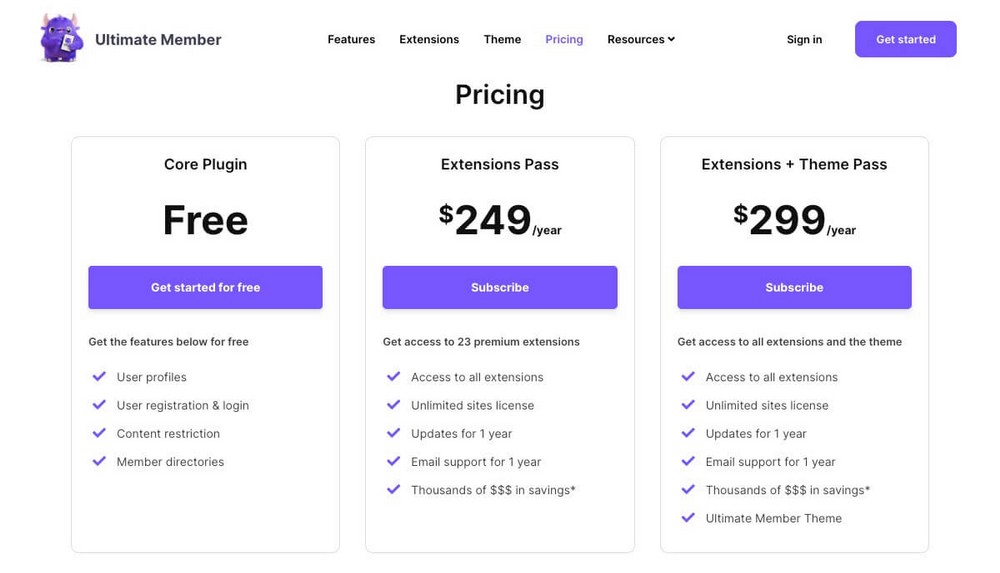 The Extension Pass plan unlocks all the extra addons. This is cheaper than buying them individually.
This plan allows the use of the plugin and its addons on unlimited sites, so it's a very affordable solution for agencies.
There is a superior plan that also includes a theme designed specifically for memberships.
11. MemberMouse
MemberMouse is an enterprise-level membership plugin for WordPress.
You'll quickly realize this when you see some of its features, and especially its price.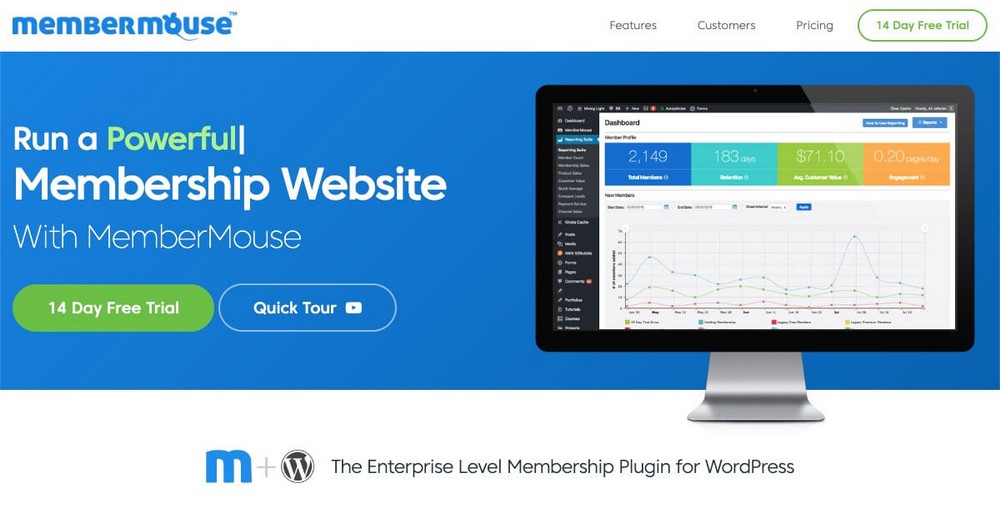 It's not a plugin suitable for everyone. If you're just starting out, you work on your own or you have a small company, this solution is probably not for you.
MemberMouse Key Features
There are several areas where MemberMouse is quite interesting.
One of them is in sales, an area where solutions usually fail.
MemberMouse gives you access to a whole range of tools to help you sell more:
Payment plans, something that up to this point was only easily done with SureCart.
International currency, useful if you sell internationally.
Members-only pricing.
And much more.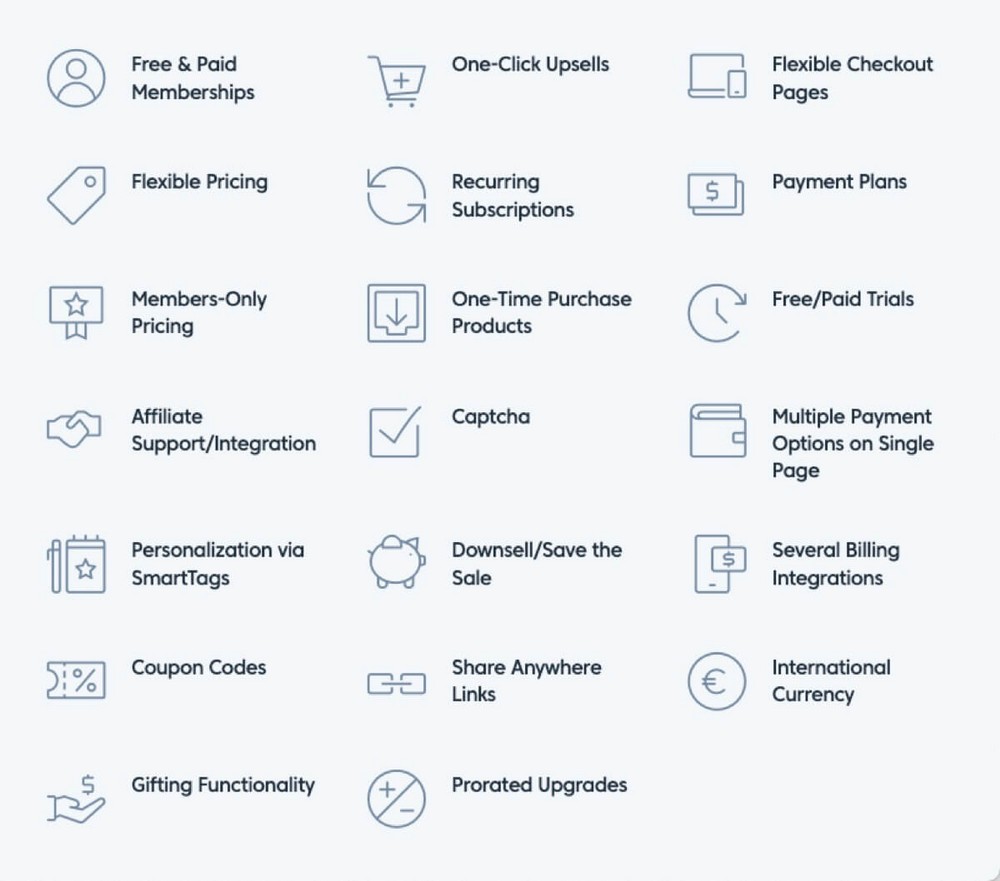 When it comes to managing members you'll also find very interesting options.
In fact more than a members management, MemberMouse refers to this whole set of tools as a complete CRM.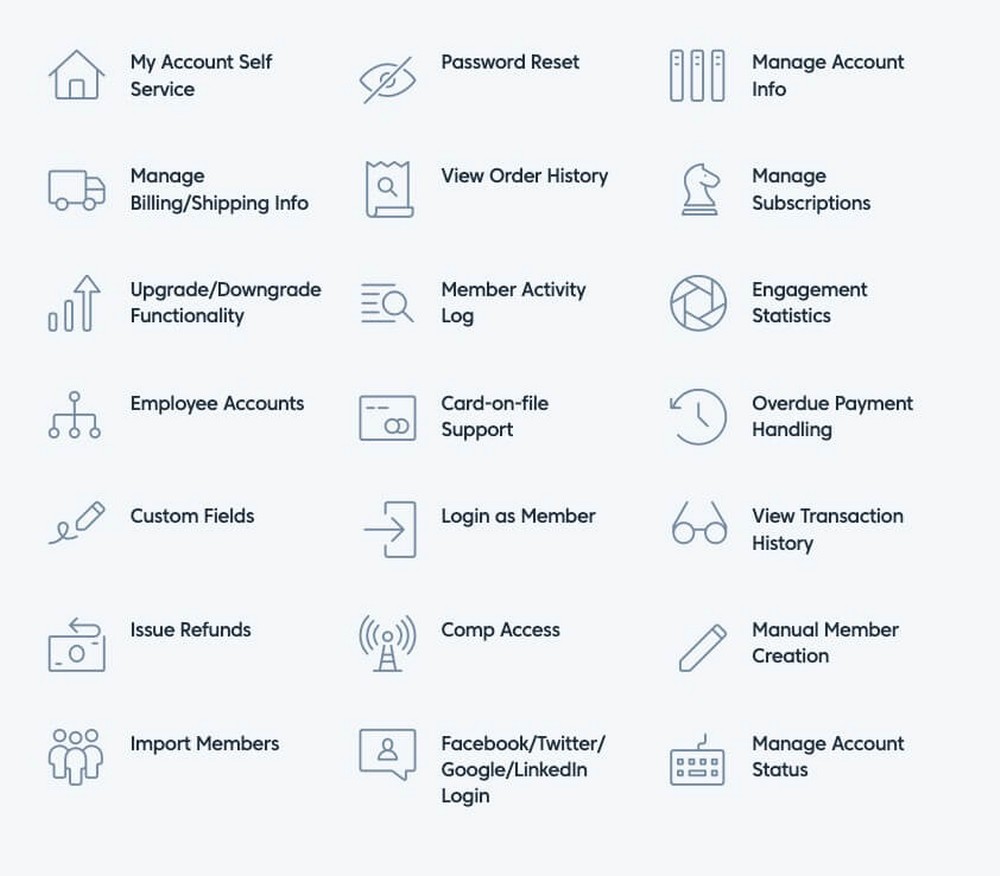 Analyzing your business to uncover weaknesses and improve them it's key.
That's why MemberMouse also offers robust reporting tools to help you make better decisions based on real data.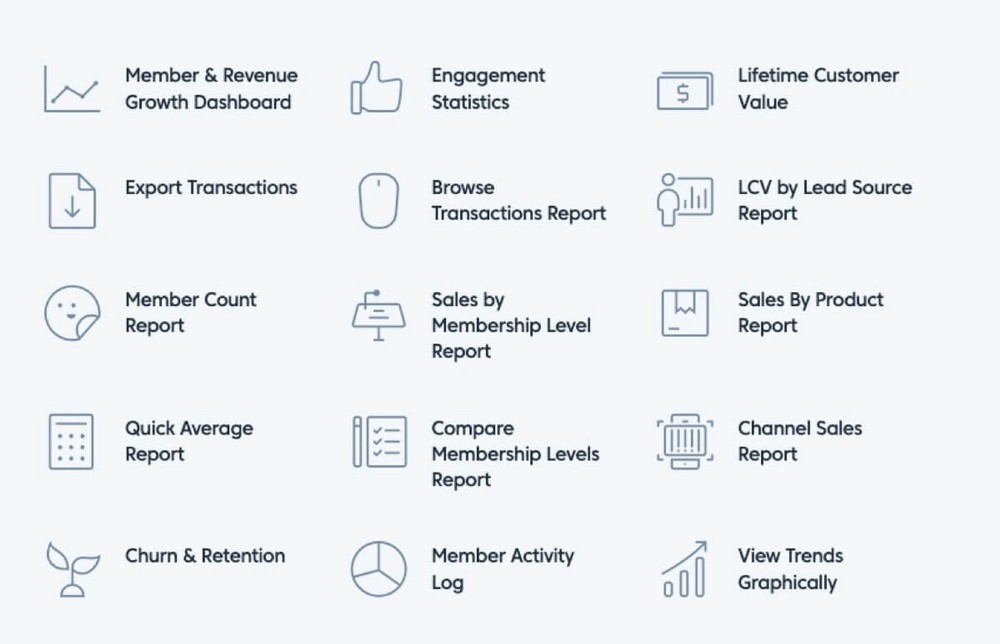 MemberMouse Pros
Very powerful tools for almost any of your membership needs.
All-in-one solution: no need to install additional plugins or addons.
Great interface both internally and for the end-user. The checkout is quite attractive.
MemberMouse Cons
Quite an expensive solution with different plans depending on the number of members.
It can take time to understand and set up all the available options.
MemberMouse Pricing
MemberMouse is the most expensive solution on this list. At least in its higher plans.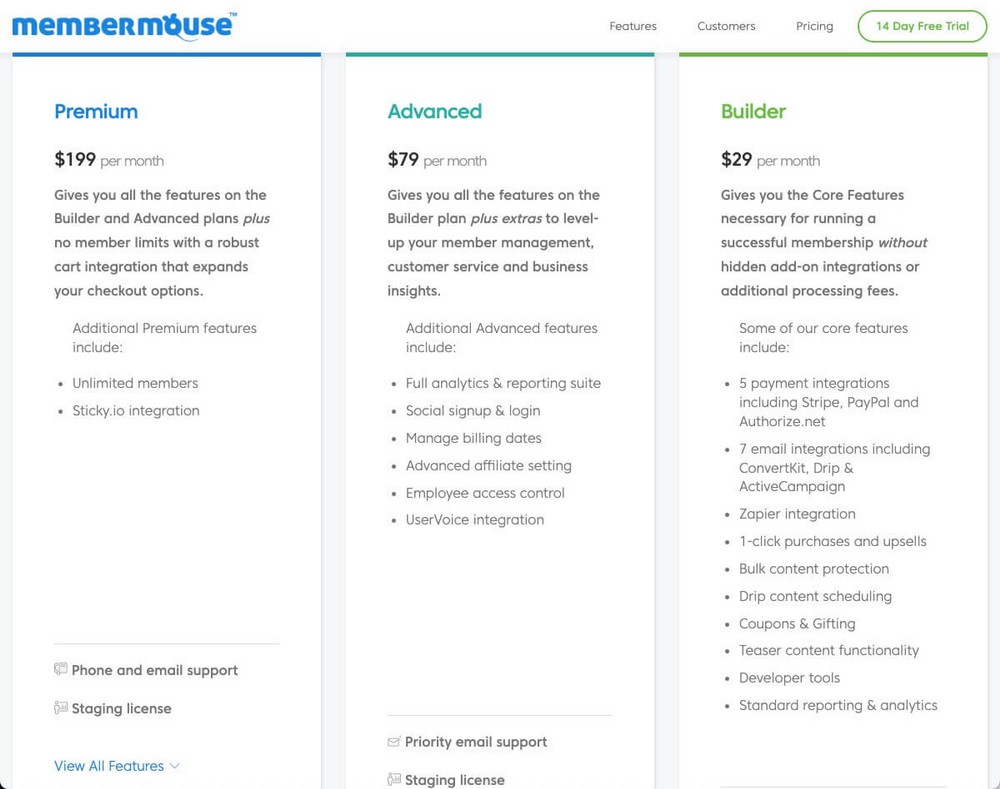 Its cheapest plan costs $29/month ($289/year), and it's limited to 5,000 members.
If you want to increase this limitation or access more advanced features, you'll need to pay $79/month, and up to $199/month if you want more than 50,000 members.
If you have more than 50,000 members you won't have any problem affording such a plan. But even so, the price is still steep.
What's the Best WordPress Membership Plugin for You?
Creating and maintaining a membership site involves a heavy workload. Especially if it's based on creating exclusive content on an ongoing basis.
Creating an online store, adding the products and promoting them is one thing.
Creating a membership site and continually adding private pages, protecting specific parts of an article, scheduling content drip or managing your members, is a totally different thing.
Simplicity matters.
We've designed SureMembers with ease of use in mind.
That way you can quickly get your membership up and running and start focusing on what's really important for your business:
Creating content and selling.
Some of the alternatives shown here have very attractive features, and you should definitely take advantage of those if you need to:
Do you want to create premium content so companies and communities can offer it to their members? MemberPress and its corporate accounts addon is probably the way to go.
If the community is a major focus of your membership, Paid Memberships Pro directories and profiles is probably the solution you need.
If you have a more technical background and want to control everything from a single place, you'll love WishList Member's automation and email broadcasting tools.
If you run an agency, the unlimited sites option in Restrict Content Pro boosts your return on investment.
LearnDash is very useful if your site consists of creating many courses on an ongoing basis, as it has many tools that will facilitate this work.
WP Courseware is also a good option for school-type memberships. In this case it stands out from the previous one if you are going to pay special attention to the quizzes.
Thrive Apprentice also allows you to lock any type of content, but it's also more recommended for schools and online academies. In this case, in those where their design is a very important area.
Ultimate Member is very similar to Paid Membership Pro with its directories and member profiles, and is actually cheaper. Although with the disadvantage that it doesn't include payment gateways.
We only recommend MemberMouse for enterprise level use. It's a very powerful plugin, but expensive and difficult to configure and take advantage of without a team behind it.
It's entirely up to you to consider if these features are essential for your business or if they are distractions that will take time and energy from more important tasks.
Do that and you're sure to end up with the perfect membership plugin for your needs.
Which plugin will you choose? What feature would you like to see in future SureMembers updates? Let us know in the comments below.