Easy Steps to Create a Forum in WordPress Using bbPress
Adding a forum to your WordPress website can be a great way to engage with users and provide a valuable resource for discussion.
Not only can forums be used to discuss topics related to your website or business, but they can also be used to provide support to users.
But does it make sense for you to add a forum to your website? What are some of the reasons for creating forums? Does it require a lot of maintenance?
Let's answer these and many other questions as we walk you through the super-easy steps to create a forum on WordPress using bbPress.
If you're looking for ways to get better engagement on your website, adding a forum is a great start!
This guide covers all you need to set up a forum on your WordPress website.
Is Creating a Forum Worth It?
Forums are a great way to bring your community together. They are very good at giving people a place to communicate, share ideas and to chat.
But this is the internet. Anyone can be anyone and say anything.
If you want to add a forum to your website, that's great. But, be prepared to spend a lot of time moderating, removing spam and herding cats!
Running a forum is very rewarding but it can also be hard work. We would recommend only including one if you know you have the time to run it properly.
Let's look at some reasons to create a forum on your website.
Reasons for Creating a Forum on Your Website
By providing a space for users to post messages and start discussions, you can create a sense of community and foster positive interactions.
In addition, a forum can also be a useful tool for gathering feedback and insights.
By monitoring forum activity, you can identify areas where your users are struggling and make changes to products or services to improve their experience.
It can also be a valuable marketing tool, helping you to reach new users and promote your brand.
When used effectively, a forum can be a powerful asset for any website!
Let's look at 5 more reasons for creating a forum on your website:
Added value for customers: If you sell products or services, a forum can be a great place to provide added value for customers by giving them a place to discuss and ask questions.
Increased customer loyalty: When people have a positive experience on your forum, they are more likely to become loyal customers.
Increased brand awareness: A well-run forum can help to increase brand awareness as people will start talking about your company and products on the forum.
Increased traffic: Forums can help to increase traffic to your website as people will visit the forum to find information and then visit your website for more information.
Better Engagement: A forum can help to improve engagement with your website as users will be more likely to return to the site to read new posts and participate in discussions.
Top 4 Plugins to Create a Forum on Your Website
Creating a forum in WordPress can be tricky. But with the right tools, you can save yourself countless hours of figuring out how to set things up.
Below are 4 of the best plugins that you can choose from to set up a forum on your website. You can also check this post on the 13 best forum plugins for WordPress.
1. bbPress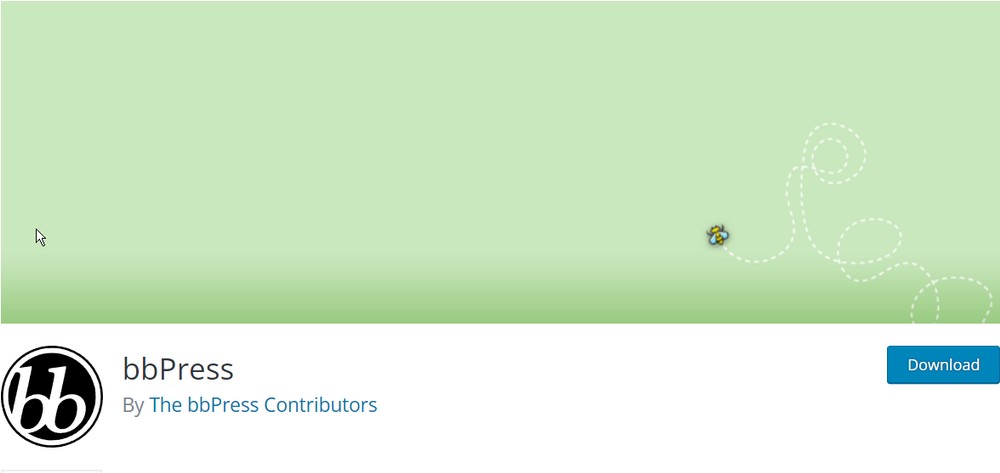 bbPress is an open source forum software package that lets you build a vibrant community website.
It's fast, efficient, and easy to use, making it the perfect platform for any online discussion. Plus, because bbPress is so versatile, you can use it for everything from product support forums to online classrooms.
With bbPress, you can create:
Custom discussion topics
Post replies
Embed multimedia content
Moderate discussions
Manage user profiles
Configure forum settings to match your needs
Thanks to the wide range of plugins and themes available, you can give your forum a unique look and feel that's all your own.
If you're looking for an easy way to build a thriving online community, bbPress is the solution you've been searching for.
2. BuddyPress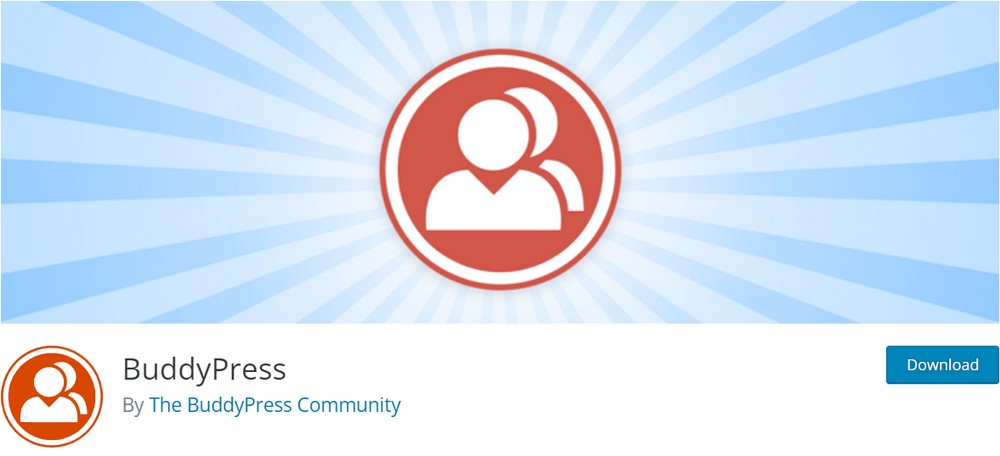 BuddyPress is one of the most popular social networking plugins for WordPress.
It lets you build a social network inside your WordPress website, complete with member profiles, activity feeds, and groups. BuddyPress is perfect for creating online communities of any size.
With BuddyPress you can create:
Personal user profiles
Conversation groups
Private messages
Activity streams
It is free and open source and is released under the GNU General Public License. You can download it from the WordPress Plugin Directory, or install it directly from your WordPress dashboard.
3. Simple:Press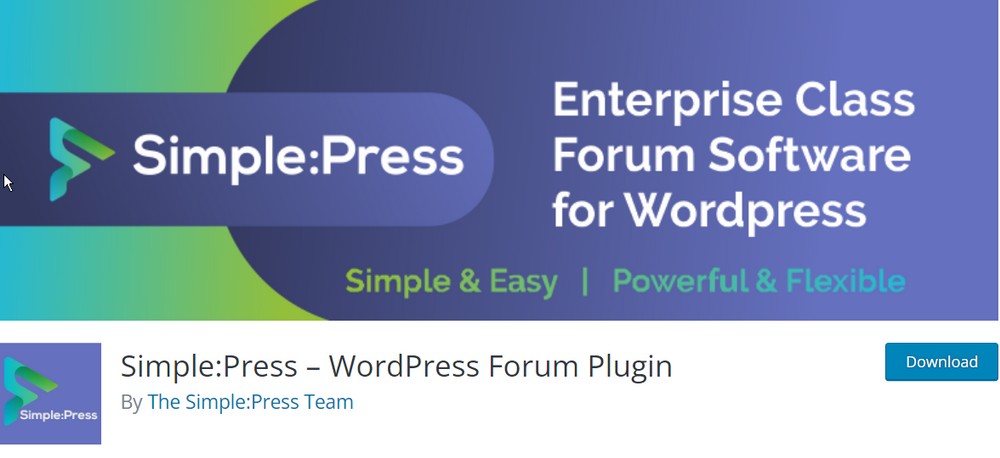 Simple:Press is a powerful, open source forum software package that lets you build a vibrant community website.
It's fast, efficient and easy to use, making it the perfect platform for any online discussion. Plus, because Simple:Press is so versatile, you can use it for everything from product support forums to online classrooms.
With Simple:Press, you can create:
Custom discussion topics
Post replies
Embed multimedia content
Create unlimited forums
You can also moderate discussions, manage user profiles, and configure forum settings to match your needs.
4. Asgaros Forum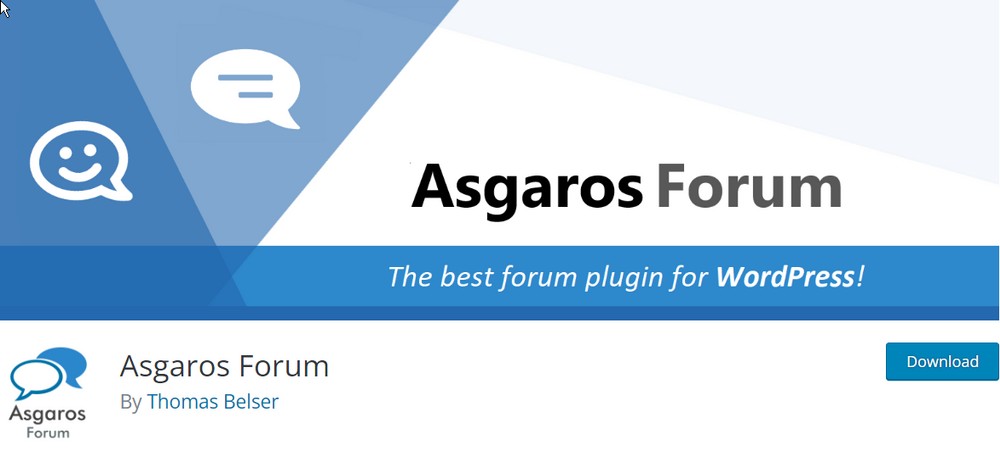 Asgaros Forum is a powerful, user-friendly forum plugin for WordPress. It allows you to easily create and manage discussion forums on your WordPress site.
With Asgaros Forum you can:
Easily manage forum content with tools for moderating posts and ban users
Choose from a variety of built-in themes, or create your own custom theme
Keep conversations organized and easy to follow
Upload files and images to posts, and view them inline
Send and receive private messages between users
Asgaros Forum is the perfect plugin for managing discussion forums on your WordPress website.
Easy Steps To Create a Forum in WordPress
Time to get into setting up a proper forum on your website with the help of bbPress.
Follow along to get yourself up and running with a full-fledged forum in less than an hour.
Step 1. Install bbPress
First, we need to install and activate the WordPress plugin for bbPress. This will add all of the necessary files and settings needed to run a forum on your website.
After you login to your WordPress dashboard, go to Plugins > Add New.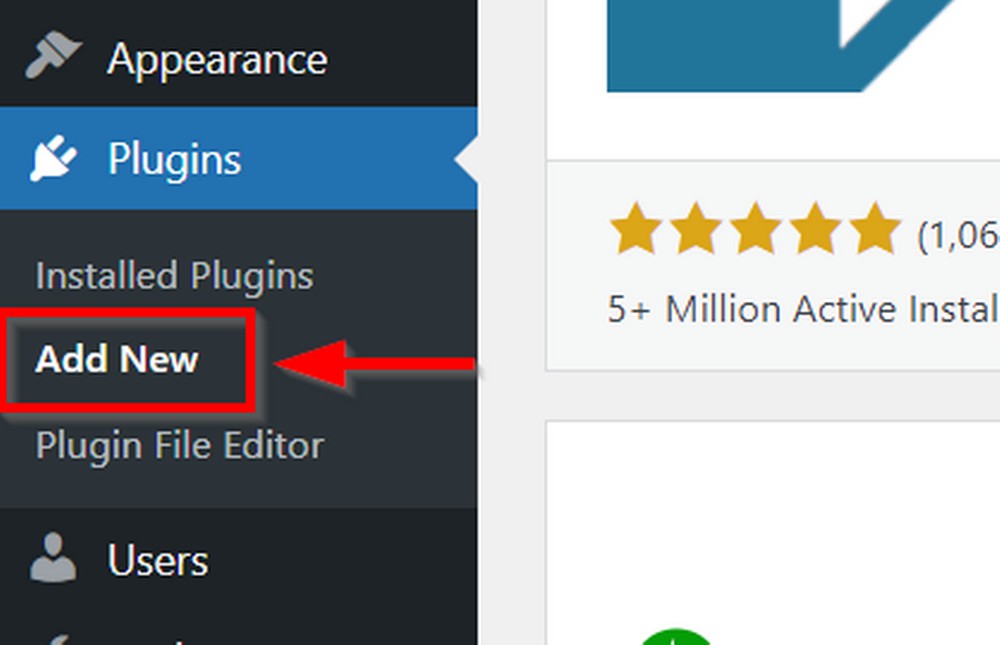 Next, search for bbPress and hit Enter. You'll see the bbPress plugin in the search results.

Click Install Now and then click Activate. You should see a new option on your WordPress dashboard menu.

With that set up, let's now create a forum for the website.
Step 2. Set Up the Forum With bbPress and WordPress
Click on the Forums option within the WordPress dashboard menu. You'll see a page as shown below: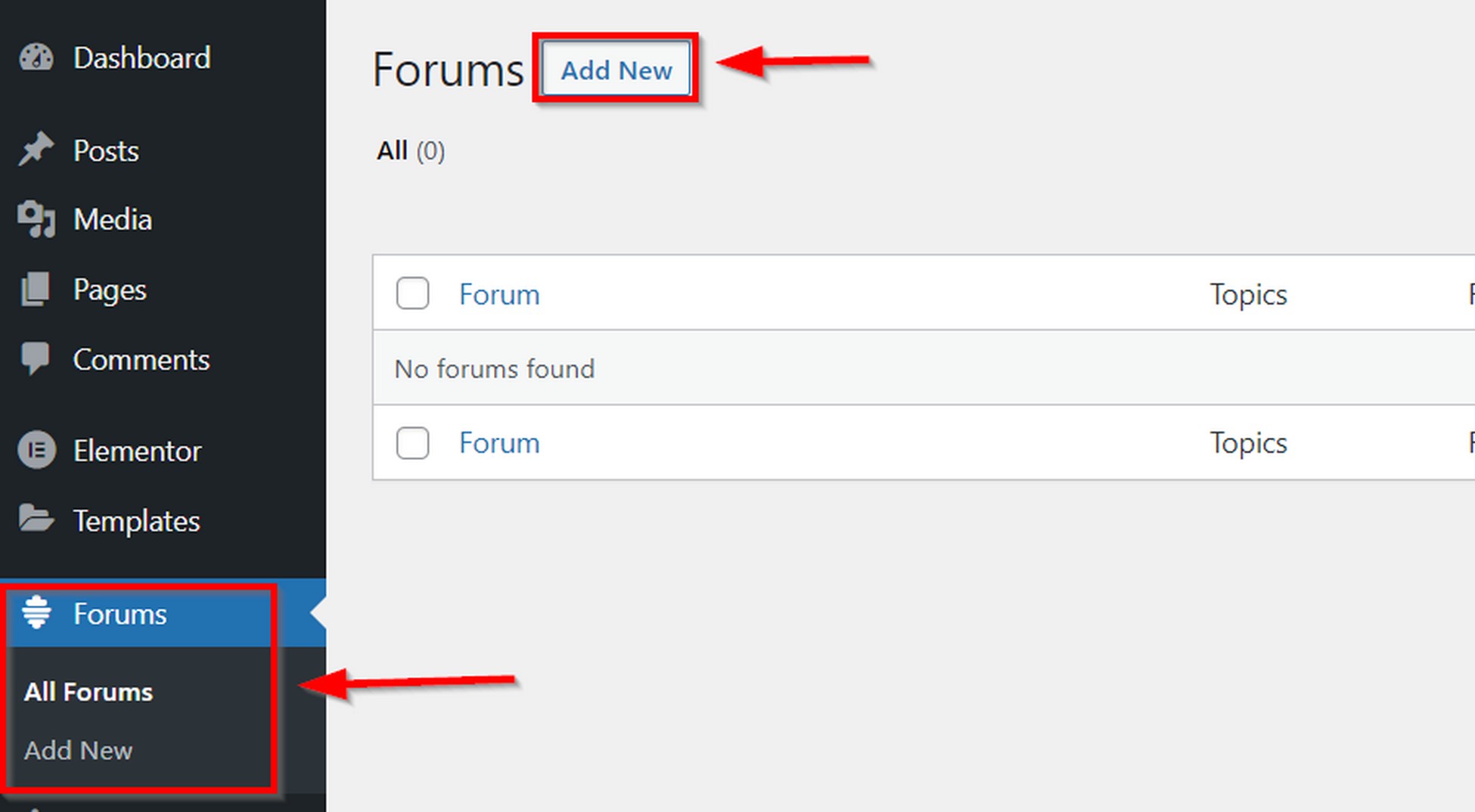 Click Add New to create a new forum and you'll see a page similar to a New Post page.

Enter the name of your forum and a description. After you set this up, click Publish.
As you can see above, after you publish the forum, it will add a message saying 'Forum Created. View forum.'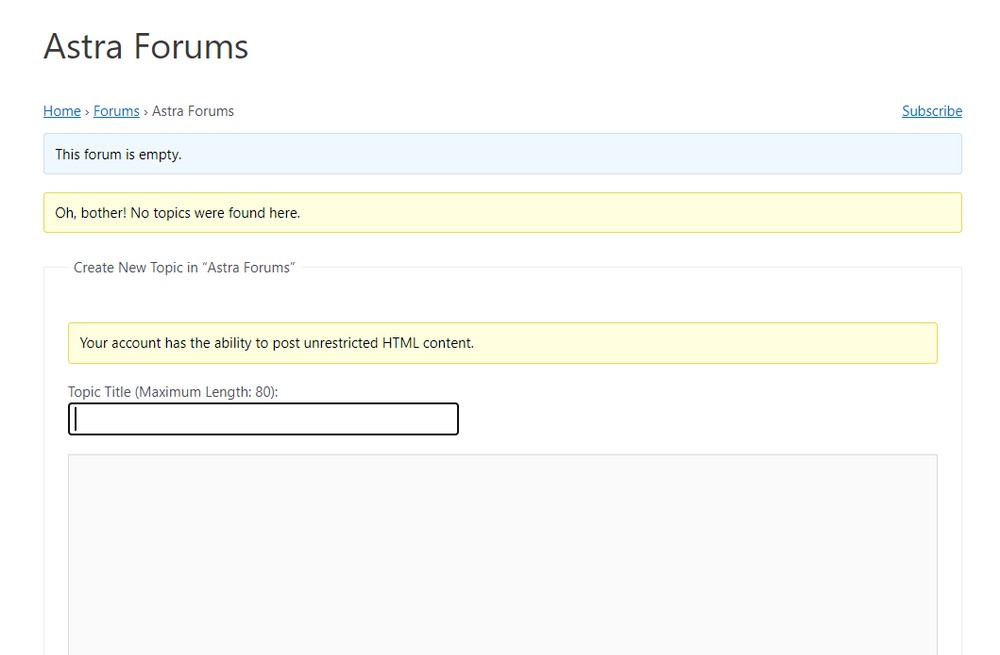 When you click the link to the forum, you'll see a page like the one above. Since we do not have any posts yet, you see the message No topics were found. Logged in users can directly add a new post on the same page.
Create a new topic by entering a title and description on this page and then hit Submit.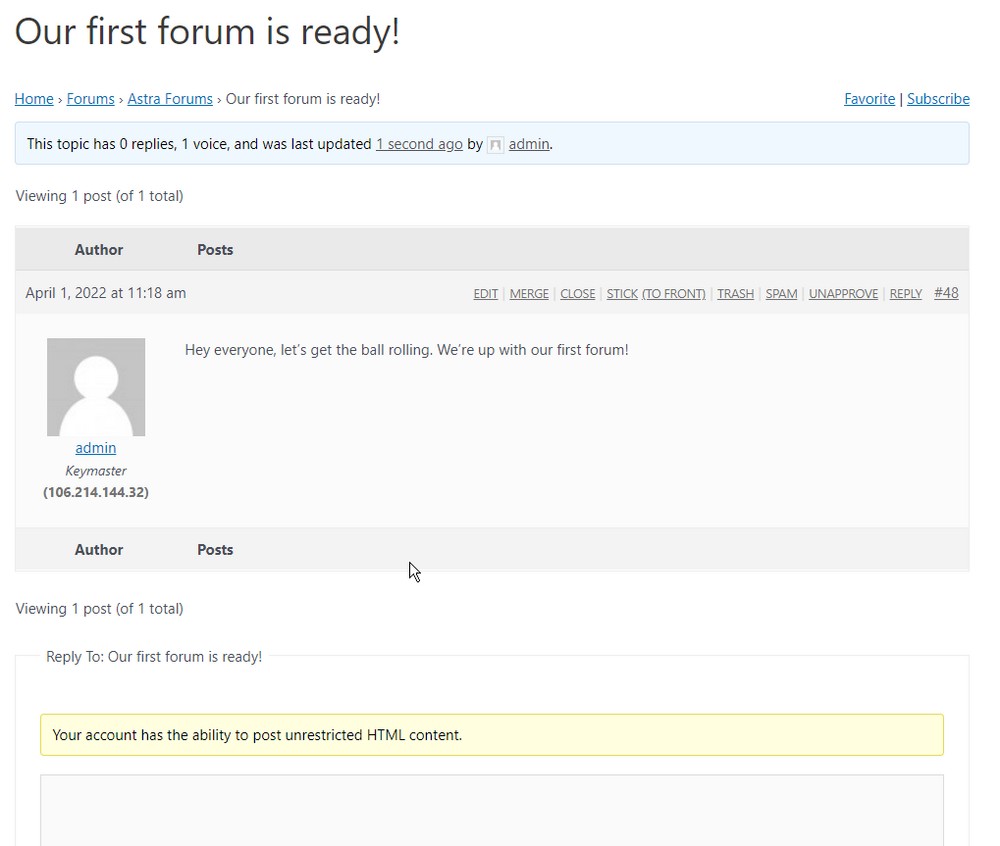 After you hit Submit, a new topic is added to your forum and other logged in users can now reply to your forum thread.
Congratulations. You're all set with your first forum page!
Now it's time to modify the pages where our forum is displayed, enable user registration, and also learn how to manage permissions for users.
Step 3. Display the Forum on a Specific Page Using Shortcodes
By default, bbPress creates a forum on the /forums/forum/<forum-name> page on your domain.

You also get access to shortcodes that let you display your forums on any page on your website.
Here's a list of all the shortcodes that you can use with the bbPress plugin.
Let's now see how you can add a forum to any page on your website using shortcodes.
Let's begin by creating a new page for this demonstration. You can use an existing page too.
Go to Pages > Add New and enter a title for that page.
Then find the most suitable shortcode for your needs. In this case, I'll use the [ bbp-forum-index ] which shows the entire forum.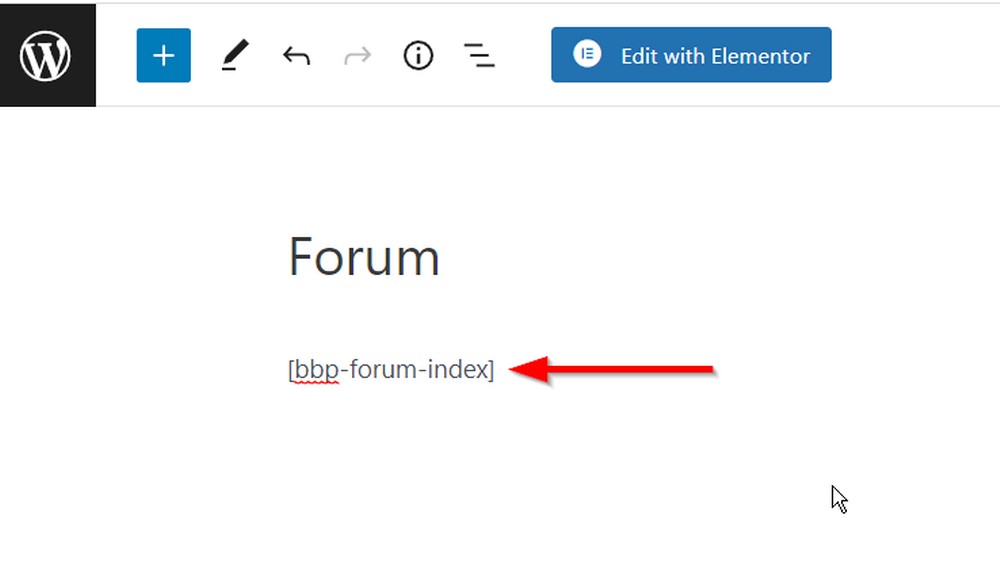 Now Publish or Preview the page and you should see your forum and any posts within the forum listed on this page!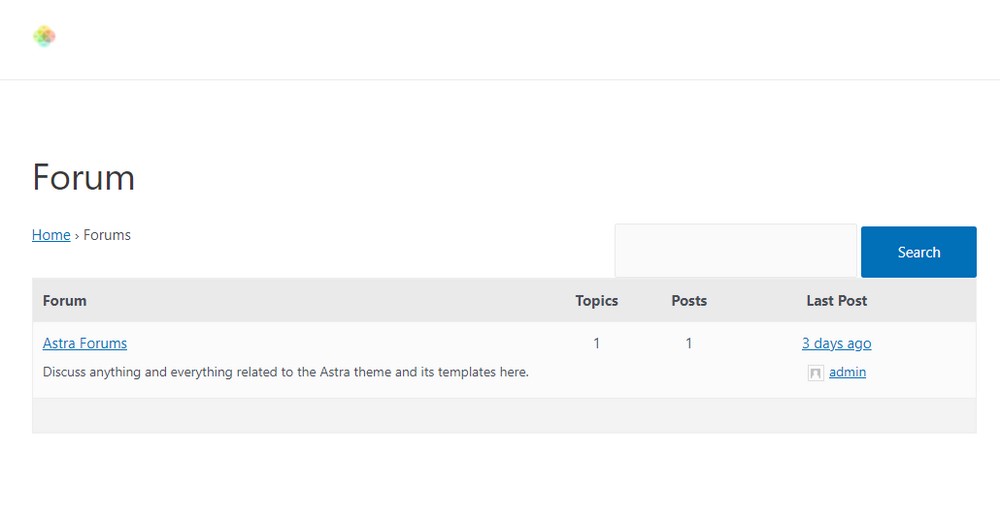 Now you can display this page as your forum page on the menu and users can join it to become part of the community.
Let's now enable registrations. How do you add the login and register buttons to your forum?
Step 4: Enable Registration for All Members
We want the community to be able to register themselves and begin adding their posts directly.
Follow the steps below to enable registrations:
Go to Settings > General Settings and check the Anyone can register checkbox.

Next, we'll add two new pages – a new user registration page and a password recovery page from the Forums section.
Go to Pages > Add New and enter the title for your new user registration page.
Next, you need to enter the shortcode [ bbp-register ] in the as shown below and then click Publish.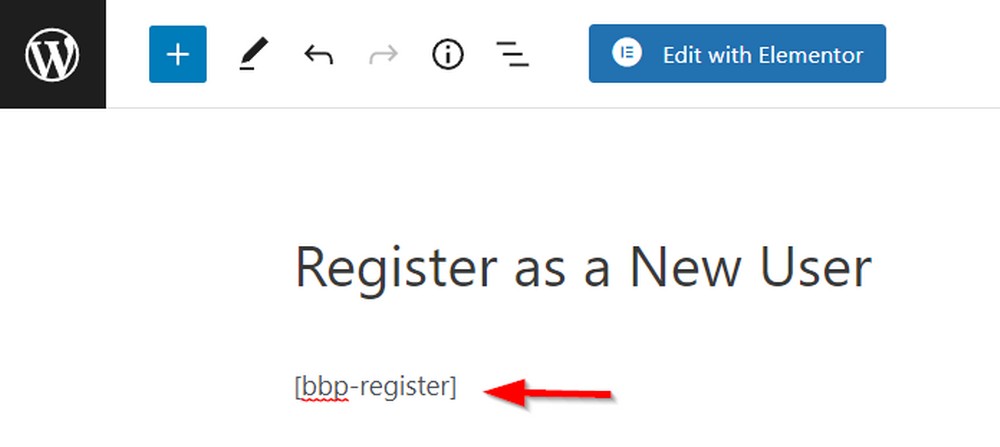 Your registration page is now ready! If you visit the page now, you'll see the following screen.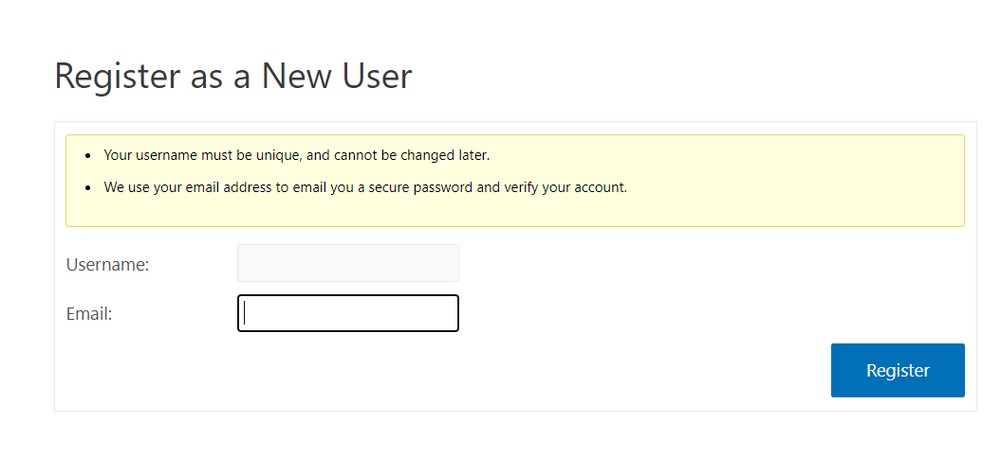 We also need to help our users recover their passwords if they lose it.
Let's create our lost password recovery page.
Create another page by going to Pages > Add New and enter a title for your lost password recovery page.
Enter the shortcode [ bbp-lost-pass ] on the body of the page.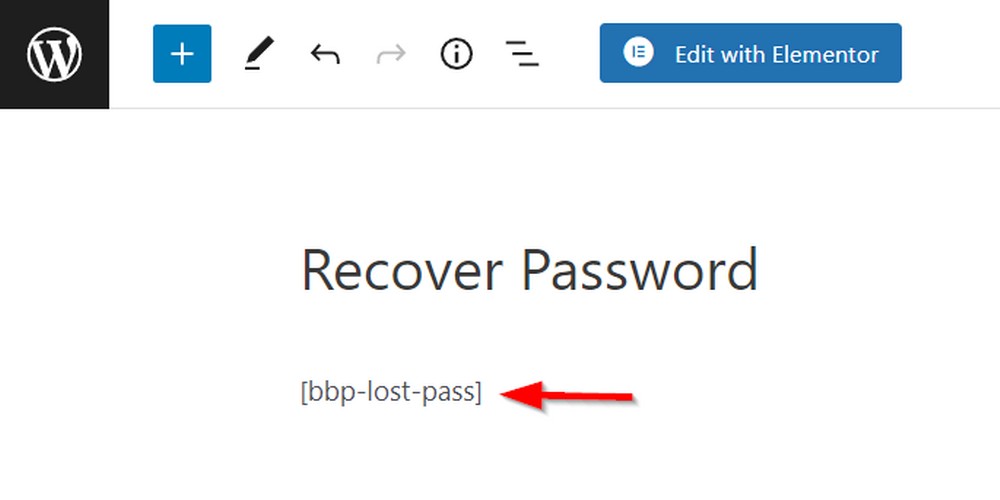 Click Publish and you're ready to go. Here's what the default password recovery page looks like:

The pages should be automatically updated in the menu if you've allowed your menu to add top-level pages by itself.
If not, go to Appearance > Menus and add the pages that you just created.
Once you're all set, we move to the final step – managing the forum.
Step 5: Managing Your Forum Users, Permissions and Threads
As the number of registrations increase, you will need to ensure the user roles are well-defined.
Let's see how you can manage forum users and their permissions:
When new users register, they'll be displayed on the Users > All Users page on the dashboard.

As you can see, the admin user has a forum role of Keymaster which is the role with all the privileges on the forum.
The other registered users are by default set as Participants which lets them get involved in the community without any other permissions on the website.
To make a user a moderator for your forum, click Edit for that user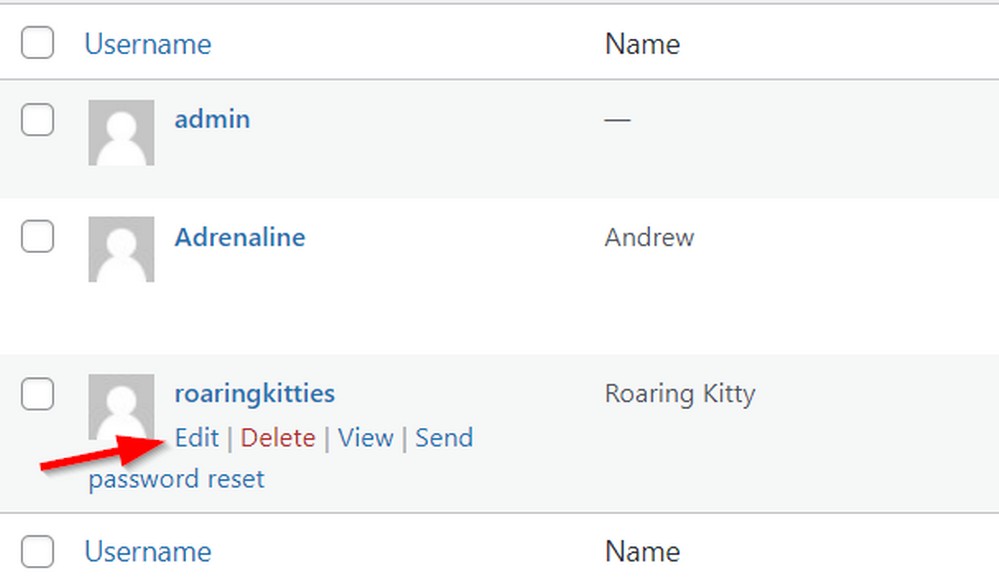 Scroll to the bottom of the profile page for that user and switch the drop down to Moderator and then click Update User.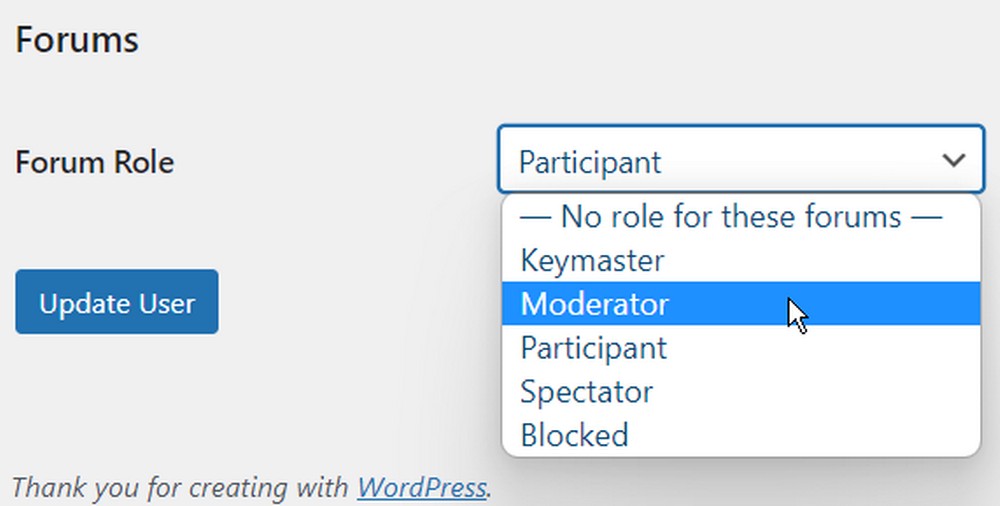 That's it! Now the user will have access to make edits to any posts as per your community guidelines.
By default, bbPress forums have 5 level deep conversations. That means, your users can reply to a comment from a user, and other users can reply to the reply and so on until 5 levels are complete.
If you wish to change that, you can make the switch by going to Settings > Discussion.
Then change the setting for Enable threaded (nested) comments [5] levels deep to the one you find perfect for the kind of forum that you wish to host.

Once done, scroll to the bottom of the page and hit Save changes.
Now, users will be able to create nested threads based on these settings.
Go ahead and play around with the discussion settings to see what all you can customize.
With all the settings complete, let's now understand how you can get your forum started
6 Tips for Creating Successful Forums in WordPress
One way to encourage discussions in your new forum is by starting discussions yourself.
Get the ball rolling by posing questions or discussing topics that interest you and your fellow forum members.
Another way to get people talking is by creating threads that are designed to provoke discussion, such as controversial topics or opinion polls.
Here are 7 tips to the ball rolling in your new forum:
Start by creating discussion-friendly forums. When users visit your forum, it has to invoke curiosity. This can be done by creating powerful headlines, adding attractive images, and discussing highly interesting topics that are relevant to your audience.
Get involved in discussions and be a good role model for other members. Reply to topics whenever you can and stand out as an authority within the community. Since you are the host, people already trust you. When you begin engaging within the community, users know that the forum is not just another way for you to promote products but a genuine way to give more.
Highlight important topics by keeping them active or pinning them to the top. Don't let the topics that generate the highest engagement dry up. Your users have shown their love towards the topic by upvotes and replies. Keep it pinned to the top of your forums so new users can easily get involved.
Use moderation tools wisely. This means being active but not overbearing, and allowing members to have their own discussions. Finding the right moderators can be difficult but generally, you can appoint the most active member of the community and give them the power to choose which topics are allowed and which ones should be moderated based on their topical knowledge.
Reward members for their contributions. This could be in the form of badges, points, or even just public recognition. It could also be as part of competitions, rewarding the most active members with moderator roles and much more. Get creative and you will not need to spend money.
Take the time to welcome new members and help them get started. This will make them feel appreciated and more likely to stick around. Also, when users who register to your forums for the first time see a personal welcome from the administrator, they're more likely to stick around for a while until there is enough discussion to keep them interested.
Create membership plans. When you have a loyal and budding audience in your forum, you must absolutely get them to invest in your brand. That does not always have to be through a product. Creating forum memberships or website memberships can be a great way to do so. Check these membership plugins for WordPress to build your membership plans.
By doing this, you'll not only get people talking, but you'll also get them thinking. And that's what a good forum is all about!
Quick Tips for Dealing With Forum Spammers
One of the biggest concerns for forum owners is dealing with spam.
When you open up your website for user registration, there are people who're there not to engage in conversations but to promote websites and products, and get backlinks.
While a limited amount of promotion is okay, if users are registering only for the sake of promoting their business, you have to take things in hand.
Thankfully, there are a few things you can do to help minimize this issue:
Invest in spam filtering tools: First and foremost, make sure you have an effective spam filter enabled on your forum. There are many different plugins and services that offer this functionality. WordPress' own Akismet and Jetpack plugins have very good spam filtering options. However, you can explore further for more specialized spam filtering plugins.
Verify emails: Require new users to verify their email address before they are able to participate in the forum. This will help to ensure that only legitimate members are posting and participating in conversations.
Block temporary mail services: One of the easiest ways for users to gain access to your forum is by registering with temporary mail services like Tempmail. This allows them to create a live email address that gets deleted within a few minutes. Blocking these domains will save you time and headaches related to spam.
Encourage community reporting: Finally, leverage the power of your community by allowing users to report and moderators to delete highly reported posts. This makes the community feel like they're part of the story and are able to make a difference. It also saves you from manually finding the spammy posts as your community grows and gets a lot of new posts every day.
Finally, make sure you are keeping your forum software and plugins up to date. This will help to ensure that any security vulnerabilities are patched and that your forum is as secure as possible.
Conclusion
Forums are awesome! They help you create engagement from an otherwise unengaged audience.
They also help you build a loyal and thriving community around your business that continues to buy your products and promote them!
Creating a forum on your WordPress website is very straightforward with the help of bbPress. But as your community grows, you need to work to keep the engagement high while keeping the spam in check at all times.
As you begin to leverage the power of community in your marketing, you'll observe that your marketing efforts can yield you exponential results with the right set of people.
Did you use bbPress or any other forum builder? Do you have some awesome tips to grow your community and keep them coming back and continue to engage with your forum?
Let us know in the comments below!