6 Best WordPress Membership Site Plugins to Build a Thriving Community
Are you planning to create premium content on your WordPress website and make it accessible only to your registered members? If so, you would need a membership site plugin that allows you to create memberships, and limit your exclusive content only to your members. In this article, I'm going to share with you six best membership site plugins for your WordPress website.
Choosing the right membership site plugin is one of the most important considerations when building a thriving community for your business, whether you're selling an online course or building a list of your subscribers.
What benefits can you get from a membership site?
First, let's talk about what good does it do for you when you build a membership site.
Build an emailing list that has high engagement rate. You can create a library of your contents and allow it to be accessed only by your registered users. In this way, you'll be able to build a highly engaging subscriber list.
Build your authority. When you create valuable contents for your members, it provides an opportunity for you to build your authority within your niche. It also allows you to build a foundation for your loyal customer base.
Earn a recurring income. If you're able to urge your members to pay for their subscription, then earning possibilities are endless.
What to look for in a membership site plugin?
Let me share with you some remarkable features that you really need to think about when choosing the right membership plugin for your website.
Ease of Use
If you're not a techie person and you don't want to hire a developer to set up your membership site, then choose a plugin that's easy to use. You can purchase a lightweight plugin that has all the essential features that you need, and if you need more advanced features, then you can go for a full-featured plugin or install the add-ons.
Compatibility
Test the plugin first in your WordPress local install before installing it on your production website. This helps ensure that your plugin is compatible with your theme and other currently installed plugins.
Design and Features
You might also want to take a look at its specific features such as its subscription management features, drip content feature, and payment gateways support. There are a lot of membership plugins but they have different features and not all of them have the specific features that you would need for your membership site.
So now, let's take a look at our top WordPress membership site plugins.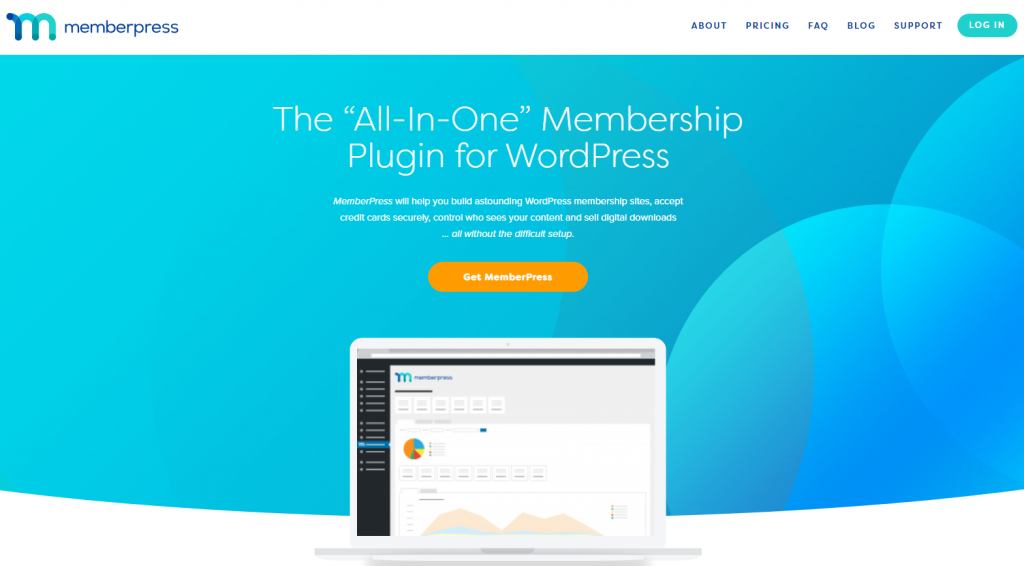 MemberPress is one of the most popular membership plugins for WordPress websites. It's probably one of the most complete membership plugin with all its features that you would need for a powerful, fully-featured membership site.
What are the top advantages of MemberPress?
Setting it up is very easy and straightforward. You can automatically setup login, pricing, account, and thank you pages for your members.
It has powerful access control wherein you can restrict access to your posts, pages, categories, tags, and documents and media files.
If you're selling online courses, you can drip feed your contents, meaning they can be viewed by your members after a specific time.
It easily integrates with different email marketing services such as MailChimp, AWeber, GetResponse, and MadMimi. If you're into podcasting, MemberPress also integrates with BluBrry and Amazon Web Services.
It also has built-in support for Stripe, PayPal, and Authorize.net.
It also offers the creation of dynamic pricing pages with its pre-built templates.
It also allows you to control your coupon expiry dates and which products they apply to. You can also choose a discount percentage or fixed amount.
Among its limitations, however, is that it's limited only to supporting the three most popular payment gateways. So, if you're in a country without these payment gateways, you would need to consider another membership plugin. Also, it still needs more integrations with other popular services. Though, you can hire a developer to integrate a third-party service.
MemberPress starts at $258 per year at a regular price.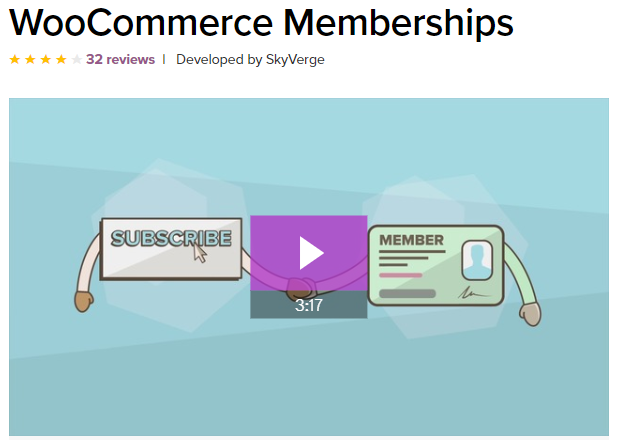 WooCommerce Memberships allows you to build a membership system that's integrated to your online store. You can limit your content and drip feed it to your members.
One thing that you need to keep in mind is that it is a WooCommerce addon, which means that you need to install the WooCommerce plugin first before you can use WooCommerce Memberships. Plus, if you plan to accept recurring payments, then you also need the WooCommerce Subscriptions plugin.
What can WooCommerce Memberships do for your your business?
The main benefit of this plugin is that you can set your products to be accessible only by your members and provide them with site-wide discounts.
You can schedule when your contents are going to be visible to your members.
This plugin allows you to set up free shipping options for your members and coupons for non-members.
Your members can easily navigate to their membership dashboard.
You can import or export members to a CSV file.
It has a Membership Notes area to keep track of customer information and reference for easy communication with your members.
One thing I don't like about this plugin is that payments are not built in. So, you also have to install the WooCommerce Payment Gateways in an additional price.
WooCommerce Memberships starts at $149 per year for a single site.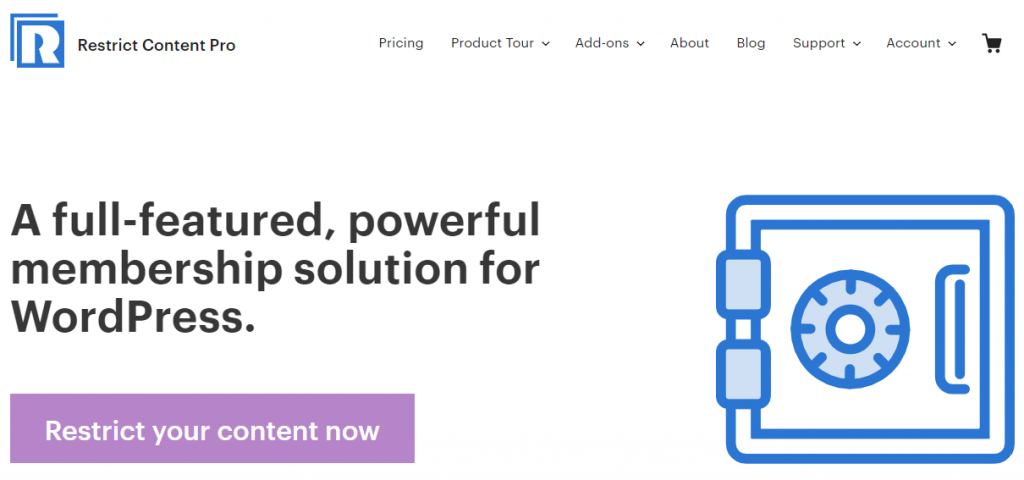 Restrict Content Pro is another membership plugin to consider as it allows you to easily build a fully-featured membership site. It's a powerful contender in the area of membership plugin since it's created by the same team who created AffiliateWP and Easy Digital Downloads plugin.
Let's take a look at what it can do for your WordPress membership site.
It integrates easily with your WordPress site.
It has built-in integrations with different payment gateways such as PayPal, Braintree, 2Checkout, Stripe, and Authorize.net.
You can create discount codes as many as you like, and offer fixed amount or percentage of discounts.
Another good thing with this plugin is that with its reporting functionality, you'll be able to track the performance of your membership.
You can also export your data to a CSV file.
You can also automatically send welcome emails to your new members, email payment confirmation, and account expiration reminders.
As compared to other membership plugins, you'll see that it has fewer integrations with other third-party services like email service provider. I think this is something that it needs to improve.
Pricing for Restrict Content Pro starts at $99 per year and can go up to $499 per year, depending on the number of addons included and number of sites it's allowed to be installed.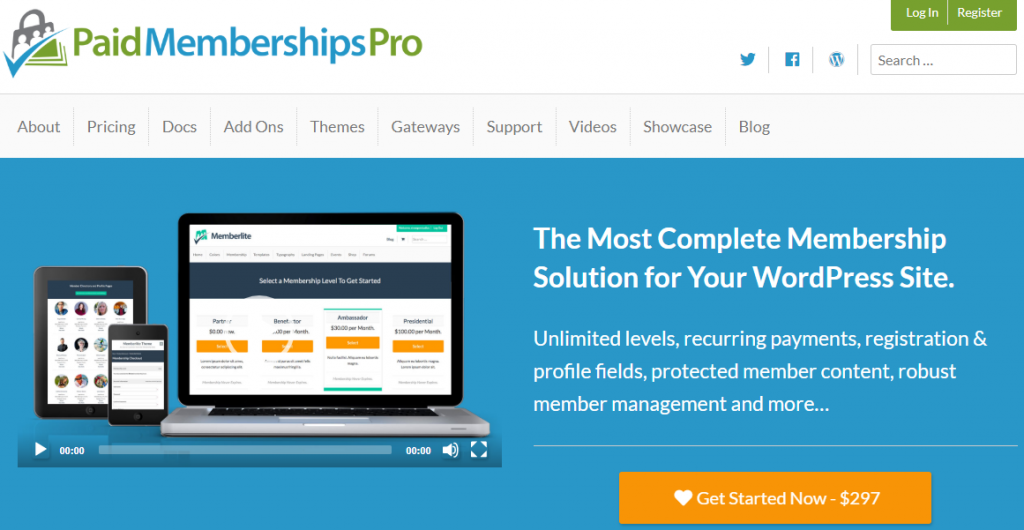 Paid Membership Pro is suitable for a website that provides premium content, associations, newsletters, subscription products, and a lot more. The best thing about it is that you can use it for free.
Let's take a look at what you can do with Paid Membership Pro.
You can name and control your members' access to your content. For example, you can categorize your members as a gold, silver, or bronze member.
It integrates with top payment gateways such as Stripe, PayPal, Authorize.net, Braintree, CyberSource, and 2Checkout. Your website needs an SSL certificate in order to make the checkout process safe and secure.
You can set up a unique pricing information for each membership level.
You can control the access of content for each membership level.
You can generate detailed reports about your membership's performance.
You can allow search engines to index your premium content so that your site can still rank for keyword searches.
You can customize email notifications.
Paid Memberships Pro is great for a simple website. However, if you have a complicated website, then you need to consider looking at the available addons if they fit the needs of your website.
While you can use it for free, you don't get the premium support and updates, plus other addons that you might need. So, check out their pricing that starts with $297 per year.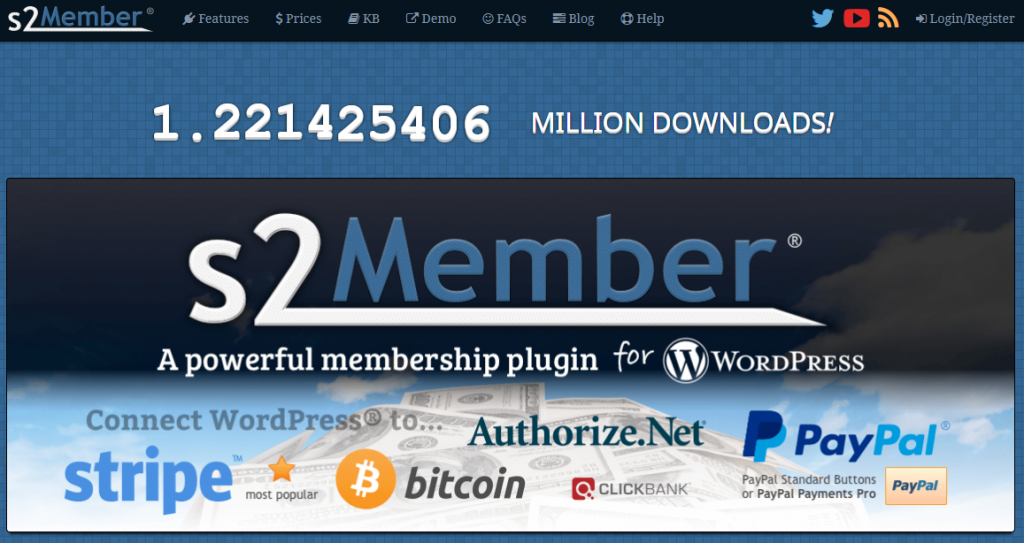 S2Member is another free WordPress membership plugin that you can use for your website. It comes with a lot of out-of-the-box features making it one of the most comprehensive plugins.
Let's see what are the top features of this plugin.
It's free and you can try it out if it's best for your website. Although the features are limited, it's a good start for your membership site.
You can schedule the release of your contents to your members.
It supports PayPal with its free version, and Stripe and Authorize.net with its premium version.
It integrates well with community plugins such as BuddyPress and bbPress.
However, because it offers a lot of features, there can be a steep learning curve in having to figure them out especially if you're just starting out.
Since the free version has limited features, you may want the additional features of its premium version which starts at a one-time fee of $89.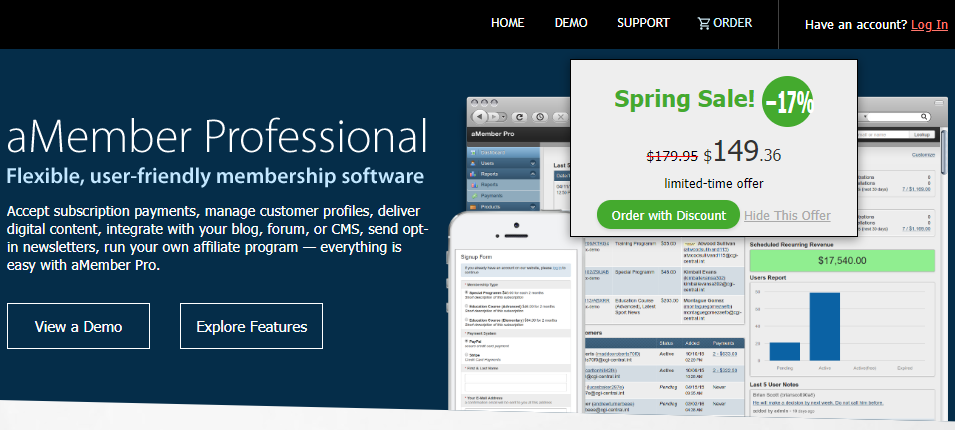 aMember Pro is another flexible and user-friendly membership plugin. However, let me tell you straightaway that it's not a native WordPress plugin. It's a PHP built software that can be integrated with WordPress.
Here are some of the things that it can do for your membership website:
It allows you to create unlimited membership levels and items.
It allows you to deliver your content incrementally.
It's integrated with different payment gateways such as PayPal, 1ShoppingCart, ClickBank, WorldPay, 2Checkout, Zombaio, and many more.
You can easily manage your customers and their subscriptions.
You can generate detailed reports about your customers and membership performance.
Language translations for Spanish, French, German, Russian, Chinese, and Greek are available.
One thing that you can possibly encounter with this plugin is compatibility issues with other WordPress plugins on your website. So, be very cautious about this.
You can get this plugin at a one-time payment of $179.95 regular price.
Conclusion
If you need a more simple and lightweight membership plugin for your website, then check out Restrict Content Pro. But if you need a more comprehensive one, try using MemberPress.
Remember, it's best to test out first in your local WordPress or in a staging environment to make sure that you're providing the best service to your members.