MemberPress vs PaidMemberships Pro vs SureMembers – Which is Best for Membership Websites?
Subscription models are a clear trend.
You see it as SaaS (Software as a Service) apps that you can only use while you pay for them, or in content platforms, such as Netflix. There are even car subscriptions!
But one niche where this business model is especially powerful is in eLearning.
Teaching online can be a very lucrative way to make money.
It's estimated that by 2026, the size of the eLearning market in the U.S. will reach $167 million.
With that number in mind, it's not surprising that so many companies decide to dedicate a portion of their business to offering paid training content.
Where there is a gold rush, there are always plenty of people selling shovels!
With such high demand, both in terms of consumption and creation, there is a proliferation of tools to create online academies.
You may not only need to know which one is best for you, but if you want to offer membership site creation as a service, you'll also need to know which is the best alternative for your clients.
Although there are dozens of options, in this guide, we will be analyzing three of them: MemberPress, Paid Membership Pro and SureMembers.
Each provides the features we look for in a membership plugin but goes about things in slightly different ways.
Let's check them out.
Why Should You Trust me?
I am actually the co-founder of one of the plugins we'll be comparing here: SureMembers.
This platform was born out of my frustration when trying to work with other alternatives. I understand the needs of wanting to create a platform to protect your most premium content.
But don't worry, this comparison is not biased, just as the other plugins, themes, tools and services that I've reviewed on WPCrafter over the years.
I am aware that each user has different needs. That is why at the end of this comparison, you'll find a small summary that will tell you which is the best choice for your situation.
What Can You Do With a Membership Plugin?
The main purpose of a membership plugin (subscription plugin), is to offer a series of privileges in exchange for a monthly or annual fee.
When talking about subscriptions or memberships, we all think of Netflix and its catalog of TV shows and movies only available to subscribers.
This is the classic business model that entrepreneurs and companies apply when offering online training. Locking all content behind a paywall.
But this is not the only thing you can do.
For example,
YouTube has all its content available for free but a subscription removes advertising and allows you to play videos in the background.
Many newspapers or blogs like Starter Story, allow you to read a limited number of articles per month and requires a subscription past that limit.
If the content is time-sensitive, the privilege may simply be to receive it before anyone else.
If what you share is very technical or complex, the subscription can provide access to one-to-one support, or live group sessions.
You can even use a membership plugin to give your customers access to a private group where community members interact.
All these privileges don't have to be offered on an "all or nothing" basis. You can set up different tiers, each offering more or fewer advantages.
Why Use a Plugin Instead of a Cloud-Based Platform?
Almost every time we talk about creating some kind of platform: an online store, an academy or a community… there is the possibility of doing it using third-party platforms or leveraging WordPress through different plugins.
If you want to create a membership site to distribute private content, it's much better to opt for the DIY version, since the needs of each site will vary.
And these needs are easier to meet through plugins and addons than with cloud-based platforms.
Also, cloud-based platforms usually have a recurring monthly cost, and transaction fees on sales, which will impact your earnings from day one.
This is the case with Teachable.
Although they offer a free plan, they charge $1+10% per transaction. That's far too much considering that the 10% will be present in each sale forever.
If you don't want to create a membership site for yourself but for clients, using plugins will increase the perceived value, since you will have more customization options.
Content Restriction Plugin vs LMS vs Membership Plugin
First let's understand 3 concepts that surround the world of membership websites:
Content restriction plugins: Plugins that allow you to restrict certain parts of WordPress. Such as pages of a specific category, posts with a custom tag, or even a part of the content (for example, the video in a written tutorial).
LMS (Learning Management System): Tools that help you organize your content. Instead of pages and articles, you can create courses, modules, lessons, or even quizzes. But also monitor student participation and performance.
Membership plugin: Manage user privileges and payments. For example, you may not want to restrict any kind of content but simply keep your paying members in a private Discord community.
The reality is that membership plugins usually offer these 3 features at the same time.
But sometimes a plugin handles one of these features better than others.
So you shouldn't be surprised if at some point you see that two membership plugins can work together at the same time.
For instance, you can use SureMembers to lock the modules and lessons created with LearnDash.
About MemberPress
MemberPress belongs to CaseProof, a company that has been developing plugins for WordPress since 2004.
Among them are for example Pretty Links (an advanced link cloaking plugin) or Easy Affiliate (a complete affiliate program management plugin).
Although its star product is undoubtedly MemberPress, which defines itself as an "all in one" membership plugin.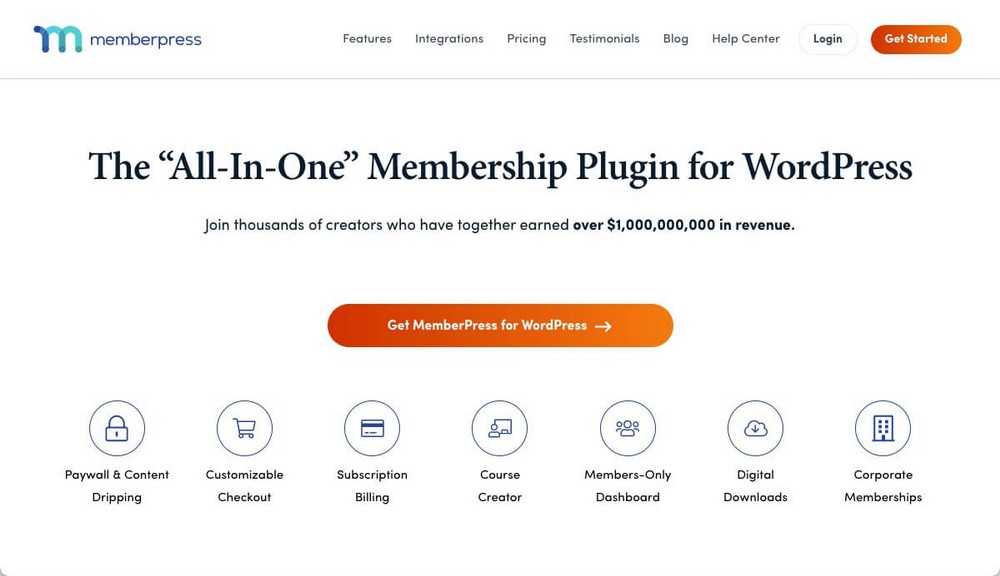 Pros of MemberPress:
All-in-one solution: if you like the native tools, you won't need additional plugins for payment or for LMS.
It's constantly being updated with new features added quarterly.
Extensive knowledge base.
Cons of MemberPress:
Doesn't offer advanced sales techniques such as order bumps, upsells or downsells.
Checkout is unattractive, and complex to customize.
Amount of options available makes it a bit overwhelming to set up at first.
Key features of MemberPress:
LMS is included as a tool to create courses, modules and lessons easily.
You can create corporate accounts.
Automated reminder emails.
About Paid Memberships Pro
Paid Memberships Pro is a complete membership plugin for WordPress that has been on the market for over 11 years.
It's developed by Stranger Studios, a company that also works on the creation and maintenance of other tools. They are also known for Sitewide Sales, an all-in-one plugin to manage flash sales in WordPress.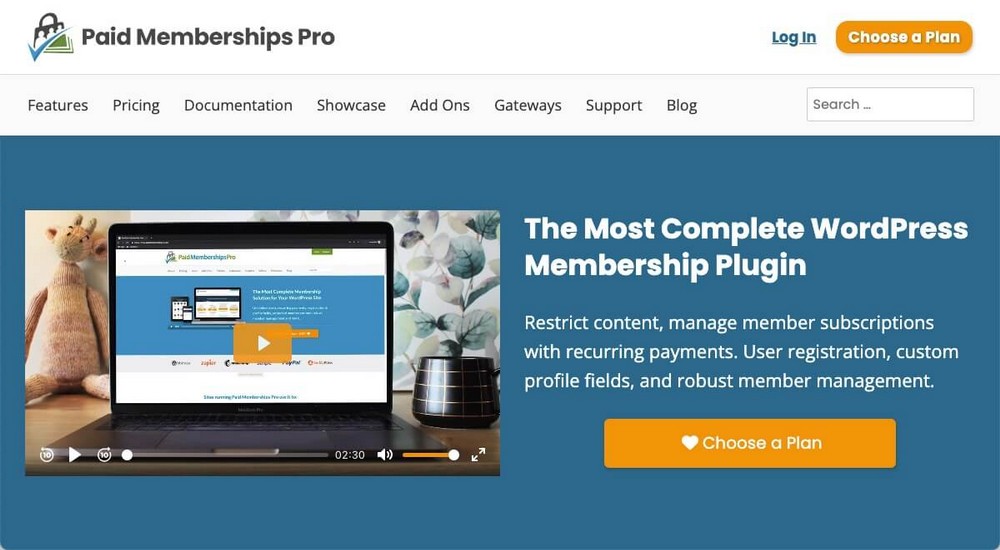 Pros of Paid Memberships Pro:
It has a 100% free plan so you can try before you buy.
You can use it together with Memberlite, a theme designed for membership sites that integrate with Paid Memberships Pro perfectly.
Modular approach, install only what you need.
Cons of Paid Memberships Pro:
Adding more seats to your license is expensive.
Difficult to know which is the ideal plan as they vary depending on the addons you want to use.
Cannot buy addons individually.
Key features of Paid Memberships Pro:
Great payment options, including customizable member renewal dates, variable pricing and recurring donations.
Limit post view feature so you can offer some articles or lessons for free each month.
Member directory and profile pages ideal for communities.
About SureMembers
SureMembers was launched in mid-2022 and has gotten off to a flying start.
SureMembers is backed by the SureCrafted team, a group of professionals who are also developing SureCart (an eCommerce platform) and SureTriggers (a Zapier-style automation service integrated into WordPress).
As you can see, two quite complex fields, which you can only work on if you have extensive knowledge of WordPress!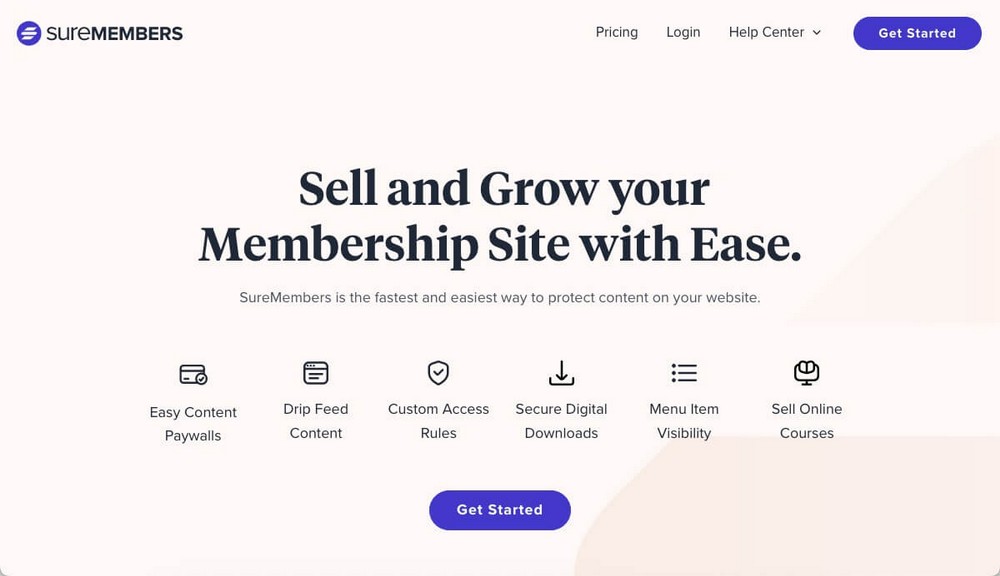 Pros of SureMembers:
Very easy to use with a modern UI and UX.
Customizable checkout that will include advanced sales techniques in the future (like order bumps and cart abandonment).
Use it on unlimited websites, ideal for agencies.
Cons of SureMembers:
No free plan available (we have a 30-day money-back guarantee though!).
Many integrations will rely on SureTriggers (but this can be good, as you won't have to install dozens of addons).
A new plugin to the market, although this can be a pro too.
Key features of SureMembers:
Create and sell access to member-only podcast episodes.
Add custom calls to action to your paywalls.
Menu item visibility. Change what is shown to your different members.
Feature Comparison
Let's now look at the most important features to look for when choosing a plugin of this type.
Locking Content – What Can You Lock?
This is undoubtedly one of the most important features of these plugins, as it's one of its main functions.
| | | | |
| --- | --- | --- | --- |
| | MemberPress | Paid Memberships Pro | SureMembers |
| Lock post and pages | Yes | Yes | Yes |
| Lock custom post types | Yes | Yes | Yes |
| Lock parts of a post or page | Yes | Yes | Yes |
| Show excerpts | Yes (customizable) | Yes | Yes |
| Lock files / downloads | Yes, using a free addon | Yes (coding required) | Yes. With SureCart |
MemberPress – Good for Automatically Showing Excerpts
MemberPress allows you to lock any post or page in WordPress.
It's also possible to lock Custom Post Types (CPT), which will give you many more possibilities.
For example, products in WooCommerce are CPT, so you could create a members-only store.
MemberPress also allows you to block a part of a page or article. You could offer a free written tutorial and block the block where you add the video tutorial, or the audio version of the content.
This content can be hidden from non-members. You can also put in a login form to make it clear that premium content exists.
However, this call to action cannot be modified too much.
If you want to display a piece of content automatically, you can choose to display the excerpt, the content up to the read more tag or even a specific number of characters.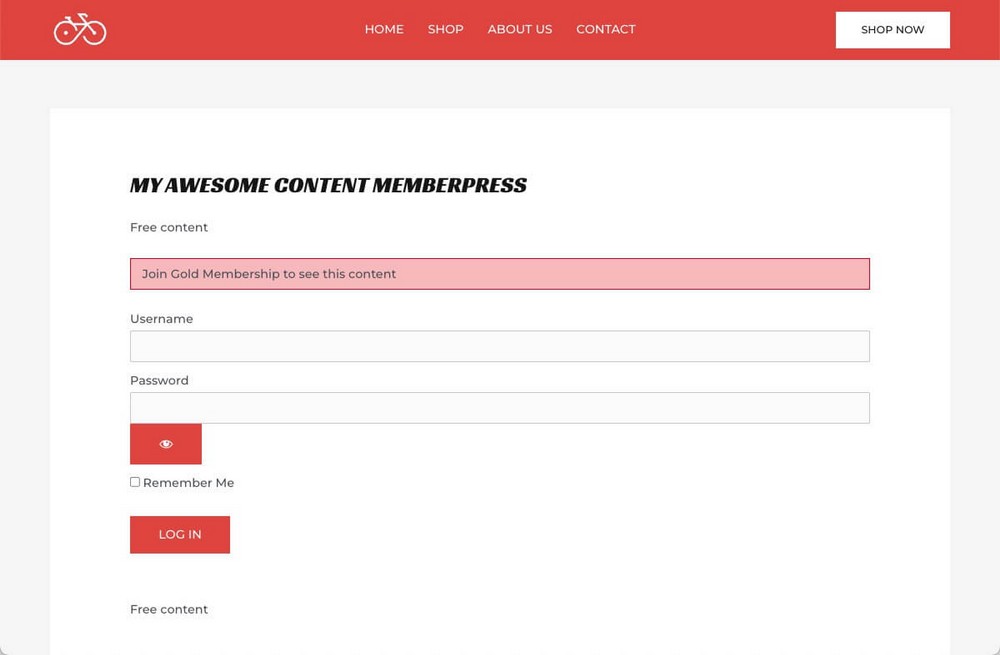 MemberPress also allows you to lock standalone files.
This is done through a free addon. You can learn how to configure it in the official documentation as it allows you to do such interesting things as limiting downloads or limiting downloads for each user.
Paid Memberships Pro – Difficult to Protect Downloads
Paid Memberships Pro also allows you to block the same elements, that is, posts, pages and custom post types.
It's also possible to block parts of a post using a block. In this case, besides hiding the content for non-members, the call to action is quite simple and doesn't support customization.
This plugin also lets you display the excerpt or content to the read more tag.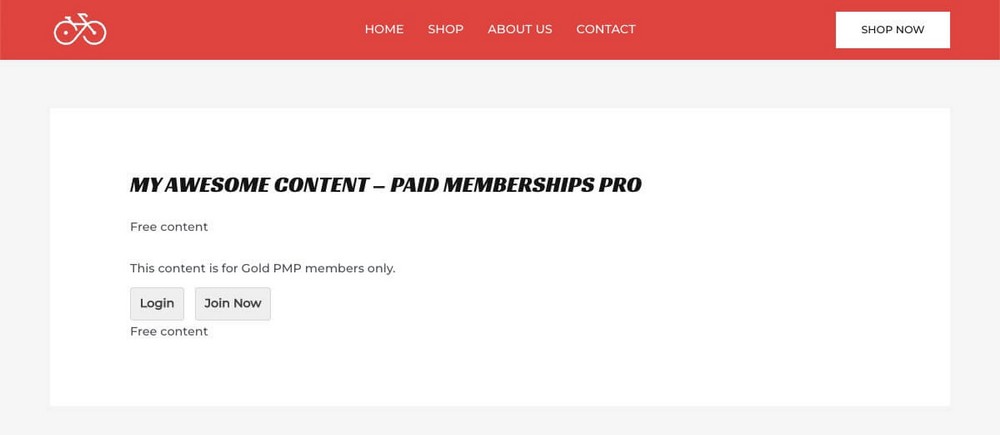 Paid Memberships Pro allows you to lock files, but in a bit complex way. You'll have to modify the code of your WordPress and your .htaccess file, as explained in the documentation.
SureMembers – Best for Restricting Downloads
When you're creating an access group (the name here for a membership level) from the SureMembers preferences, you'll see there is a content protection box after the name of the group.
Here you'll find all the available options that SureMembers can block.
There are the classics such as articles, pages or custom post types (both all or only those categorized or labeled in a particular way) and more advanced options such as the one that allows blocking by URL matching.
At the moment SureMembers doesn't have blocks for the WordPress editor. That doesn't mean you can't block specific parts of an article or page though.
This is something that is easily achieved by using a shortcode displayed at the end of each access group:
[suremembers_restrict access_group_ids='XXXX'] Your content here… [/suremembers_restrict]
Or, using the options that you will find in the sidebar when selecting each block of the WordPress editor.
Pro tip: This is working even with Elementor blocks without shortcodes. It's a built-in integration.
When creating access groups, you can also decide whether you want the excerpt of the pages you block to be displayed for unregistered users or not.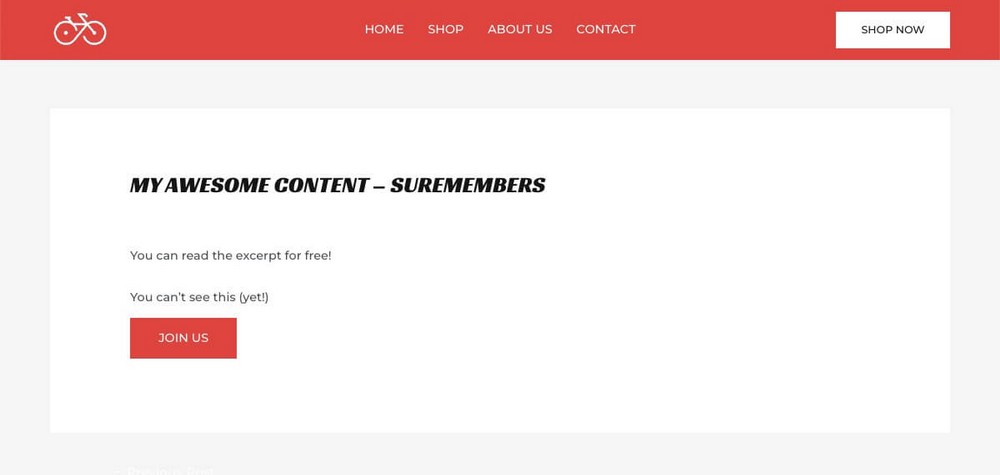 The ability to block access to content downloads to members only is a very important part of any membership website.
This is very easily achieved. You'll find a box where you can upload the files you want to be available to its members.
You can easily see this configuration in the official documentation.
Locking Rules – How Can You Lock and Unlock Content?
Besides knowing what you can block, you must also know how you can block.
You've just seen some of these ways of blocking above (by custom post type, category, tag…).
Here we'll see some additional options in more detail.
The most important way of locking and unlocking content is drip content.
That is, the ability to unlock content as time passes after the user joins a course or membership.
Example:
Allow access to content tagged as week 1 after 7 days
Access to content tagged as week 2 after 14 days
And so on
This is ideal when creating courses or to prevent a user from consuming all content in a short period of time.
We'll also talk about post view limits, i.e. allowing users to view a certain amount of content for free before requiring a sign up.
Many online news outlets use this model. Access X number of articles before requiring a subscription or an account.
You can also configure access expiration where access to a membership expires after a certain period of time.
That can be useful for pay-per-view events.
| | | | |
| --- | --- | --- | --- |
| | MemberPress | Paid Memberships Pro | SureMembers |
| Drip content | Yes (From Basic Plan) | Yes (Plus addon) | Yes (Native) |
| Access expiration | Yes (from Basic Plan) | Yes (Free) | No |
| View limits | No | Yes (Plus addon) | No |
MemberPress – Powerful Expiration Rules
MemberPress supports drip content and access expiration.
This can be scheduled not only from the moment a user signs up for a membership, but also for specific dates.
For example, a course can be scheduled to start at the same time for everyone, regardless of when they signed up for it.
It is also possible to set an expiration date for the rule, which can also be variable or fixed.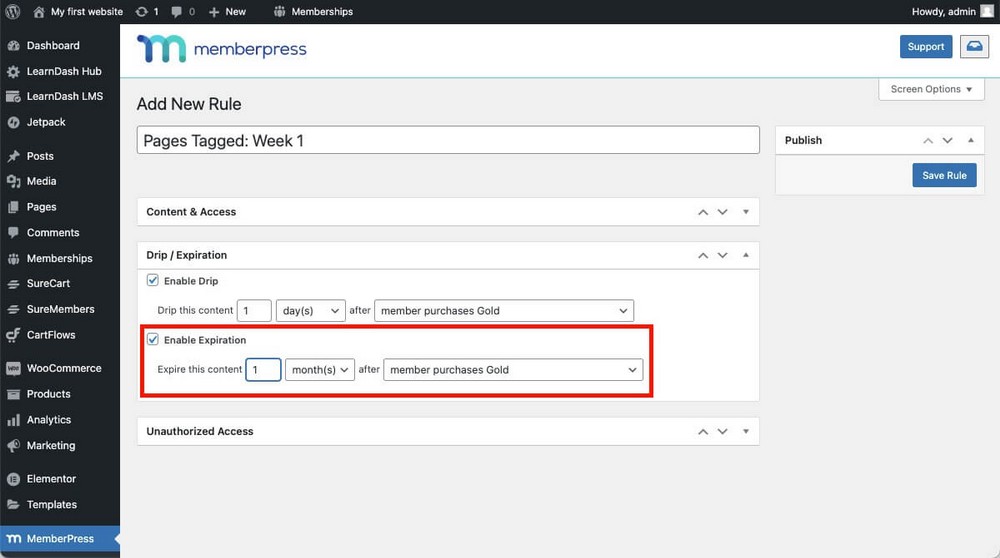 These options are very powerful, but complex to implement. In addition to the rules, you can also set expiration dates to memberships.
So as you can see, you need to understand very well how MemberPress works in order not to configure something in the wrong way!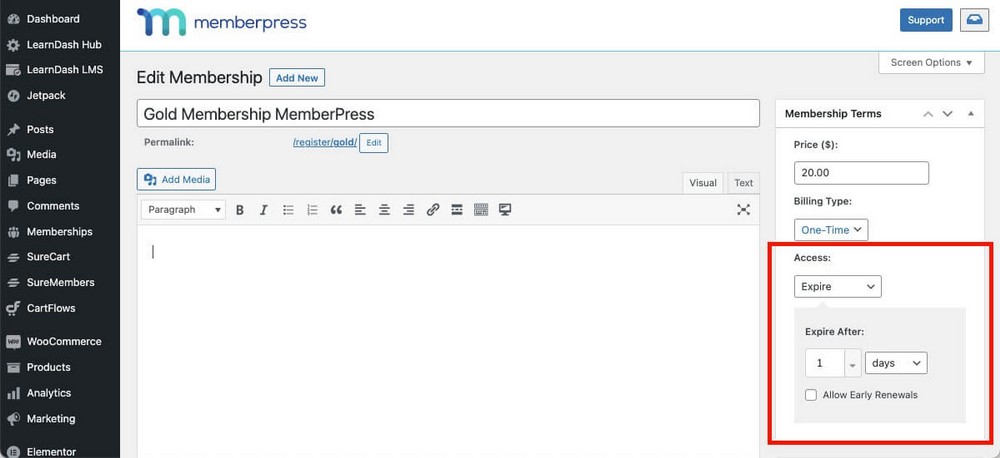 What you can't do with MemberPress is let non-members access paid content for free a few times and then show them a paywall.
This is the approach that many newspapers use, letting you read 10 articles per month before you need to pay for further access.
Paid Memberships Pro – Unique for Limit Post Views
Paid Memberships Pro allows you to add an expiration to the purchase of each membership, even to hours.
This can be very useful for aggressive marketing campaigns.
You also have a free addon for setting the expiration using a fixed date. Something that can be essential for your business model.
The ability to drip content is also available only with the Plus addon on the $397/year plan.
The same goes for the addon that allows you to view a limited amount of protected pages/articles before hitting a paywall.
You'll need to be on the Plus plan to access that too.
SureMembers – Easy Drip Content
Content dripping in SureMembers is extremely easy to understand and apply.
From the access group creation page, you only have to indicate what content you want to release (content labeled or categorized as X, child pages of a parent page…).
Then simply specify the time frame from which they will be released.
You can even set the time, so that if users join at the end of the day, they won't have to wait to access the content.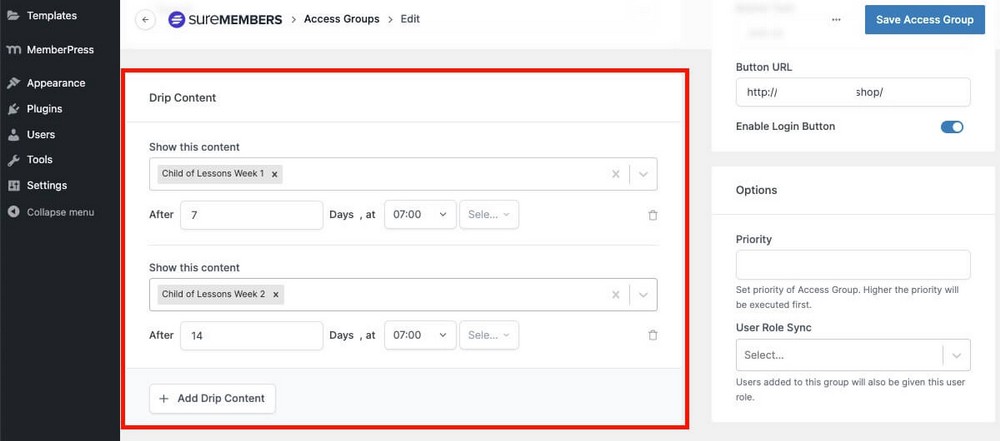 At the moment, it's not possible to set an expiration date for these memberships.
Neither is it possible to apply a limit to the amount of protected content that can be viewed for free before hitting the paywall.
Payments and Taxes
The main purpose of membership websites will be to monetize your content. It's important to understand everything surrounding the selling step.
| | | | |
| --- | --- | --- | --- |
| | MemberPress | Paid Memberships Pro | SureMembers |
| Stripe and PayPal | Yes | Yes | Yes |
| Others | Offline.Authorize.net (Pro Plan) | Offline, Authorize.net, Braintree, CyberSource | Mollie, Razorpay and Paystack upcoming |
| Taxes | Complete TAX and automatic VAT Tax Handling | Complex TAX Setup. VAT Handling (Standard plan) | Complete TAX and automatic VAT Tax Handling |
MemberPress – All You Need Included
Setting up payments in MemberPress is quite simple, as you only need to connect your Stripe account. If you want to set up Paypal or Autorize.net you'll need to do a bit of advanced configuration.
It's even possible to use offline payments.
You can for example receive payment by bank transfer, and finish giving access to users manually.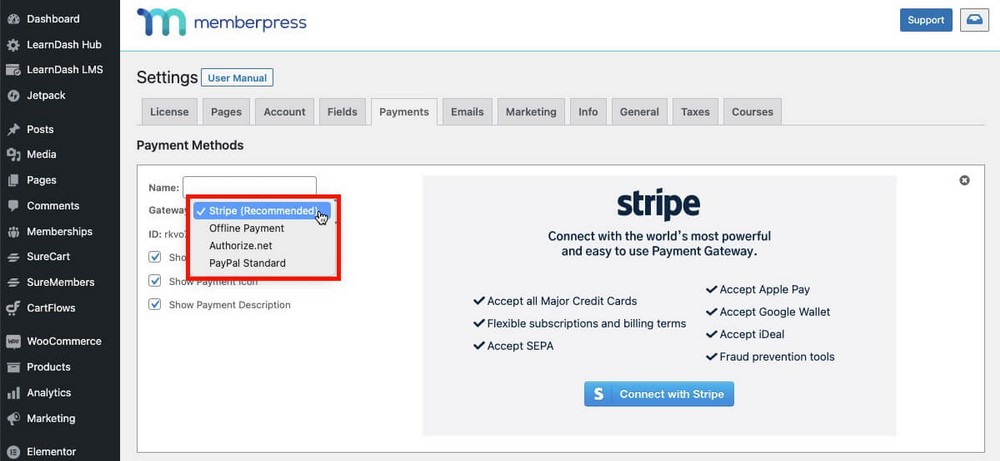 In all MemberPress plans, you'll find options to activate tax and EU VAT handling too.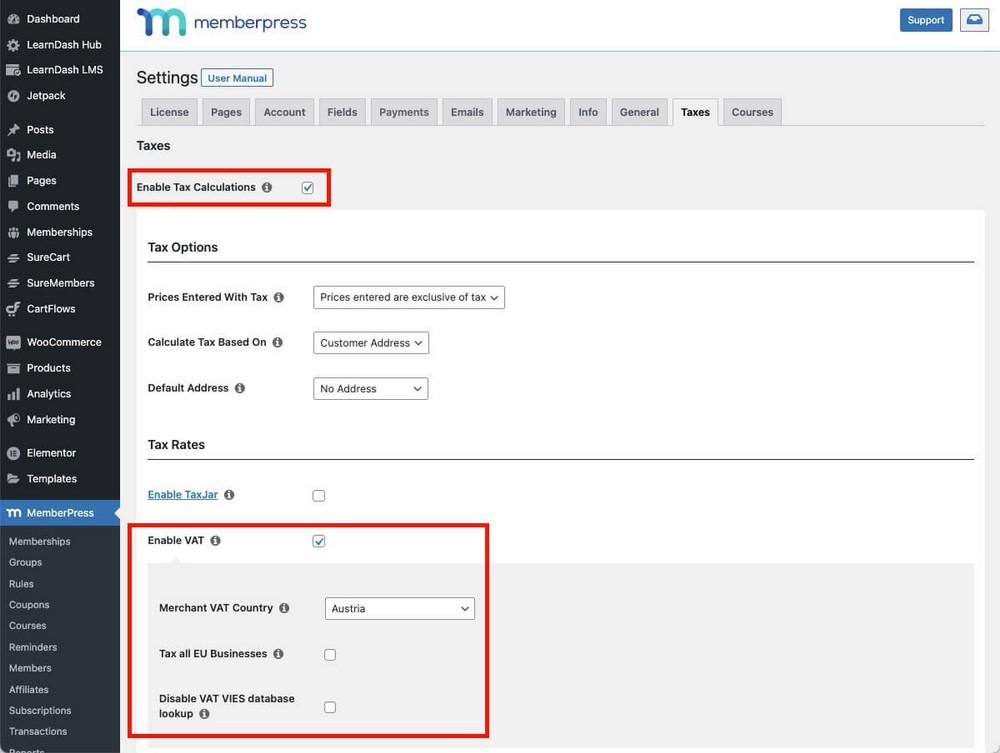 Paid Memberships Pro – Complex Tax Handling
This plugin has some extra gateways compared to the previous one, although normally this is not so relevant since Stripe and PayPal cover the needs of most businesses.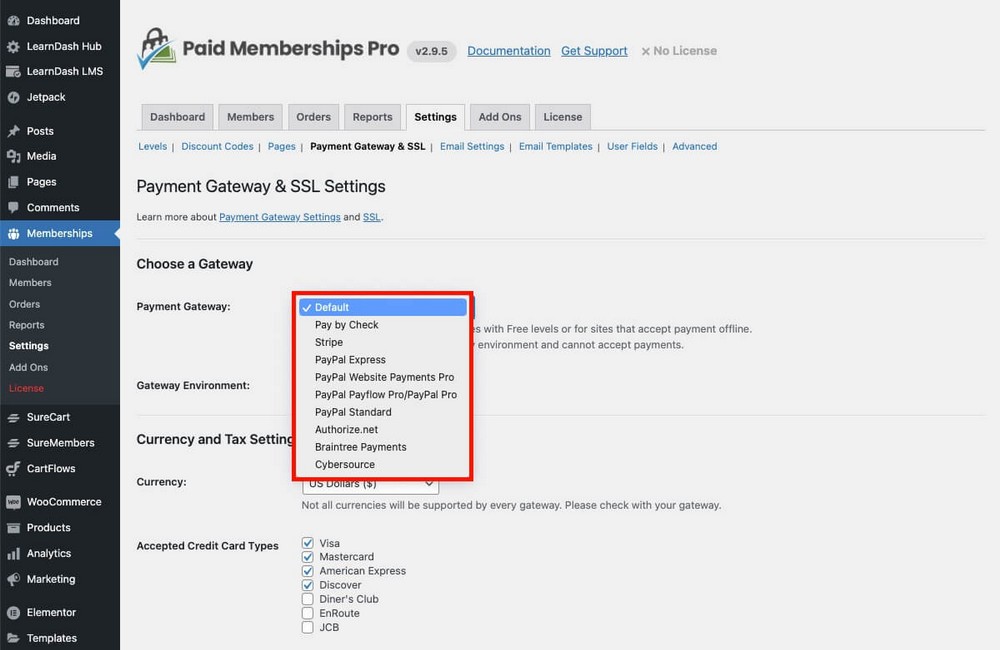 The tax calculation is a more complicated issue here. Just take a look at the official documentation and you'll see that it's not easy to manage!
For European VAT, you'll need to add a plugin only available in the Standard plan.
SureMembers – Simple and Straight to the Point
SureMembers manages payments through SureCart, an eCommerce plugin for WordPress.
But don't worry, this plugin is free and always will be!
In SureCart you will set up Stripe or PayPal in a simple way, since in both cases you just need to log in on those platforms.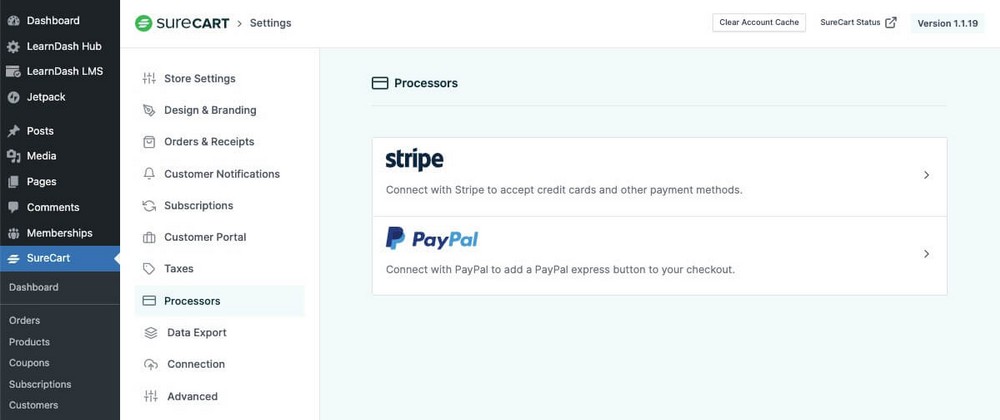 Setting up both tax and VAT handling in SureCart is extremely simple, as the application takes care of practically everything for you, for free.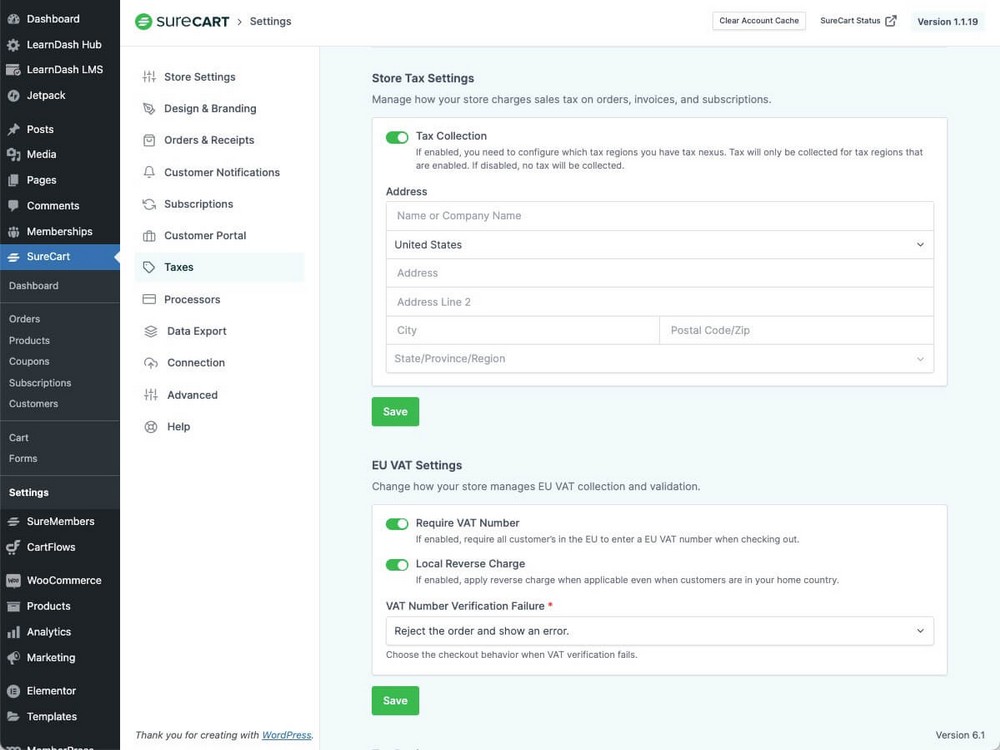 In case you are wondering, connecting SureCart and SureMembers is very simple.
All you have to do is connect the SureCart product (which can have different prices or payment methods) with the membership (access group) created in SureMembers.
Tip: if you don't want to use SureCart, it's also possible to use WooCommerce.
Integrations
In addition to integrations with payment gateways, it's interesting to know how these content restriction plugins behave with other tools and platforms.
Making a comparison in this aspect is a bit complex since there are a multitude of combinations.
Access varies depending on the paid plan you choose (in MemberPress and Paid Memberships Pro at least).
| | | | |
| --- | --- | --- | --- |
| | MemberPress | Paid Memberships Pro | SureMembers |
| Main integration | Zapier (Plus plan) | Zapier (Free) | SureTriggers (Free) |
| Other relevant integrations (might be paid) | Mailchimp, Active Campaign, Learndash, Wp-CourseWare… | ConvertKit, MailChimp,AWeber, BuddyPress… | LearnDash, LifterLMS, BuddyBoss, TutorLMS… |
MemberPress – Built-in and Third Party Addons
MemberPress offers a few addons to connect your online membership with different platforms, especially email marketing.
However you should be a bit careful with this as they vary depending on the plan you have.
Mailchimp, for example, is available in the basic plan. Active Campaign or Zapier, are only available in the intermediate plan.
Paid Memberships Pro – A World of Addons
The advantage of being able to create a modular system with Paid Memberships Pro is at the same time a disadvantage.
You are likely to find what you need in the extensive catalog of addons. But, while some are free, others are only available in the paid plans.
You are forced to join the most expensive plan even if you only need one plugin from that plan, as plugins cannot be purchased separately.
SureMembers – Some Built-in Integrations and SureTriggers
Although SureMembers has some built-in integrations, especially with LMS like LifterLMS or LearnDash, most of the integrations rely on SureTriggers.
SureTriggers is another plugin from the company that works similarly to Zapier, managed through your WordPress admin panel.
This has the advantage that you'll be able to integrate SureMembers with all other platforms from a single place, without having to add more plugins or third-party addons.
Pricing
While I'm sure you'll recoup the investment of creating your membership site, the price of maintaining it's an important point to consider.
Especially if you are going to use this type of plugin to offer web design services to clients.
Different plans allow you to install the plugin on a limited number of sites. Depending on the choice you make, your costs could skyrocket.
| | | | |
| --- | --- | --- | --- |
| | MemberPress | Paid Memberships Pro | SureMembers |
| Cheapest plan | $359 / year | Free | $199 (once) |
| Most expensive plan | $799 / year | $697 / year | $499 (once) |
| Site licenses (from cheapest to most expensive) | 1 to 5 | 1 to 5 | 1 to unlimited |
MemberPress – Yearly Plans
MemberPress uses the classic WordPress plugin business model. You'll have to renew your subscription on a yearly basis to continue receiving updates and support.
Their most basic plan can be more than enough to get you started.
If you want to use it with your clients the price will increase quickly. Even the most expensive plan only offers up to 5 available sites.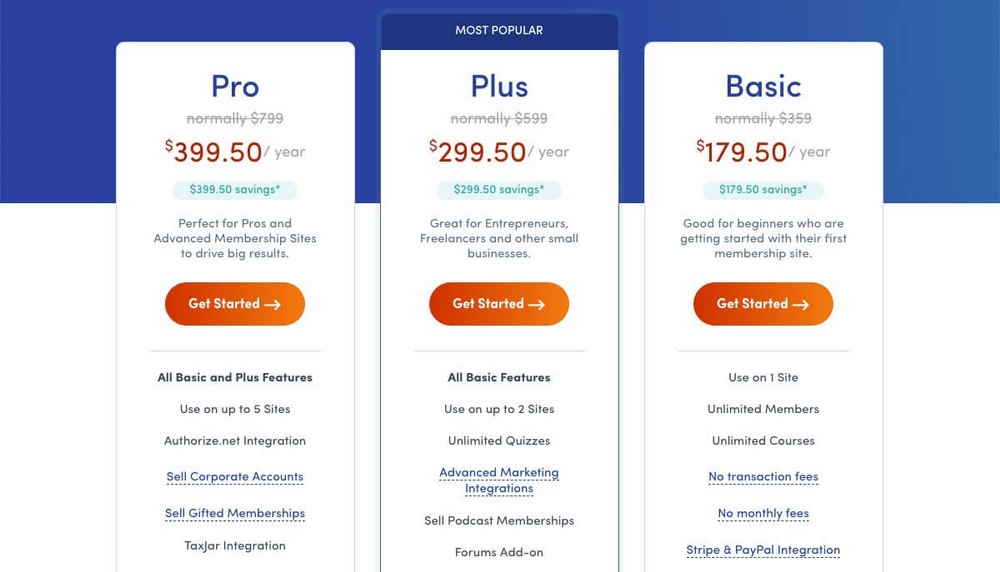 Paid Memberships Pro – Freemium Model
Paid Memberships Pro has a great advantage as it's the only one with a freemium model.
This means that you can start using it for free and only start paying for it when you need one of the addons.
But as happened with MemberPress, even in the most professional plan the maximum sites available is very limited. It only allows you to install the plugin and its addons on up to 5 sites.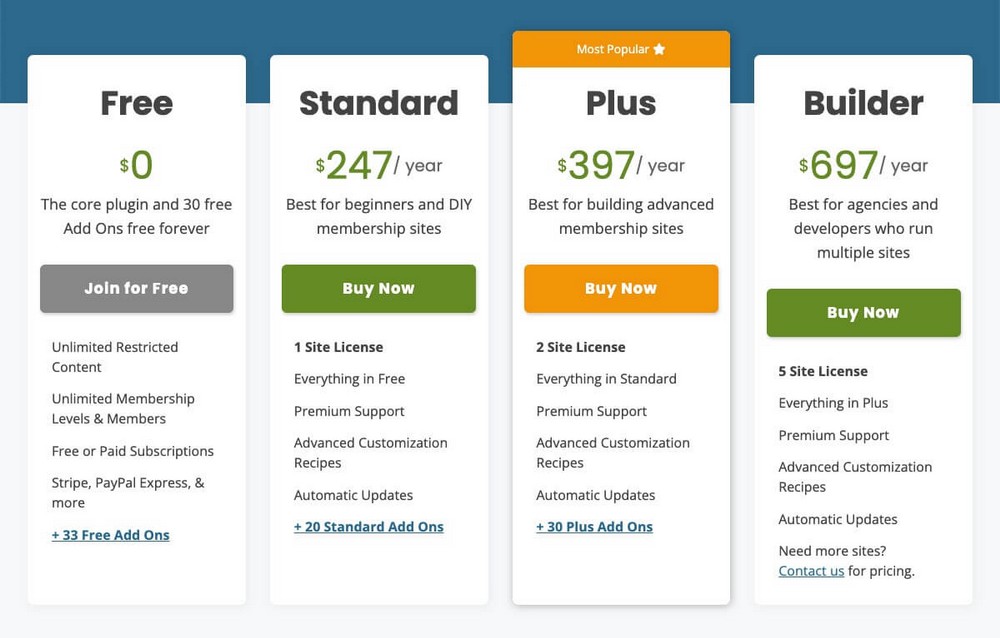 SureMembers – Temporary Lifetime Purchase
SureMembers offers a temporary lifetime purchase. That means that if you get it now, you won't have to pay to receive updates ever again.
You can forget about annual renewals so it's easy to see the financial advantage over its competitors.
Not only on a personal level, but also on an agency level, since the Agency plan allows you to install this plugin on unlimited sites.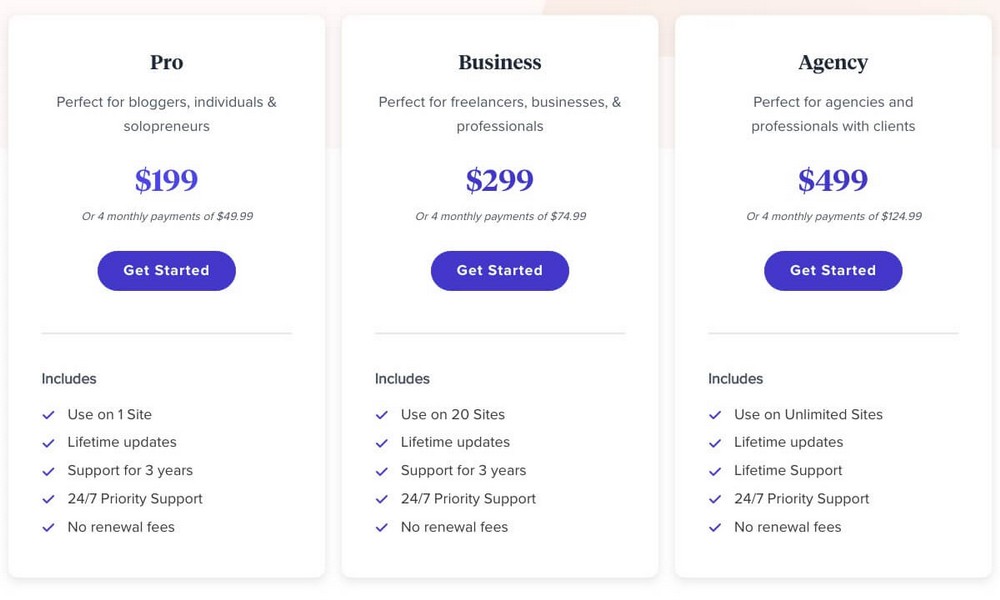 Verdict – Which Plugin is Best for You?
If after all this comparison you still don't know which plugin is best for you, here's a quick recap.
MemberPress can be great for corporate academies
MemberPress is an all-in-one solution which will surely allow you to achieve whatever you need.
But with so many options available (integrated LMS, advanced reporting, "umbrella" accounts…) this solution might be a bit complex to set up if you are not a techie.
That's why the product is focused on a more professional audience. Those with some previous experience in WordPress, who enjoy both teaching and configuring the platform.
If you're just looking for the simplest way to sell on your own platform, this may not be the best solution for you.
But if you are an agency, your clients will feel they are receiving more value if you set them up with such a complex and powerful tool.
Paid Memberships Pro can be Ideal for Huge Communities or Sites
The case of Paid Memberships Pro is quite peculiar.
On the one hand, it's focused on a very professional audience that is not afraid to install and configure a handful of addons to get what they need.
Addons like the one that allows the creation of directories and member profiles make it an ideal solution for community websites.
Paid Memberships Pro is the only plugin that allows you to display a certain number of free articles before showing a paywall. That makes it an ideal solution for large news sites that generate a lot of content on a daily basis.
On the other hand, being a freemium model makes it a good option if you are starting out and don't want to risk much financially.
SureMembers Is Useful for Easy Selling Your Knowledge and for Agencies
One of the great advantages of SureMembers is that you won't have to deal with new concepts and interfaces to manage courses, modules or lessons.
SureMembers will help you easily lock pages or articles that you already have in WordPress or that you create in the future.
This simplicity, coupled with the ease of locking and selling digital downloads, makes it a perfect solution for professionals who want to sell their knowledge in different formats.
In addition, thanks to the unlimited sites plan, you'll be able to offer the service of creating online memberships to clients. This is also a good solution if you are an agency looking to offer this service.
If I had to pick one…
As a summary:
Don't mind navigating between settings and want to create a membership where you can control hundreds of details? Choose MemberPress.
Have a tight budget or a news website? Choose Paid Memberships Pro.
Want to focus on content creation and sell your knowledge easily? Use SureMembers.
What's your favorite membership plugin?
Let me know in the comments below!