Free vs premium WordPress themes: Which should you use?
Whether you're building a website for yourself or for someone else, there will come a time when you need to choose a design.
Which will beg the question, should you use a free theme or a premium WordPress theme?
Both have their pros and cons and offer different options when you're developing a new website.
I have probably used hundreds of both free and premium themes.
I like some aspects of free themes but they come with their challenges. I also like some aspects of premium themes.
I'll be honest up front, I much prefer premium themes to free ones. But this isn't about me, it's about you and what you need.
To help with that, I thought I would weigh in on the debate of free WordPress themes vs premium ones.
Free WordPress themes explained
Free WordPress themes are exactly that. Free of charge.
They are typically created by companies that want to promote their paid options by creating basic free templates alongside more feature-rich premium ones.
The idea is that you'll like working with the free theme so much that you'll be willing to pay for extra tools and features in the premium version.
As a model, this works well.
We get to try a free WordPress theme before we buy or get to stick with a completely free theme if we like it.
My favorite theme right now is the Astra theme. It has a feature-packed free version and 3 premium plans that add more features and lots of professional quality Starter Templates.
There are over 100 templates available with the free version. You also get page builder compatibility, clean code and full integration with WooCommerce and other popular plugins.
The premium versions add many more design tools, premium Starter Templates, access to other plugins and even video training.
This is the perfect example of how the free model works.
Other free themes are made by WordPress enthusiasts or people experimenting or learning design.
These can often be as good, if not better than 'professionally' designed themes but there's no guarantee.
Free vs nulled themes
I need to emphasize the difference between legitimate free WordPress themes and nulled free themes.
Legitimate free WordPress themes are totally legal and will come with very few risks.
The other option may give you a free premium theme, but nulled themes can come with some nasty surprises too.
Plus, it's theft.
As a content creator myself, I know how much work goes into creating a WordPress theme and I think they are worth paying a fair price for.
Not paying a fair price risks the developer not making any more themes or not updating them and moving on to more lucrative opportunities.
We will all lose out if that happens!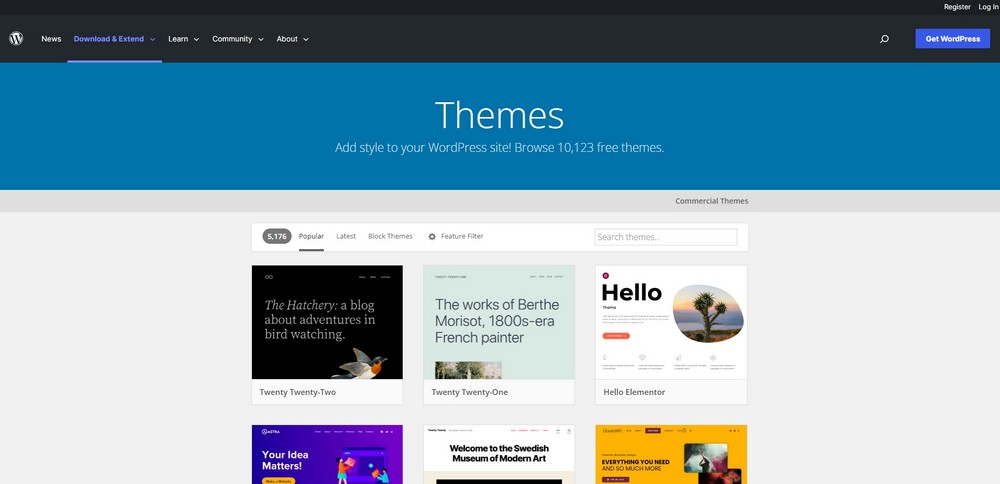 Pros of free WordPress themes
There are some obvious and some not so obvious benefits to free WordPress themes.
Let's take a look at each of the main plus points of free themes.
Free
The best price is free right? So, the lack of financial cost is the biggest benefit of using a free WordPress theme.
You get to use some very good WordPress templates without paying a dime. Whether you want to try before you buy or use the free theme for good, this is a great way to do it.
Using a free lowers the barrier of entry to websites by a significant margin. All you need to pay for is domain and hosting, which could be as little as $60-70 per year.
This brings the costs down to a level where most people can afford it. Whether you're experimenting with WordPress, playing around with design, learning CSS or something else.
When building a website can be done with completely free tools and minimal investment in domain and hosting, everyone can have their own online presence.
That's a definite upside to free themes!
Plentiful
Free WordPress themes are also plentiful. There are currently 5,155 free themes on WordPress.org alone. Then there's other repositories, developer websites and other free sources of templates.
Whether you're looking for a hobbyist theme, small business theme or eCommerce theme, there will be something here for you.
Choice has its pros and cons. With millions of websites out there and each having its own personality, spending a little time researching free themes is time well spent.
Whatever the purpose, whatever your tastes, there's a free theme out there to satisfy both.
Mostly easy to use
Most free WordPress templates you'll see on WordPress.org will be compliant and will have undergone some form of testing before being listed.
Most will also work with the WordPress block editor (formerly Gutenberg) and perhaps popular page builders too.
Those page builders include Elementor, Beaver Builder, Brizy and others.
They make it easy to put a website together by using blocks. Select a block, a heading for example, drag it onto a page and customize it however you like.
This system of building visually means no coding. You don't even really need to know how websites work.
You just need to have a vision in your mind and the time and patience to make it real.
Cons of free WordPress themes
There are downsides to free WordPress themes though:
Requires more work to make it look amazing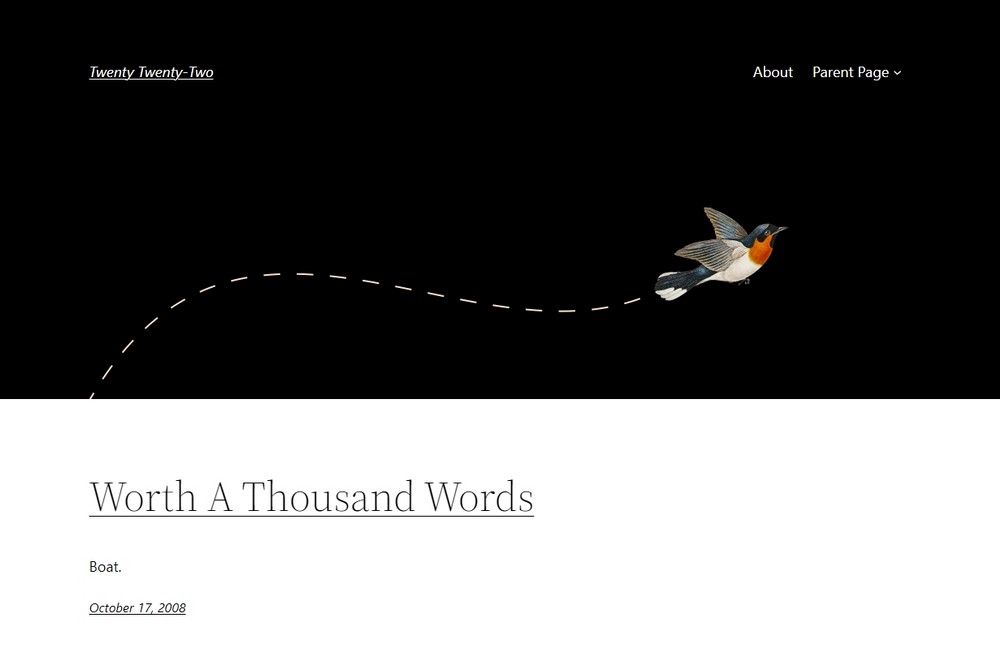 The main downside, in my opinion at least, is that free themes typically require more work to make them look unique or amazing.
They will typically include a basic layout with a few elements to give you an idea of what your website could look like.
You'll usually need to set up those elements yourself or use a page builder to fill out the page so it meets your vision.
Some free themes, like Astra, provide Starter Templates that install a fully operational website in seconds. Not all free themes do that, so research is key.
As long as the free theme is compatible with a drag and drop page builder, that's fine but will still take time.
Typically more limited features
Many free themes are showcases for their premium siblings. They will include enough features to tempt you to premium while leaving some of the fancier blocks and tools for paid users.
If the theme is compatible with page builders or the WordPress block editor, you'll have all the basic building blocks. But, if you want something more exotic, you may need to use a plugin.
If you know code, you're golden. If you don't, you have a little work ahead of you to find plugins that deliver those features.
Often older themes
Some free themes are older premium themes. Once they have been around a while and sales slowed, they will often be converted to free offerings.
In most cases, this will be perfectly fine. With some though, the design can look a little dated and include old code or old ways of doing things.
They may work perfectly well but won't use the latest code like React or flat design like current templates.
Can be updated less often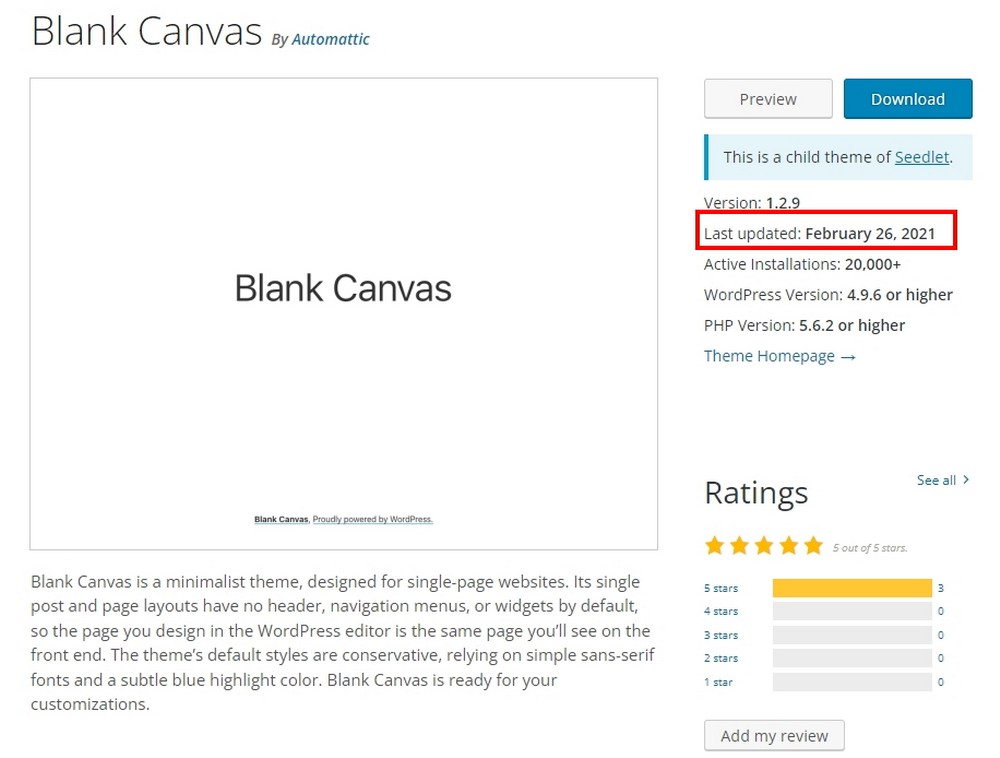 One thing about premium themes that I'll touch on later is frequent updates.
As you probably know, WordPress is constantly evolving, with new coding languages and new ways of doing things appearing all the time.
Premium templates will always be the first to be updated to catch up. Free themes will lag behind or may not be updated at all.
Much will depend on the developer and whether they have the time and resources to spend updating a free theme.
Some do, many don't, so make sure to check the 'Last updated' entry on WordPress.org or the template landing page.
Little or no support
Free themes don't usually benefit from dedicated support. There is usually a questions and answers section on the template page and perhaps on the developer's website, but that's usually it.
There is a ton of support and advice across the WordPress community, but it won't always be relevant to a particular issue with a theme.
Premium WordPress themes explained
Premium WordPress themes are those you pay for. They are often provided by dedicated theme developers, either as their main business or part of their business.
As a commercial enterprise, premium WordPress developers treat their themes like any business should treat any product.
They support that product, develop and improve it, ensure it remains competitive and handle any complaints or issues.
Part of the price of the theme will help pay for all this, so you tend to get a higher quality of service as a result.
Themes can cost anywhere from $15 to $300 or more. Some will have a one-off fee like those on theme marketplaces. These typically come with 6-12 months of free updates and support.
Other themes will have a yearly subscription. These typically include ongoing free updates, premium support and sometimes other plugins or features to add value.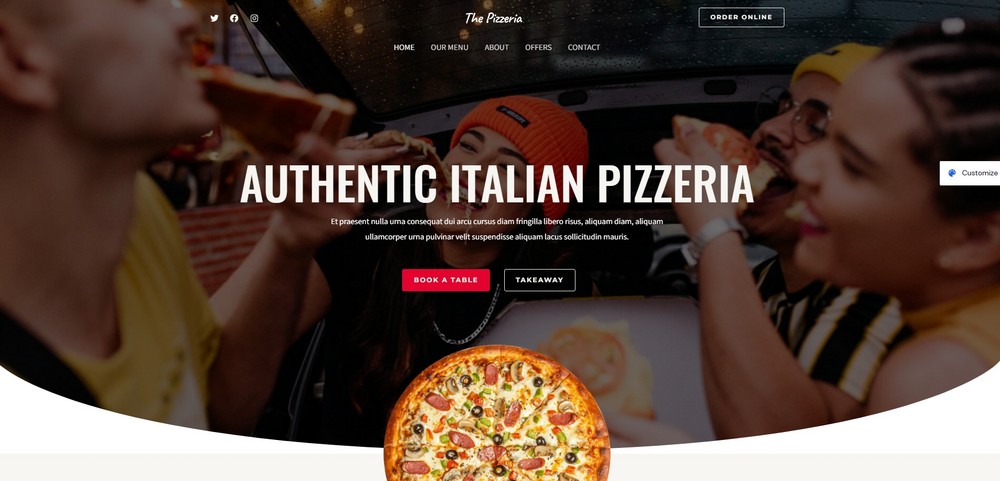 Pros of premium WordPress themes
There are a number of significant benefits for paying for a premium WordPress theme.
Newest designs and features
A premium WordPress theme is a commercial product just like an iPhone or new car. In order for that product to be successful and make money, it has to be at the top of its game.
That's why premium themes will typically use the newest design trends, include new features and utilize the newest, fastest code.
The better the product looks, feels and performs, the more people will buy it and positively review it.
WordPress themes benefit from the same free market forces as any product, so will need to be the best it can be.
Page builder compatibility
Many free themes will be compatible with page builders, but there are no guarantees. As page builders are now the way to build websites, it's something every premium theme needs to include.
Some WordPress themes, like my favorite Astra, will take page builder compatibility further.
For example, it installs the free version of Elementor automatically if you choose an Elementor theme. It can also work seamlessly with the WordPress block editor, Spectra and other builders.
You also get to choose a free page builder plugin for free when you choose one of their bundles.
Other WordPress themes do a similar thing.
Higher chances of being unique
Uniqueness is hard to achieve in an ecosystem with almost a billion websites, but it's great if you can get it.
One way to be unique is to use a premium theme as there are fewer premium users than free ones. This adds an element of exclusivity to the templates you use.
The other way to be unique is by accessing more advanced design tools typically included within a premium theme.
These give you a better opportunity to add your own creativity or flourish to a design to help it stand out.
Updated more frequently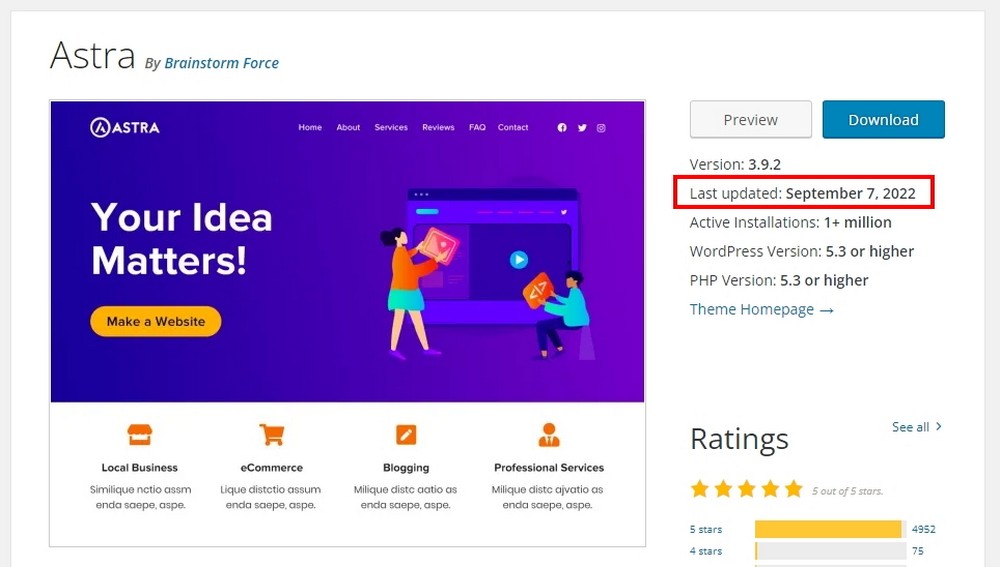 Premium WordPress are updated frequently to keep them compatible with the latest version of WordPress and therefore, a more viable product.
WordPress is changing all the time. If you're going to be spending money on a theme, you want the latest compatibility and any new features that version of WordPress offers.
Plus, if vulnerabilities or bugs are identified, you definitely want your theme to be updated to address them!
Most premium theme developers will provide a last updated date and perhaps a changelog on the theme page.
If the developer also has a free version of the theme, you can check the theme page on WordPress.org too.
Better support
Buyers of premium products have an expectation of support, and who could blame them? You're paying for a product to perform a specific task so have a right to expect a little help if you need it.
Providing quality customer support is also good for the developer. Answering questions quickly, addressing issues and being responsive all help the customer experience.
That in turn, should generate positive reviews which improves social proof and helps increase sales.
It's a positive feedback loop that requires investment from the developer but can benefit everyone involved.
Support will often be email or ticketed, but many developers provide fast responses to paying customers.
More features included in the price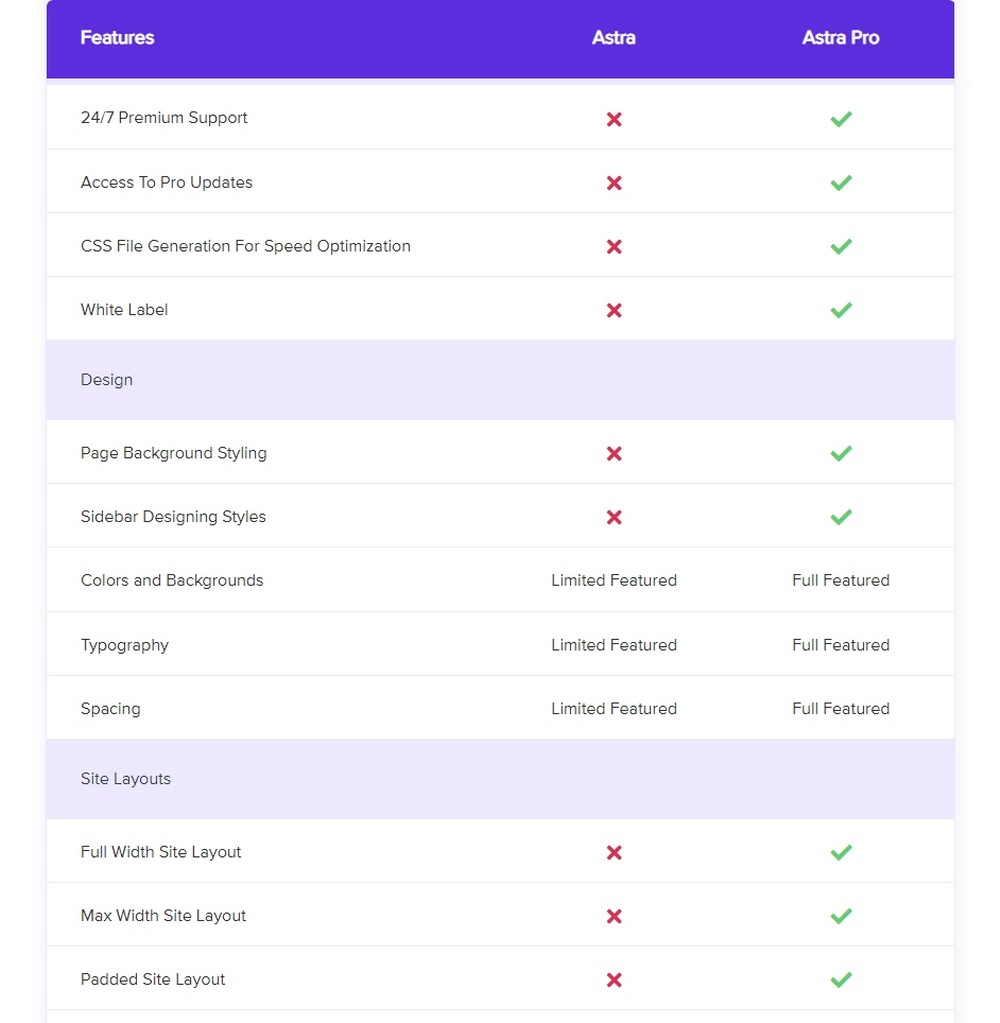 It stands to reason that a developer is going to reserve the best and brightest features for paying customers, right?
That's true for the vast majority of products we buy and definitely true for WordPress themes.
Check out Astra's free vs premium theme comparison as an example.
See how many extra features you get in Astra Pro than the free version? The higher tier plans offer even more features, but you get the idea.
Most premium WordPress themes will look very similar.
The free version will include everything you need to build a basic website but the premium version will include a whole lot more.
Great value over the long term
When you buy any product, a phone, laptop, car or even a house, it should be less about the price and more about the value.
Is the product worth the price? Does it compete with other similar products? Does it provide everything you need to achieve your goal? Does it provide the build quality you can rely on?
It's hard to quantify value as we all measure it in different ways.
However, if you have a specific goal in mind for your theme, you can assess how well it helps you exceed those goals and how much it will cost.
Don't forget the intangibles such as customer support if you need it or a vibrant community that's always willing to help!
Cons of premium WordPress themes
There are a lot of reasons why I rate premium WordPress themes, but it isn't all good news.
There are a couple of downsides to them, including:
Can be expensive
Free is obviously the best price, but if you rate a product on value rather than cost, it isn't quite so expensive.
Some WordPress themes are expensive though. Very.
Spend any time at all researching themes and you'll see all kinds of prices. You'll see them sold for $10-15 each all the way up to £300-400.
Do they offer the same value? Do they achieve the same goal? It's hard to tell without knowing your intentions, but they can be very expensive!
Support is not guaranteed
I know from personal experience that a premium theme that promises dedicated support with fast response times doesn't always deliver.
Most WordPress themes will use email or ticketed support. No developer gives out their phone number or physical address anymore!
Many quality developers will have people dedicated to answering customer queries and internal SLAs to make sure they meet expectations.
Not all do.
I would strongly recommend checking out reviews before you buy and look specifically at comments about support.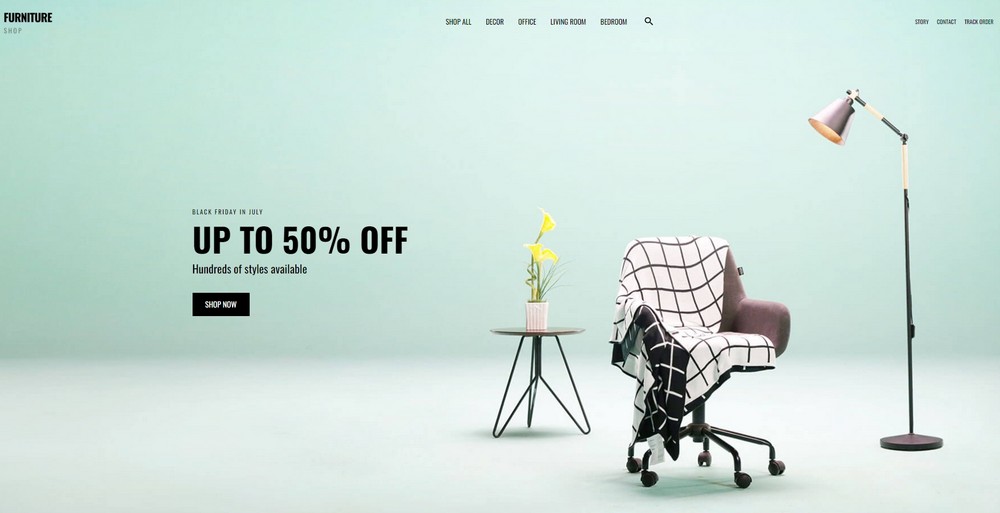 Which is best – Free or premium theme?
The million dollar, well, $60-$150 dollar question in most cases.
Which is best, free or premium themes?
The short answer is, it depends.
The longer answer is, as follows:
Much depends on what you want to use the theme for. If you just want to play around to see if WordPress is for you or not, a free theme will work perfectly well.
That's especially true if you use a high quality free theme that's well-coded and is compatible with popular page builders.
It will give you a good idea of how everything works and should be more than enough to help you make an informed decision about where to go and what to do.
I use free themes a lot when testing new plugins or experimenting with a new page builder or new idea.
I'll set up a local installation or staging website, install a free theme and then experiment to my heart's content.
I don't hurt anything, won't impact visitors and there's nothing important to break.
Once finished, I can delete the website and start over.
There are also a few situations where I think premium themes definitely work best.
Small business websites – Premium themes are best
If you're building a small business website, a premium theme works best. Even if you don't have a huge budget, a paid theme offers lots of time and efficiency advantages.
Whether you're building for yourself or someone else, you'll get more done faster with the tools included within a typical premium theme.
Charity or nonprofit websites – Free or premium theme
If you're building a website for a charity or nonprofit, either a free or premium theme will do.
Most people want to use as little money as possible for administration and as much as possible for the good cause.
This will tempt you to use a free theme.
That's fine if you have the time and some enough WordPress knowledge to build and secure the website.
If you have neither of those things, a premium WordPress theme for your nonprofit is a sound investment.
It may cost money but you'll get a better result for less time than if you used a free theme.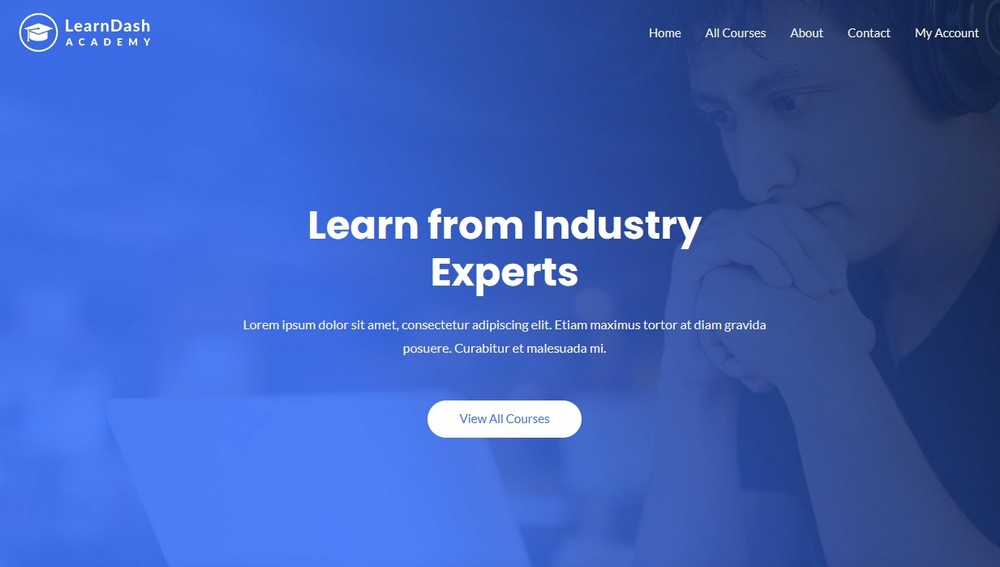 Schools or LMS – Premium theme for support
If you're building a website for a kindergarten, school, college or for an LMS (Learning Management System), premium themes work best.
That's especially true if you want to integrate an LMS plugin into WordPress and build everything in one place.
Some premium themes will include an LMS plugin while others offer support to help you get the best out of one.
Larger business or enterprise – Premium themes
If you're building for a larger business or enterprise, you'll get the most benefit out of a premium theme.
Appearance and public perception are everything. That means you're going to want the latest design, fastest performance and bulletproof reliability.
If you don't want a custom website made, a premium theme is the next best thing.
eCommerce stores – Premium themes
If you're building an eCommerce store, you will also benefit most from a premium theme.
They tend to offer better WooCommerce or SureCart integration, more unique templates, more design options, faster performance and maybe even eCommerce specific features.
While you can utilize a free theme for a store, it's time and energy you could be using putting everything else together.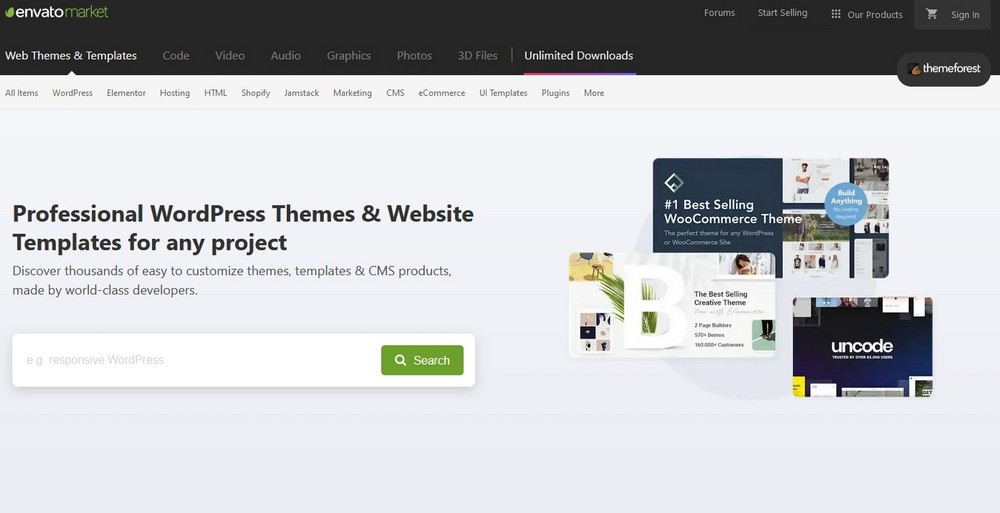 Where to source free and premium WordPress themes
Are you looking for good sources for free or premium WordPress themes?
Sources of free themes
The best source of free themes has to be WordPress.org. It's the official WordPress repository and features only approved themes.
Otherwise, I recommend checking out listicles from trusted sources like 230+ Ready to Import Elementor Templates for Every Niche (Free + Premium) or 78 Best Free WordPress Themes of 2022 from my friends over at Astra.
There are hundreds, if not thousands of this type of listicle online.
Sources of premium themes
You're never short of premium themes to choose from if you want one. Each developer will have their own website and there are dozens of WordPress marketplaces online.
The Astra website is the perfect example. Other themes are available.
Then there are WordPress marketplaces. These are like Etsy or eBay for themes. You'll find thousands of themes here, at a wide range of price points.
WordPress marketplaces include:
I'm sure you can find others.
When using marketplaces, check the price and how much support you'll get. Some will offer 12 months support and updates. Others like ThemeForest offer just 6 months.
Build that into your decision making when deciding on what theme to buy.
Free vs premium WordPress themes
Choosing a WordPress theme is one of the toughest decisions you'll make when building a website.
Choice is great as long as you have a clear idea of what you're looking for. If you're just checking out the different designs, it can be tough to make a choice!
The decision between a free theme and a premium version is clearer.
If you have the time and a little design skill, a free WordPress theme can deliver.
If you prefer to have lots of design tools and more features and support, a premium theme is what you need.
If you're on the fence, consider the use cases I shared above as they may help.
The good news is, my favorite WordPress theme in the world has both a free and a premium version, so there's no wrong answer here!
Do you use free WordPress themes? Prefer to pay for more features or more uniqueness? Share your story below!