Best WordPress LMS Plugins to Build Online Courses in 2023
Are you planning to sell your own knowledge and experience online? Creating online courses is one way to turn your knowledge into an income source. And a learning management system (LMS) worthy of merit is vital for course makers to enable them to dispense that knowledge to the world in the most convenient way possible.
Here are the six best WordPress LMS plugins that you can use for building your online courses:
1. Learndash

Most universities, as well as companies and entrepreneurs, use Learndash for their online coursework and continuing education. We have a very in-depth LearnDash video review and an online course tutorial using LearnDash that you should uncover.
Why? Because Learndash is one of the simplest and easiest to use LMS plugins around. You can create courses with quizzes. You can even award certificates.
Let's take a look at the key features of Learndash.
You can easily create and publish your courses with its intelligent course builder.
You can schedule or drip-feed your content.
You can reward your students with points, certificates, and badges.
You can interact with your students based on their progress in your course.
You can create private or public forums for your students.
You don't need a membership plugin to protect your course.
One drawback that I find about Learndash is you actually need to integrate it with a third-party plugin such as WooCommerce or Easy Digital Downloads for you to have comprehensive payment options. Other than that, it's a great plugin to use.
Learndash starts at $159 for a single site license, $189 for up to 10 sites, and $329 for up to 25 sites.
2. LifterLMS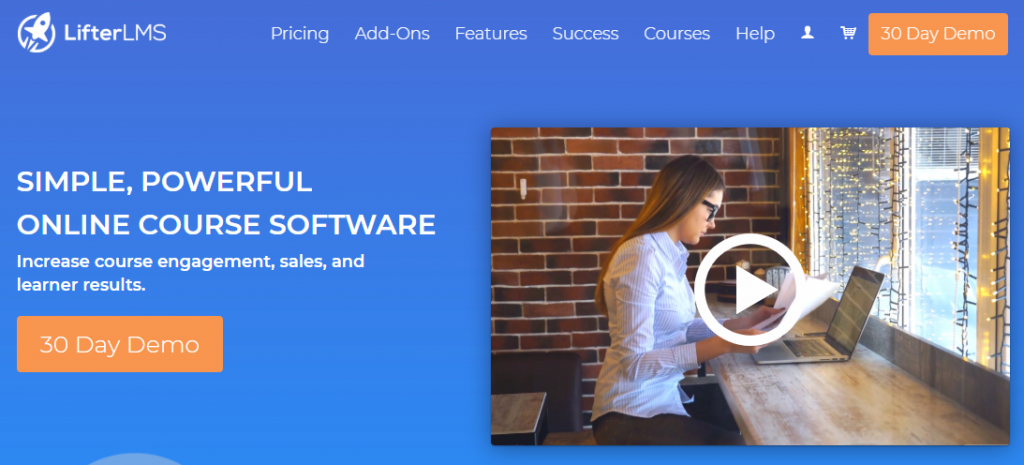 If you want to build comprehensive online courses, LifterLMS is perfect for you with its best features such as course prerequisites, group memberships, course bundles, and other tools that you will need for building your online course. Here is the LifterLMS vs. LearnDash comparison to give you the blow-by-blow review. You also might want to bookmark our LifterLMS vs. WP Courseware comparison.
Let's see what other awesome features that this plugin has.
With its drag-and-drop course builder, you can easily create your courses.
You can add different media such as video, text, and audio.
You can create dynamic quizzes to reinforce learning to your students.
You can drip-feed your contents.
You can offer certifications to your students for the completion of your course.
You can even offer free courses to generate leads.
Starting with a price of $99 per year, you can get this plugin. It just gets more expensive if you have to purchase additional add-ons.
3. WP Courseware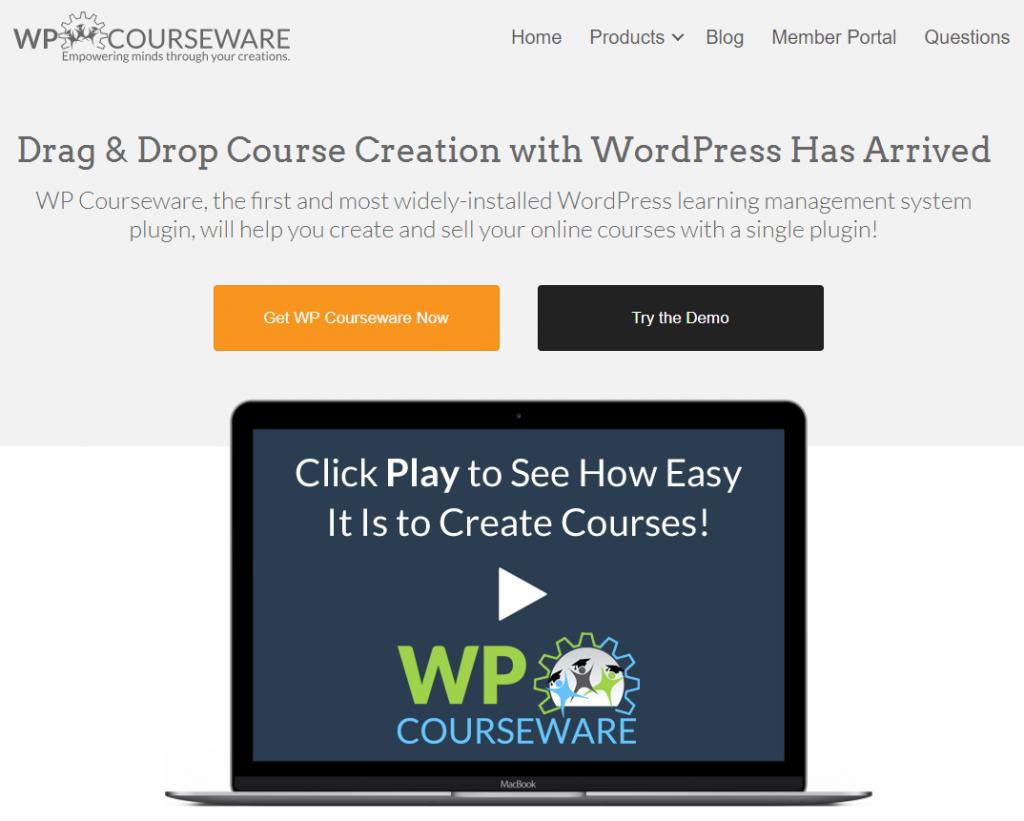 Set up your very first online course easily with WP Courseware's intuitive drag-and-drop course builder. While building your own course, you're also learning how to use this tool. It's very easy to use and you can even customize your courses very quick. Of course, we have lined up a LearnDash vs. WP Courseware matchup you have to check out.
Aside from its drag-and-drop functionality, among its top features include:
Course protection
Drip-feeding of contents
View and export quiz results
Downloadable course completion certificates
Membership integration
Email notifications
Compatibility to any WordPress theme
GDPR compliant
You can get WP Courseware for $129 for up to 2 sites, $149 for up to 10 sites, and $199 for up to 25 sites.
It doesn't offer a free trial but you can get your hands on it with its fully functioning demo site.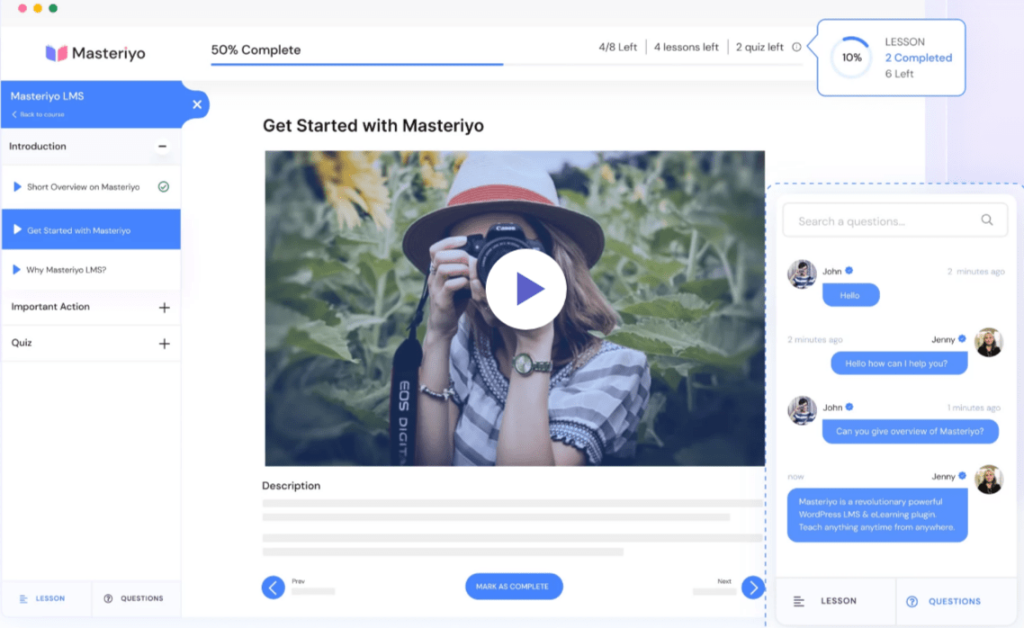 If you're tired of traditional learning management systems, Masteriyo is the perfect choice. It's a fully-fledged WordPress LMS plugin that allows you to create interactive online courses, enroll students, give assignments, run tests, track student progress, issue certificates, and charge fees.
For course creation, it offers a simple drag and drop course builder that allows you to add and manage your lessons from a single page.
Masteriyo offers a range of benefits that set it apart, including:
Review system allowing the students to provide text reviews and star ratings for each course
Coupon codes for premium courses
An eLearning LMS theme for creating a professional course website
Predesigned fully customizable certificate template
Unlimited number of assignments and lessons for any course
Prevent spam registrations with Google reCAPTCHA integration
Integration with WooCommerce, giving you access to over 300 payment gateways
Masteriyo is a freemium plugin available in both free and paid versions. Install the free version from your WordPress dashboard or download it from its official website.
Premium versions of Masteriyo start at $49.17 per year up to $164 per year.
5. LearnPress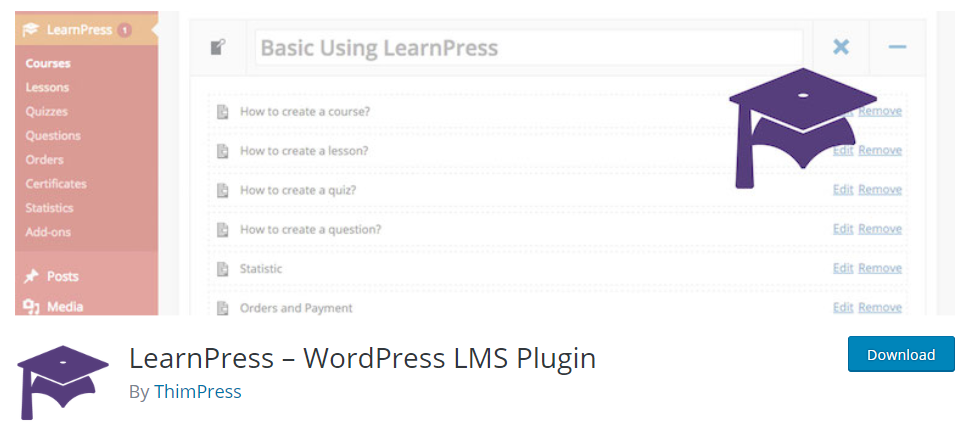 Now, if you're just starting out and conscious with your budget, why not try a free plugin that works? Well, LearnPress is a free WordPress LMS plugin that you can use to easily build and sell your online courses.
It does have a premium version at $250, of course, for more monetization and advanced features. For a head-on collision with LearnDash, visit our LearnDash vs. LearnPress matchup review.
Here are some of the noteworthy features of this plugin:
LearnPress works with any WordPress theme and can be used on multiple sites.
You can export and import your courses to any WordPress site, provided that LearnPress is also installed on it. Watch out because LearnPress is planning to add a feature that you can import your courses from other LMS plugins.
You can manage your courses and monitor your student statistics.
You can sell your courses with integration to WooCommerce, PayPal, Stripe, and many other billing methods.
There are lots of free add-ons for LearnPress.
6. Sensei

Sensei integrates smoothly with WooCommerce as they have the same creator, Automattic. This makes it easier to implement Sensei into WordPress websites.
It's very easy to use. It's very straightforward like in creating a WordPress post or page as it has its own custom post type named as Lessons.
It's also very flexible that you can create your courses, write lessons, and create quizzes. You can even set up prerequisites for both courses and lessons.
You can add Sensei extensions to drip-feed your contents, award your students with completion certificates, show your students progress within a course, let your students share their progress on social media, and many other features that you can add for your course. Wanna know how it fared against LearnDash? Visit LearnDash vs. Sensei now.
Pricing starts at $129 for a single site, $179 for up to 5 sites, and $279 for up to 275 sites.
Conclusion
What's the best WordPress LMS plugin for your course? Well, I suggest that you check out their demo sites first and then have a feel of what it's like to use that LMS plugin. And then you decide if you'll be able to fully utilize it for your course.
Now, tidy up your desk and start creating your course. The world is waiting for you to share your knowledge.