LearnDash 3.0: Overview
Since the first time it was released to the WordPress community, LearnDash has consistently climbed to the top of the list of Learning Management Systems.
It is the leading LMS WordPress plugin that lets you create self-hosted courses that you have full control of, and it's the go-to course creation plugin for:
Educational institutions
Independent course creators
Non-profits
Developers
CEU Training Organizations
And now, with the recent roll out of LearnDash 3.0, LearnDash just blew all of the competition out of the water. With their new Focus Mode, incredible course builder, and many more shiny new features, managing and selling online courses just got easier.
---
Common Issues with Learning Management System Plugins
E-learning as an industry has grown by leaps and bounds in recent years. Modern technology lets anyone with the passion to teach to create their own courses and distribute them the way they want to.
Learning Management Systems are websites or applications that let you deliver and manage online courses and keep track of users as well.
The purpose of LMS WordPress plugins is to turn any WordPress site into LMS. Although great in theory, many of these plugins come with a boatload of issues that make course creation harder than it needs to be.
Common Issues with LMS Plugins:
Bad UX/UI that give both course creators and learners an overall bad experience
Complicated front-end and back-end setup that eats up too much time
Not mobile friendly
The amazing thing is these are exactly what LearnDash sought to solve in their recent version, and I couldn't be more excited!
---
Key Features of LearnDash 3.0
Now for the meaty part, we're going to walk through the key features of LearnDash 3.0 that truly set it apart from other LMS WordPress plugins.
1. Powerful Course Builder
Drag and Drop Interface
The new course builder makes it so simple and easy for anyone to start creating courses and lessons. To start creating a course, click "Courses" on the left side panel, and click "Add New," and then type the title of your course.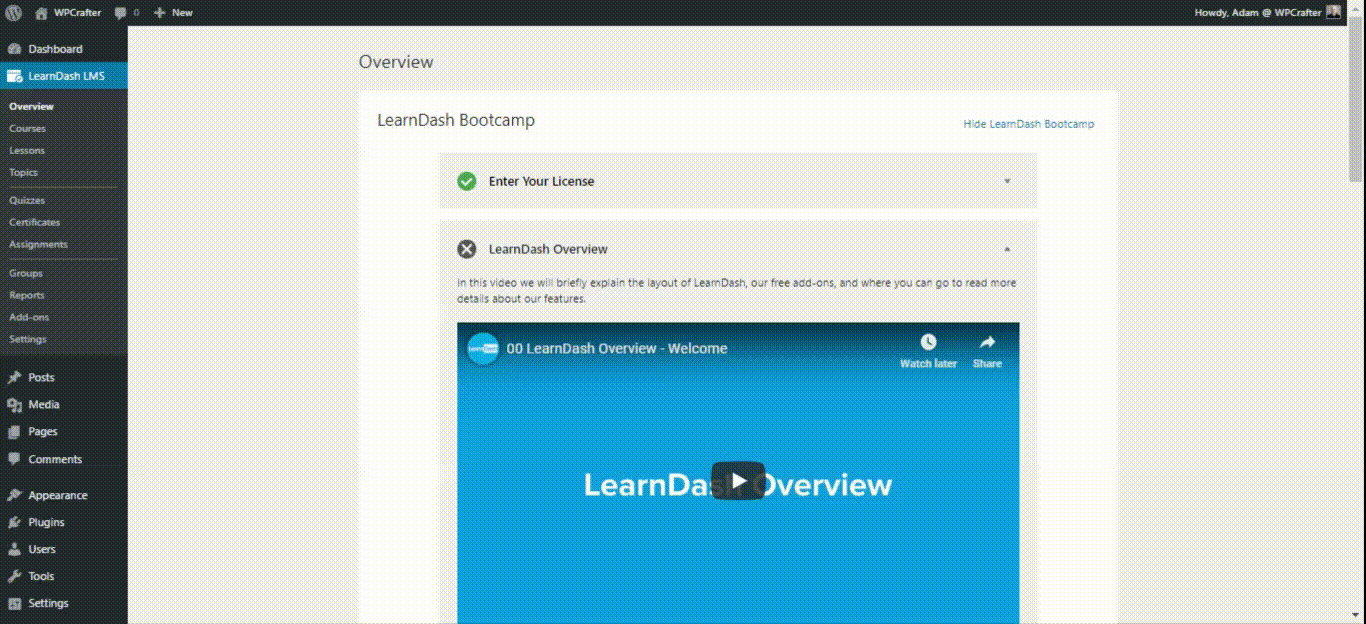 Then click "Builder" at the top. This is where things get fun. You can easily add section headings by clicking "New Section Heading" or add a new lesson by clicking "New Lesson". You can also rearrange them by dragging and dropping or clicking little up and down buttons on the side.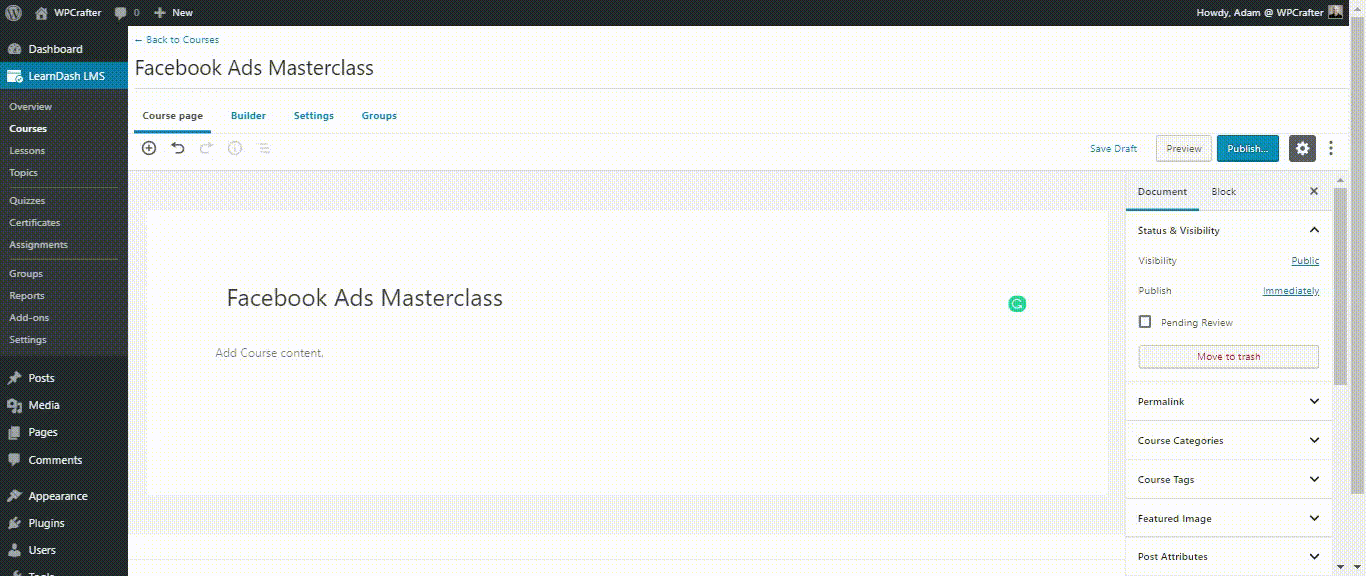 You can also directly add unlimited number of topics and quizzes under one lesson.
The easy drag and drop interface is really something to enjoy and will let you edit the flow of your course in no time.
Gutenberg-like Lesson Editor
To actually add content to your lessons, just hover your mouse over the lesson and click "Edit".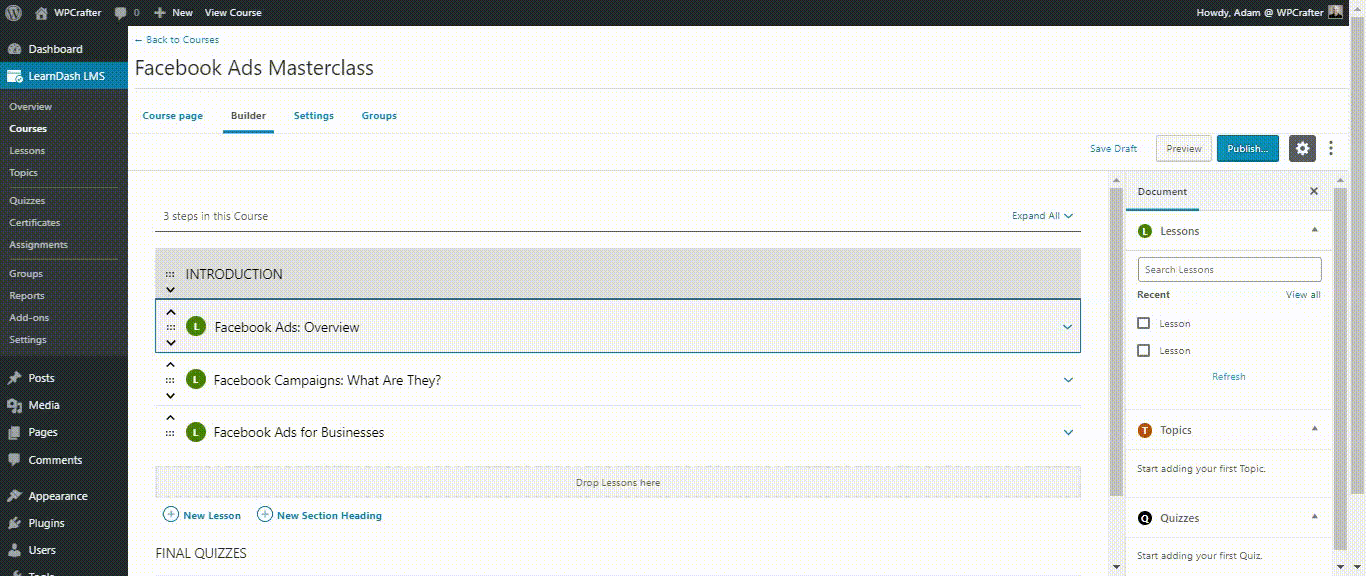 You will be taken to a Gutenberg-like editor where you can place any kind of content you want like videos, photos, or texts.
Since the editor feels very much like WordPress Gutenberg, it won't be too hard for you to edit your lessons.
You can actually type "" and choose the kind of content you want to add, like so:
TIP: For the purposes of this review, I embedded a YouTube video into the lesson, but hosting your videos on YouTube is not a great idea because your videos will not be protected. This makes it easily available to everyone – even those who didn't pay for it.
Reusable Course Content
A huge, HUGE plus for me is the fact that you can easily reuse any of your course content like lessons or quizzes for any courses you make.
So if you create a lot of courses that are closely related in subjects, you can easily reuse the same lessons without having to do another version of it or setting it up in another page again. This feature will save you so much time.
For example, say I created a new course called "Social Media Marketing for Businesses". Since I will be covering how to use Facebook ads for business, I can reuse the same lessons I created for my course "Facebook Ads Masterclass".
I can do this by looking for the lesson I want to use on the right side panel under "Document," hovering my mouse over the lesson I want to reuse, and then clicking "Add".
This will automatically add the lesson to the course.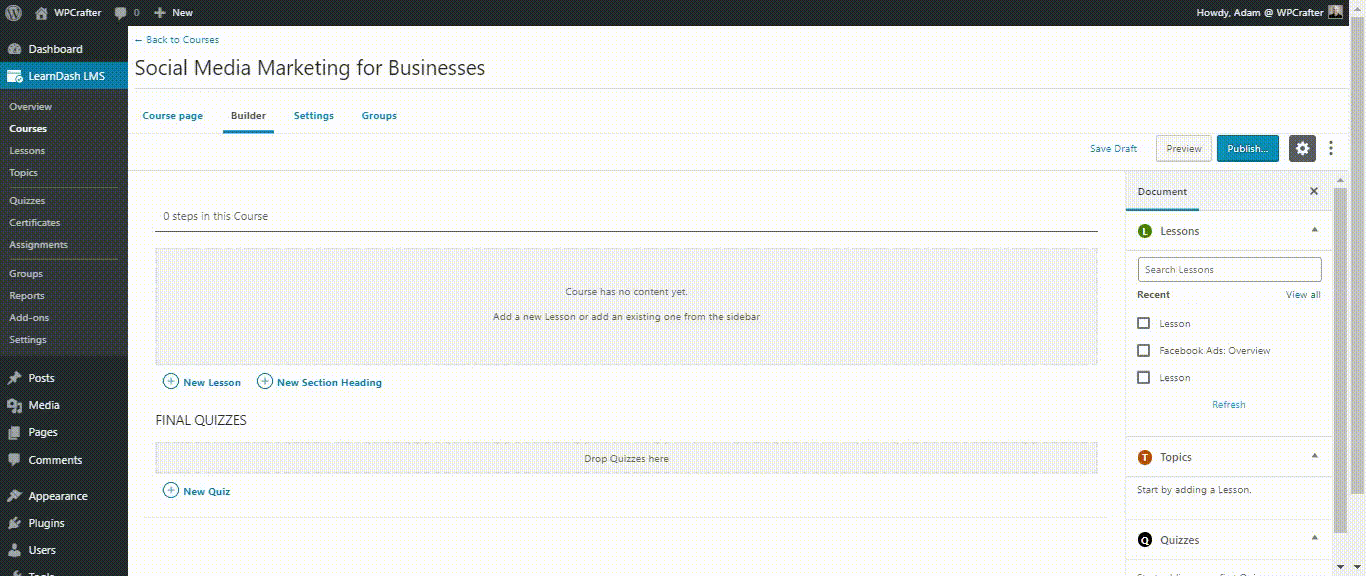 2. Focus Mode
Remember how I said that most LMS plugins look so bad on the frontend side that it reduces the quality of the learners' experience?
Here's what I meant: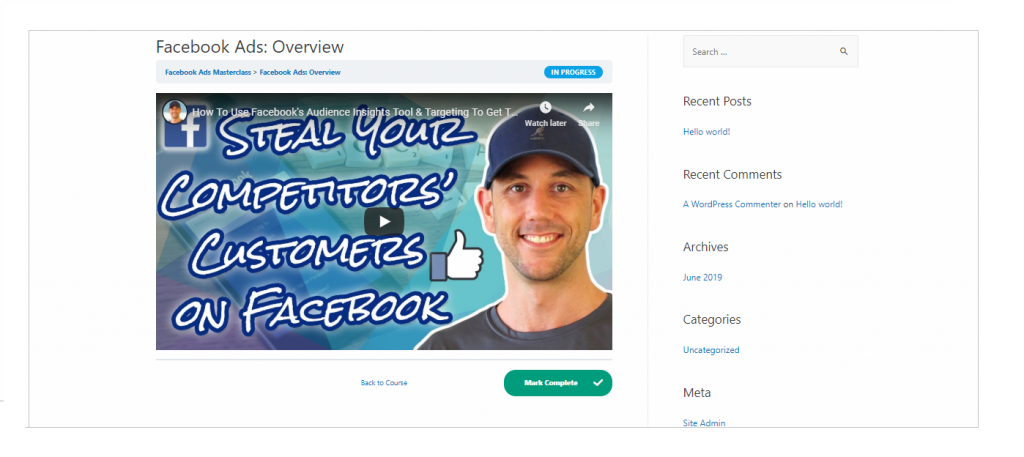 It looks just like an ordinary blog post with the unnecessary items on the sidebar and doesn't feel professional enough. If your students paid for your course, you want to give them an amazing experience on top of the amazing content.
Yes, you can just remove those sidebar widgets manually, but that will just leave you a plain, boring page with nothing else going on.
LearnDash 3.0 gives the PERFECT solution.
The Focus Mode gives your lessons an instant facelift with just one click.
To enable Focus Mode, you literally have to do just 3 things:
Go to the "Settings" of LearnDash
Toggle on the "Focus Mode"
And click "Save".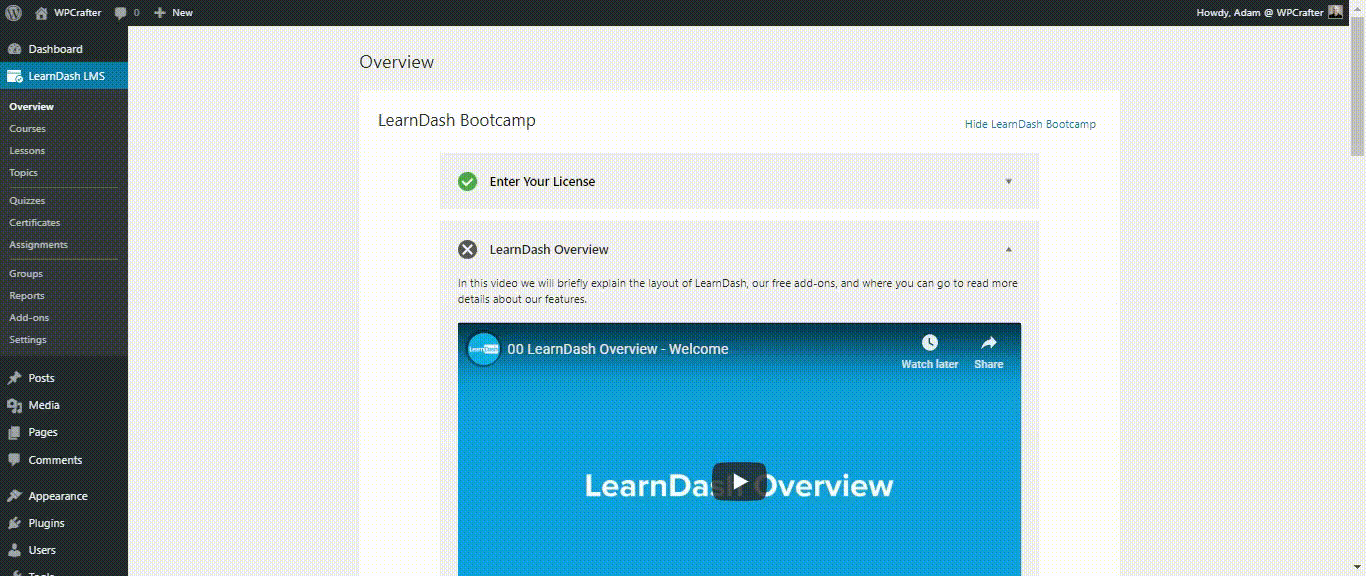 Once that's done, refresh any of your lessons page and be amazed.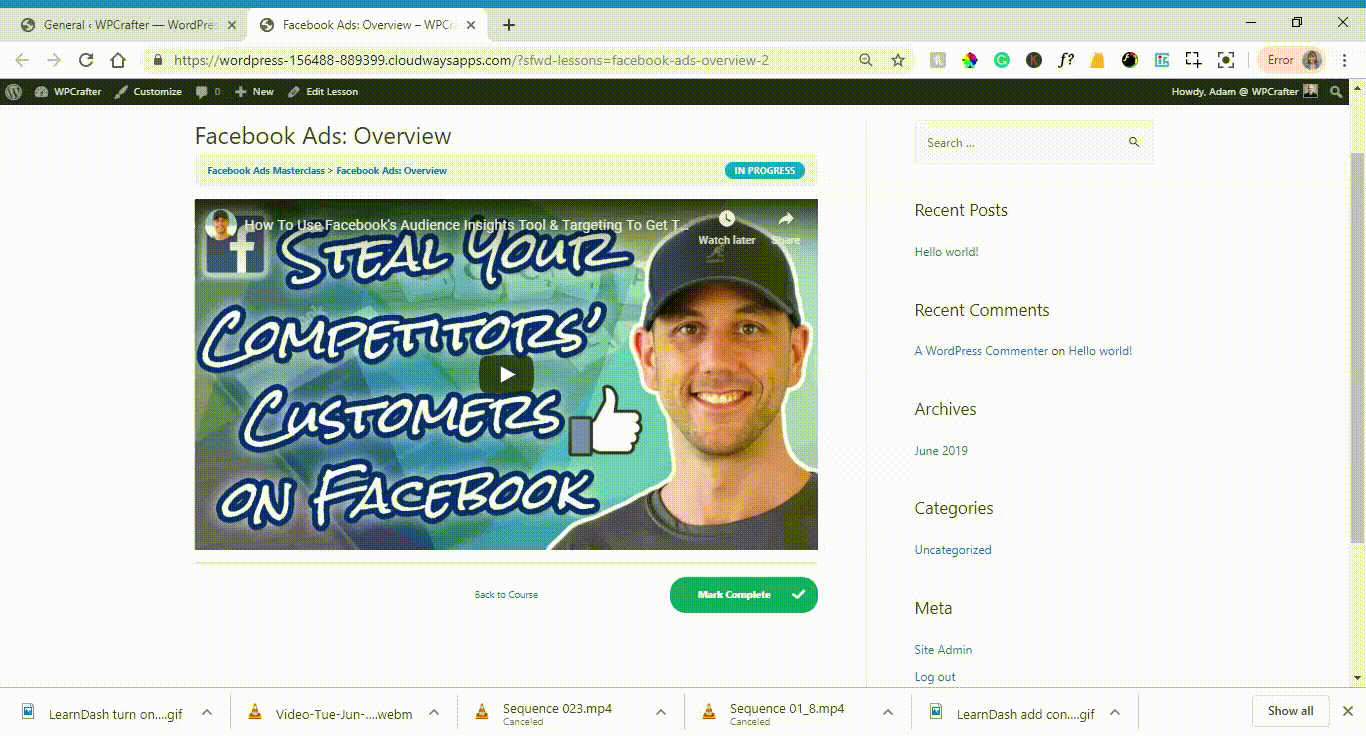 With just a click, your lessons turn from looking like ordinary blog posts to official-looking courses made by professional developers.
You don't have to do any coding to get modern features like a distraction-free interface, progress bar, and a neat course outline.
Focus Mode is also brandable as you can use your brand colors, your logo, and other elements related to your brand to give users a uniform experience.
The Focus Mode is a game changer and will really help enhance the learning experience of your students.
3. Advanced Quiz Builder
The quiz builder of LearnDash is also another great feature as it lets you create quizzes with any type of questions and tweak more settings according to your requirements.
There are two ways to create a quiz. First is by going to "Courses," clicking the course you want to create a quiz for and go to the Course Builder.
There, you can add a new quiz for a specific lesson as shown here: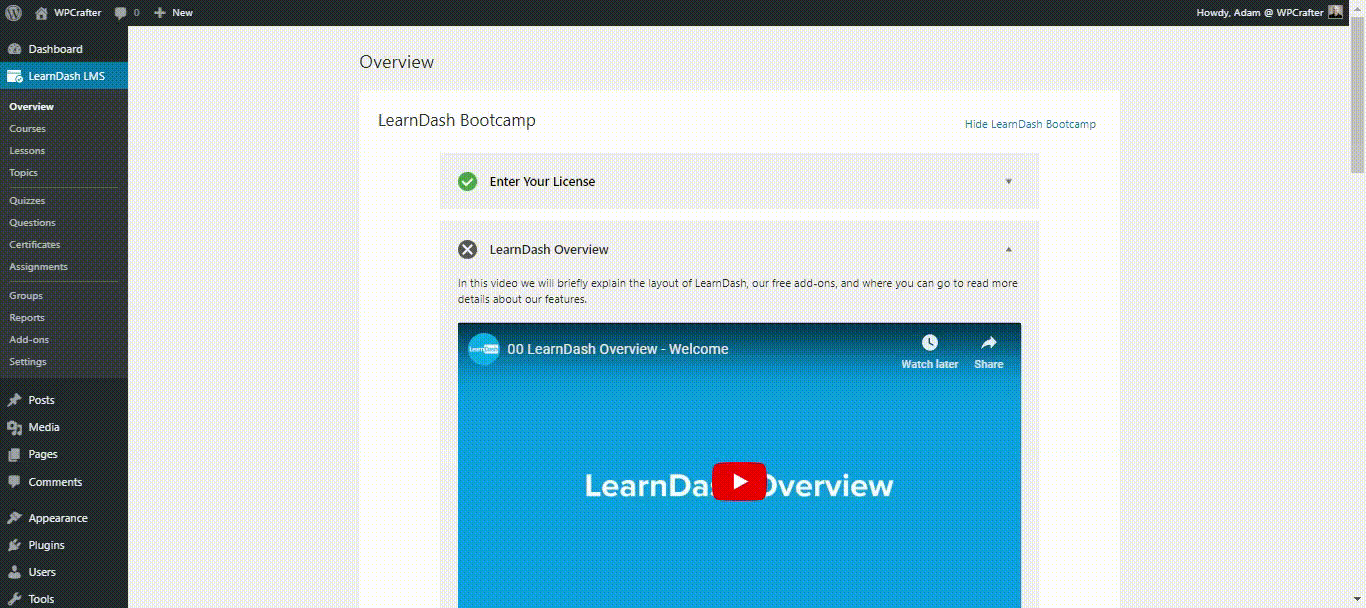 The second way to create a quiz is by clicking "Quizzes" on the left side panel, clicking "Add New," and naming the quiz.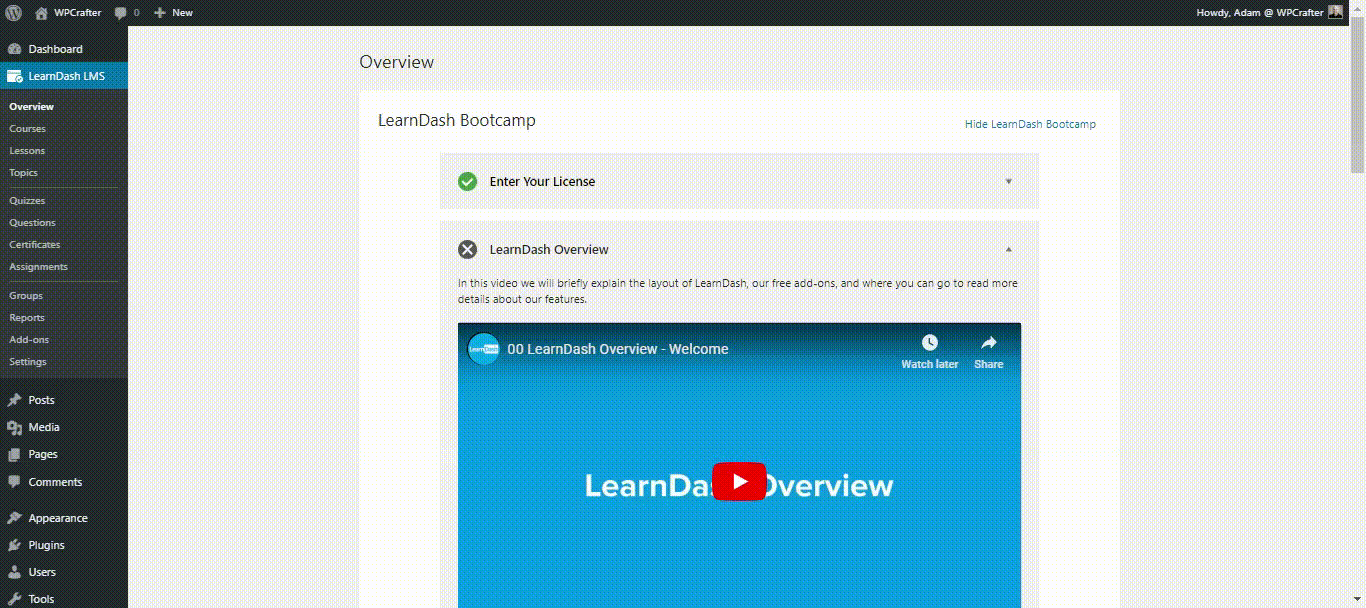 Once that's done, it's time to add questions to the quiz by clicking "Builder" and "New Question":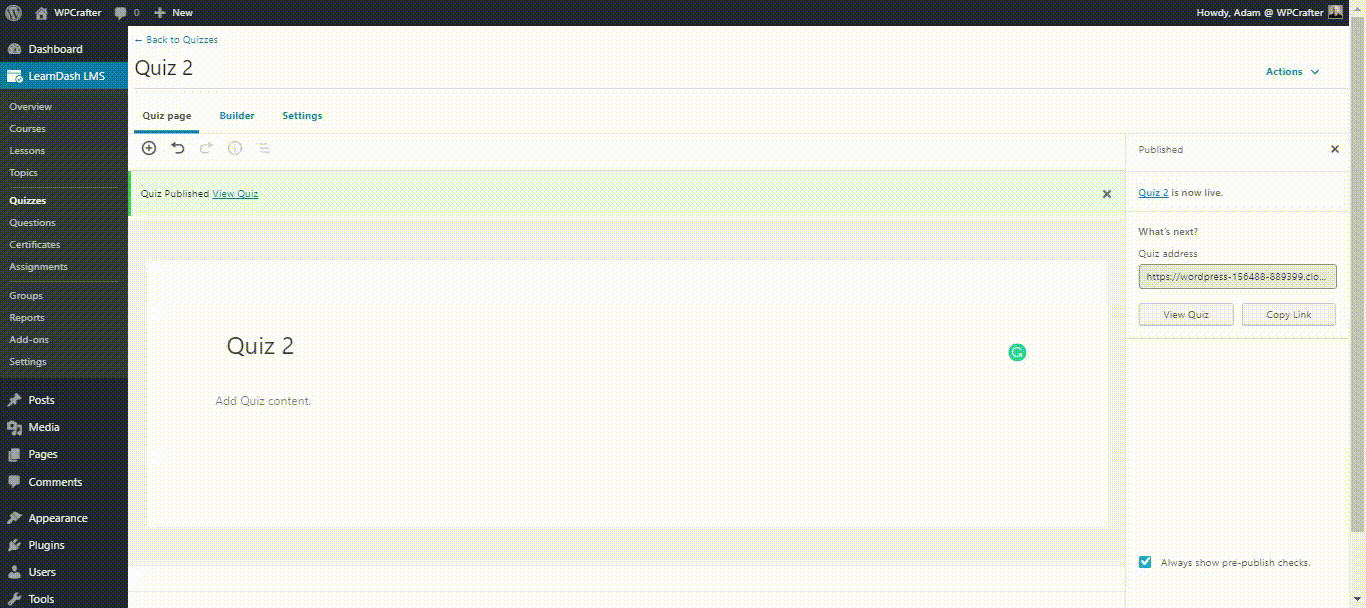 You can select the question type and the question editor will automatically adjust:

You can further modify the question settings by clicking "Question Settings":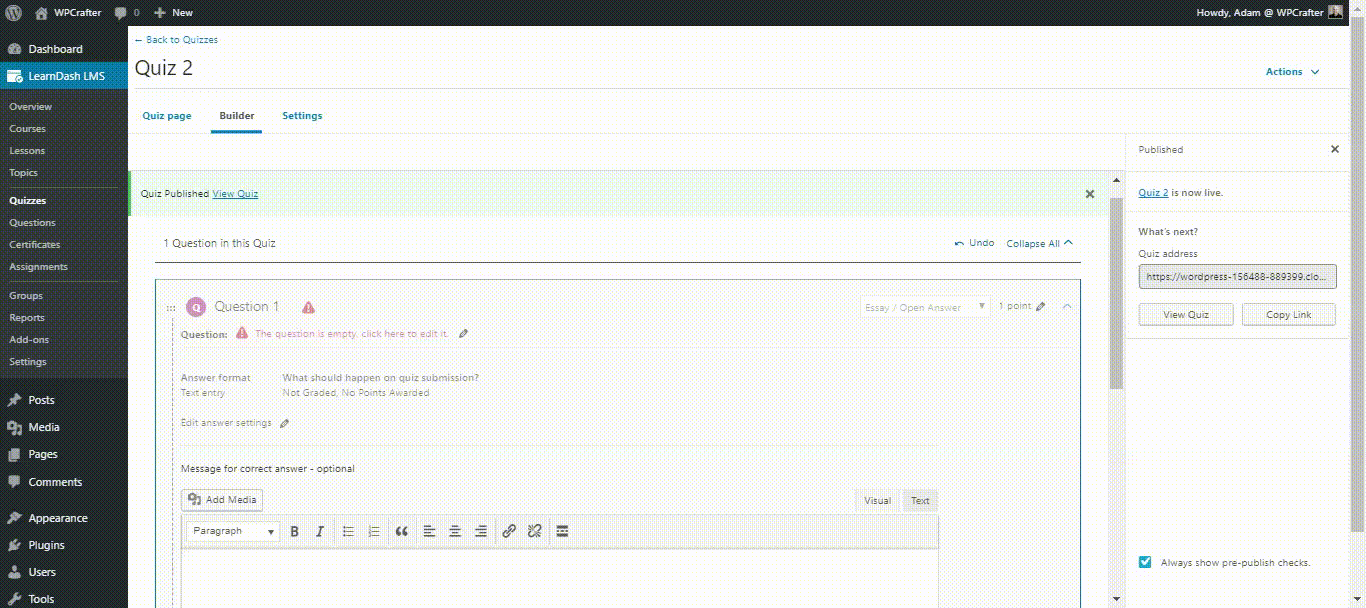 You can also tweak the general quiz settings by clicking "Settings":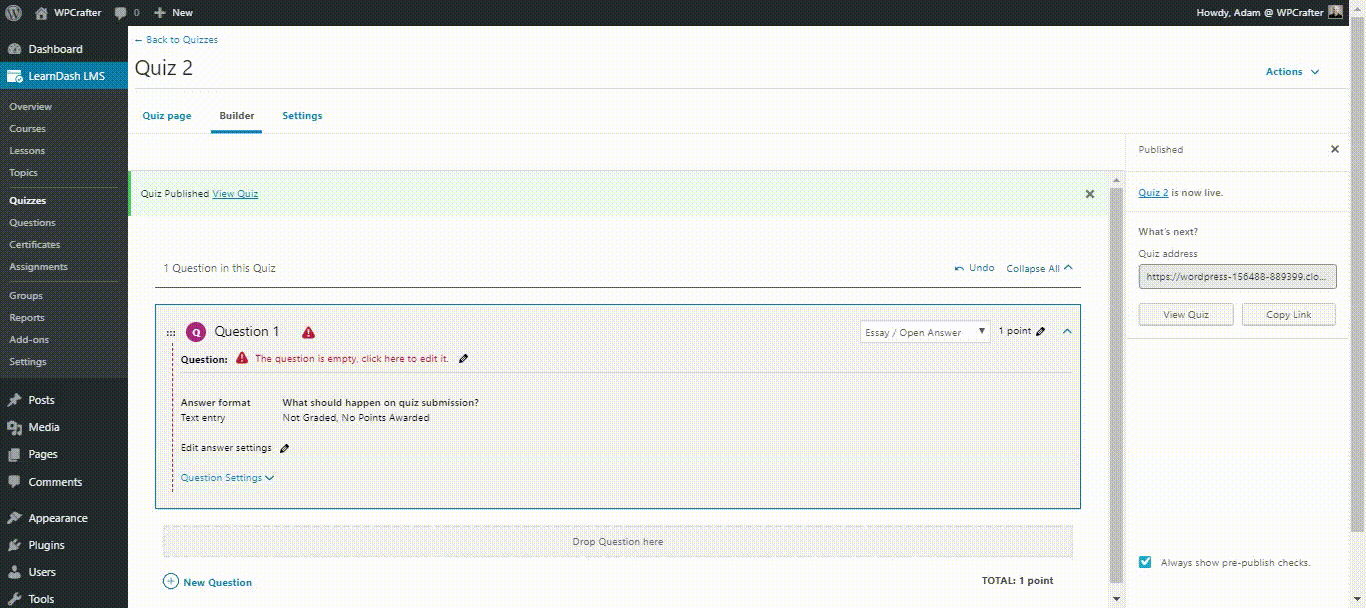 4. Drip-Feed Content
You can also set a specific release date for lessons by going to "Lessons", clicking the lesson you want to drip feed, "Settings," and set the Lesson Release Schedule under Lesson Access Settings.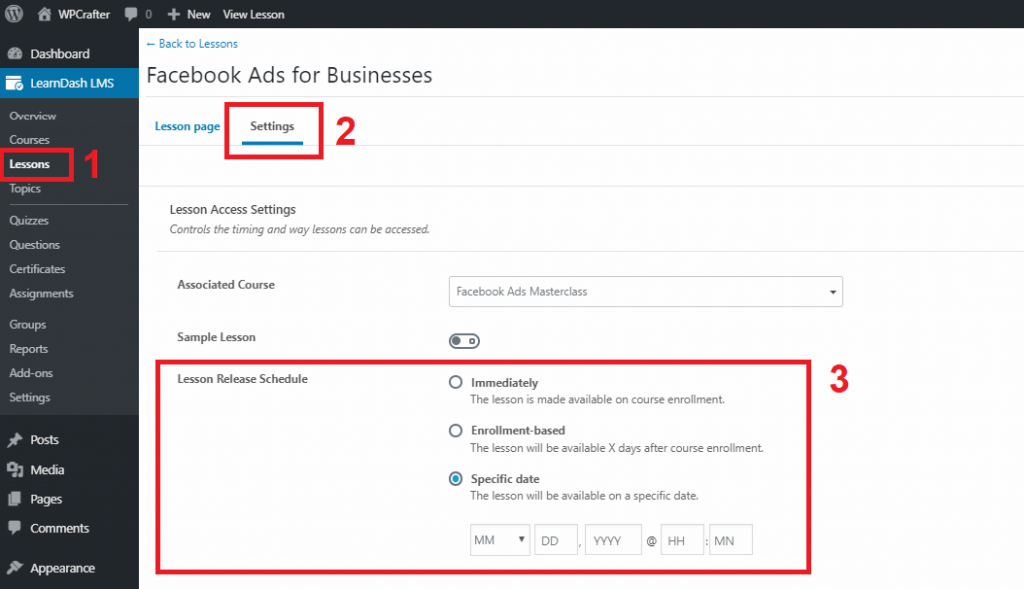 5. User Profile Page
It's also an industry standard for course students to have a user profile where they can see what courses they have access to, their progress, and other useful information.
Setting up a user profile in LearnDash is pretty easy. You'll have to create a new page, click the Add Block button, and look for LearnDash blocks.
Click the "LearnDash Profile" block, and it will automatically create a gorgeous-looking user profile layout: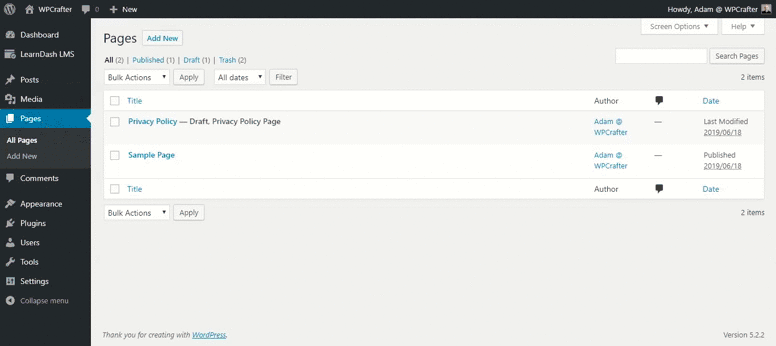 NOTE: The Focus Mode doesn't work on WordPress pages, so I had to manually remove the sidebar and adjust the content width to get the full-width user profile shown in my example.
6. Several Payment Options
To start selling your courses, you have to set up the ideal payment system for you. LearnDash allows you to receive PayPal and Stripe payments right off the bat without the need for third-party apps or plugins.
But this option lacks the bells and whistles some people like such as the ability to offer coupons, vouchers, discounts, and even sell stuff other than courses/
If you want to be able to do those things, you'd have to use third-party plugins.
I highly recommend using WooCommerce along with Cartflows. This power combo will help you easily add more products to your website, set up cart, and even upsell or cross-sell your customers.
Other options are:
ThriveCart
2Checkout
Easy Digital Downloads
SamCart
You can easily integrate these apps by going to "Add-Ons":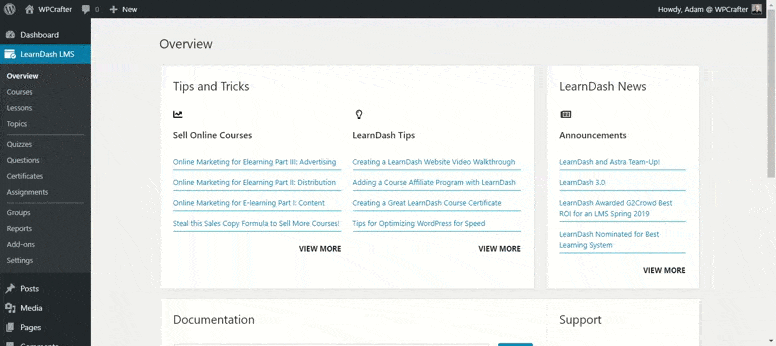 Other Features:
Easy setup of user registration
Course, lesson, and quiz-based prerequisites
Private or public forum for students
Gradebook that syncs with LearnDash quiz and assignments and also manual grading
Course completion bonus points
Custom certificates and badges
Ability to create and sell course bundles
Ability to create a course marketplace like Udemy
Automatic email triggers for students
Multi-site enabled
---
LearnDash 3.0 Pricing
LearnDash offers 3 packages:
$159 for one site
$189 10 sites + ProPanel
$329 25 sites + ProPanel
What is ProPanel?
If you're wondering, ProPanel is an add-on that lets you do a number of things like:
See important metrics like current number of students, number of courses, assignments pending, and essays pending
See real-time activity as students take your courses
View and download user course progress and quiz results
Manage, approve, and delete assignments and essays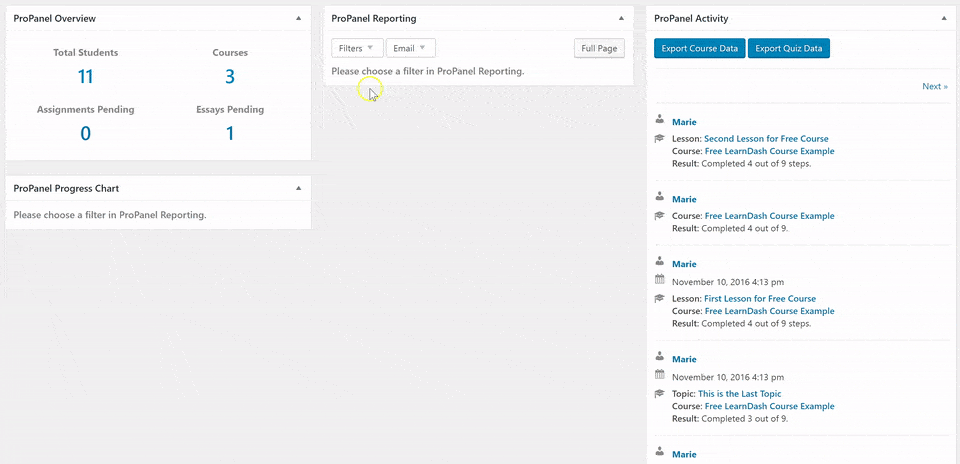 Refund Policy
As for their refund policy, you can get a refund within 30 days after your purchase should you decide that LearnDash is not the right fit for you. Also stated in their policy statement is product upgrades, add-ons, and license renewals cannot be refunded.
SPECIAL OFFER:

You can get free access to my course "Course Creator Accelerator" if you purchase LearnDash through my referral links. This course will help you create online courses using LearnDash in a matter of days and is originally worth $297. Once you bought LearnDash with my link, email me a copy of receipts, I'll verify and give you a copy of the course for free.
---
LearnDash 3.0: Some Important Questions
1. What's the best hosting for LearnDash course websites?
If you're just starting out and you're looking for something that gives good value for your money, nothing beats Siteground. It's got great speed and performance.
But if you want to create high-volume course sites, I'd recommend CloudWays.
2. What's your recommended theme for LearnDash? AstraTheme
3. Can Elementor Pro edit and style LearnDash courses? No. But Elementor and other page builders can edit internal topic pages.
4. Will LearnDash work well with membership plugins? Yes. LearnDash is compatible with:
MemberPress
PaidMembershipsPro
Restrict Content Pro
Memberful
Memberium
UltimateMember
ActiveMember360
iMember360
---
LearnDash 3.0: What I Like About It
There's a lot I like about the new LearnDash mainly because the team behind it really prioritized the learners' experience. The Focus Mode is truly game changing, and the Course Builder makes course creators' lives so easy.
I also like the support they provide to users. After installing LearnDash, you'll be taken to the built-in LearnDash Bootcamp where you can watch tutorials on how to set up LearnDash. You can also read how-to articles, recent announcements and events, and learn tips and tricks like adding a course affiliate program through LearnDash – all these right inside WordPress.
If you're having issues with LearnDash, you can check out their extensive knowledge base. If you still haven't found answer, you can submit a ticket by going to their Contact page.
LearnDash pretty much does everything for you from building your courses to creating user profiles, but if you need to use third-party software for additional functionality, it's good to know that LearnDash is compatible with a lot of popular software.
---
LearnDash 3.0: What I Don't Like About It
Since this version has only been recently released, there's still a lot to see in terms of compatibility with other WordPress plugins like page builders, caching plugins, and so on.
Also, LearnDash is not an all-in-one solution in the sense that you may need to also have a shopping cart and a membership plugin. So it is more designed to work with your existing infrastructure.
Yes, you can sell courses in a basic way without a shopping cart, but its doesn't have all the bells and whistles you may want, like coupons, product bundles, etc. It's not so bad since it is very easy to add WooCommerce.
LearnDash is not a membership plugin. So if you want to protect content outside of the lessons themselves, you will need to also add a membership plugin such as MemberPress or Restrict Content Pro.
---
LearnDash 3.0 Review: Final Thoughts
LearnDash 3.0 is truly revolutionary in the world of e-learning. It set the bar really high, and I know it's only going to get better from here. I'm excited to see future updates and new features that will improve the experience even more.
I recommend LearnDash to anyone who wants the easiest way to create a self-hosted course website without breaking the bank.