Is it Safe to Use Two Page Builders at the Same Time on WordPress?
Page builders are fantastic tools to give your WordPress website a professional look in a very easy way by dragging and dropping elements onto the page.
There are dozens of options, each with its special blocks and features.
It can be challenging to choose just one, so maybe you are wondering:
Can I use two page builders at the same time on my website?
Expanding your website's design and visuals by adding another page builder on top of the one you're currently using may seem like a good idea.
For example, you may have built or customized your website with Elementor but want a design feature only available with Beaver Builder.
Is it possible? Will it slow down or affect the SEO of a website? Can two active page builders break your or your clients' website?
We'll discuss these issues and others throughout this guide.
Let's start by looking at the question from a different perspective.
The Two Page Builders on The Same Website Dilemma
So can you use two page builders on the same website?
Perhaps.
Let's explore a little further with some scenarios.
The most common scenario is when you want to migrate from one design tool to another on a website.
Or maybe you want to use each page builder for a different purpose on a permanent basis.
In any case, there is an important difference depending on how you frame the question.
Can I Have Two Page Builders on The Same Website?
The first question arises when you think that installing two page builder plugins may break your website.
It shouldn't. You can have two different page builders installed and enabled on the same website without major problems.
We have done that for many of our comparisons.
But that doesn't mean you should, as you'll increase the likelihood of generating conflicts.
Not all plugins get along with each other, especially those that have a similar purpose. If you've ever installed caching plugins you know what we are talking about.
Your website isn't going to break completely. In fact, it could still work perfectly well.
But some incompatibilities or bugs might start showing up.
That means there is no problem having two page builders enabled at the same time. For example to perform a migration from one to another.
But this is something we don't recommend doing permanently.
When you install and activate a page builder it loads all the necessary code for you to use it, which can slow down your website.
It would be like having dozens of applications opened on your computer in case you need them.
You can see this if you try to create a new page in a WordPress installation that has multiple active page builders.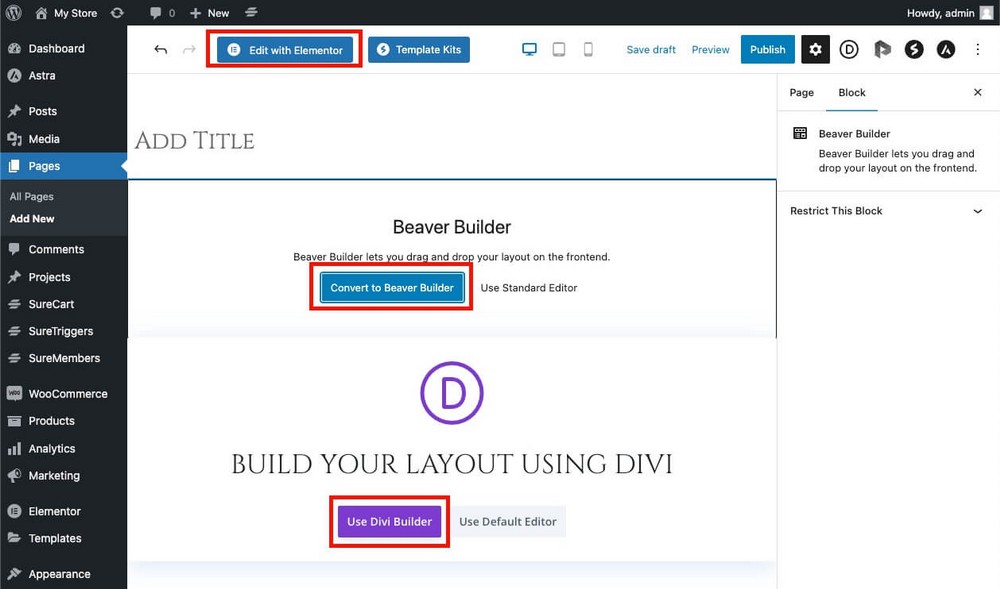 They all want you to use them and will all have loaded their various files and dependencies to make using them easer!
Can I Use Two Page Builders on The Same Website?
Since it's possible to keep two page builders enabled at the same time on the same website, the next question is: can you also use them?
Yes. It's possible to use two different page builders on your website.
For example:
You could use Spectra to create prettier articles quickly and easily within the WordPress block editor.
And Elementor to create landing pages for your products.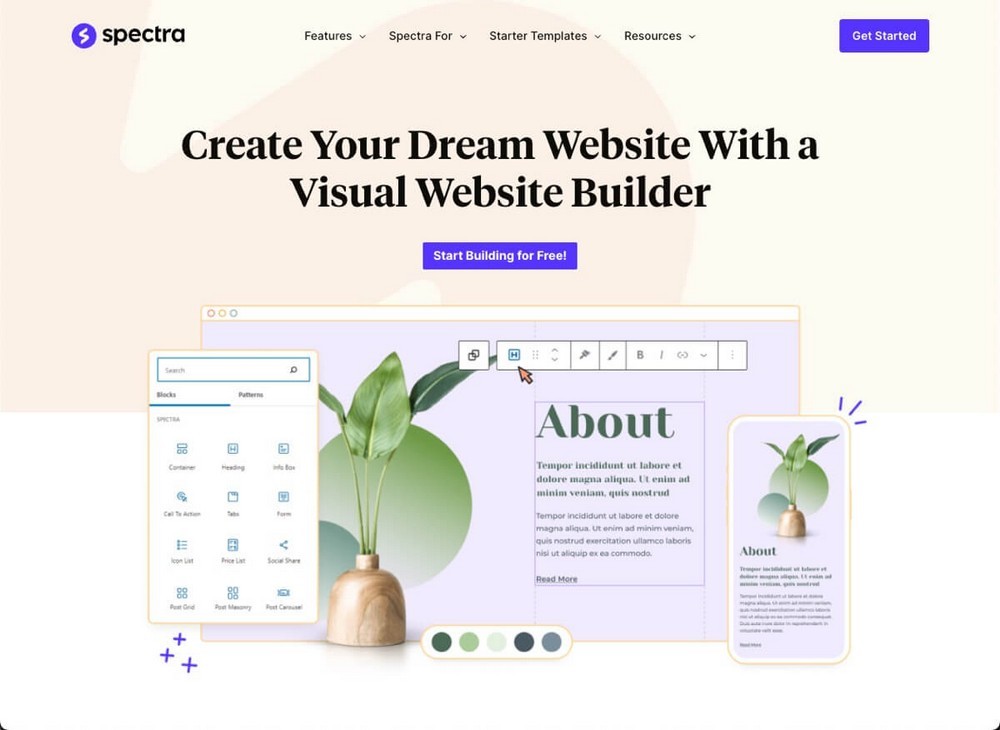 You just have to be aware of the possible issues that this may cause.
The above example wouldn't be a big risk as Spectra doesn't load its own editor. Instead, it adds special blocks to the native WordPress editor.
But again, we believe that using two page builders at the same time is not really worth it:
You can also create professional landing pages using Spectra.
You can supplement Elementor with UAE to get the blocks you miss.
Can I Use Two Page Builders on The Same Page?
What if you'd like to use the blocks from one page builder in the editor of another? Can you do that?
No. Almost all page builders on the market use their own drag and drop editor. If you use one, the others won't be accessible.
Some page builders do their best to load previously existing content. But the results are usually not good unless the content comes from the WordPress editor itself.
This means that you could potentially use Spectra on a post or page and then load that content in for example Elementor.
But that content will be shown in a special block that can't be easily edited. So we don't recommend you follow this approach either.
Can You Use a Page Builder and the WordPress Block Editor at the Same Time?
The last question appears when you want to use the extra features of a page builder within the WordPress block editor so you can still enjoy its simplicity.
Unfortunately you can't properly combine the use of a page builder and the native WordPress editor as most page builders use external editors.
There are a couple of exceptions, as you could:
Use the WordPress editor beforehand and then bring that content into your external editor as a single block.
Use a page builder like Spectra, which integrates itself with the block editor.
Do You Really Need To Use Two Different Page Builders?
If you need an element that your current solution doesn't provide, there is a simpler solution for you than installing a whole new page builder.
There are addons that can provide more widgets, templates and blocks to page builders to make them more powerful.
You'll be able to use the builder you've been using until now without the hassle of installing a new one. All while using more options.
Here are some examples.
Ultimate Addons for Elementor
Elementor is one of the most popular page builders. According to the developers, it's used on more than 11 million websites!
It's a very powerful tool. If you want it to do even more or want a block not included within Elementor, we recommend trying Ultimate Addons for Elementor.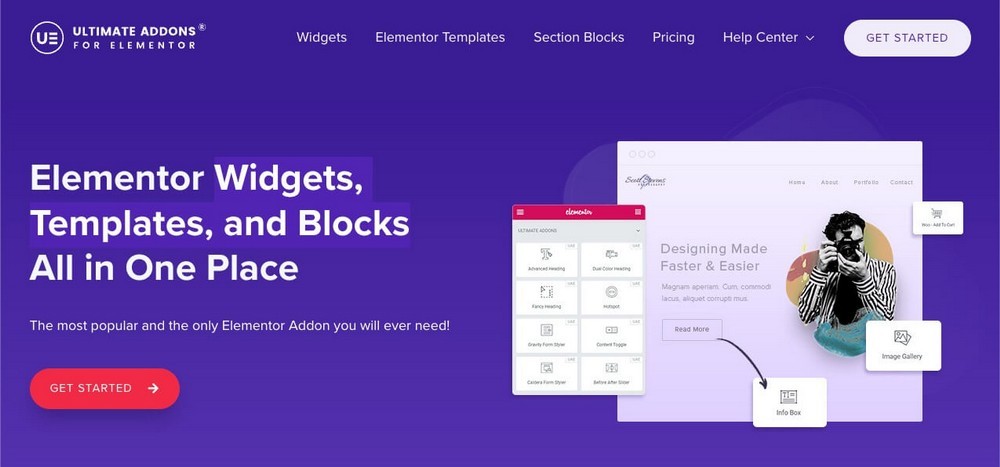 This addon is installed into WordPress as a plugin. It integrates into your page builder and adds lots of extra resources you can use without having to install anything else.
You can use it on unlimited sites and it will give you access to:
50+ Elementor widgets.
90+ free starter templates.
200+ section blocks.
Cross-site copy-paste features.
WooCommerce widgets.
UAE is a paid plugin ($69/year). It's much more affordable than the Pro version of Elementor, which only lets you use it on 1 website and costs from $59 per year.
Give it a try before attempting to use two page builders simultaneously.
Ultimate Addons for Beaver Builder
If you're currently using Beaver Builder there is also an addon called Ultimate Addons for Beaver Builder.
It also adds a range of blocks, modules and templates you can use from within the page builder.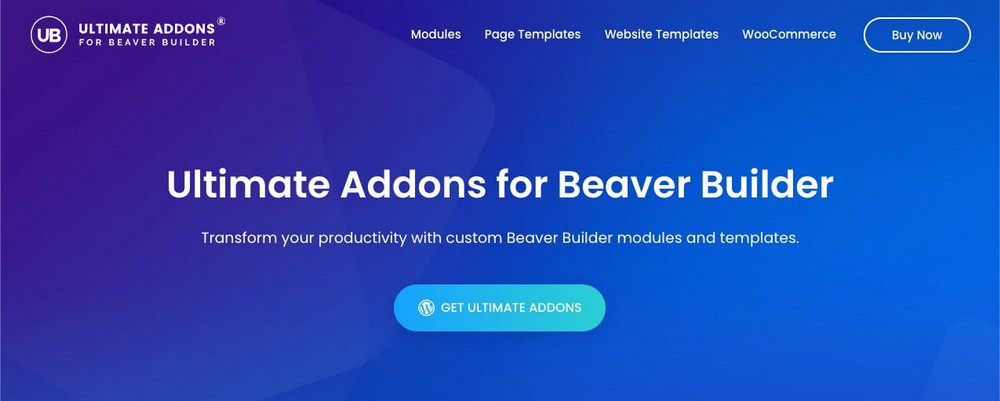 For $69/year UABB provides:
70+ custom modules.
200+ row templates.
100+ page templates.
WooCommerce modules.
Unlimited site usage.
It's a great addition to Beaver Builder and offers the same modules and templates in all their plans.
Divi Marketplace
Divi is another popular page builder for designing websites using drag and drop technology.
If you need special features or a specific element you can go to its marketplace.
There you'll find hundreds of paid extensions, although there are some free ones too.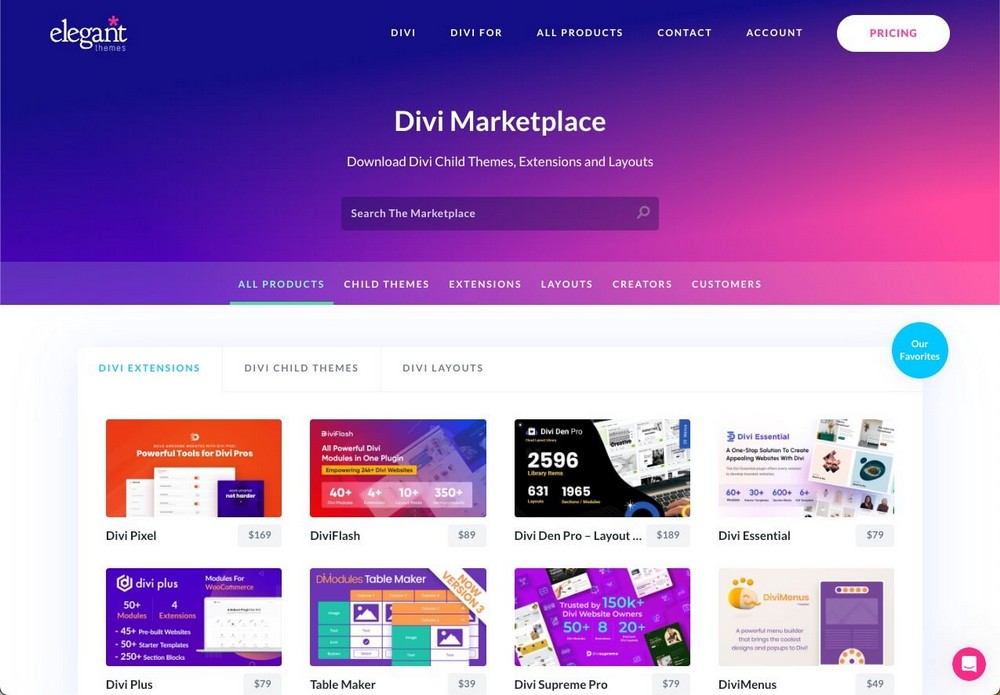 The only drawback is that you won't find packs like you have with the Ultimate Addons.
Multiple Page Builder FAQs
Can You Convert Page Builder Content to Gutenberg?
No, you cannot convert page builder content to Gutenberg. Converting the design of page builders to WordPress block editor content is not possible as they use blocks and features not natively available in the WordPress editor.
Simple blocks such as text and headings wouldn't be a problem, but there is no way to convert an animated counter for example.
The most you can do is a manual migration using Spectra blocks, which works directly in Gutenberg and offers blocks such as the mentioned counter (plus about 30 others).
Can I Use Divi and Elementor Together?
No. You can't use Divi and Elementor together as each one requires its own editor to work. However, you can install Divi and Elementor on the same website and use them on different pages.
Ideally you should be using just one page builder, so go ahead and take a look at our Divi vs Elementor comparison to make your decision.
Can I Use Elementor and WPBakery at the Same Time?
No, using Elementor and WPBakery at the same time is not possible because these two plugins also require their own editor to work.
Remember that although you can't use them on the same page, it's possible to have them both enabled and use them independently at your convenience.
Can I Use BeBuilder and the WordPress Block Editor?
No, you can't use BeBuilder and the WordPress block editor at the same time since the first uses its own editor. If you want to use this plugin you'll have to disregard the WordPress editor on a per-page basis and just use the WordPress block editor wherever you find it convenient.
If you are looking for a way to combine a powerful page builder with the WordPress block editor, you will have to use Spectra.
Final Thoughts on Using Two Page Builders at the Same Time
What seemed like a simple "yes or no" question has several nuances depending on your situation:
Do you want to install another page builder to improve your current solution? Better use a third-party marketplace or bundles like Ultimate Addons.
Do you need to install another page builder so you can manually migrate from one tool to another? You can install and enable two page builders at the same time temporarily. Backup your website first and use with caution.
Do you want to keep and use two page builders at the same time? There are some caveats, but you can do so.

Remember: It's possible to use two page builders on the same website, but not on the same page.
We hope this guide has answered your questions regarding using two page builders on your website.
If you really need to use two page builders at the same time, the best thing you can do is build a staging website, install and enable them and test everything out.
This way you can return to your previous state if something is not working as expected.