Managed WordPress Host Review: Your Handy Guide in Picking the Best
Most companies with websites are aware of the impact of a first-rate host in handling digital assets. An unreliable one could trigger a barrage of social media mayhem. Even if the downtime or security breach is not the company's fault, the business will not go unscathed from the ire of its stakeholders.
That's why consistent performance and rock-solid security should be the main priority. To assure technical experts handle their digital assets, website owners opt to use managed WordPress hosting, instead of self-managing it or hiring an in-house person to handle it for them. For non-techies who are interested, here is the list of the most common issues with WordPress and how to troubleshoot these.
In choosing a web hosting provider for your WordPress website, you should not just rely upon which one is the cheapest or has the better bandwidth. There are a lot more factors to consider, including:
Cost
Types of Hosting Plan
Locations of the Server
Control Panel
Custom Domain
Bandwidth and Storage Size
Uptime
SSL and Firewall
Free CDN
Backup and Maintenance
Website Migration
Customer Support
What is Managed WordPress Hosting?
Since WordPress powers about more than 30% of the websites over the Internet, many web hosting providers have decided to offer managed WordPress hosting. This means that the host manages all the technical aspects related to running and maintaining your WordPress website.
You, as a website owner, do not have to get worried about maintaining your website's security, speed, performance, uptime, backups, and updates since the web hosting provider already took these tasks off your hands.
What does this mean to you? You can focus on running and building your business. Another good thing about managed hosting is that you get premium support.
Now, there are some disadvantages, though, in using managed hosting. It's more expensive compared to shared hosting plans. Plus, it limits you from installing some WordPress plugins, especially those that can slow down your website. Basically, the limitation is the loose protection of your website. Also, you'll have less control over the technical aspects. If you're a non-techie, this wouldn't be a problem.
Best Managed WordPress Hosting
1. SiteGround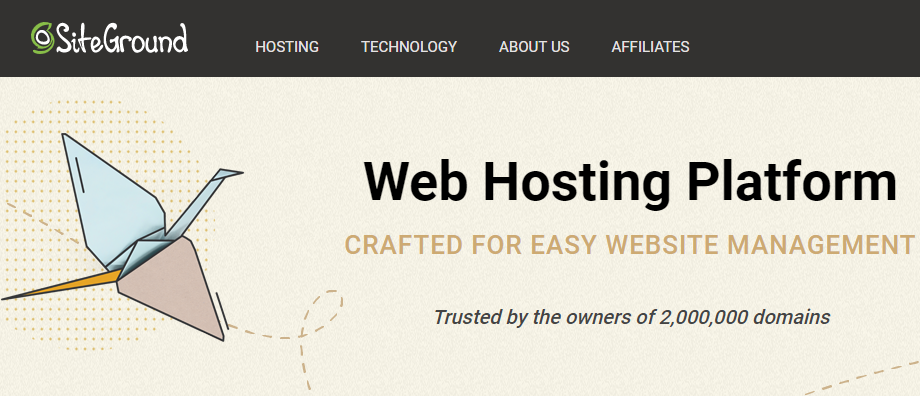 SiteGround is an independent web hosting company that offers high-quality hosting solutions to the global market. It is very reliable when it comes to speed and performances. It's also officially recommended by WordPress.org.
TTFB or Time To First Byte is one of the factors to consider when testing the speed of your website. It is the time it takes for the user's web browser to receive the first byte of data sent by the server. And, SiteGround passes this factor as it has a stable server response time.
SiteGround's Data Centers are located at Chicago, London, Amsterdam, and Singapore. The location of the data centers for the web hosting matters due to the physical distance that your files have to transfer.
It also has safety net features, which include the daily backup of your website. So, even if your personal backup fails, you can still restore your files from SiteGround's backup.
It also provides Free SSL Certificates which is also a necessity to every website nowadays. Customer support is very responsive, as well, when you need help troubleshooting the issues on your website.
SiteGround provides three different plans for its Managed WordPress Hosting:
Start-Up Plan – starts from $3.95 per month that can support 1 website with 10 GB Web Space.
Grow Big Plan – starts at $5.95 per month that can support unlimited websites with 20 GB Web Space.
GoGeek Plan – starts at $11.95 per month that can support unlimited websites with 30 GB Web Space.
2. A2 Hosting

A2 Hosting is known for being a high-powered and easy to use web hosting provider. It's vision is to create and maintain such a good web hosting company that the staff wants to use it themselves.
A2 Hosting features focus mainly on providing lightning-fast loading times, 99.9% uptime, and providing the best developer tools and support team consisting of gurus to assist you 24/7 whenever you need help on your website.
Some of the great features of A2 Hosting are unlimited bandwidth/data transfer and storage, unlimited email accounts, free server rewind back-ups (for added security), risk-free money-back guarantee, free support via phone, live chat and email – 24/7/365 and many more.
However, unlike other web hosting providers, you have to purchase your own SSL Certificate to add security on your website.
Its Managed WordPress Hosting Plans start at $11.99 per month for a single site, $18.99 per month for 3 sites, and $36.98 per month for unlimited sites.
3. InMotion Hosting

InMotion Hosting is one of the largest independent hosting providers which does not own by Endurance International – a holding corporation for many well-known hosting brands.
Let's look out some incredible features of InMotion Hosting:
Quality Customer Service – they have US-based tech support via phone, chat, email, or ticket system.
Performance – InMotion Hosting consistently scored above the average of TTFB speeds, which means that they provide a high-speed performance as a host.
Free Data Back-Ups – doing a regular back up is a necessity to every website. In InMotion Hosting, you'll be able to do daily website backups for free.
SSD drive storage – SSD drives are way faster than the old drives, which make your website load even faster.
Free SSL Certificate
InMotion offers Managed WordPress Hosting that starts at $7.65 per month, depending on the needs of your website. WordPress is pre-installed and ready for use with free domain, as well, or free transfer in case you already have an existing domain,
4. Kinsta WP Hosting

Kinsta WP Hosting focuses on Managed WordPress Hosting. With more than 10 years of experience with WordPress, it guarantees the best solution for you.
It focuses on building an all-in-one solution for clients to help make their site management almost effortless. Kinsta also runs using the Google Cloud Platform, which makes it a user-friendly web host. Factors like 24/7 customer support, reliability, and uptime are the satisfying parts of their promise.
Other features include:
Using the most up-to-date technology to make sure that your website loads as fast as the blink of an eye
Using active and passive methods of preventing attacks
Free site migration without downtime
Free SSL and CDN
Its pricing starts at $30 per month for a single website. If you're a larger business, pricing can go as high as $1,500 per month or higher depending on the needs of your website.
5. WP Engine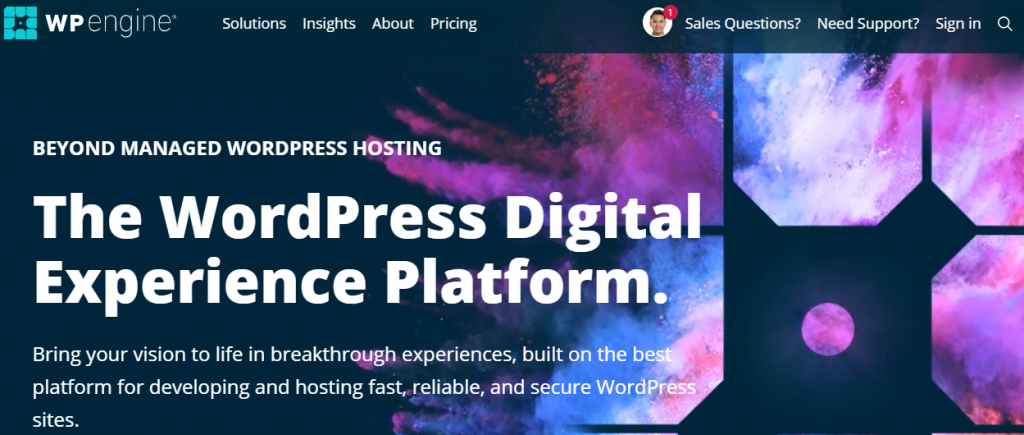 WP Engine Hosting is one of the pioneers in this industry. Aside from being the first hosting providers, it continues to improve its credibility and services for its users. Amazon Web Services and Google Cloud platform are among its partners to offer the highest availability, speed, scalability, and security on your website.
Its data centers are located in the US (Iowa, South Carolina, Oregon), Belgium, Taiwan, Tokyo, London, Frankfurt, Sydney, Ireland, Montreal. You can subscribe to anywhere nearest your location.
You can have access to its 24/7 support when you're subscribed to its Growth, Scale, Premium, and Enterprise plans.
All the features are listed on the dashboard, and once you've subscribed, they'll be conducting an orientation for you to familiarize with the features.
WP Engine's Managed Hosting service emphasizes on performance and its pricing is based on the amount of traffic you attract to your site. So, if you are a newbie, you can get a Startup plan that's priced at $35 per month. If you're a large scale business, you should for a higher plan or a custom plan.
6. Flywheel Hosting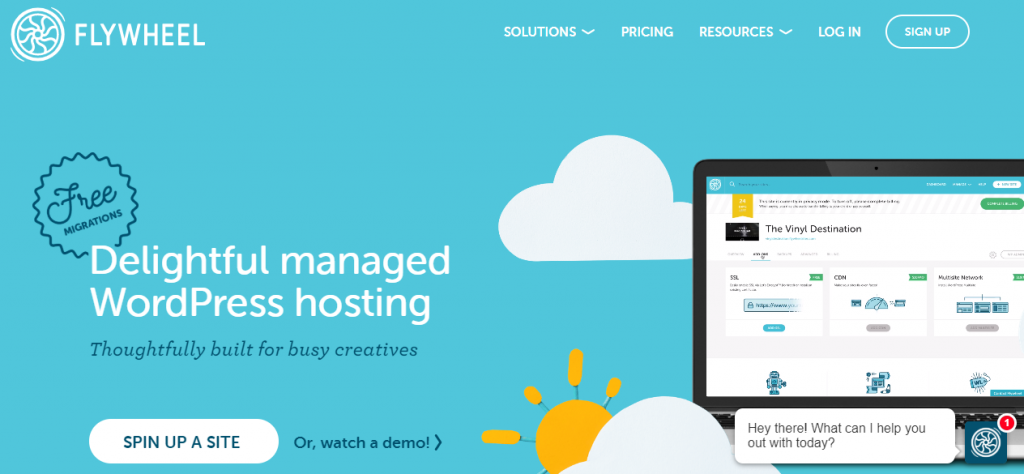 Flywheel Hosting's mission is to make it easier for web designers and web developers worldwide to build their websites on the WordPress platform. In partnership with Google Cloud, it aims to create a custom hosting platform that's fast, scalable, and secure.
Some of the features of Flywheel:
Free site migrations
Nightly backups
Speedy sites – it has one-click staging feature to transmit and read all the information requested.
Free malware clean up
Collaboration tools
Built-in Caching – designed to make the hosting as speedy as possible.
24/7 Customer Support
Additionally, Flywheel is built on a solid network infrastructure that performs regular maintenance and backup which guarantees website developers and owners that it is safe to host websites with them.
Its data centers are located at US (New York, Atlanta, Dallas, San Francisco), Singapore, Tokyo, Japan, Toronto, Canada, Amsterdam, Netherlands, Frankfurt, Germany and London, United Kingdom.
Its pricing starts at $23 per month and can go up to $266 per month or higher if your website has massive monthly visits and needs the corresponding bandwidth.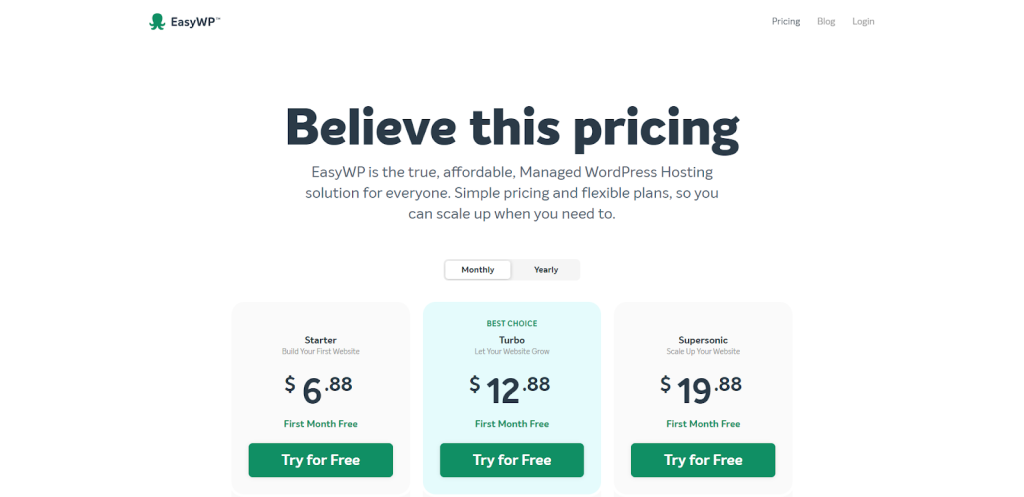 EasyWP is a popular hosting service that offers managed WordPress hosting solutions. With a strong focus on simplicity and user-friendliness, EasyWP aims to provide an effortless experience for website owners.
One of the standout features of EasyWP is its easy-to-use interface and streamlined setup process. Whether you're a beginner or an experienced user, getting your WordPress site up and running is a breeze. The intuitive control panel allows you to manage your website and its features with ease.
Powered by Namecheap, a renowned domain registrar, EasyWP benefits from a robust infrastructure and reliable servers. This ensures that your website remains online and accessible to your visitors, minimizing downtime and providing a smooth browsing experience.
In terms of performance, EasyWP leverages the power of the cloud to optimize website loading times. By utilizing advanced caching technology and implementing content delivery networks (CDNs), EasyWP ensures that your website loads quickly, allowing visitors to navigate content without any frustrating delays.
Security is another area where EasyWP excels as it actively monitors and prevents potential threats and attacks. Regular backups and automated updates further enhance the security of your WordPress site, giving you peace of mind knowing that your data is safe.
EasyWP offers a variety of hosting plans designed to meet different website needs and budgets, including affordable WordPress pricing options.
With plans starting at just $6.88 per month, you can begin with a single website hosting package with 10Gb of disk space. This budget-friendly plan allows you to get your WordPress site up and running without breaking the bank.
Conclusion
As there are a lot of up-to-standard hosting providers, you have to choose which one do you think is qualified to handle the site you have in mind. It's better to browse online reviews for each hosting provider to make sure that you purchase a hosting package that checks all the boxes of the technical needs of your business.
Likewise, the pricing is a top consideration to make sure that it is worthy of your investment.