Top 5 WordPress Hosting Providers: Find the Right Solution for Your Needs
After several cups of coffee and many scrapped ideas you've finally found the perfect domain name for your website.
The next question is:
What's the best hosting for your WordPress site?
That's the doubt that we'll clear up for you in this guide.
Our intention is not to list all the available options but to help you choose the best solution for your needs in an honest way.
Adam and the team behind WPCrafter have co-founded many profitable products over the years with steady and healthy growth.
SureMembers, CartFlows or Presto Player are just some examples.
Our business is helping our audience by providing them with great tools and tutorials to make their online life easier.
We aren't being paid to review and neither do we receive any money from the hosting provider with the biggest marketing budget.
If you find the comparison useful and want to collaborate with us you can use the affiliate links you'll find throughout the guide so we may receive a commission from the sale at no extra cost to you.
That way we'll be able to continue creating quality and unbiased content.
Thank you for supporting WPCrafter!
Summary of the Best WordPress Hosting for 2023
Our list of requirements to consider quality WordPress hosting is long.
That's why our list of top recommendations is short.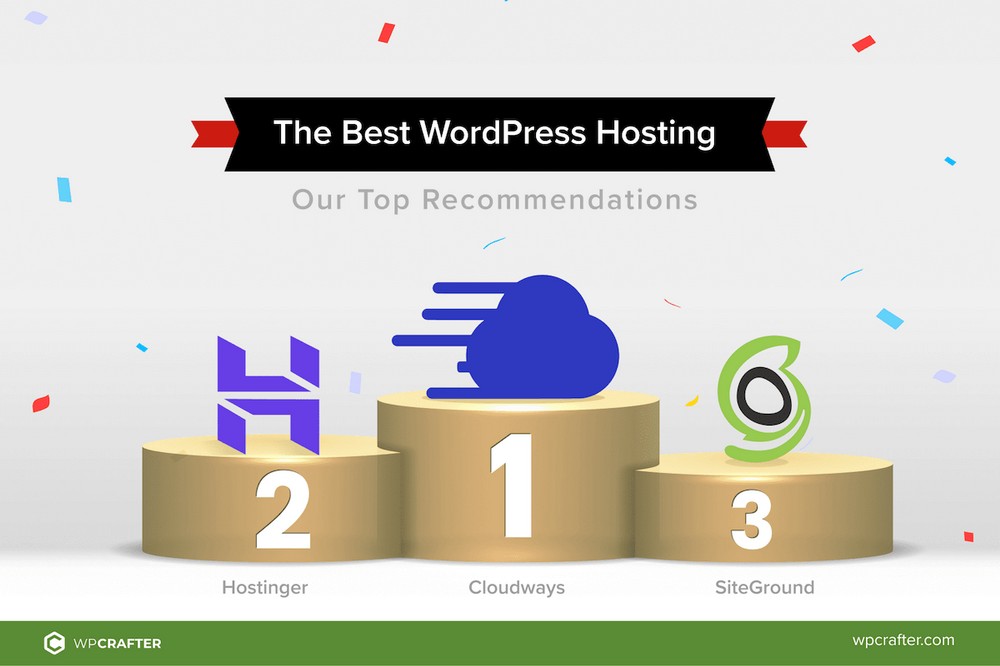 Cloudways is the best hosting technically speaking. Its infrastructure is unmatched and it does so at a really affordable price.
Hostinger claims second place thanks to the great segmentation of its professional solutions that will let you combine your exact needs with great performance.
SiteGround offers good performance and a variety of proprietary tools that will help you to easily manage your hosting.
There are a couple of great alternatives that have not made it to the top 3 but still deserve to be mentioned.
Our full and final recommendation list of the best WordPress hosting providers looks like this:
Things To Consider Before Choosing a WordPress Hosting Service
Choosing a web host is about so much more than uptime and cost.
Here are a few considerations to make when choosing a WordPress host:
Price
Nowadays all hosting providers are fairly affordable. If you don't have specific requirements, most hosts have similar price points.
The disadvantages of choosing extremely cheap hosting don't outweigh the savings of a few dollars a year.
However we understand that budget is important in many cases, so we'll talk about it during the guide.
Customer Support
Good technical support is important in most of the products and services you purchase.
With hosting this is really important.
You don't want to find yourself alone or having a hard time contacting a specialist if you face serious problems with your website.
Backups
Although there are backup plugins for WordPress, this is a task that can and should be done by your hosting provider.
They will be able to do it more efficiently and even restore it for you.
Even if you implement a DIY solution, we recommend using a host that performs backups. You'll be in very safe hands if you have a backup of your backup!
Security
You can and should use WordPress security plugins to protect your digital property. But your hosting provider should also help keep you secure.
It's an extra and much better security layer, since they have access to more advanced server-side tools to protect your website.
Performance and Scalability
Performance is where cheap hosting tends to suffer, but it's one of the fundamental pillars that will allow you to have a fast, reliable website.
Your host should comfortably cover your current and future needs.
Besides good hardware the hosting should also be backed up by up-to-date server technologies.
NOTE
Performance, scalability and other factors from this list are related to the type of hosting. We'll talk about this later.
Migration Services
Migration is the process of moving your website from one host to another and can be a complicated process.
If you're changing hosts you'll be extremely grateful if your new provider has a migration service.
Bonus points if they offer email migration too.
Other Features
There are a couple of extras that a hosting provider can offer:
Built-in caching and its own CDN to make your site even faster.
Staging copies for testing purposes.
A great and easy-to-use control panel.
Free SSL for your domain.
NOTE
All quality hosting providers offer impressive uptime so it's difficult to differentiate them using it as a metric.
Unless you're running a high traffic website or online store, you won't notice the difference between 99% and 99.9% anyway.
We'll mention all of these during the comparison.
Detailed Comparison of the Best WordPress Hosting Providers for 2023
Let's now see how the WordPress hosting providers we have pre-selected perform.
Type of Hosting Offered
We mentioned the importance of the type of hosting, as this can determine many of the factors that can be key.
The ease of use, the level of security, the price, and above all, the performance are all related to this concept.
There are 4 main types of hosting.
Shared hosting.
Dedicated hosting.
VPS.
Cloud hosting.
We are going to explain them briefly together with some extra hosting features, so you're aware of what each provider offers.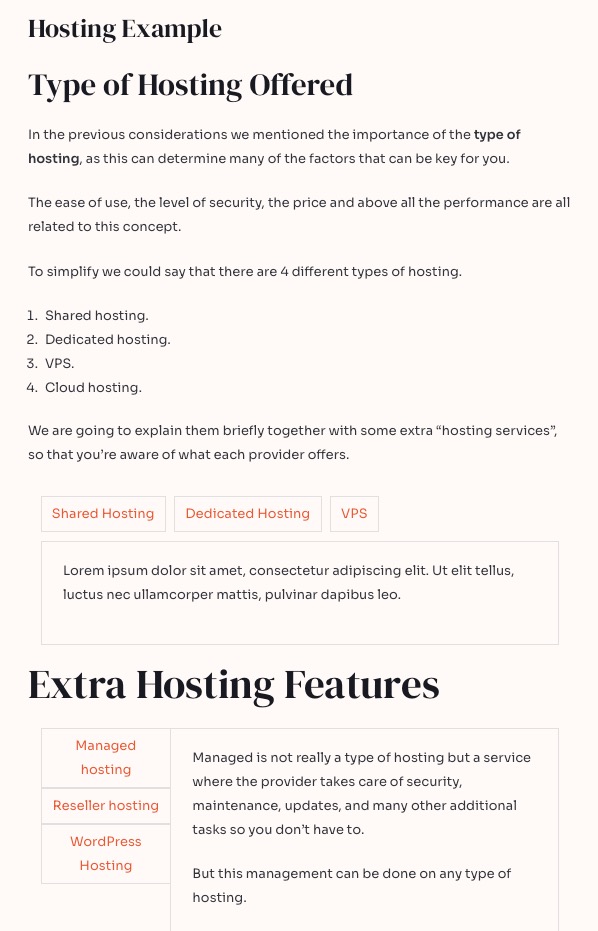 Shared Hosting
With shared hosting your website will be on the same physical server as the websites of other users.
You'll be sharing the resources of the same machine with perhaps hundreds of other websites. That's why these plans are so affordable, as one server can meet the needs of many customers.
Using shared hosting means that there are advanced aspects of the server that you can't modify, since this would affect the rest of the users.
Shared hosting pros:
Super low upfront cost.
Ease of choice. Solutions are fairly standard.
Shared hosting cons:
There are advanced aspects of the server that you can't modify, since this would affect the rest of the users.
If another website demands a lot of resources yours could be affected.
Limited scalability.
Dedicated Hosting
Dedicated hosting is a big step up in hosting quality as you have a physical server for your very own use.
Dedicated hosting is more expensive though.
Where before there were dozens or hundreds of websites, now there is only you and your website or websites.
In exchange you can control many aspects of the server, as they will only affect you.
Dedicated hosting pros:
High cost.
Fairly complex scalability.
Dedicated hosting cons:
Great performance and security.
Highest configurability.
VPS
A VPS (virtual private server) falls in the middle between a shared and a dedicated server.
The websites will be hosted on the same physical server, but each one will be virtually assigned the amount of resources it can use.
In addition to ensuring minimum resources this virtual space will give you a little more control and a better performance, but still far from what a dedicated server would offer.
VPS pros:
Easy to scale to your needs.
Better performance than a shared hosting.
VPS cons:
Difficulty to choose the most suitable plan for you.
More expensive than shared hostings.
Cloud Hosting
Cloud hosting is a type of web hosting more business-focused due to its high scalability and reliability.
Instead of using a single physical server, it redistributes the content and workload across multiple servers, usually located in different locations for greater efficiency and business continuity.
If one server fails, another server would take its place. This helps maintain reliability and avoids disappointing visitors.
As you can imagine this is usually a quite expensive solution, but provides resilience in return.
Cloud hosting pros:
Highest reliability and performance.
Virtually unlimited and simple scalability.
Cloud hosting cons:
Can get really expensive.
Some extra configuration might be needed.
Extra Hosting Features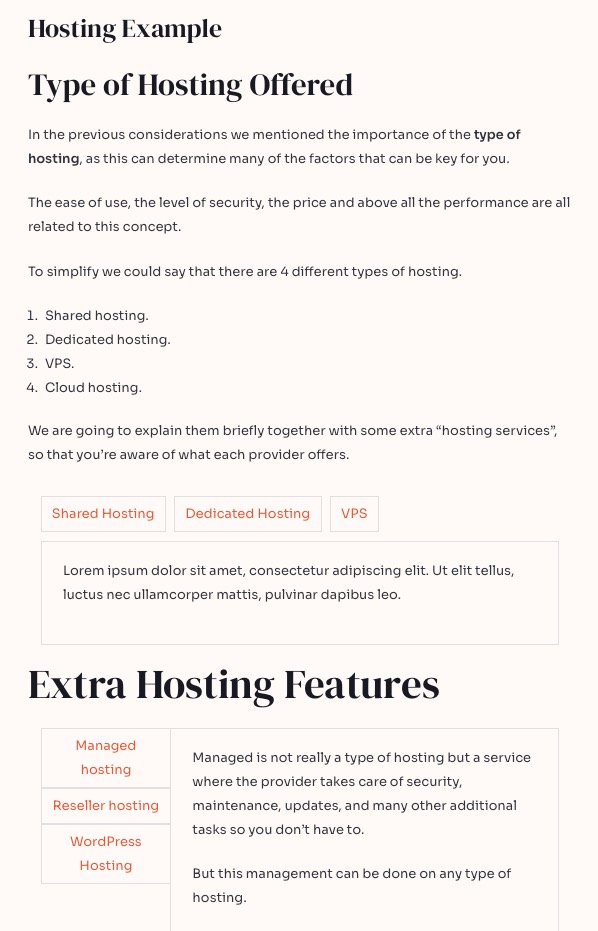 There are 3 additional concepts around hosting that you may be interested in.
Managed Hosting
Managed hosting is not really a type of hosting but a service where the provider takes care of security, maintenance, updates, and many other additional tasks so you don't have to.
But this management can be done on any type of hosting.
It's the ideal solution for all those who want to focus on the strategic part of their business and not on the technical one.
Reseller Hosting
Reseller hosting allows you to resell hosting to your own customers.
This solution is ideal for agencies that want to offer a complete package to their web design clients. You could offer design and hosting as part of a package and receive ongoing income in return.
Again this wouldn't be a type of hosting but a kind of service.
WordPress Hosting
WordPress hosting is preconfigured to make it easier to install and work with this platform.
It may include some extra benefits such as the pre-installation of plugins or a quick initial configuration via a wizard.
It's partly a marketing concept.
WordPress can be installed on any web hosting plan, the difference is how much work will be done by you or the host.
All the WordPress web hosts we recommend:
Provide managed features to make it easier for you to maintain your site and keep it secure.
Can work with WordPress, so we've omitted that column for the sake of simplicity.
Have a reseller option to offer hosting as an extra service to your web design clients.
The main differences lie not in the services but in the type of hosting.
Dedicated servers are very expensive and only recommended for very specific cases. If you need one, GreenGeeks' are affordable ($169/mo) and eco-friendly.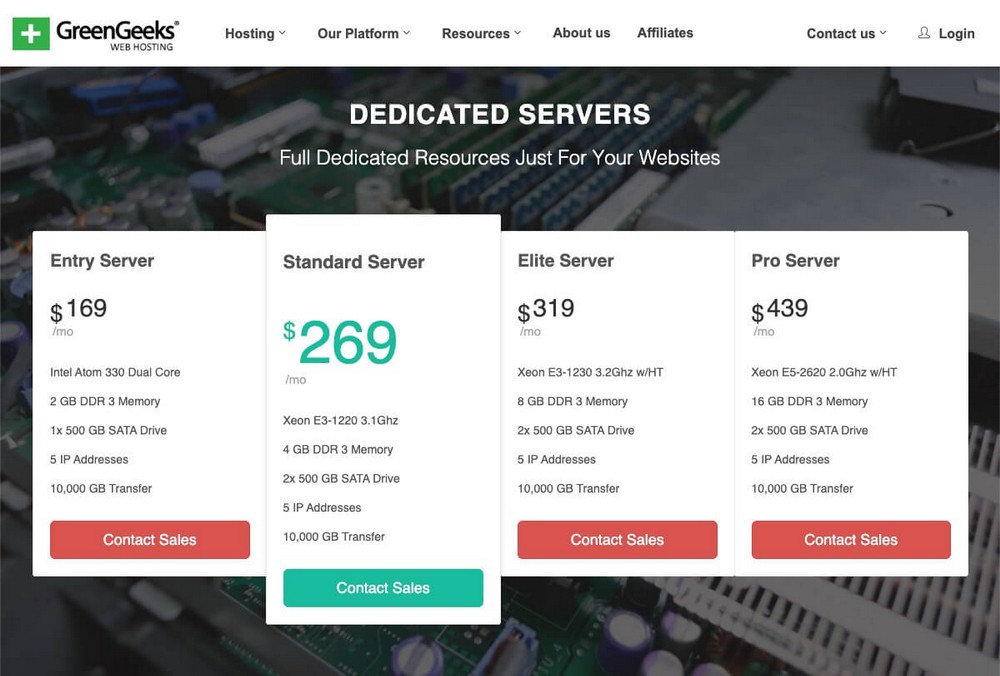 If you need a VPS Hostinger is the best solution. It allows you to choose from a wide range of features with prices starting from $3.99/mo to $77.99/mo. It's easy to choose what you need at a very competitive price.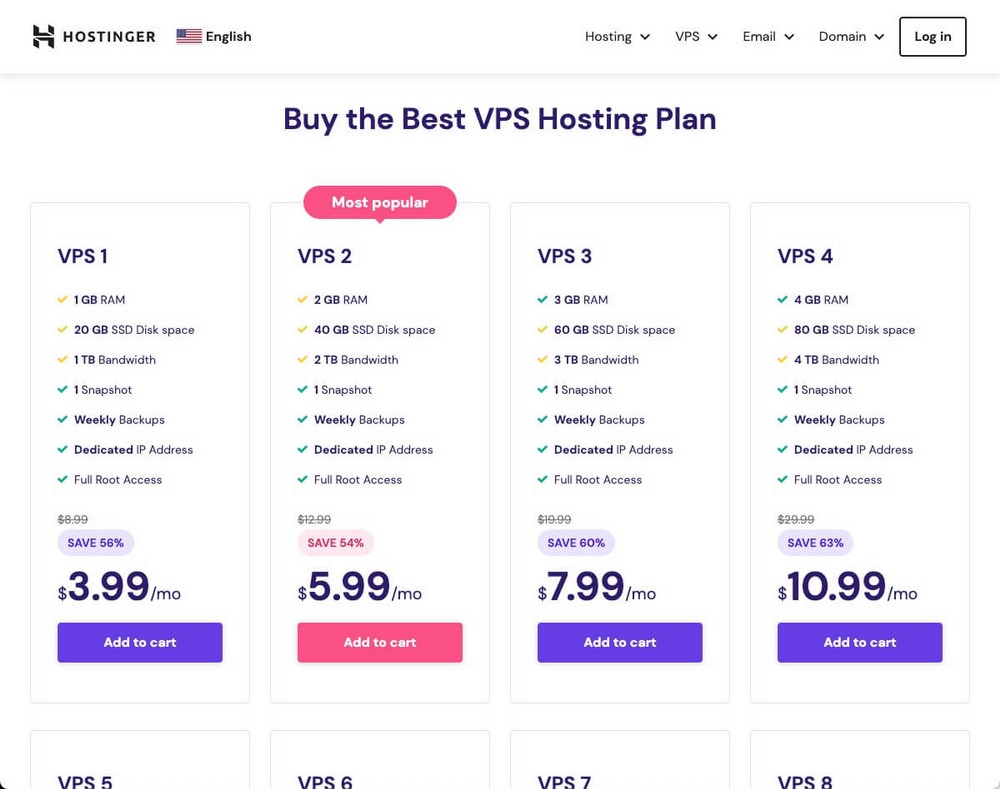 All providers offer very good quality shared hosting at very competitive prices, but is it worth it?
If you notice, Cloudways is cloud only.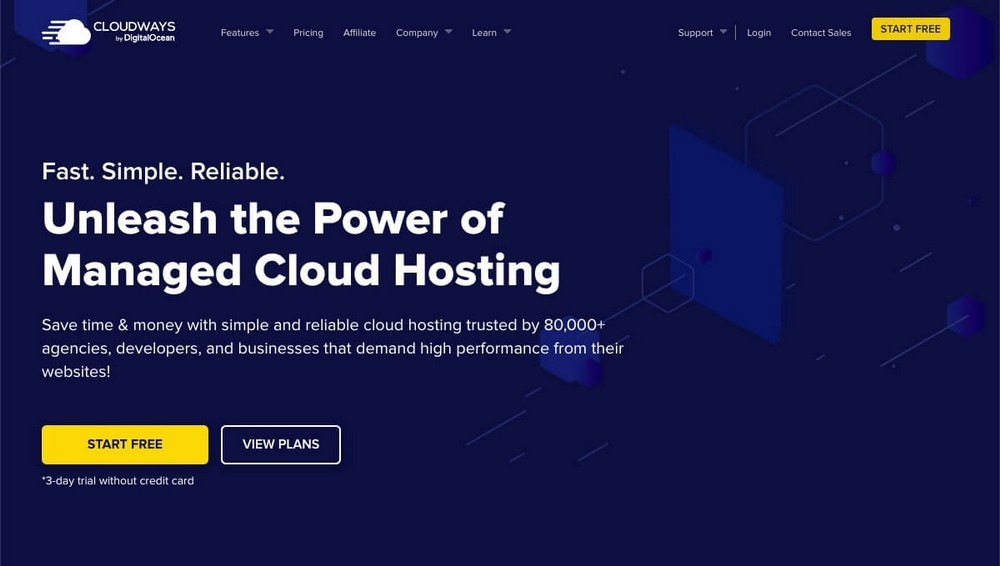 And it does it very well.
It offers a wide variety of features and pricing so you can create the cloud structure you need, starting at as little as $10/month.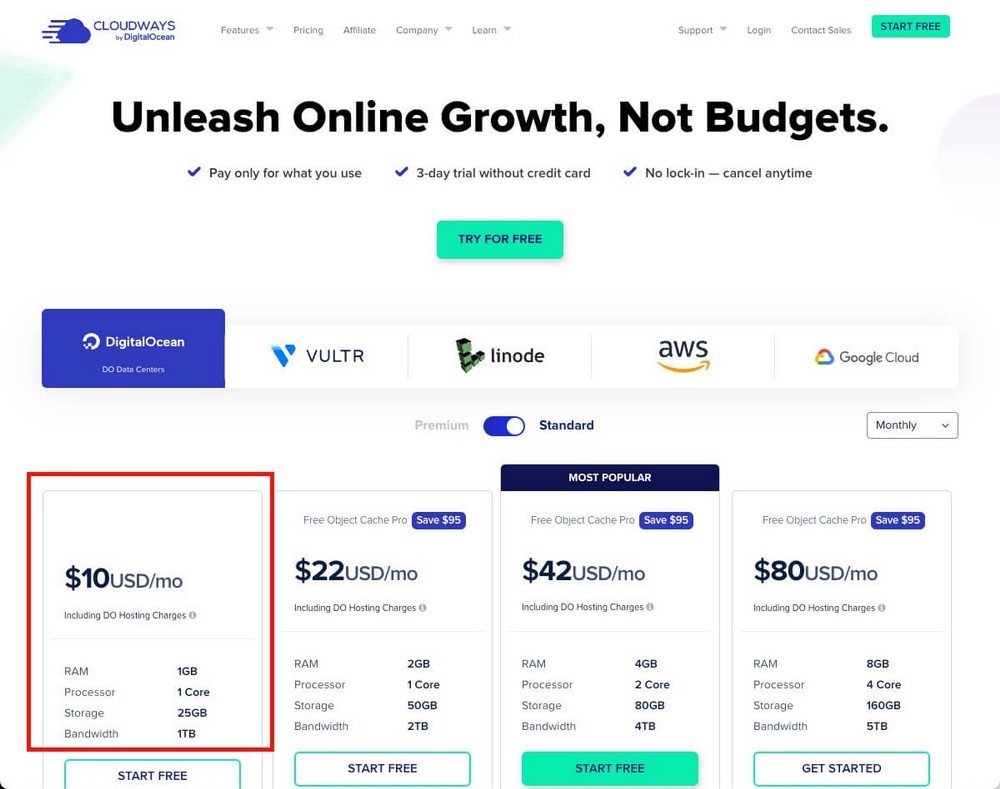 Other providers like SiteGround offer a very good introductory price.
But from the second year onwards, the price will get closer or even surpass Cloudways'.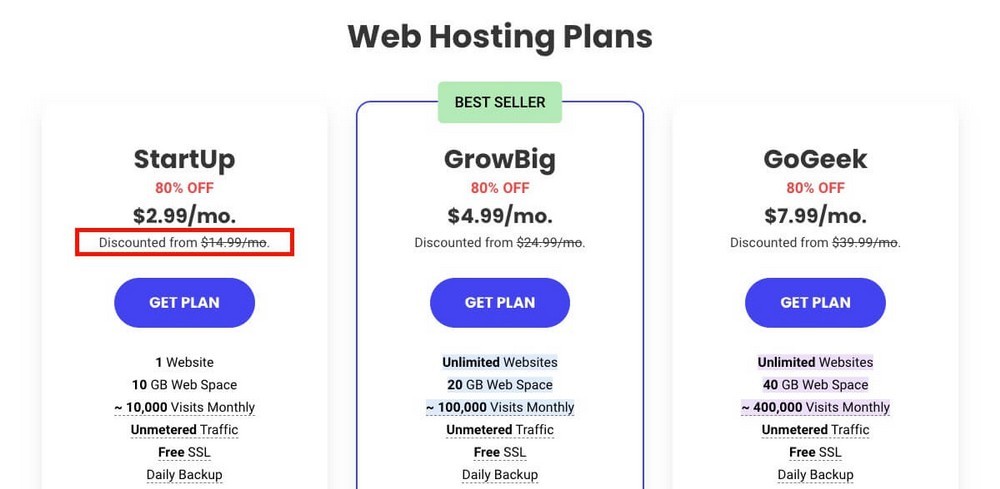 Unless you need a specific solution such as a dedicated server or VPS, situation in which you should use Hostinger, we think it's better to start with the Cloudways cloud solution.
It's affordable and you'll be able to easily scale the server to your needs in the future.
Performance and Scalability
The features and the performance of a hosting provider will vary depending on the type of service you choose.
Let's take an overall look at some of the features you might be most interested in.
Provider

Storage

(min.)

Bandwidth

(min.)

Datacenter

locations

Built-in

caching

Cloudways

25 GB

(Unlimited inodes)

1 TB

65+

Yes

NameHero

Unlimited

(250.000 inodes)

Unlimited

2

Via LiteSpeed

Hostinger

50 GB

(400.000 inodes)

100 GB

6

Yes

SiteGround

10 GB

(200.000 inodes)

Unlimited

6

Yes

GreenGeeks

50 GB

(200.000 inodes)

Unlimited

6

Via LiteSpeed
A hosting server is much more than what you've seen in the table above.
We could talk about RAM, CPU and technologies such as databases, PHP or protocols.
But this would hardly help you make a decision.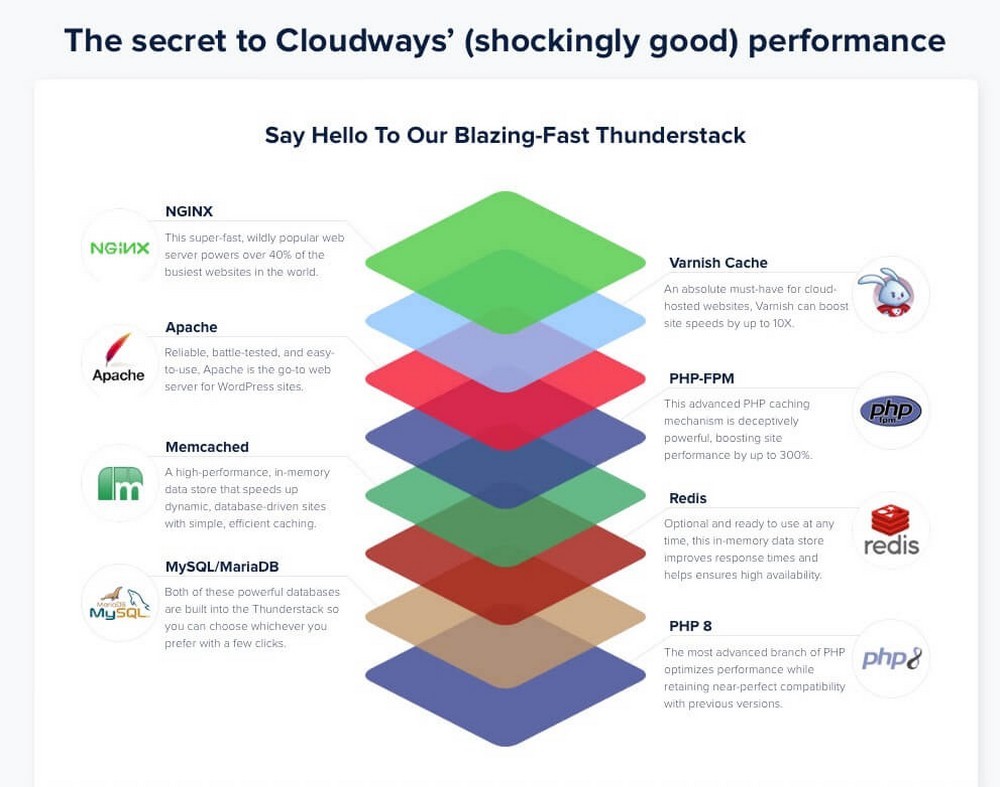 Cloudways server technology
All of the alternatives mentioned here have up-to-date server technologies, and are easily scalable to adapt to your processing, storage and traffic demands.
The most remarkable thing here is the number of available locations, as they affect the performance of your site.
The closer your hosting location is to your visitors, the faster your website will load for them.
This is a number over which you have no control and it will hardly change as it entails a huge investment by the provider.
And in that regard Cloudways comes out as a winner.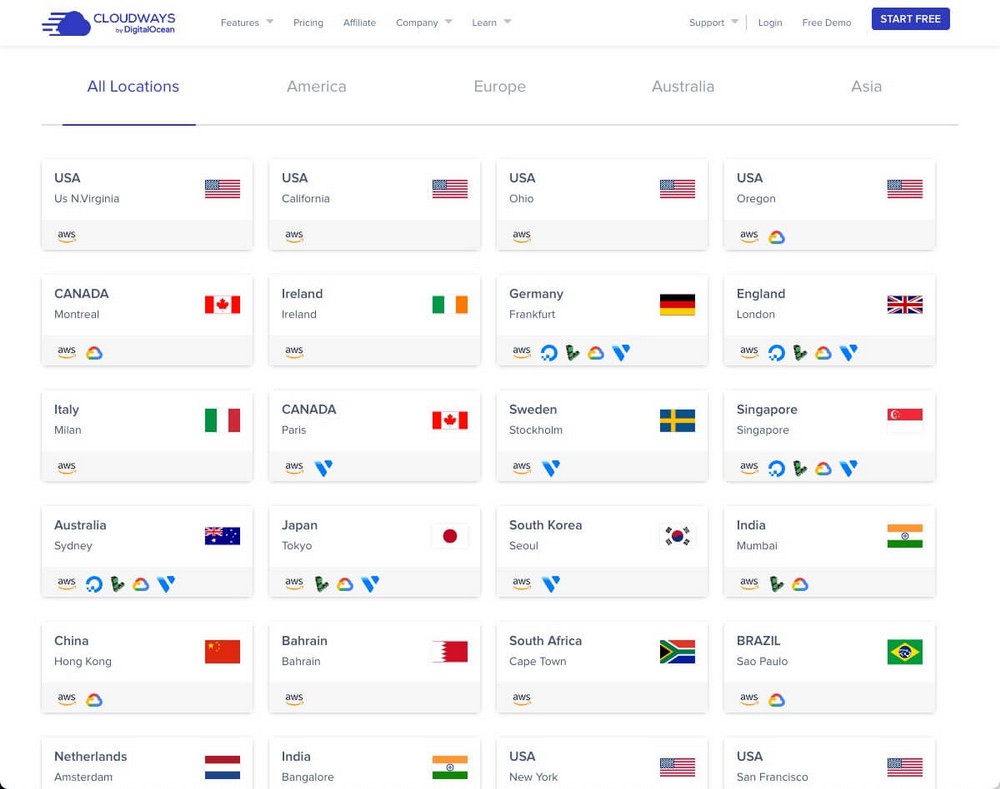 They work with Google Cloud and Amazon Data Center, so you'll have a wide variety of locations available to choose the best option for your main traffic sources.
Cloudways has also partnered with Cloudflare to improve site load times even further.
Security Features
Security is a slightly simpler concept to measure than performance as features are usually shared across all the plans.
| | | | |
| --- | --- | --- | --- |
| Provider | Backups | Free SSL | Other features |
| Cloudways | On-demand | Yes | Dedicated firewalls, real-time monitoring, regular security patching, SSH access, auto healing. |
| NameHero | Daily | Yes | SSH access, real time file scanning and patching, advanced firewall, reputation monitoring, brute force protection. |
| Hostinger | Weekly | Yes | Enterprise virus scanner and spam filter, SSH access. |
| SiteGround | Daily | Yes | Anti-hack systems, spam protection, proactive updates and patches, unique account isolation, lxc-based stability, server monitoring, power redundancy. |
| GreenGeeks | Nightly | Yes | Proactive network security monitoring, enterprise-level firewall and DDoS protection, container-based technology, malware cleanups. |
We would like to add a couple of notes to this talk of security:
On-demand backups are available in more expensive plans of many hosts but only Cloudways offers this option from the most affordable plan.
All providers offer a high level of security. Although some put more effort promoting this kind of feature, which may be an indication that they take it a bit more seriously than others.
SiteGround seems to be a small step ahead regarding security, but this may be a slightly biased perception due to its marketing.
But in any case you can be confident in choosing any of these providers in terms of security.
What WordPress Host Has the Best Customer Support?
All these hosts offer 24/7 support 365 days a year as they know that this is critical to good service.
| | | | | |
| --- | --- | --- | --- | --- |
| Provider | Support via | Other features | TrustPilot Score | # of Reviews |
| Cloudways | Ticket, chat, email, Slack, phone. | Dedicated account manager | 4.6 | 1,592 |
| NameHero | Ticket, chat, email. | – | 4,6 | 1,054 |
| Hostinger | Chat and email. | – | 4.6 | 13,711 |
| SiteGround | Phone chat and tickets | – | 4.6 | 11,106 |
| GreenGeeks | Chat, phone, ticket. | – | 4.2 | 709 |
SiteGround and GreenGeeks also offer phone support if that is important to you.
Usability and panel
The ease of use of your hosting is a very personal matter and will vary depending on the panel used and how much experience you have of it.
The panel refers to the dashboard from where you'll control many aspects of your hosting plan.
| | | |
| --- | --- | --- |
| Provider | Panel | Built-in staging |
| Cloudways | Custom | Yes |
| NameHero | cPanel | Yes |
| Hostinger | Custom | Yes |
| SiteGround | Custom | Yes |
| GreenGeeks | cPanel | No |
cPanel is the leader of hosting panels, however it leaves a lot to be desired in terms of design and usability.
NameHero and GreenGeeks use this:
Cloudways has developed its own panel, which is much more pleasing to the eye: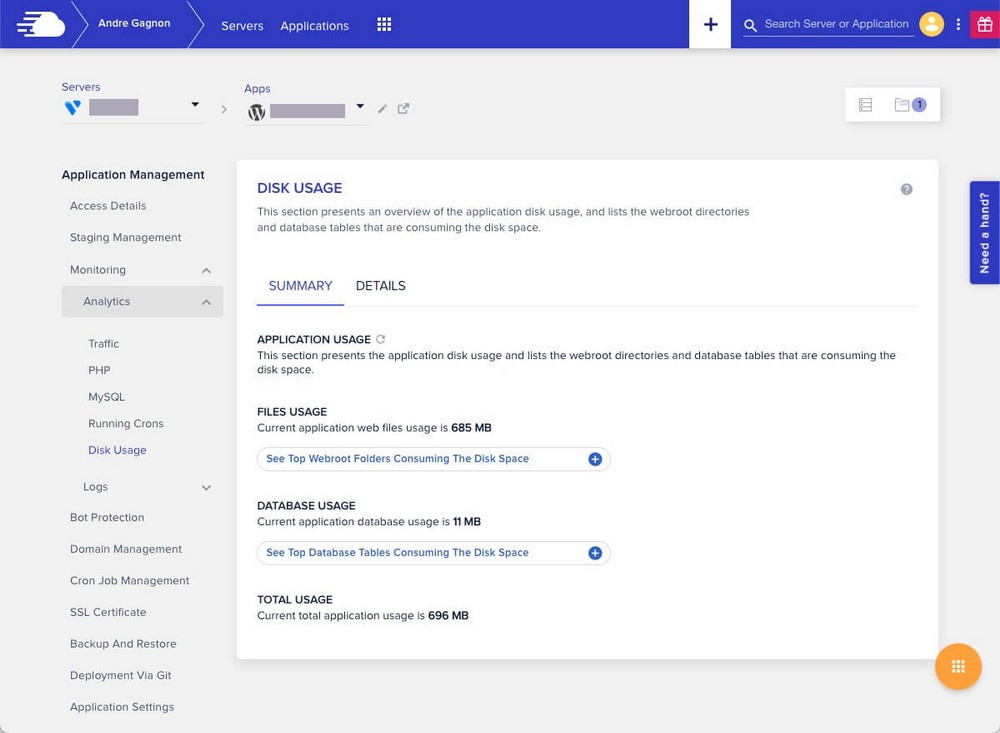 And the same goes for Hostinger and its "hpanel":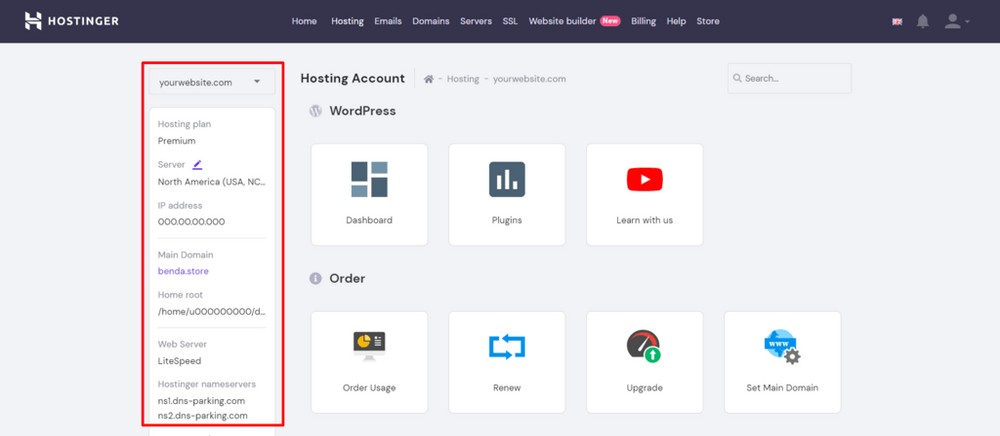 SiteGround and its Site tools, which is undoubtedly the most elaborate one: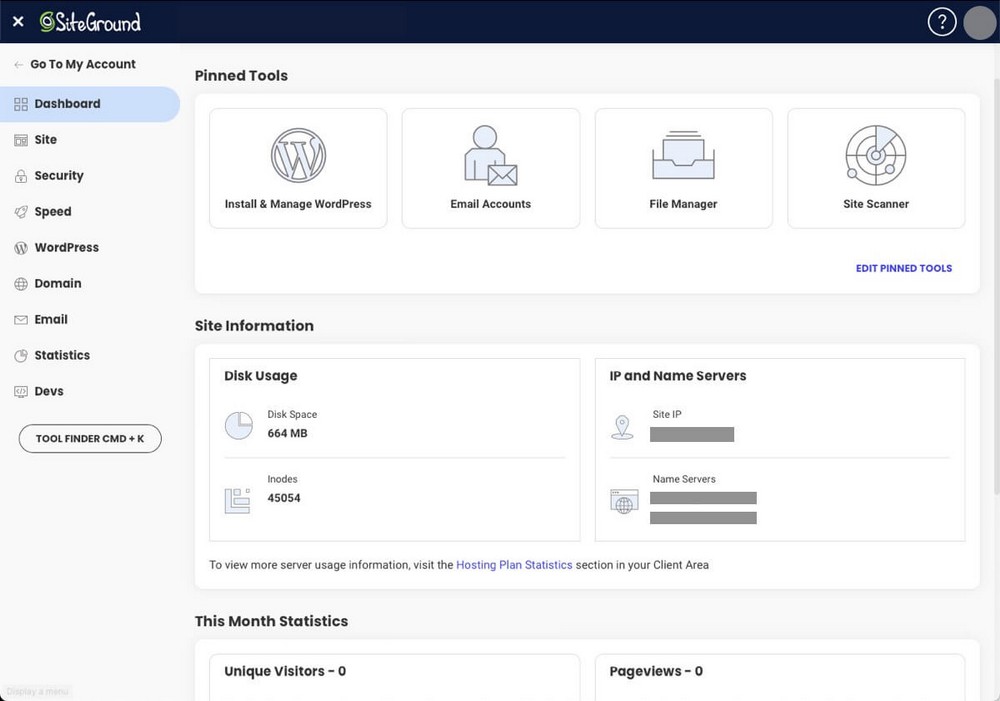 All of the alternatives offer free migration from another hosting for at least one website, making it easy for you to get started with the hosting of your choice.
One negative point to note about Cloudways is that it doesn't sell domains.
You'll have to buy them through a third party and connect them to your hosting.
This is something very simple that will take you less than 10 minutes, but it's an extra step you'll need to take before getting your website up and running.
We weren't lying when we said that Cloudways is really focused on doing just one thing and doing it well!
Pricing
It's really complicated to compare prices between hosting providers as they all approach pricing in different ways.
In the following table we'll compare the lowest tiers for two typical scenarios in a 12 month period:
Shared hosting in the first and second year.
Cloud hosting.
Including the second year is important because many hosts will offer steep discounts to attract new customers before multiplying the cost 2-3 times for subsequent years.
Provider

Shared hosting

starting at

Second year

Cloud hosting

starting at

Cloudways

n/a

n/a

$10/mo

NameHero

$2.69/mo

$8.95/mo

$16.78/mo

Hostinger

$2.99/mo

$5.99/mo

$9.99/mo

SiteGround

$2.99/mo

$14.99/mo

$100/mo

GreenGeeks

$2.95/mo

$10.95/mo

n/a
As you can see, shared hosting can be very economical, especially in their first year where discounts are quite high to attract new customers.
But from the second year onwards using a cloud solution seems more cost-effective.
WordPress Hosting FAQs
At WPCrafter we always get questions regarding hosting for WordPress.
Here are some of the most frequent ones.
Do I Need WordPress Hosting to Start a Website?
Yes, you need a WordPress hosting to start your website. Well, you need hosting to start a site, whether it's WordPress hosting or not is entirely optional. Hosting is digital real estate where all the necessary content like multimedia and databases will be stored.
Are There Any Free WordPress Hosting Providers?
Yes, there are several free WordPress hosting providers on the market, including the one offered by WordPress.com itself. If your budget is very limited this is the best alternative to start getting familiarized with the WordPress platform.
Other free hosting providers tend to have very low performance or even embed ads in your website, which will give you and your visitors a very bad user experience. You definitely get what you pay for (or don't) with hosting!
Which WordPress Hosting is Fastest?
Cloudways is one of the fastest WordPress hosts because it works using quality infrastructure from large companies such as Google Cloud and Amazon Web Services. Keep in mind that speed depends on many factors such as the quality of your template, the number of installed plugins or even the location from where you are running the test.
Which Hosting is Best for WordPress Websites?
After extensive research we consider Cloudways as the best hosting for WordPress websites. In our opinion cloud hosting is the way to go for a fast and reliable user experience. A hosting type Cloudways has mastered. Cloudways is closely followed by SiteGround, which earns this position thanks to its reliability and ease of use.
Final Thoughts
Choosing a hosting provider is not as critical a step as choosing a membership plugin or an eCommerce solution for your business.
If you're not happy with your chosen provider, migrating to another one is really easy. In many cases your new provider will do it for you at no extra cost.
By choosing one of the hosting providers we have recommended in this list you'll have made the right choice.
You'll get a secure, fast, reliable and scalable solution.
Thanks to this pre-selection the only thing you'll have to take care of is choosing the right type of hosting.
Don't overpay for something you don't need.
Don't fall short on features or performance and have a bad experience.
If you believe that cloud hosting is the best solution, Cloudways is the best at this job, as it's dedicated solely and exclusively to it.
If you have other requirements, NameHero and Hostinger have a huge catalog of features to suit your needs at a reasonable price.
SiteGround is a bit more expensive overall but it may be worth it, especially for their technical support.
If environmental friendliness is a determining factor for you, then you should definitely choose GreenGeeks.
We hope you found this guide useful.
If you have questions please leave them in the comments below so we can better guide you in selecting a suitable type of hosting for you.