How to Choose a Hosting Provider: 10 Factors to Consider in 2023
A fast-loading website is key to high conversions. Portent found that an ecommerce site that loads in under 1 second converts 3 times higher than a site taking 5 seconds to load.
That's huge!
And guess what? Your hosting provider plays a massive role in how your website performs. You might be thinking, "Let's get a good hosting provider then!"
But wait. There are over 330,000 hosting providers vying for your attention. Each of them offers a multitude of features that may seem confusing.
How do you pick the right hosting provider for your website then?
After trying out multiple hosting providers, I created this easy-to-follow guide that'll help you make the right decision. We'll explore the factors to consider when picking a hosting service to help you make an informed decision in this competitive market. Let's get started!
Factors to Consider When Choosing the Best Hosting Service
Let's explore some of the important criteria that you should consider when choosing a hosting service.
1. Hosting Type
If you're new to web hosting, there are different types of hosting services that you may need to pick from.
Shared hosting: Best for small sites
Virtual private server (VPS): More flexibility and control as your site traffic grows
Cloud hosting: Similar to VPS, offering more flexibility
Dedicated hosting: Usually preferred by high-traffic or critical websites
Managed hosting: Best for people who want to offload the security and maintenance
The type of hosting you choose depends on the type of site (blog, ecommerce, company, portfolio), the traffic you may receive, and your technical expertise.
When you're just starting, a shared or managed host will get the job done for you just right.
As you grow your site, you may feel the need to upgrade your hosting to something more powerful like a VPS.
2. Support Options
Whether you're hosting a site for the first time or have done it multiple times before—customer support is vital. When things break, sometimes the only choice is to reach out to support and ask for help.
We recommend checking for the different types of support options like live chat, call support, or email support.
Also, try out the support once before purchase and during your hosting trial period to make sure the support team is technically sound and can help out when it's urgent.
We would also suggest finding a hosting provider that has invested in self-service knowledge bases, FAQs, and maybe even user forums to make things easier for you.
3. Backup Options
Most quality hosting services have multiple backup options. These help with maintaining your site in optimal working condition at all times.
For example, if an update breaks your site, you may need to spend time finding the issue and fixing it to get the site back live again. With a backup, you can simply restore your site almost instantly.
Here are a few things to check for in terms of backup options:
Frequency
Type of backup (full server or database only)
Whether the backups are stored locally or separate from your site
Any extra costs for backups?
Depending on the type of site, you may want to look for weekly or even hourly backups.
For instance, a forum where new content is posted frequently may require hourly backups while a blog can work with daily or even weekly backups too.
4. Features
While the majority of the features are common across all hosts, you still want to check to ensure the following features are included in your hosting plan:
One-click CMS installation. If you want to install WordPress, Magento or any other content management system, one-click installation will help make things easy.
Free SSL certificates. SSL prevents your site from hackers from snooping on information and these certificates are available free now. While some hosts continue to charge for them, ensure that yours doesn't.
Built-in email. While an external email service can provide better features, having a built-in free email service can help you go through the initial part of getting the online presence complete.
5. Server Locations
The closer the server is to your audience, the faster the website will load for them. If you have the majority of your audience in the USA, opt for a hosting provider with servers hosted in the USA.
If you go for hosting where the server is in the EU, your customers may suffer slower load speeds as it will take longer for the data to be transmitted across continents.
Most top hosting companies offer multiple server locations or allow you to specify your preferred data center location.
For global sites, a content delivery network or CDN like Cloudflare can also help boost performance in other areas.
6. Scalability
As traffic to your site increases, so do your site's resource requirements. To adjust to these growing demands, you need a host that allows easy upgrades.
One of the hosts that makes upgrading easy is Hostinger. Irrespective of the plan you're currently on, you can easily upgrade to any plan and hosting type without losing your existing setup.
To ensure your hosting provider allows easy upgrades, check for the following with the support team:
Does the provider you're planning to go with have an easy way to upgrade hosting without having to move or rebuild the site?
Can you simply start paying more and have higher capacity or does it require migration?
If scaling up does require migration, will you need to do it or will the host do it for you?
Think optimistically about your website and consider all the choices to ensure your upgrades can go smoothly.
7. Uptime
Nothing is more frustrating than a website that is slow or frequently inaccessible.
That's why we recommend looking for a hosting provider that can guarantee a high uptime of 99.9% at a minimum. Check the host's historical uptime record and see if there are financial or credit incentives provided if uptime drops below 99.9%.
For ecommerce businesses, every second of downtime results in lost revenue. Consider dedicated or cloud hosting with uptimes of 99.99% and financially-backed SLAs.
Dedicated hosting providers usually have an SLA that provides credits or reimbursements for any downtime beyond the SLA guarantees.
8. Security
Hackers are constantly on the lookout for vulnerabilities to exploit, so proper protections are essential.
Discuss the security practices your host has in place against threats like malware, DDoS attacks, and unauthorized access. Hosting companies concerned with security will transparently advertise enterprise-level defenses on their website.
Some of the precautions to look for include:
Two-factor authentication – Requiring not just a password but also an SMS code or biometric scan prevents unauthorized logins.
Hardened SSH keys – Disabling weak encryption protocols and using longer encryption keys protects against brute force attacks.
Auto-updates – Regular software updates patch security holes as soon as they are discovered and disclosed. Prompt updating is key.
DDoS mitigation – Using dedicated DDoS mitigation hardware and networks helps absorb and filter out Distributed Denial of Service attempts.
A hosting provider that follows these security practices can be a great choice to ensure the reliability and be assured of safety of your data.
9. Customer Reviews
Keep an eye out for reviews on unbiased sites like Trustpilot and G2. Especially, check for 2 to 4-star reviews as they're generally more detailed.
Take special note of any reviews that discuss customer support or uptime as those two are critical for the sustainability of your website.
While all services are bound to have negative reviews, be wary of services that have too many negative reviews. That could be a sign that people aren't very happy with it and you'd be better off looking elsewhere.
10. Ease of Use
Most shared hosting providers will use cPanel or Plesk. You may also come across some custom implementations of a dashboard.
Ensure that the dashboards make it easy to install or uninstall CMS, use the billing and support features, keep track of analytics for your websites individually and collectively, and also allow you to install and configure security features.
Hosting providers may also have additional features that are available on specific plans. If you're not sure of a particular host, sign up for a trial first so you can check how easy it is for you to manage.
11. Collaboration Tools
If you work with a team, it makes sense to pick a hosting provider that allows you to add sub-accounts or team members for varied levels of access.
While this isn't a make-or-break feature as you can share the account login, your requirements should dictate your choice of hosting.
Most lower-cost hosting providers will not have team features as they are catered toward individuals or hobbyists.
Top 5 Best Web Hosting Providers in 2023
Now you know what features you need to look for, let's take a look at the top 5 best web hosting services that you can pick from.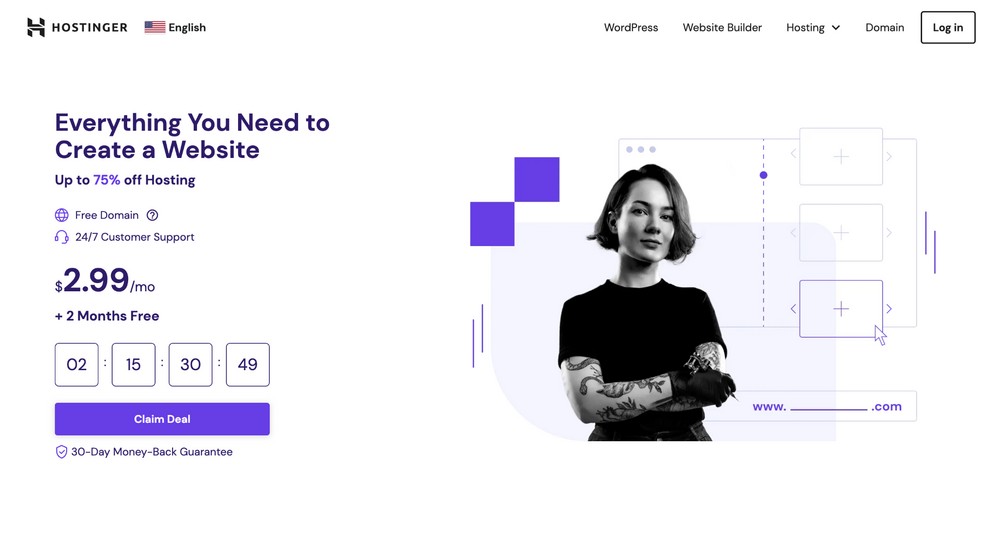 Hostinger provides an affordable and capable web hosting service. With prices lower than most competitors and options including shared, cloud, and VPS hosting, Hostinger makes it easy to get started and upgrade as needs change.
After using Hostinger for several websites over multiple years, the service has proven to be reliable, with helpful customer support and solid value.
While useful for a range of sites, Hostinger is well-suited for those just launching their first website or with relatively little traffic, up to around 20,000 visits per month.
For small web hosting needs, Hostinger delivers capable performance and features at budget-friendly rates.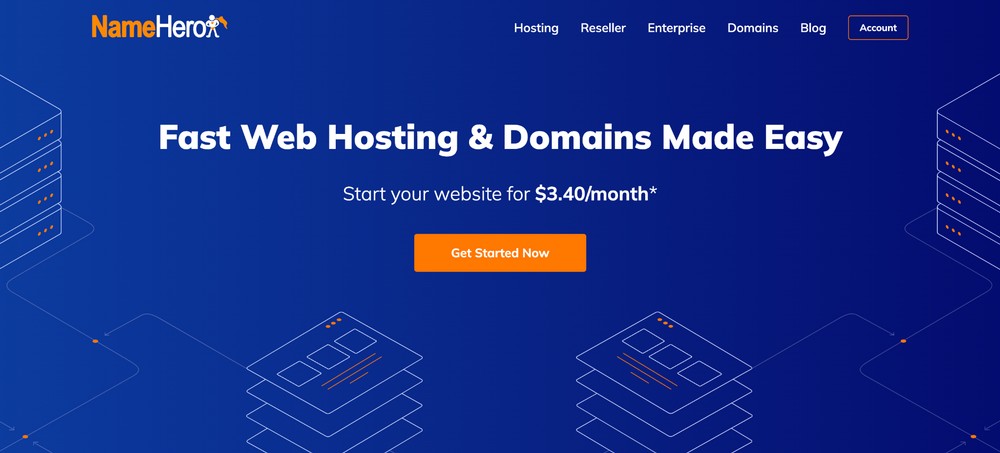 NameHero is yet another fast hosting service founded back in 2015. It offers shared, managed, cloud, and VPS hosting.
NameHero also offers enterprise hosting services that allow companies to host crucial websites on powerful servers. It states a 99.9% uptime across all its customers which is a critical point to consider when it comes to reliability.
Because of the added enterprise tier, NameHero is great for businesses at any stage of growth of their online presence.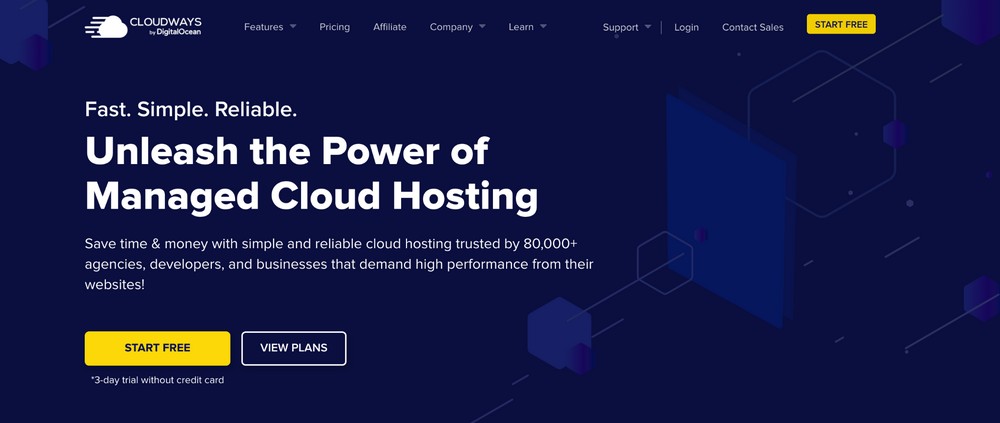 Cloudways is a fast and reliable cloud-hosting provider. It acts as a simplification layer for other cloud services like Digital Ocean, AWS, and Google Cloud.
Since managing these services can be difficult, Cloudways offers an easy dashboard that's as easy to use as a shared hosting control panel.
This helps you to host your sites on reliable servers from one of these cloud hosts without sacrificing the usability and control of your website.
This service is best for businesses or individuals who want to host their sites on cloud services without technical help.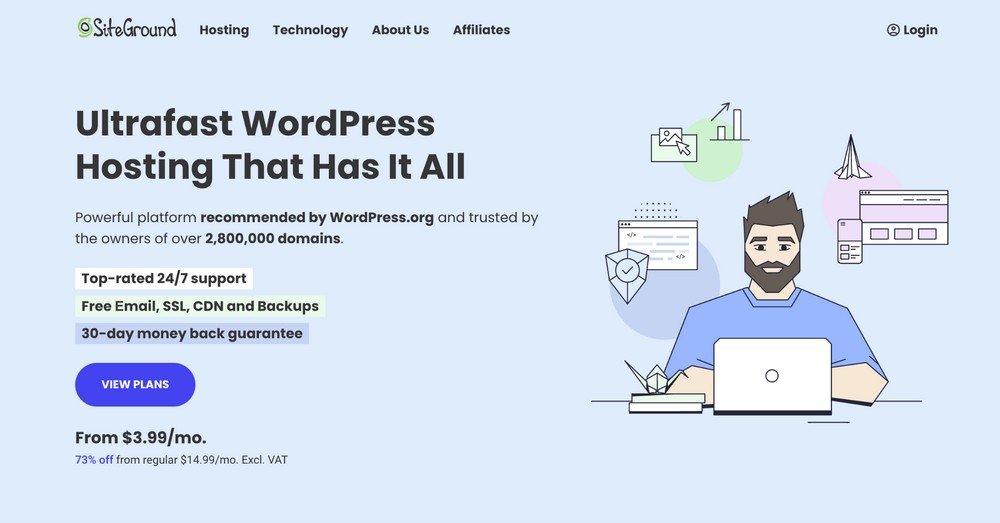 Another highly popular hosting provider is SiteGround. This one is known for its highly optimized hosting that provides fast load speeds and a smooth experience overall.
Siteground makes its mark by offering these speeds at very low prices. Siteground also offers free daily backups that are stored for 30 days—included in any of the hosting plans.
Similar to Hostinger, Siteground offers shared hosting, VPS, managed, and cloud servers that allow you to switch between different hosting types without any downtime.
Siteground is great for small to medium businesses who are looking to get started with a reliable and stable hosting service for their website.
You may especially want to choose Siteground if you want to squeeze out every last second you can from your load time.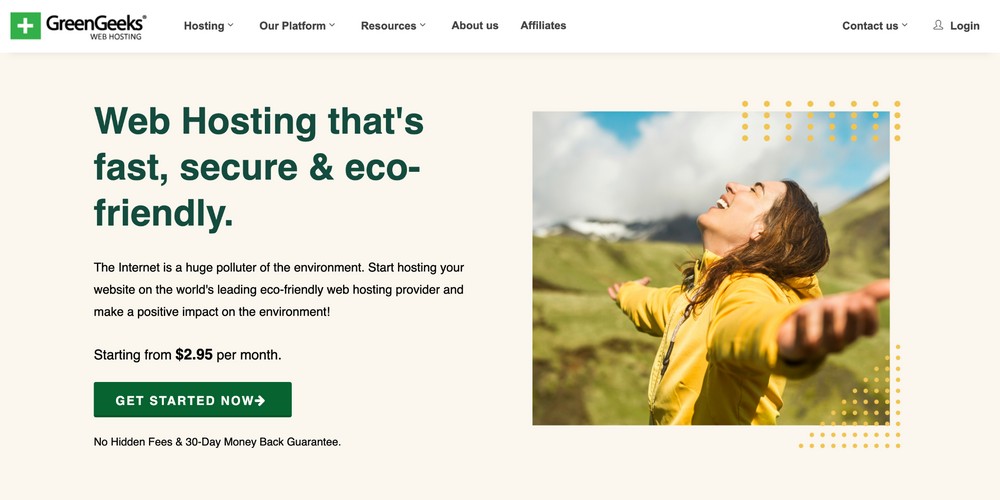 GreenGeeks is a high-performance hosting provider engineered to operate on renewable energy. They offer a robust suite of hosting solutions including shared, VPS, and reseller plans featuring maximized power and flexibility.
Through an innovative energy program, GreenGeeks reinvests 3 times the power consumed back into the grid using sustainable sources.
This allows clients access to best-in-class hosting services with minimal impact.
With their eco-friendly infrastructure and commitment to unparalleled support, GreenGeeks enables individuals and organizations to thrive online while advancing a greener technological future.
Ready to Choose an Awesome Web Host?
Choosing a web host is an important decision. With so many options promising the world, it can be tough to find the perfect host for your needs.
Armed with the tips in this guide, you're ready to assess different web hosts and find the perfect solution for your needs.
Because your hosting choice will either enable your success or hinder your progress down the road, it's worth investing the time upfront to find a host you can count on.
Many top web hosts offer free trials, so take advantage of those offers to test out a few options before you commit.
What features are most important for your website? Do you have any favorite web hosting companies you'd recommend to fellow site owners?
Share your experiences in the comments—we'd love to hear about the web hosts that have helped power your online presence!