ZipWP is coming soon: Your magical AI website builder
Imagine a world where building a website was as simple as creating a YouTube channel.
A world where you didn't have to navigate through confusing technical jargon, spend hours designing from scratch or struggle to write compelling content.
Well, that's precisely the story behind ZipWP – the AI-powered website builder that will revolutionize the way you create your online presence.
I shared a walkthrough of this platform in my video.
The struggles of traditional website building
In the past, creating a website was a daunting journey filled with complex steps and endless decision-making.
From finding a suitable hosting provider to installing WordPress and selecting themes, it was a maze of technicalities that left many aspiring website owners overwhelmed and frustrated.
Not to mention the struggle of crafting engaging copy and finding the right visuals to attract visitors.
As we observed this struggle, we couldn't help but think – there must be a simpler way!
Our vision for simplicity
Our vision was clear – to create a platform where users could build their own professional WordPress website in less than 60 seconds.
We wanted to remove all barriers that stood in the way of their dreams of an online presence.
And that's when the magic happened.
The magical one-minute website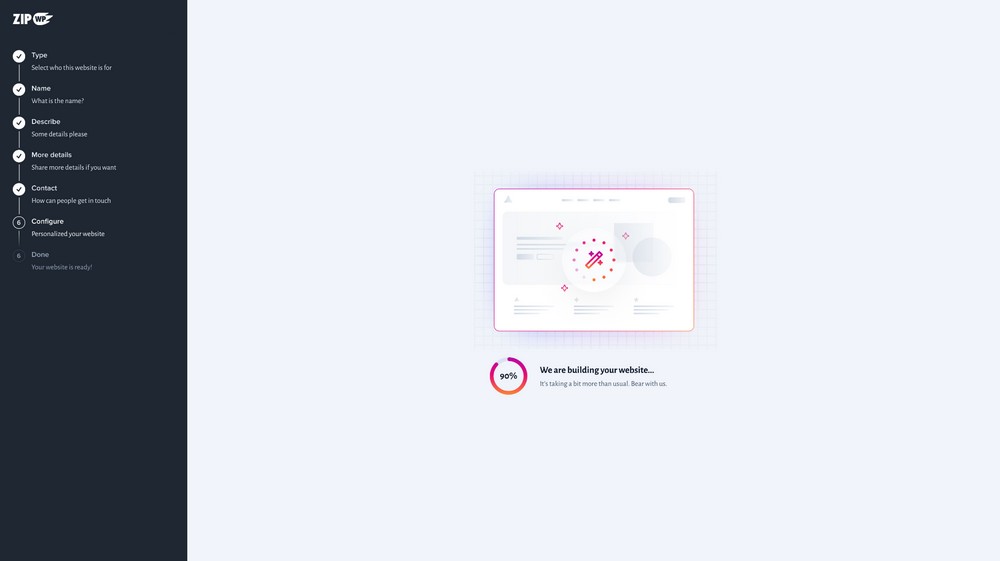 With ZipWP, the days of spending hours on website building are over.
Our intuitive platform enables users to visit our website, describe their business and website goals, and poof!
Their website is ready in less than 60 seconds.
Our AI does all the heavy lifting, from installing WordPress to selecting the perfect template, writing unique copy, and adding captivating visuals.
Crafted copy fit for royalty
Say goodbye to writer's block and hello to professional, persuasive copy that captures your audience's attention.
Our AI wizards conjure up compelling website copy tailored to your business, ensuring your message shines through and drives visitors to take action.
A treasure trove of curated visuals
Finding the right images can be like searching for a needle in a haystack.
But with ZipWP, we've got you covered.
Our treasure trove of royalty-free visuals aligns perfectly with various business types, making your website visually stunning and engaging.
Wave goodbye to technical wizardry
You don't need to be a tech wizard to create a website with ZipWP.
We handle all the technical complexities, including hosting setup, WordPress installation, and theme selection.
You can focus on your business while we handle the rest.
Embrace personalization magic
While we offer ready-made templates, we understand the importance of personalization.
With ZipWP, you can customize branding elements like colors, typography, and logos, creating a unique and cohesive online presence that reflects your brand identity.
The ever-growing library of spells
Our library of website templates is constantly growing, and we ensure each one is tailor-made for different businesses.
Whether you're a restaurant owner, an individual professional, a local business, or an influencer, we have just the right spell to make your website shine.
Join the waitlist and unlock the magic
In a world where time is precious and simplicity is a treasure, ZipWP emerges as the true AI-powered website builder. Wave your wand and create your website in a minute.
Leave behind the technical complexities and writer's block, and let our AI do the work. Join our waitlist now and unlock the magic of ZipWP – your gateway to an enchanting online presence.
Are you ready to witness the magic of ZipWP for yourself?
Join our waitlist and be among the first to experience the power of AI website building.