Web Hosting and SEO: 5 Things You Should Know Before Changing Web Hosts
Web hosting is crucial for your site's SEO as it can impact your search engine rank, website speed and security.
But have you ever wondered what happens when you change web hosting providers?
If you're planning to switch to new hosting, you'll want to make sure your SEO will not be impacted.
As SEO is so fundamental to the success of your website, we're going to concentrate on that.
In this article, we'll highlight the most important things to consider for a smooth migration.
Read on to learn how to maintain your search engine rankings without dropping traffic or your position in SERPs.
Changing web host
Changes to web hosting can mean many things. It can involve alterations to the way your website's files and applications are stored and maintained by the hosting provider.
It can also include upgrading or downgrading your web hosting plan, migrating your site to a new web host, or switching to a different type of web hosting altogether.
These adjustments can affect your website's performance, stability, and SEO.
Therefore, in order to make informed decisions and ensure a seamless transition, it is crucial to fully comprehend the ramifications of web hosting changes.
How changes to web hosting can impact SEO
Changing web hosts can impact SEO in a number of ways.
1. Temporary drop in crawling speed
Changes to web hosting can lead to a temporary drop in Google's crawling speed. After detecting a hosting change, Google intentionally slows down crawling as a precaution to ensure that it doesn't cause any problems for your website.
This can impact your SEO as it may take longer for Google to index and rank your updated content.
Regardless of the hosting change you make, whether moving to a provider in the same location or a new one, Google will be cautious with its crawling speed.
Over time, as Google's systems recognize that crawling faster does not cause any issues, the crawling rate will gradually return to normal.
It's important to be aware of this temporary drop in crawling speed as it may affect your visibility in search and SEO performance during the transition.
2. Lower ranking due to new server location
Server location is also something to think about. Moving your website hosting to a new region and IP address can impact your SEO rankings.
Search engines like Google prioritize websites in the country from where the search originates.
If most of your visitors come from the US, you should ideally use a host with servers in the US.
Consider the server's location when changing web hosts or hosting locations, especially if your domain is focused on a specific country.
Choosing a host with servers closer to most of your audience can offer better speeds, which is essential for SEO.
Country-specific domain extensions, like .pl for Poland or .uk for the United Kingdom, can influence your website's geotargeting and search engine performance within specific countries.
While content delivery networks (CDNs) can lessen the impact of the host location, it is vital to consider legal factors when choosing your web host.
Remember to comply with data storage regulations like GDPR as noncompliance can lead to forced downtime or a fine.
After the migration, it's crucial to make sure that everything works well and that there aren't any issues that can affect your SEO.
You can use Website Audit by SE Ranking to scan your site for potential problems and solve them as soon as possible. This comprehensive tool checks domain metrics, technical parameters, page indexation status, website security, page breakdown, page resources, and many more.
Then, it shows the top issues you need to handle and suggests possible solutions to optimize your website for search engines.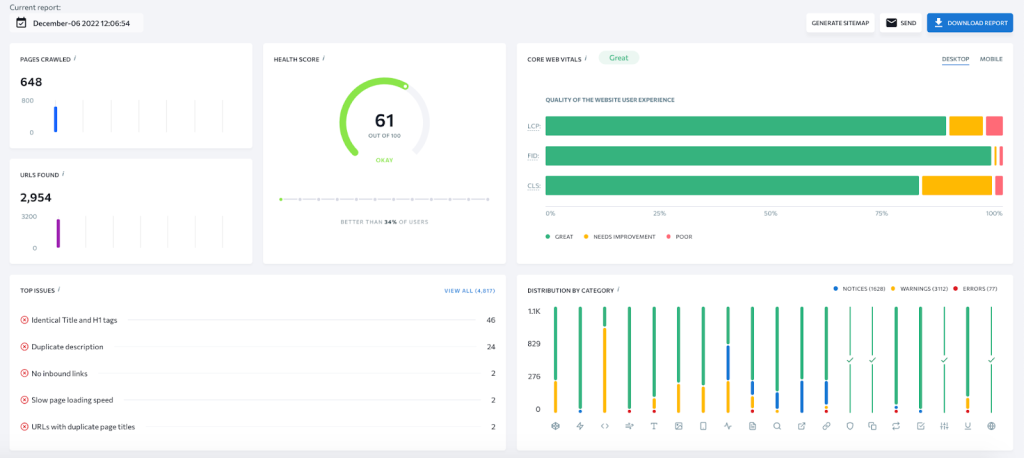 3. Page load speed and uptime fluctuation
Page speed and uptime are significant in SEO, as they directly impact user experience.
Google considers page loading speed a ranking factor, which can be measured using PageSpeed Insights.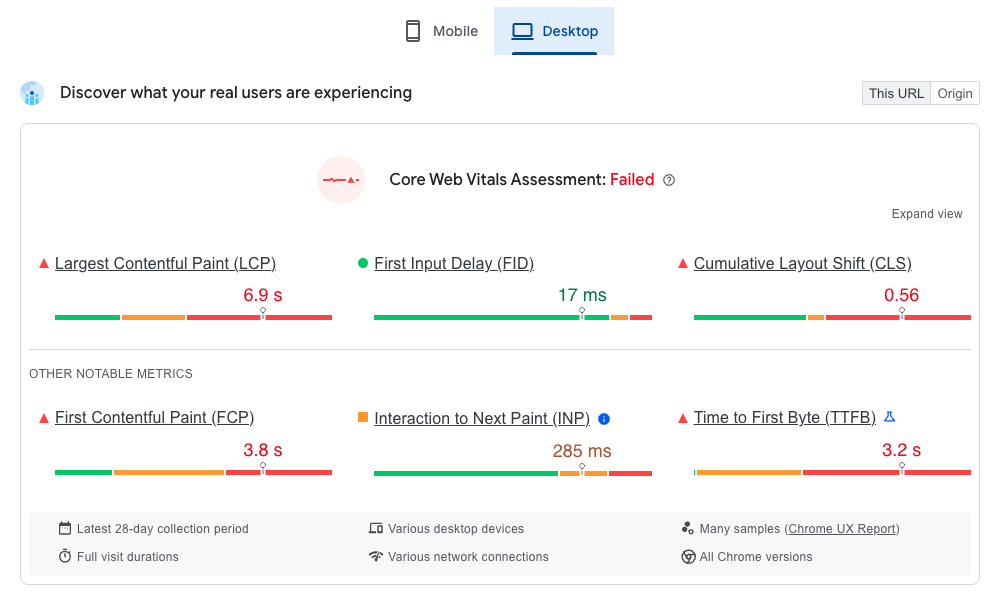 Faster-loading websites have higher conversion rates. If your page loads more than a few seconds, your website's ranking on SERPs may drop.
Unfortunately, changing web hosts can affect site speed and uptime, potentially influencing your website's performance and ranking.
Choosing a shared hosting plan with limited bandwidth is the best idea as it can decrease your site speed and uptime.
Conversely, switching servers can have a positive long-term impact if you upgrade to a higher quality, faster host.
Select the highest-performance, most secure web host you can afford. Investing in better web hosting can improve loading speeds, resulting in more traffic and conversions.
4. Losing positions due to server downtime
During the migration process, mainly when the DNS (Domain Name System) propagates, your website may experience downtime.
This downtime can lead search engines to temporarily de-index your website and decrease the frequency of crawling, which can harm your SEO and website authority.
To avoid downtime during the migration process:
Keep your old service active until your new site is up and running. Do not inform your previous provider about your plans to move, as it could lead to premature service cancellation.
Use a 301 or 302 redirect to point traffic from your old host to your new one. This can help preserve any SEO benefit you have earned and minimize potential losses in SERPs ranking.
Find a reliable web host provider to avoid downtime and ensure optimal uptime for your website. During the decision-making process, it's worth checking if the provider offers an uptime guarantee that will reduce the risk of server downtime.
Plan the perfect time to switch over to the new provider. Once your site has been migrated and DNS updated, cancel your old server.
5. Blocked by Google if the site gets hacked
Google prioritizes sending users to secure websites. If your website gets hacked or its content is replaced with malware or spam, it can lead to a drop in search engine rankings.
That's why we recommend using a secure web host. One that has network monitoring, SSL certificates, malware detection and other security features.
This is crucial, not only for SEO ranking but, first and foremost, for maintaining your website's security and credibility.
What to consider in when changing host
To ensure the transition to a new web host goes smoothly, we recommend following these tried and tested tips:
1. Choose a local host for local SEO
If you want to target a specific country or region, it is best to choose a web host with servers in that area. That way, your website will load faster for visitors in that region, and it will be more likely to appear in search results for those locations.
Having a server location close to your target audience results in faster redirection and, consequently, a better user experience. This is particularly important for companies that cater to local markets.
2. Avoid shared hosting
While shared hosting can be a cost-effective option for new website owners, it can negatively impact SEO. This occurs when you share a server with other domains, and their performance affects yours.
For instance, a traffic spike on one site could slow down your site, harming your search engine optimization.
Shared hosting may also expose your website to spam sanctions. Cheap hosting providers might also host spammers, which can impact your ranking and authority.
Shared hosting can cause issues with speed, scalability, and reliability. And as you know, these are crucial factors in maintaining optimal SEO performance.
We recommend alternatives like managed hosting or VPS (Virtual Private Server) hosting. They cost more than shared hosting but offer more too!
3. Ensure the host prioritizes security
A web host that prioritizes security is crucial for maintaining the integrity of your website and its SEO performance.
Consider the following key features when choosing a hosting provider:
Backup and restore functionality: Look for a host that offers automatic backups and a simple restore process, just in case.
Server and network monitoring: Opt for friendly web hosting partners with built-in monitoring tools to track server stats and network traffic.
Regular malware scans: Automatic and comprehensive malware scanning is crucial. Choose a provider that offers real-time monitoring, prompt malware removal, and detailed reports.
DDoS protection: Most hosting platforms offer essential DDoS protection, but it's best to go for premium options if you require more comprehensive coverage.
Built-in firewall: Select a hosting provider with a built-in firewall to add an extra layer of security. This feature helps protect against various online threats and ensures a safe browsing experience for your users.
Secure data center: Ensure the web host uses a robust infrastructure with physical and digital security.
Two-factor authentication (2FA): Look for hosting providers that support 2FA as it's a very effective security measure.
SFTP access: Opt for hosting platforms that support SFTP for secure access to your files.
Disaster recovery: Be familiar with your hosting provider's policies and measures for disaster recovery scenarios.
SSL certificate: Choose a host that offers free SSL certificates, ideally issued by the Let's Encrypt certificate authority.
4. Determine if your host offers a content delivery network (CDN)
Improved site speed is crucial for search engine optimization.
Select a provider that offers a content delivery network (CDN) service or is at least compatible with one.
A CDN hosts copies of your files in multiple locations and can improve page loading speed significantly.
It caches static assets, such as images, CSS, and JS files, in data centers worldwide, shortening the physical distance for data to travel and reducing time to the first byte (TTFB).
Additionally, a CDN enhances your website's uptime by distributing content across multiple servers. If your host goes down, the CDN can still deliver your website.
Some CDNs also provide extra network protections as added benefits.
Summary
As you can see, there is a lot to consider when migrating hosting services. Fortunately, migration isn't difficult if you follow the tips in this article.
Changing a web host is not something to do lightly. Choosing the right provider should be a well-thought-out process and take into account security, speed, reliability and extra services.
If you're lucky, you'll find a web host that delivers all those things at an affordable price and perform the migration for you.
Wouldn't that be great?
What factors do you consider when migrating web hosting? If you have gone through this process in your company, please share your experience in the comments.