SureCart vs WooCommerce – 7 Reasons Why I Switched From WooCommerce to SureCart
When you want to start selling online it seems that the only suitable solution is WooCommerce.
It's the most widely used option, right?
But the most popular solution isn't necessarily right for your needs.
WooCommerce is so widely used partly down to the huge amount of options available to create an online store.
It can be used in a wide variety of situations. This flexibility is mainly thanks to the hundreds of extensions you can install to meet your technical and marketing needs.
This is great for some stores but won't be for everyone.
If you want to…
Sell your small business products.
Offer subscription services.
Sell digital assets…
WooCommerce may be overly complex or unwieldy.
WooCommerce features and extensions are a double-edged sword. They increase the plugin's capabilities but at the cost of complexity:
They can slow down your website and load unnecessary code.
Not all of them are free so they can add up to a lot of money per year.
They can complicate store management. If you manage clients, you'll have to explain that they need to renew them every year at extra cost.
Don't get us wrong, WooCommerce isn't a bad tool.
In fact, it's very good at what it does.
But we think there are better options. And that's what we'll be discussing in this article.
The Importance of a Good eCommerce Plugin
Choosing a good plugin for your eCommerce store is not something you should take lightly.
Speed for instance is a very important point. Users buying on the internet are always in a big hurry.
According to Google, an increase in loading time from 1 to 3 seconds can raise the probability of bounce by 32%.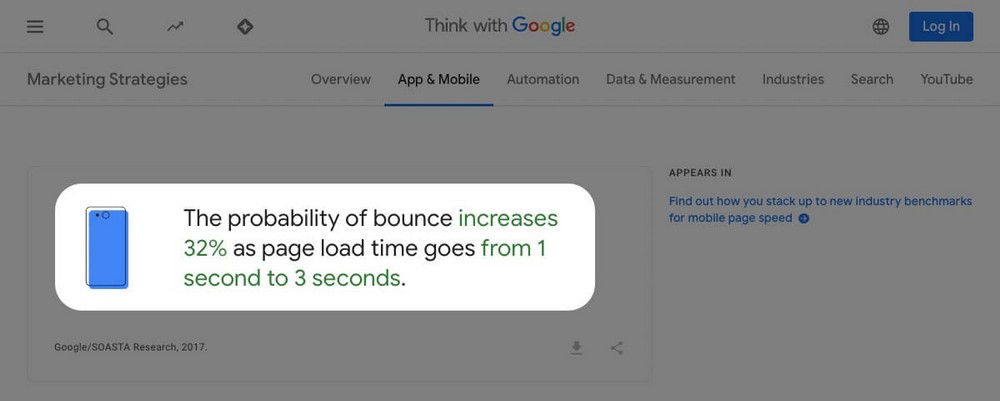 A user who leaves may never buy from you again.
Driving traffic to your online store through SEO or paid ads can be very costly. Reducing your chances of a sale by 32% by using a plugin that slows down your website is something you should take seriously.
Speed doesn't only affect conversions. Google also takes it into account as a ranking factor.
Not only could a plugin that slows you down impact conversion, it could even prevent visitors finding your store in the first place.
And we are talking just about a single factor here.
Speed is not the only factor that can affect conversions.
The plugin you use has to make it easy for customers to find your products, buy them and offer an optimal shopping experience.
A good eCommerce plugin should allow you to:
Customize checkout so you can adapt it to your brand and maximize conversions.
Add checkout anywhere. Inline content converts better than a cold and lonely product page without more context.
Offer different payment methods and marketing strategies to maximize sales.
All these points are really important because they add up over time
Losing 5% of sales may seem insignificant. But if these losses are repeated throughout the year, including big sales like Black Friday, the problem is magnified.
Recommended: Apply these 8 Black Friday theme tips to increase sales during one of the year's biggest shopping days.
WooCommerce vs SureCart Main Features
Before we look at the 7 ways where SureCart outperforms WooCommerce, let's look a little closer at these two tools.
WooCommerce
WooCommerce is a WordPress plugin that lets you create product pages. It also adds all the extra features that an online store needs: A catalog page, a checkout or a cart.
Automattic, the company that runs WordPress, bought WooCommerce in 2015 so the integration between these two tools is and always will be up to date.
WooCommerce is used by more than 30% of online stores.
But you may be somewhere in the remaining 70%.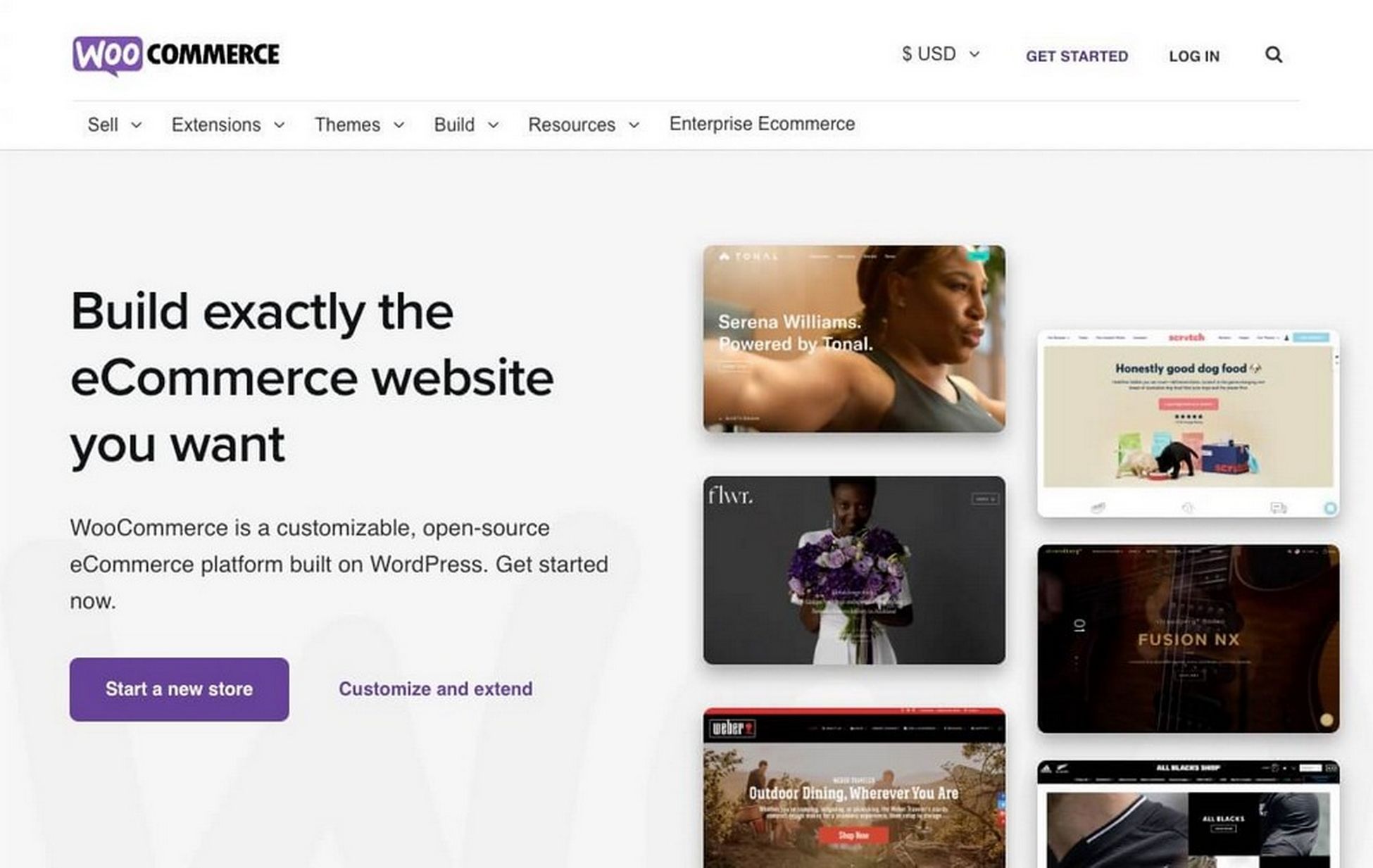 Pros of WooCommerce:
Plugin is 100% established in the market with a great track record and community behind it.
Thousands of free and paid tutorials covering every conceivable topic.
Hundreds of extensions to create whatever you need and themes to create attractive online stores.
Translated into many languages.
Cons of WooCommerce:
Steep learning curve.
It can be complex to find the extensions you need to achieve your goals.
You have to rely on third-party extensions that may not be top-notch. Usability or development is not assured.
Key Features of WooCommerce:
You can start using it for free. Paid addons available.
Allows you to work with product variables (attributes).
Great scalability to manage and sell hundreds or thousands of different products (Although you may need paid plugins to do so).
SureCart
SureCart is also a plugin for selling in WordPress.
It has a slightly different approach to WooCommerce. That makes it easier to use and allows you to sell with less effort.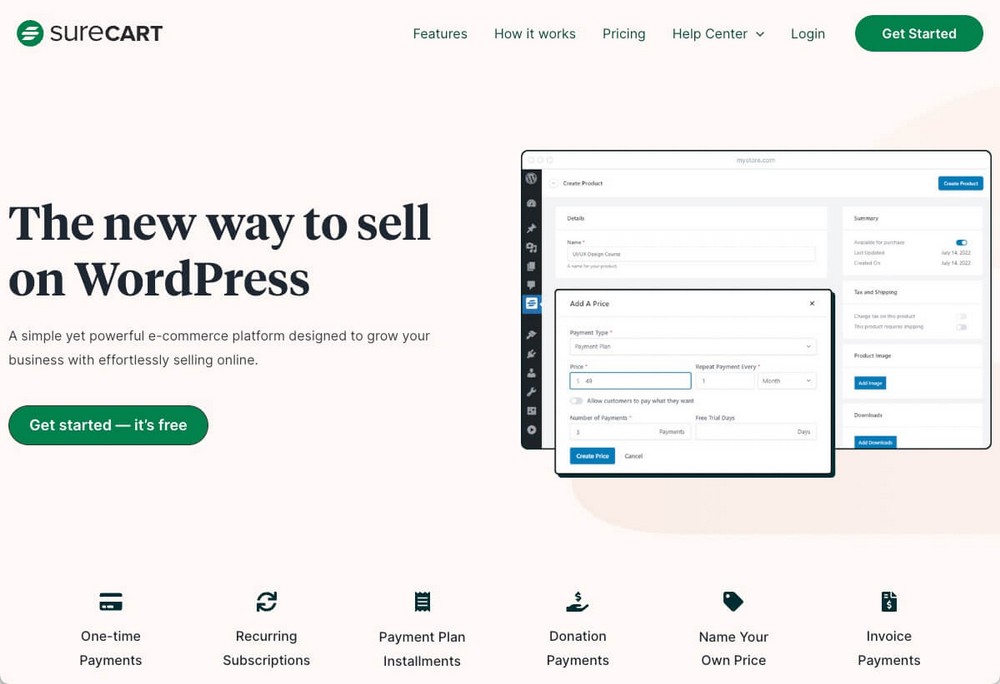 It's backed up by the developers of other powerful WordPress products such as Astra, Project Huddle, Spectra, or Presto Player.

SureCart is part of the SureCrafted suite of products that also includes:
SureMembers: A plugin for creating WordPress memberships.
Protect pages or courses and sell the access using SureCart.
SureTriggers (currently private beta): An automation tool for connecting your sites, plugins, and third-party applications similar to Zapier.
E.g. If someone buys one of your physical products, automatically enroll them in a course on how to use it better.
SureWriter (currently private beta): An AI writer assistant so you can write better product descriptions with less effort.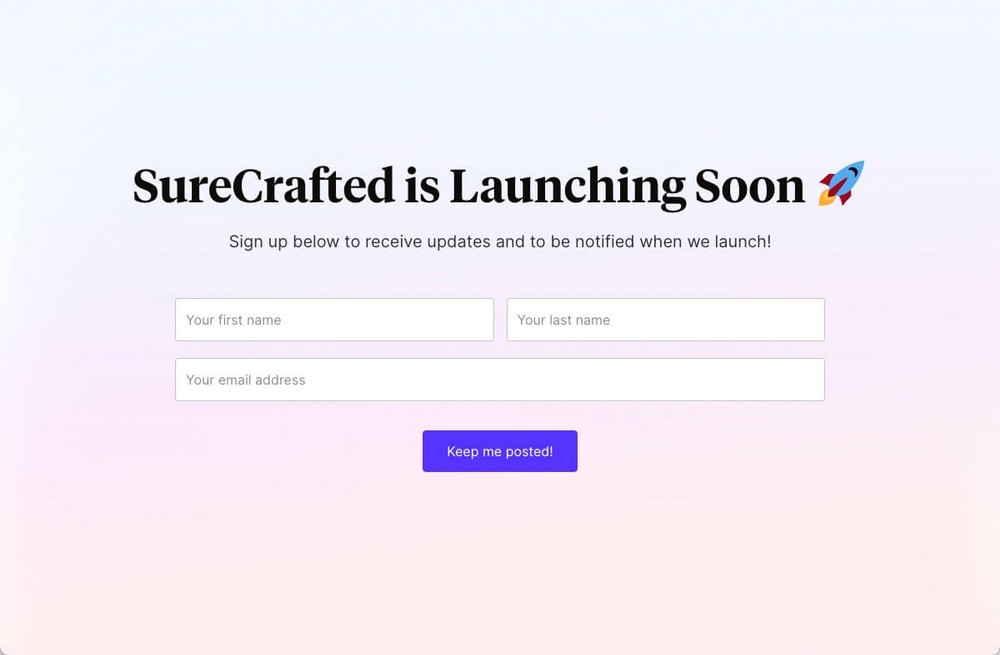 Don't miss the launch of these products by joining our official Facebook group!
Pros of SureCart:
Very easy to use. You can start selling in minutes.
It has very powerful options such as subscriptions or installment payments integrated natively and free of charge.
It helps you manage taxes and VAT, one of the biggest obstacles when launching an online store.
Cons of SureCart:
Key Features of SureCart:
Free plan to get you started without risk. Payment plans with locked-in pricing to easily understand your costs.
Headless platform that makes your eCommerce store fast and secure.
Marketing tools included to help you increase your profits.
WooCommerce Disadvantages – 7 Reasons I Think SureCart Outperforms It
Now we get to the heart of the matter and the specific reasons I switched from the market leading WooCommerce to the new upstart SureCart.
WooCommerce
SureCart
Free version?
Yes
Yes
Paid features
Yes. Hundred of paid addons available
Yes. 3 paid plans available
Ease of use
Slight learning curve
Very easy and straightforward
Speed
Can slow down your site with all the plugins you need to install
Faster as it uses headless technology. No plugins are required but are optional.
Taxes and EU VAT
You need a free and a paid addon respectively
SureCart calculates everything for you
Checkout customization
Paid plugin and/or CSS
Free and easy with WordPress block editor
Free marketing/selling techniques
Sale price, upsells, cross-sells
Sale price, pay what you want, donations, payment plan installments.
Paid marketing/selling techniques
Cart abandonment recovery, order bumps, donations, installment payment plans…



Paid plugins required for each
Cart abandonment recovery, order bumps, auto payment recovery. Upsells, purchasing power parity, early payoff offers, affiliate platform (upcoming)
Integrated natively with the paid plans
Customer dashboard
Non-customizable without paid addons
Easily customizable with WordPress block editor
Better for
Huge stores with thousands of physical products
Selling digital goods (downloads, courses, access to communities, subscriptions) and simple physical products
1. SureCart is Easier To Use Than WooCommerce
When you add a new product in WooCommerce the interface will be similar to you as it works through the WordPress editor.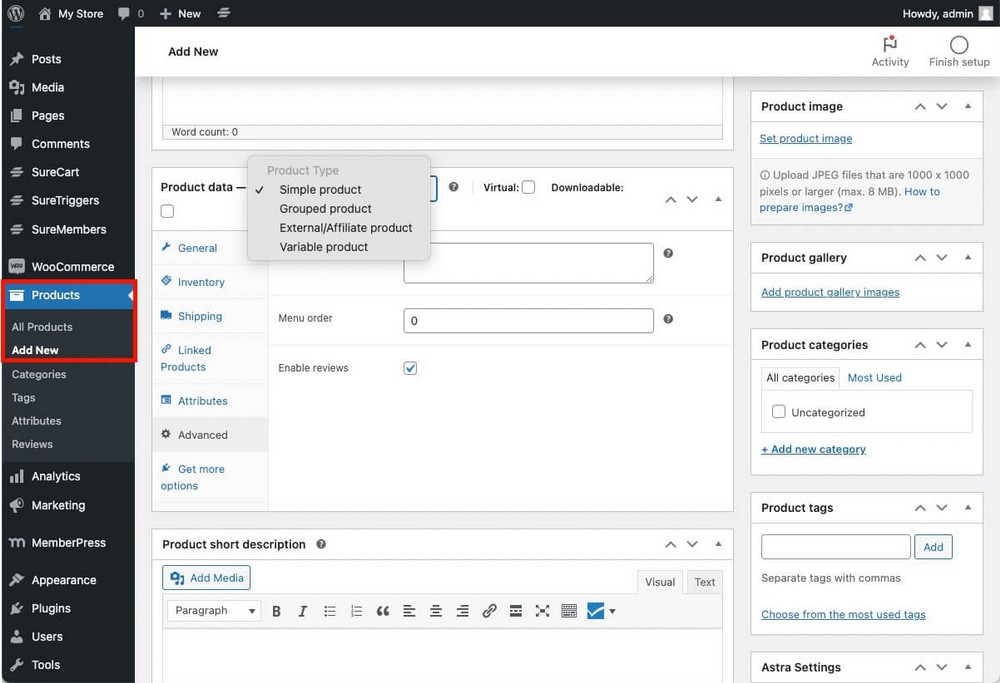 This interface looks outdated and it's a bit complicated to use since many WordPress options and other plugins' will be mixed with WooCommerce's own options.
As WooCommerce has a very generalist approach you'll find options that will bother you visually because you'll never use them, like attributes.
The problem is that besides visually you'll also be loading your website with unnecessary code.
SureCart makes everything easier.

The product page has a much more modern and user-friendly design. Everything you see there will be product-related, there are no WordPress elements or other plugins interfering with the interface.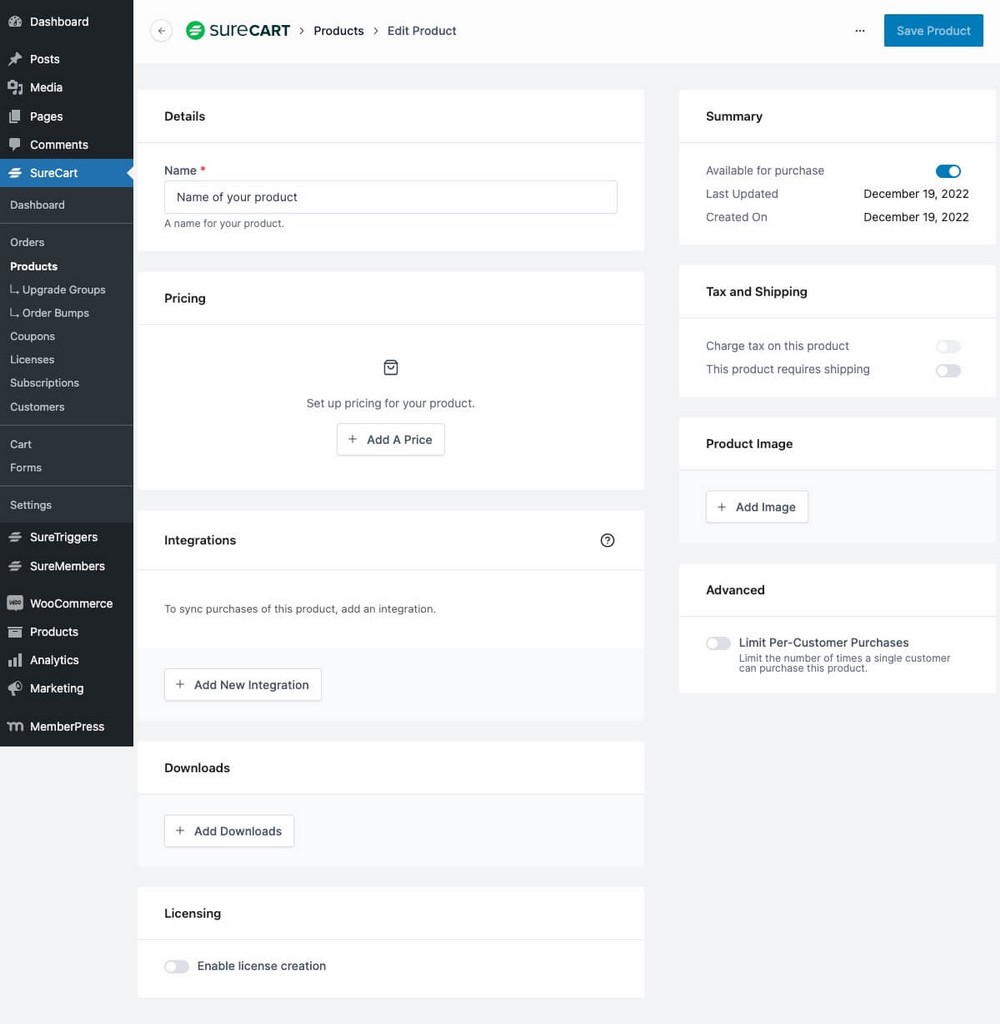 SureCart is not only more visually appealing but also more user-friendly.
Connecting a payment gateway like Stripe or PayPal is accomplished by simply logging in in them.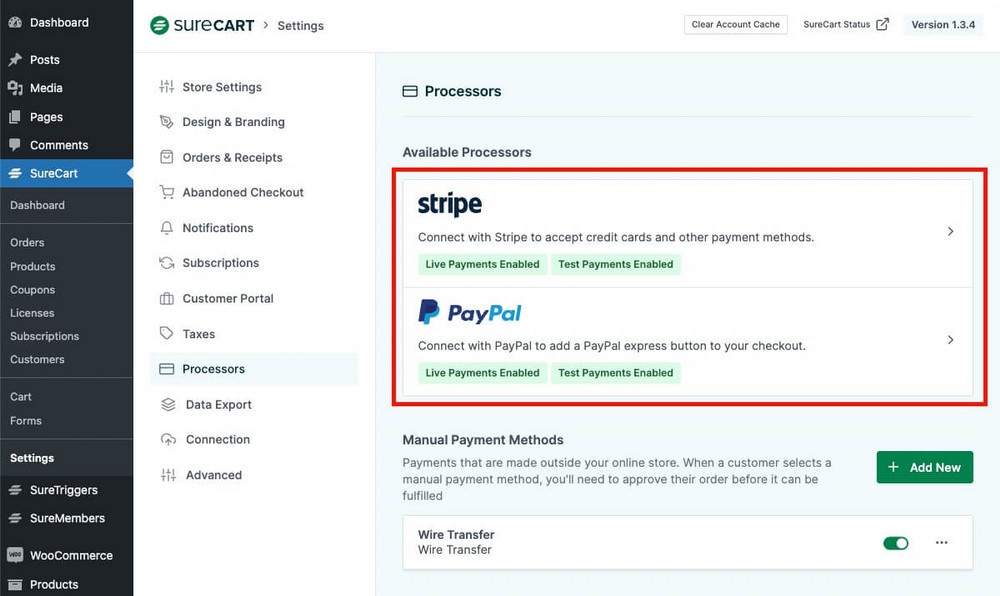 With WooCommerce, you'll have to install an extension for each payment gateway.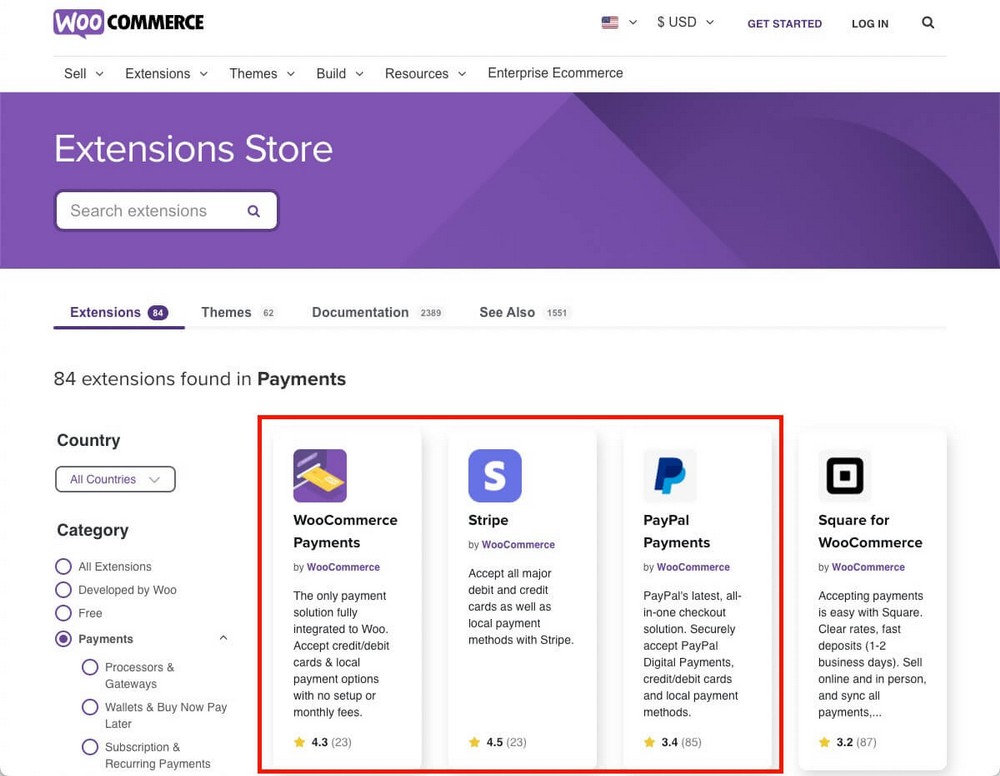 Having many plugins can slow down your website and make it more prone to errors. More plugins means more things to learn, monitor and maintain.
Every time you want to try something you'll have to find out if it's available natively or if you have to download one of the almost 800 extensions available.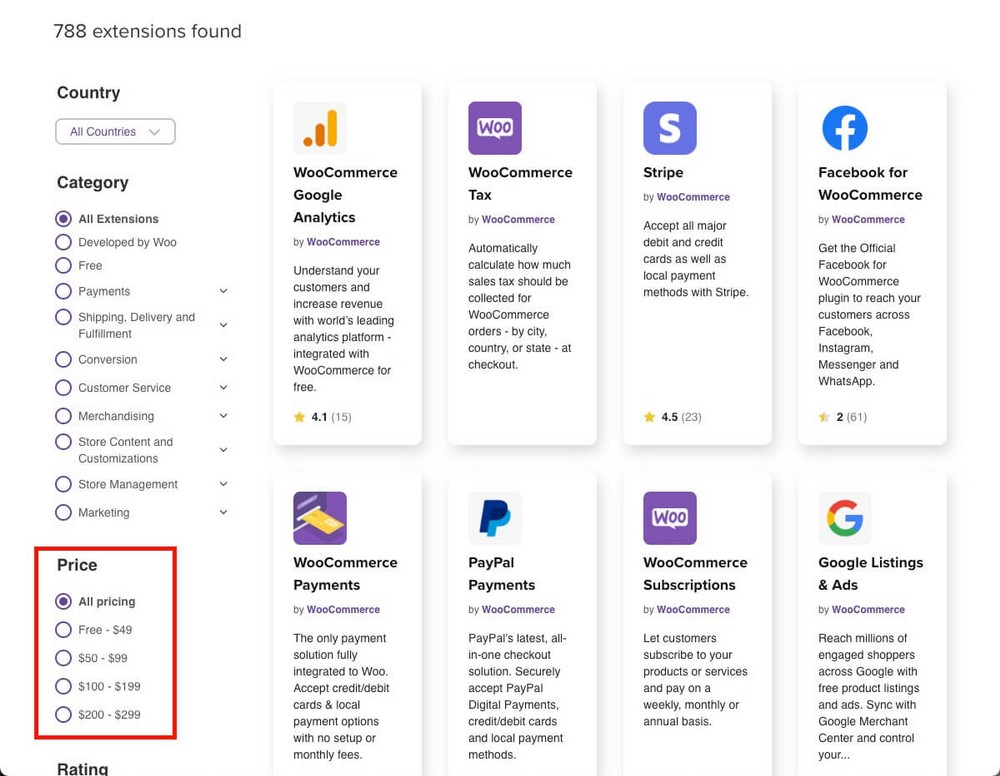 More bad news? Not all of these extensions are free.
This will complicate your budget or the bill you send to clients when creating online stores as a service.
2. SureCart Is Faster Than WooCommerce
WooCommerce is really dependent on extensions, which are installed as plugins in WordPress.
And these plugins can often slow down your website little by little.
Just look at the amount of code (MBs) that WooCommerce has to use, plus the extensions needed to add two basic payment gateways like Stripe and PayPal.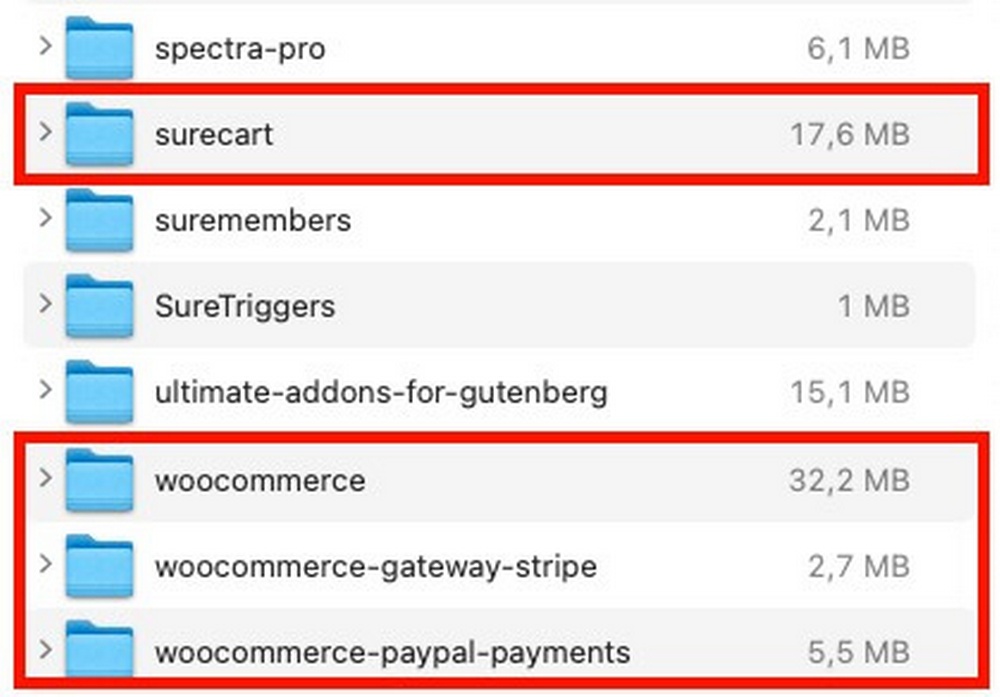 SureCart: 17.6 MB (Stripe and PayPal work natively)
WooCommerce: 32.2 MB of WooCommerce itself + 2.7 MB of Stripe extension + 5.5 MB of PayPal extension.
More than 40MB in total. Twice as much as SureCart, and this is just a basic example.
If your needs increase even slightly, the number of plugins and the total weight of the platform will increase as well.
But the technical marvel that makes SureCart infinitely faster than WooCommerce, is Headless technology.
It's platform powered, so it's not restricted to your web hosting limitations.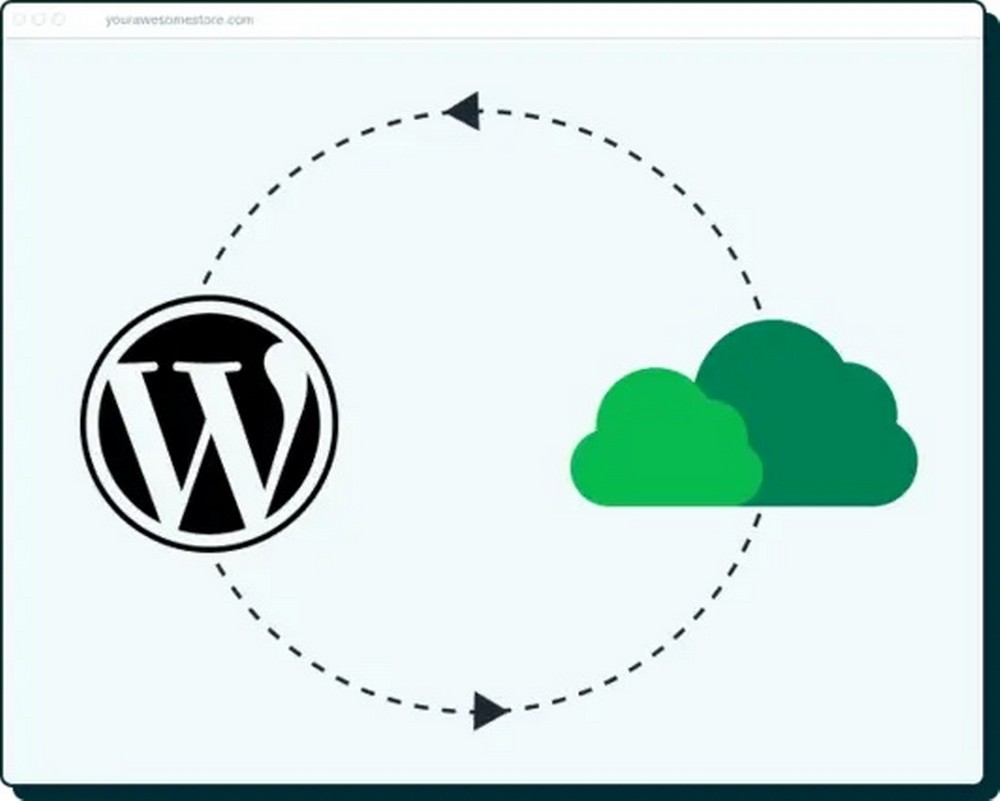 In other words, much of the workload, such as tax calculation, is not done on your website but on a dedicated SureCart server.
A lot of information, such as your products, customers or transactions will also be stored there thus avoiding having a heavy database.
Don't worry though, the SureCart servers use the latest security hardware and software to keep your data safe!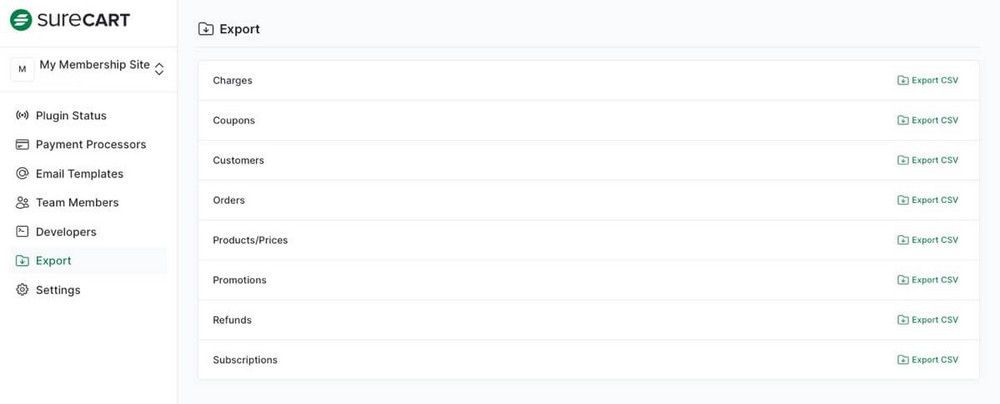 The SureCart server does the hard work while the plugin will be in charge of displaying that information beautifully on your website.
This makes SureCart fast, secure, and scalable.
3. SureCart Makes Tax Calculation Easier
How to handle taxes is one of the biggest questions we all have when starting out selling online.
If you're selling digital products then you'll probably have to take into account more countries in your transactions, making everything harder to understand.
Caveat: While SureCart helps you with taxes, you still need to perform due diligence. Make sure you have everything checked by an accountant.
Tax management is complex.
WooCommerce does its best and provides an option to enable tax calculation, as well as providing extensive documentation on how to set up everything correctly.
For this to work properly WooCommerce also recommends installing a tax extension.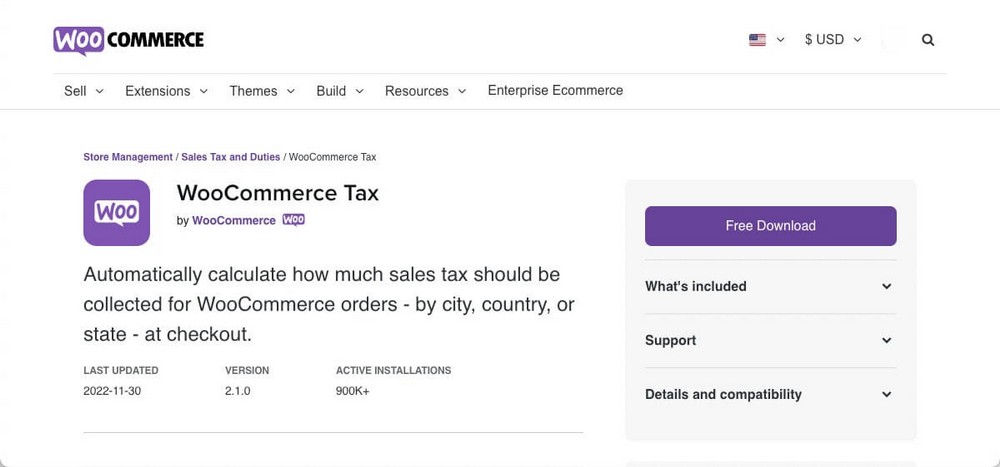 This extension is free but needs the JetPack plugin to work, which has a reputation for slowing down websites.
If your business is based in Europe and you sell across the continent you'll also need to properly handle EU VAT.
VAT can be removed if your customer is another European business other than your country of residence and has a valid VAT number (which must be checked in the VIES system).
If you want to add this feature to your WooCommerce store, as you can read in the official documentation, you'll need to install an additional extension.
And this extension is not free.
It's not too expensive, but it's an additional cost and more extra code that can slow down your website.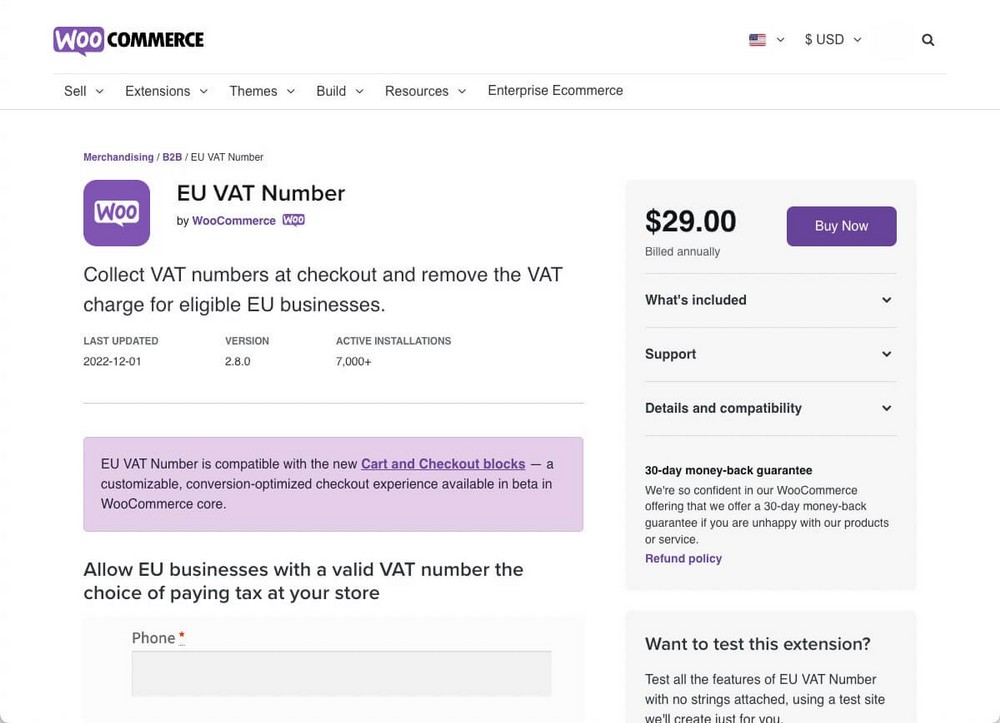 SureCart helps you to automatically calculate taxes without having to use third party platforms like TaxJar or additional extensions.
You'll configure this from your WordPress Admin Panel, but the work is done on SureCart servers.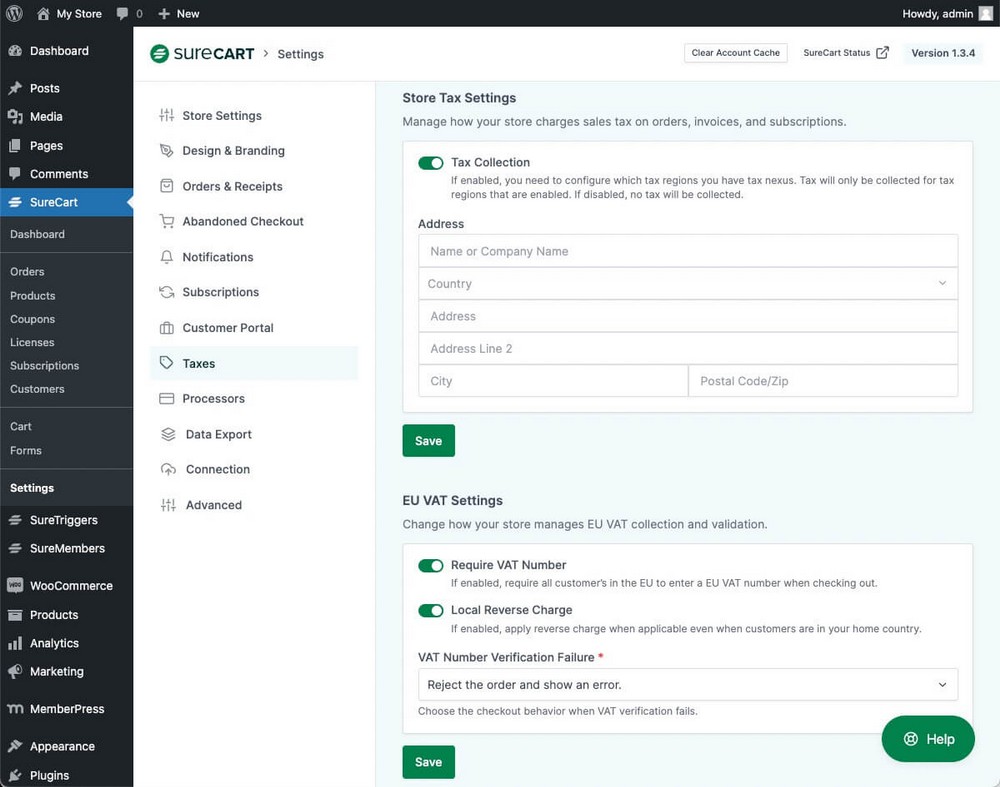 The free plan allows you to use this feature up to 1k/mo.
Learn how to set up tax and EU VAT in SureCart in less than 10 min in the following video.
4. SureCart Has Better Designs
The speed of an online store is important but the design also plays a key role.
A professional looking store and a great checkout can make the customer trust your brand and therefore end up finalizing the purchase.
WooCommerce offers templates to make your website look better although at the moment only 3 are free.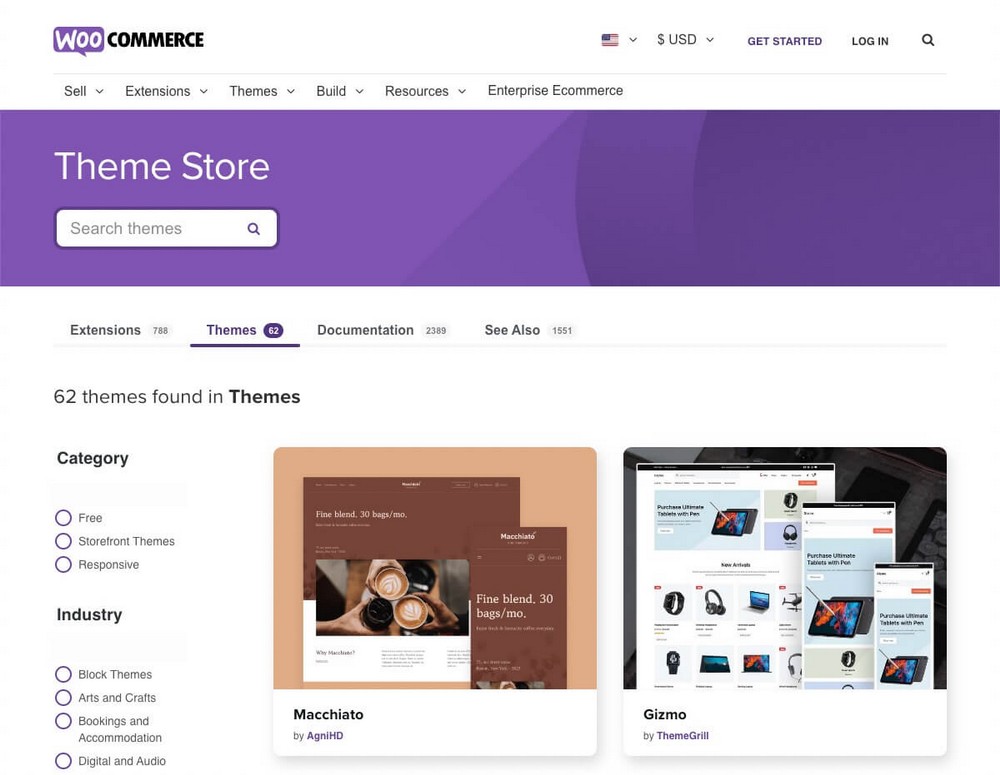 Tip: You'll also find WooCommerce Templates at StarterTemplates!
The default checkout of this plugin is quite archaic.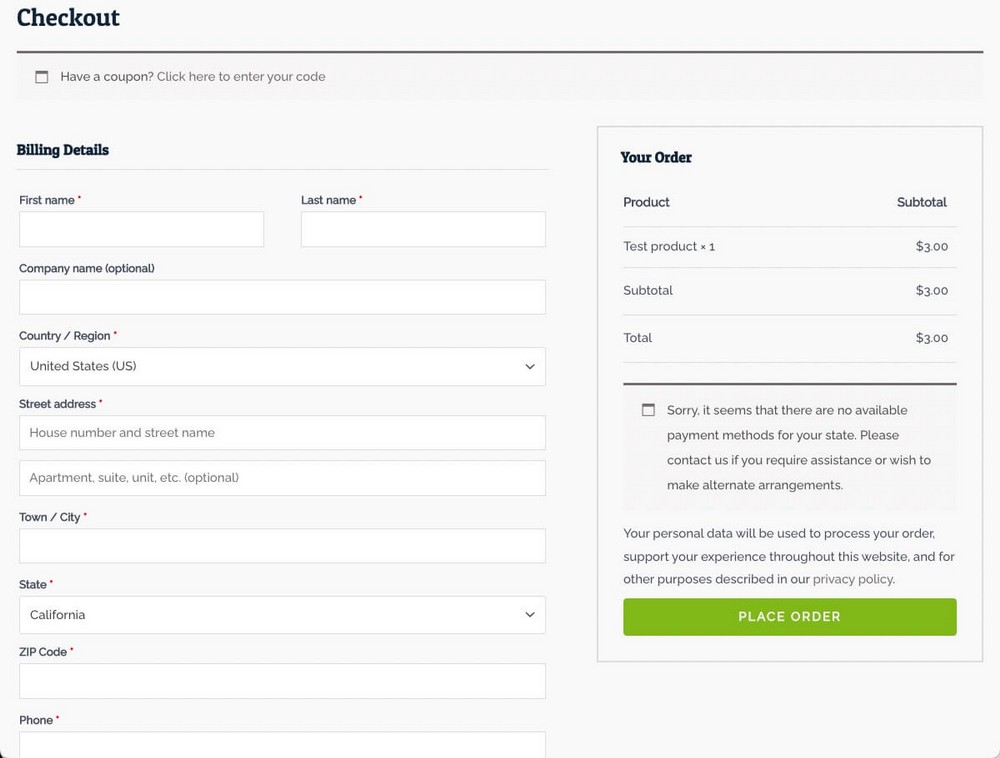 If you want to make basic changes such as adding or removing fields, you need an additional plugin.
There are ways to customize and improve this checkout.
You can use a tool like CartFlows for instance.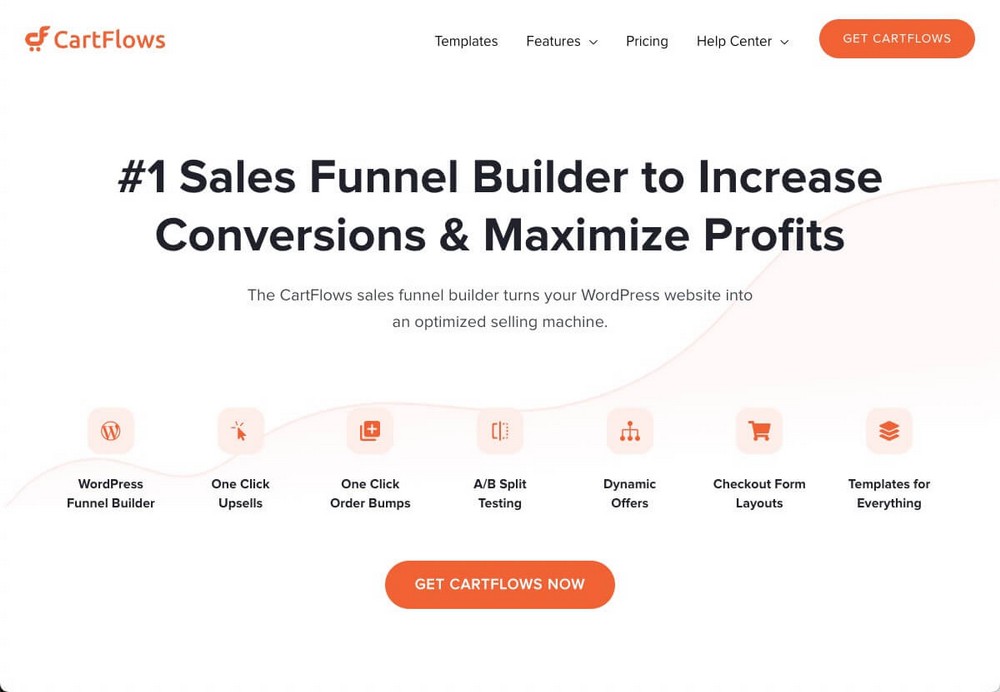 CartFlows allows you to create powerful sales funnels to increase conversions.
When creating a new checkout for your product in SureCart, you'll be able to choose from several custom designs.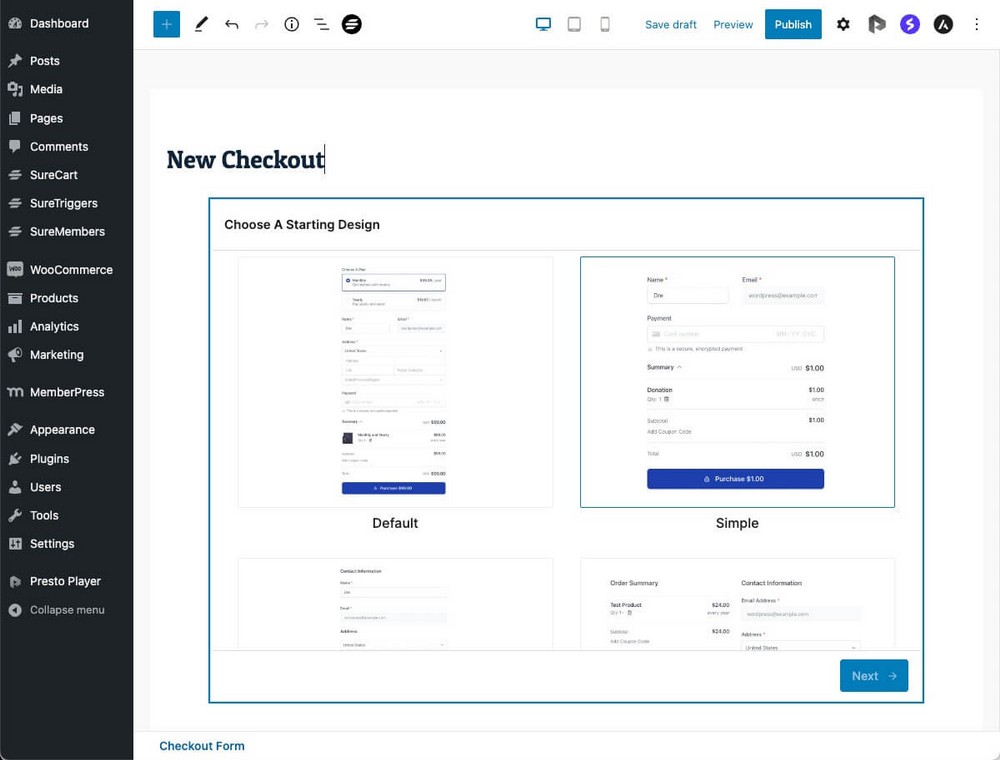 Checkouts are easily modified from the WordPress editor itself. It's very easy to remove fields you need, make layout modifications or add the different blocks included in the plugin.
Like a small divider to better separate the different data sections.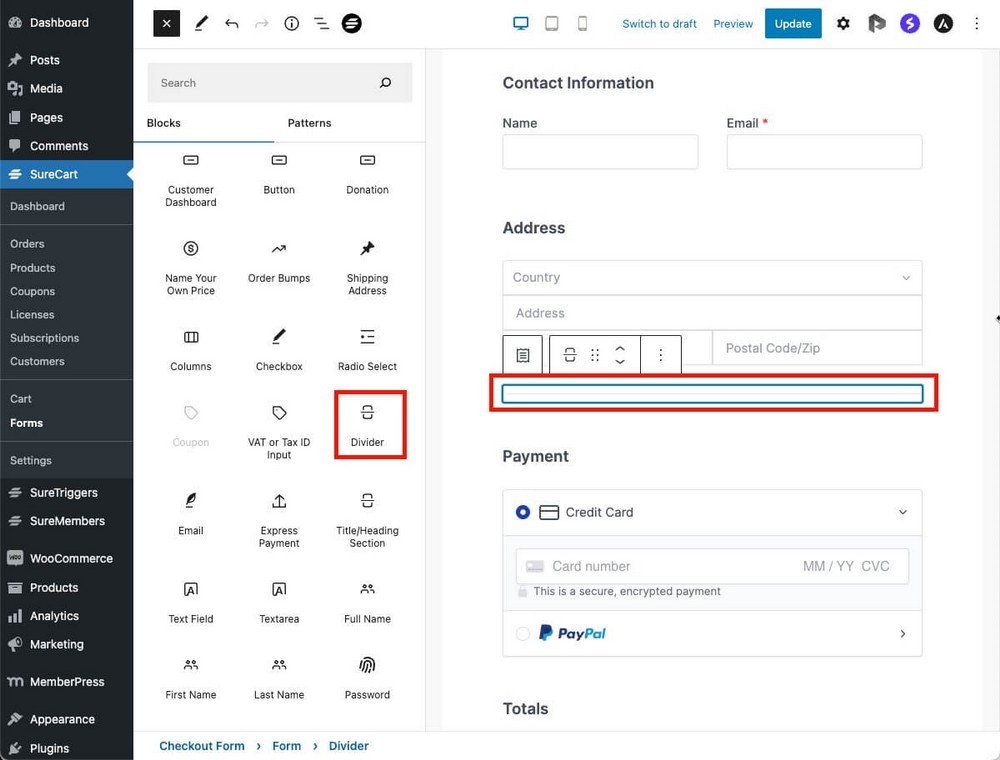 If you want to learn more about how to modify checkout, take a look at the following video:
SureCart gives you the freedom to add a checkout to any part of your website so you don't have to lock yourself to a specific online store theme.
You can also use Astra, a template from StarterTemplates and Spectra (3 tools you can use for free) to get the design you want.
5. You Can Earn More
The traditional way of selling with WooCommerce has some friction for the customer.
If you're working with a good content strategy the flow a user would follow would be as follows:
Lands on an informative article > opens a link to a mentioned product > adds the product to the cart > views the cart > proceeds to checkout.
Whereas with SureCart, being able to include the checkout directly anywhere on your website thanks to a shortcode, the flow would be much simpler.
A potential customer could be reading an informative article where you mention an item and then immediately show the checkout for it.
Don't worry if you want to sell more than one product.
In addition to checkouts, SureCart also lets you add products to a cart.
This cart is frictionless as it appears on the side above the main content, no need to open an additional page.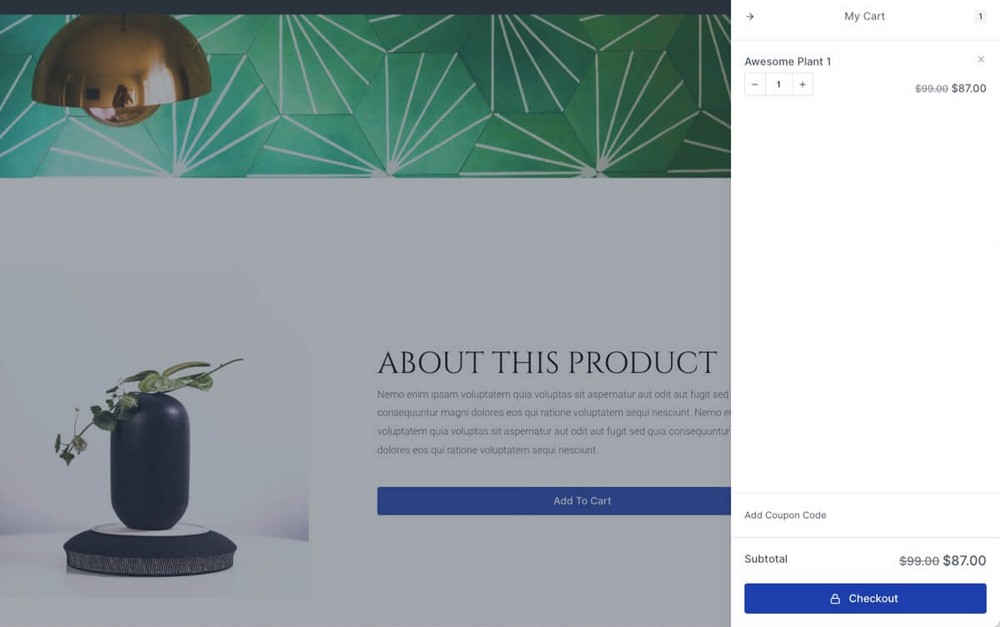 SureCart natively integrates tools designed to increase your profits:
Cart abandonment recovery.
Order bumps.
Upsells (upcoming).
Purchasing power parity (upcoming).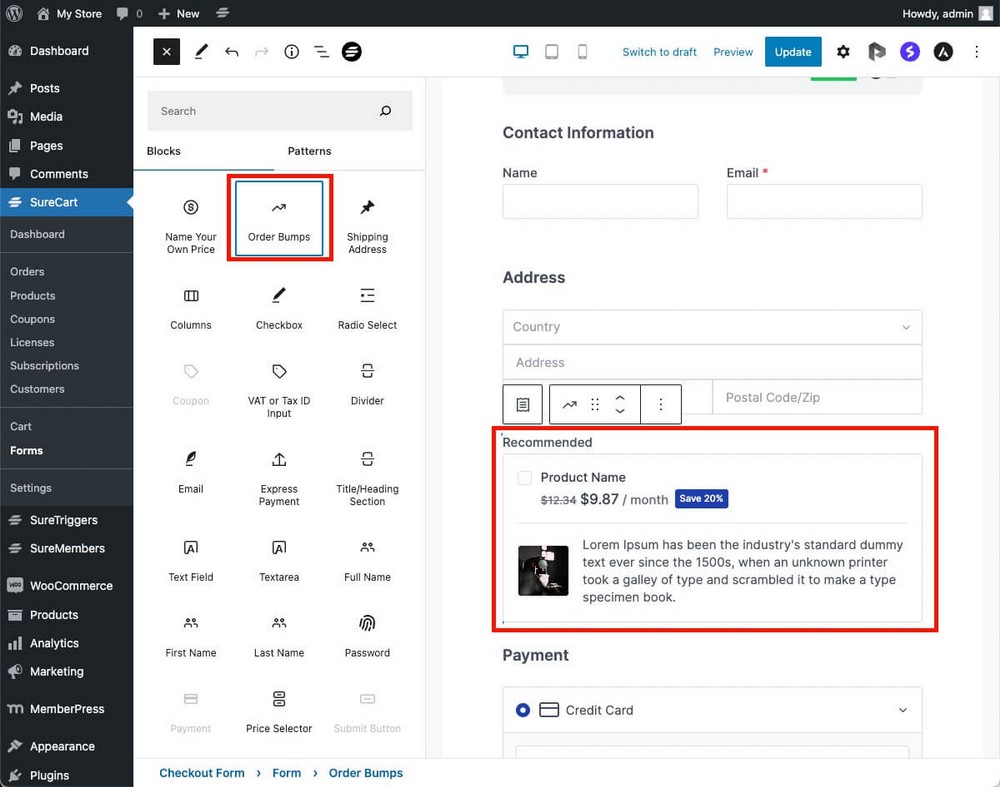 You can learn more about bump orders in the following video:
It's true that these tools are not available in the SureCart free plan.
But to get the same functionality in WooCommerce you would also have to use paid addons, adding thus more complexity to your system.
Less Expense!
In addition to helping you sell more and better SureCart also helps you do it more economically.
In SureCart's free plan:
You can offer payment plan installments.
To use this functionality in WooCommerce you would need yet another plugin.
You can accept donations.
The donations plugin for WooCommerce costs $99 per year.
You can let your customers name their own pricing.
You guessed it right. Another extension is required in WooCommerce for this ($49 a year).
$49 or $99 a year for a single feature is not insignificant.
Perhaps the biggest price difference you'll find is if you want to sell subscriptions.
SureCart offers subscriptions in the free plan.
With WooCommerce, you would have to install an additional plugin that costs a whopping $199 per year!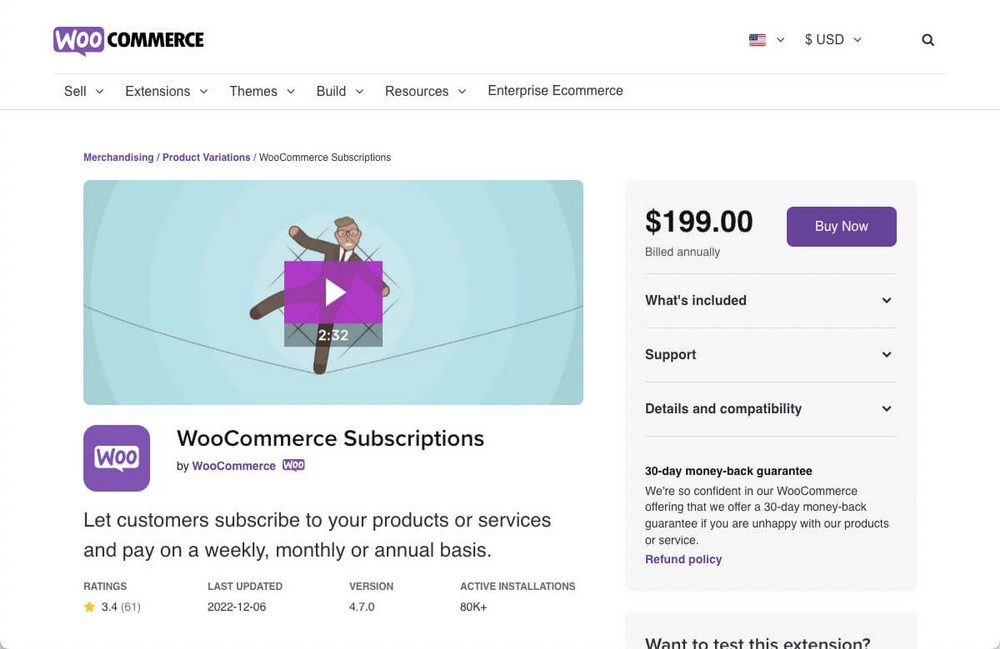 SureCart helps you to save money because you don't need to buy extra plugins.
By needing fewer plugins and being a headless system where much of the work is done on external servers, you'll also have fewer inodes.
And that will allow you to have a much more affordable hosting, since you'll use less resources.
6. SureCart Offers Peace Of Mind
If you work with WooCommerce, you'll be in charge of everything that happens in your store, including making it GDPR-compliant.
With SureCart, you'll have fewer worries about your platform.
SureCart is fully GDPR-compliant. You can read about this in the privacy policy page.
It does automatic smart backups. All your data is safe.
It has an enterprise-grade security that secures your data at every layer. Using industry-accepted best practices and frameworks to keep your data secure.
You won't have to worry about vulnerabilities, since you don't need to install dozens of third-party plugins.
Auto-scaling reliability: SureCart will scale seamlessly with your growth. Stop being afraid of your store crashing on a big event like Black Friday.
7. A Better Customer Dashboard
WooCommerce automatically creates a page for customers to access their orders, data, and other information.
This customer portal is automatically shown with a shortcode. If you want to modify it without having to use code you need to use a paid plugin.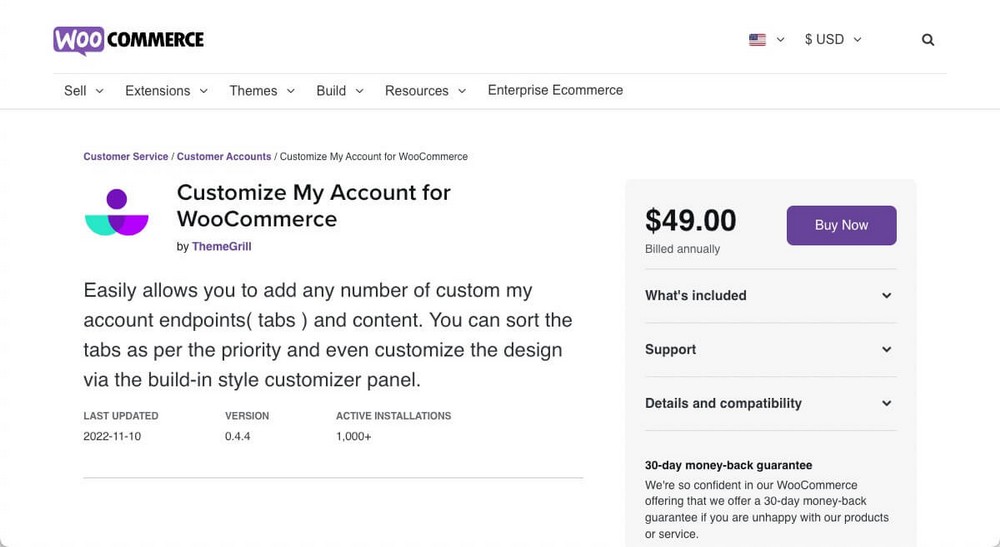 SureCart allows you to create a customer dashboard in the WordPress editor.
The default template is good enough, but you can add more blocks to each tab to create whatever you need.
Adding more tabs is as simple as clicking the + button, choosing a name, and creating.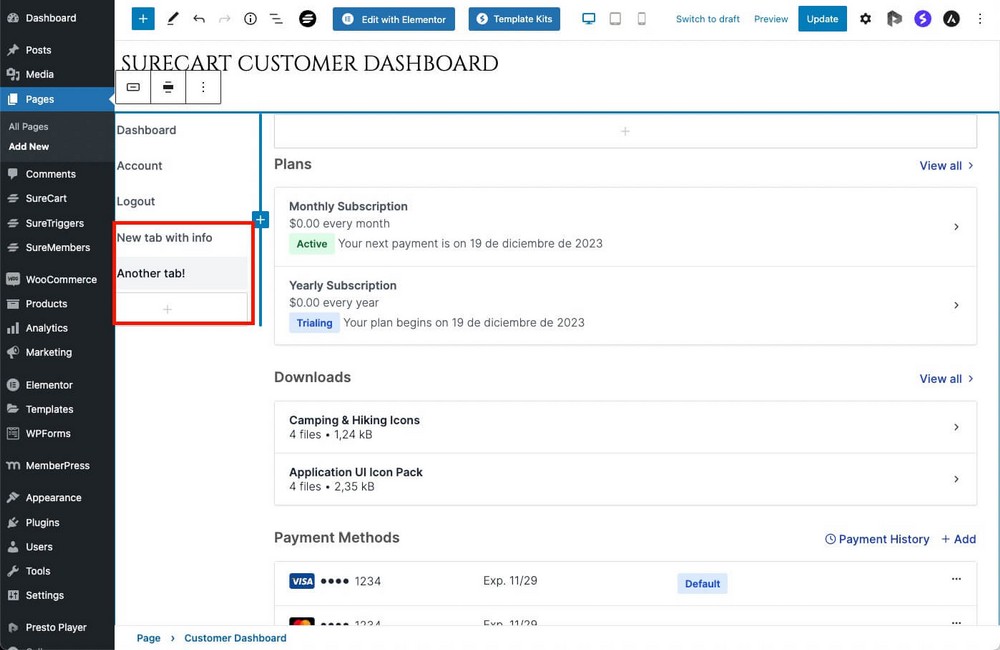 This flexibility will come in handy because you'll be able to:
Add a FAQ tab to receive fewer support tickets from customers.
A tab for private offers only available for customers.
Another tab for announcements.
For giveaways.
With a private contact form.
And basically whatever you need.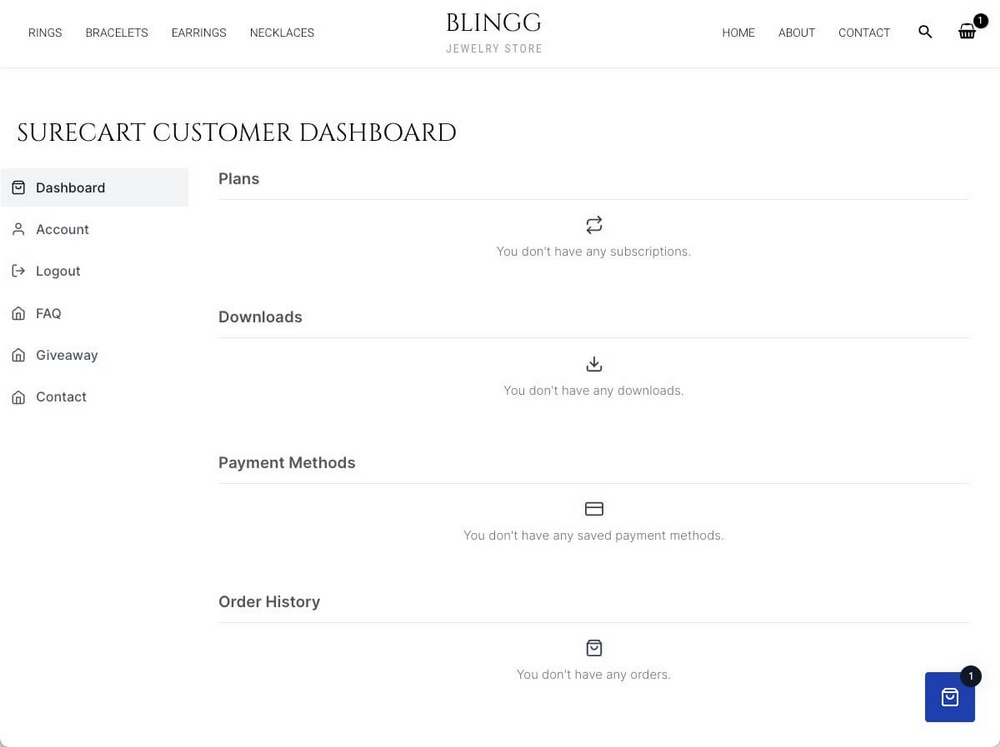 Other Perks
There are other advantages to working with SureCart.
SureCrafted is one of them.
Special mention to SureMembers which allows you to create a membership in a very affordable and simple way.
Note: SureMembers also works with WooCommerce.
Within the family of products surrounding SureCart you could also use the power of the Spectra page builder.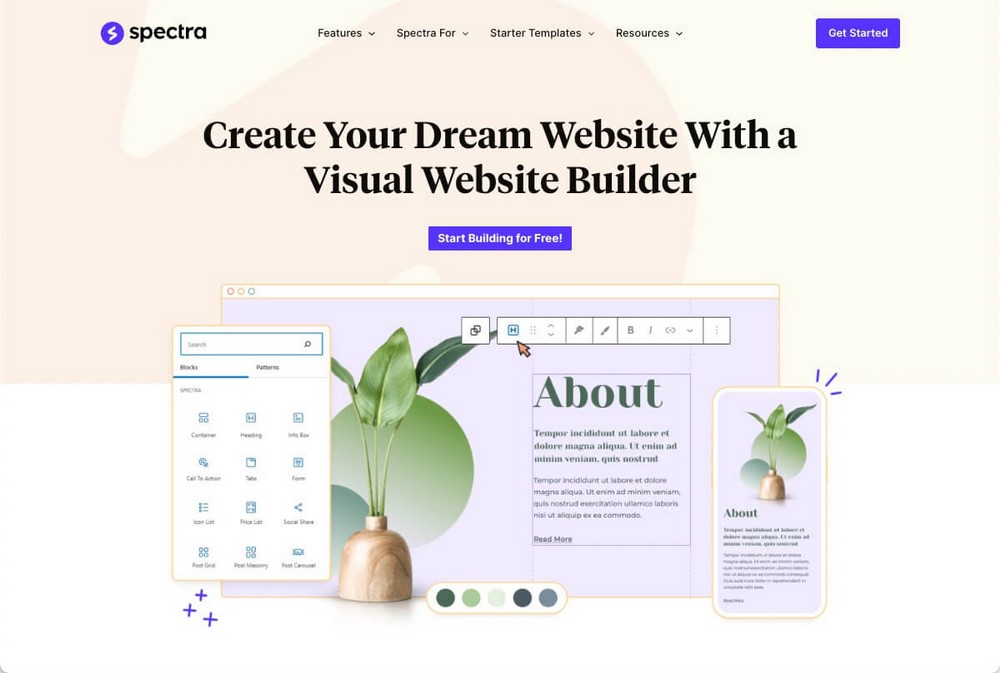 You can easily add the checkout or the add to cart buttons anywhere in your site. You can also create more creative designs that help you craft a better experience for customers and sell more.

SureCart Has 24/7 Technical Support
We know that as a store owner keeping the platform online and error-free is important.
SureCart has a dedicated support team ready to help make sure it stays that way .
Don't forget to subscribe to SureCart's YouTube channel, where Adam will explain all the news and features that are being added to the plugin constantly.
Wrap Up: Is SureCart the Best Choice for You?
WooCommerce masquerades as a free tool, and while it is, the reality is that you'll probably have to use multiple plugins (many of them paid) to build a fully functioning store.
SureCart offers much better value for the price. In addition, many of the features you'll want to use in your online store are all part of the package.
Not having to include dozens of plugins, along with headless technology, means SureCart won't slow your website down.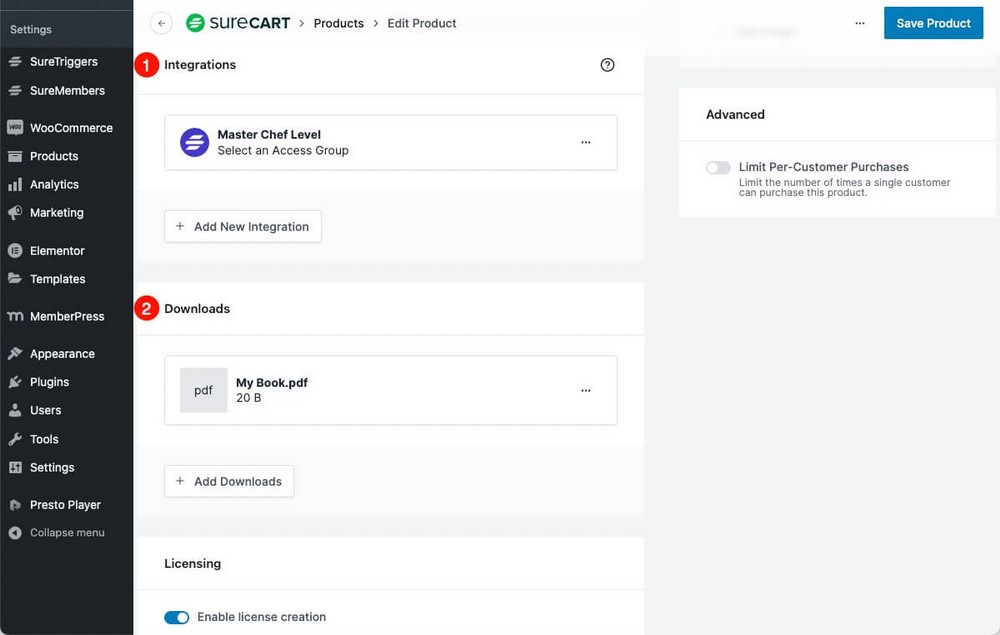 If you want to create a private community and manage payments with SureCart, you can do it thanks to the direct integration with BuddyBoss.
You can sell your online courses created with LearnDash, LifterLMS, TutorLMS, MemberPress or SureMembers by simply connecting a SureCart product with one of these courses.
If you sell any kind of downloadable digital product, just include it in SureCart, which will store the file for you.
You can even use it to receive donations or let your customers set their own price if you don't yet dare to sell.
Although SureCart works very well with digital products, you can also use it for physical products. During 2023 Q3 the plugin will receive more improvements regarding this type of product.
If you sell tens or thousands of physical products then that's when WooCommerce might be best for you.
At this point in SureCart's development, the plugin it's not ready to manage inventory, display products in a filterable catalog, or add attributes that allow you to generate variations.
For the remainder of situations, where your efforts should be focused on selling and not on managing the store itself, SureCart beats WooCommerce in most aspects.
I definitely think so anyway!
Have you tried SureCart yet? Build a store with it? Tell us about your journey below!