Podia: Overview
Currently used by over 20,000 content creators, Podia is designed for those who want to sell the following:
Memberships
Online courses
Downloadable digital contents.
With Podia, you can create an all-in-one digital storefront and start selling these three products in an instant. You can also send newsletters and emails, as well as process payments within Podia itself.
The platform has a neat interface, and it's so easy to use. You won't need much in-depth technical know-how or third-party plug-ins to build your e-commerce site. This makes Podia a friendly tool for beginners and intermediate users who want to sell digital products online.
Common Issues with Digital Storefronts
If you have your website already set up with WordPress, you may have known that you can create a digital storefront with WooCommerce or other e-commerce plug-ins. The problem with plug-ins is that things could get tricky if you have installed lots of them to power your store. Add also the fact that you must have a certain level of technical expertise if you want to be hands-on in running your site.
This area is where Podia has the advantage over its more complex competitors. Podia simplifies everything with its drag-and-drop mechanics.
Key Features of Podia
After you register for a Podia account, you will then be prompted to log into your dashboard. This is the first page that will greet you upfront.
These three modules—membership, online course, and digital download—represent Podia's key features.
1. Memberships
Click on the first image to create a membership site. Alternatively, you can also do this by clicking "Memberships" on the top menu of your dashboard. You'll be asked to name your membership site before you can perform further actions.

Click "Create your Membership" to create your first membership site. You will now enter the Membership page and have access to different tabs.
Under the "Plans" tab, you can create different pricing plans and bundle products or courses for each plan.
Under "Settings," you can change the name and link a Facebook group or Slack channel.
The other menu items—Posts, Comments, Promote, and Sales—can be used after you created and published the membership site.

2. Products
Online courses and digital downloads are the other two modules of Podia, and they're collectively placed under "Products." You can also access this through the "Products" tab on the dashboard's menu.
"Products" covers three components: online courses, digital downloads, and product bundles.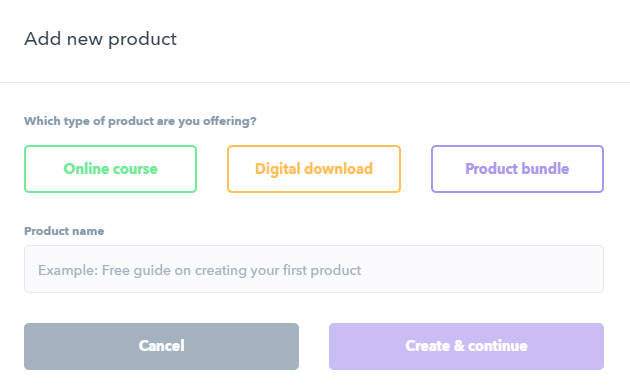 Online courses
Let's tackle online courses first. Click "Products" then "Online Course." Name your online course, and click "Create & continue." This action will bring you to this page. Alternatively, you can also directly access "Online Course" when you encounter the greetings page.
You'll start with a basic theme when creating an online course. Here, you can upload many types of files and even add links, sections, and quizzes. The lessons will be sent in scheduled intervals to keep your course takers interested and engaged.
One good thing I like about this section is that, unlike competitor platforms, Podia has a built-in sales page to collect payment and hand out coupons. There's also a pre-launch page if you want to pitch the courses in advance and collect email addresses from potential takers. You can also create multiple courses and accept as many enrollees as possible.
Digital downloads
Apart from online courses, you will also find the "Digital Download" under "Products." Click it, and you'll be brought to this page below. (Alternatively, you can access "Digital Download" on the greetings page, along with "Membership" and "Online Course.")
Here, you can sell downloadable contents, like e-books, guides, PDF files, videos, audios, checklists, cheat sheets, and more. You can also give these items for free if you choose to do so.
The checkout process is fast to optimize your site's conversion rates; people won't be required to create an account to download your contents. There's also a complimentary sales page where you can insert a video, an FAQ page, or an email subscription form.

Product Bundle
The last "Products" choice is the "Product Bundle." As the name says, this lets you bundle courses with digital downloads.
3. Email marketing
Podia also has an email marketing feature. The feature can be accessed under "Emails" in the dashboard's menu, but it is also integrated into the membership, online course, and digital download modules.
With this Podia's feature, you can send out newsletters and drip campaigns to keep your subscribers and followers engaged. You can send out both manual and automated messages, and you can even include your branding. You can track metrics such as click, open, and unsubscribe rates. The email marketing feature also includes opt-in forms that can be placed on the storefront and pre-launch pages.
Apart from marketing emails, you can also send course updates. For instance, if you add a new chapter to your e-book, you can email your customers to notify them that there's an updated product that they can download.
While you can create a newsletter, don't expect Podia to replace your email service. Podia is not as robust as MailChimp or any other email marketing tool. It has limits when it comes to formatting, and it is intended only for promoting its three modules.
Podia Pricing
Podia only has two paid plans, which isn't confusing at all. The two plans are:
Mover at $39/month, billed upfront for $390 for a whole year
Shaker at $79/month, billed upfront for $790 for a whole year
The two plans have different included features, most notably the membership module which is not available in the Mover package.
You can terminate your paid subscription any time, but Podia won't provide any prorated refund. However, you can still enjoy Podia's services until the end of your subscription.
If you're not sure if Podia is the right platform for selling your digital products, you can opt to sign up for a 14-day free trial with just your name and email address (credit card is not required). With this free trial, you can try tinkering with Podia's membership, online course, and digital download features, and see if Podia fits your needs.

Payments can be made through PayPal or Stripe. Transactions are secured through a 128-bit SSL encryption technology.
Podia: What I Liked About It
The first thing I liked about Podia is its ease of use. The interface is neat and simple. Almost all the main features are found on the dashboard's page. With Podia, building an online course, a digital shop, or membership site has become an easy task.
Another good thing in using Podia is that you can store all your digital products in one location. Unlike other platforms which usually have limited capacities, Podia lets you host online courses, digital downloads, and membership sites together. You won't be even required to use DropBox or any third-party storage apps to host different items. This makes organization and maintenance of all your digital products a breeze.
As a drag-and-drop builder, Podia is the perfect tool for beginners and intermediate users that aren't adept with HTML or programming language. On top of that, you will have a beautiful theme to kickstart everything.
Podia: What I Don't Like About It
While Podia is simple, it lacks customization options and advanced features to win the hearts of advanced users. Podia simply can't compete with Magento or WordPress in this aspect.
Another downside is that Podia lacks phone support. However, Podia offers other means for contacting customer support, like its resources page, email, and the 24/7 live chat channel.
Podia Review: Final Thoughts
Whether you're hosting a membership site, offering an online course, or selling downloadable contents, Podia will provide you a simple and flexible way to start selling your products online. I must say that, for first-time users, making the first step is an intuitive and straightforward process.
Unlike WordPress and other competing platforms, Podia won't overwhelm people who aren't that tech-savvy when it comes to coding or website management. For instance, people won't have to worry about glitches or any technical issues which usually happen when the product range gets too big or when the plug-ins used are just too many.
While Podia's simplicity is a big asset, it's also a downside—the platform doesn't have lots of customization options or advanced features. If you think about this, you get the assurance that you won't be paying for excess features that you won't be using at all. Even if you do need the extra features, if things get too complicated, then why should you bother in the first place.
If you're a beginner or intermediate user, then Podia will undoubtedly suit you well. If you're an advanced user who wants access to more advanced features, then you should go with another platform that has the features not offered by Podia.