Kinsta: Overview

Kinsta is a reputable cloud hosting provider and a known presence within the industry. They offer premium features and managed solutions with scalable plans without hidden fees or crazy renewal prices.
Their most valuable features include their infrastructure, security, and support. If you host your project on Kinsta, it will be in good hands.
Kinsta started out as a provider specifically hosting WordPress sites. Over the years, they went from offering 3 plan tiers to 10 tiers and extended their services to include web applications and database hosting with static site hosting on the way.
Kinsta is known for constantly improving their services and features without significantly increasing costs. Major feature updates include introducing Google Cloud's compute-optimized virtual machines for better performance, a built-in Application Performance Monitoring tool to help discover performance bottlenecks, and rolling out enterprise-level Cloudflare integration at no cost for all users.
They even created a free local WordPress development tool called DevKinsta.
Getting started with Kinsta is super easy. Every type of user can all find a suitable solution from Kinsta's wide variety of hosting plans. If any help is needed, the sales team is available via chat or phone during business hours.
Key Features of Kinsta
Kinsta's managed WordPress hosting offers various perks and benefits for users. Pretty much all your needs are covered.
Here's a quick rundown of features all plans include:
Speed-optimized infrastructure based on Google Cloud's Premium tier network
Cloudflare integration with free CDN and wildcard SSL
Free migrations
Free hack-fixes through Security Pledge
Free SSH access
DDoS protection
Support of the latest PHP versions (PHP 8+)
Uptime monitoring
Daily backups with minimum 14-day backup retention
Built-in Application Performance Monitoring tool
Custom-built site management dashboard
Kinsta API
MyKinsta Dashboard
Kinsta has numerous in-house tools. The site management platform, MyKinsta, makes it easy to set everything up and manage your plan. All site management tools and functions are at hand and are easy to use.
Let's take a closer look at MyKinsta.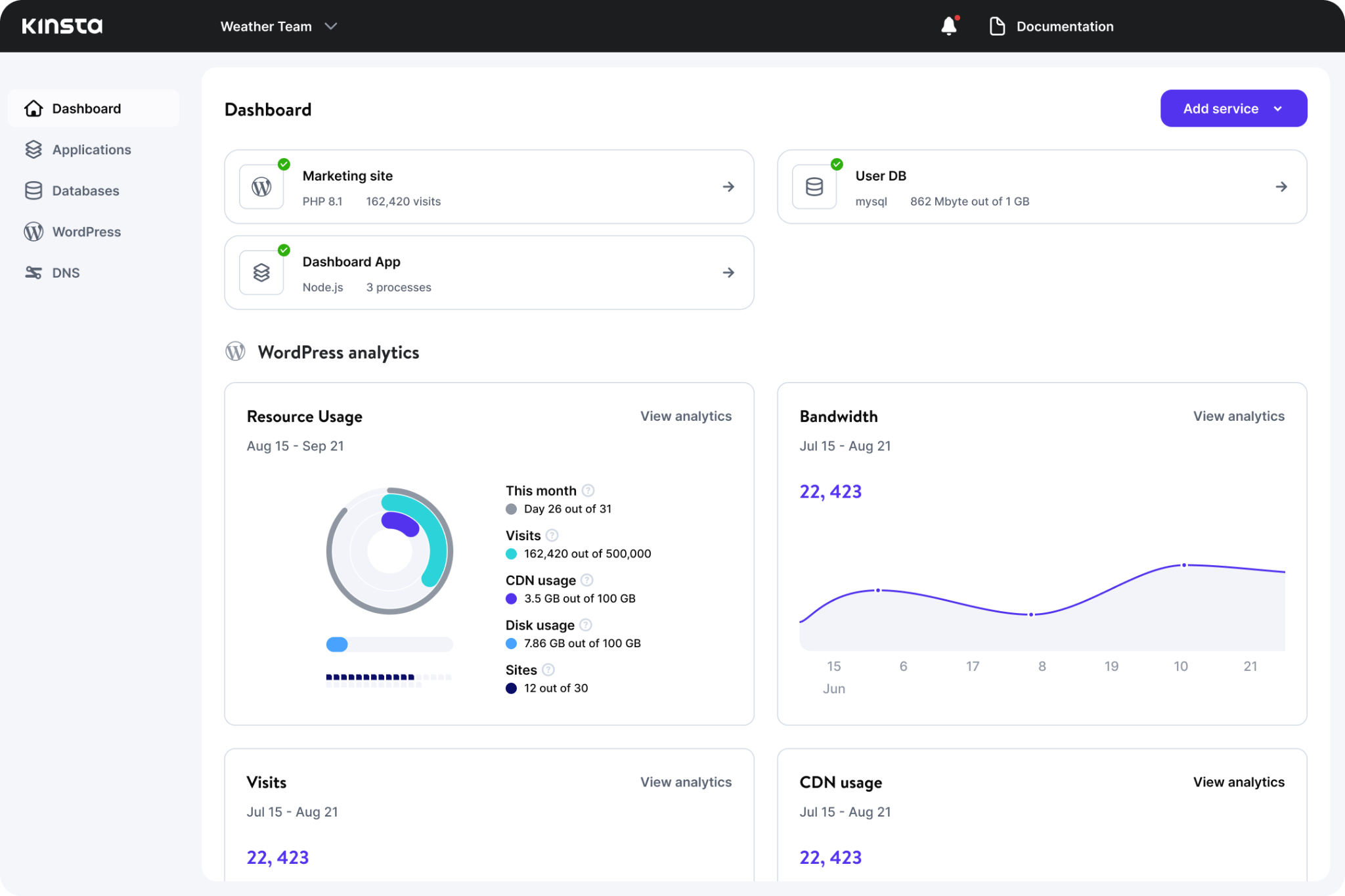 MyKinsta lets you manage all your web projects in one place; web applications, databases, and WordPress sites.
You can easily start by deploying a GitHub, GitLab, or BitBucket repository or from a Dockerfile, then you select your data center and build environment. You can also choose to host your database through internal connections without being charged for internal bandwidth.

For WordPress sites, you can create a site from scratch or migrate an existing site. You can also clone an existing install.
The MyKinsta dashboard was built with usability in mind. It comes packed with features like search and replace, force HTTPS, URL redirects with IP geolocation support, and IP deny.
The dashboard allows you to access site analytics to be able to monitor resource usage and visitor stats. You can also review installed themes and plugins to monitor versions and perform upgrades without having to log into WordPress.
There is also a built-in Application Performance Monitoring tool, edge caching, early hints, cron jobs, PHP workers, and more tools as part of the plans.
The dashboard comes complete with an array of powerful tools for managing WordPress websites. MyKinsta even includes a comprehensive analytics dashboard that provides insights into key site metrics.
Want even more features at your fingertips? MyKinsta also includes these powerful features:
Easily toggle between PHP versions
High-performance object caching with Redis addon
Quick and easy phpMyAdmin access
Automatic MySQL database optimizations
One-click ionCube enabler
One-click CDN setup with Kinsta CDN
IP Deny tool that allows you to block IP addresses before they reach your site
Free automatic Cloudflare SSL certificates with wildcard domain support
Toggle option for enabling WP_DEBUG mode
Add your SSH keys to the dashboard and strengthen login security
Dashboard is available in 10 languages, including English, Spanish, German, French, Italian, Dutch, Portuguese, Japanese, Swedish and Danish
Kinsta's site management dashboard comes with a multi-user feature. If you are maintaining a business site or working on big projects, you can definitely benefit from this.
Kinsta's dashboard provides company-level and site-level roles to make sure all users have permission and access to what's needed for their work.

They also rolled out Kinsta API to help automate WordPress site creation, create scheduled tasks or retrieve data.
Kinsta Support
Kinsta support is available from within the MyKinsta dashboard. All you need to do is click the chat icon and request technical support, and you'll be connected with an engineer. The level of support is the same across all plans and services. Kinsta's support is praised across review platforms, helped by an average response time of below two minutes.
Kinsta Pricing
Kinsta operates with a straightforward, if overly complicated pricing structure. There are ten different plans for managed WordPress hosting services, which is a lot. Fortunately, the infrastructure, level of support, and hosting features are the same across all plans.
Resources, such as monthly visits, disk space, PHP workers, or WordPress installs allocated, vary per plan.
Kinsta's plans are scalable, and each you are able to find a suitable solution based on your site's size and resource requirements.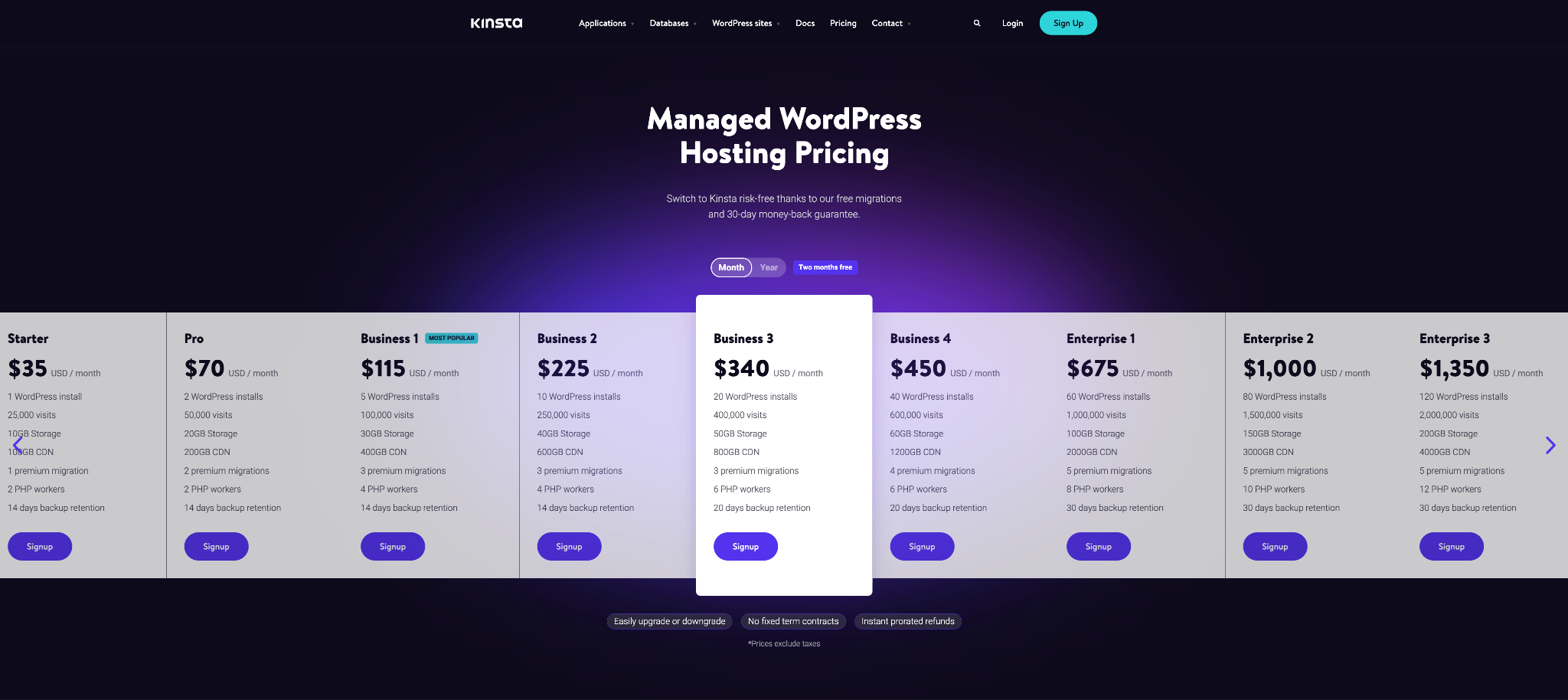 Kinsta also has business site owners in mind. If you have a single site with increased resource needs, such as a high-traffic site or single WooCommerce or membership install, you can opt for one of Kinsta's single site plans.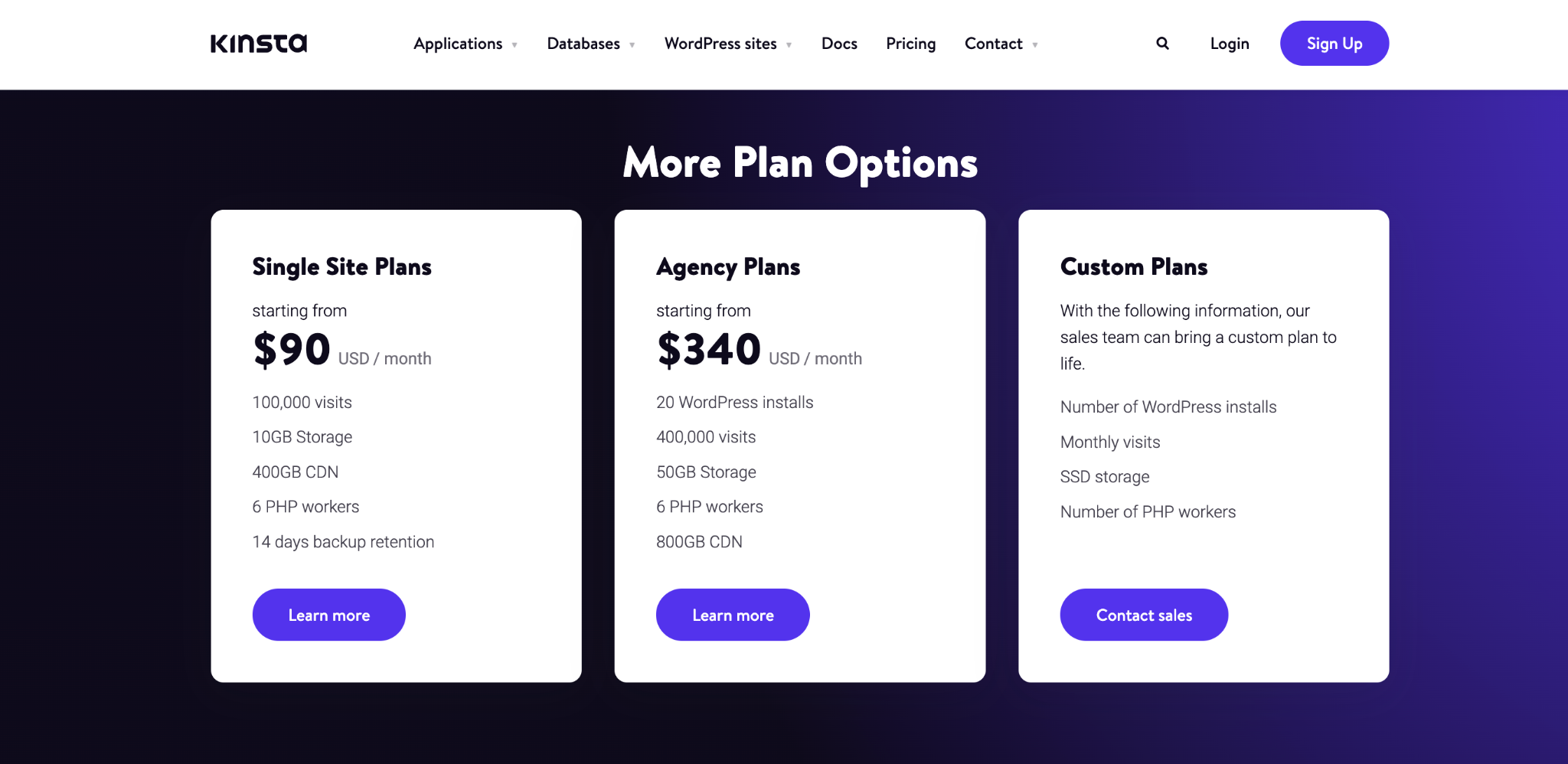 For those managing several WordPress websites for clients as part of their design and development services, Kinsta offers Agency tiers with all resources and tools at hand to manage 20+ or so client sites.
It's a convenient option if you want to resell Kinsta's hosting. Besides the free hosting for the agency site and the ease of managing all sites in one place, one of the perks of the Agency plans is early access to Beta tools.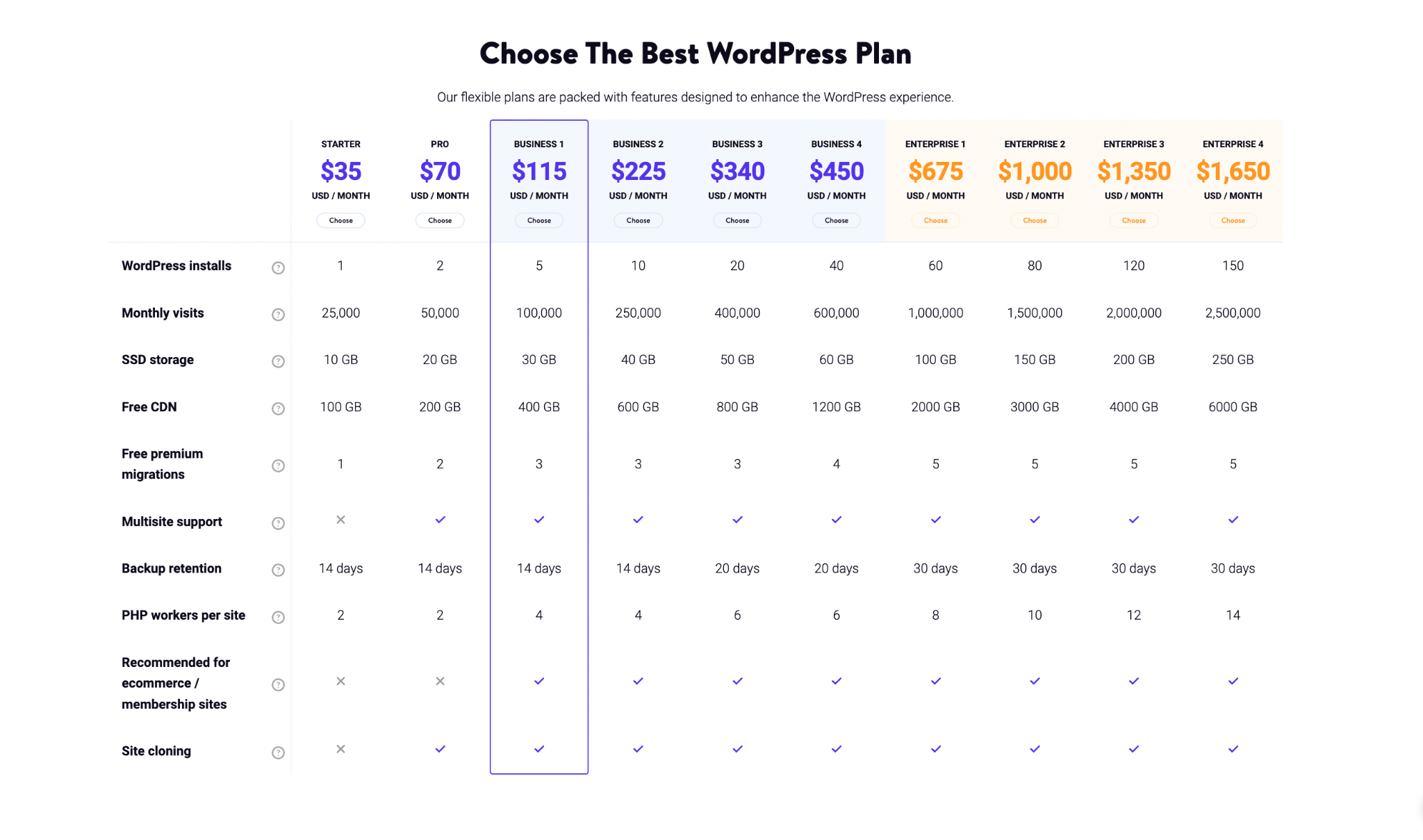 All of Kinsta's WordPress hosting plans come with a 30-day money-back guarantee. If you want to upgrade or downgrade your hosting plan, you can do it in a few clicks.

For application hosting, you can select application pods with predefined CPU cycles, RAM, and build time and are billed for the use of those resources. Application pod tiers start from $7.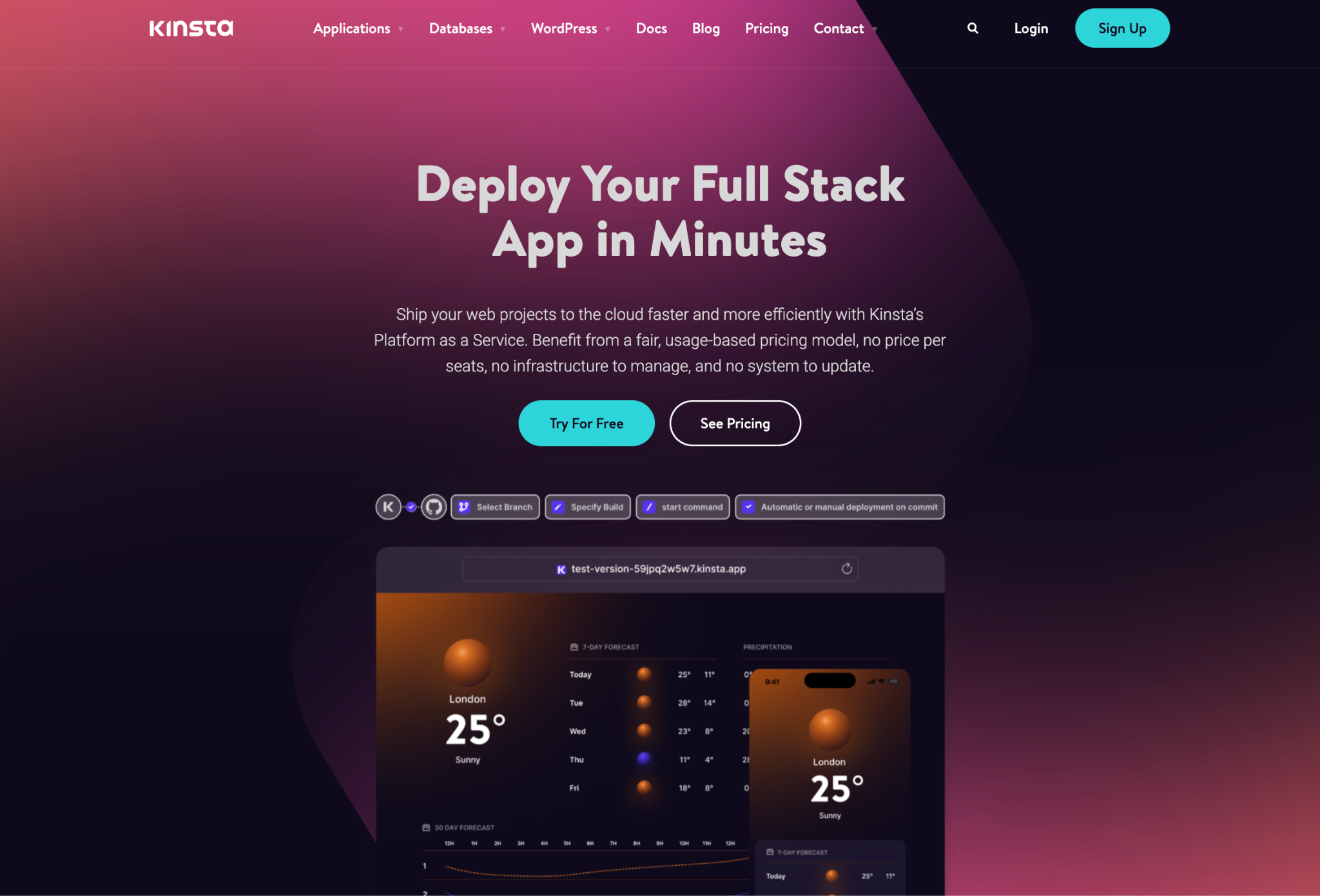 For database hosting, you can select from 9 database tiers, or 'database packs'. They have a predefined amount of CPU, RAM, and storage resources and are billed for the use of those resources. Database packs start from $18.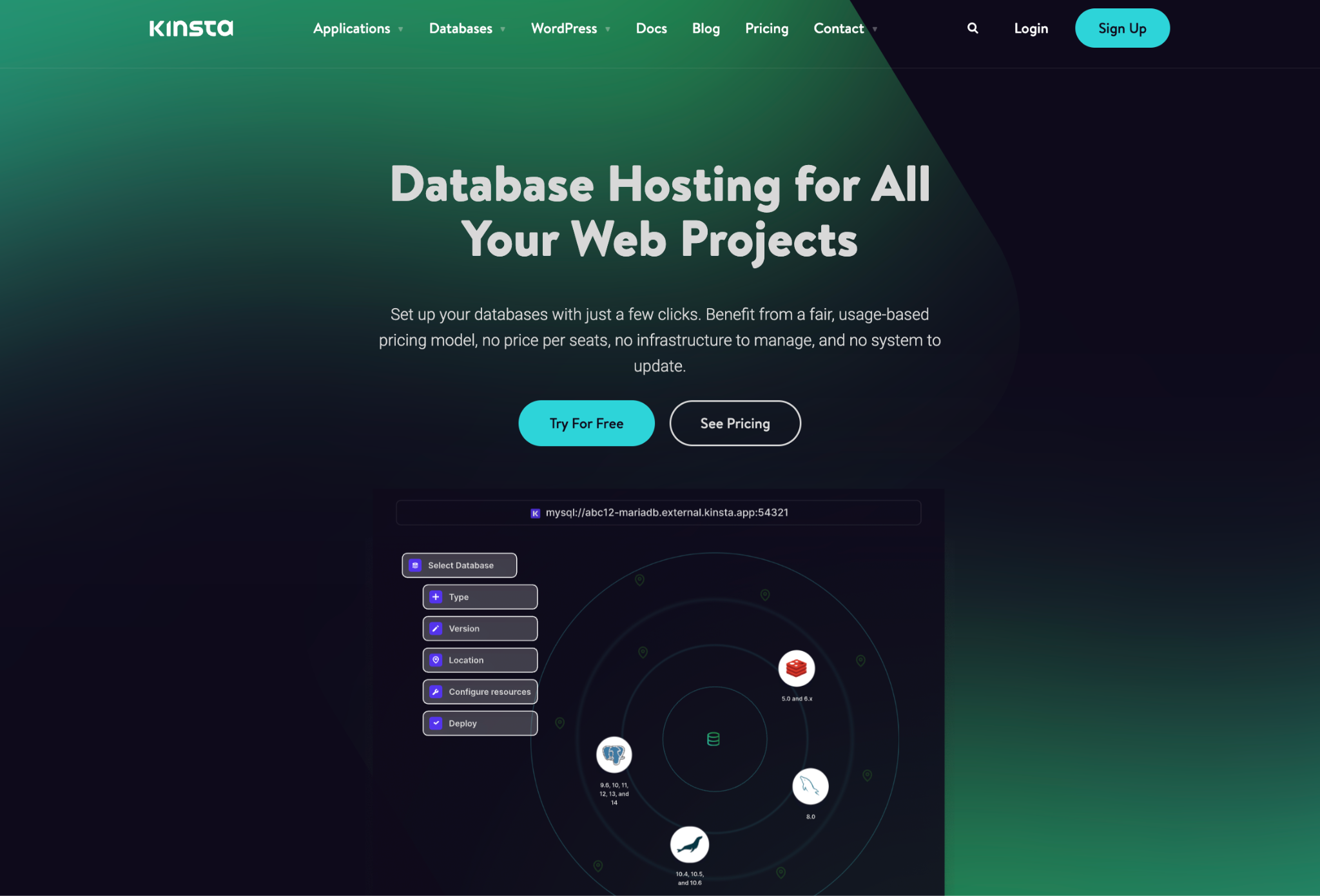 Upon signing up for Kinsta's application hosting or database hosting plans, you automatically enter a free trial which provides $20 in server resources and applies to the first month of hosting.
Kinsta WordPress Hosting: What I Liked About It
Kinsta has obviously thought long and hard about how people approach hosting and the types of services they offer. The depth and breadth of those services means there's a plan here for any use case.
The Kinsta dashboard is easy to use and offers a simple way to manage single or multiple websites. It's simpler than most and makes it straightforward for anyone to learn relatively quickly.
The Google Cloud network delivers performance and reassurance that your website will always be available. It's cheaper to set up and run, which is good for Kinsta. It's also secure, fast and there's an awesome amount of redundancy, which is good for Kinsta users.
Kinsta WordPress Hosting: What I Don't Like About It
In trying to be everything to everyone, Kinsta has a very complicated pricing structure. For example, WordPress pricing alone has 7 tiers. While the average user will only choose between 1-3, that's still off putting at first glance.
Prices are also higher across the board, but you definitely get what you pay for.
Then there's limits on visits and bandwidth. Many web hosts have left this pricing model behind in favor of unlimited visits as it's a barrier. Website owners need to predict how many visitors they get and monitor it to remain safely within their limit. That's a complication no busy site owner needs.
Finally, I'm not a big fan of prohibiting plugins, especially caching, security and backup plugins. While there may be technical reasons for it, that's not the customer's problem. Or shouldn't be anyway.
Kinsta: Final Thoughts
Kinsta is a fast, reliable web host capable of helping with all manner of projects. If you don't mind paying for the privilege, you'll get dependable web hosting that uses stable, secure servers dotted across the world.
Add Cloudflare integration and you have all the stability you could need, whether you're a hobbyist setting up your first website or established business managing high-traffic platforms.
The MyKinsta dashboard is about as easy to use as it gets. It's more intuitive than many competitors and speeds up site management without compromising on tools or features. That's definitely to the company's credit.
Overall, Kinsta is a good choice for web host. It concentrates on offering value rather than competing on price and that's more than okay with me.