Before the arrival of the Astra WordPress theme, customizing a website to your liking was only available to a few.
At best you had to spend a lot of time modifying the code if you were knowledgeable enough.
At worst, you had to hire an expensive developer and designer.
Rinse and repeat every time you need to make any modification!
Everything changed with the release of Astra.
With its intuitive interface, templates and powerful customization features you could get the website you wanted in a matter of minutes.
Astra is without a doubt one of the best WordPress themes around. Its free version can even beat most premium themes out there.
If you want to know why, continue reading this review where we'll explore its key attributes and the features that have made it the go-to choice for more than 2 million websites worldwide.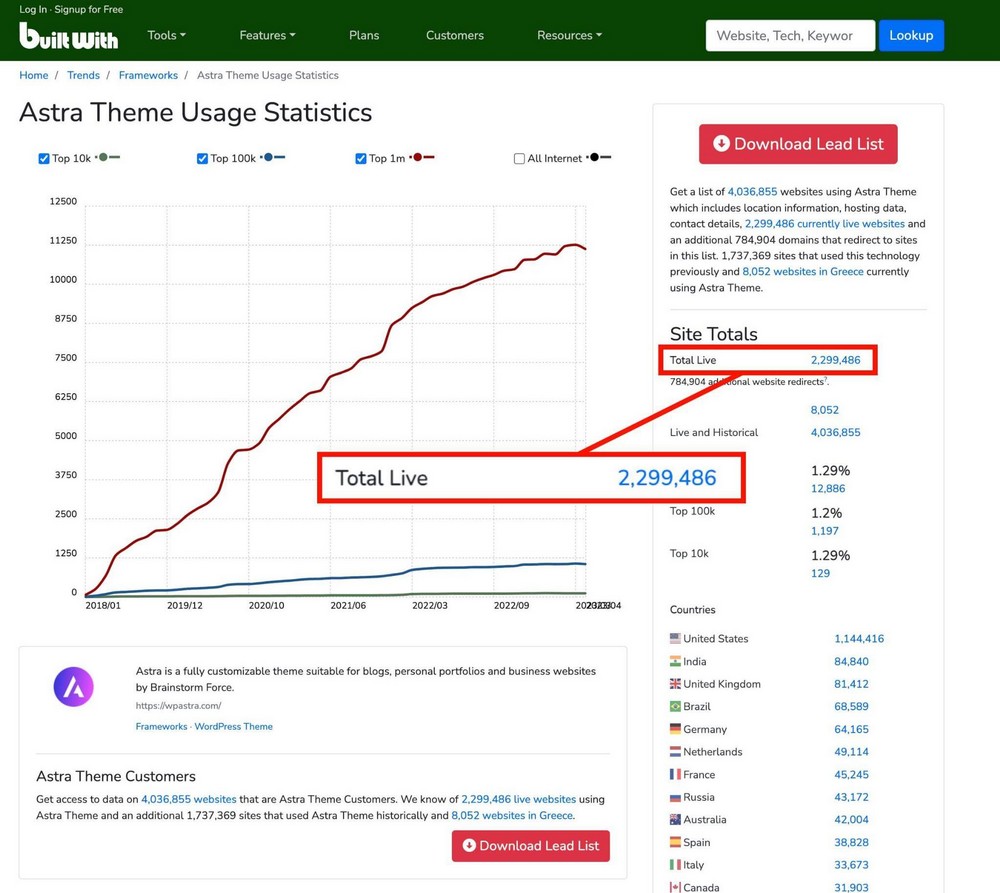 8 Astra theme features that makes it better than others
Let's see the top 8 reasons why more than 2 million websites currently use this theme.
1. Lightweight and Fast
Astra has always been known for great performance. Even with all the features it includes, pages weigh less than 50 kb and load in less than half a second!
Astra is very well-optimized and follows the latest coding standards. It doesn't use jQuery and self-hosts Google Fonts, making your site blazing fast.
On a clean WordPress install with Astra theme enabled I got 100 points on the desktop version and 98 for the mobile one.
That's before making any of my own optimizations or setting up caching. Which is great!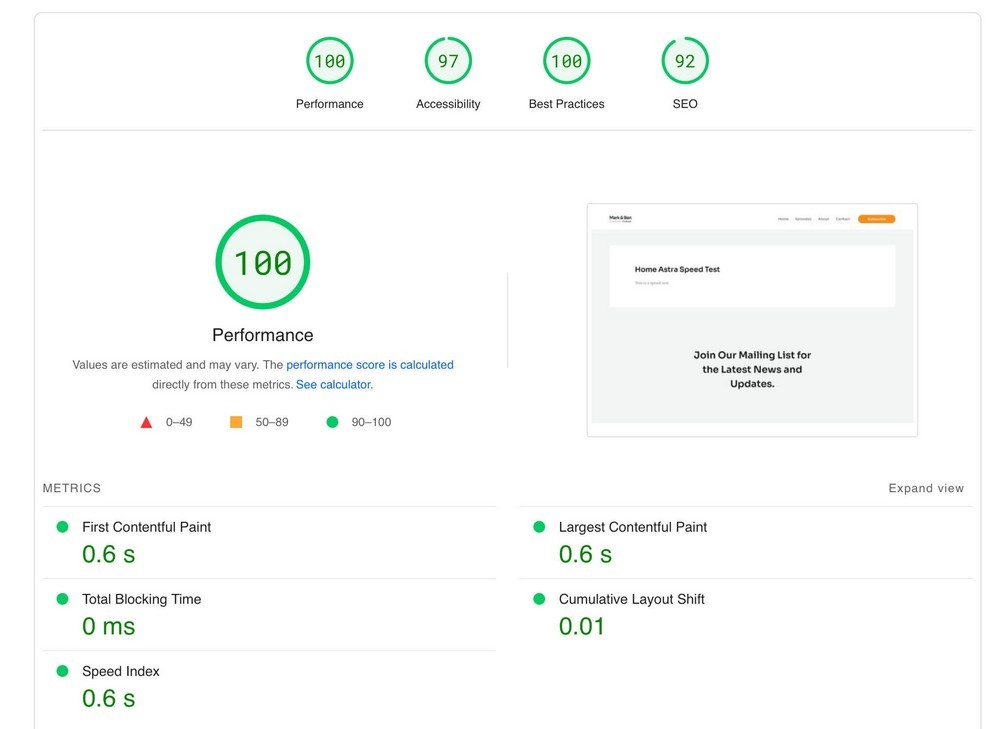 2. 250+ Pre-built website templates
To date the Astra team has created more than 250+ templates that you can install with just a couple of clicks.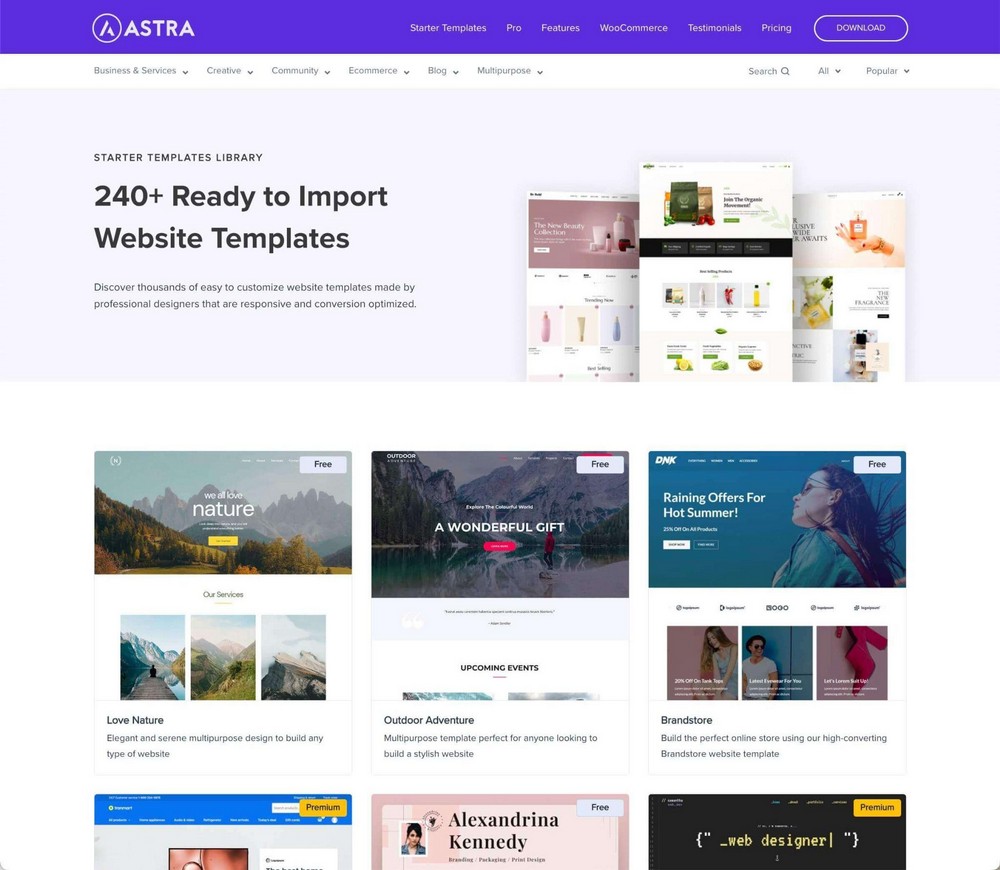 You'll find templates for every scenario: online stores, portfolios or link in bio are just some of them.
Think of anything you need and there will probably be a template for it.
The number of templates is constantly increasing to meet new needs and trends.
If you run an agency or you're going to launch many projects, using Astra templates is a smart choice.
Whatever types of client you have, there will be one or more templates to suit.
Astra Starter Templates are:
Easy to use: The installation wizard sets everything up in just a couple of steps, allowing you to create stunning websites with minimal effort.
Performance-driven: Astra and its templates are designed with performance in mind. I thought that by using one of these templates the speed would be drastically reduced but it wasn't the case.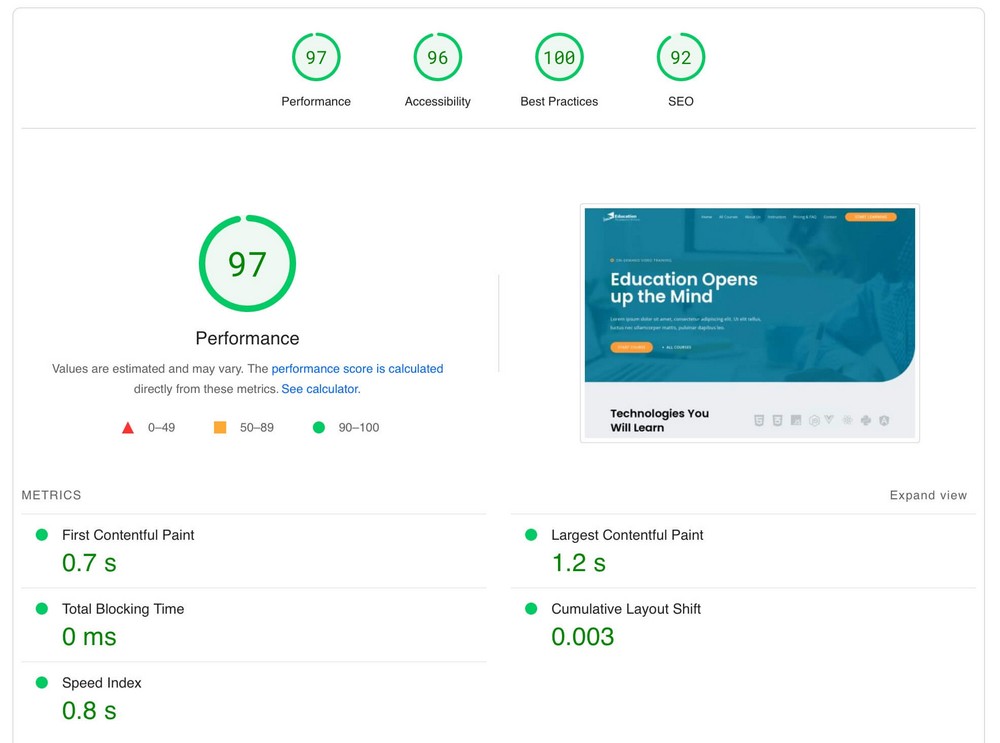 Very customizable: Templates provide extensive customization options so you can tailor your websites to your needs.
Integration friendly: You can seamlessly integrate templates with popular page builders like Elementor, Beaver Builder, Gutenberg or Brizy. As well as third-party plugins like WooCommerce or LearnDash.
Regularly updated: Astra and its templates are regularly updated to ensure compatibility with the latest versions of WordPress and to add new features and optimizations.
Astra templates simplify the website design process and eliminates the need for advanced design skills.
The online academy template I tested was up and running in less than 30 seconds.
Templates include an eye-catching homepage and internal pages like course listings, FAQs or pricing tables, that otherwise would have taken me much longer to create.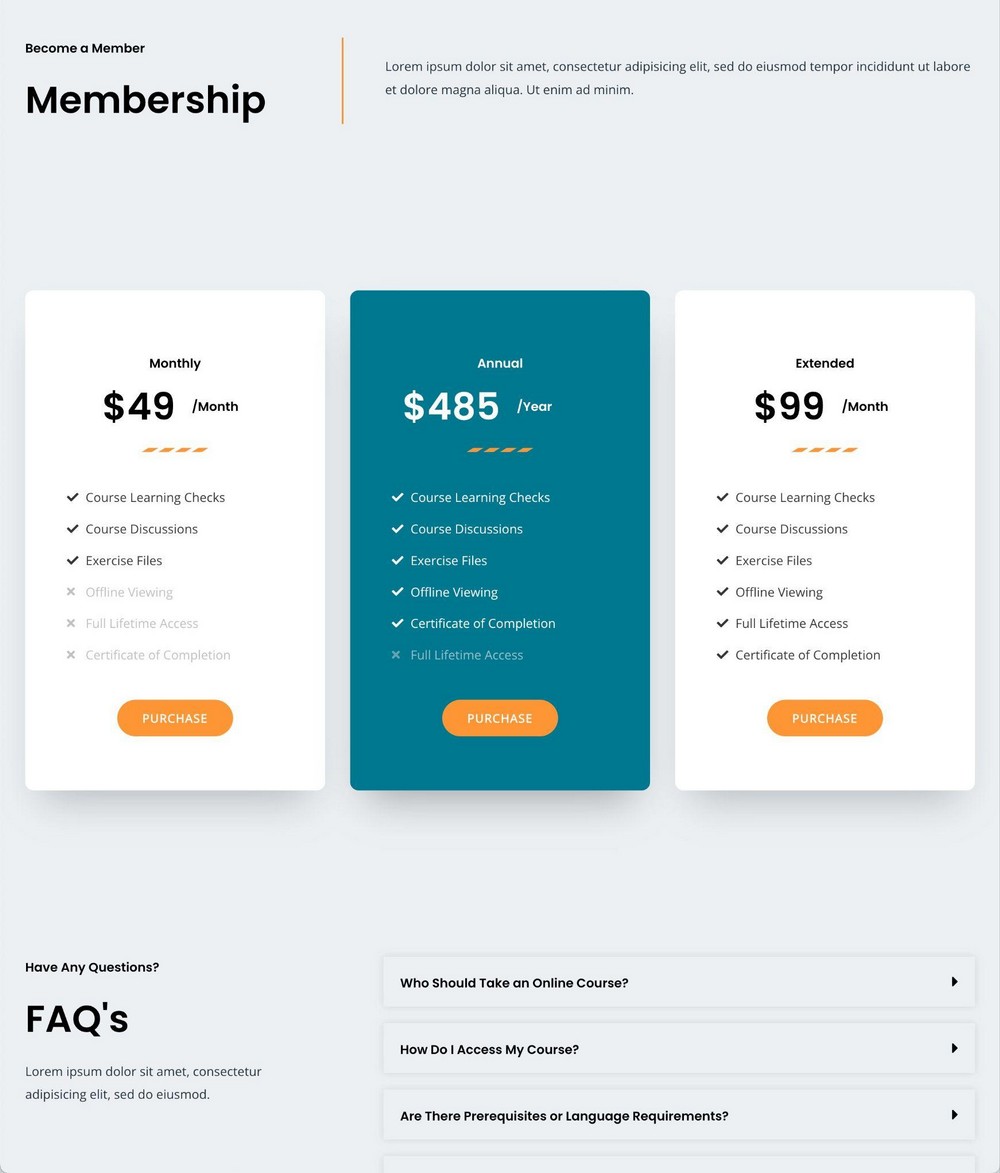 3. Highly Customizable
Whichever template you choose you can easily adapt it to your brand or to the design you have in mind.
In Astra almost everything is customizable:
The global color palette will help you manage all the colors across your website in one place.
You can add typographic presets for your different headers and texts.
Choose from over 700 Google Fonts or use your own custom fonts.
Change paragraph margins.
Customize everything you see on the page.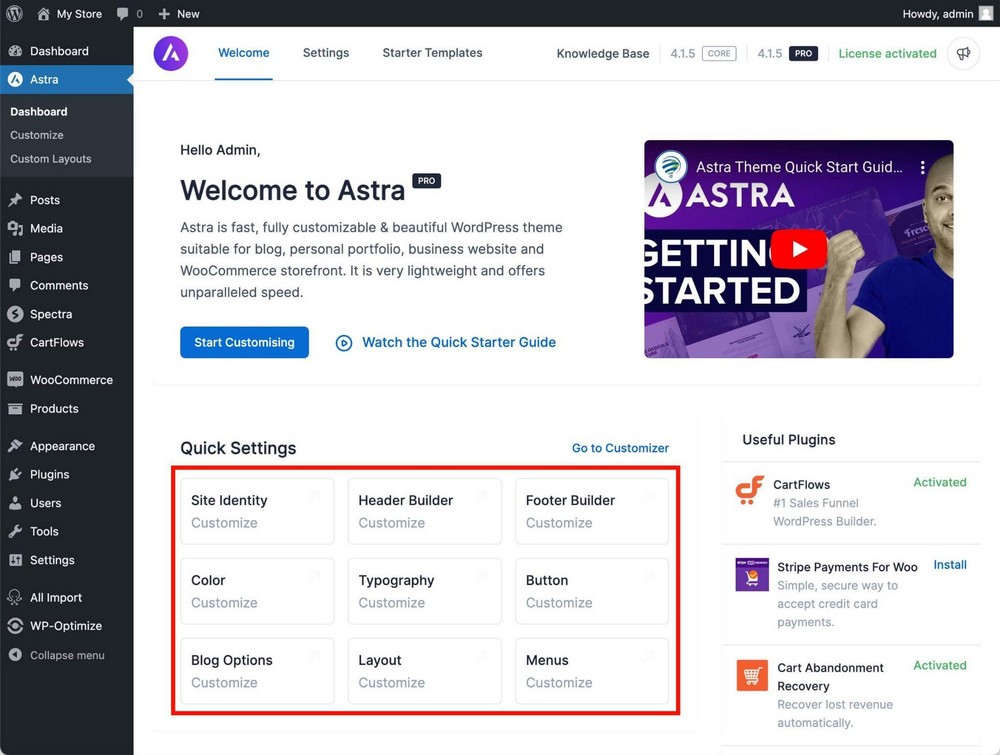 You can easily access all these customization settings from the dashboard.
This intuitive control panel helps avoid wasting time navigating through multiple menus to find the option you need.
Every control and option is right there on a single screen.
4. Variety of Website Layouts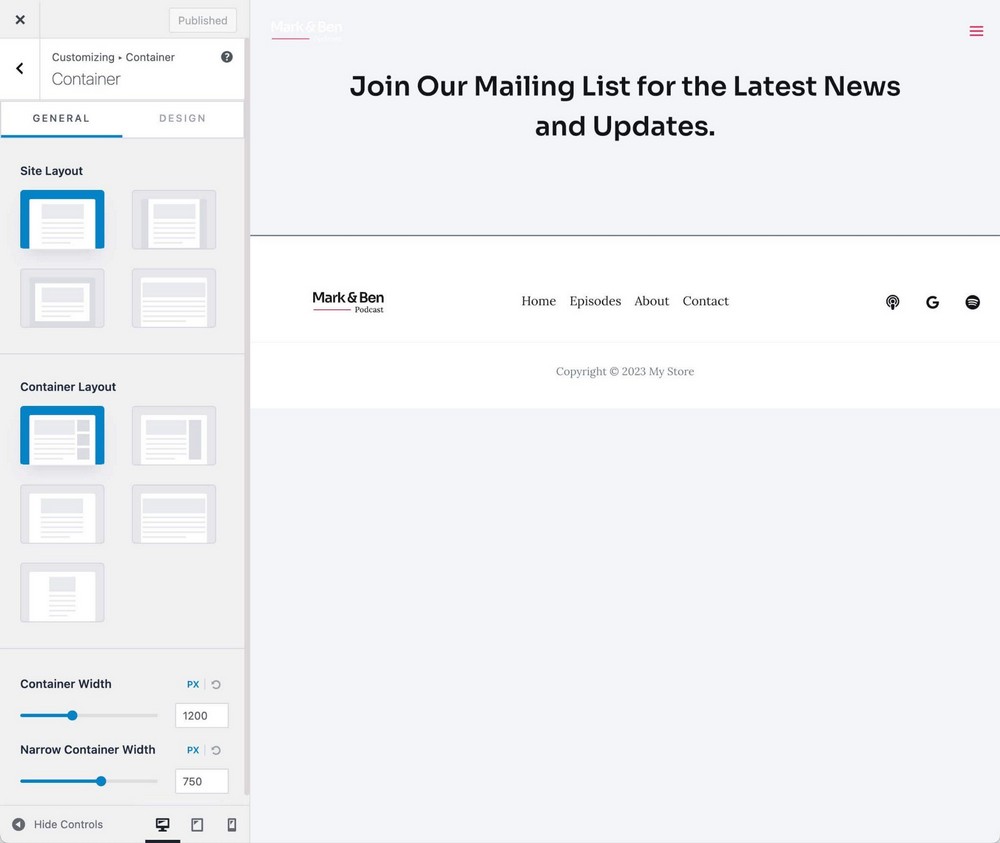 Layouts don't add as much to your branding as the colors, fonts and other customization that Astra offers.
But they will give you enormous freedom in creating the website structure you need.
You can modify:
The site layout: So the site fills the entire width of the screen, a maximum width, be padded or fluid.
The container layout: To decide how to display the content inside each page. This includes a boxed and a narrow version where you can specify the width you want.
Best part? You can define different container layouts for different custom post types!
Astra goes further and also offers layouts for different parts of your website.
Blog layouts: Display your latest articles as a list, grid or masonry. You can enable an infinite loading feature, highlight the first post and manage pagination as you wish.
Article structure: So that you can control how the featured image, title or meta text appear.
All this can be defined from the preferences. No need to use code or have advanced knowledge.
I like this aspect of Astra as not everyone wants the same size or shape of pages. It certainly saves time and effort coding that's for sure!
5. Integration and Compatibility
Astra gets along very well with a multitude of WordPress tools.
It's 100% compatible with Elementor and Spectra and will work with any compliant plugin.
You can also create online stores using SureCart or WooCommerce as the theme integrates with these plugins smoothly.
If you decide to use WooCommerce you can also enjoy:
Product grid display with customization settings.
Off-canvas sidebar to show extra info on demand elegantly.
Sales bubbles to increase click through rate and sales.
Infinite scrolling on your products page.
Quick view on products so buyers can see them in more detail without having to open a new page.
Dropdown carts to easily show what customers bought without having to open another page.
Astra is a multidisciplinary theme, but has a very important branch that revolves around eCommerce.
In fact the 3.9 update was focused on offering a new shopping experience.
If you want to set up an eLearning platform using LearnDash or LifterLMS, Astra also has you covered.
It has been tested extensively with all these plugins and even comes with a few dedicated Starter Templates for online course websites.
6. Header and Footer Options
Having a great header and footer is crucial since they offer a lot of dynamism and personality to a website.
Thanks to Astra, you'll be able to modify both to a whole new level.
You can start with very simple customizations such as:
Making your header sticky so that the menu is always available and present to readers.
Add transparency to make it look much more elegant and professional.
Easily customize the header for mobile devices.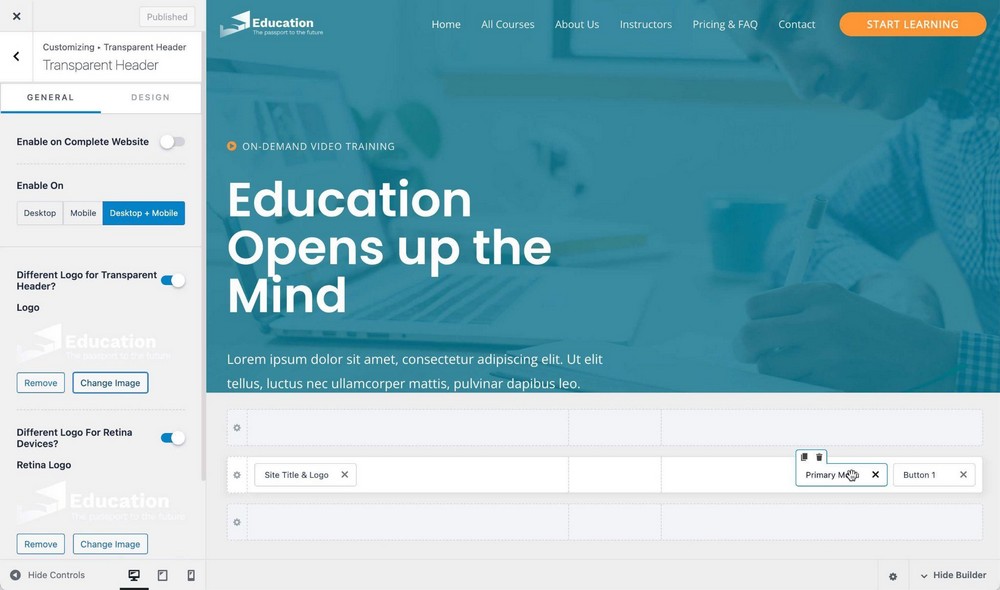 In fact since Astra 3.0 there is a header and footer builder available with which you can easily add the content you want to show and create the design you need for these two elements.
7. Custom Layouts
The custom layouts module is one of the most powerful modules in Astra Pro.
We all have clients that want something a little different. We all know those who don't want a standard page layout and expect you to code something specific for them.
Thanks to custom layouts, you have much more freedom to create the design and layout you need without having to touch code.
There are different custom layouts that you can create:
Custom headers and footers: Enable on the whole website or on specific pages.
Custom content layouts inside pages: Design a custom section and embed it at any location inside your pages and posts.
Custom 404 pages: Use a more attractive and useful 404 page than the default option.
Custom layout hooks: Inject custom code and content anywhere.
Most of these elements can be easily created using your favorite page builder.
And the best part is that you can show them manually or also enable automatic display conditions.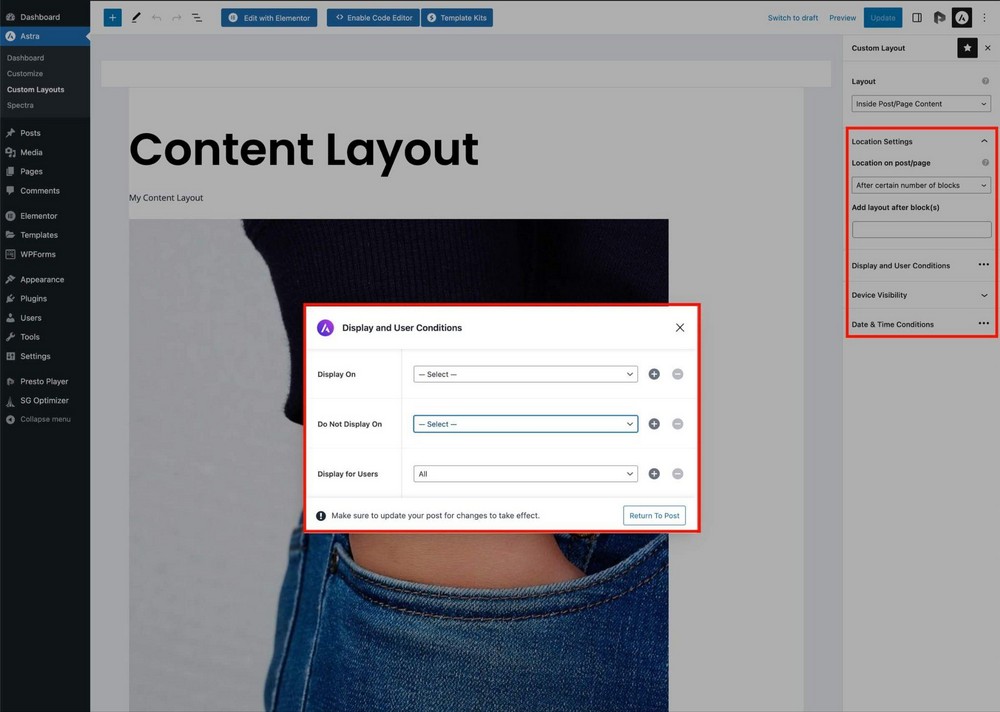 So, if you have one of those clients that wants to break the rules like I do, you can now give them exactly what they want!
8. Up to Date
Technology is always changing and WordPress is always evolving. You need your theme to do the same.
Whether you're building a website for yourself or for clients, it needs to stay up to date and current.
There's no point building an amazing new website for a client only for the theme to become obsolete a couple months later.
Unlike other themes that go months or years without being updated, Astra is constantly being developed. There's a coherent roadmap for years to come, so it's a solid bet.
Astra Theme Customer Support Review
I found Astra incredibly easy to use, but there may come a time when I need a little help.
There is lots of documentation, a bunch of help videos and a knowledge base, but sometimes a little human interaction is required.
So how does Astra stack up?
Pretty well it seems.
Astra has dedicated support for the theme. Even if you use the free version, send them a question and you'll get an answer, even over the weekend!
Astra has a ticketing system where you can send questions you may have, include screenshots or provide your login details for more direct and efficient support.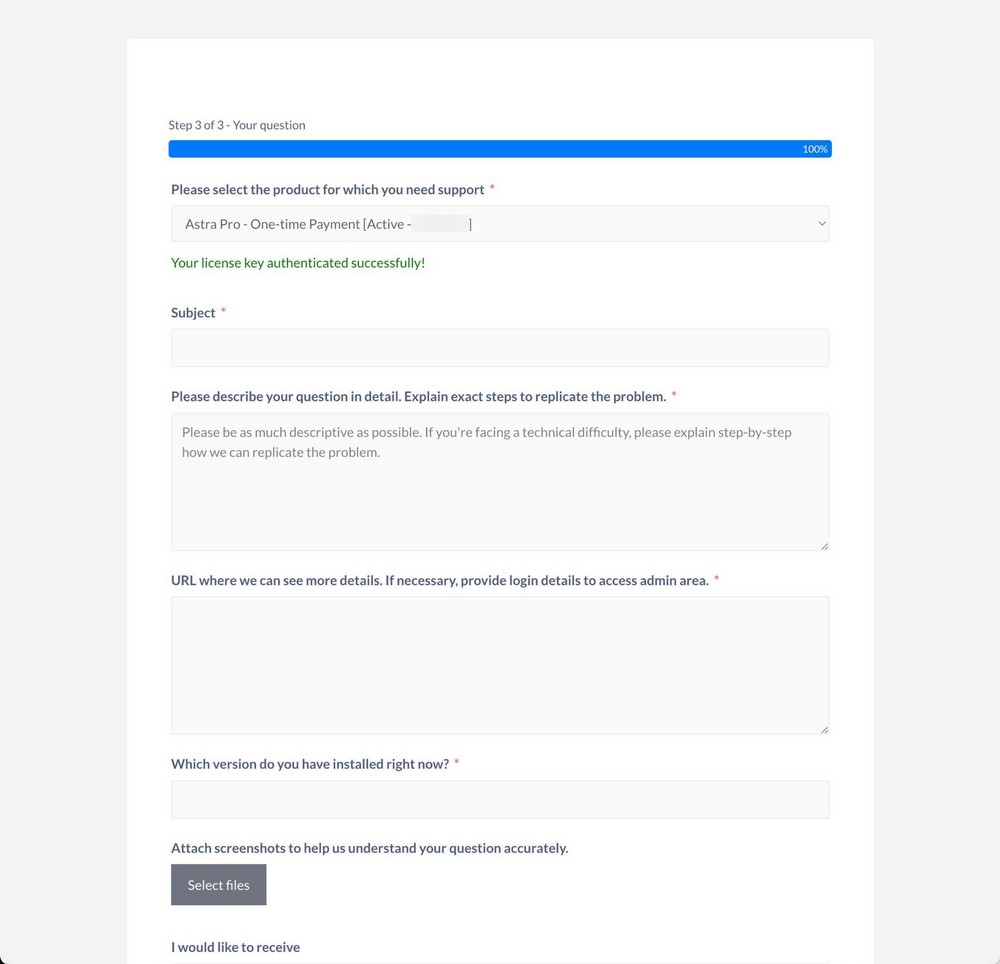 A curious detail of the Astra support system is that it allows you to choose the type of response you want to receive.
This is awesome!
If you're not a techie you just want the answer or the issue to be solved without needing more details. A Normal reply will give you that.
If you're more experienced you may want to understand everything in more detail. A Geeky reply will give you that.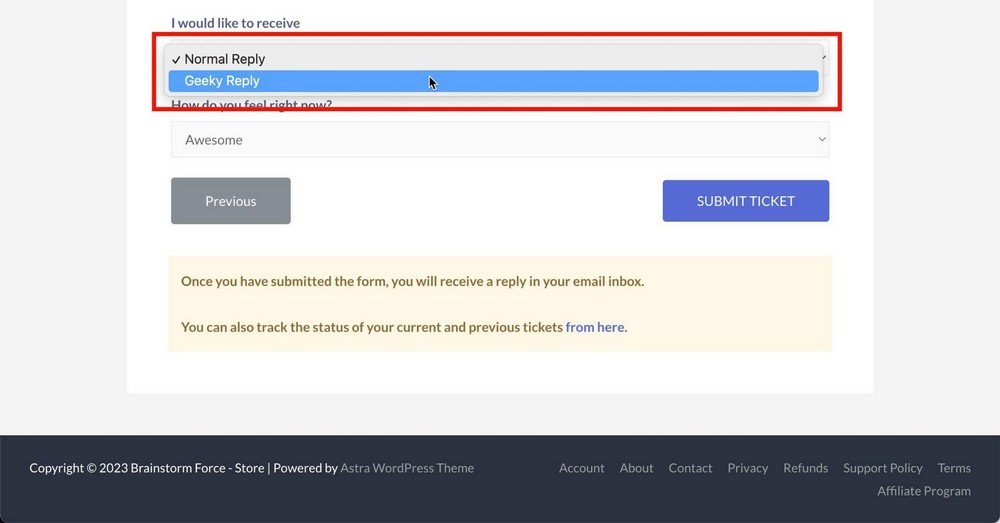 It's a little thing, but a nice touch that personalizes support in a genuinely meaningful way.
You'll receive a copy of your message and a reply by email.
Everything will be organized and tracked in a "my tickets" section so you can review it at any time.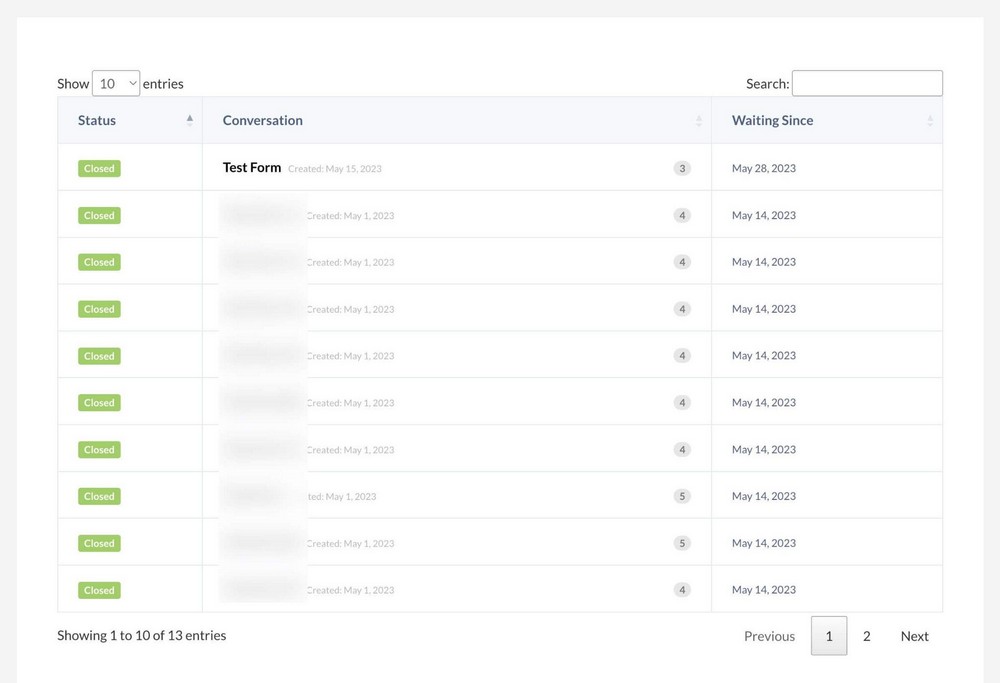 If you want more direct support you can also use the chat function.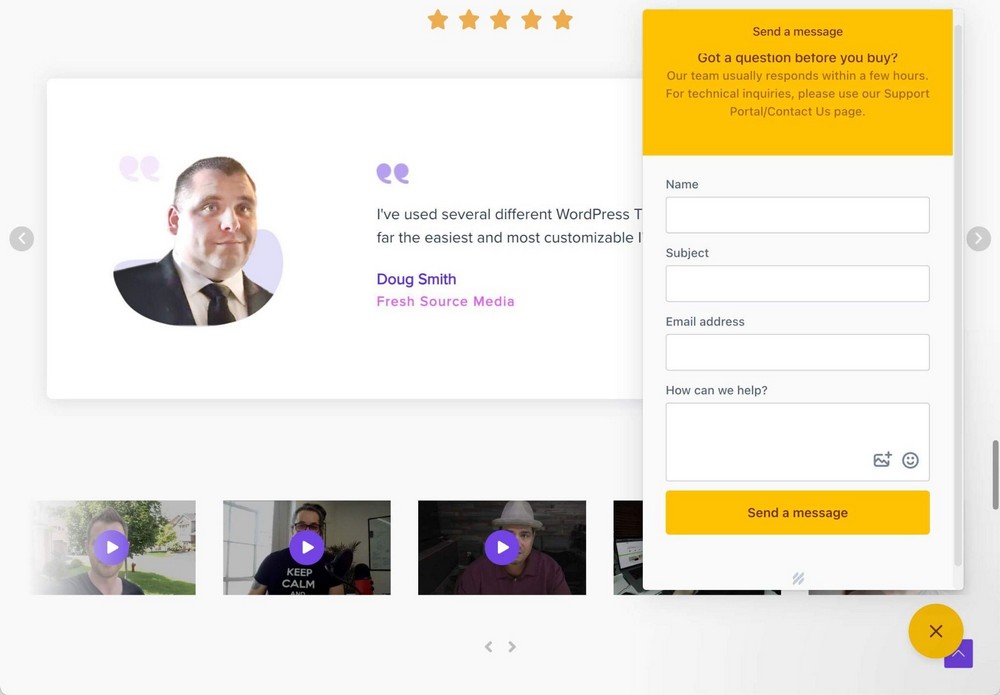 As a rule of thumb the Brainstorm team will resolve your issues in less than a day. Even for free users.
You may never need support though.
Astra is so easy to use, anyone should be able to follow the wizards and the instructions to build a website.
If not, it has an extensive knowledge base with hundreds of articles and support videos.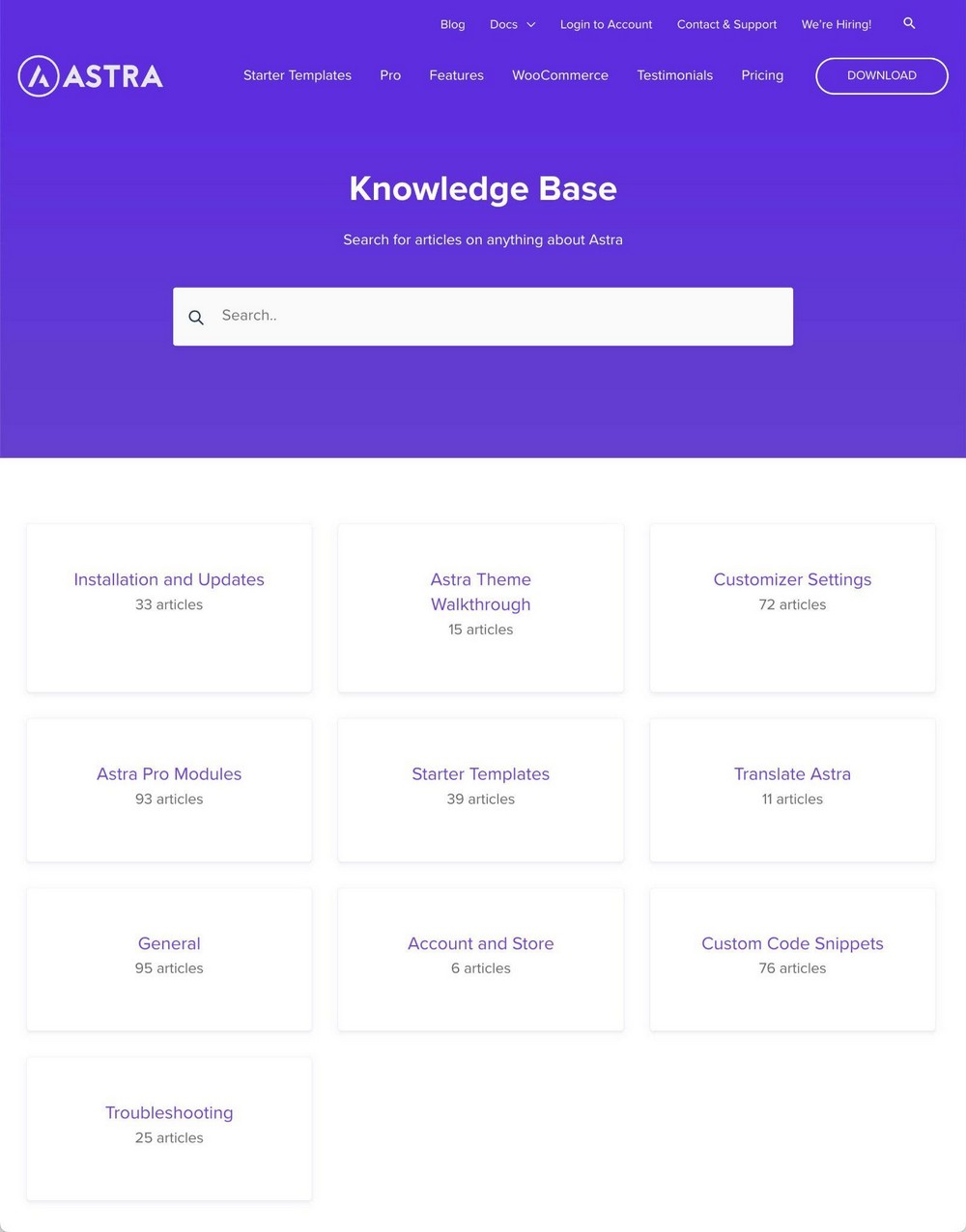 Astra WordPress Theme Security
As you might imagine from a theme that is used on millions of websites, security is an important factor.
The good news is, the developers take security very seriously indeed.
Many of the updates the theme receives throughout the year are focused on protecting your website from attackers.
Whether that's tightening up the code, fixing issues or addressing potential vulnerabilities, you're covered.
To date, no serious incidents have been reported for the Astra theme.
A few years ago a moderately important vulnerability was discovered in another plugin from the company.
But it was resolved in a couple of hours.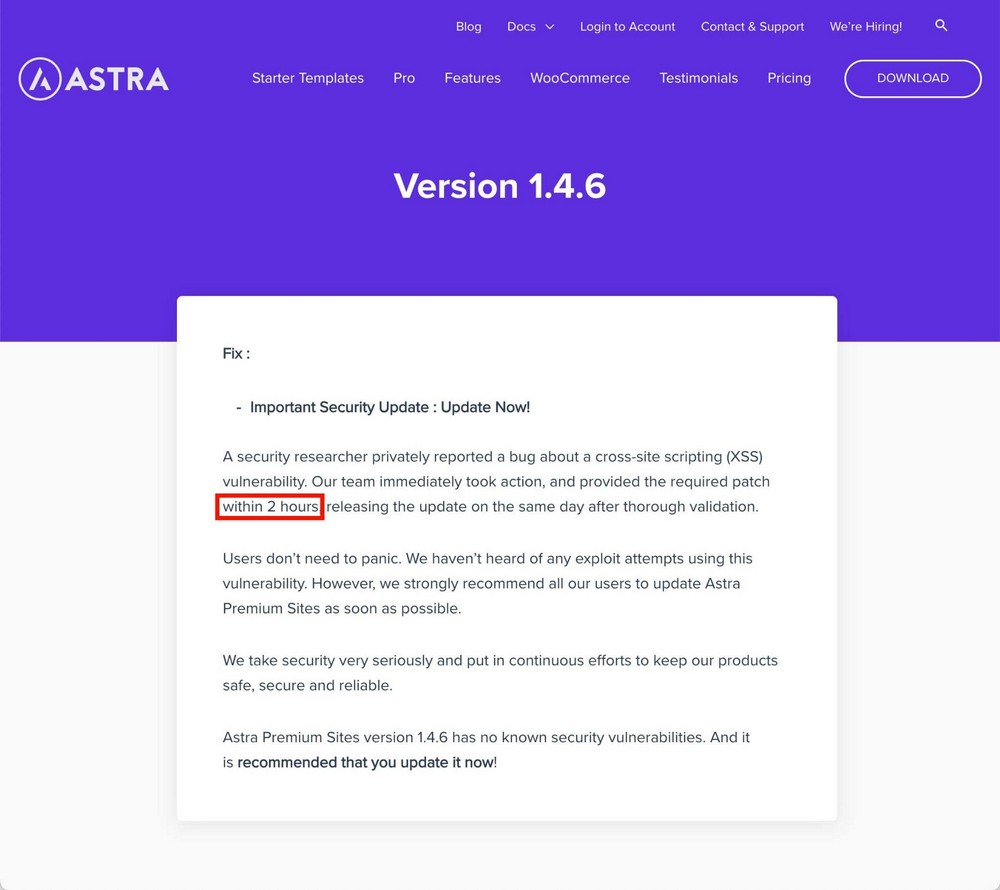 If something like that happens again, I have full confidence they'll do the same thing in the same amount of time.
Astra Free vs Pro Comparison
With so many features, it can be complex to figure out which ones are available for free in a theme and which are not.
The new Astra dashboard makes things much clearer, as this is where many of the Pro features are enabled.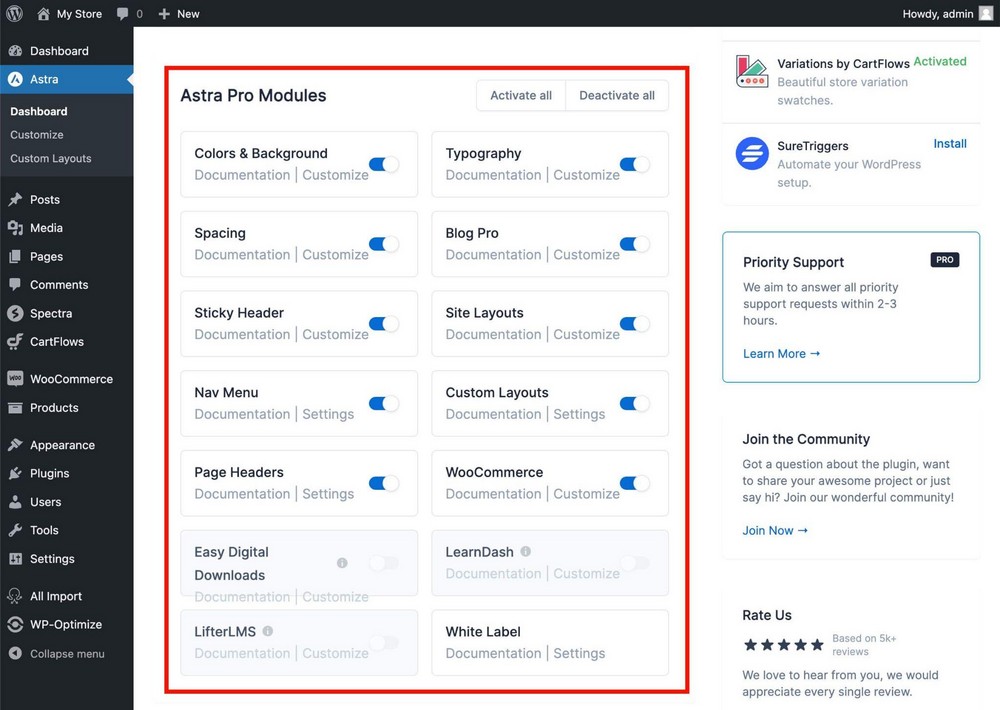 You'll find an extensive comparison of the features that are available for Astra free vs pro on the website.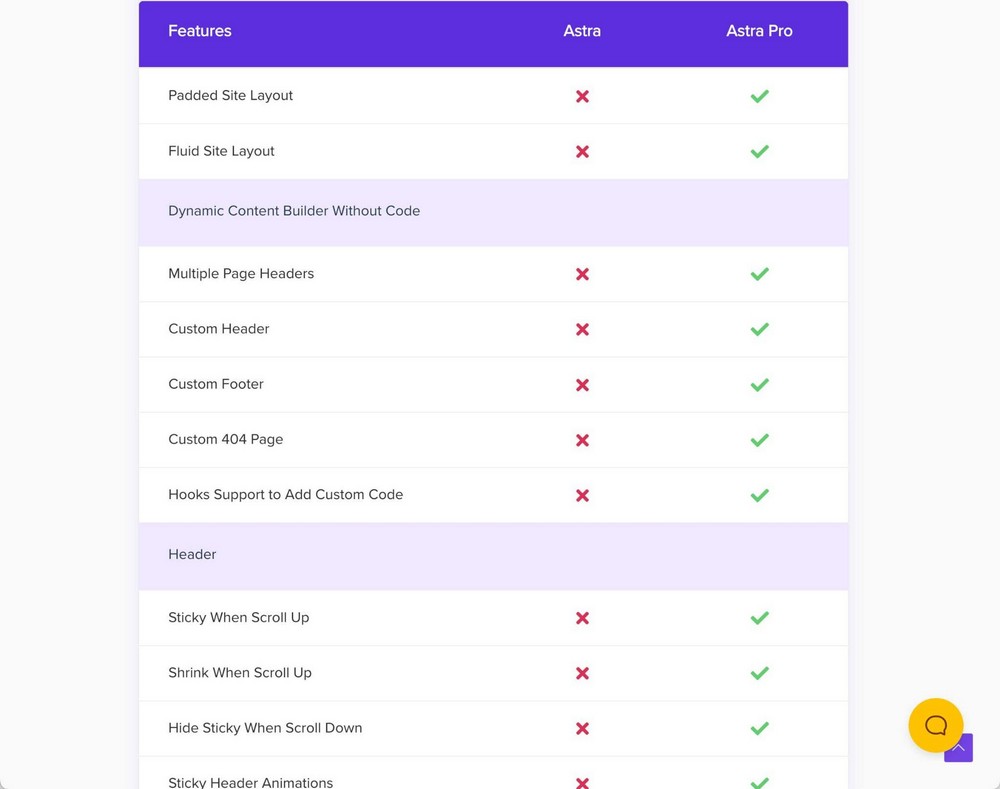 Instead of repeating them all let's simplify this section by answering the question.
Who should get the Pro version and why?
Agencies and freelancers who want to white label their work and present designs made with Astra as their own.
eCommerce store owners who are using WooCommerce and want a much more attractive and functional online store thanks to better checkouts, different layouts or upselling features.
Entrepreneurs who want to sell using Easy Digital Downloads and who want to freely modify the design.
Online instructors who want to create a beautiful online academy using LifterLMS or LearnDash.
People who want even faster and higher priority support.
Websites with many categories that you want to organize using a mega menu.
But above all you should buy Astra Pro if you want to have total control over the design of your website.
Thanks to the site and blog layouts, header and footer builder, off-canvas menu and other tools, you have complete freedom to design websites any way you like.
Astra Pricing
If Astra's premium features appeal to you, buying a license is very affordable.
You can start using Astra Pro for just $47 for the first year with renewals at $59.
That's a bargain considering that you can use the theme on unlimited sites!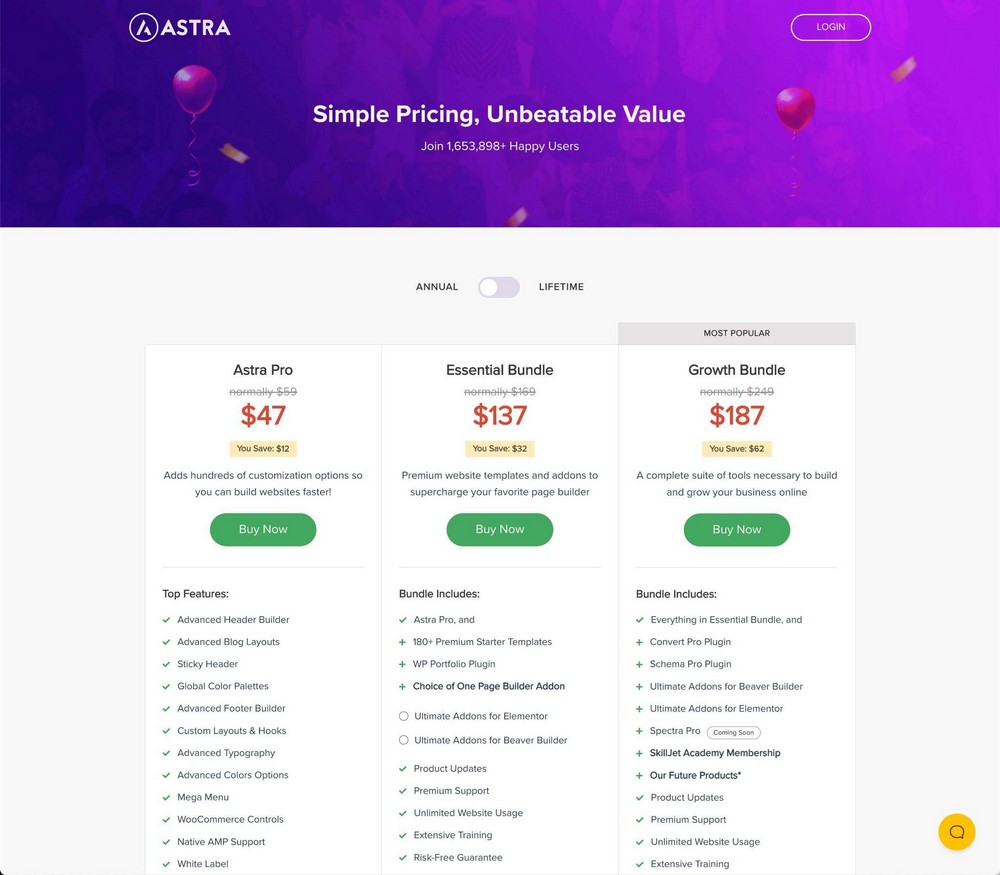 If you want to forget about renewals and receive lifetime updates you can buy a lifetime version for a one-time fee of $227.
To put it in perspective, StudioPress themes cost $360/year!

For much less than that you could buy the Astra Growth Bundle, which also includes:
The Growth Bundle provides everything you need to create and grow your online business.
It even provides professional video training from thought leaders to help you build a business and earn more from it!
Final thoughts
Astra gives a lot of benefits for free.
Its optimized code and half-second loading speed will help you rank in Google, while at the same time, offering a great browsing experience for your readers.
It allows you to modify its design efficiently to get the website you need thanks to its global color palette, button presets and Starter Templates.
These design options increase with the Pro version. It gives you access to the mega menu, custom layouts and many more customization capabilities.
Being fully compatible with WooCommerce, LearnDash, LifterLMS or Elementor means that you can use it also for your online store or your online academy as well.
This great versatility and reliability is why I recommend Astra both for newcomers and for pro bloggers and web agency owners. Whatever type of website you want to build, Astra helps get the job done!