So, you have a Weebly website and you want to move your website to WordPress because you eventually realized that WordPress is a much better platform. Don't get me wrong, Weebly is a decent platform, especially for beginners, but WordPress is much more flexible, better for SEO, and easier to use.
Let me show you how you can seamlessly migrate your website from Weebly to WordPress.
Why You Should Move From Weebly to WordPress
Most beginners decide to build their websites with the first solution that they find on the Internet and Weebly might be one of them. And, what makes it attractive for most startups is that it's free and easy to use.
But, as you begin to grow your website, you'll need more functionalities and features such as online payments, SEO, and many more. And, Weebly is very limited in terms of these features.
And, WordPress is a much better solution for all your website needs. It's simple and easy to use. Even top brands such as Sony Music, Microsoft News, TechCrunch, Katy Perry, and The White House are using WordPress for their blogs and websites.
How To Move From Weebly To WordPress
1. Set up WordPress
First, you need a domain name and WordPress hosting. A domain name is the name of your website, for example, wpcrafter.com. Web hosting is the internet space where you can upload your website content. We recomend Siteground and there is a 70% discount we have lined up for you when you click here.
A domain name is normally priced between $11 and $15 per year. While a hosting service is usually priced between $7 and $15 per month for a basic website.
Siteground is one of the most popular web hosting service providers and it's officially recommended by WordPress.org.
Once you have purchased your domain and hosting, you can now install WordPress. Then, you're ready to move your Weebly website to WordPress.
2. Export your Weebly website to WordPress
To make it easier for you to export your Weebly content and media files in a WordPress-supported format, you would need the Weebly to WordPress Importer tool.
Don't worry about the cost because it's free.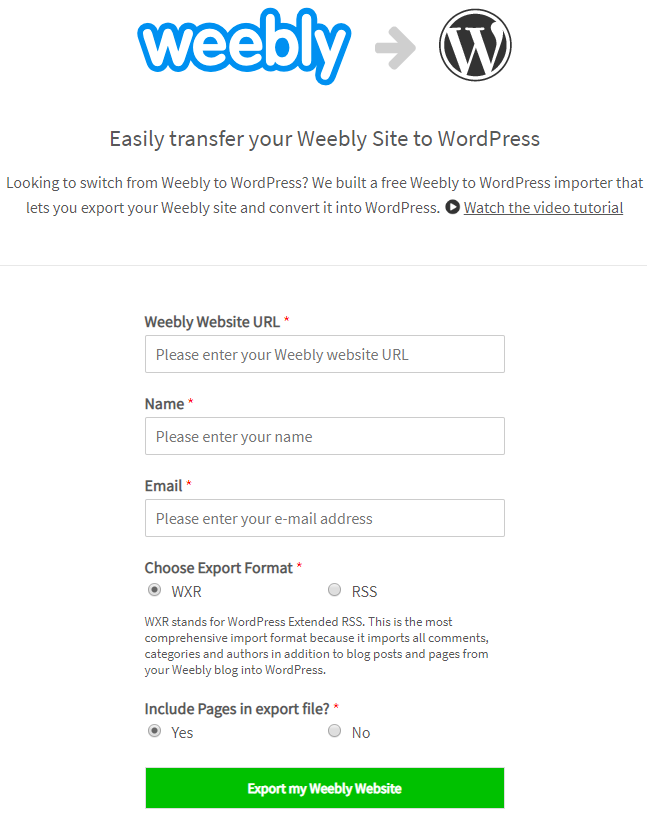 Simply enter the URL of your Weebly website, your name, and email. WXR is the default choice and I recommend you not change it. And, whether you want your pages to be exported, just select Yes or No.
Click on the "Export my Weebly Website" button and your Weebly website content will be exported. You will see a success message with a downloadable link once the export is done.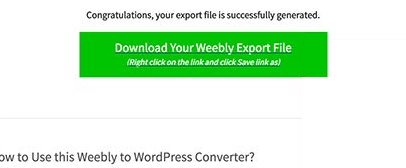 You can now download your content and import your Weebly website into your new WordPress website.
3. Import your Weebly website to WordPress
And, to import the website data into your new WordPress website, you would need an importer plugin. To do this, just go to your WordPress dashboard and select Tools. Click on Import.
You'll see at the bottom of the list is the WordPress importer. Simply click on Install Now.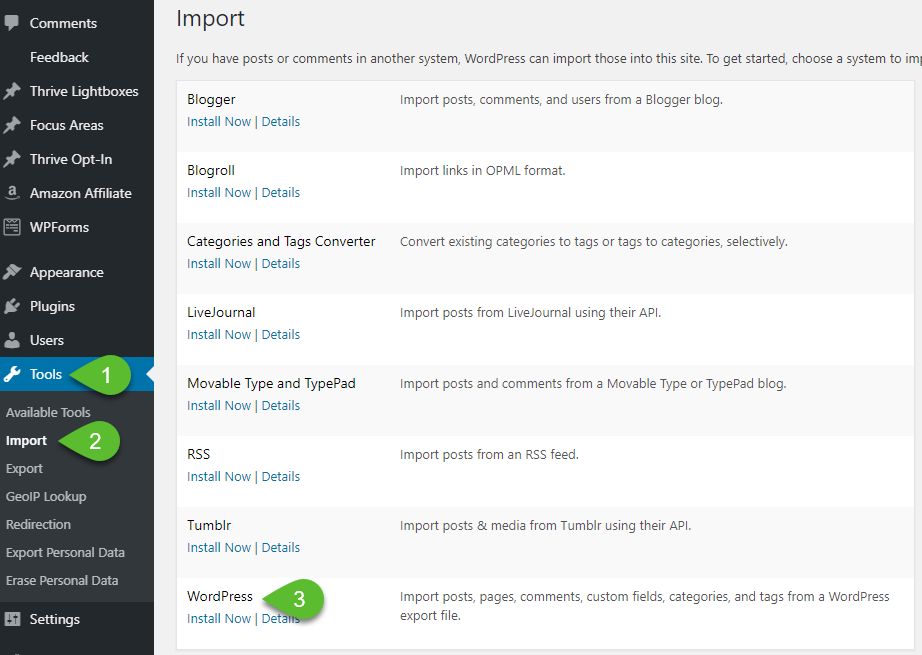 Once installed, click on Run Importer.

Choose file and select your downloaded export.xml. Once done, click on "Upload file and import" button.

You'll be given the option to assign author. Select an author and tick the checkbox. Click "Submit" button.

Once done with the import, you'll get a success message.

You can now check your media files, pages, posts, and other content to make sure that everything is imported successfully. If you see that there's something missing, you can always re-import.
4. Create redirects
Now, for your users to be able to see your web pages correctly, you need to redirect your Weebly's custom domain name to your new WordPress hosting.
To do this, log in to your Weebly account and go to the "Domains" page. Click on your custom domain and go to the settings menu.
On the Edit Nameservers option, click on the "Change" button. Add the nameservers of your newly purchased web hosting and click "Save".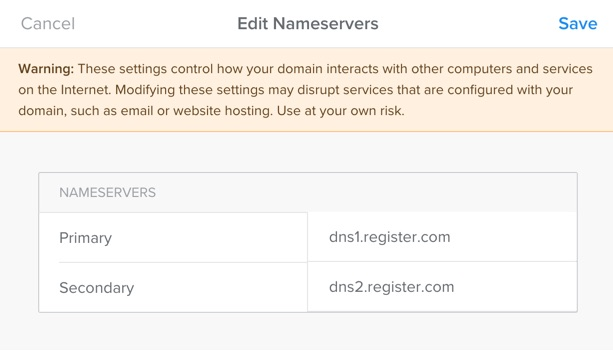 It normally takes around 24-48 hours for the nameservers update to take effect. Once this has been completed, your visitors will now see your WordPress website.
BUT, if your Weebly website is a subdomain, for example, https://mywebsite.mainwebsite.com, you need to edit your header code. Go to your Weebly account and edit your site. Go to SEO under Settings menu.

In the header code section, copy and paste the following code:
<meta http-equiv="refresh" content="0;url=http://www.wordpressdomain.com/">
Don't forget to change the URL to your new WordPress website URL. Then, Save and Publish.
Visit your Weebly website URL and you'll see that you'll be redirected to your new WordPress website.
5. Manage permalinks and URL structure
To avoid 404 error messages after migration, you need to set up your URL structure on your WordPress dashboard.
Go to Settings and select Permalinks. Select custom structure and enter /blog/%postname% in the field.

Click "Save Changes" button.
Since Weebly uses .html for their pages, you would need to install the Add Any Extension to Pages plugin. Once installed and activated, just go to the Settings and Add Any Extension to Pages section. Add .html in the Extension field and hit the "Update Settings" button.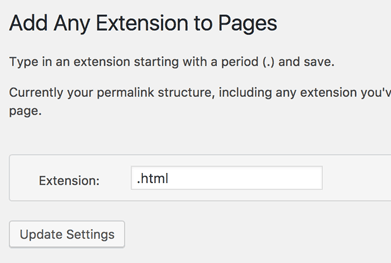 Then, go to Settings on your WordPress dashboard and select Permalink. Click "Save Changes" button. This will properly update your WordPress URLs.
6. Customization and Plugins
You can now customize your WordPress website by installing the theme you prefer. You can also install plugins based on the features and functionalities you need for your website.
7. Troubleshoot errors
A common WordPress error would be the database connection error. Make sure that your database's login details are properly configured in your wp-config.php file.
define('DB_NAME', 'database-name');
define('DB_USER', 'database-username');
define('DB_PASSWORD', 'database-password');
define('DB_HOST', 'localhost');
Or, contact your web hosting provider for further assistance since this is a bit technical.
Another issue would be that your external images were not properly imported on your WordPress media library.
Using the Auto Upload Images plugin, your external images will be automatically imported to your WordPress upload directory and will be added to the media library.
Conclusion
If your website is on Weebly and you're planning to grow your website, then now is the right time to migrate to WordPress as it offers a lot of features and functionalities that Weebly cannot simply perform.
Weebly is great for beginners, but WordPress is a much more powerful platform for building any type of website for your business.