Best ClickFunnels Alternative – Save Over $2,500 Per Year
Are you wanting to implement funnels in your business?
And you did some research, you came across ClickFunnels and you thought, Holy cow, $300 a month. That's a lot of money! I need a ClickFunnels alternative.
Well, if you've had that thought, go through your mind in this video, I'm going to piece together a perfect and what I believe to be a more powerful ClickFunnels alternative.
And as an extra special bonus, I'm going to actually have a video after this where I put everything together and show you how to put all the pieces together to have the perfect ClickFunnels alternative. So if that interests you, continue reading.
So let's first take a look at what ClickFunnels is so we can look at exactly what ClickFunnels is offering. So ClickFunnels is essentially six different things. It's hosting. It is a page builder. It's an email marketing automation platform.
It's a form builder where you can collect the leads and you can collect information from an application, and it's also a payment processing tool or a checkout system where you can sell pretty much anything. Now, let's talk about what people love about ClickFunnels. The first thing that they love is that it's.
A hosted solution in the cloud, kind of an all-in-one put together tool for you. So the idea in people's minds might be that it will be easier because it's all integrated together. This perception that there might be less of a learning curve. The next thing that people love about ClickFunnels is the founder, Russell Brunson, who is an expert, a teacher, an expert marketer.
Russell is amazing at taking this concept of funnels that you see everywhere in the real world and bringing them to a digital. World. People love the books that he has authored and he teaches about funnels. He teaches about becoming an expert in your field. And lastly, because of him, he has created some of the most helpful, insightful training on funnels that there is.
Now let's talk about what people don't like about ClickFunnels. And by far the number one complaint that I've read over and over is that its buggy. Many times things don't work the way they should and it can be quite frustrating. The next big complaint about ClickFunnels is that the templates are ugly here.
You could be the judge on that to each their own. Some people might respond to a certain template or design more than somebody else. I'll let you be the judge on that one. Another big thing that people don't like about ClickFunnels is that its features are limited. Essentially, what I mean by that is if you need ClickFunnels to do something that it doesn't currently do, they're never going to probably add that feature.
You're just going to be out of luck. You're just going to have to learn to live without what you want to run your business if it doesn't currently offer it. The next thing people don't like about ClickFunnels is that it's a lot proprietary system. Your data is locked in there. They're in full control.
They own your data. If they were to go out of business, let's face it, they're not going to go out of business, but if they were so goes your data to get it out of their system and into another system and to migrate, it's going to be a bit of a pain. And this also ties into that last point about it being a closed lock system, where if you need ClickFunnels to do something that it doesn't currently do, there's nothing that you could do about it.
And the last thing that people don't like about ClickFunnels is a big one, and that is the cost. They have two plans, and the starter plan is $97 a month, but the plan that you really need to be on if you're a ClickFunnels customer is $297 per month.
Holy cow!
That adds up really quick, especially if you're just getting started.
So with all that said, let's find a perfect alternative to match all of these features that you find in ClickFunnels, but an alternative that will be more scalable and much better for you as the user. So the solution is going to be based on WordPress, WordPress powers, one third of the internet.
It is an open platform, which essentially means. You own it. It's really a rent versus own scenario. With ClickFunnels, you are renting your digital home. With WordPress, you own your digital home. So it really comes down to this rent or own scenario. For me, I rather always be in a position of owning, so WordPress itself is going to be free.
Now, the next thing that you're going to need is web hosting. So here is a SiteGround, and the reason I'm choosing SiteGround is because they have phenomenal support and their hosting is the top quality, top notch.
Now, you might already have a hosting account, but to be fair, in this alternate ClickFunnels alternative, we need to include.
Every aspect of what you're going to need. Now with SiteGround, the plans are very affordable. I would recommend this middle plan that is $6 per month. We'll just go ahead and round that up. We're looking at $6 per month, and with that, you can also host your company's website as many websites as you want, your blog, but also your funnels.
Now the next thing that you need to have a WordPress website is a WordPress theme, and we could use the Astro theme. It is. One of the top themes for WordPress. It also happens to be free. They have a paid version of it, but we don't need it. In order to have a ClickFunnels alternative, the free version of the Astro theme is perfect.
How it is, you can use it on unlimited websites. It comes with nearly a hundred. Completely done for you website designs all for free, and it also integrates perfectly with learning management systems, page builders and e-commerce systems. Now, the next tool that we're going to need, we'll do most of our heavy lifting and that is a page builder tool and we're going to use.
Elementor. There's a free version of Elementor, but we're going to use the paid version of Elementor because it comes with some very powerful features that we're going to need, including a form builder, a pop up builder, dozens of marketing elements such as countdown timers. It is incredibly easy to use, incredibly affordable, and it's currently being used on nearly 3 million websites.
So we're going to add element, or it's only gonna cost $4 per month. I know right here you see it say $5 per month. This is for a single site license. It's going to be $49 but if you see down here, it says the $5 they're actually rounding it up, so it's really in the low. Four's like maybe $4 and 8 cents.
They're rounding it up to be super fair, and that's only going to cost, let's just say $4 per month to add the page building functionality with forms, with marketing elements, and there's also a lot of advanced things that it does such as website personalization. It has templates in it as well.
It's a pretty. Amazing page builder and marketing tool. Now the next thing we're going to need is a funnel building tool as well as a checkout system. And for that we're going to use cart flows, cart flows as a full feature to funnel building system with checkout. That includes. Templates. So if you want to add a funnel to your website with just two mouse clicks or so, you have a fully built out funnel for you with the design that you can edit in Elementor, it has advanced marketing features such as cart abandonment emails, two-step checkout.
It also has a split testing that they. Our building and is coming soon. It includes all the features that you would expect from a shopping cart, such as one-click upsells, order bumps that you can place in multiple locations, and it's extremely extendable, so that. The example I gave earlier about ClickFunnels, not doing something that you want.
You're just going to have to learn without to live without it. That's not the case when you're using this solution with cart flows. So like I said, we have checkout templates here, and you can see it is seriously a design upgrade when you compare this to what you get out of ClickFunnels and their designs, but the reality is you can make.
Any type of design with this ClickFunnels alternative that I'm detailing out now, card flows itself comes in at two 99 per year, which adds a monthly cost of $25 to this ClickFunnels alternative stat that we're putting together. Another thing that cart flows is adding to the mix is their own training platform that they say will launch very soon called a skilled jet.
Now, the unique nature of. Gil jet is, if you have card flows, you get access to skilled jet where they're normally gonna sell access for three 99 per year. You get that included for free, and there are training courses in there that are going to help you in every single area of having an online business and being an online entrepreneur now, and that goes beyond just understanding of funnels.
There will be courses on. Advertising campaigns. There'll be courses on creating video content. There will of course be funnel courses. It aims to be a learning platform that will help you in every single area of having an online business. Now, some of the next items that I'm going to go over are.
Are optional. You might not need them. They are included with ClickFunnels. When you pay two 99 per month, it's going to be an optional purchase for you. So the first one is going to be subscriptions. So if you are going to sell a. Product or a service where you need to build the buyer on a monthly basis, a subscription, you will need to purchase WooCommerce subscriptions, and this is going to be coming in at around $17 per month.
Like I said, this might be optional for you if all of the items you sell, whether it be physical or digital goods, are going to be one time purchases and you might not need this at all. The next tool is going to be enough. Affiliate management platform to integrate into this. So if you're going to have an affiliate program around your products or services around your funnels, then you might need this as well.
I will say this is the industry-leading affiliate management platform. It is a full-featured. Now, the cost of this, there are several plans. The only one that you're going to need is the least expensive one, which is $99 per year, which comes out to $8 and 25 cents per month. Let's just round that up to $9 per month.
Of course, this is optional. If you don't need an affiliate program, you don't need this. And there's also some other alternatives out there that might be less expensive. Now, the last thing that you're going to need is an email marketing automation platform. Now, I will say with this, that even though ClickFunnels includes an email marketing automation platform, that most of the people that subscribe to the.
Two 99 per month package with ClickFunnels do not use their email marketing automation platform, and I'm going to use their words instead of mine. Basically, the consensus is, is it sucks. So this is in something that you pay for with ClickFunnels. You don't have an option to not pay for it. It's included in your plan, but no one actually uses it.
They instead use. The platform that they may already have all their data in that is reliable and works exactly how they need it to work. And then they just integrate the two. So even though for this, this ClickFunnels alternative video, we're going to include the monthly costs of a marketing automation platform.
The vast majority of the people that are getting that with ClickFunnels will not use their marketing automation platform. So there's lots of alternatives for this. And this is the best thing about. Not getting everything from ClickFunnels is you could choose the best of the best. And so this, everybody has their opinion of what's best from active campaign to mail Chimp may be to a Weber, but for the purposes of this video, we're going to use a send in blue and let's take a look at what this is going to cost for sending the, they build differently here, which is what I like.
They bill you based upon how many emails you send, not on how many contacts you actually have. So the plan right here is $25 per month, and this is going to allow you to send 40,000 emails per month. Most other email marketing automation platforms, they charge you monthly based upon how many subscribers that you have.
Let's send them blue doesn't build that way. That's why I'm recommending it. In this ClickFunnels alternative video, I will give you an alternative, and that's this tool called mal poet. It plugs right on into your WordPress based website. It's very affordable as well. This will cost you at $99 per year, but the good thing is if you're just getting started with your funnel.
There is a free version that is limited up to 2000 subscribers. So the only time you start paying is when your list gets over 2000 and then you're looking at $99 per year, which once again is $8 and 25 cents per month. And you would essentially be connecting this in with your email sending service provider.
I personally use Amazon SES because it costs next to nothing. To send emails through that service, and that's pretty much all of it. So let's go ahead and recap everything that we've put together here. We're going to be using WordPress, which is free. We're going to get a web hosting account with SiteGround.
There's lots of other web hosting providers. We're going to say SiteGround, and that was a five 95 per month. We're going to use the free Astro theme. You could optionally purchase it. It's $59 but we could get away with using the free Astro theme. Then we are going to buy Elementor and that's going to cost.
$4 and 8 cents per month for the site license that we need. This is going to be our page builder. It's going to give us popups. It's going to give us very flexible contact forms. It is an amazing tool and I just love it. I use it personally on all of my websites. We're going to get cart flows and this is going to be, uh, our checkout system are.
Funnel builder, all of that. It's going to give us beautiful sales funnel templates and it's going to give us a cart abandonment, AB split testing. It's also going to include skilled jets Academy learning platform that's going to cost $25 per month. Next, optionally, if you're going to be selling products and services that are going to be reoccurring subscription basis, you need WooCommerce subscriptions, which will run you $17 per month.
Next optionally is for an affiliate program. We were going to use affiliate WP. That's going to be $8 and 25 cents per month, and then we tacked on an email marketing automation platform, send in blue that comes in at $25 per month, all of that for a grand total of around $85 per month, which is a lot less expensive than two 99 per month.
But you know what? It doesn't matter the amount of the money to me. What matters is the functionality that you get. So with this ClickFunnels, alternative tech stack, this is what you can expect. Much better results. You can expect a much more flexible and powerful solution that you can extend, however you need to extend it.
It's all up to your own imagination. It's easy to do. Extended as well because we're talking WordPress and there's so many WordPress developers out there in that rent versus own scenario, you become an owner versus ClickFunnels. Just being a renter, you have zero lock lock-in. No one controls your data.
You're not locked into any platform. You get a full training platform. All of this for the low cost of $85 per month. Of course, it might not even be $85 per month if you don't need some of those components, or you already have some of those components. If you already have a business website, you could put your funnels there.
If you already have an email marketing automation platform, you can just use that. But to be fair to ClickFunnels. This is coming in at $85 for what I believe to be a much better and a much more powerful solution. Now, all of the products and services that I talked about in this video, I'll have links in the video description box down below, and as you watch the video, it showed the links to those various products and services to make it easy for.
You and also some of those links, maybe referral links if you visited, made a purchase, a portion of that would come to me. It doesn't cost you anything additional, and that goes to support this channel. Now, the good news that I have for you, make sure that you subscribe. Click on that notification bell because I'm going to make a video.
Shows you step by step how to put this all together, and I'll have that link to that video in the video description box down below as well. So thanks for watching. If you have any questions for me about this tech stack that I've put together, feel free to ask in the comments section down below. Other than that, thanks for watching this video.
I hope that you make it on over to the setup video. Thanks for watching. I'll see you in the next one.

If you have been looking for the perfect way to sell your product and services on the internet, then I am pretty sure you have come across ClickFunnels or someone has recommended ClickFunnels to you.
Then after visiting the ClickFunnels website, you may have had a bit of sticker shock when seeing the ClickFunnels pricing.
Don't worry! You are not alone.
Many people have asked me to put together the best alternative to ClickFunnels and here it is for you.
What Is ClickFunnels In a Nutshell?
Before we get into this, it's important to have a clear understanding of what ClickFunnels is so don't cut any corners on our alternative tech stack.
There are 2 ClickFunnels pricing plans, one for $97 per month and one for $297 per month. However, the $97 pm plan is very limited in its features and doesn't give you the full ClickFunnels product suite, so we are going to build an alternative to the $297 per month plan.
The ClickFunnels $297 per month plan is essentially the following 6 things:
Hosting
Page Builder
Form Builder
E-commerce Checkout
Affiliate Management System
Email Marketing Automation
What People Like About ClickFunnels
It is hosted.
Lesser learning curve
Russel Brunson
& his _ secretes books
Training: the best value is there
What People DON'T Like About ClickFunnels
It can be buggy
Templates are kinda ugly and give you the feeling of a scammy marketer
It is limited to features
It is not scalable being a propitiatory platform
And it is pricey. Freaking $300 per month
Here Is The Best Alternative To ClickFunnels
Powering a third of all websites, WordPress is the perfect self hosted platform to build this ClickFunnels alternative.
Best Webhost For Funnels: Siteground
Siteground top WooCommerce plan
$4/mo
Best WordPress Theme For Funnels: Astra
Free
Unlimited usage
Ready to import websites
Foundation for your WordPress website
Integrates with all page builders, LMS, etc
Best Page Builder For Funnels: Elementor Pro
$4/mo (One website)
Page Builder
Popups
Forms
Best WordPress Funnel Builder: CartFlows
$25 / month
Beautiful Templates
Payment Processing features with WooCommerce
Cart Abandonment
A/B Testing
SkillJet
All the training you need
Free with purchase of CartFlows
WooCommerce Subscription Plugin
$17 / mo
One website
AffiliateWP Plugin
$9 / mo
One website
iThemes Security & UPDraft Plus:
Free
Backups and security taken care
Unlimited websites
SendinBlue
$25/mo for 40,000 emails.
Unlimited contacts
SEO
Yoast / SEO Framework
Free
Final Results For This ClickFunnels Alternative
Much better results
Flexible
Extendible to your own imagination
Find developers easily
You are on your own platform — no lock-in
Security & Backups are taken care
You get training with SkillJet
Final Cost: $85 / month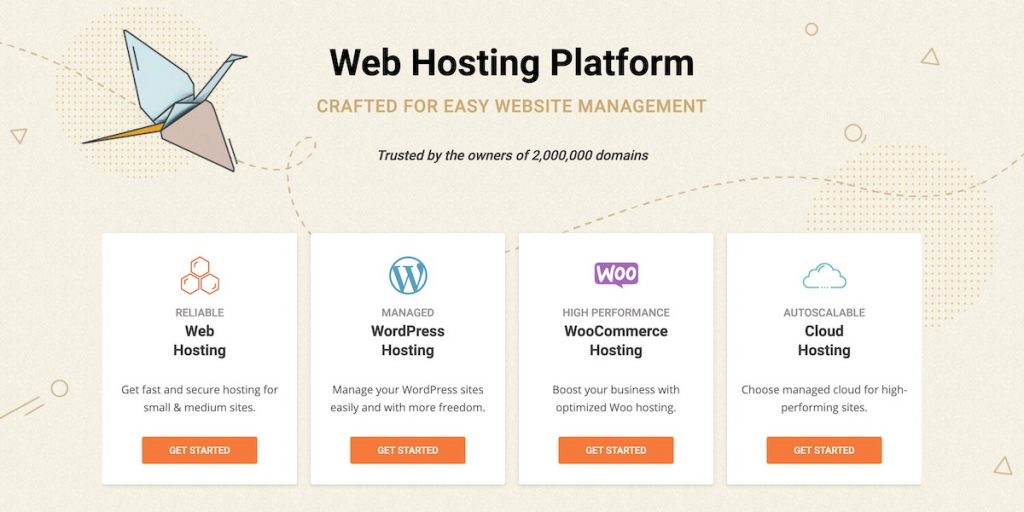 SiteGround is a highly recommended web host online because they have catered to WordPress users and yet still have affordable pricing. They are most known for their fast performance and equally fast support.
Key SiteGround Features:
Free SSL Certificate
FAST Knowledgable Support
WordPress Staging Enviroment
Free Website Migrations
Daily Backups
SiteGround is a solid choice for your web hosting needs. They cater to WordPress websites and offer fewer resources than their competitors, but higher reliability.
Check Out SiteGround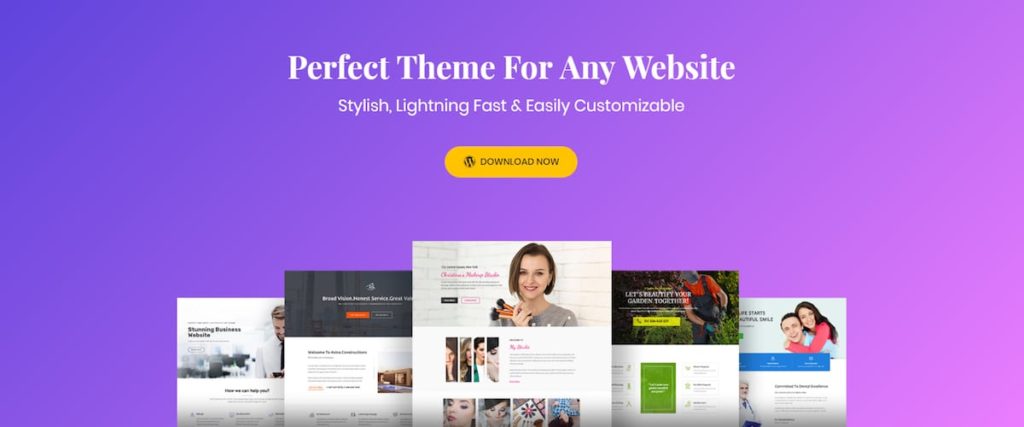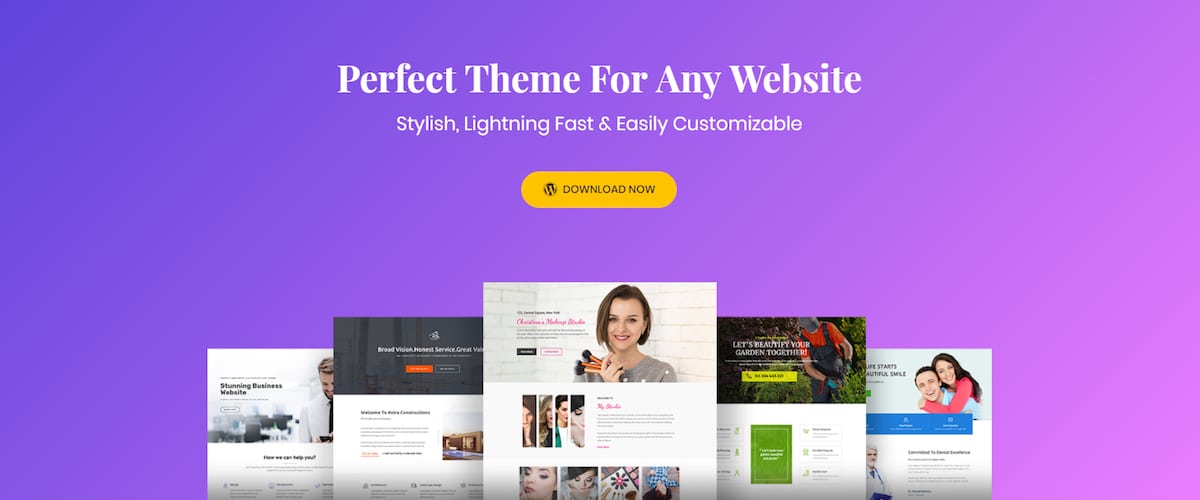 Astra is a free WordPress theme that is focused on speed. Optionally you can purchase the Pro version for $59 which adds some additional settings and options.
Key Astra Theme Features:
Fast Multipurpose WordPress Theme
Lots Of Free & Paid Demo Sites
Newly Added Header / Footer Builder
Flexable Mega Menu Feature
Custom Layouts Options
WooCommerce Support
Astra Theme is a fair choice for any WordPress web design project. I suppose the biggest question is if you even need to purchase a theme these days as page builders are doing all of the same things you would need a theme for.
There are still some good reasons to purchase a pro theme, but for most people, they most likely will be fine with a free theme.
Astra being over 3 years old, in a sense, operates similar to Apple Computers. They wait for others to innovate and bring new ideas, then when a certain feature becomes expected, they implement it there way. This is not a bad thing in any way, when you are responsible for over 1 million websites, it good to be cautious.
Astra's free version offers very limited customizations when compared to other similar themes. So if you were not wanting to purchase a theme, you may want to look elsewhere if you want more options.
Astra Pro on the other hand is a solid choice of theme.
Check Out Astra Theme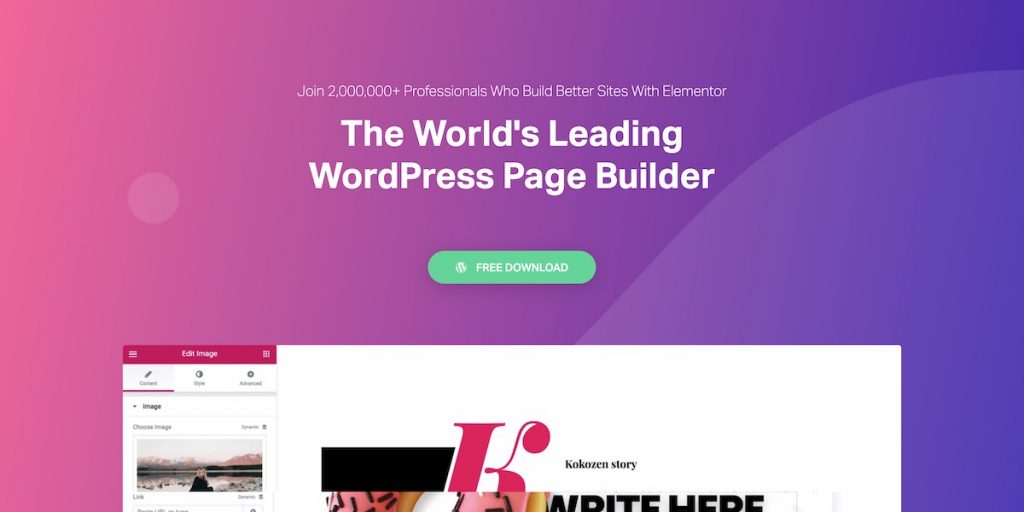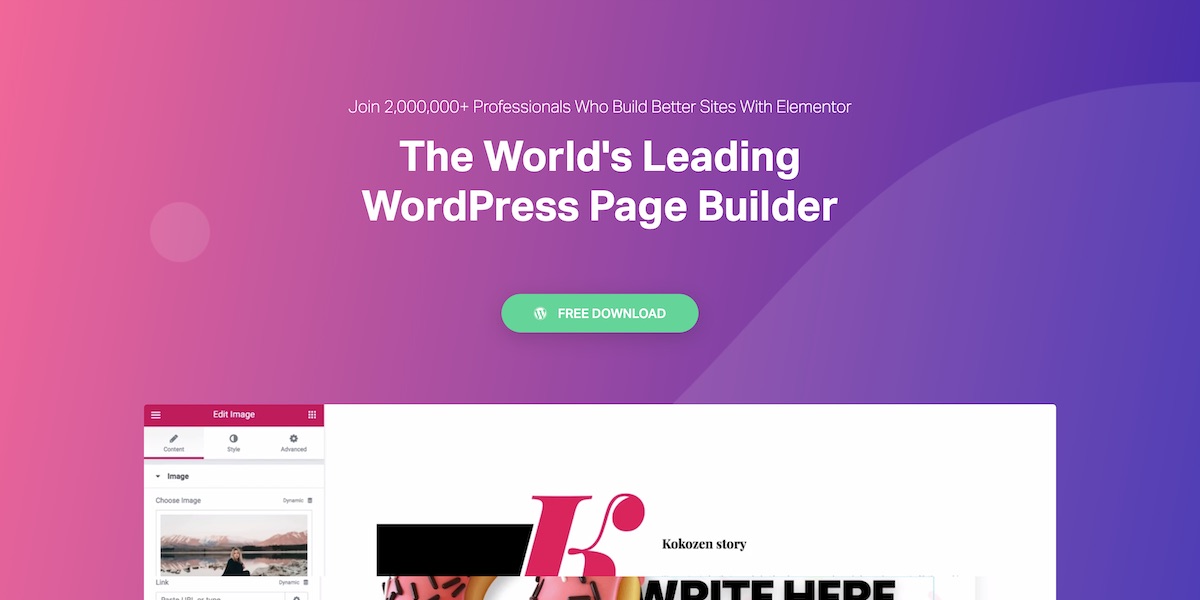 Elementor is a WordPress page builder that has taken WordPress web design by storm. It has the deepest feature set, yet is very easy to use and master. Elementor is the most full-featured free page builder. There is also a Pro add-on to add additional developer features.
Key Elementor Features:
Live Front End Page Editor
Website Personalication Features
Template & Block Library
Extensive Mobile Responsive Options
Most Powerful Popup Builder
PRO Create Custom Headers / Footers
PRO Create Post Type Layouts
Elementor is the strongest page builder currently available. They consistently release new features that are in line with current design trends. This means you will be able to keep your website relevant.
Elementor Pro is an incredible value considering all the additional modules and power features that it includes.
If I were starting a new website project today, Elementor would be the page builder that I would choose. I consider it a must have WordPress page builder that is a pleasure to use.
Check Out Elementor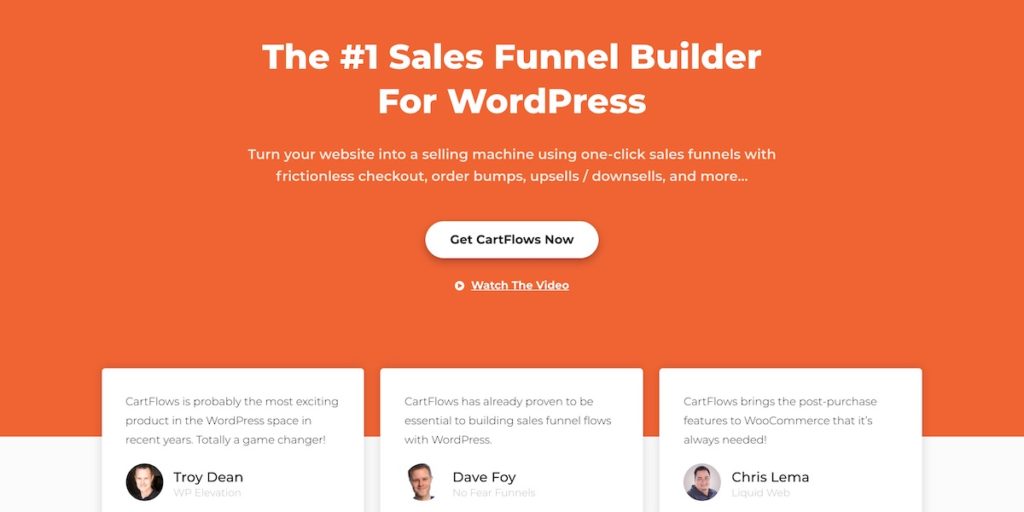 CartFlows is a sales funnel builder for WordPress. It allows you to quickly and easily build sales funnels using your page builder of choice.
Key CartFlows Features:
Professionally Designed Templates
A/B Split Testing
Offer Order Bumps & One Click Upsells
Use Your Prefered Page Builder
Extendable Unlike Click Funnels
Consistent Monthly Feature Enhancements
If you want a sales funnel builder for WordPress and are fine with hosting yourself, or using managed WordPress hosting, then CartFlows if a great option because it's super easy to use yet very powerful.
Check Out CartFlows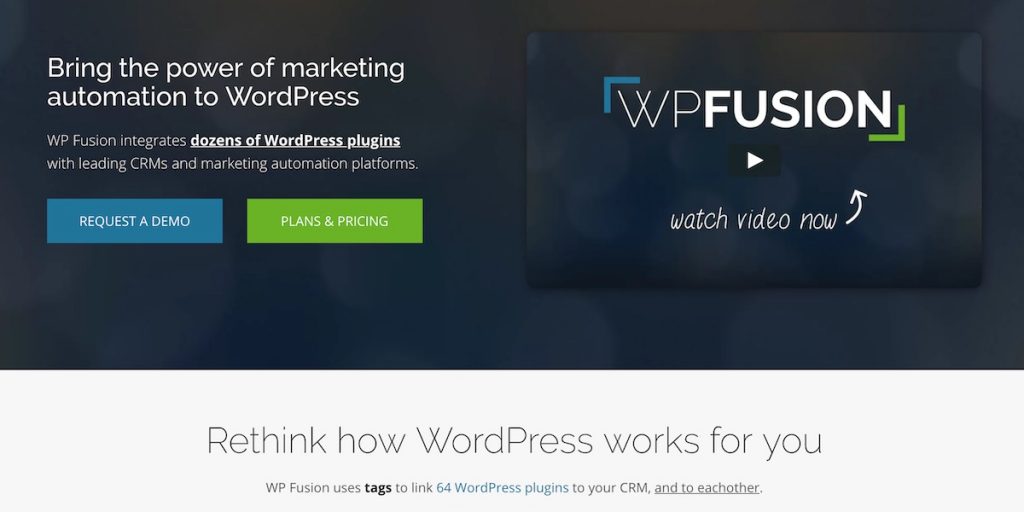 WPFusion allows you to connect your WordPress website to your CRM or marketing automation platform to secure content, dynamically discount, add website personalization, and more automatically via tags.
Key WPFusion Features:
Many CRM Integrations Available
Integrates With Most WordPress Plugins
Membership Security
Website Personalization
Deep Integration With Elementor
Too Many Pros To List
Check Out WPFusion